Book & Manage Top Venues & Vendors Online on WeddingWire India
WeddingWire India's Vendor Manager tool is here to make wedding planning a breeze. Read on to know the features and how to use it for best results!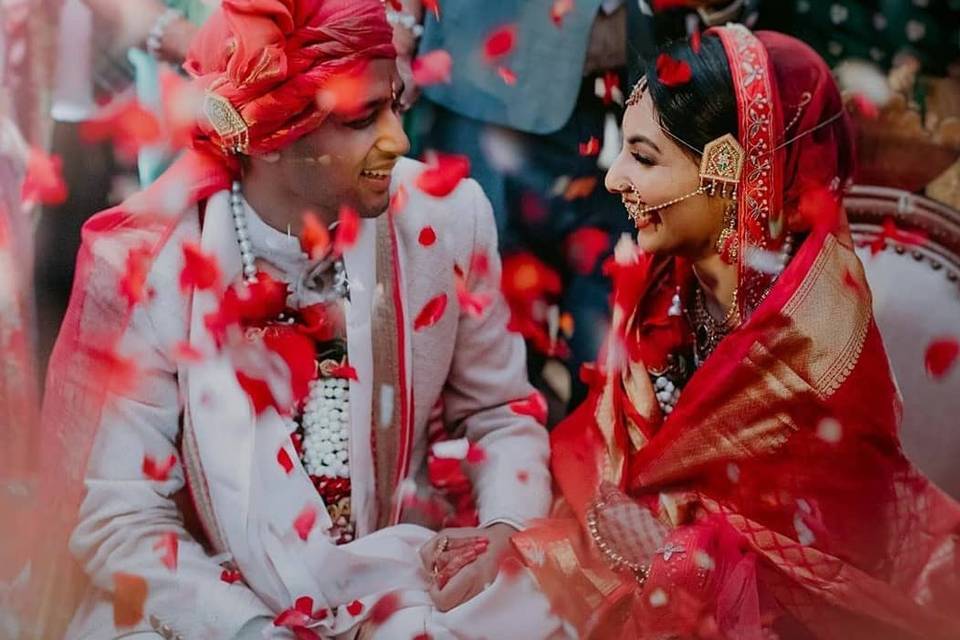 What makes a wedding an absolute work of genius is the team you hire to get things done. Right from the wedding planner to the florist and even the transportation vendors - each one has a very significant role to play. A wedding planning is indeed a tedious but fun task at hand and once the plan is put together you need a team of professionals who can turn your idea into a perfect reality.
The number of vendors you employ for your wedding depends on the kind of wedding you want. However small or big the number of professionals you require is, you need to be on top of your vendor management game to make your wedding a success.
From coordinating with the florists and taking updates from your wedding planner to cake tasting and finalising the menu - it is a multifaceted process. To navigate through it all comfortably and systematically, you would find yourself wishing for a platform where you could put it all together. And to make your wishes come true, we have the perfect solution - Vendor Manager.
WeddingWire India app/website's tool, Vendor Manager, helps you to be on top of your planning game. It is not only easy to use but also helps you keep a tab of the vendors you hire or need to hire very efficiently. Read on to know about the steps and features of the Vendor Manager.
In this blog:
1. Steps to Use
2. Features of The Vendor Manager Tool
Steps to Use
Here is what you have to do to download, sign-up and use the Vendor Manager tool.
Step 1 - Download the App
The WeddingWire app is available on the Android PlayStore as well as the App Store. Download the WeddingWire Planner by WeddingWire India app on your phone.
Step 2 - Create Your Account & Sign In
Then you can either sign up on the app or log in with your Facebook or email ID on Google.
Step 3 - Organise with Ease
The next step is to click on "More" on the right-down corner of the screen and then from the pop-up menu click on "Organise With Ease".
Either that, or you can find the Vendor option on your home screen too.
Features of The Vendor Manager Tool
The efficiency of the Vendor Manager tool on the WeddingWire India app is a blessing while you plan your wedding. To help you use it efficiently, we have listed the features here.
Overview of The Vendors Hired
The tool allows you to supervise the vendors that you have hired for your wedding very comfortably. You can see the number of vendors that you have hired right on top of the page. Keeping it all in one page makes it easier for you to take note of the requirements.
Directly Search & Add Vendors
You can directly search and add vendors based on their categories by clicking on the top-right + symbol.
Once you click on the Plus (+) symbol, you land on this page where you can search the vendor by typing the vendor name on teh search box above. this is easier when you have heard good reviews or word of mouth advice about a vendor and are looking for that particular service for your own wedding.
Complete Your Vendor Team
The page that includes all the categories underneath helps you complete your vendor team. Fill in the categories that you need for your wedding and keep them arranged and sorted in one place. From the venue of your wedding to the honeymoon packages after your wedding - this is your one-stop solution to manage it all easy breezy.
Detailed Filtering Options
Vendor Manager tool on WeddingWire also allows you to get detailed filtering options based on the category/kind of venue you are looking for - marriage gardens, banquet halls, lawns and farmhouses. You can use different personalised filters for hiring any type of vendor that you are looking for - from wedding music and DJ to the decorator and caterers too. Not only that, but you can also filter your options based on geographical locations.
You will find the best of prices and options that you can avail for your wedding only on the WeddingWire India app and the website.
Also Read: WeddingWire India's App Helps You Contact Top Wedding Vendors Directly
If you are the bride who likes to keep the wedding planning perfect to the T or the bride who likes to keep it easy and convenient - the Vendor manager is your one-stop solution.
Once your vendors are hired, the Vendor Manager page shows the number of vendors you have hired and how many are left to be hired still. It is an efficient way to keep your vendor list organised for the wedding throughout the process of planning.
If you are planning your dream wedding and looking for the top vendors in the country to help you mould this dream wedding into a reality, you have got to get your hands on the WeddingWire India app/website now.
From the wedding checklist to the wedding budget tool and even the guest list, you will have a gala time planning your wedding with us, hassle-free.
Read More -
Mehndi Design | Proposal Lines | Simple Finger Mehndi Design | Arabic Mehndi Design | Propose Day Quotes for Boyfriend | Wedding Anniversary Wishes for Sister | Tamil Wedding Calendar | Simple Mehndi Design | Pre Wedding Quotes | Engagement Anniversary Wishes | Funny Wedding Wishes for Bestfriend | Blouse Design | Rangoli Design | First Night Tips for Bride | Wedding Anniversary Wishes