Whether you notice it or not, every wedding has a colour palette. These colour palettes seem to vary for everything that compiles a wedding, from the decoration to the dresses we wear. These colour palettes can also sometimes be overwhelming and the clothes even more so, therefore find a colour and outfit that is easy and simple, like peach colour combination suits.
Peach is a wonderful colour to go with, as it rarely overpowers the one who is wearing it. The peach colour combination suit will pair up brilliantly with almost any other colour. Since the peach colour is such a neutral colour itself, pairing it with other colours usually adds a little flair to it. Even wearing it in a monotone can have an impact, and then you can accessorise it as you would like to. We now show you a list of the ways you can wear peach colour combination suits.
1. Pinkish Peach Tone With Floral Embroidery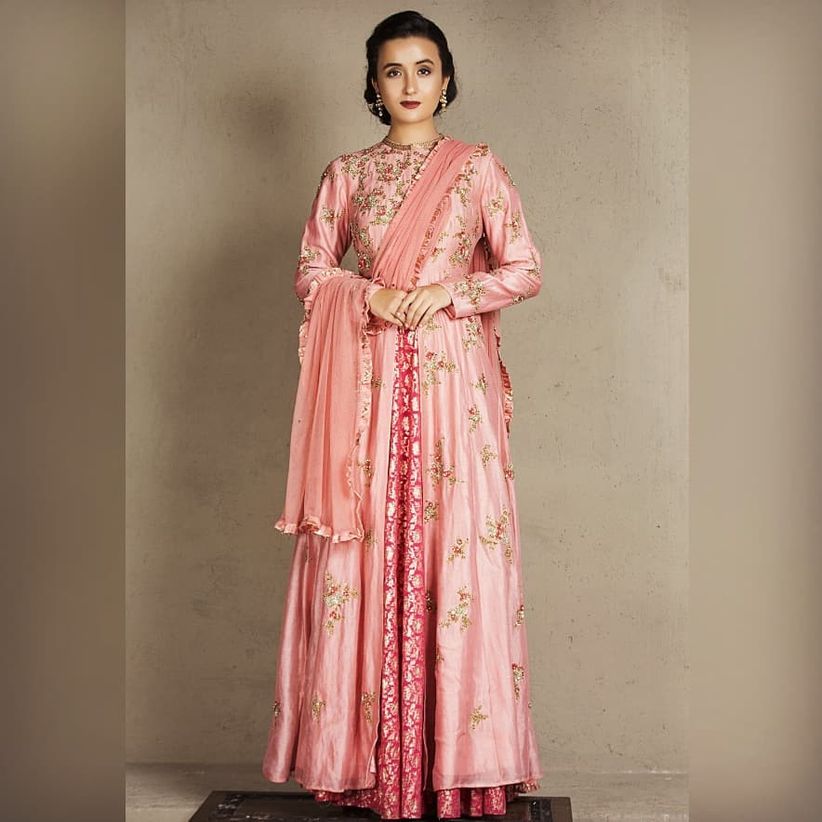 Photo Courtesy: Joy Designs
The pinkish peach combination suit, with floral embroidery looks light and refreshing, and the deep pink lower just with brocade just adds to the charm. This colour tone looks flattering with most skin tones so it should not be a problem for most bridesmaids. This peach colour combination suit is just the thing to be worn for morning function of the wedding days. This look can be perfected with dangler earrings and a neutral makeup look and leave your hair loose to look a little lively.
2. Heavily Embroidered Peach Suits
Day weddings are just the time to get this masterpiece out. This heavily embroidered suit would fit in perfectly for a morning wedding. All the bridesmaids would look lovely in this look, and would have quite free movements too. This would be very important when they would need to run around to make sure everything is going smoothly. The low floral bun and long Jhumkas complete this peach colour combination suit effortlessly, and wouldn't be hard to carry about too.
3. Peach Dupatta With Zari Work
Another option, if you do not want the outfit your bridesmaids wear to be fully peach tones, is that your bridesmaids wear then why not get them to wear a peach dupatta with their outfits. A matching dupatta, could indicate a little uniformity in your bridesmaids, but also not take away their individual choices. The peach banarasi dupatta with zari work on it would look absolutely ravishing with your bridesmaids' suits. They can choose different pastel colours, to make sure that the dupatta fits in. The bride herself can go for the dupatta for a function like mehndi, if she wants, the peach toned dupatta would fit right in with the beautiful mehndi colours. And your peach colour combination suit, doesn't have to have a majority peach, the subtlety also works.
4. Peach And Pastel Combo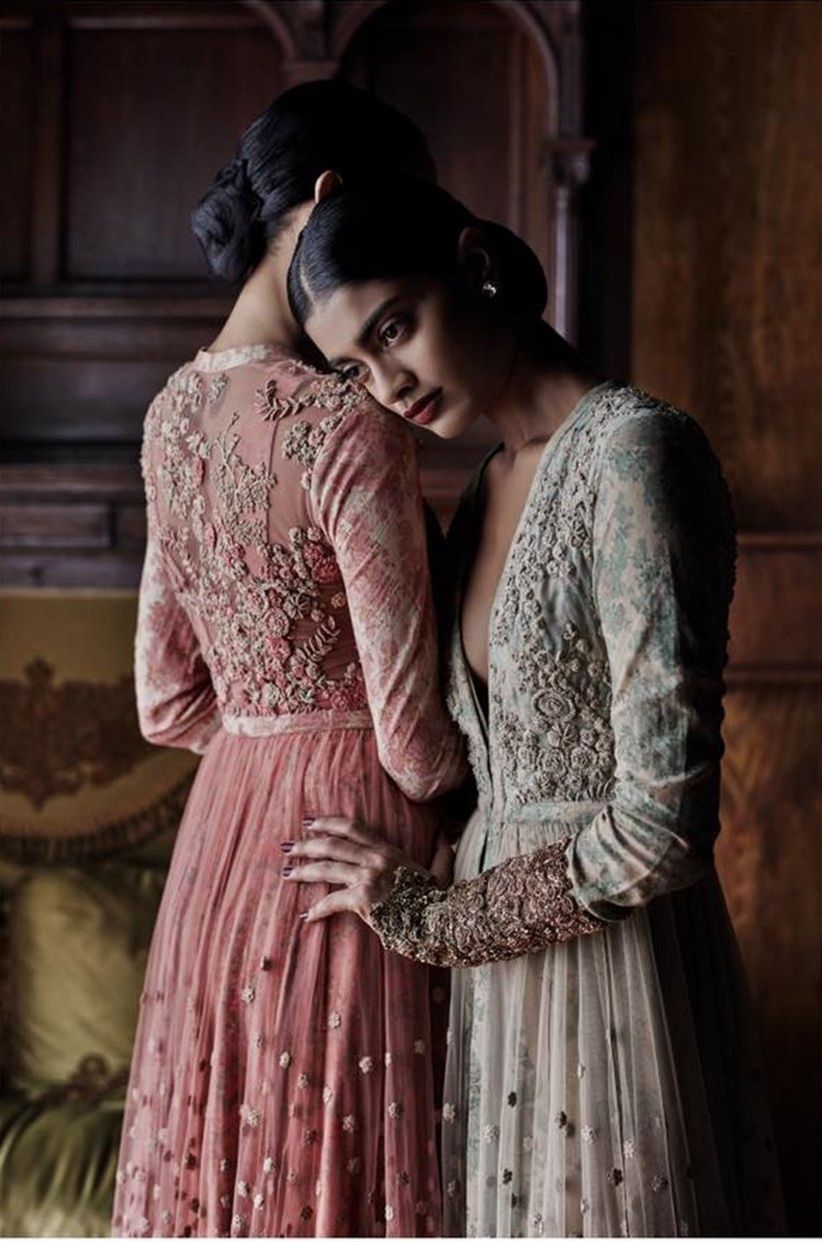 Photo Courtesy: Sabyasachi
If you want to look similar to your girl gang but still look like you belong, then go for the peach and pastel combo. Either you wear the peach outfit while your bridesmaids are in various shades of pastel, or you could wear a pastel outfit with your bridesmaids are in different tones of peach. These colours together look light and pleasing, and would look amazing for your Mehndi function. You can complete this peach colour combination suit outfits dangling earrings and open hair with floral accessories.
5. Various Outfits Of Peach
Though different from the rest, another idea could be to have your bridesmaids in different kinds of outfits of peach shades. This way they look a part of your bride tribe and still have their individual choices show. You can have them all wearing a small trinket as your bridesmaids, which is also indicative. These peach colour combination suits look amazing in day weddings, as the colour is perfect for a day function and with light colours, especially pastels in fashion, you cannot go wrong here. As the bride, you can too wear something in similar peach shades to look like the part of the gang, as at your wedding no one is more supportive than these people.
All these peach colour combination suits are just ideas that you can try for your bridesmaids' outfits for various functions. Though there is no doubt that peach shades look best in the morning, these outfits look pretty dashing in the other functions too.
Liked the idea? Tell us in comments if you're going to go with our idea of choosing peach colour combination suits for your bridesmaids or even groomsmen for that matter.