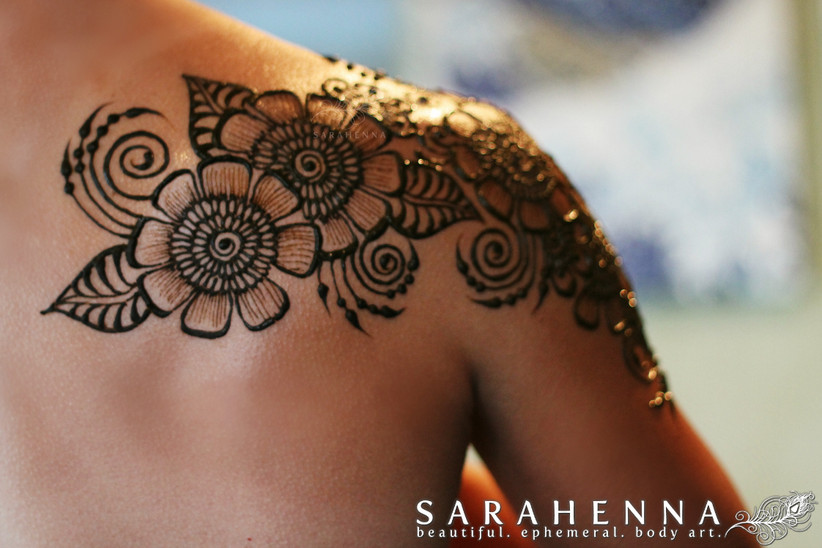 Image Courtesy: Sarah Henna
Millennials have given an interesting twist to almost every tradition - the same thing goes for mehndi art as well. These days, mehndi designs are not just limited to the usual palms and legs. There's a whole new mehndi art style that's being done all over the body - from the neck to the shoulders and the arms, these patterns resemble tattoos and look extremely stunning! Curious to know about the different body mehndi art designs? This list will give you all the deets you need!
1. Art on your collarbones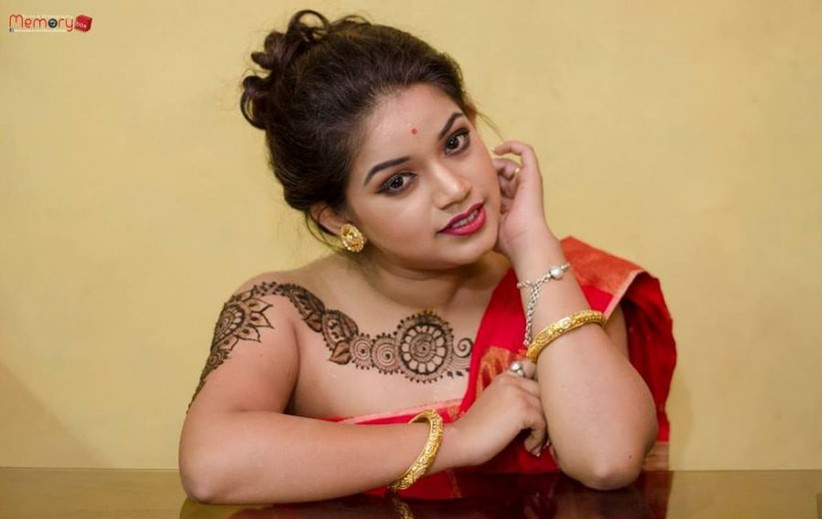 Image courtesy: Memory Box Films and Photography
Unleash your creativity and get mehndi done on your collarbones. That's a perfect place to get mehndi done since it'll always be visible with your bridal attire! Bridesmaids and the groom's sister could get this done as well!
2. Get creative with the necklace mehndi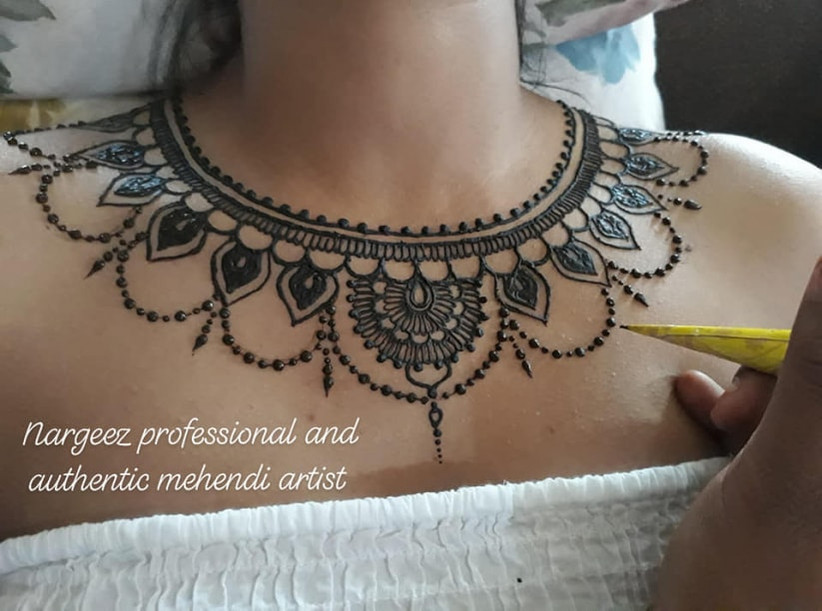 Image courtesy: Nargeez Authentic Mehndi Artist
Jewellery-style mehndi art is not restricted to wrists and ankles alone! Don't like putting on heavy jewellery? Get yourself a dainty necklace made with mehndi!
3. Leaves and Lines for the necklace mehndi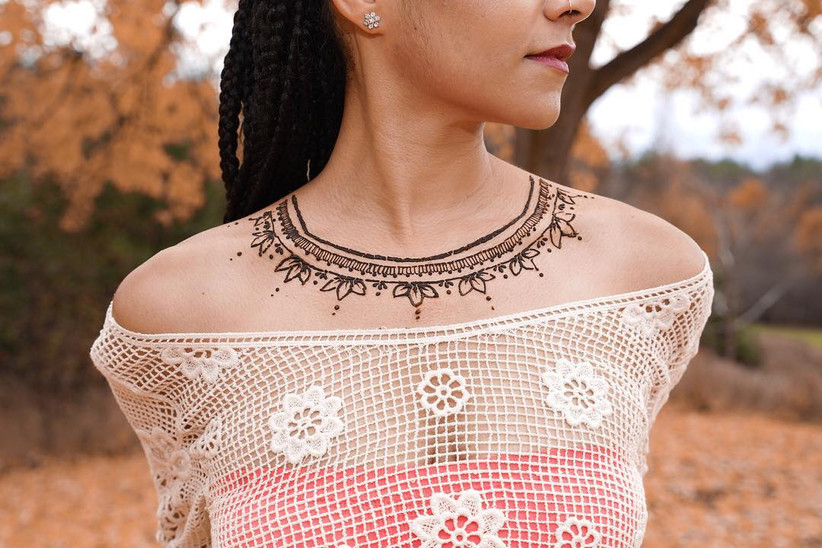 Image courtesy: Expressions by Lavindi
Here's another simpler necklace design pattern. A little bit of geometry, a few simple leaves and you'll have the gorgeous yet simple neck mehndi art you've wanted!
4. Spruce it up with Bajuband mehndi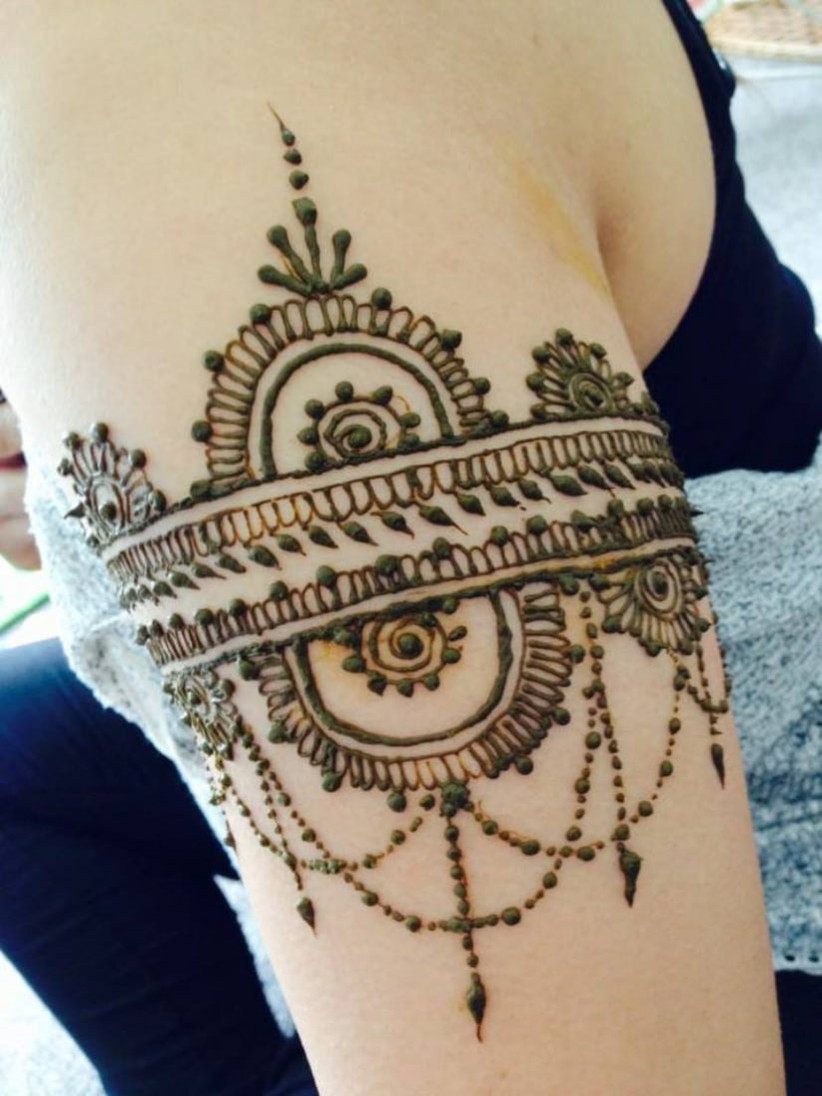 Image courtesy: Elegant mehndi by Manpreet
An offbeat place to get mehndi done is your upper arm - this style of jewellery mehndi is perfect for brides who love getting Bajubands! You can get really intricate with the patterns -- getting a style with lots of half circles and beads is a great way to go about it!
5. Dreamcatcher on the back
Love the elegant dreamcatcher designs? The good news is you can get a simple mehndi design that looks exactly like a dreamcatcher on your back. It's simple, it's classy and when you add a floral pattern to it, it looks all the better!
6. Flaunt that floral pattern across your legs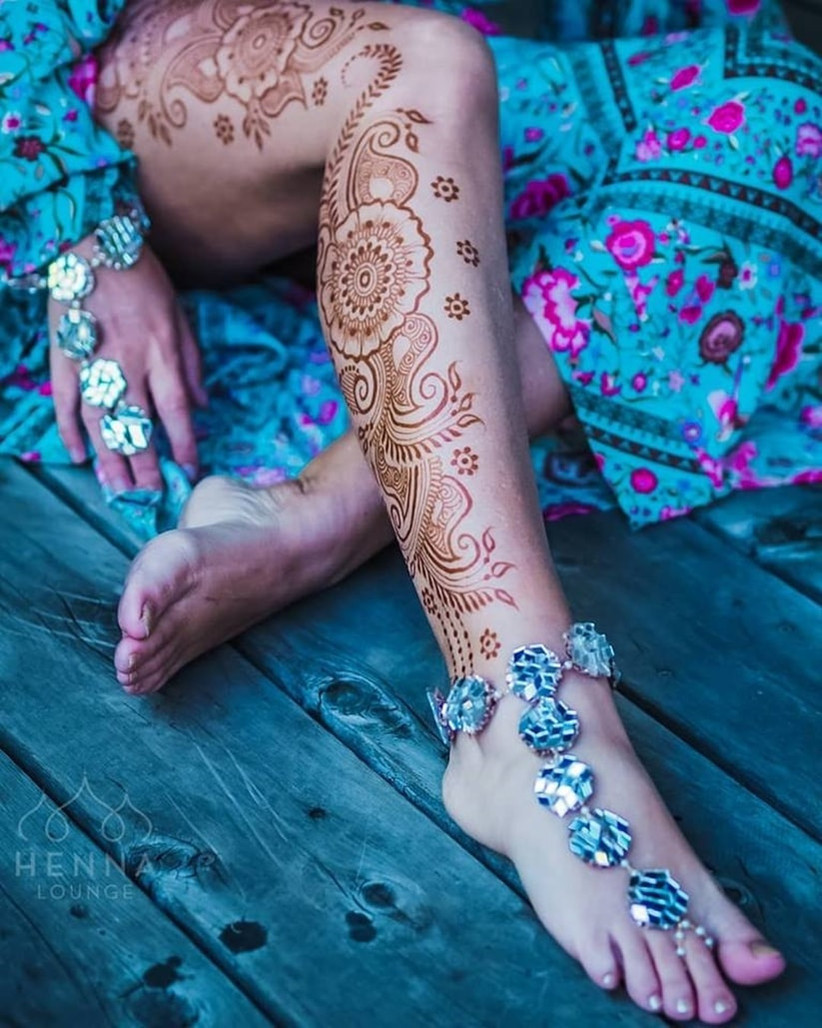 Image courtesy: Henna Lounge
You've seen mehndi art up till the ankles but let us introduce you to mehndi designs that extend right from the fingers to the thighs -- getting this is easy - decide on a long floral pattern (include paisley, vines and beads) and ask your mehndi artist to start putting it right from your thighs! Excited? We are too!
7. A huge circular pattern just on your thighs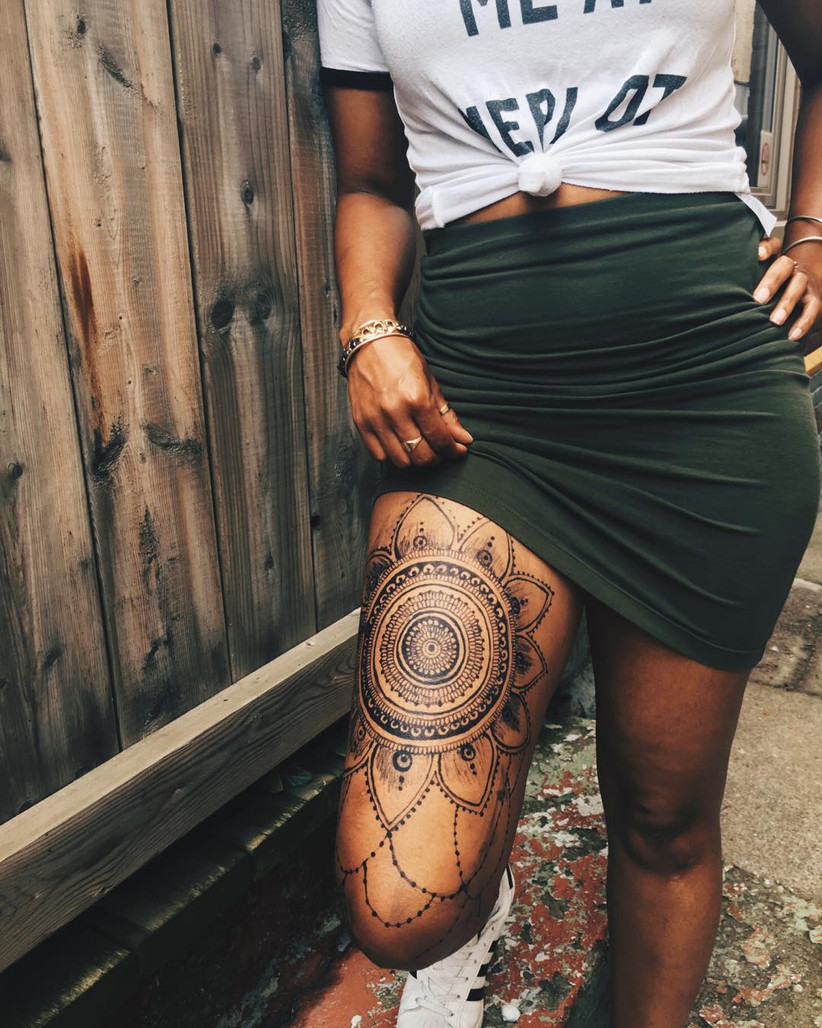 Image courtesy: Expressions by Lavindi
Love bold and edgy designs? Get a huge circular mandala motif on your things. You could extend it with beads to give it a quirky touch and bam, you'll have a modern and stylish mehndi design! Keeping one large design instead of adding too many patterns keeps the mehndi neat and attracts more focus!
8. Lateral Floral mehndi on shoulders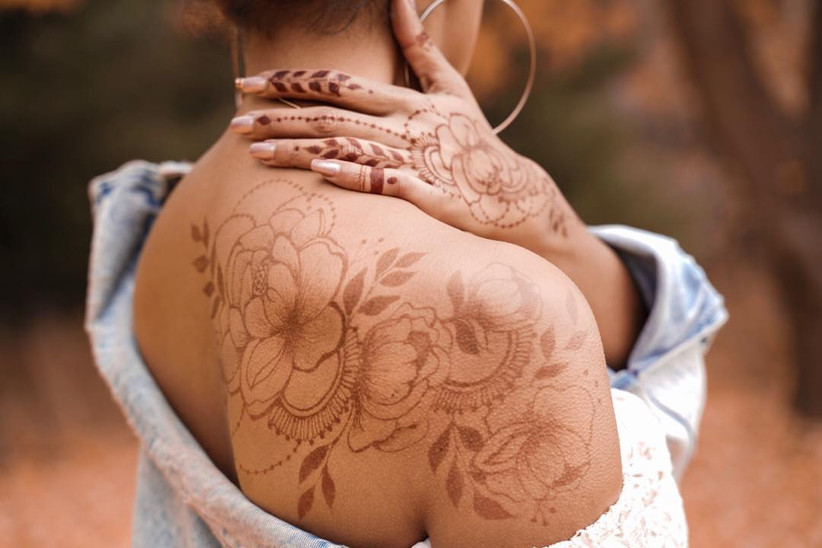 Image courtesy: Expressions by Lavindi
Why leave out the shoulders? Pick a floral pattern and get it done across the horizontal length of your shoulders through your back. A butterfly pattern in place of the floral one would also look great. You could mix the floral and the butterfly pattern too! Let your creativity flow with this one! The perfect companion for an off-shoulder lehenga.
9. Twirly chest mehndi art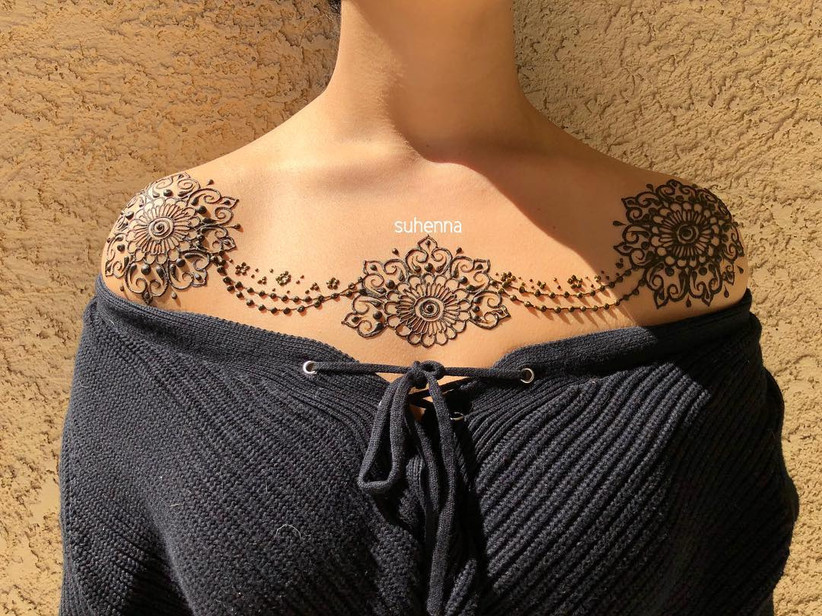 Image courtesy: Suhenna Creations
Not so big on the necklace mehndi design? You could also get a mehndi design done just beneath your collarbones. The laces connecting the pattern add weight to the design and so do the inverted twirly hearts. Add flowers in the centre to make it eye-catching!
10. Simple Traditional mehndi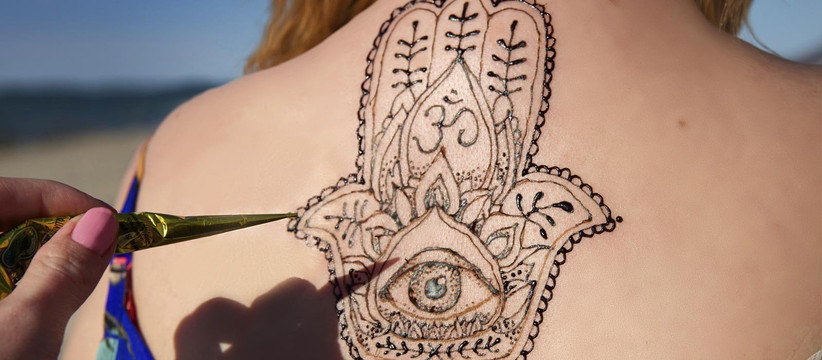 Image courtesy: Natures Body Art
Weddings are all about traditions and this simple and small 'Om' mehndi design on the back tells a great story of rituals. The best place to get it done is a little below your neck, so that it's visible from your stunning saree or lehenga blouse. You could pick any motif that speaks of your tradition and rituals!
11. A massive flower on one of your shoulders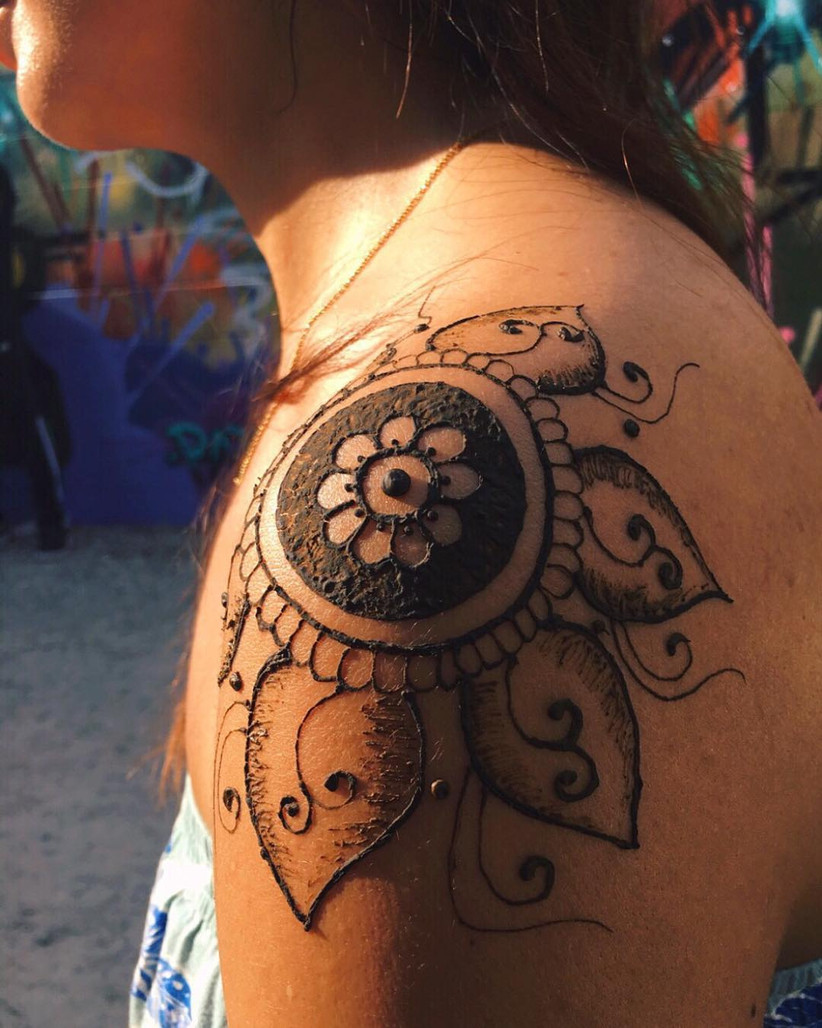 Image courtesy: Expressions by Lavindi
If you don't want a pattern that extends from your shoulder across your back, the one shoulder mehndi art pattern is the best fit for you. Instead of getting different kinds of small patterns done, get a huge flower with some shading on one of your shoulders!
A lot of brides may be hesitant to get mehndi on their back, neck or collar bones. But, take our word and go for it -- it adds a contemporary touch to your appearance. Have fun with the designs, experiment with them, talk to your mehndi artist and you're sure to find the perfect body mehndi design. On a brighter note, this will also look like a tattoo (a temporary one though). Let's add some millennial magic to your wedding, shall we?
Get in touch with our mehndi artists and create some amazing body mehndi art with them!
Written by Rohini Roy