5 Stunning Marriage Hall Decoration Ideas We Recently Spotted
Want to turn your regular wedding destination into something magical? Fret not these marriage hall decoration ideas will give you the much-needed inspiration and ideas!
Proper planning, lighting and flower arrangements among other decor necessities take your regular marriage hall decoration used by different couples on a daily basis into something special and magical just made for you and a grand celebration of your journey together. With the right decorator, you can step into a world more beautiful than you imagined worth every penny you splurged.
From the colour scheme to the flowers and even the hue of lights, down to the smallest details we can't even think about goes behind the perfect marriage hall decoration be it for your cocktail party, engagement or even wedding.
As weddings grow in a more grand and lavish affair in India a major chunk of the fund definitely goes towards the wedding decor with every element being so well thought out and planned almost like a film set where every element has a role to play in bringing everything together. Starting right from the entrance leading up to the stage and not to forget the photo corner, every corner of a marriage hall decoration for any event is crucial and necessary to make it work!
1. Grander than life!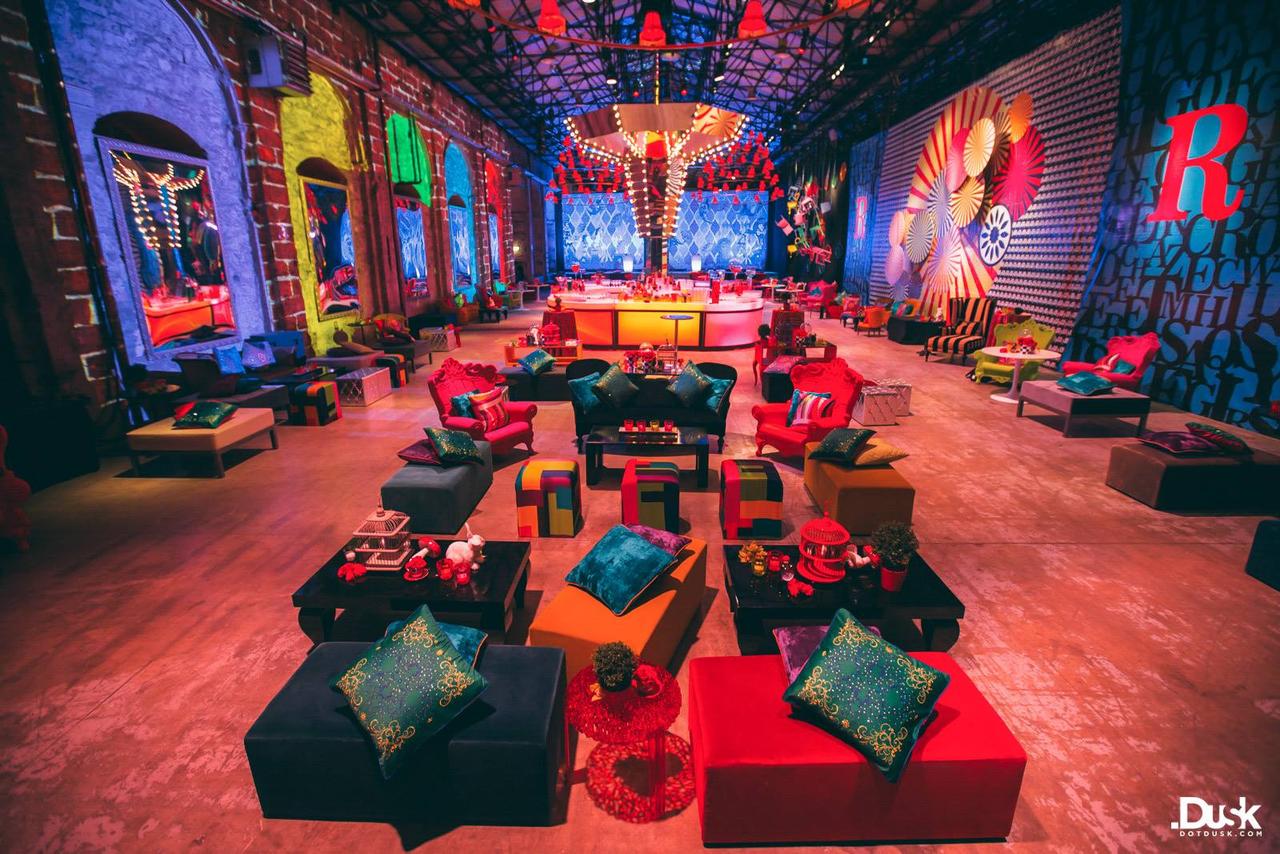 We had to kickstart this list of marriage hall decoration with something so grand, almost too grand for life but there is nothing we don't love about it! The almost psychedelic scheme of colours works so seamlessly well to create a fun inducing theme true to its nature of 'Alice in Wonderland' as the decor team planned.
Starting right from the merging of colours, the excellent lighting and use of props everything is just perfect and even in its extravagance seems just right for a fun-filled cocktail party...who would believe under all of this charade is just a plain old hall? Too much magic with so much decor.
Also, let's take a moment to appreciate the table setting. How stunning are the OTT flower arrangements on each table which seem decadent and also delicate? Ah, this decor makes the banquet hall decor look so fun without people, imagine how fun it got with everyone joining the party?
2. Shocking & electric in pink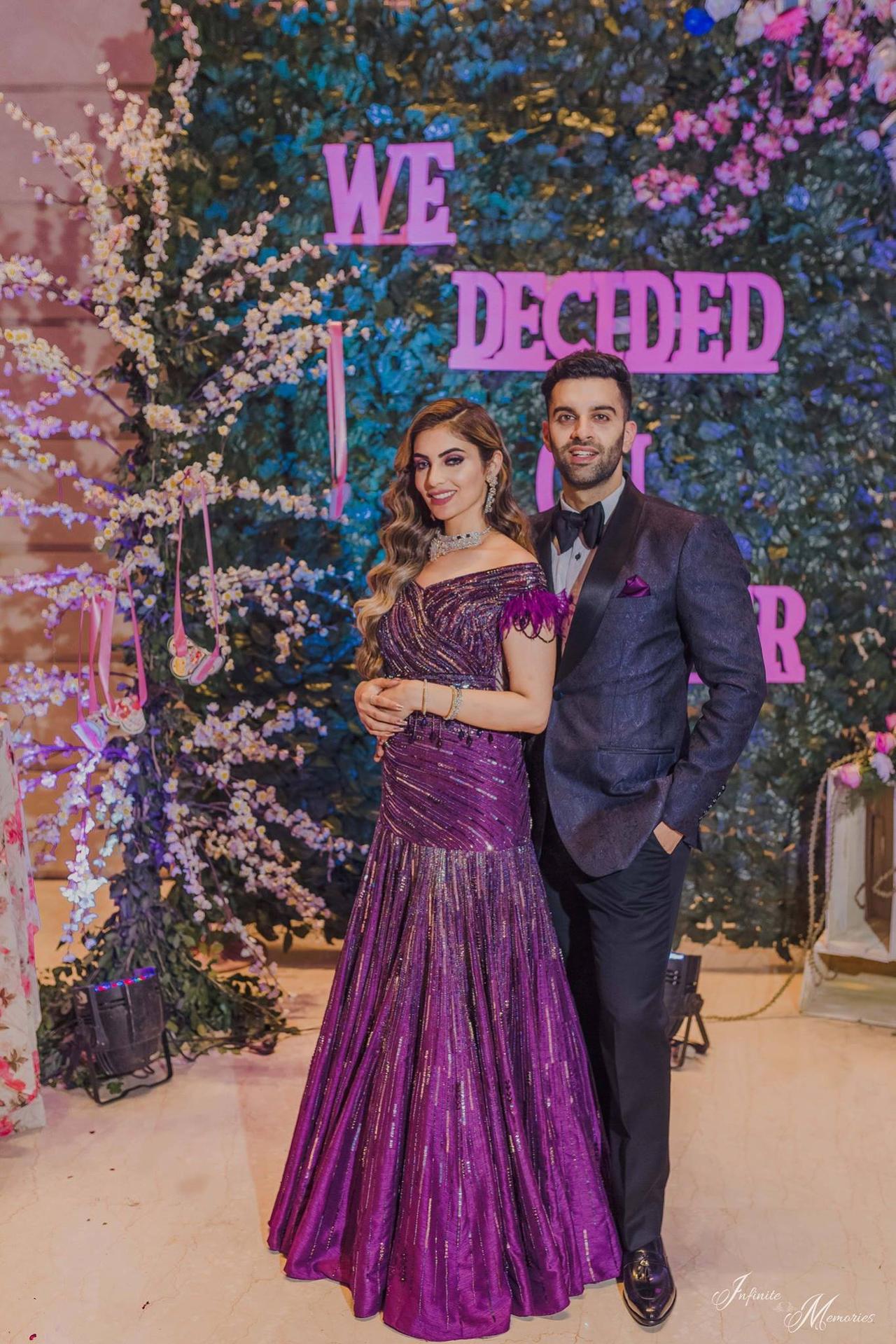 Somehow when we think of pink in terms of marriage hall decoration, we think of pastels and subdued shades of pink but when we saw this couple's engagement marriage hall decor featuring a pop of purple amidst bright pink and the range of pinks we were in complete awe at how stunningly beautiful everything looked.
The colour scheme was a breath of fresh air in terms of originality. The bride in her purple gown looked like a vision against the well-planned marriage hall decoration. We especially loved the 'We decided on forever' patch in the background which is such an Instagrammable corner!
3. Evergreen gold theme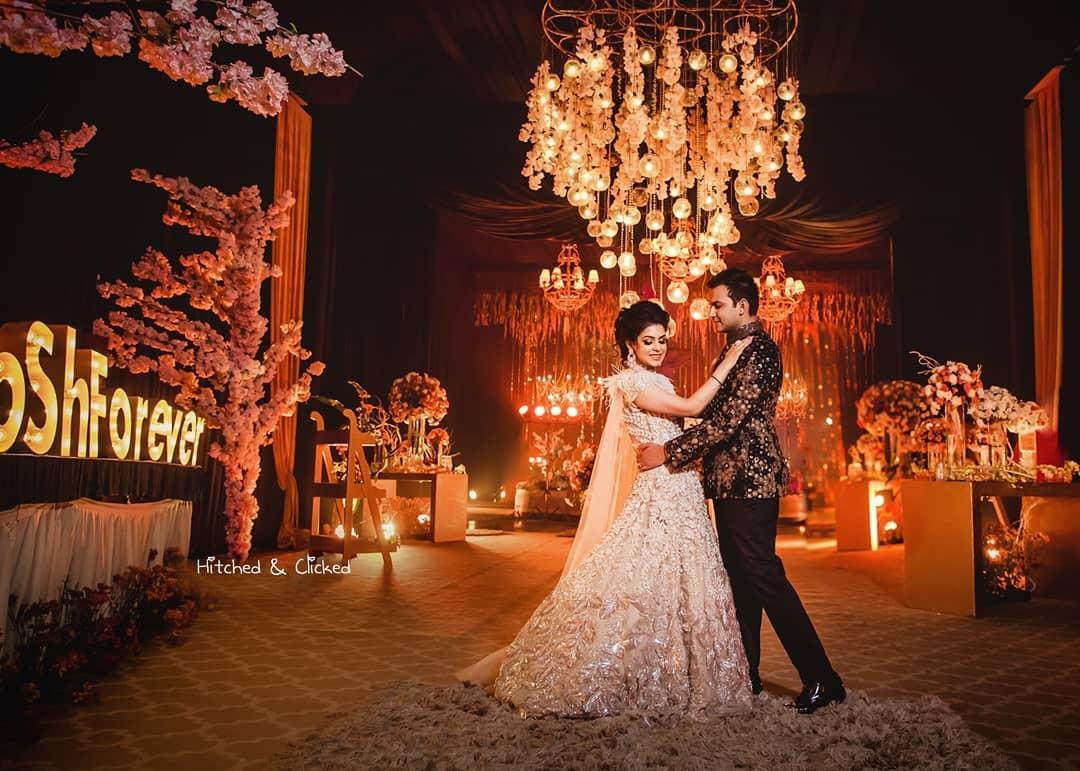 When we think of marriage hall decorations, amongst the first few classic colours we think of is gold. This colour is a theme in itself owing to its magnificent royal and luxurious vibe, and after seeing this couple's marriage hall decor we loved the theme all the more.
Fairy Lights, chandeliers, candles all shine bright with their yellow hue making everything gold shine in it's all the glory including the couple. The use of clear vases, pastel flowers makes everything work perfectly. Also, love how the couple chooses to personalise their marriage hall decoration with a giant display of their wedding hashtag. How very cool!
4. The perfect stage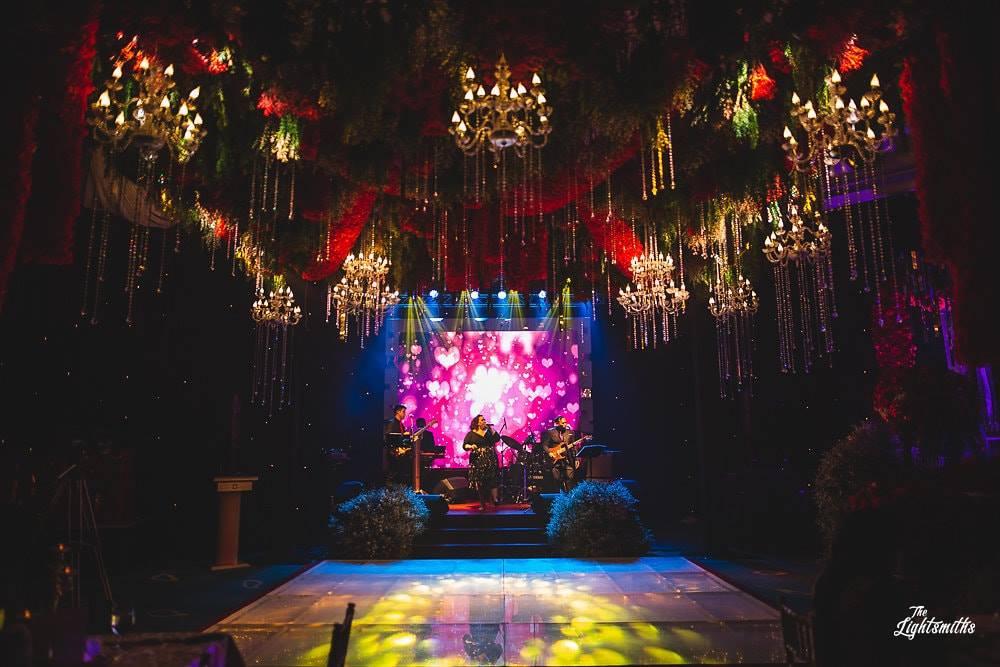 Right above the dance floor, the ceiling is adorned with lush green grass and crimson red bundles of filler laced with strands of shining crystal while being brought together with stunningly beautiful chandeliers all along. What a vision!
This marriage hall decor is perfect for the night of dancing away during celebrations be it your Sangeet ceremony, cocktail, engagement or even reception. We especially love how the lighting has been coordinated to work well with the luxurious theme.
5. Elegant & tasteful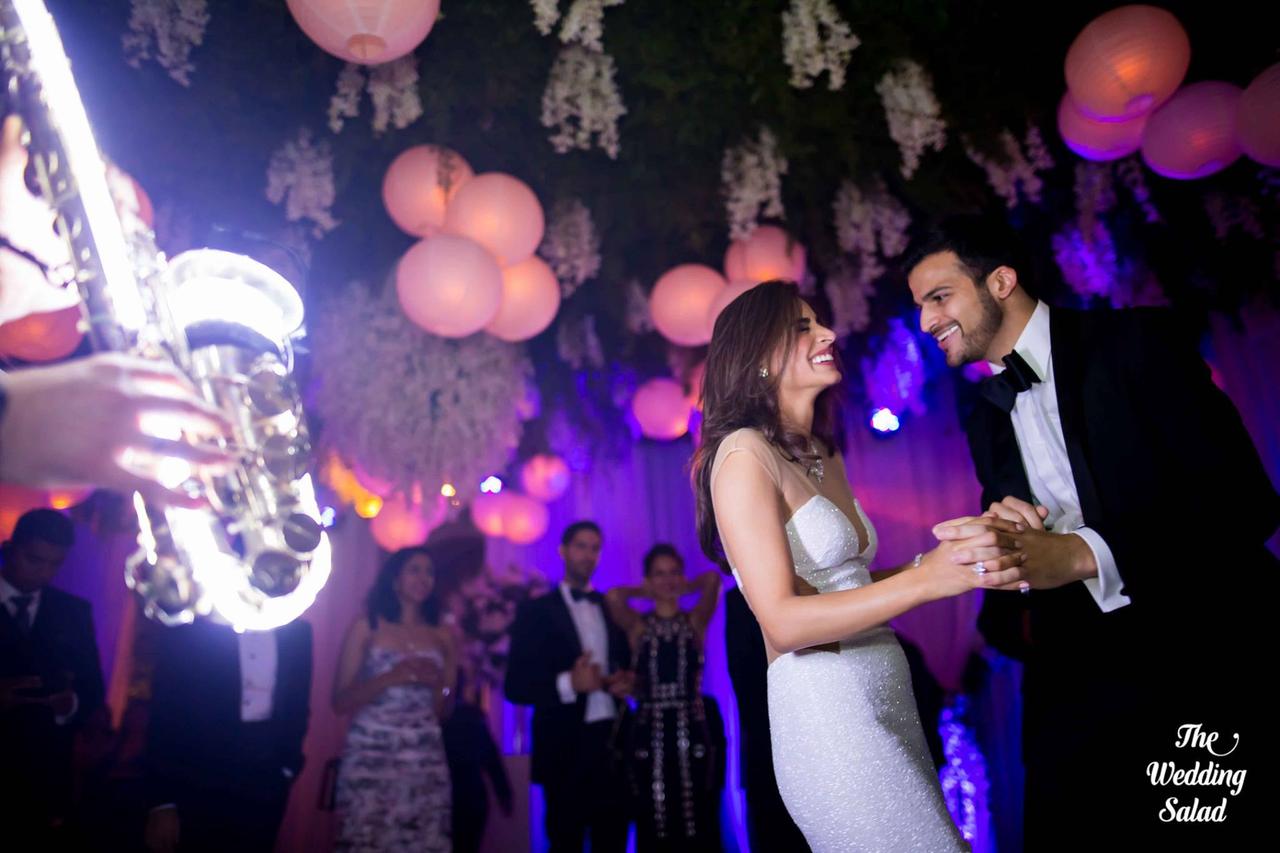 First off, how happy does this couple look? It's a perfect picture with all at it's best including the marriage hall decoration. How simple and elegant is this tastefully done up room? Yet again the ceiling is well decorated with pink lanterns, white flowers and ferns to fill it all. Everything looks so chic and pretty. The hall is even lit with a purple hue making it all appear bright and happy!
There is so much space to manoeuvre and explore when it comes to marriage hall decoration! While most people opt for outdoor locations, we cannot help but appreciate indoor spots as well for the weather regulation factor, space to completely transform a hall according to your whims and fancy.
These marriage hall decorations can be applied for a variety of functions ranging from your engagement to the reception. Be sure to experiment, while also having clear conversations with your decorator about your expectations and budget, keep inspiration images in handy to understand which of your decor favs can be included on the big day and most importantly have fun with it all!
So which marriage hall decoration did you like the most? Do let us know in the comments.