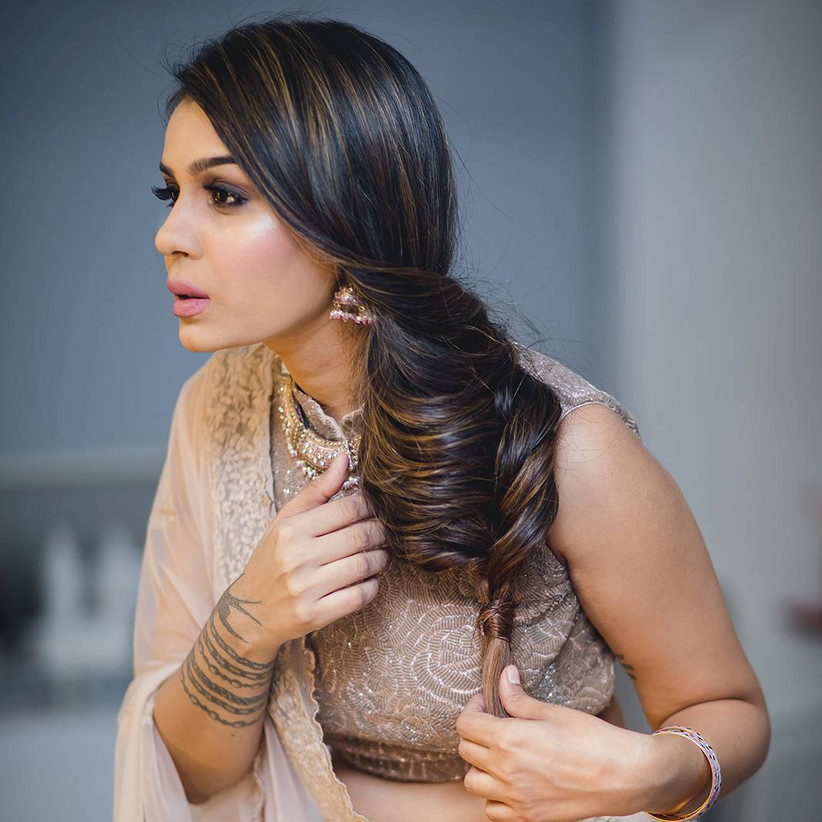 Image Courtesy: Orange the Salon by Aanal Savaliya
Since you were little you must have more than once dreamt of long tresses like that of Rapunzel. Now that your best friend has decided to tie the knot, you get a chance to flaunt your long and beautiful mane for her wedding and be the most beautiful bridesmaid ever!
It is true that your hairstyle speaks tons about your fashion sense. It is not just the makeup and the gorgeous outfit you have picked for your BFF's wedding ceremonies that count, but your hairstyle for long hair will definitely turn some heads. There is a lot that is influenced by the hairstyle you choose to flaunt. More often than not your hairstyle totally changes the way an outfit looks on you.
To make sure that you are the most beautiful bridesmaid a bride can possibly walk down the aisle with, we have curated a list of hairstyles for long hair because the Rapunzel in your needs a glam up for your BFF's D-day!
The Classic Bun with A Twist Hairstyle for Long Hair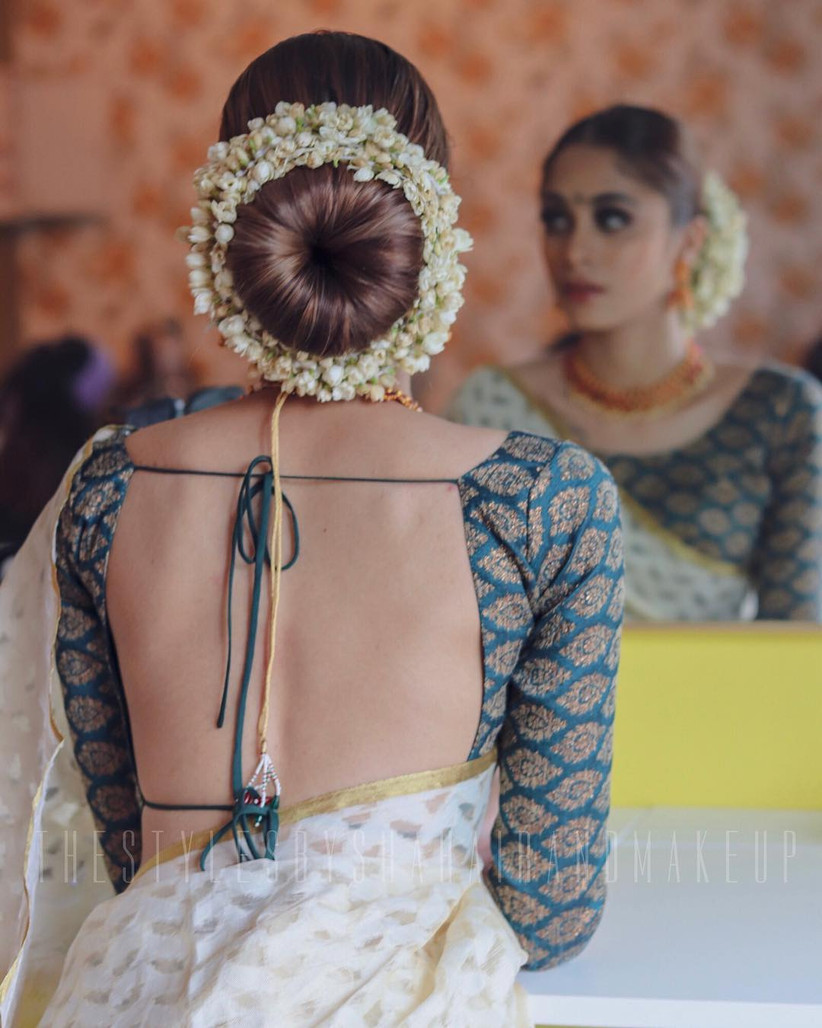 Image Courtesy: The Styles by Sha
The classic bun hairstyle for long hair has held its stead for a really long time. From many generations ago to the millennials, the classic bun hairstyle has come a long way and has included quite a few twists and turns or braids in it. The classic bun hairstyle for women has also evolved using flowers and other hair accessories to make it look all the more chic. From a French bun to a low chignon bun, carry it off with absolute elegance with a saree or even a lehenga.
You can accessorise it with a Gajra or a beautiful brooch in the centre of it. You can even add drama and more volume to your bun by flaunting some vintage side-swept swirl or ringlets near the ears. Floral pin tucks on one side swept from a french bun is also a trending bun hairstyle that is sophisticated and beautiful for the bridesmaids.
A maze-like low bun is a beautiful way to add texture to your hairstyle along with teasing out some hair strands to make it look a little messy and effortless while you pull off the diva look without worrying about your hair while you are busy with your bridesmaid's duties list.
The bun hairstyles for long hair are a perfect pick for occasions like the Engagement ceremony, the Reception or even a formal cocktail. It is not only elegant but absolutely stylish and can uphold any style with ease!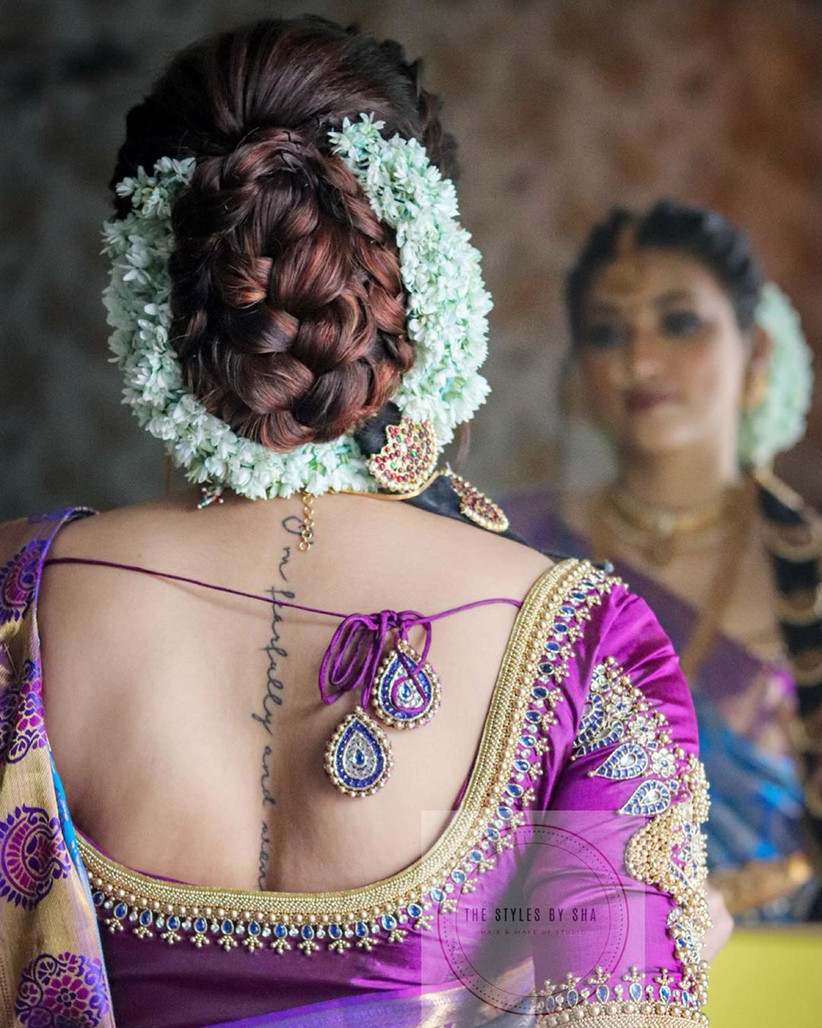 Image Courtesy: The Styles by Sha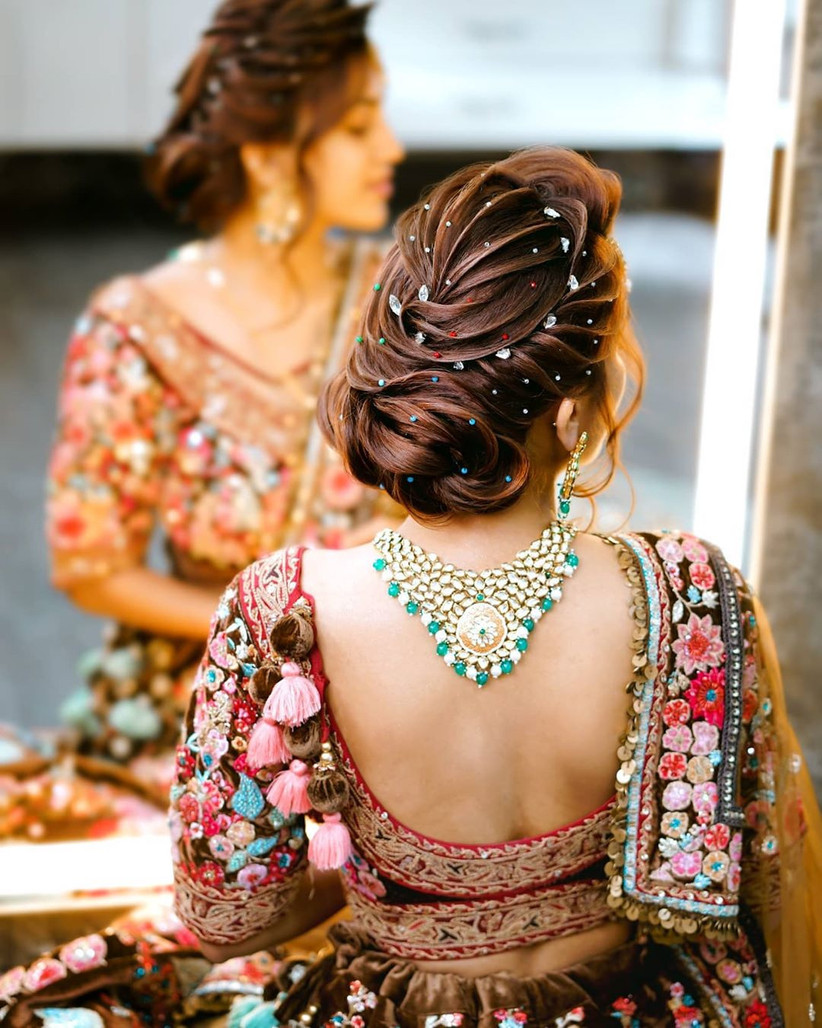 Image Courtesy: Orange the Salon by Aanal Savaliya
The Beauty of Braids in hairstyles for long hair
The beauty of hairstyle for long hair in braids is unparalleled to any hairstyle that is seen at Indian weddings and we vouch for it! From a regular plaited hair to bubble braids, mermaid braids, messy braids, French braids, Dutch braids, waterfall braids, fishtail braids and so on, the braided hairstyle is a quintessential look that the bridesmaids can flaunt at a wedding.
Braids have been an integral part of the bridal look in South India, but the bridesmaids have often flaunted dainty and sometimes fierce braided looks. The latest braided hairstyle that is trending is a braid of dreadlocks with beautiful gerberas snuck into the layers. You can run a ribbon with a brooch through the centre of the braid to add to the royal touch.
Bridesmaids need not overdo their hairstyle or go overboard with accessories when the brides plan to keep it minimal. However, a cascading waterfall braid or a loose side-swept fishtail braid with rose-shaped knots sounds mesmerising. The sky is the limit when you plan on personalising your braided hairdo, especially with some baby's breaths and pins to accessorise.
The braided hairstyle for long hair is a popular choice among bridesmaids for occasions like the Mehndi ceremony, the Haldi and even the Sangeet ceremony where you get to show off your thumkas without having to worry about your hair misbehaving. Keep it loose, cross-section it, mess it up, add some accessories, crimp it or bubble it up like Jasmine (Alladin's girlfriend of course) - braids are a timeless hairstyle. So are the Rapunzels in the house already grateful for braids? Because we are!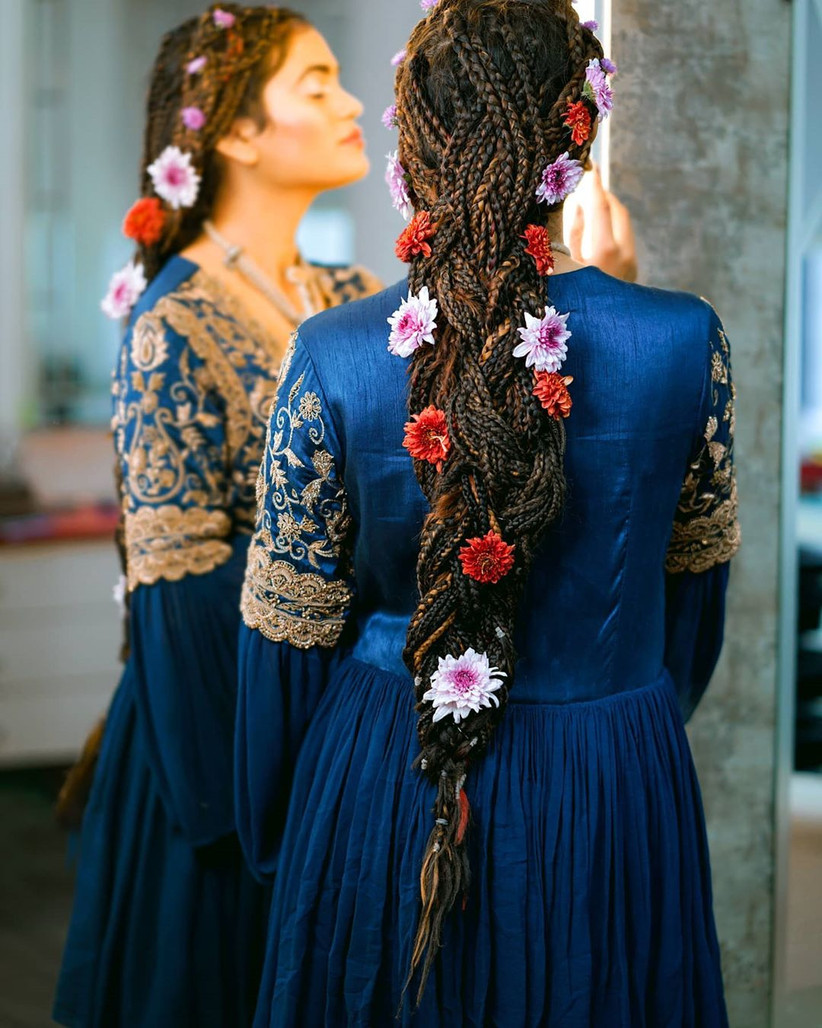 Image Courtesy: Orange the Salon by Aanal Savaliya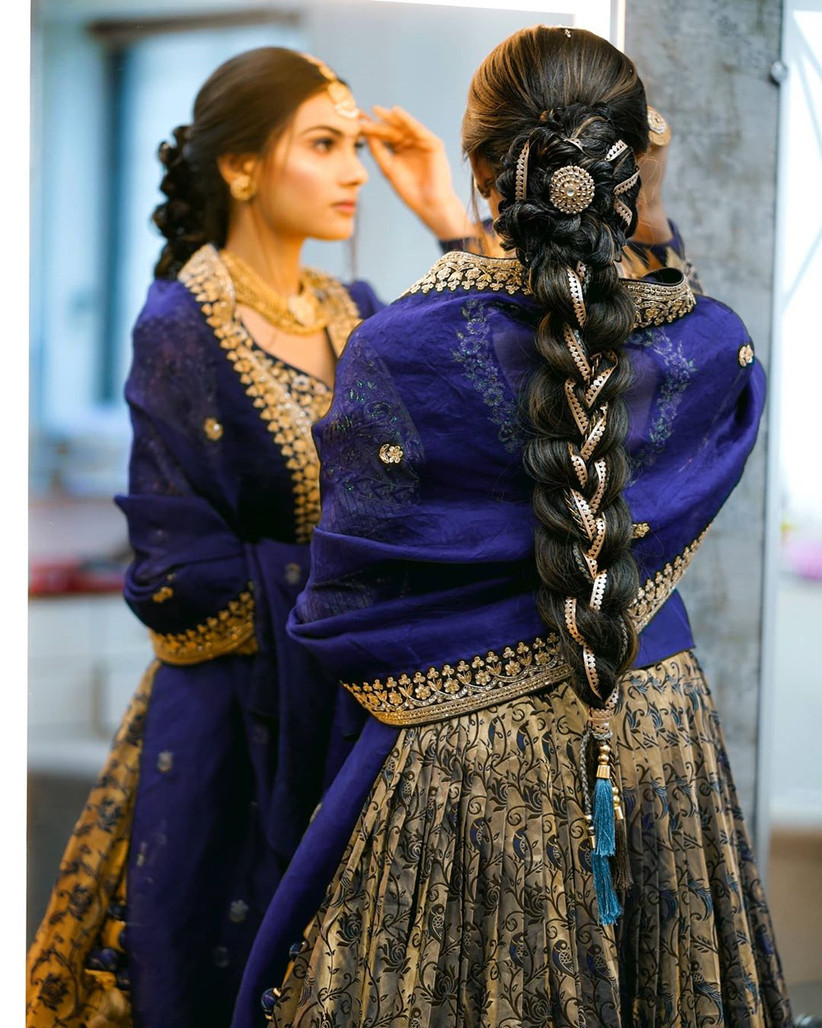 Image Courtesy: Orange the Salon by Aanal Savaliya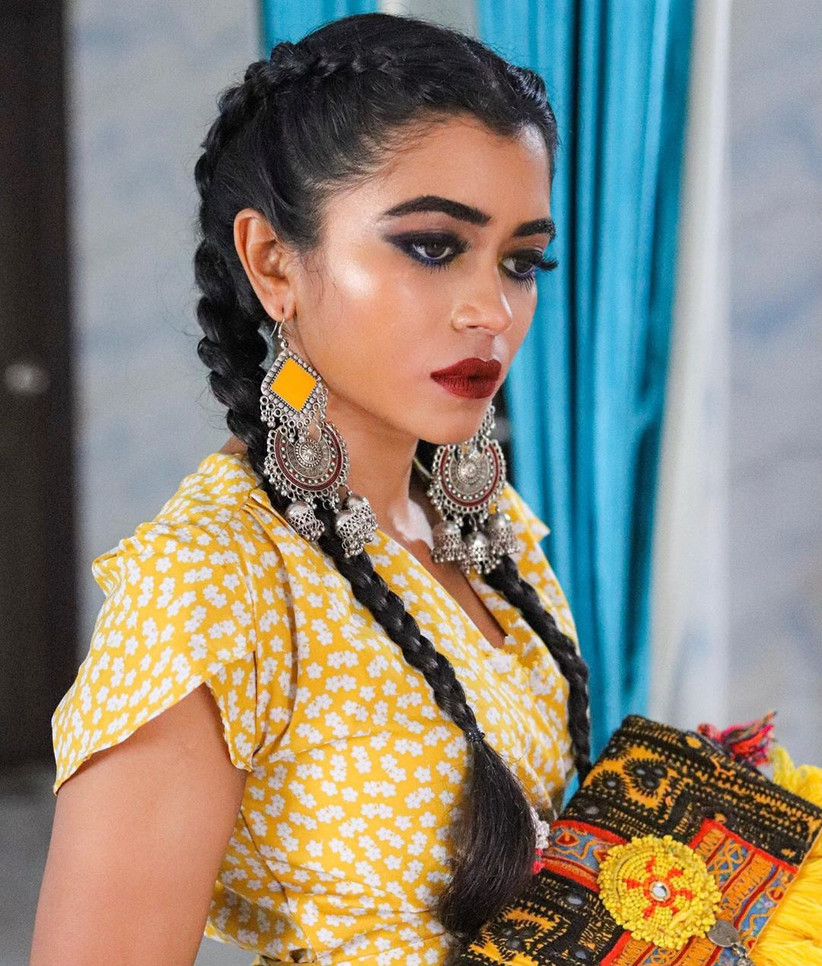 Image Courtesy: The Styles by Sha
Half Up-Do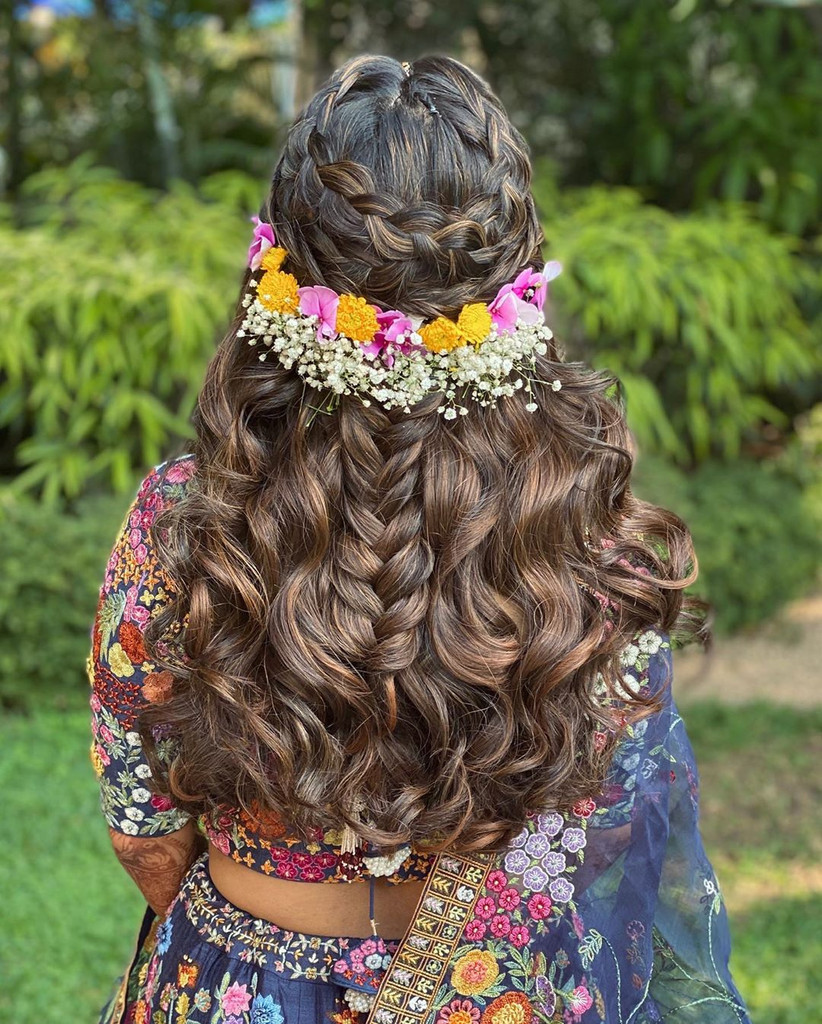 For all the beautiful women who will soon walk down the aisle with their best friend, cousin or sister, under their gorgeous Phoolon Ki Chaadar, the half-updo hairstyles are your safe haven. A half-updo hairstyle is trending among the millennial brides and bridesmaids and it makes you look effortlessly beautiful. Separate a section of the hair from the crown to braid it, to tie it in a bow-shaped knot or maybe try those textured rose-shaped braids with little pearls in the centre of it.
You leave the rest of your lower hair loose in charming curls or sweep it sideways to the front of your shoulders too. This look has its own fancy and sophisticated yet playful appearance. Flip your hair or twirl in grace for the photographer while adding to the pretty quotient at the wedding. The heads are sure to turn!
The half-updo hairstyle also includes top-knot buns that are easy to make and need not take you hours with the hairstylist to step out looking as pretty as ever. You can add floral accessories if you plan to pick this hairstyle for a Mehndi or Haldi function during the day. We suggest you pick more bling accessories like a stone-studded hairpin or a gorgeous tiara if you pick these hairstyles for an evening function like the Sangeet and the wedding.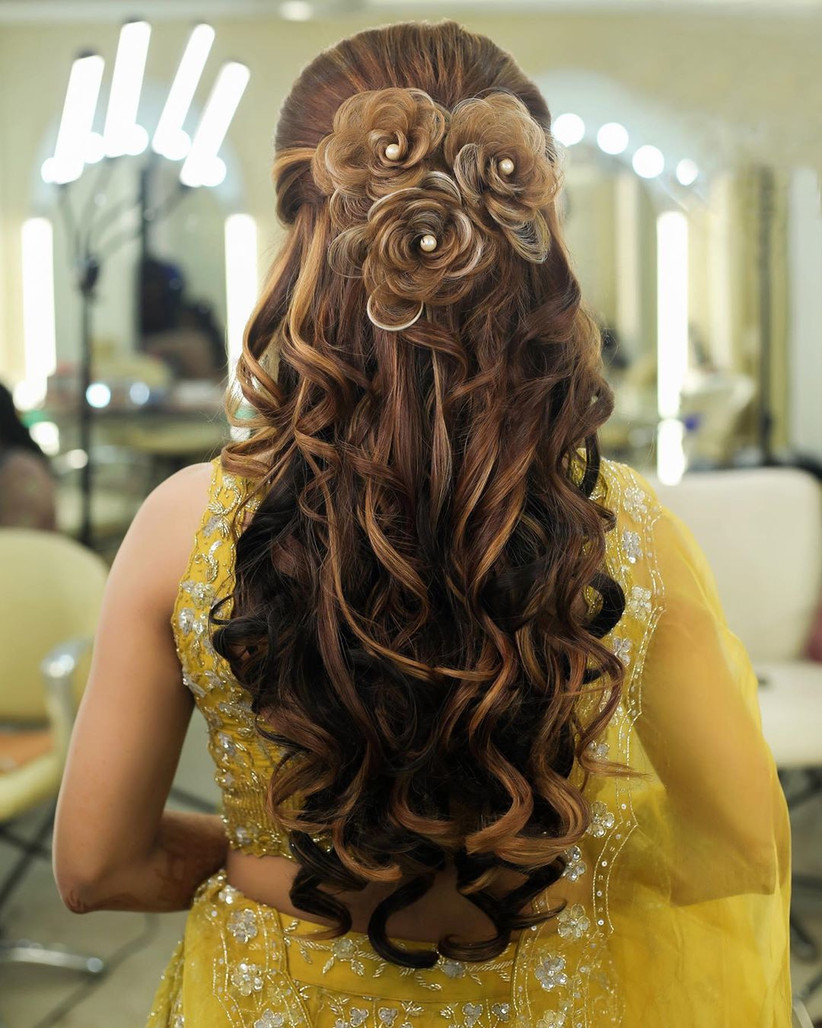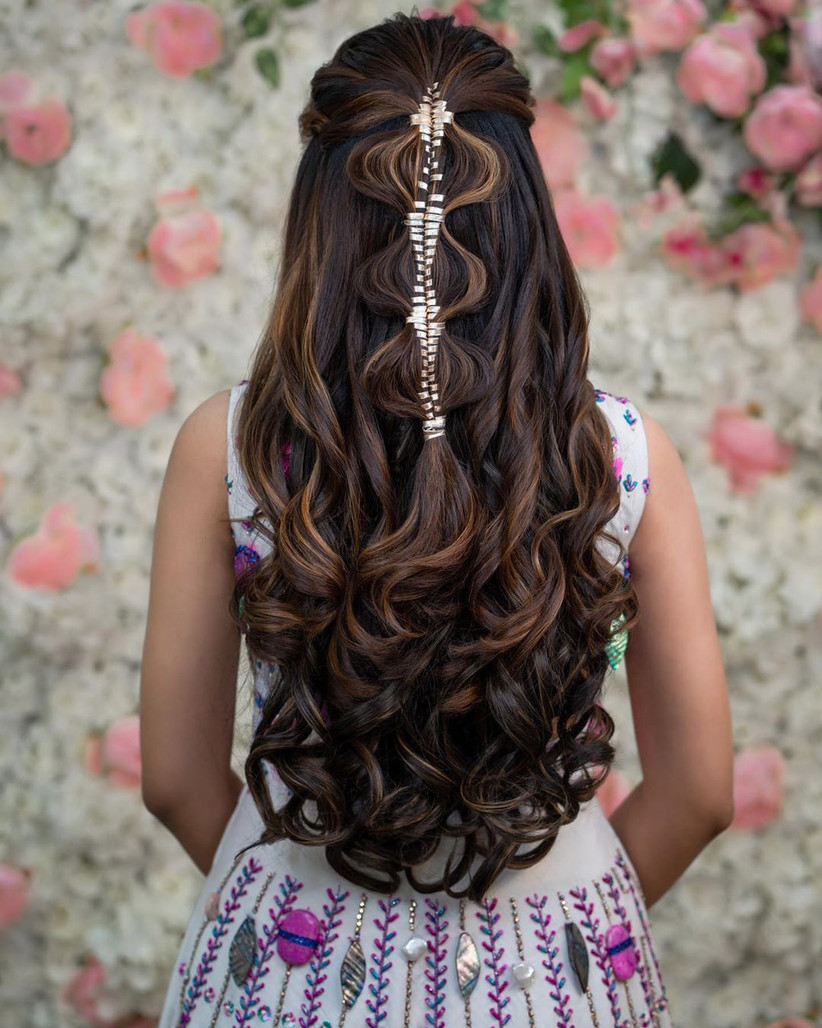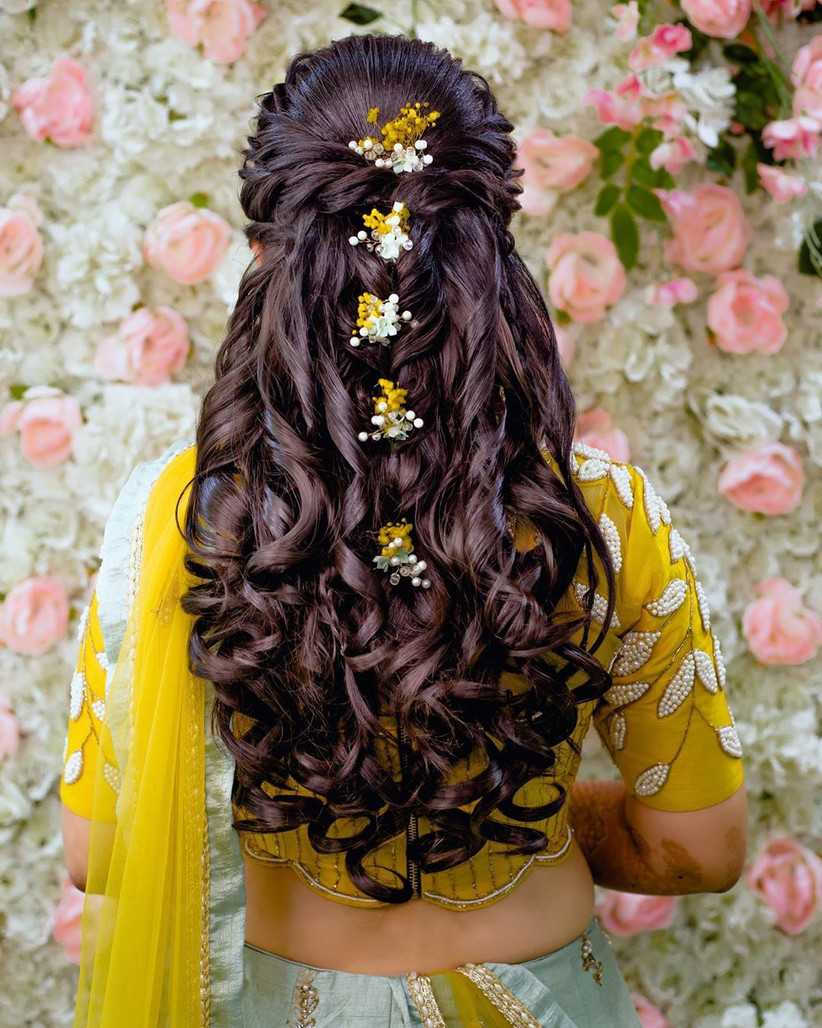 The Hassle-Free Ponytails for Wedding Hairstyles
For the bridesmaids who want to keep it minimal and fuss-free when it comes to their hairstyles, the only option to top the rest is a ponytail. While being an elegant call it is also a genial look. The ponytail hairstyles perfectly sculpt your jawline to make you look sharp and tidy and allow you to briskly move around without any strands covering your face or getting tangles in your Latkan or tassels.
From a sleek ponytail that looks like you austerely mean business at your bestie's wedding to a messy layered ponytail that adds volume to your locks, the ponytail hairstyle for long hair can solve all your "which hairstyle would be the most convenient" queries. Letting the ponytail be curly and as natural as possible or creating a bouffant puff before gathering it all up in a ponytail can completely transform your #OOTD look.
While a stone-studded Swarovski barrette will be just fine to make your ponytail look highly fashionable and tasteful like those models on the cover of Vogue, some baby's breaths flowers will make you look fragile and refined.
Opt for a ponytail if you want to avoid the salon time to get ready. Tease your hair by back-combing it or blow dry it to add more volume. You can choose to add texture by layering the strands of your hair and making them meet the crown separately. It is a perfect pick for a Cocktail, Engagement or Reception party.
Open Hair Waves
Let your hair down. It is as simple and undemanding as it sounds because all you really need to do is let your hair down and let your tresses work the magic. It is your best friend's or sister's wedding and you do not want to compromise with your comfort-zone while keeping up with the Instagrammable looks that will WOW the crowd. To keep this exact balance intact, you can go with the open hairstyles for long hair.
If you are blessed with naturally beautiful hair that needs no heat or chemicals to settle down and make you look pretty, all you need to do is back-comb it for some volume near the crown and let it be. You could also go for beach waves with crystal-studded hair clips on one side to add to the spectacle. Most bridesmaids who have flaunted an open hairstyle have often accessorised it with tiaras and beautiful side-clips.
Sleek brushed back hair is a trend that has been followed in the western red carpet events by the most popular celebrities. It adds to your natural beauty and while it sounds simple to keep your hair parted and open, the look does add to the glam quotient that can be perfect for the bridesmaids for the reception ceremony with a western gown and heavy diamond sets to accessories the entire look. The open hairstyle also fits the reception and wedding and allows your makeup and outfit to shine brighter!
Hairstyling can change your entire appearance and for the bridesmaid who adds to the pretty aesthetic of the wedding ceremonies from carrying her shopping bags to standing right next to the bride and planning the Joota Chhupai, the hairstyles for long hair will only elevate her beauty while she keeps up the quirky in her. Pick a hairstyle that is convenient and will make you comfortable while making you look as beautiful as ever!
These hairstyles are perfect for the bridesmaids and since they do not have the OTT factor in them, any other guest can also pick one of these fantastic hairstyles for a wedding. Be it naturally wavy or be it curly or even straight, these hairstyles can be a showstopper for any bridesmaid with any type of hair. Always use low heat and the best quality of hair products to avoid as much damage to your mane as possible.
While your hairstylists turn your tresses into the talk of the town, you can get in touch with professional makeup artists to complete the look for the big day. Don't forget to pick trending bridesmaids' dresses that will be a head-turner!