9 Most-stylish Earring Photos You Must Bookmark Right Now!
A stylish pair of earrings can take your entire outfit from drab to fab. To help spark some inspiration we bring you our favourite earring photos.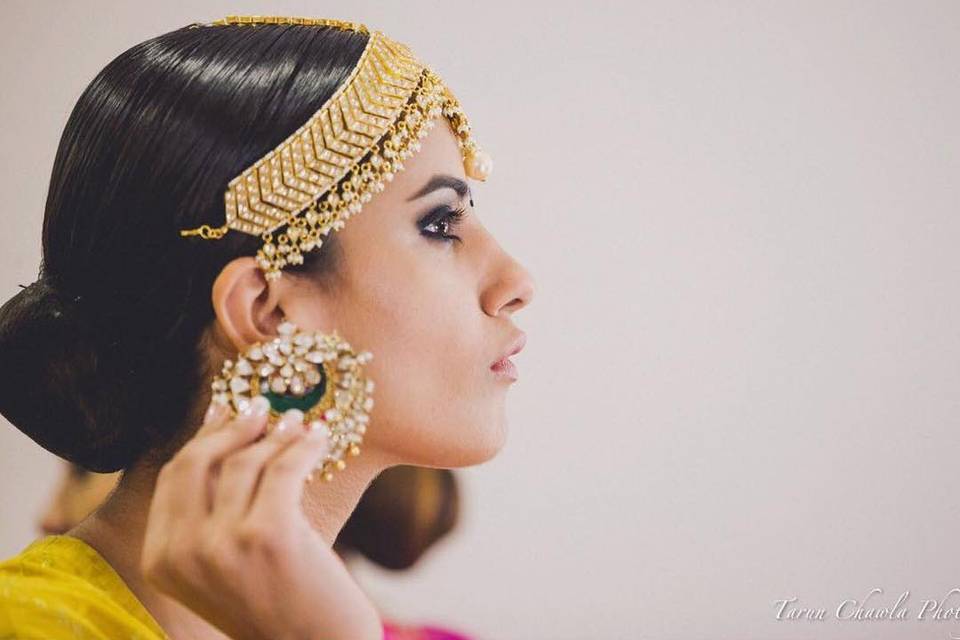 When we think of accessories that help us make a statement, the first thing that comes to mind is a colourful handbag or sparling shoes. However, if you want to be the star of the show at the wedding festivities, a great way to do this is with a pair of bold earrings. Earrings can define your style aesthetic which framing your face in an effortless way.
In addition to this, you can also choose a pair that showcases your unique personality. From simple studs to glamourous chandelier earrings, there's a pair to suit every type of bride. Scroll through these earring photos to get the low-down on the latest trends.
Leaf-shaped Kudan earrings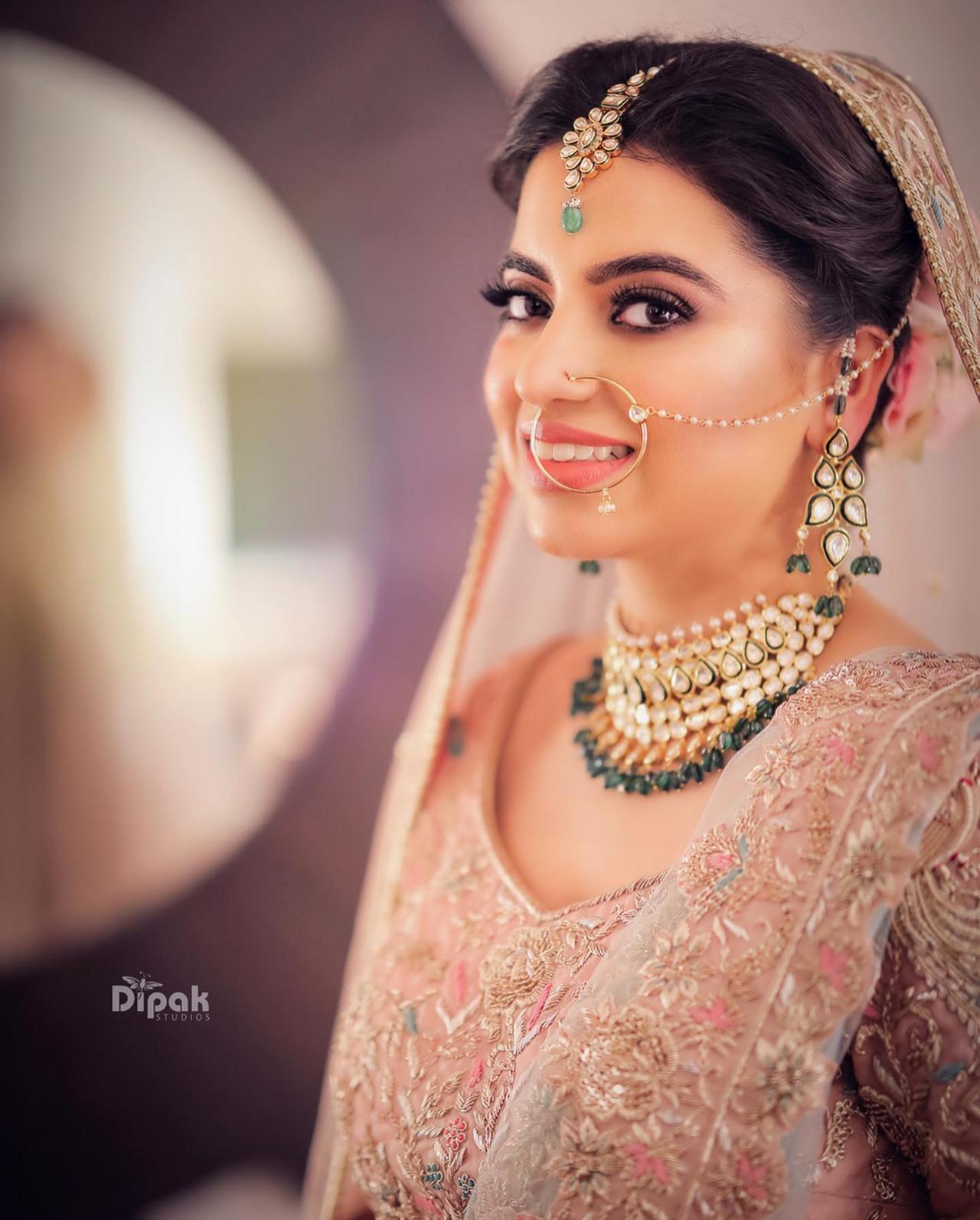 Sometimes it's the simple pieces of jewellery that can help you make a statement. When it comes to bridal attire, the rule of thumb is that your necklace and earrings follow a similar pattern. This bride's jewellery follows this trend with a matching Polki set. The choker is adorned with a pearl and Polki detailing lined in green which is paired with a similar earring. This earring photo is both traditional and elegant.
Meenakari Jhumkas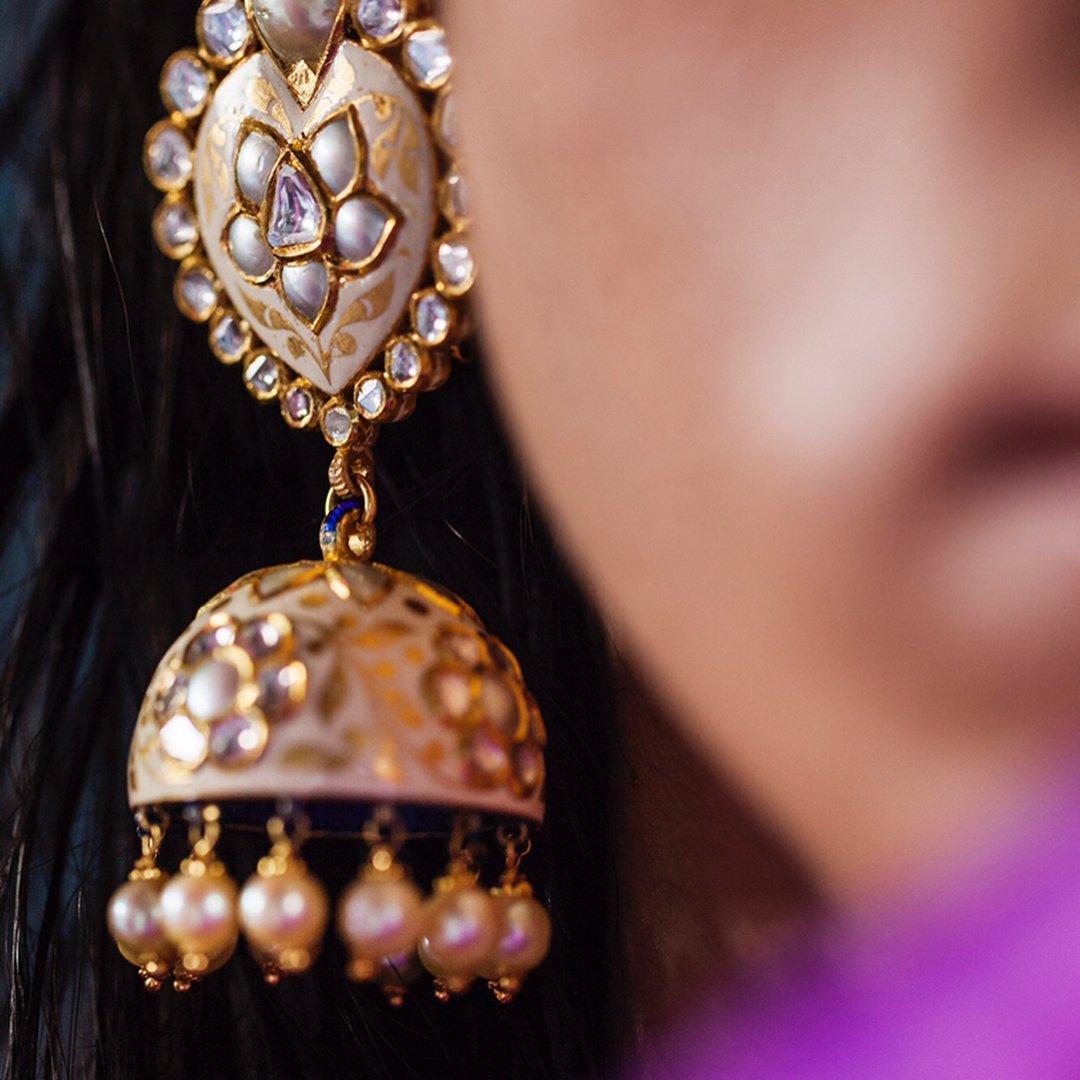 Image Courtesy: Sunita Shekhawat
If you wish to go light on your makeup and attire, your jewellery is the perfect way to add that glam factor to your outfit. This is the perfect choice for functions like the Mehndi or the Sangeet that call for a slightly more demure outfit. This earrings photo features large meenakari Jhumkas with precious stones.
Gota earrings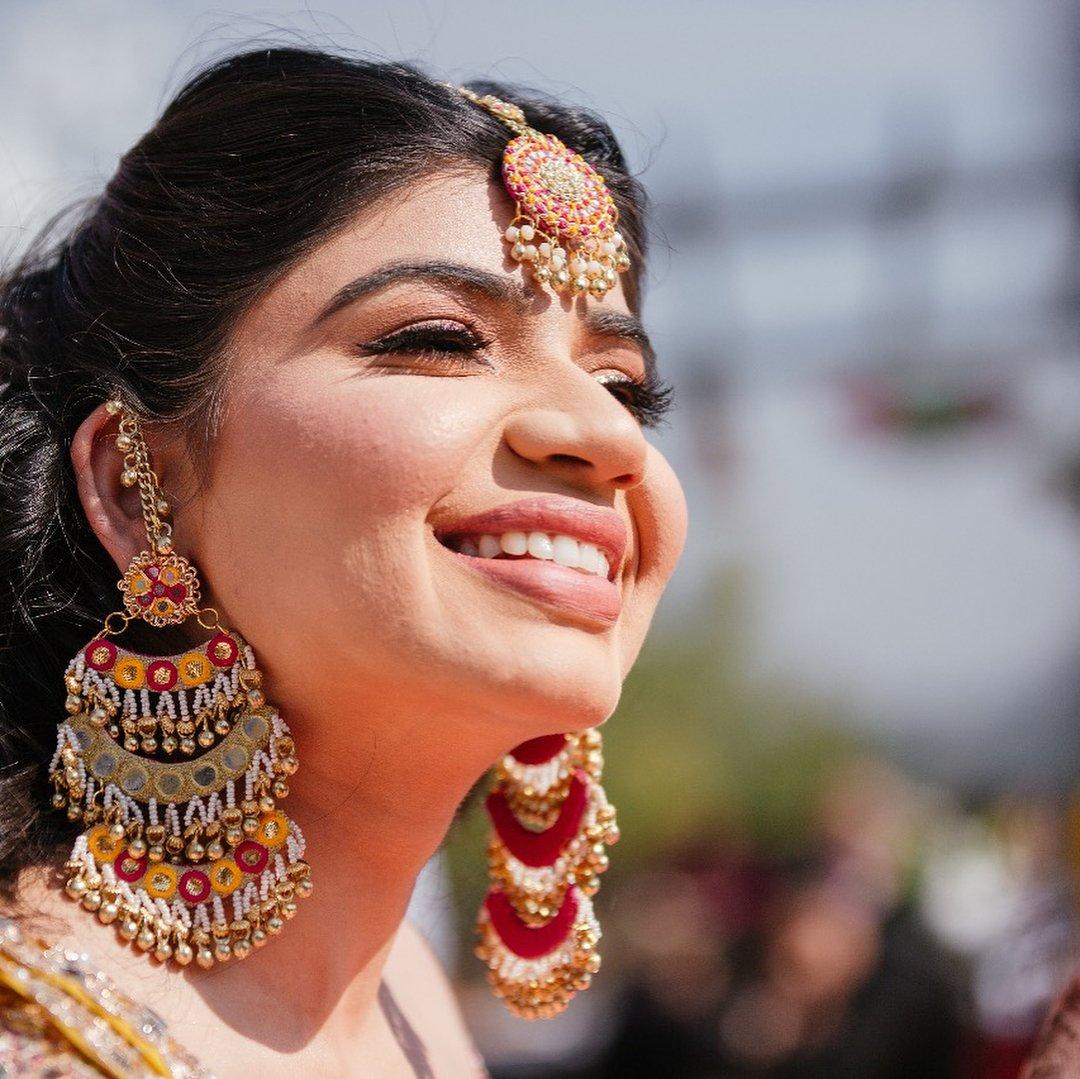 For the traditional brides, a pair of gota earrings in your bridal trousseau is a no-brainer. This classic earring style has the ability to transform your entire look while framing your face in an elegant way.
Heavy Chandbali earrings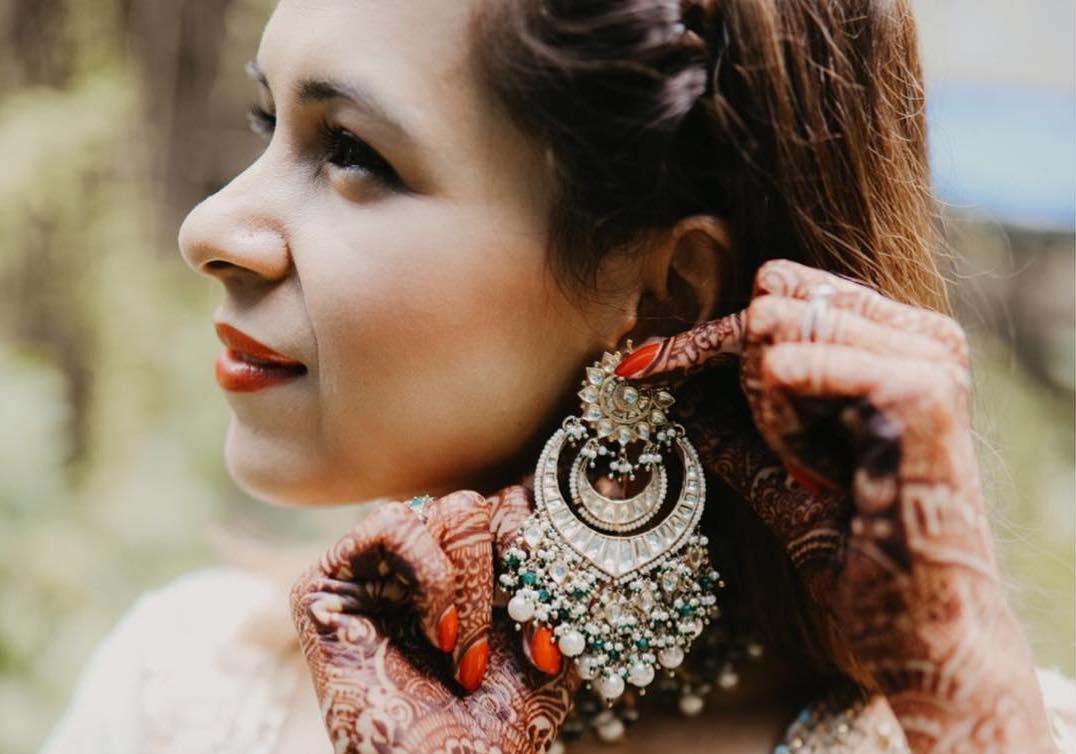 A great way to add a fun touch to your bridal attire is with a unique pair of earrings. For events preceding the main wedding day, you can opt for earrings that you can wear many times over. For instance, the bride in this earring photo is flaunting a pair of big and note-worthy Chandbali earrings that feature an intricate gold detailing with pearls detailing.
Guttapusalu Chandbali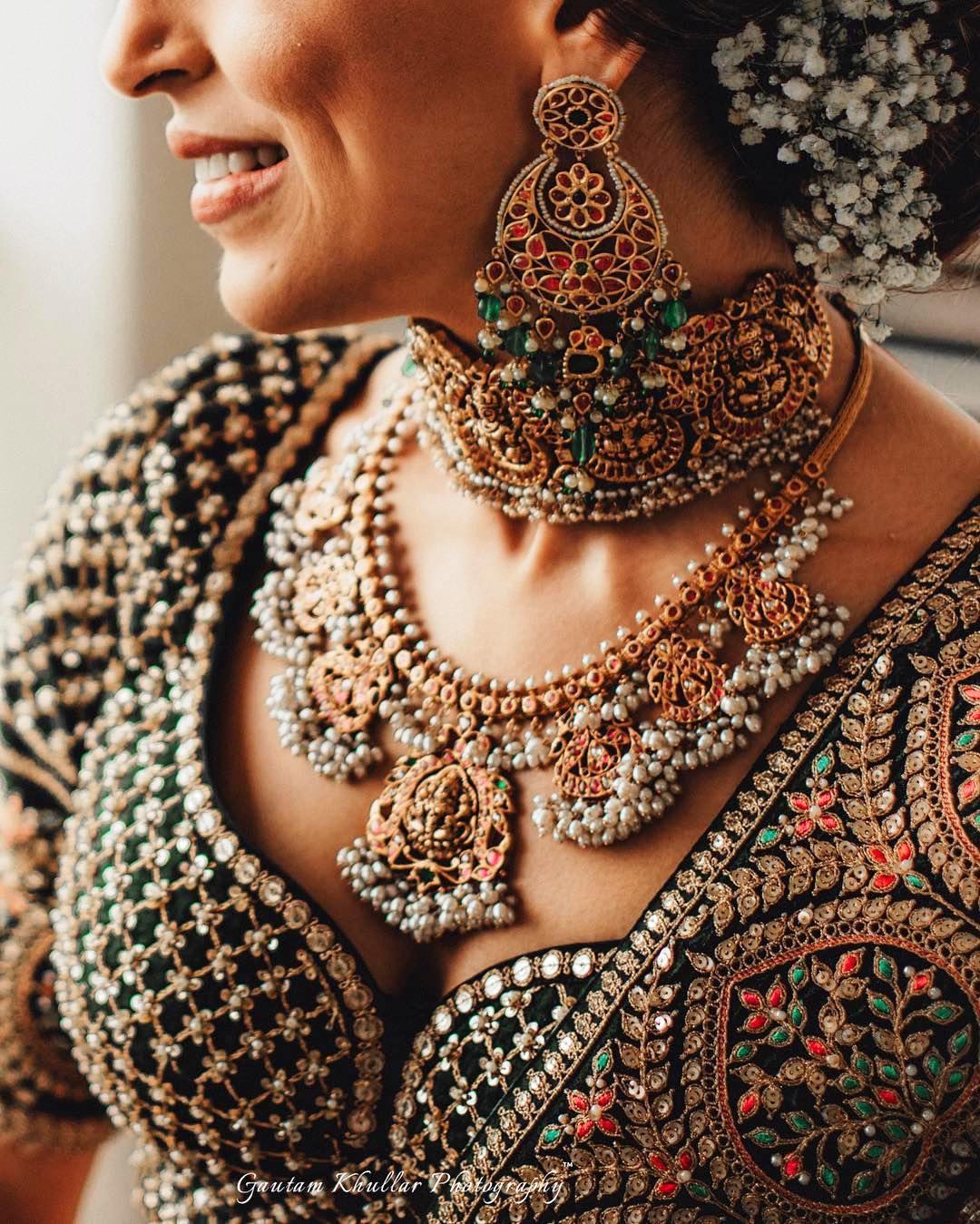 Earrings have a way of defining your attire and in some cases, they can make or break your outfit. For the main wedding day, it's your time, so your jewellery should be nothing short of dazzling. The bride in the earrings photos is wearing a stunning pair of earrings designed in guttapusalu. These earrings can complement almost any and every bridal lehenga.
Long enamelled earrings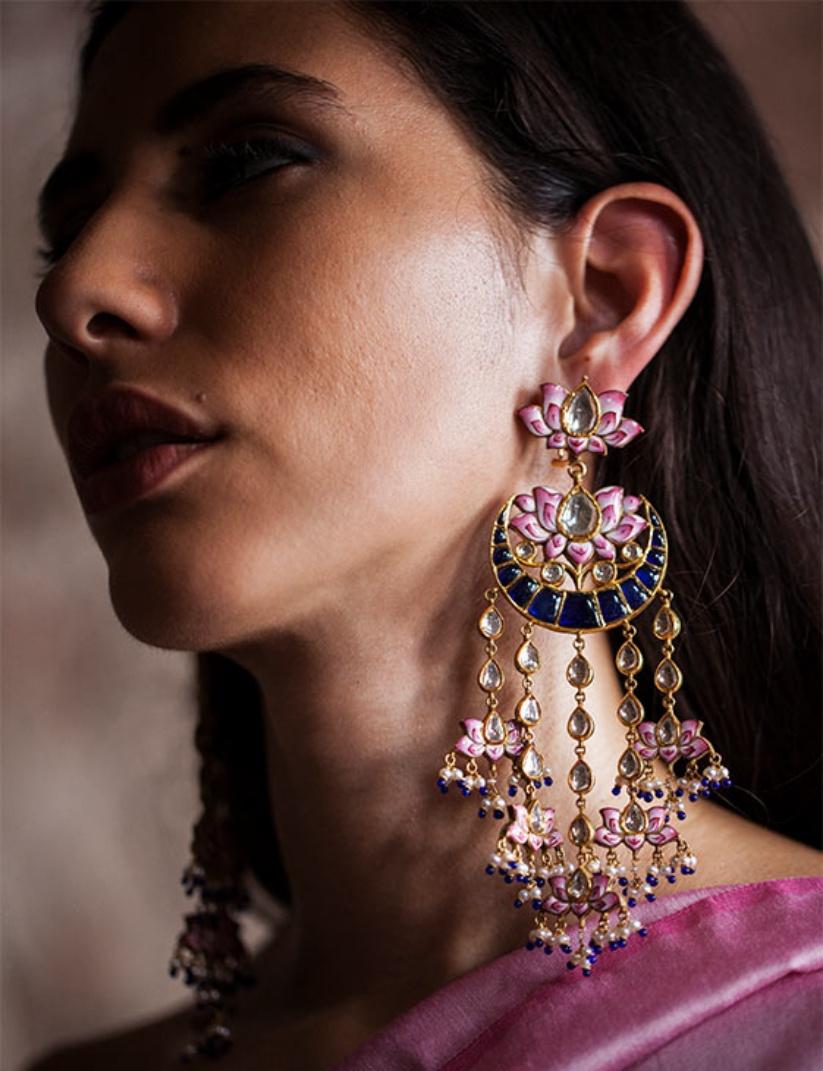 Image Courtesy: Sunita Shekhawat
When it comes to your earrings, the more unique the better should be your motto. Modern brides are always looking for new ways to style their outfit and stand out from the crowd. A unique pair of earrings is a simple and effective way to do this. This earring photo features bold and glam enamelled earrings with lotus motifs. This is followed by small rows of Kundan stones suspended by small lotus motifs. You can rock this pair for events like the Sangeet but remember to keep the rest of your jewellery minimal so that all the attention is on these earrings.
Statement ear cuff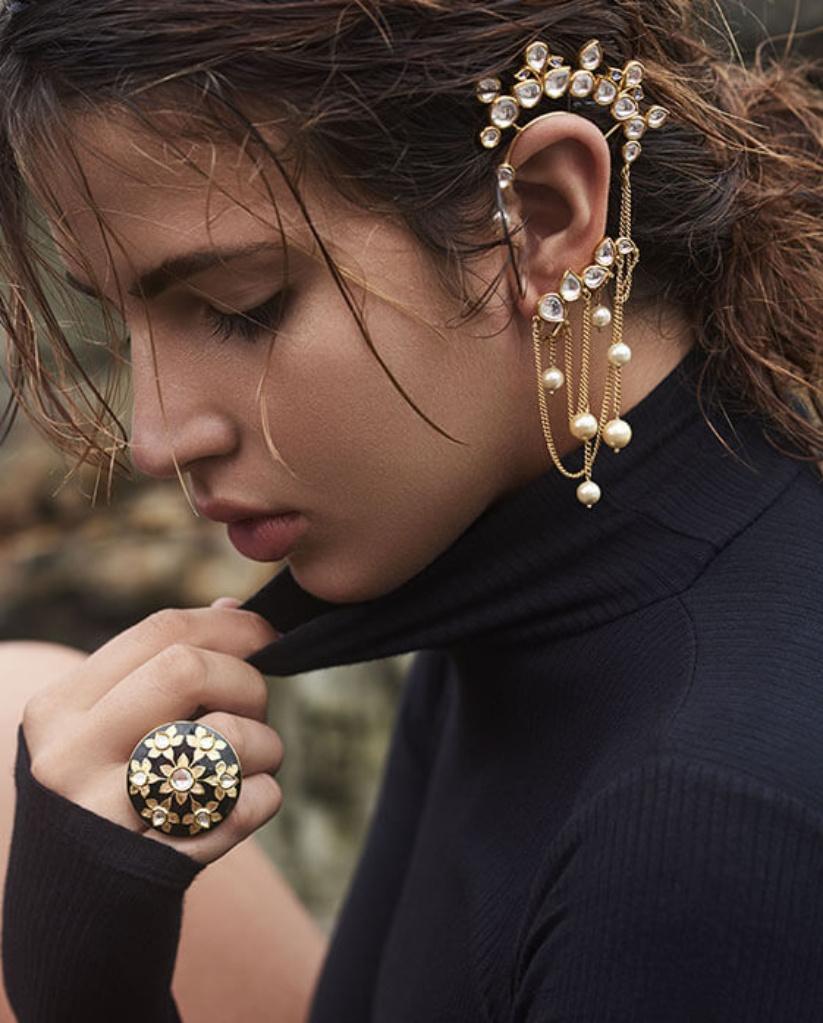 Image Courtesy: Sunita Shekhawat
While some brides prefer Chandelier earrings or Jhumkas, other brides may prefer something a little more subtle like some statement-making ear cuffs. These earrings can add a cutesy factor to your outfit without going too overboard. Such funky pieces are perfect for smaller ceremonies like haldi and mehndi.
Colourful stones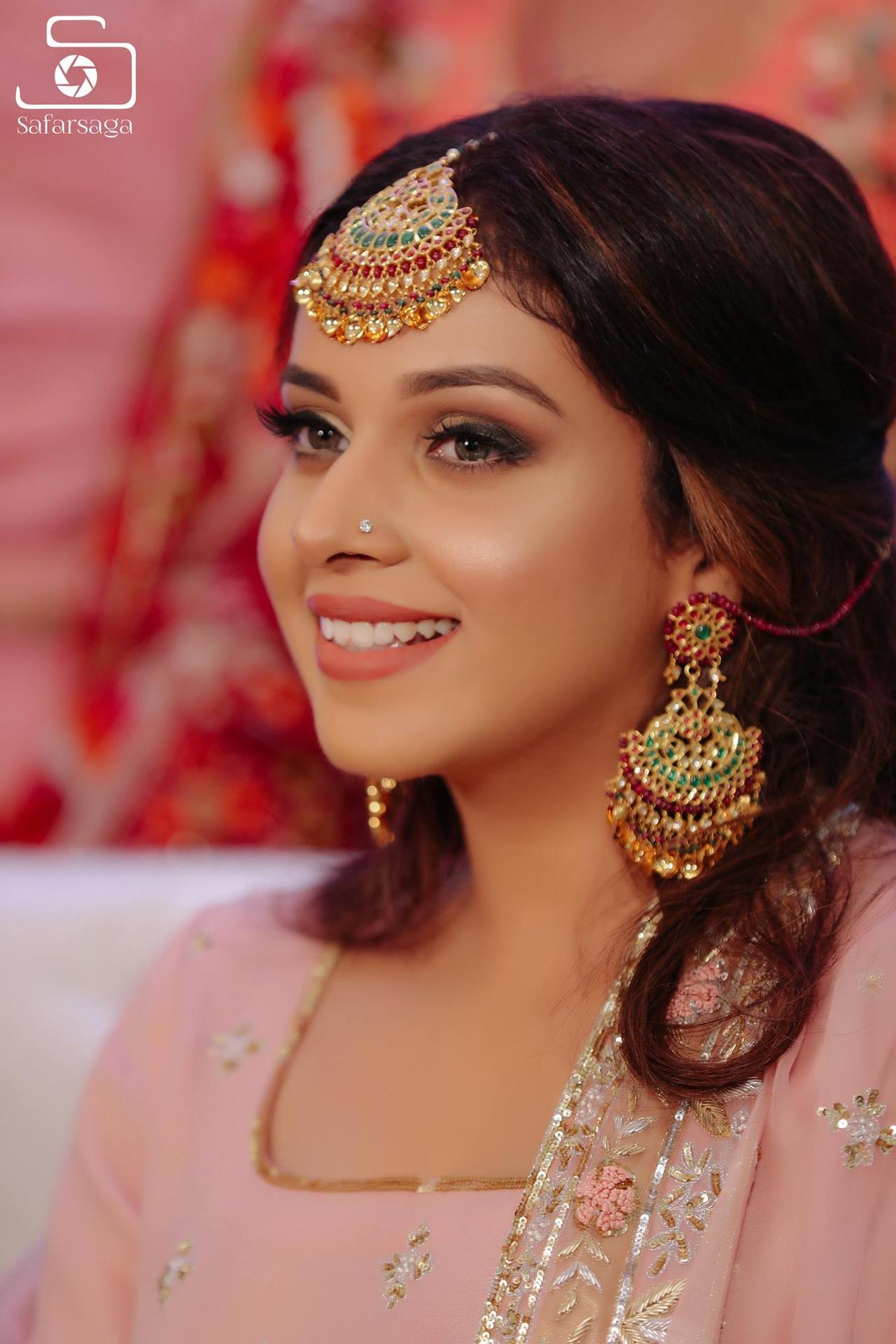 Indian weddings are defined by their vibrant colours so your jewellery should resonate with this theme. If you are opting for earrings that come in a fairly traditional shape, the best way to make your jewellery more unique in a variety of different colours. These earrings photo features a classic U-shaped pattern but it's the colours of the stones that really make these earrings. Small red and green stones line the body of the earrings while white stones dangle from the base. This is worn with a matching Mang Tikka that completes this bridal look.
Long traditional gold Jhumkas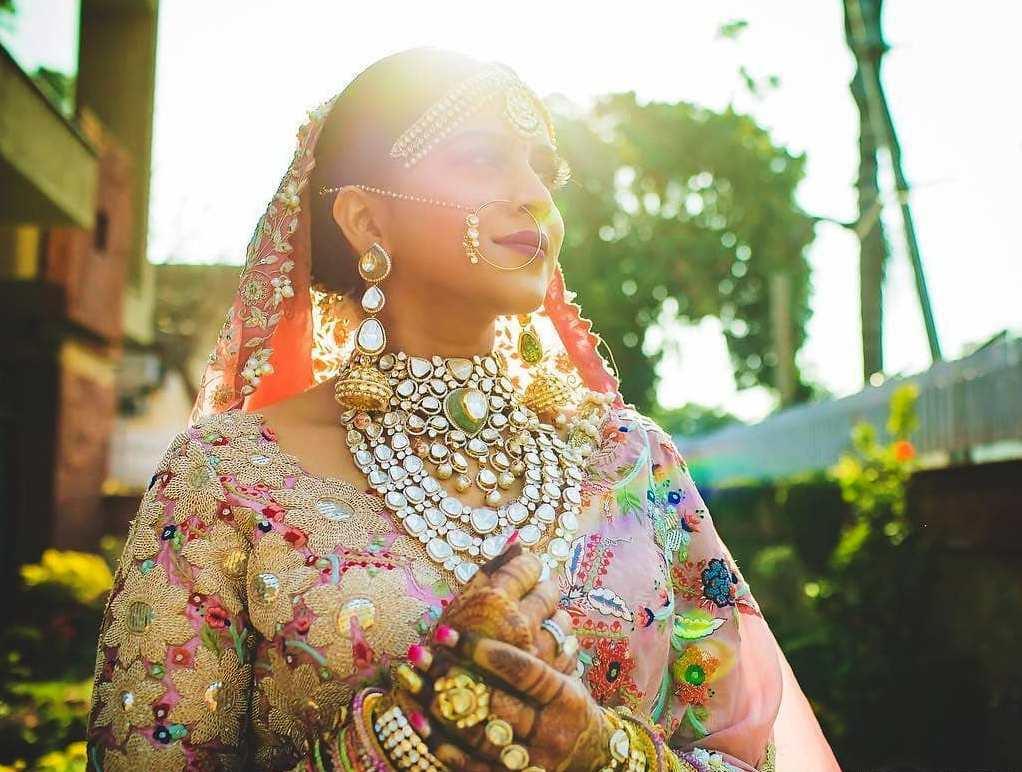 Image Courtesy: Ramit Batra Photography
When picking some statement jewellery pieces for your bridal trousseau, you can't go wrong with Jhumkas. This classic earring design has the ability to add a touch of traditional glamour to any outfit. The bride in this earring photo is rocking a really long Jhumka design with two big Polki stones in the middle. This earring is truly versatile and ogle-worthy!
Earrings may be a small part of your bridal trousseau put pick the right piece and it can transform your entire look. This piece of jewellery gives you the liberty to get creative using a variety of different colours and stones. For the classic bride, Kundan stones and pearls are the way to go while modern brides can opt for some metal designs and beads. If you are a bride curating her bridal trousseau, we hope this list of earring photos gives you all the inspiration you need.
Love these earring photos? Get in touch with our wedding vendors to find your perfect pair.