12 Ways to Rock the Crop Top and Skirt for Indian Wedding
Not sure how to graciously wear a crop top and skirt for Indian wedding? We share some tips followed by some designs for inspiration.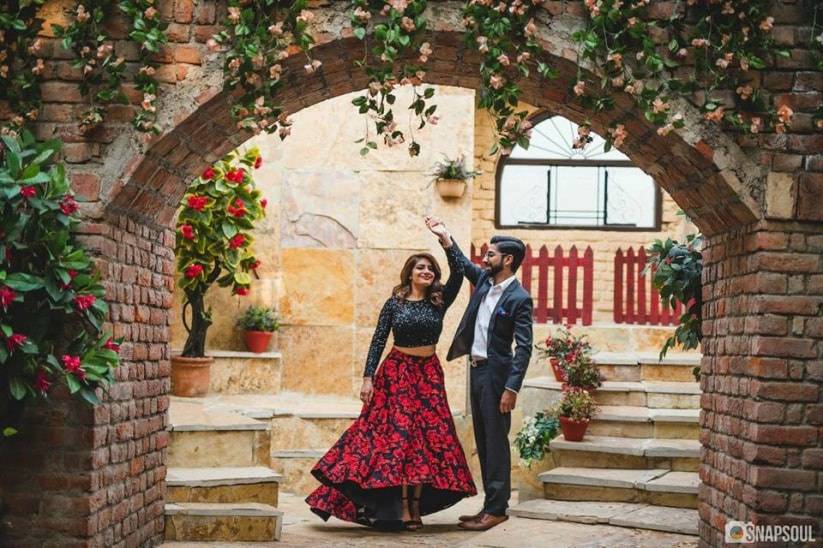 Crop top and skirts are a trend these days and modern women love to wear them for occasions like mehndi ceremony, sangeet ceremony and other wedding ceremonies. It is much loved by many because of the versatility offered by the dress. Even many Bollywood celebrities have set the ramp on fire in dazzling designer crop top lehengas. If you also want to flaunt a crop top and skirt for Indian wedding this season, we share with you tips to gracefully rock the outfit.
How to Style a Crop Top and Skirt for Indian Wedding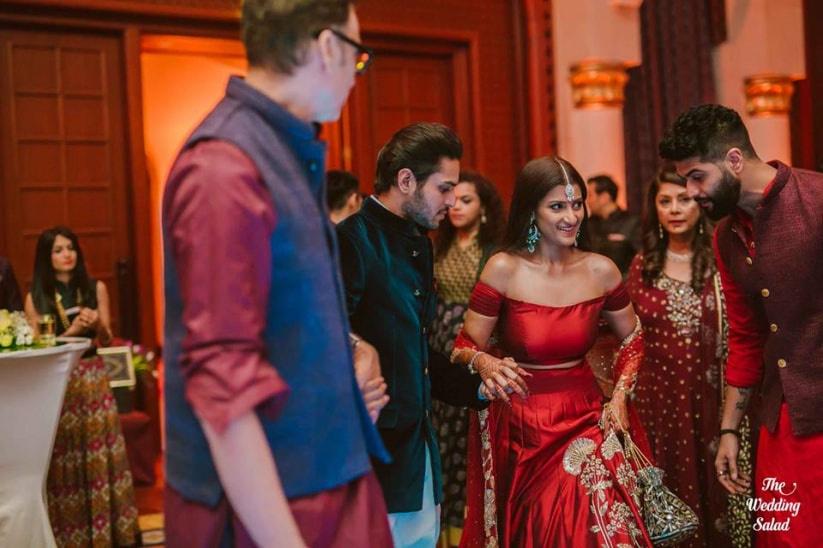 1. Give preference to pastel colours
When it comes to Indian weddings, we give a lot of weight to vibrant and bright coloured outfits, but crop top dresses in muted pastel shades like pink, mint, and blue look amazing. Complete the look with natural or nude makeup and opt for a casual wavy hairstyle.
2. Rock a crop top with a high-waisted skirt
Many conventional guests may not approve of you wearing a crop top lehenga at a wedding. So to keep things classy, consider a high-waisted skirt that only reveals your upper abs. Keep the top relaxed and free-flowing so that it shows very little skin. Alternatively, you can opt for a net jacket.
3. Think long sleeves
A long sleeved crop top is also a great way to elegantly balance the outfit. Pair it with a large necklace to create a chic and stylish look.
4. Accessorise it right
Accessories really have the power to make or break your entire look. So make sure to pick some classy pieces that stand out and not blend with the outfit. Think trendy Jhumkas, a choker neck piece, Chand Balis, nose ring, and bangles in one hand and a bracelet in another.
5. Play with crop top necklines
From v-shaped to a square and from round to halter necklines, crop tops have many options to choose from. Depending on the formality and the season of the occasion, play with necklines and styles for variation.
Crop Top and Skirt Styles and Designs for Inspiration
1. Crop top and skirt with a heavy dupatta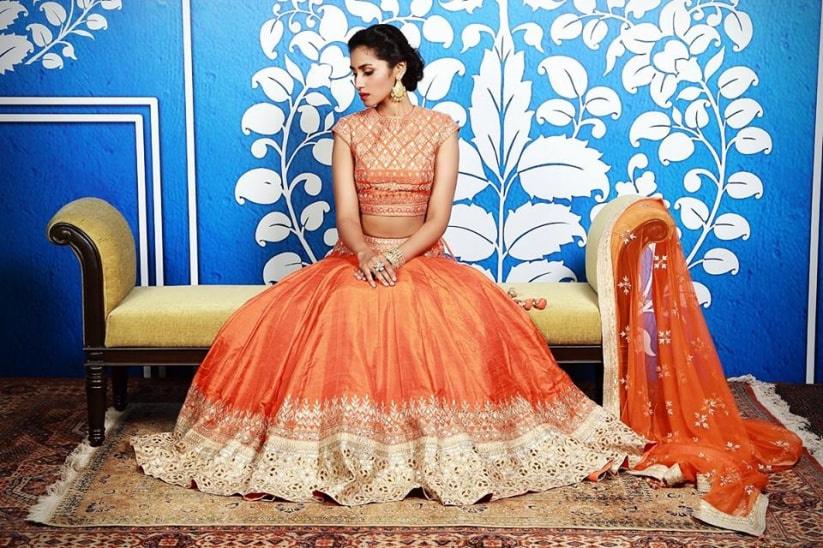 For those who don't care for a lot of bling on the outfit can opt for a simple crop lehenga with an impressive dupatta. Think pastel colours with a sequenced dupatta.
2. Pink crop top lehenga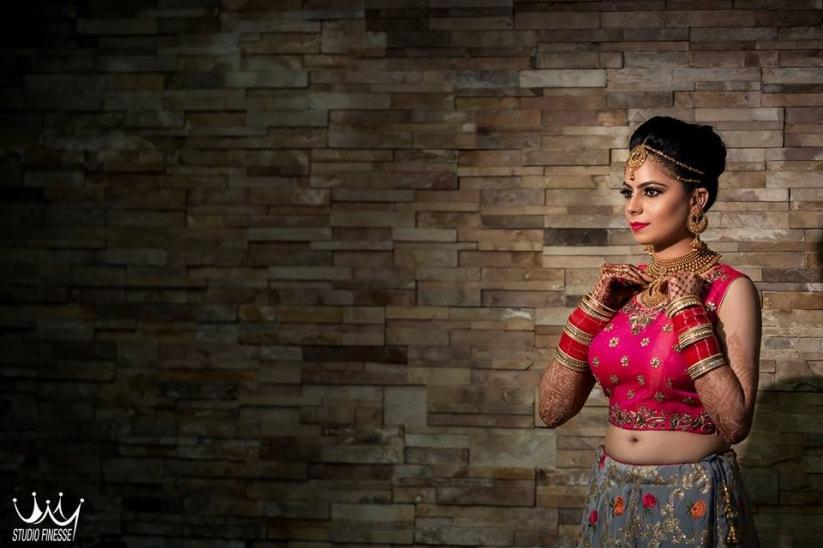 It's not always about the style, sometimes it's just about the colour. And pink is one shade which is always on the list of a runaway trend. Wear a plain hot pink crop top or with motifs to create a lasting impression. Don't forget to wear oxidised jewellery to add more glamour to your look.
3. Gold embellished crop top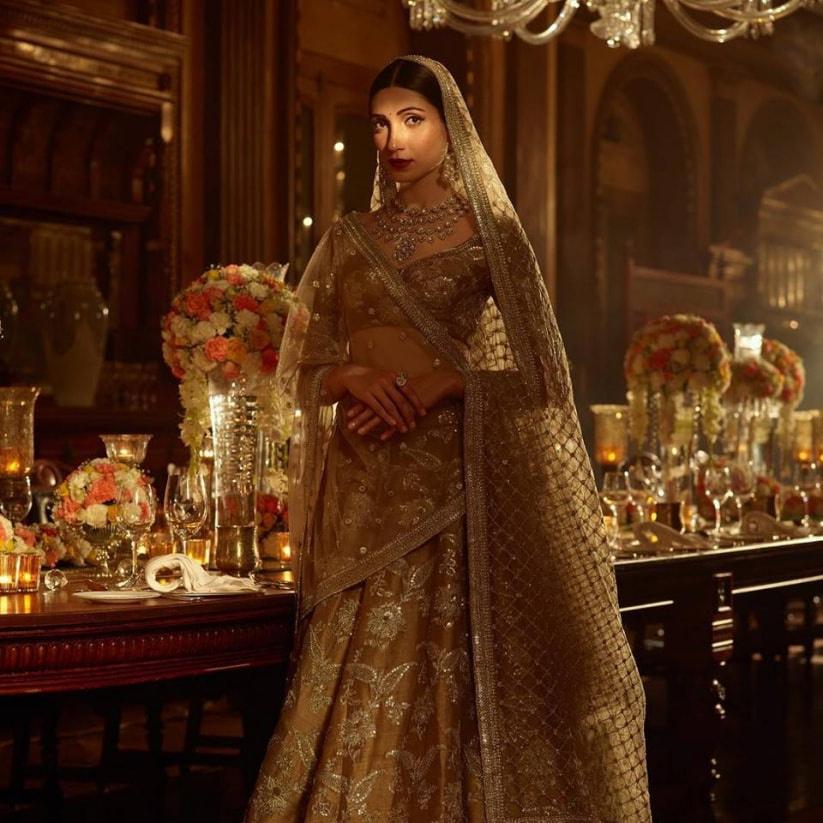 Image Courtesy: Sabyasachi
When it comes to Indian weddings, one thing you cannot go wrong with is a gold embellished outfit. So to make a fashion statement that's totally distinctive, opt for a crop top embroidered in gold with a net lehenga.
4. Off-shoulder crop top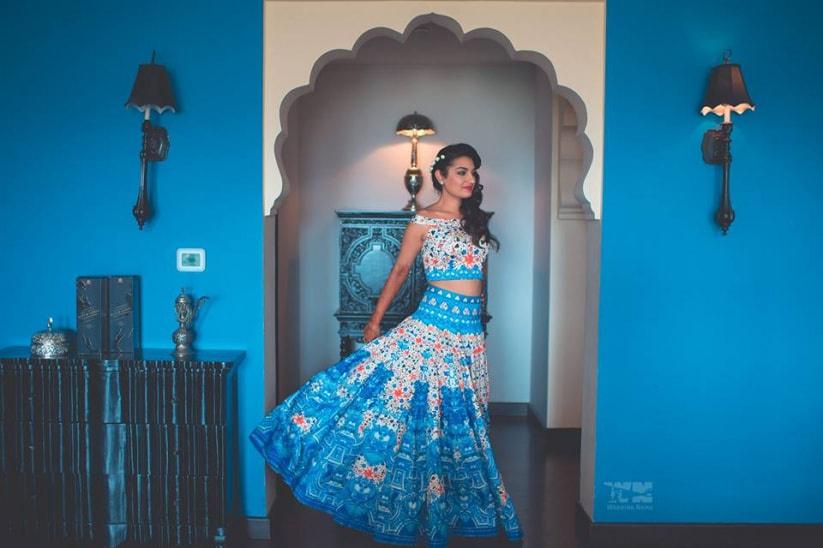 For those who have an impressive shoulder line and want to flaunt it should consider wearing an off shoulder crop top. Pair it with a slim skirt to accentuate your curves.
5. Boxy crop top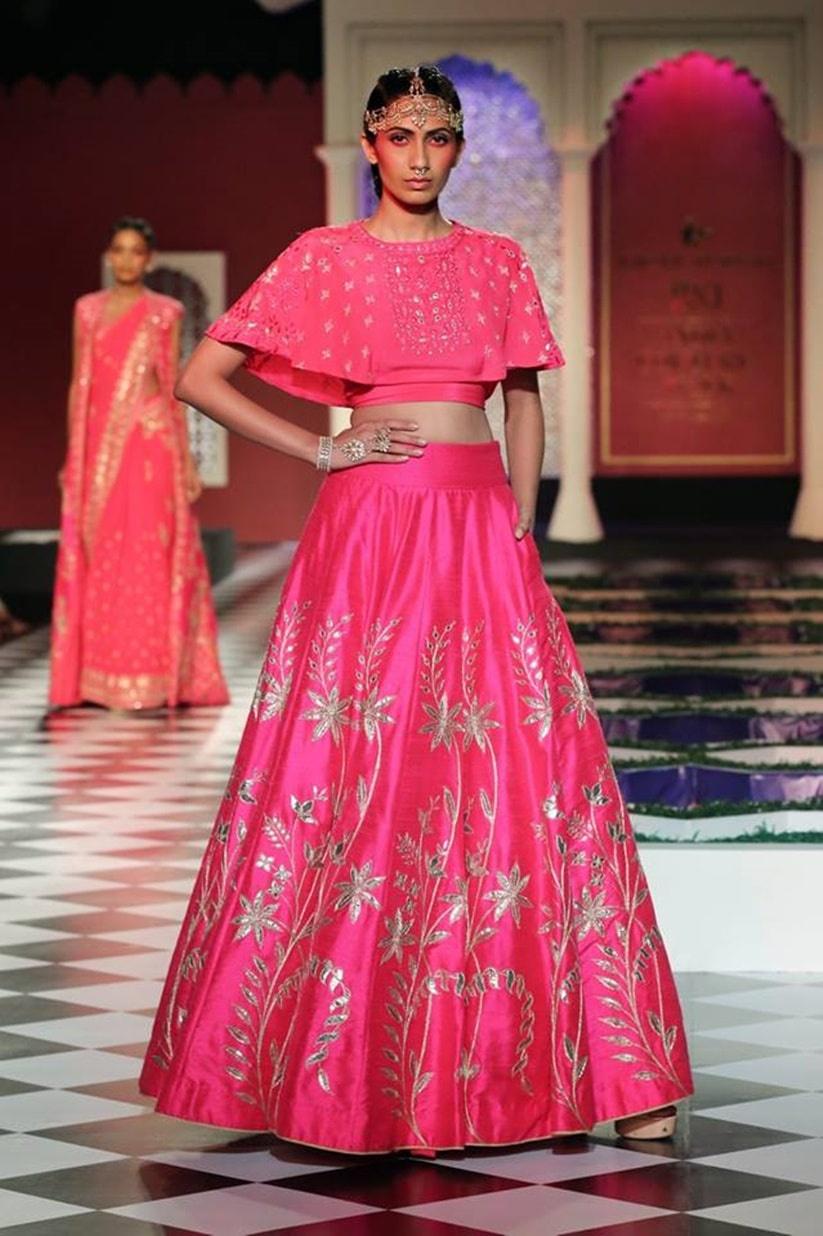 Another trend that's raging this season is a boxy crop top. Wear a loose top with a flared skirt in fabrics like georgette for the best output. Just make sure to avoid wearing a streamlined blouse with a tight fitting.
6. Crop top with a jacket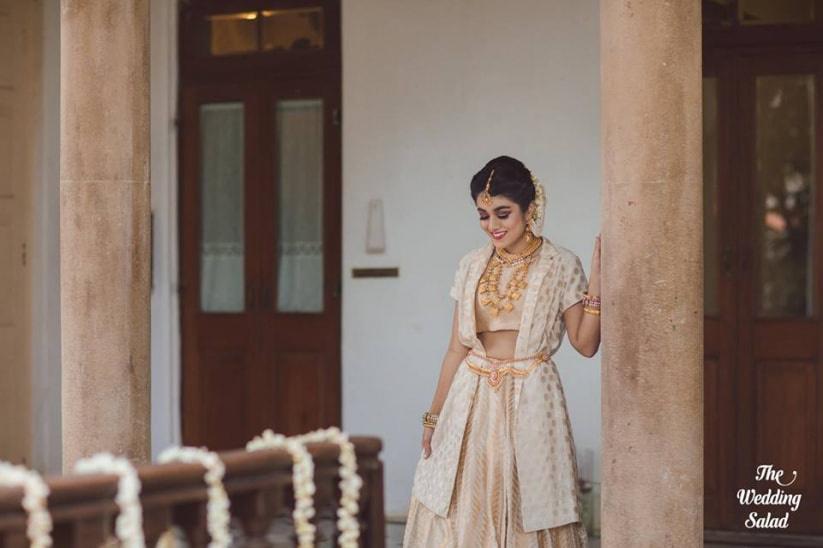 A jacket over a crop top or attached with it is another style to die for. Opt for a jacket with very little work or embroidery to highlight the design of the crop top. A skirt with a heavy border will help you complete the look!
7. Mirrored crop top lehenga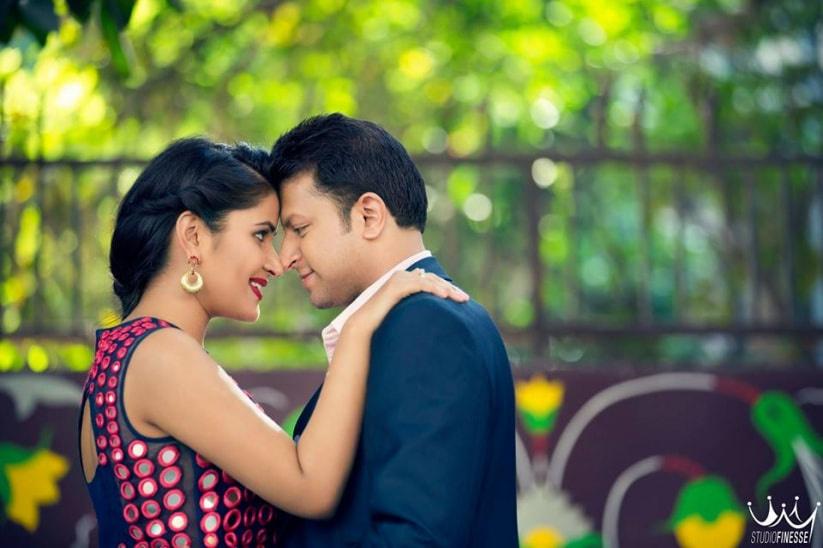 Mirror work is one of the easiest ways to add bling to your outfit. To sparkle at the next wedding festivity, wear a mirrored crop top with a plain skirt. If you must add some work to the lehenga, keep it only till the border. Complete the look with minimal jewellery.
8. Floral crop top lehenga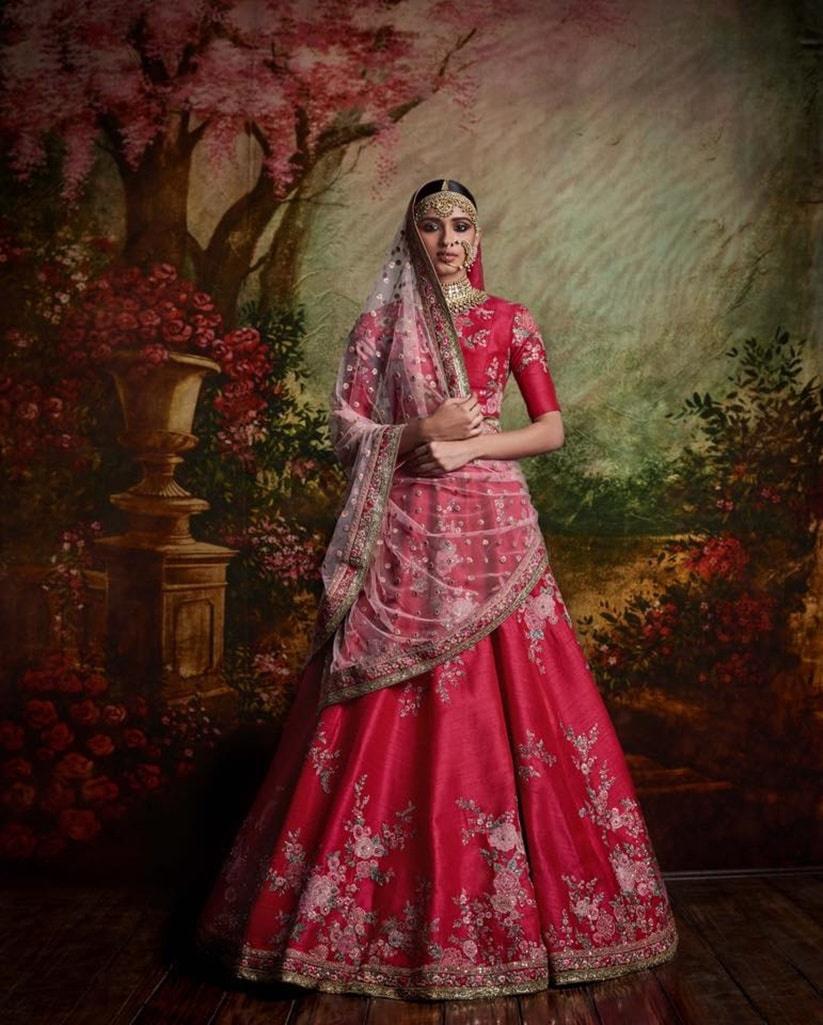 Image Courtesy: Sabyasachi
One design that never goes out of style is floral print or embroidery. Think a striper crop top and a floral lehenga skirt for ceremonies like sangeet and mehndi.
9. Printed floral nods

Gain an uber look by choosing a combination for the crop top and skirt for Indian wedding that's pop and breezy, like this vibrant mix. The flowers on the crop top contrast spectacularly with the magenta skirt.
10. Printed circles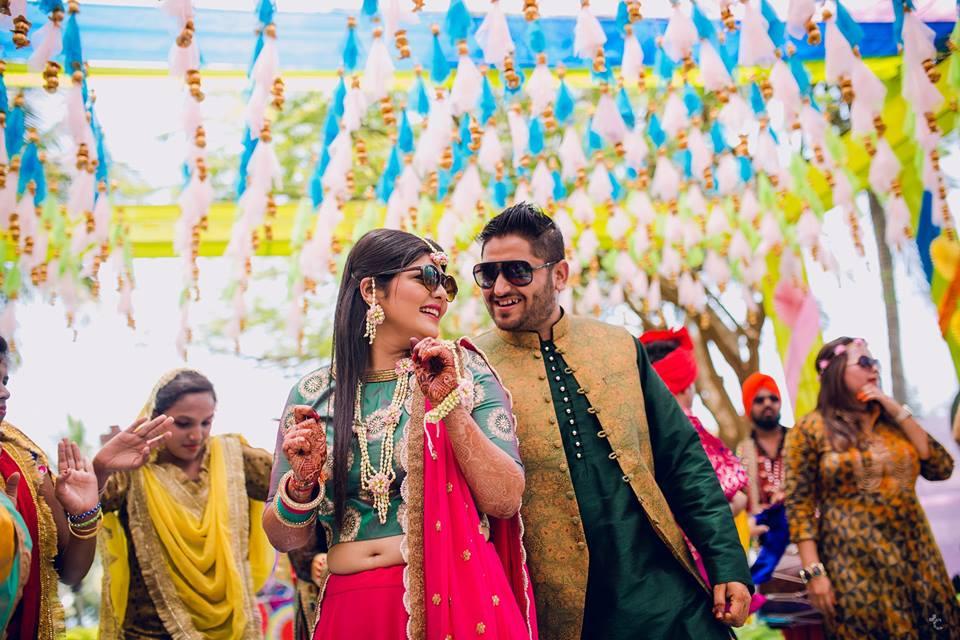 We love how the bottle green crop top has been colour blocked against the red lehenga skirt and matching dupatta set. Highlighting this crop top and skirt for Indian wedding combo with the use of floral jewellery is a stellar highlight too.
11. Off-shoulder crop top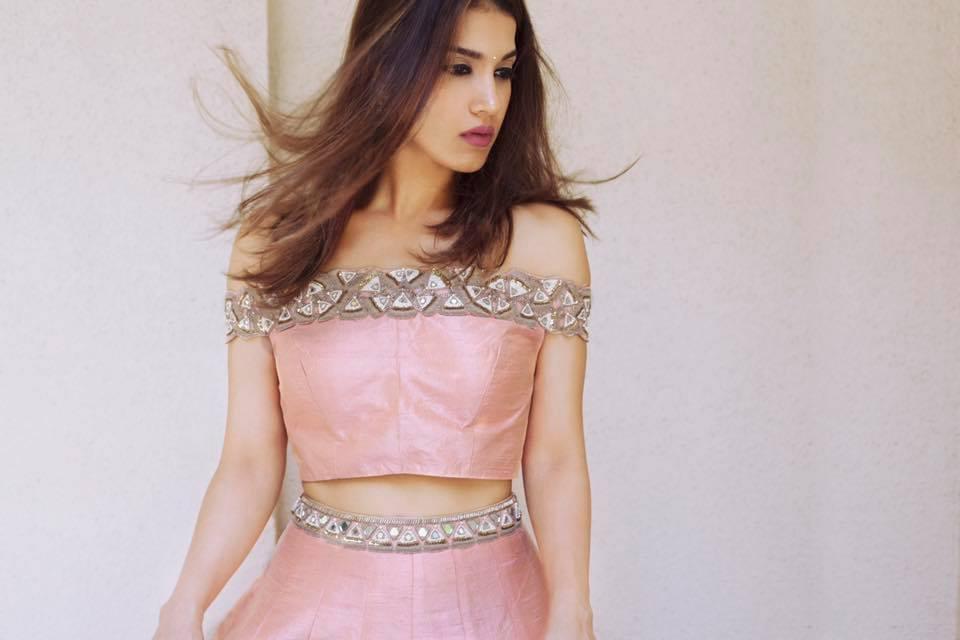 We like how this pale pink crop top and skirt for Indian wedding combination from Arpita Mehta's stable is an expert fit both as evening wear and easy, day time wear. Appropriate for a bridesmaid on either occasion, this combination would work with minimal diamond jewellery too.
12. Cold shoulder crop tops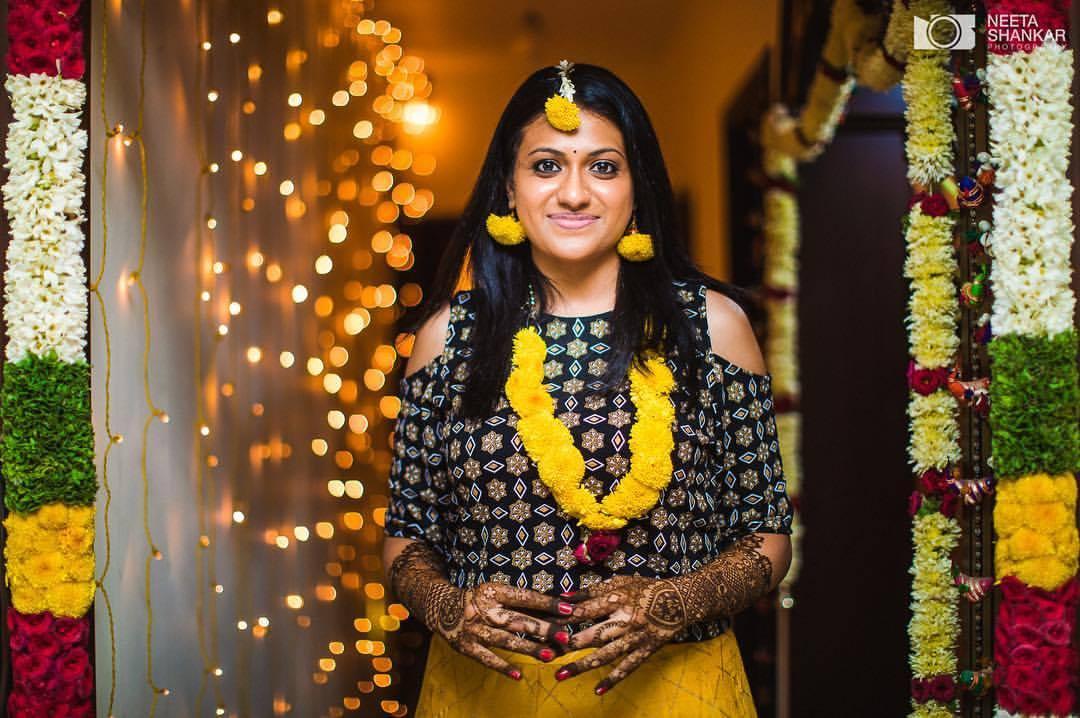 Get in on a cold shoulder crop top in easy cottons as comfort wear for a Mehndi ceremony and a home function and you'd know why we have included this number in our selection of crop top and skirt for Indian wedding ideas.
These are some of the stylings that you can achieve with a crop top and skirt for Indian wedding. Depending on the style you choose, it is purely up to you to decide if you want to carry a dupatta or not.
Which one would you like to flaunt this season? Let us know through comments.