Creative Wedding Food Trends for 2019
Keen on a plate that excites your wedding guests and tantalises them to eat some more? Here are some of the latest creative food ideas ideal for this wedding season.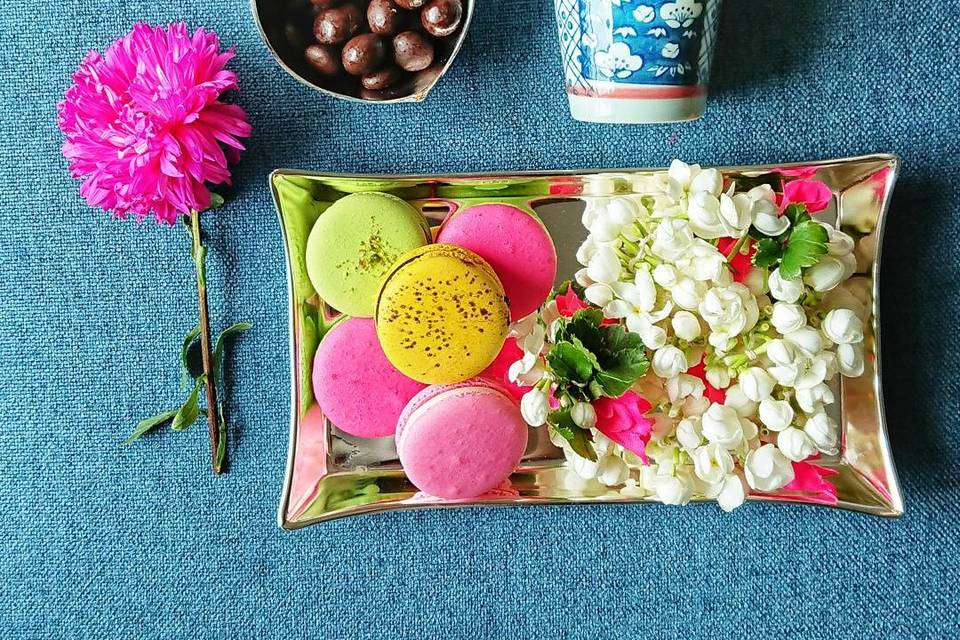 Need a bit of insight and some special sense of trend to make your wedding banquet a feast to remember. Here are some of the latest creative food ideas for 2019, which you can add to your wedding buffet and have your guests recall your wedding with equal parts love, taste and charm!
In the land of colour-coordinated weddings, garden variety and orchid fantasies and perfectly placed wedding themes, if there is one thing your guests would forever recall (both fondly and otherwise) is how your feast tasted on their palettes. If you're planning a wedding that's one for the books, you cannot afford to let go of this detail and ask your wedding caterer to simply take care of it.
This is where you need to indulge in an expert level search for the latest creative food trends for the upcoming wedding season. So, keep your plates and palettes ready and let your tasting journey begin.
Appetisers, please!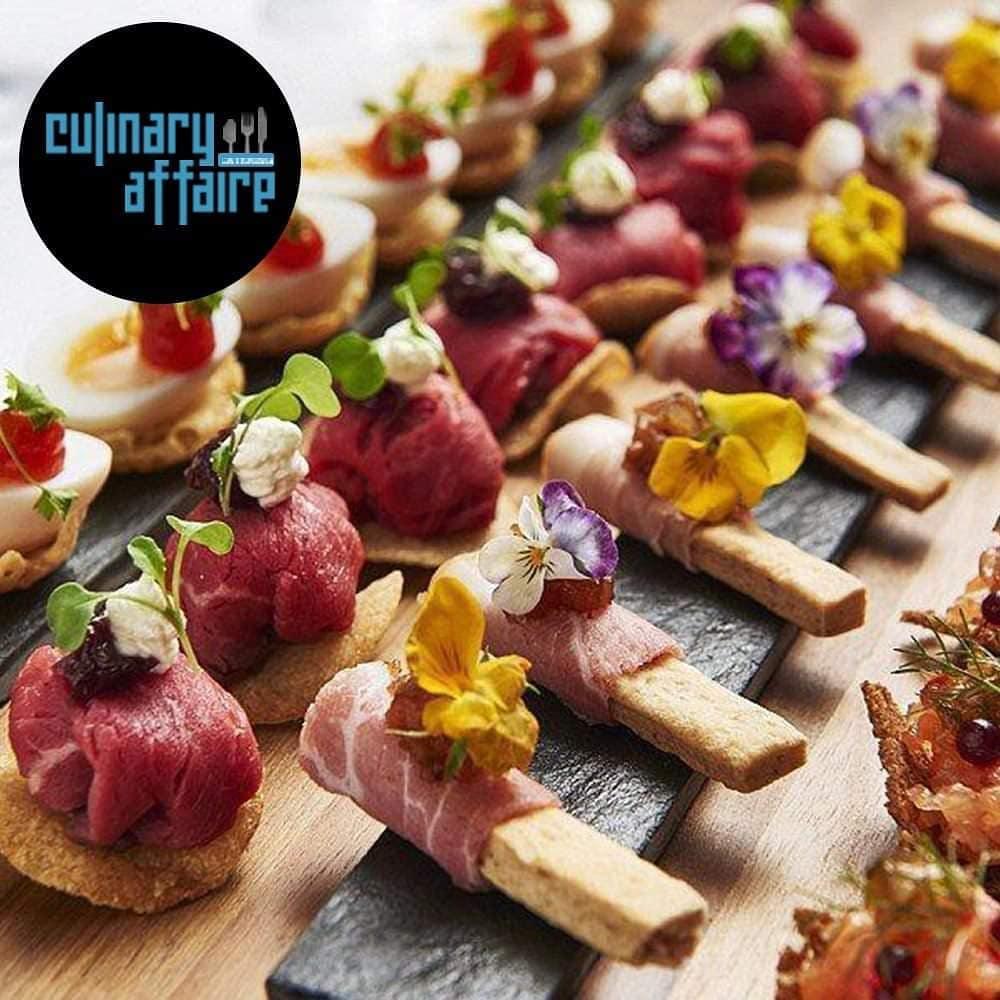 Image Courtesy: Culinary Affaire
Fancy a fare of appetising meals? Then begin searching for sumptuous delights from tiny caterers and the food truck segment. What you're looking to plate should be fanciful to catch the eye, yet limited in portion size to just the individual who picks up.
Here are some of our latest suggestions:
Seekh Kebab Shots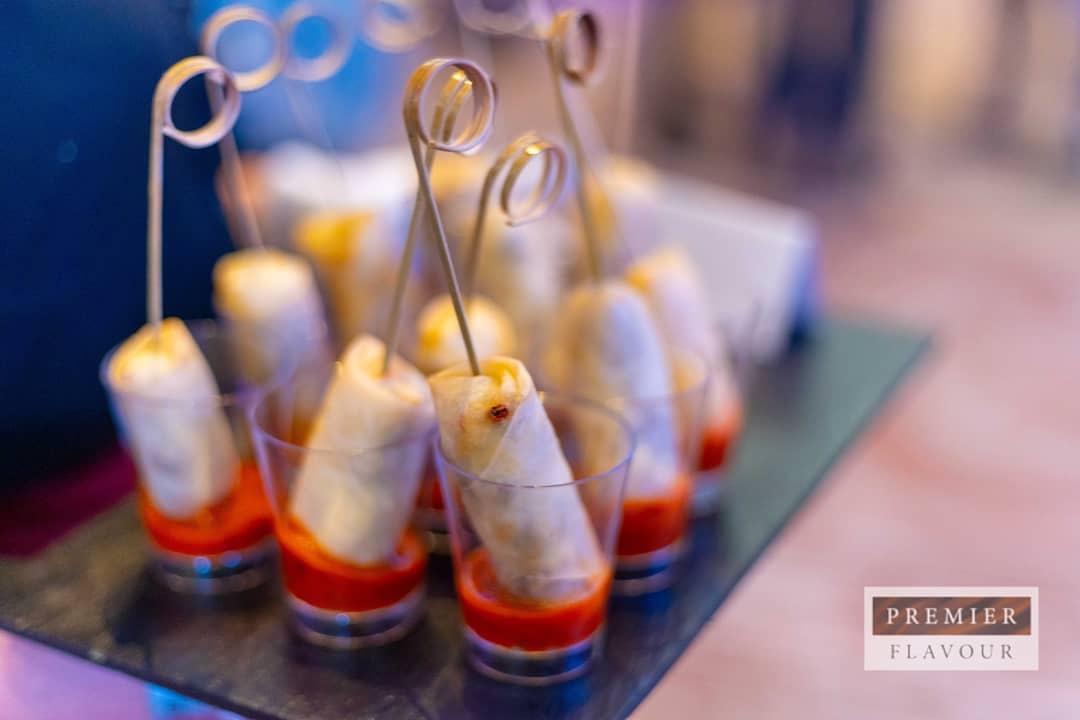 Image Courtesy: Premier Flavour
Instead of asking your guests to fill up plates from passing waiters or camp near the sizzlers or grills, smartly put together a set of bite-sized Seekh Kebabs with a bit of sauce or dip.
Ask the waiters to discreetly top up empty shot glasses while they're with your guests and you would have them popping these in by the dozen!
Flavoured Lassi for Everyone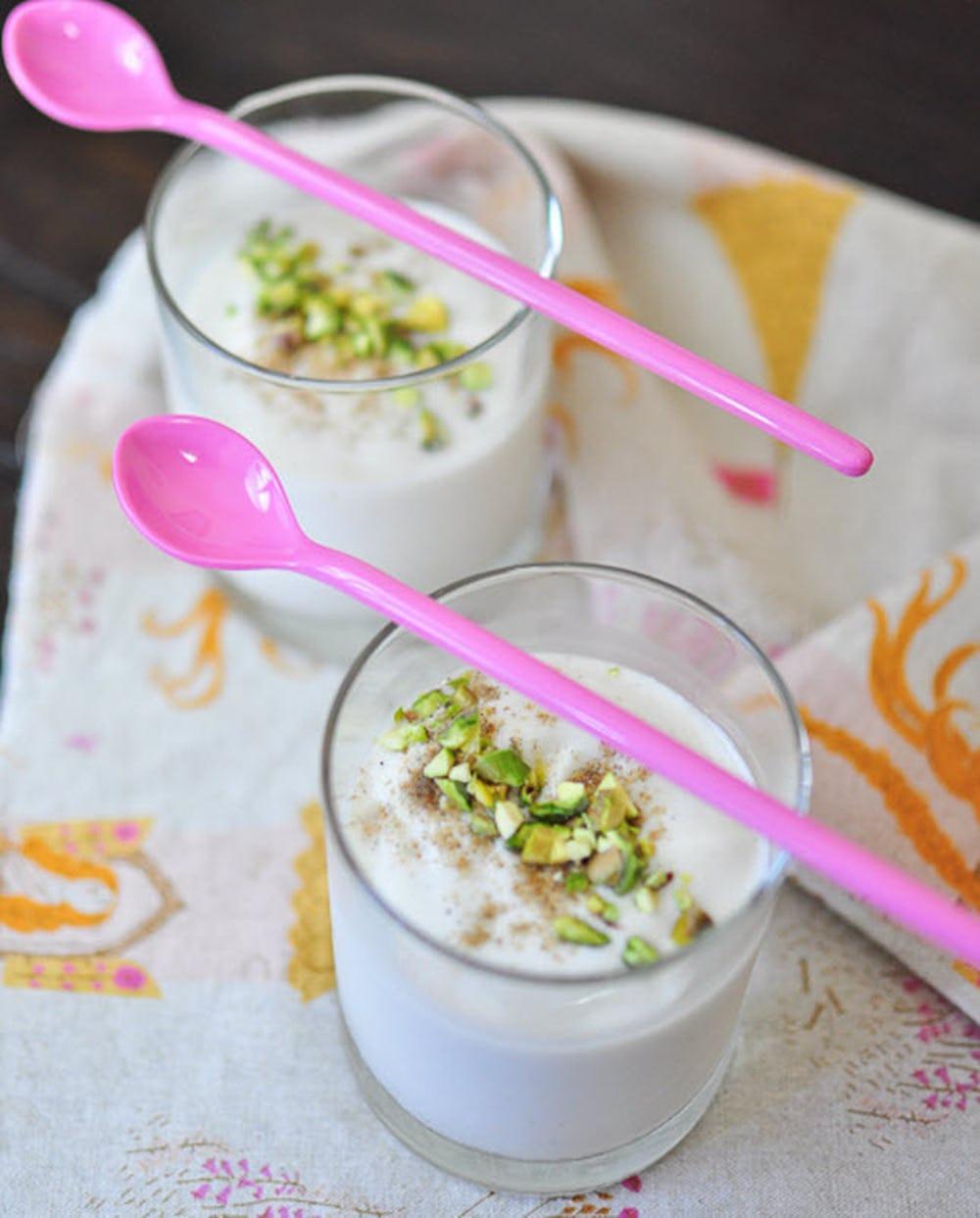 Image Courtesy: Brit Co
Welcome drinks are as essential as the presence of loaves of bread at a wedding feast, but you do need to ensure that they would suit the palette for everyone, especially in a bout of changing whether.
One safe bet you can go by is the Lassi, in different flavours, packed in Keventer-like bottles. You can even have them stickered as keepsakes from the wedding.
Zucchini Rolled Fish Tikka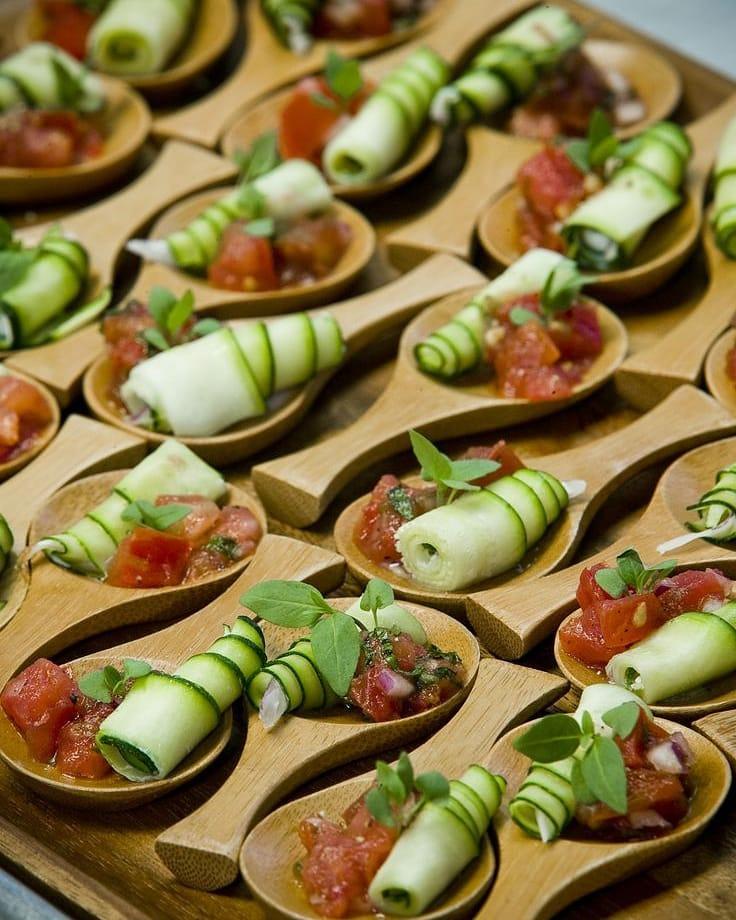 Image Courtesy: Queens Bali Catering
Tikkas, beloved as they are, often get the impression of leaving curry-stained or oily fingers. Counter this with these large, spoon-sized plates with a thin layer of Zucchini on top.
For your vegetarian guests, opt for either the good, old Paneer Tikka or a Dumpling in sauce, which is succulently wrapped up for them.
Waffle cone Satays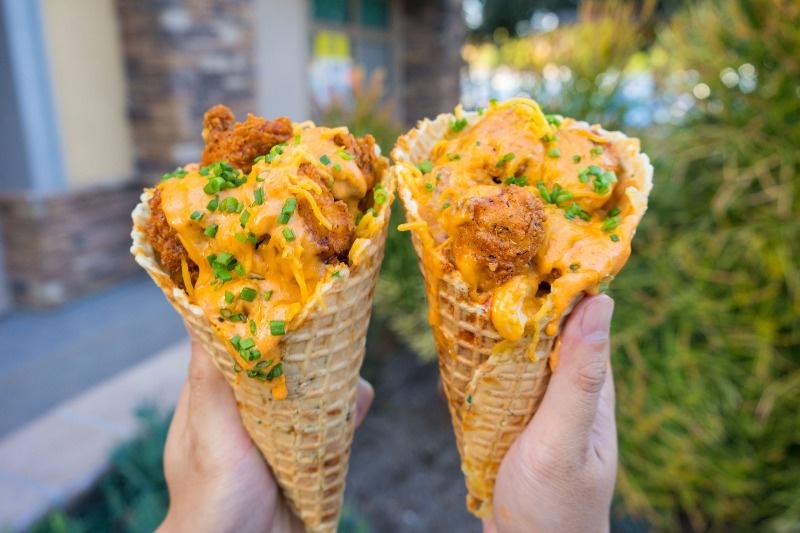 Image Courtesy: Food Beast
Opting for Satays for your appetiser journey? Good for you! Let the force be with you by choosing an edible Satay stick and plating with them. We recommend placing an order with edible cutlery brands who can craft these creations for you in Ragi and millets. They will definitely add a good crunch to the heady flavours of the Satay strips.
The Main Course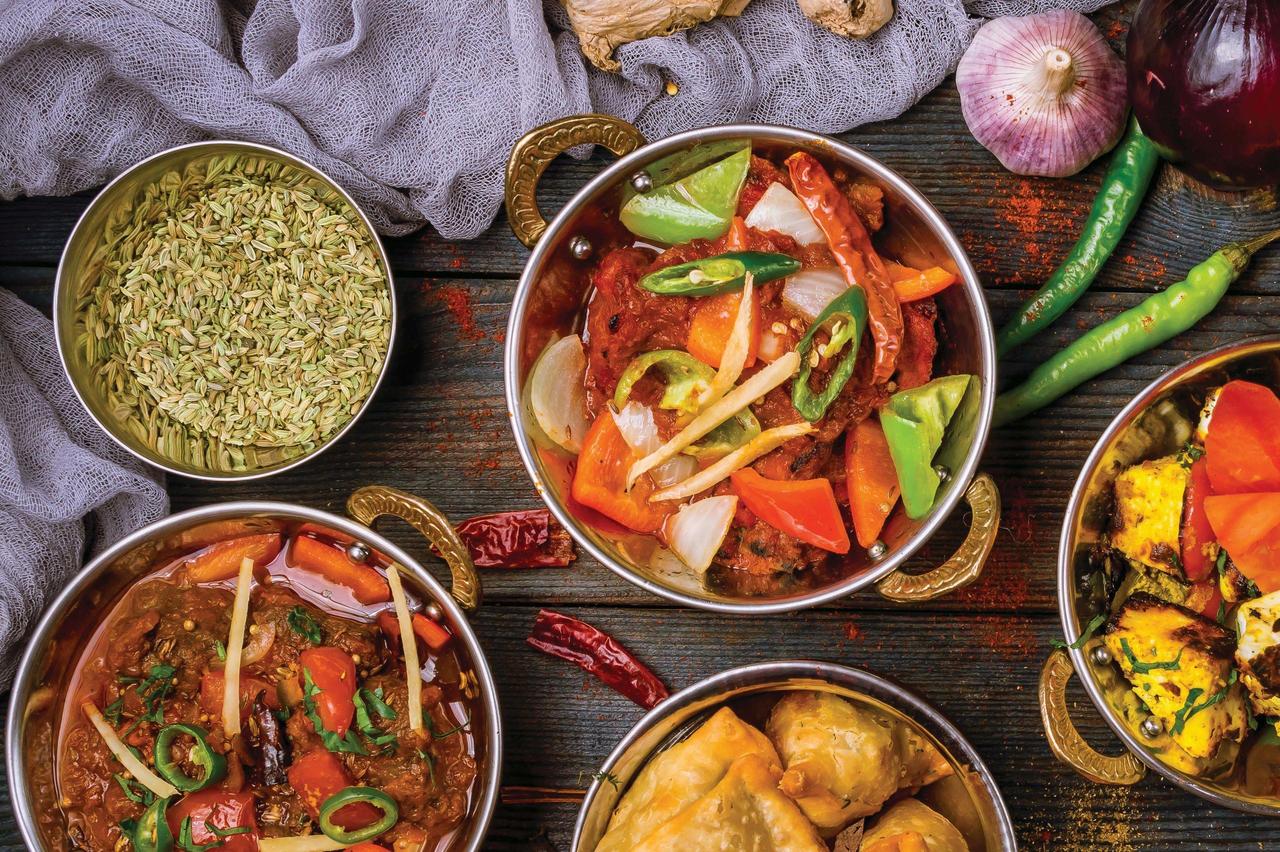 Image Courtesy: My Muy Bueno
Next, let's bring in the feast. While you may have an arresting array of food counters and live food stalls to capture the attention of all of your guests, it's time to think beyond the staple 10 crowdpleasers (Dal Makhni and Creamy Paneer anyone) and open your guests' eyes towards cuisines they might have never sampled at a wedding.
In a world where we as foodies swear by the delivery abilities of Zomato and Swiggy, here are a few suggestions and how they can be customised for a vegetarian fare as well.
Mexican and Mediterranean Bowls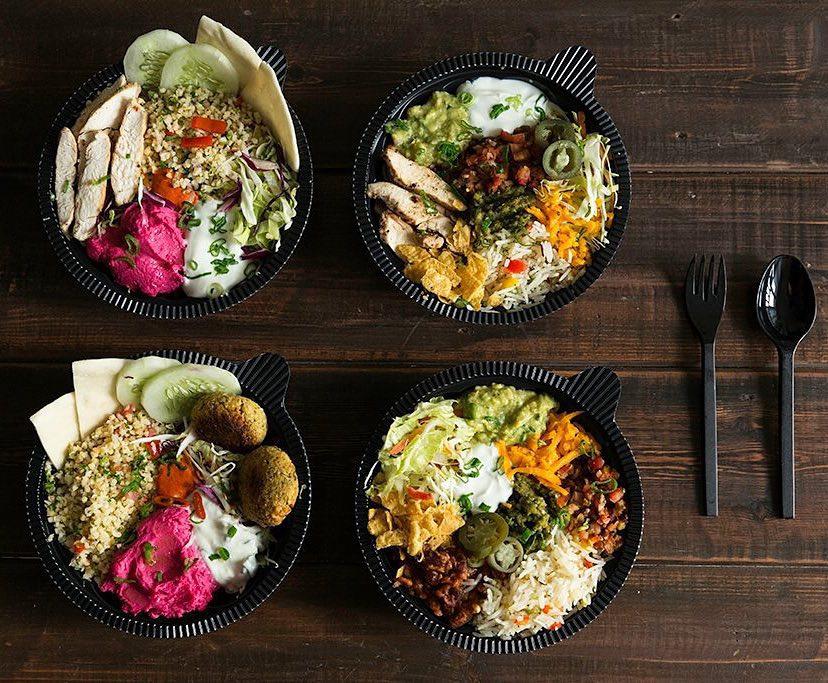 Image Courtesy: Food Co
Set up some continental fare with bowls of Mexican and Mediterranean meals, alongside the regular Dal Makhni, rice, rotis, mixed vegetables and Pindi Chole.
These delectable meals pack in quite a punch of flavour and are filling, healthier plates for your guests than the fried fare you'd expect at a big, fat Indian wedding.
Lamb Meatballs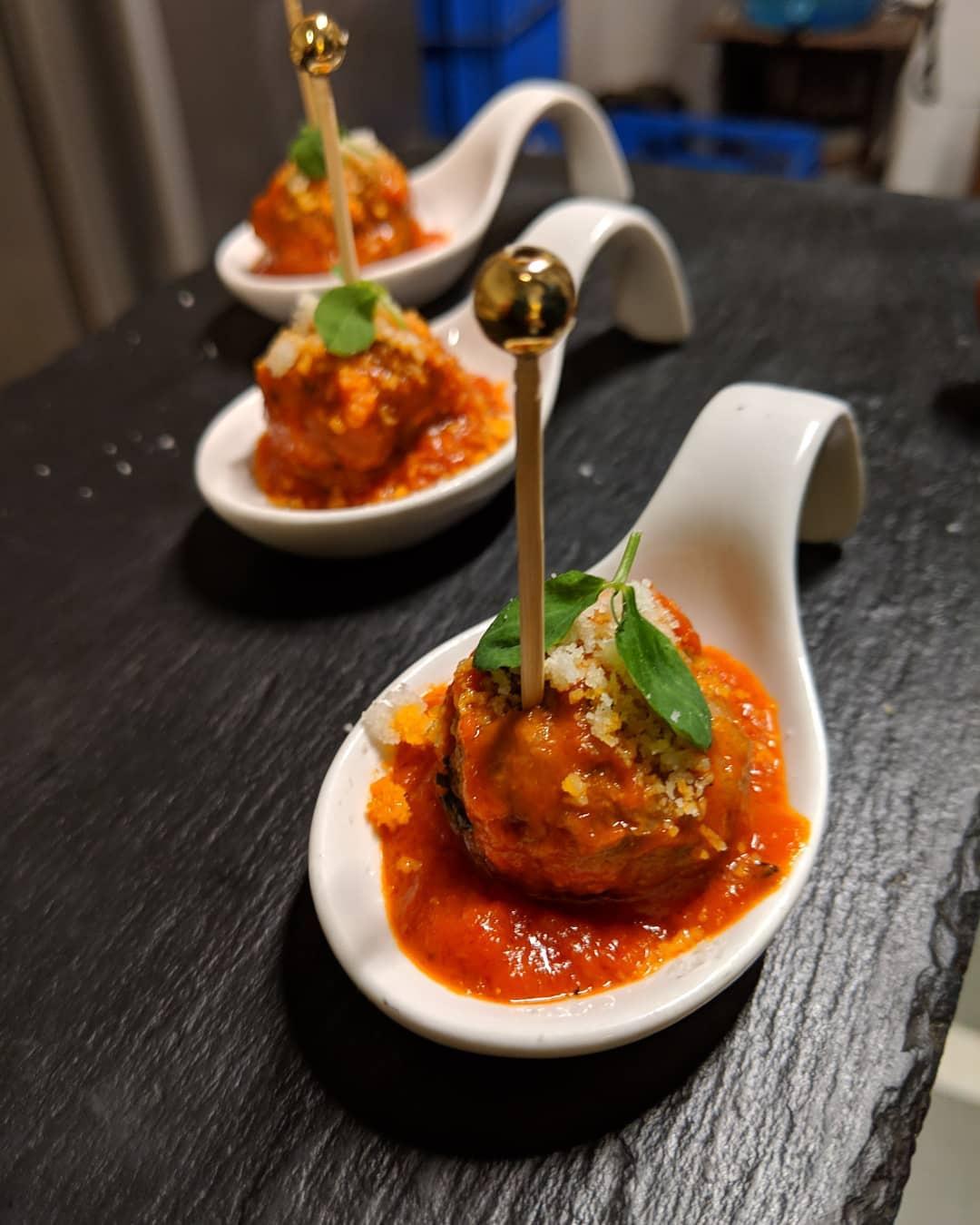 Image Courtesy: Food Co
Gain some appreciation for curry and meatballs by adding bite-sized versions that guests can simply add to their plates for a taste. Depending on your caterer, these can add a lot of flavour to the plate or be quickly topped up by the catering staff, in case you have guests seated on different tables.
For a vegetarian offering in the same vein, choose Dum Aloo!
Tofu with Sesame Ponzu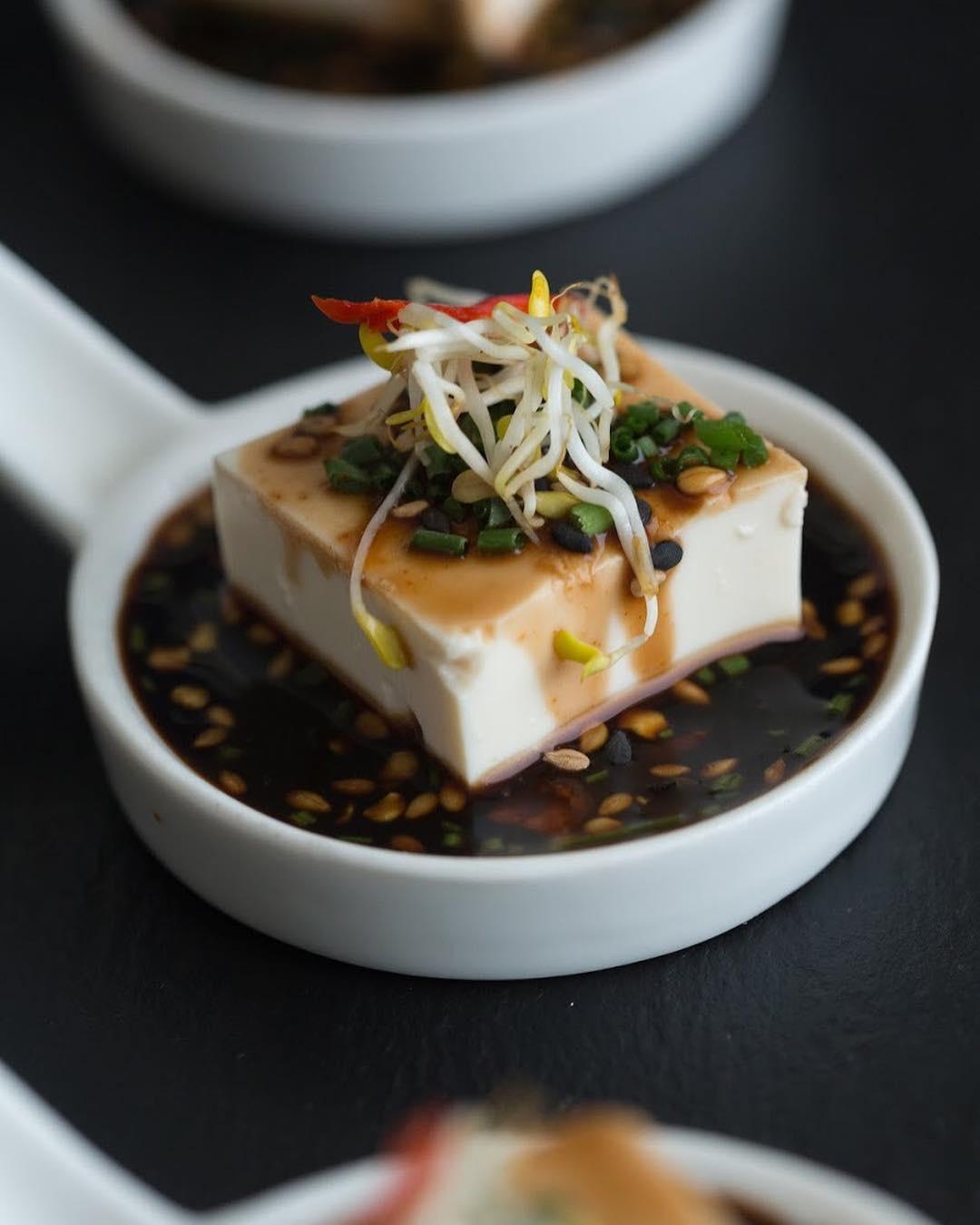 Image Courtesy: Food Company
Good tofu comes from people who know how to handle this picky ingredient with gentle, loving care. Find that right choice in chef with this melt in the mouth preparation of tofu with Sesame ponzu.
The idea works for all - vegans, vegetarians and non-vegetarians.
Dry Subzi Cones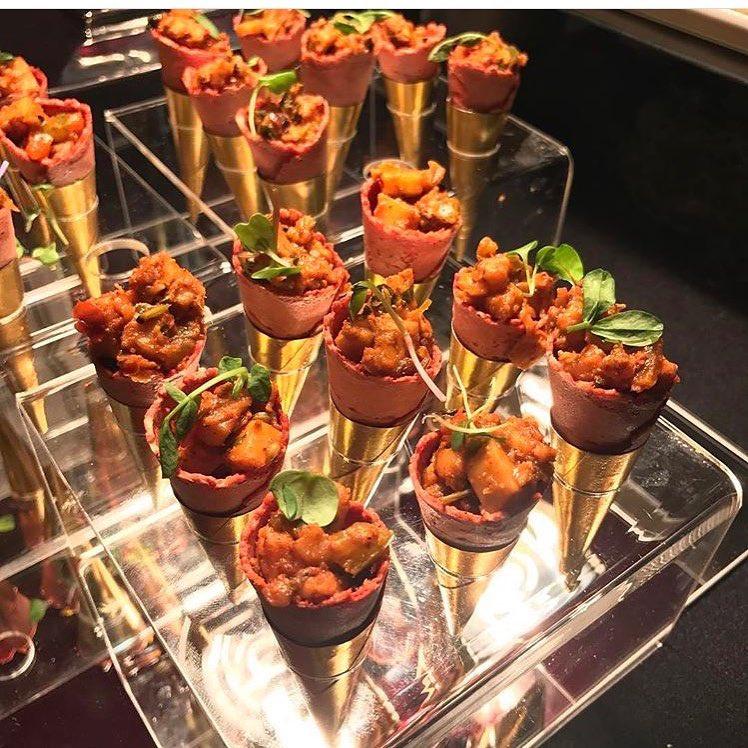 Image Courtesy: Khyber Grills
Top-up offerings in edible cones (waffle or millet versions) can be easily served at the table through these cones, which the guests can either consume or discard as per their choice.
As the cones are biodegradable, they will not add to the waste from a wedding experience.
Sushi Platters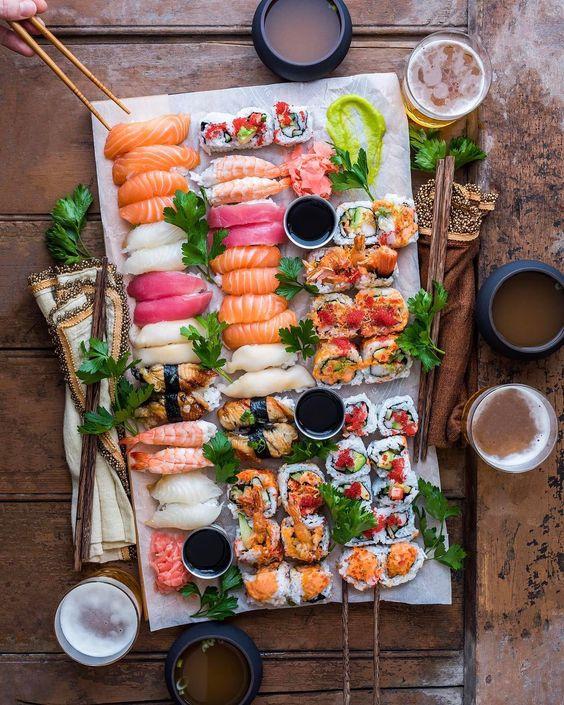 Image Courtesy: Pinterest
Bring a set of Sushi platters with tempered sauces directly to your guests to get them to sample more than the butter chicken and Sarson Ka Saag at your wedding.
Depending on the mood of your wedding, these can be the conventional raw fish bites in rice cake or even vegetarian versions of the same.
Desserts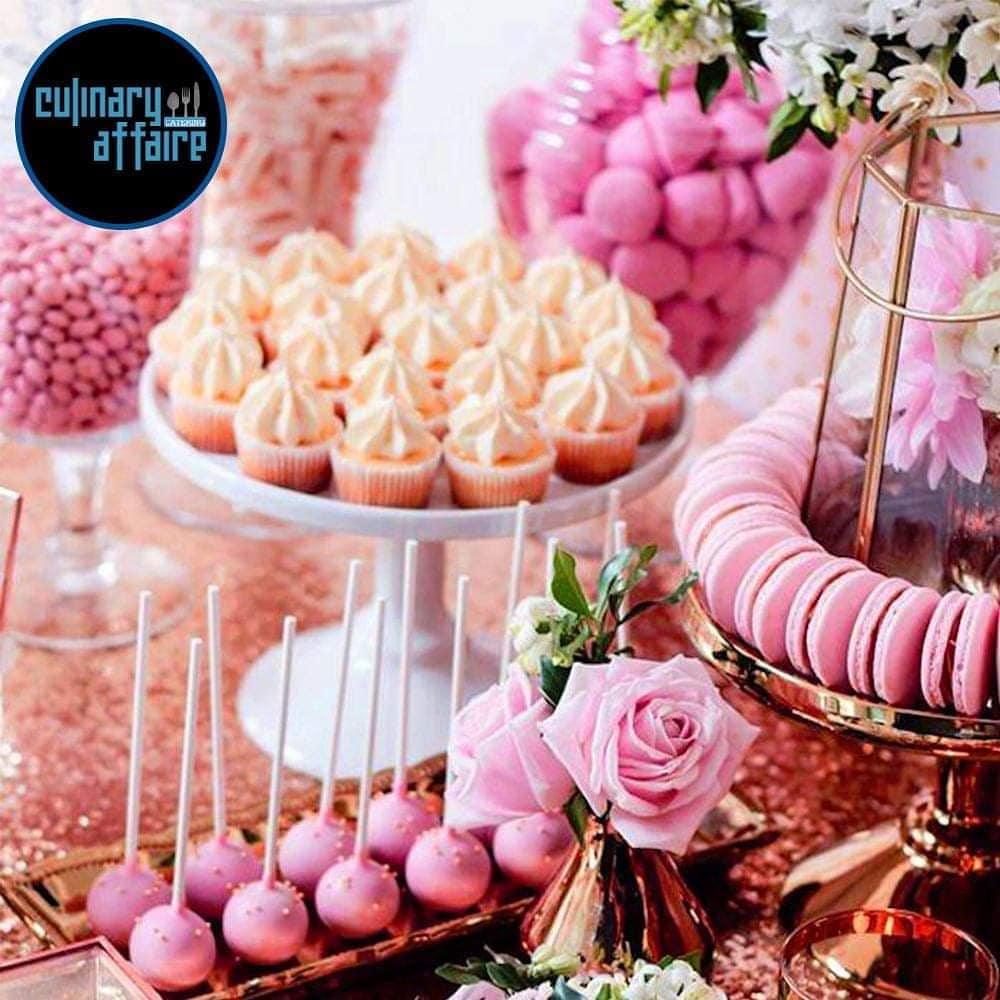 Image Courtesy: Culinary Affaire
Have a heart for your wedding guests! You know that by the time they have dug into your wedding feast to their heart's content, they're feeling full and a little inundated by the number of flavours they have sampled here. They need an extra push to sample a little bit of a sweet token of your appreciation.
This comes through untried flavours, gorgeous table settings and astounding, eye-catching arrays. Get them to invest the energy to stand up and walk around for the dessert, rather than say no to the staff who would bring it to their tables. Trust us, these displays of sweet nothings will be the high note for your wedding feast.
Candyland delights - The Minis Editon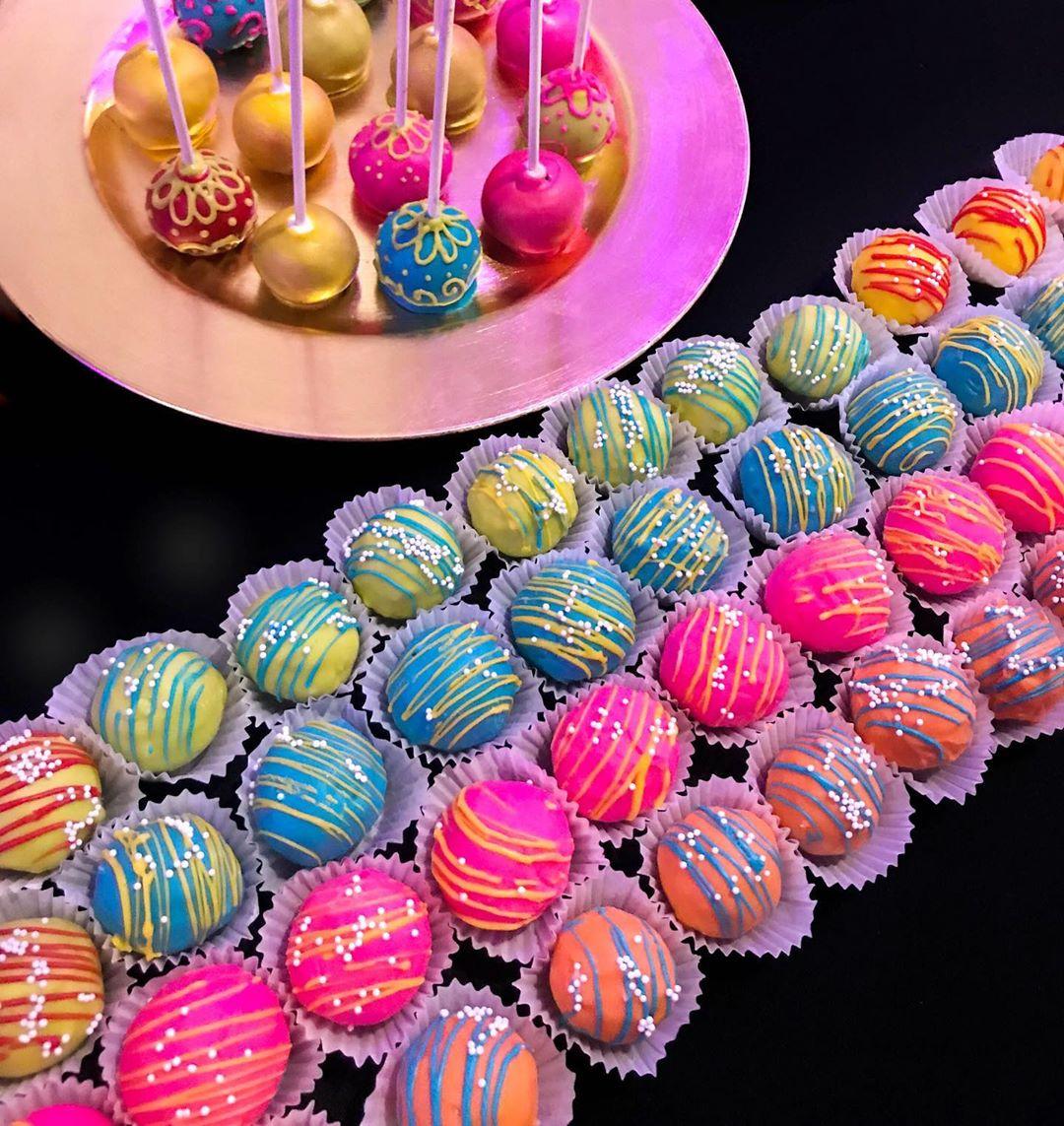 Image Courtesy: JK Bakery
Bring out the pop colours and delight your guests with a Candyland saga - in the form of truffles, chocolate bombs and a range of mini desserts.
We'd recommend a plating of diverse fare like the array of Almond and Oreo truffles here. You could also choose a simple, base set of chocolate pops from a chocolatier and have them prepared with a dash of pop colours.
Colour Theme Palettes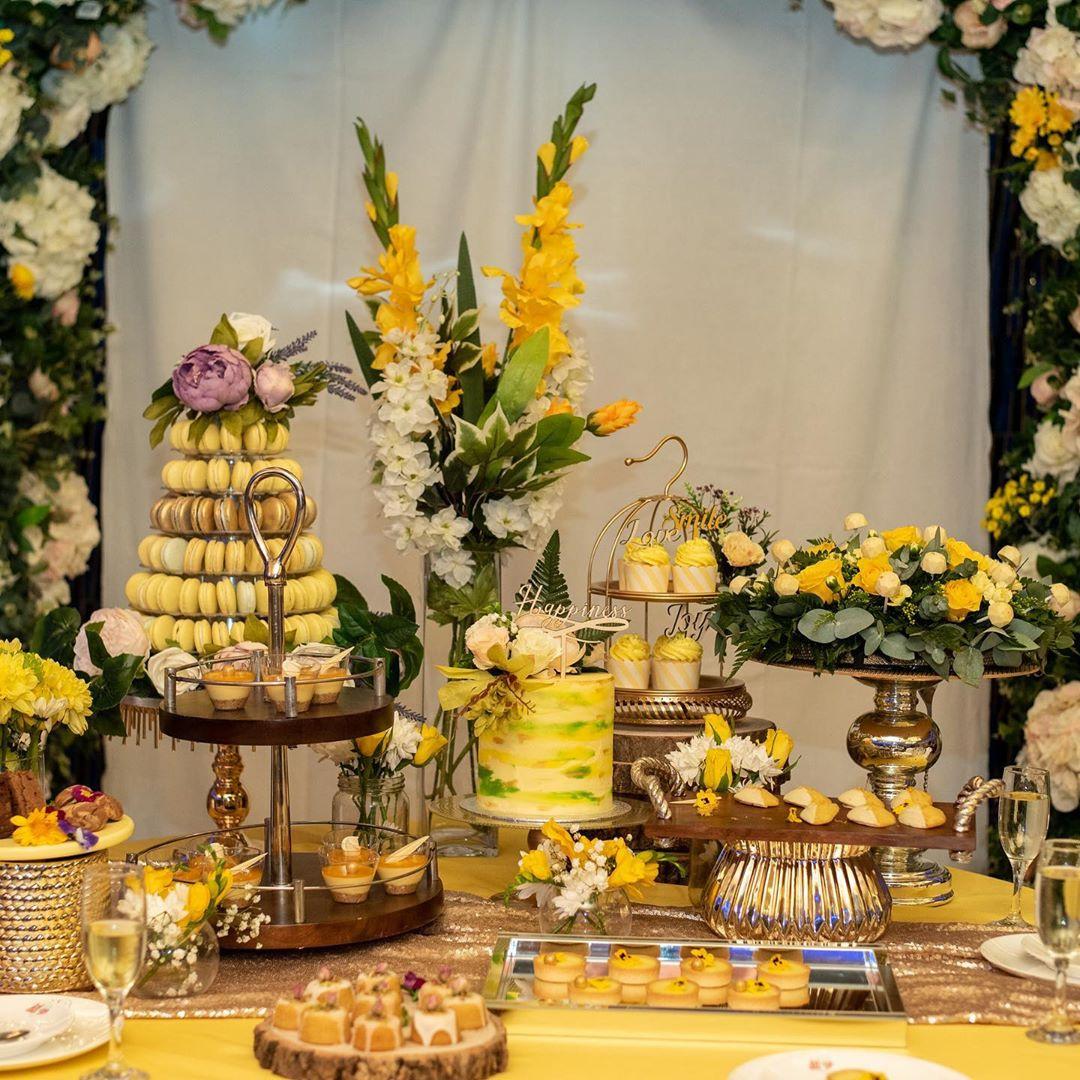 Image Courtesy: Pinterest
Let your guests delight in the sights, courtesy the dessert buffet after they've had their fill on your main fare. One way to get this right is through a colour theme for your dessert table.
This could go hand-in-hand with your wedding decor too, like the rest of the details for your wedding - from bolts of fabric for draperies and floral arrangements to the larger wedding cake.
The Wedding Cake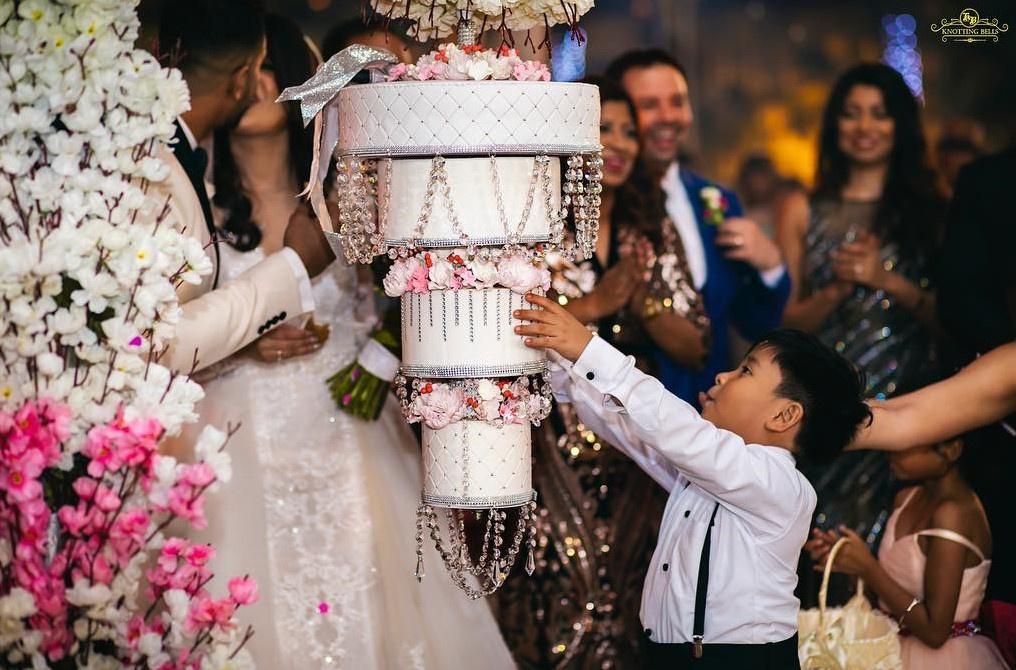 Top up your wedding festivities with a unique flavoured wedding cake, preferably in an over-the-top arrangement. You could try a unique, chandelier cake or even arrange for the layers to be on elevated levels like the classic picture here.
Gulab Jamun Truffles
Image Courtesy: Queen's Bali catering
Get some fusion fare on the dessert table that will encourage foodies and adventurers to sample these delights, rather than pass them over. You could try pairing conventional desserts like the Phirni, Gulab Jamun and Rasgullah with unique, fusion fares - like truffles, mousse and cake.
Beetroot Cheesecake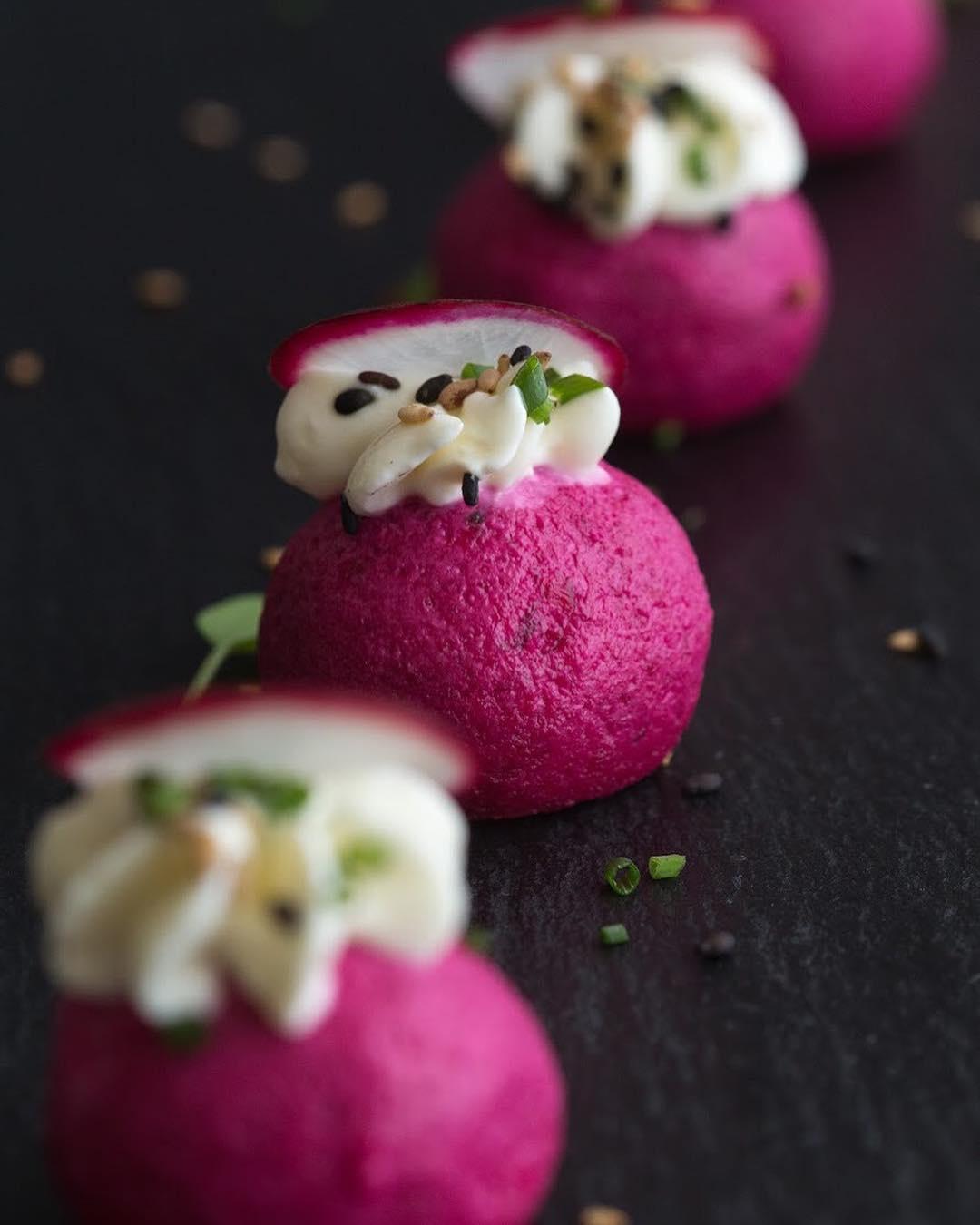 Image Courtesy: Food Co
Get a heady burst of colour and flavour that will even have your fitness freak friends asking for more, courtesy this iron-laden bite. Ask your caterer to try their hand at a Beetroot cheesecake or even its Desi variant - the beetroot Rasgullah.
Choosing biodegradable cutlery (spoons and bowls) over disposables or high-end (and breakable) crockery also reduces the carbon footprint for your wedding. (We'd recommend a speed read of eco-friendly wedding ideas here too).
We hope that these gorgeous creative wedding food ideas were able to grab your attention to pick up a spoon and sample them some more. Remember, you need to invest in a caterer who not only knows how to make decent grub but also to plate it and present just right. That's what would make the cut for your wedding feast.
Which one of these stellar delights stoked your senses the most? Let us know in the comments below!