Use These Car Decor Ideas to Make Your Bride's Ride Home Special
Want your first ride with your wife to be special? Then make an effort and look for some mind-blowing car decoration ideas and surprise her.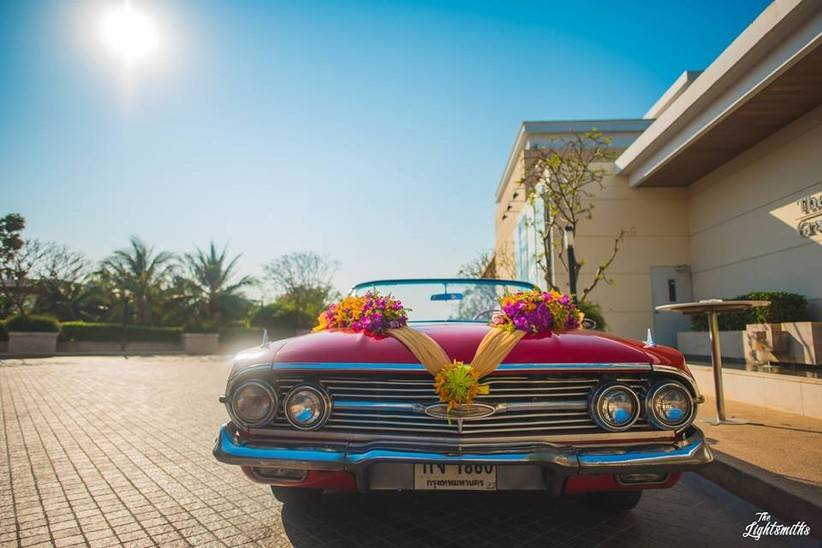 While you might have gone on gazillion rides with your wife-to-be, the fact is that the first ride right after marriage holds special importance and you wouldn't want that to be a normal one. Wedding car decoration has been a concept has been around ever since cars have been around. But with the changing times, we've seen a great evolution in car decoration ideas. With everything about a wedding being competitive these days for the gram, wouldn't you want your car to be decorated in the best way possible? Well, we are sure you do.
From flowers to ribbons, balloons to tulle, there is nothing that hasn't been used for car decoration at weddings. Car decoration is one of the few common traditions followed in the east as well as the west. However, weddings are the only time when the brand of your car is less important but how you've gotten it decorated is what will be talked about. With so much pressure on you to make the first ride memorable, we thought of sharing some of the cool ideas of car decoration that we found on the internet. Take a cue and gets your decorated in an even better way and surprise your wife by making the memory of her first ride after wedding extremely special.
A Bouquet at the Centre of Attention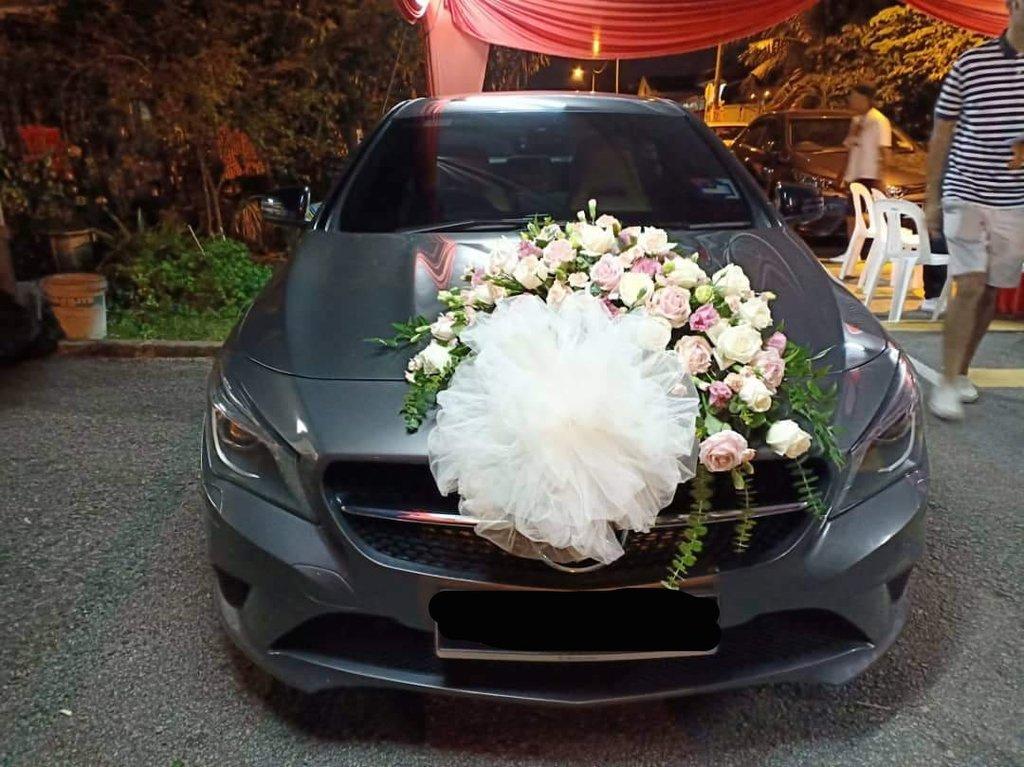 Image Courtesy: PS Floral Atelier
While this is one of the most common car decoration ideas, it does have a charm of its own. This one if for the grooms that want to go for a minimalistic idea without making the car look fully decked up. While the idea might be common, what is not common is the design of bouquet that uses tulle to create a vase-like shape and the flowers on the top making it look like a vase of flowers.
Pro Tip - Choose flowers or colours of flowers that are contrasting to the colour of the car to make the car decoration look more endearing.
"Just Married"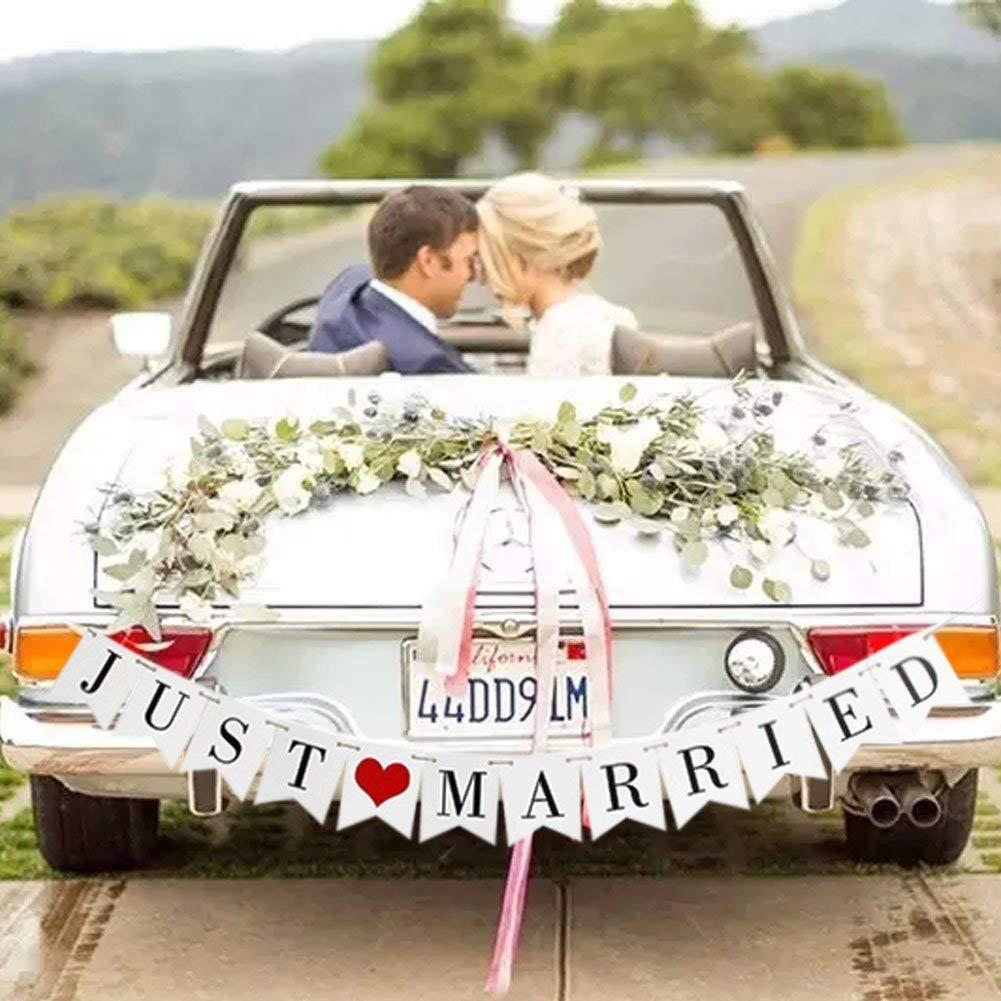 Image Courtesy: Amazon
While this is a concept borrowed from the west, it still is a super cool idea to get "Just Married" written letter by letter at the trunk of the car. Apart from being a good photo opportunity from the back as your car leaves the driveway, this one works even better if done to an open roof car. This way your photo can capture the car decoration as well as you.
Pro Tip - Decorate the trunk of the car with flowers or leaves instead of just putting the "Just Married' initials to make it look complete and dreamier than ever for your wife's first ride.
LOVE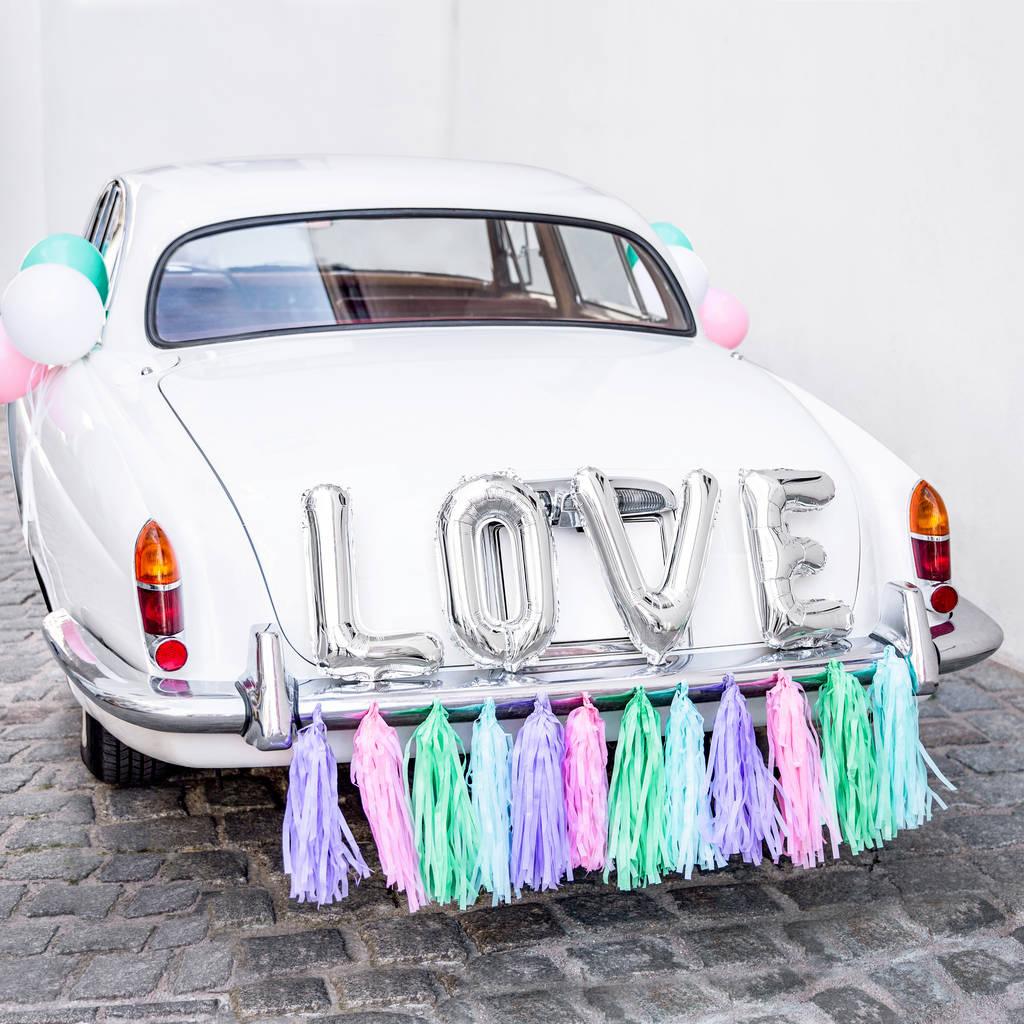 Image Courtesy: Not on The High Street
While we are already discussing ideas to decorate the trunk of the car, another car decoration idea with "Love" mentioned at the back of the car drew our attention immediately. What makes this different than the "Just Married" initials is the fact that it has been enhanced with tassels made of paper falling from the trunk of the car. Just like "Love" and "Just Married" are extremely common terms for wedding car decoration everywhere in the world, "Cheers" is also a word used very often in the west.
Pro Tip - Ditch the usual reds and whites used for car decoration and go for colourful tassels to please the eye while also making it look more quirky. C
Beautify the Bumper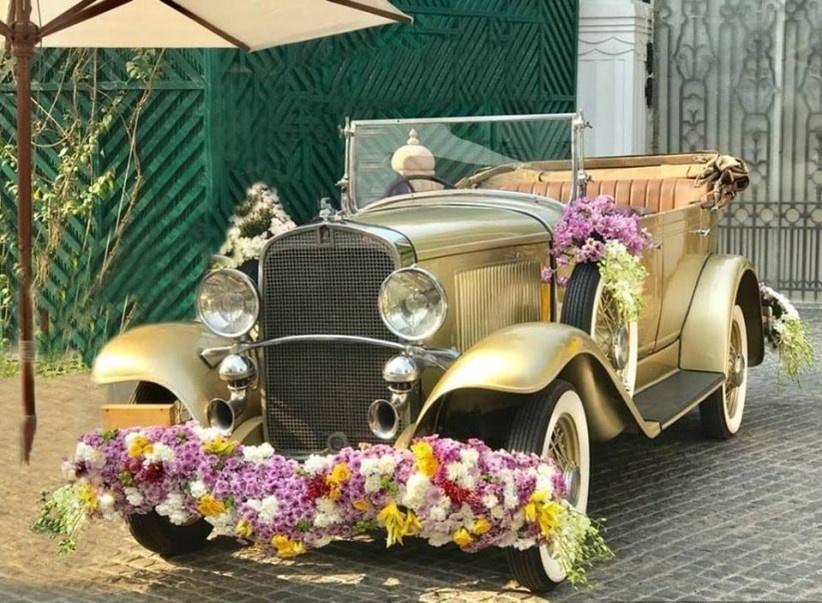 Image Courtesy: Vintage Wedding Cars
Hiring vintage cars for your first ride after wedding is an extremely famous concept in India, but what we really like about these vintage cars is that less looks more when it comes to car decoration for them. Just like this uber cool idea of beautifying the bumper with some extravagant flowers and putting small bouquets on each of the car doors.
Pro Tip - Picking extraordinary and extravagant flowers for a vintage car works better as the decoration does not end up making the car look shabby or cheap.
Phoolon ki Chaadar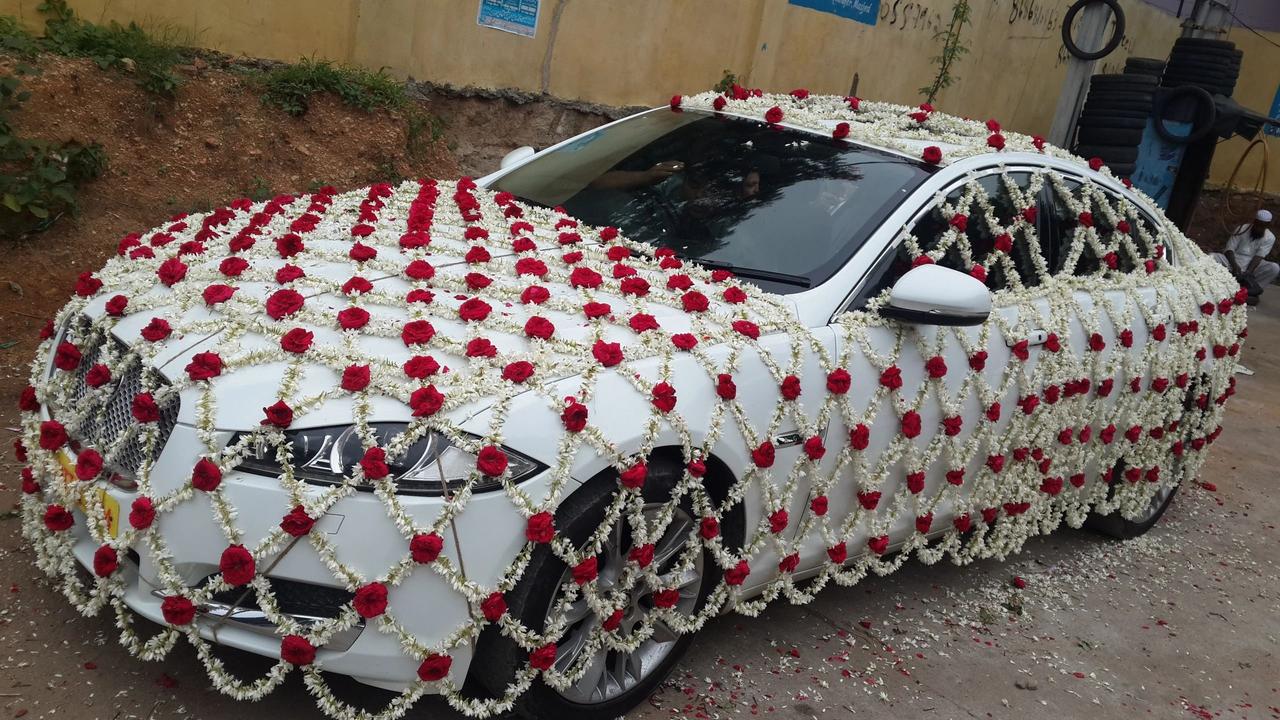 Image Courtesy: Rajasthan Tours and Travels
Enough of car decoration concepts from the west, let's look at one of the oldest and most elaborate car decoration ideas of our country. The "phoolon ki chaadar" referring to a floral covering is one of the classic ways of decorating the newlyweds' car. Apart from being elaborate and fancy, this one is for grooms that want their wedding car decoration to be dramatic and OTT.
Pro Tip - For the millennial grooms who want to copy this idea but not make it look very old fashioned, choose exotic colourful flowers instead of the reds and whites.
The Love Swans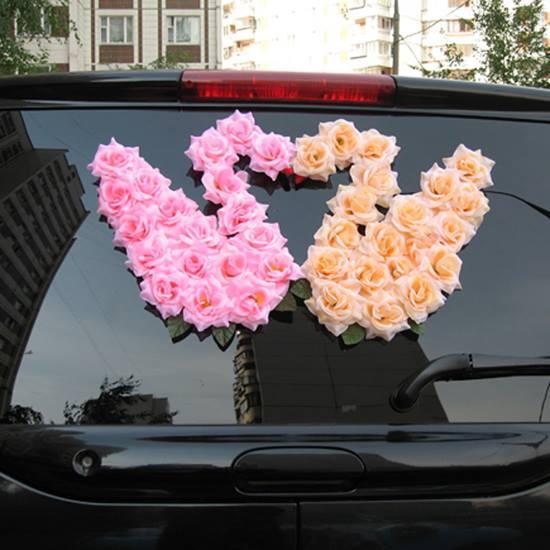 Image Courtesy: Arabi Flowers
Love swans are extremely common when you think of decorating the room of newlyweds. However, not many people have discovered how to use them for car decoration. The mirror at the back is rarely used for car decoration and seems like the perfect place to put love swans made with roses. This one will be for grooms who want minimal car decoration that has the maximum impact.
Pro Tip - Use white roses for the swans(not on a white car) and red roses for their beaks that touch each other to make a heart, for the car decoration to look real and unbelievably beautiful.
The Peacock Installation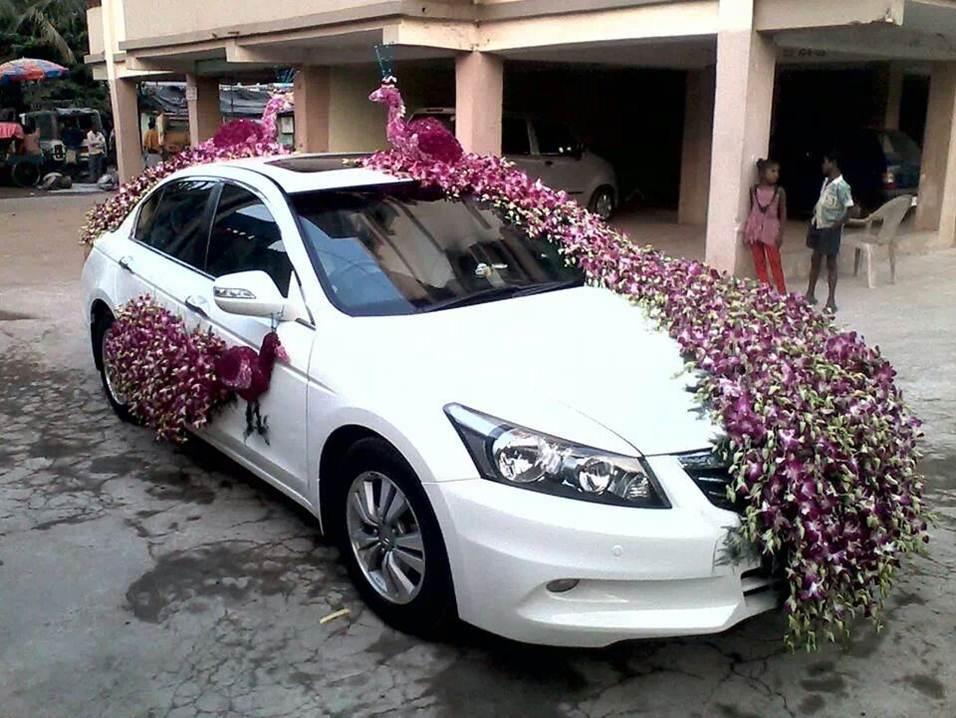 Image Courtesy: Flower Decor
While you may have seen art installations of peacocks made with flowers, have you ever seen an installation like that on a car? Well, we have seen it and never stopped thinking about it ever since. This one is our favourite car decoration idea and also one that is the most difficult. The huge peacocks made with flowers on the car do not just make for a pretty car decoration idea but also enhances the look of the car.
Pro Tip - Make sure you hire someone professionally good at this to do it for your car because hiring an amateur can turn this beautiful idea into a mess rather quickly.
Teddies on the Bonnet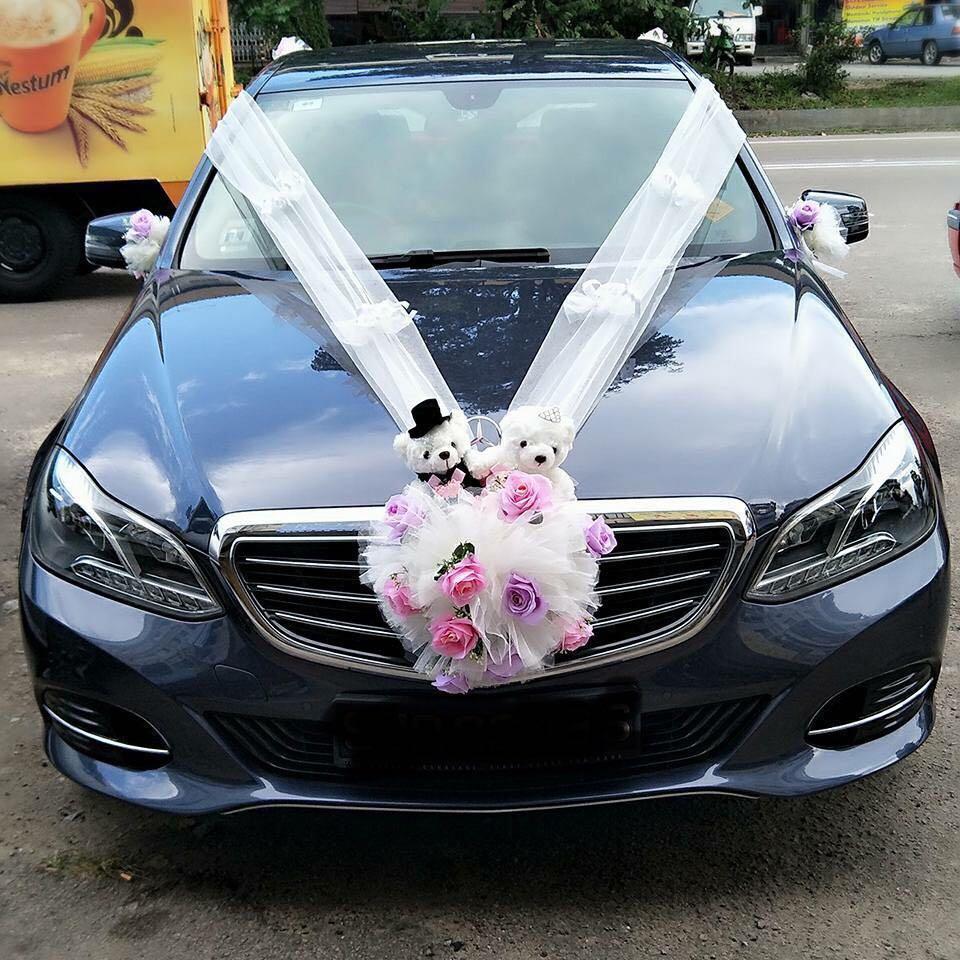 Image Courtesy: Carousel
While it isn't a very common car decoration idea in India, using a teddy couple to enhance the look of the newlyweds' car is still a very endearing concept. What completes this idea is the use of ribbons and roses to decorate the car and make it look cuter.
Pro Tip - Keep it subtle and not very elaborate as teddies can come off as rather childish if used for an elaborate car decoration idea.
A Big Heart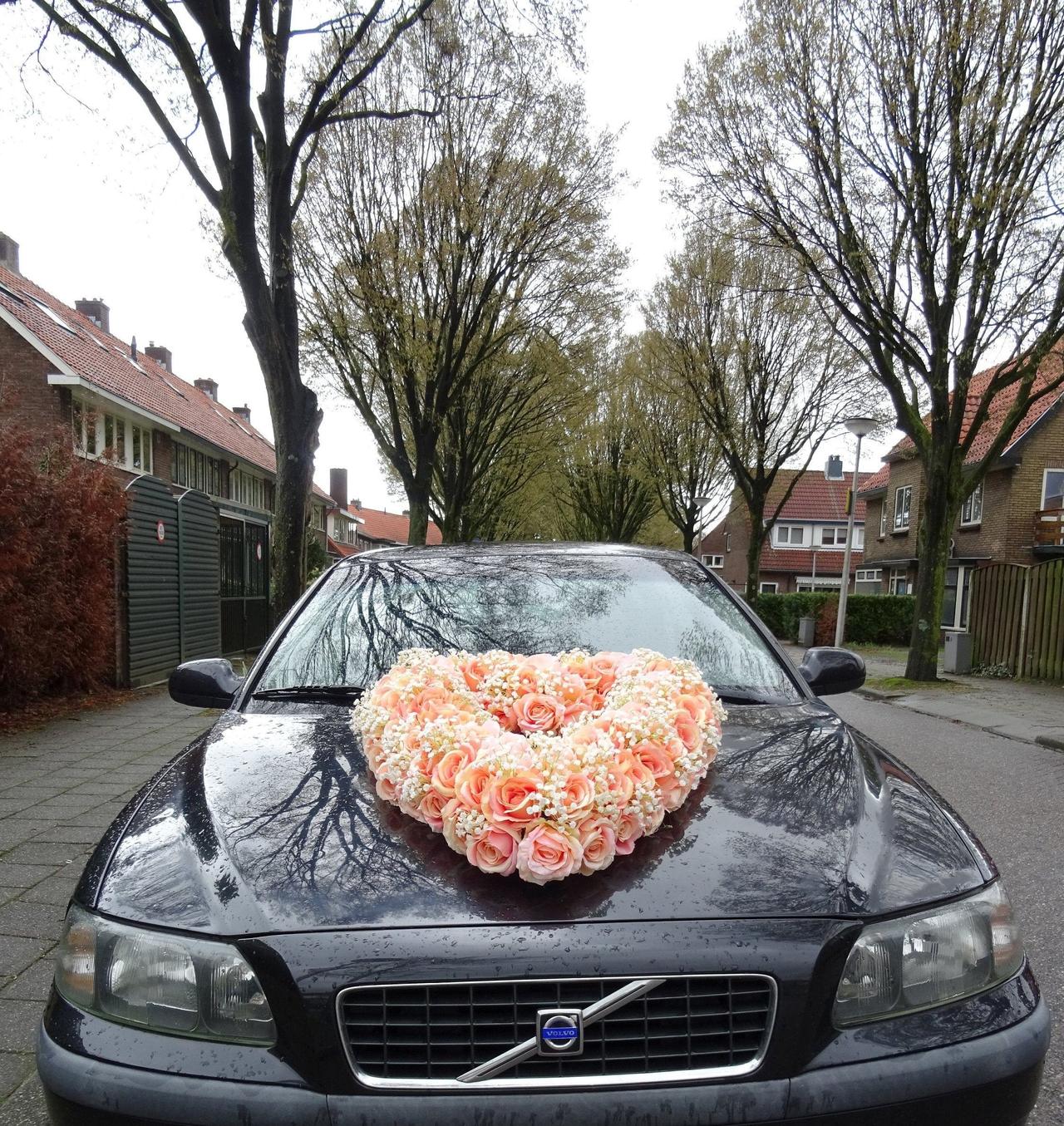 Image Courtesy: Etsy
Another very simple and yet very endearing idea is that of a big heart-shaped bouquet on the bonnet made with roses. If you're the groom who wishes to go with a simple wedding car decoration idea then this one's for you.
Pro Tip - Pick huge roses for the big heart on the bonnet of your car so that this simple car decoration idea does not look too simple for the occasion.
While we love each of these ideas equally, we know that every groom has a plan of his own. Whatever your plan is, make sure you make your wife's first ride home super special and choose a car decoration idea that she'll love. Surprise her with your choice and make this moment memorable for her forever.
Tell us in comments how she reacted when she saw the car decoration for the first time before her first ride home as your wife.