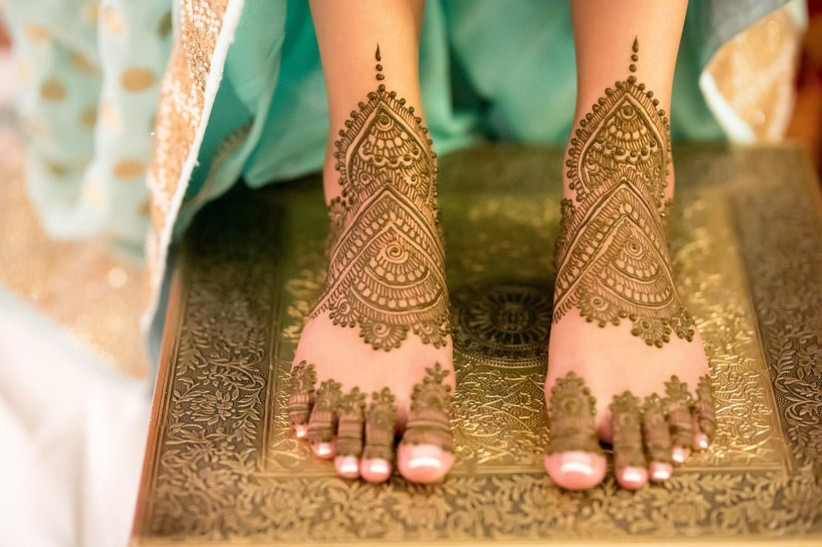 Image Courtesy: Wedding Documentary
A touch of gold, a drop of pearl, a hint of colour and a vibrant smile, these are all the accessories a bride-to-be needs. But, what good will these stunning accessories do when the Mehndi Shagna Di fails to tell her tale. Make your Mehndi function a hit this wedding season with a mix of trending minimal and ornate mehndi designs that you will not find in any bridal mehndi design book off the rack. Embellish your pretty toes with these gorgeous designs.
Mehndi is deeply rooted in Indian wedding traditions and is an intrinsic part of the wedding. Without a Mehndi ceremony, the wedding ceremony cannot be considered complete. It has become one of the most awaited and fun events that comprise of rituals and traditions that one can explore and be awestruck by the rich culture that we have. While applying the Mehndi to the bride's hands and feet is considered an auspicious practice, many beliefs are also attached to this ceremony.
The darker the colour, the deeper the bond with your partner or even your mother-in-law are some of the sayings that we have been listening since we were kids. To ensure that your hands are adorned with the perfect shade of red and some of the most beautiful henna patterns, we have put together a list of all time favourite bridal mehndi designs which you can choose from and draw inspiration for your big day.
1. Lovely Lace
This design embraces the 'less is more' concept which is hard to find in a traditional bridal mehndi design book. Not only is this the new IT trend, but it is also a trend that is here to stay here for long. Its delicate lines of intricate work forming exquisite patterns are totally sought after and required a well-practised hand of a professional mehndi artist to achieve precision.
2. The Playful Peacock
Dance on your big day with a playful peacock motif in your bridal mehndi design. Although a peacock motif in traditional Indian bridal mehndi has been around for years, this design gives it a modern twist that no bridal mehndi design book will offer. With the peacock as the centre of attraction, the brilliantly intricate pattern around it is the essence that adds character to this design.
3. Romantic Rose
No wedding is complete without a vibrant floral arrangement and wedding décor. They are auspicious and simply mesmerising with their naturally brilliant beauty. Of course, it is needless to say that roses top them all. So, why not wear these on your toes to embark the beginning of your new journey and a beautiful phase of life. Bold and brilliant Jaal pattern made of rose flower motifs is an excellent choice for the modern bride. Make sure to add that to your bridal mehndi design book!
Complete your Solha Shringhar with these breathtaking mehndi designs that are for sure to please every millennial bride.
4. Marvellous Mandala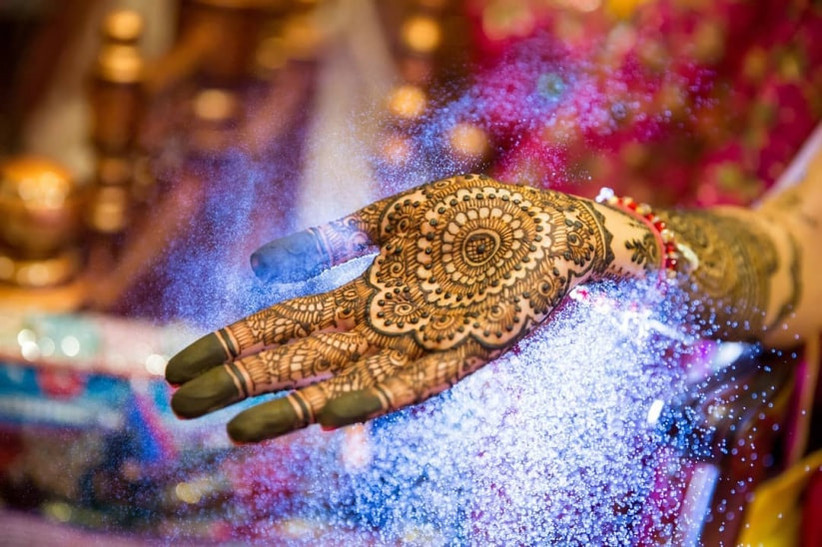 Image Courtesy: Wedding Documentary
Why not incorporate a traditional motif that has not become a firing trend? We bet no bridal mehndi design book will give you that tip. Mandala is more than just an auspicious and traditional motif in Indian culture. It symbolises the universe and an individual's search for completeness. Since your wedding day is when your universe changes and you feel complete with your better half with you, now for all eternity, it is only fair to include this beautiful mehndi motif with a special meaning in your mehndi design.
5. The Jaal of Joy
A Jaal has been a constant design pattern in almost everything traditional, from bridal jewellery to bridal clothing and even architecture. This classic pattern has always been around and is not going to fade in style anytime soon. From bold motifs to intricate designs, the creative flow to this pattern knows no boundaries. Add a dash of tradition with a modern twist with this and make it a staple in any bridal mehndi design book.
6. Awe-Striking Architecture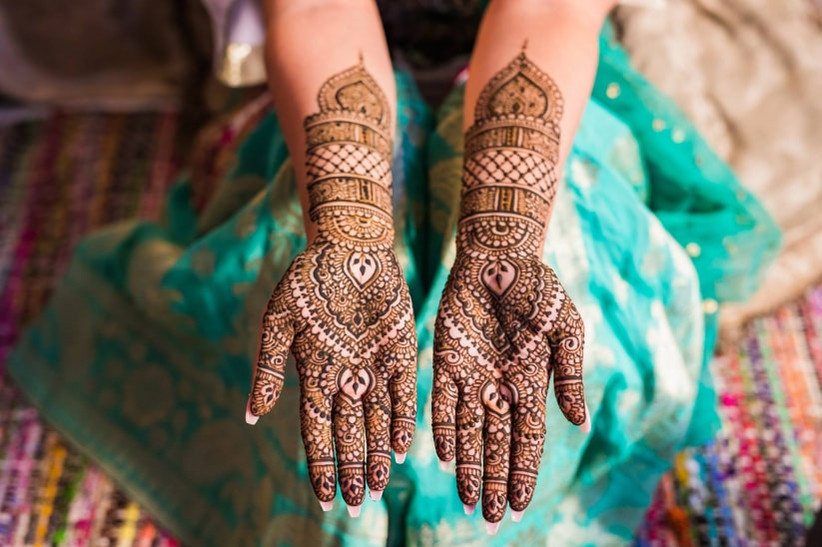 Image Courtesy: Wedding Documentary
The amazing arches of the Mughal architecture have inspired millions of artists to create exquisite designs. Why should your bridal mehndi design be left behind on that amazing inspiration? Although you will find some arch inspired design in a traditional bridal design mehndi book off the rack, this design stands out for them all with its intricacy lever and craftsmanship.
Hours of patience, a steady hand and a lot of skills go behind creating a stunning bridal mehndi design for your big day. Not only is it a daunting task for the artisans to please the bride with their designs, but it is also a patience test for the bride to keep sitting for hours at a place and let the experts work their magic on her. All this while being fed and teased by all her loved ones, of course!
Here are a few quick tips to ensure that all the hard work is paid off by making the mehndi design last longer.
As the henna dries, dab a mixture of lemon and sugar syrup on it. The syrup makes sure that it stays on longer and the lemon helps to release the dye. The longer it stays the deeper will be the colour of mehndi after you scrape it off.
Roast some cloves on the stove and let the fumes be absorbed by the mehndi once it has almost dried. It helps the dye to penetrate deeper in your palms, resulting in darker mehndi.
After the hours of patients have passed and you finally scrape off the dried off mehndi, apply a good thick coat of 'balm' or 'Vicks' and rub that evenly on every area where you want the dye from the mehndi to penetrate deeper.
While there are many designs nowadays to choose from, there is certainly no doubt that this traditional folk art of India has made its place in our hearts because of its elegant touch that not only completes the bridal look but also elevates it. Now that you know about the latest mehndi trends that no off-the-rack bridal mehndi design book will show you, head over to select the style you want for your big day. And of course, make sure to use the tips above to be positive that your bridal mehndi lasts for as long as it possibly could.
Explore the wide range of designs offered by our mehndi artists and let us know which one will you go on your big day!