Make a Style Statement with These 9 Blouse Stitching Designs for the Millennial Bride
A perfect kind of blouse can make your outfit seem alive. With the number of quirky blouse stitching designs we have nowadays, the challenge is to pick the right one.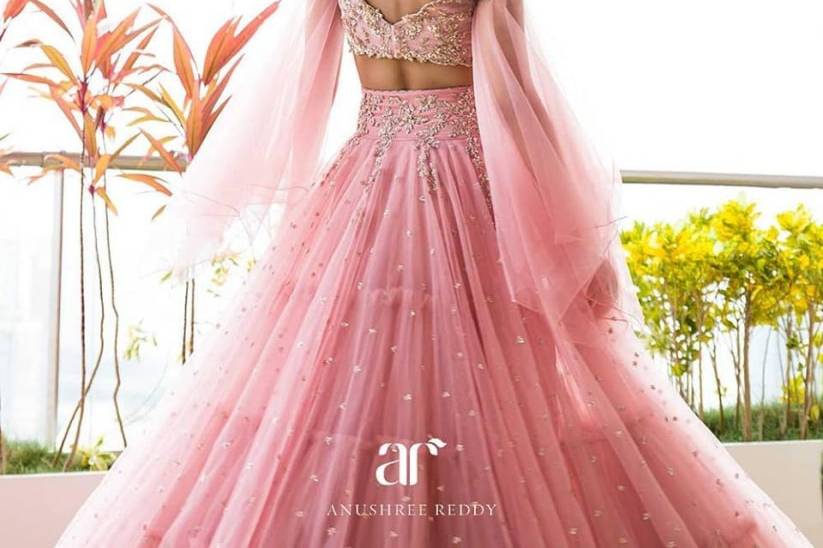 Your lehenga or saree is never truly complete if you do not have a proper blouse to go with it. It is one of the first things people would look in your outfit as most of them are looking for inspiration for their next one. So why not have a blouse stitching design that is sure to leave the girls completely awestruck by what you are wearing.
If you're looking for inspiration on unusual blouse stitching designs, we bring to you a list of blouses that you are sure to love.
1. Corset Blouse Stitching Design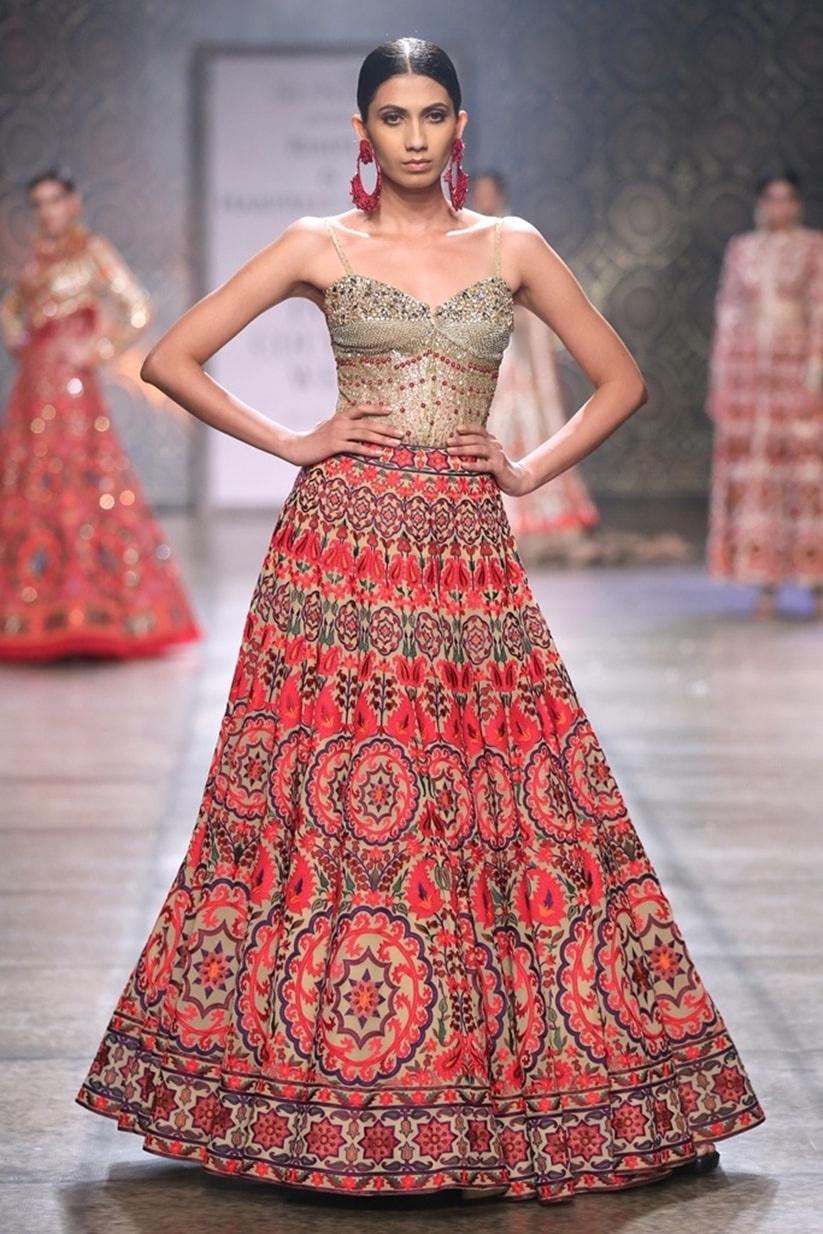 A corset blouse stitching design is truly unique. It shows off your figure and gives you a modern edge, over the other outfits. You can try and skip the traditional way of wearing the Dupatta with this blouse and just let it hang on your hands. These types of blouses are suitable for reception or engagement.
Price: ₹5000 onwards
2. Half N' Half Blouse Stitching Design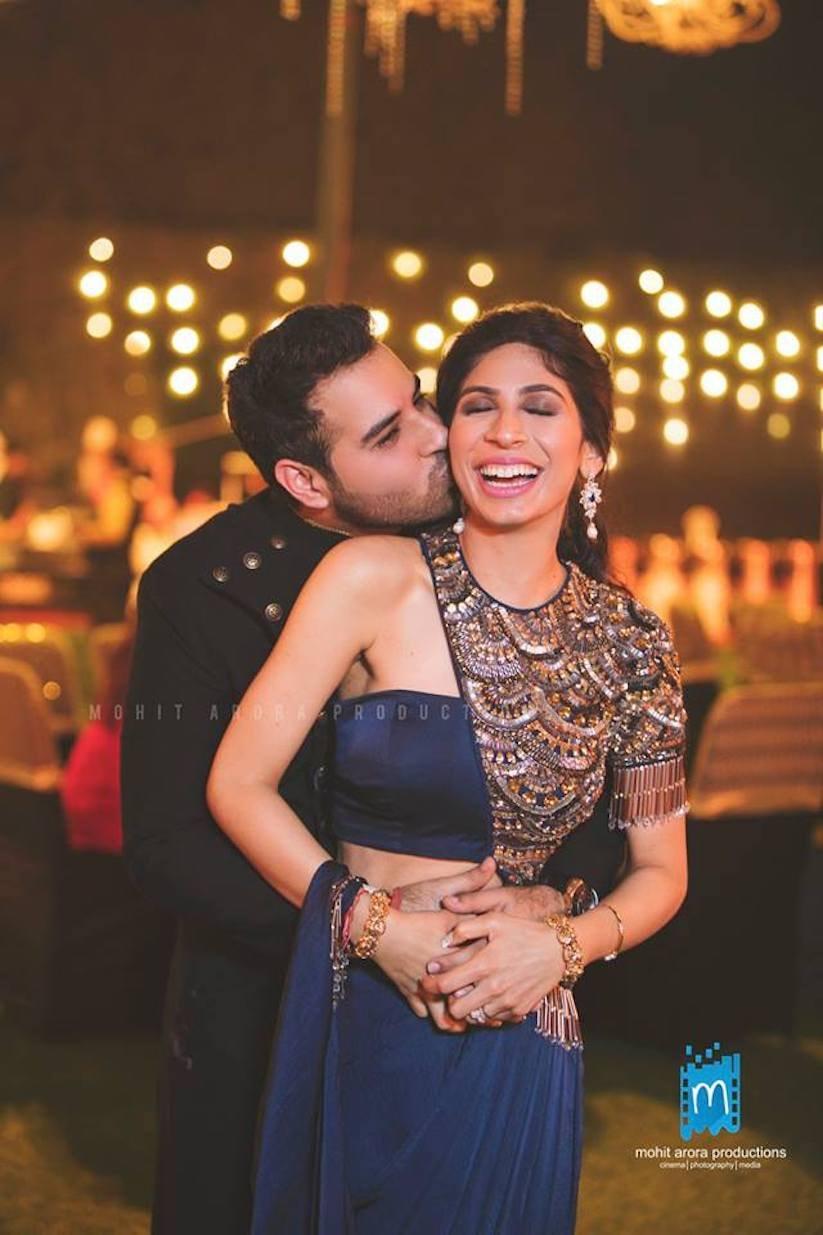 It is rare that you see a blouse like this and making it work so well. This blouse stitching design with half plain and half sequence work looks quirky and bold. To make this look even bolder skip the Dupatta and wear statement earrings with the outfit. This ensemble works very well for receptions and Sangeets.
Price: ₹5500 onwards
3. Tassel Blouse Stitching Design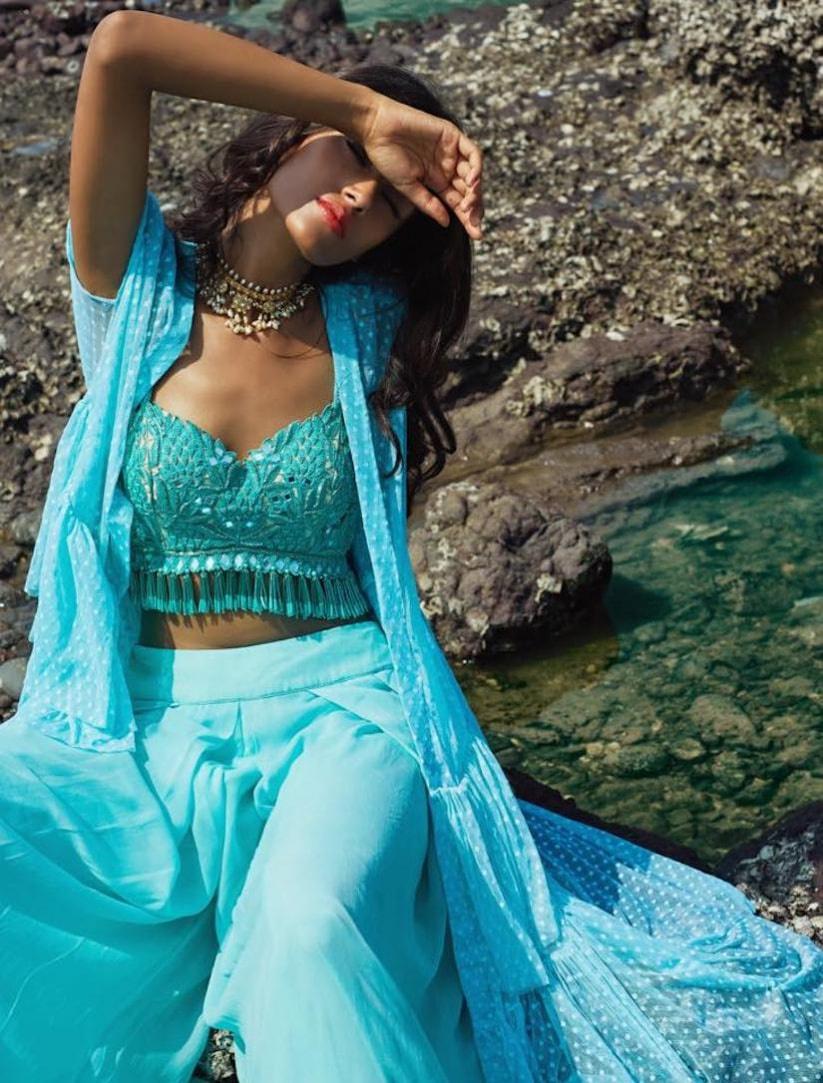 Show off your inner diva and wear this beautiful blouse with hanging tassels. The blue colour of the blouse just makes it even more attractive. Go for a loose jacket rather than a Dupatta for a blouse like this. Wear it to your Sangeet or Mehndi function.
Price: ₹7000 onwards
4. Cutwork Blouse Stitching Design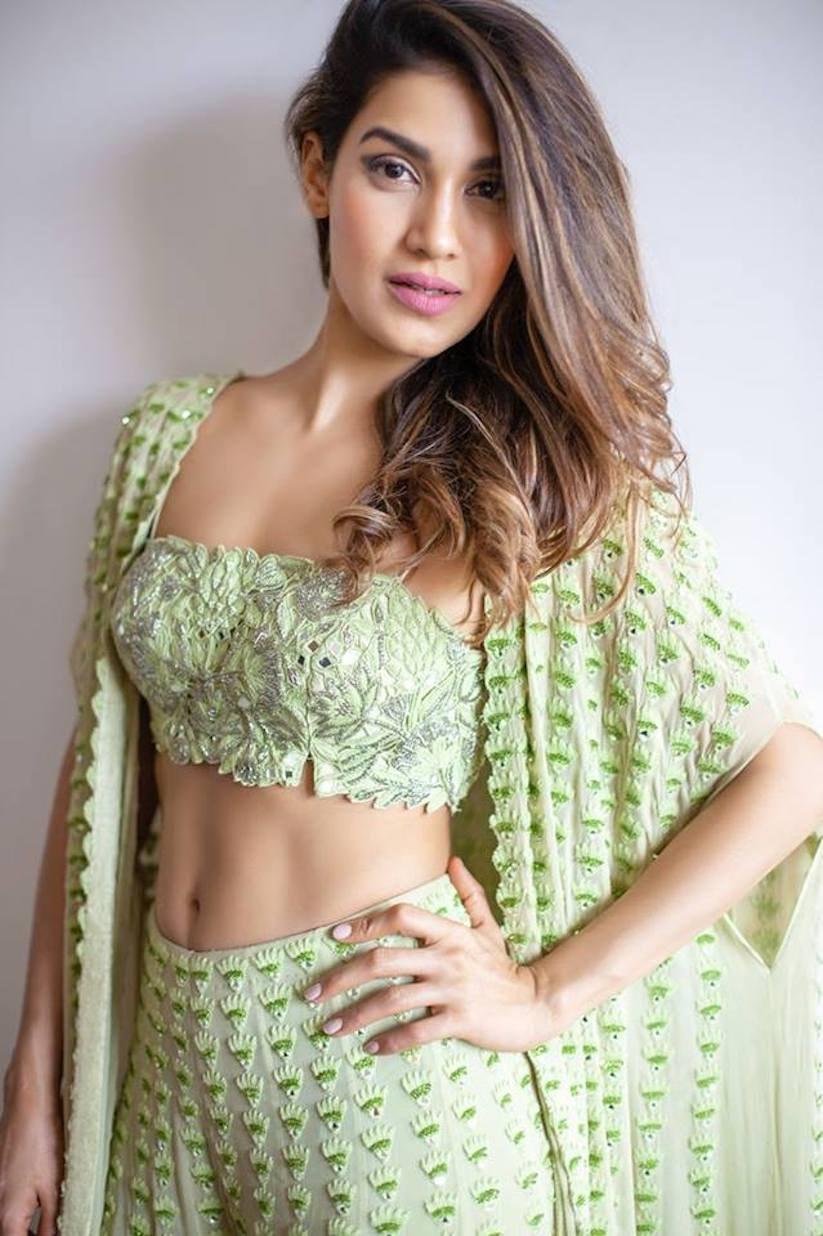 There is nothing to not love about this outfit. From its colour to its little slit and cutwork design, this outfit screams 'chic'. Make sure you don't cover your blouse with the Dupatta to carry and go light on the jewellery here. With a colour like this, the outfit is meant for functions like Mehndi or engagement.
Price: ₹7000 onwards
5. Butterfly Blouse Stitching Design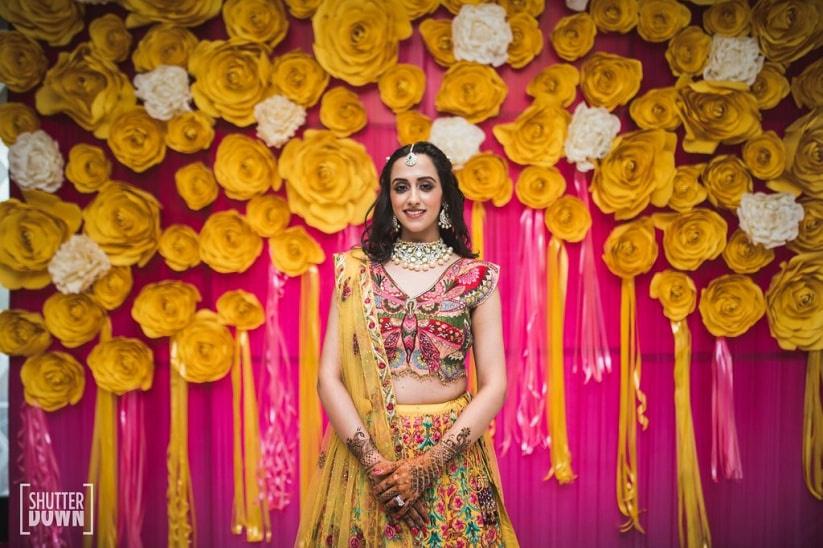 Not everyone can make such a colourful blouse work, but with the butterfly design, it just does. This is a cute blouse should not be hidden by a heavy Dupatta, so take a light one on your side for this look. Also, do not wear heavy jewellery with a blouse such as this, as it takes the attention away from such a blouse. Wear this outfit to the Sangeet or Mehndi function.
Price: ₹6500 onwards
6. Feather Blouse Stitching Design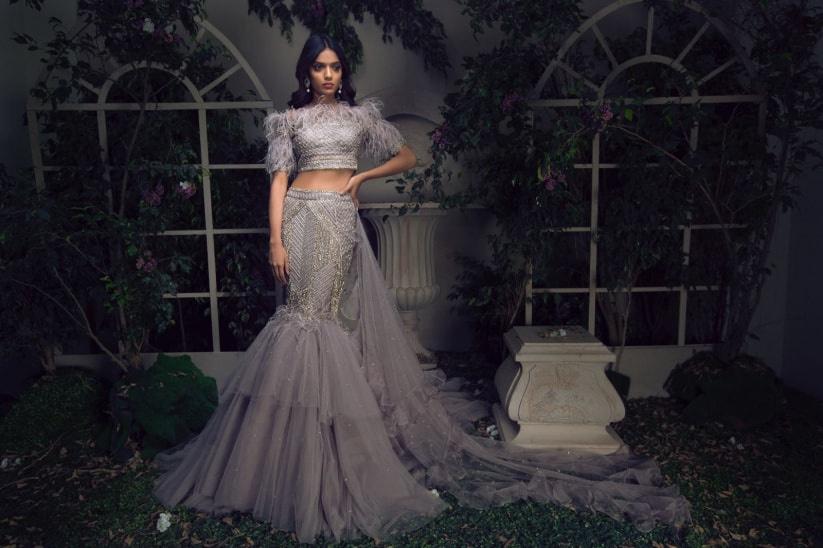 Photo Courtesy: Falguni Shane Peacock
Look like a total diva in a blouse like this. Those feathers adorning your shoulder are a style statement you are bold enough to make. The sequinned blouse with the feather is a striking combination and comes out beautifully in a grey colour. If you want to accessorise this look then wear light dangling earrings and no other jewellery. The reception or the engagement would be a good place to flaunt a blouse stitching design such as this.
Price: ₹9000 onwards
7. Ruffle Blouse Stitching Design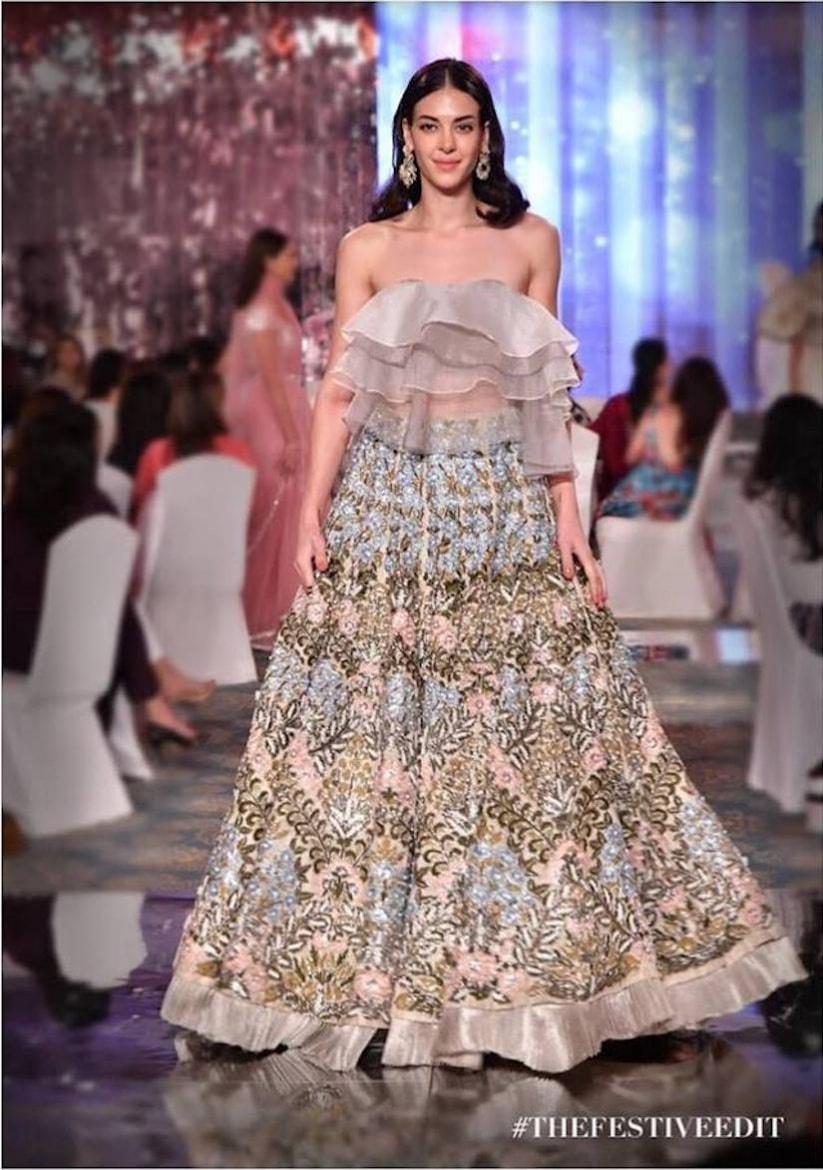 Photo Courtesy: Manish Malhotra's Facebook Page
The ruffle layer on this blouse makes it truly dreamy. The blouse gives a translucent effect, which can be very well done with good organza. Go for pastel colours if you are wearing this blouse for a day function. Wear either a statement necklace with such a blouse or a Dupatta which sticks to your neck. Parade this outfit for the Mehndi or the Haldi.
Price: ₹4000 onwards
8. Cape Blouse Stitching Design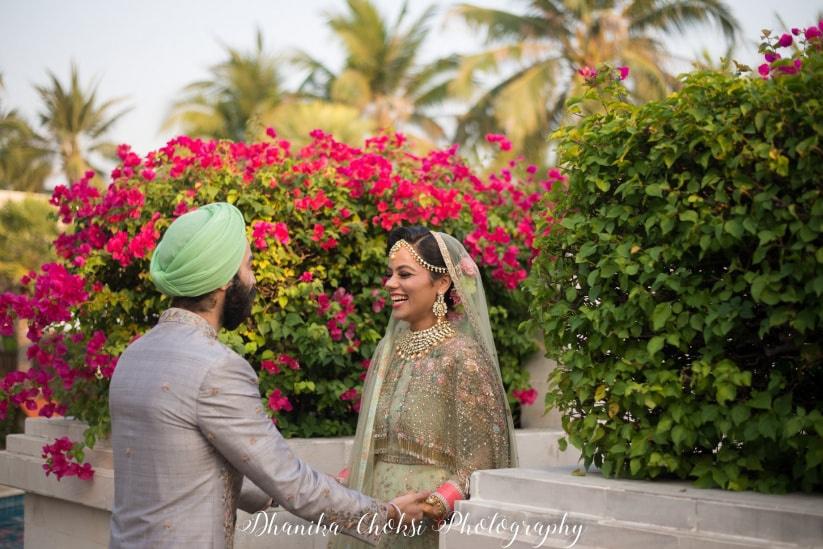 This beautiful blouse stitching design will surely have people's heads turning. With a short but heavily embellished cape with fringes, your ensemble will look magnificent. Don't go for bright colours for this blouse, the cape would be enough to make your whole outfit dazzle. You can wear it for the wedding itself or the reception.
Price: ₹10,000 onwards
9. Statement Blouse Stitching Design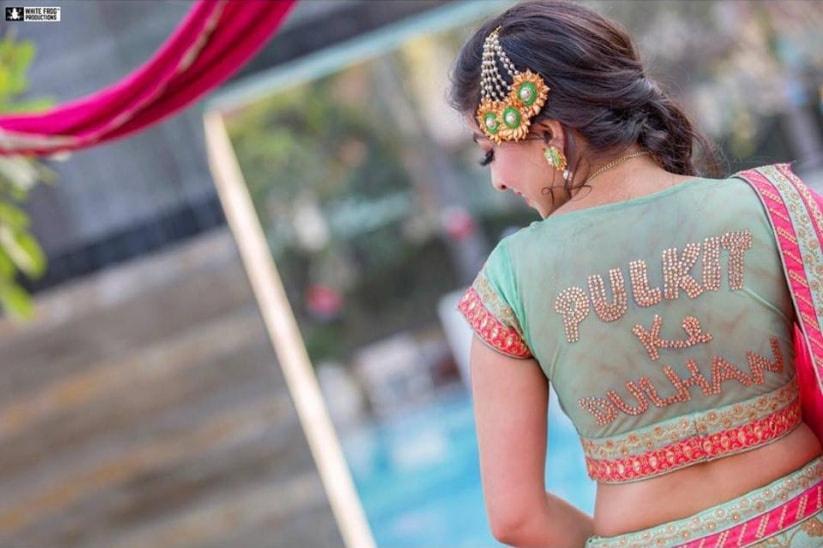 There is nothing better than making a statement, and with this blouse, you can do it in both ways. This is the quirkiest of all blouses and making a statement like this is an opportunity not to be missed. Make sure while wearing this blouse your Dupatta does not cover your back. Wear it for a function like the Mehndi or Haldi.
Price: ₹4500 onwards
While we love all these designs, we are sure you have a list that it must fulfil. Try these amazing blouse stitching designs for your wedding functions and make sure that all eyes roll and stay on you.
Tell us in comments, which of these quirky blouse stitching designs is your favourite?