Every woman desires to look flawless on her big day, especially if she chooses to don the nine yards. If this is you, you can always count on impeccable south Indian wedding sarees. Usually a silken creation, these smooth weaves dazzle with their myriad patterns and conventional hues.
You will discover traditional pyramidal fringes, flower booties, stripes and check patterns in this treasure of weave and designs. The spectacular range of designer sarees, reflect the rich heritage from which they come and will leave you spellbound. The sheer amount of colours available will add a dash of additional glitter to the bride as well.
Make a Grand Style Statement with South Indian Wedding Sarees
Indian weddings are always known for their overwhelming grandeur and happy ambience.
So if you are the bride-to-be or a special guest of the wedding, the search for perfect ensemble can become maddening indeed. You are also spoiled for choices amid Kanjivaram sarees, Pochampally sarees, Konrad sarees, Gadwal sarees, Chettinad sarees and Mysore silk sarees.
Here we examine the different options available to you among South Indian wedding sarees -
1. Kanjivaram sarees:
Kanjivaram is famous for its magnificent beauty. Called by a few as the Banarasi saree of south India, the weaves are known for their sheen, fine silk fabric, with golden or silver zari work and deep colours. The designs of the body and pallu are different as they are woven separately and joined eventually.
You can also spot contrasting shades in the body. The motifs are mainly inspired by figurines and temple scriptures. However, you can consider these as the best south Indian wedding sarees when you are looking for something traditional.
2. Gadwal sarees:
Crafted from silk or cotton, these hybrid South Indian wedding sarees are popular for their spectacular designs and fabric. Most of the times, the body of the saree is made out of cotton, but the borders are composed of tussar or mulberry silk.
The motifs are woven in small checks with an interlocked-weft pattern. The Sico (silk and cotton) blend has reached their peak of popularity. Rudraksha or Murugan motif is the most preferred option or popular choice of women.
Combined with earthy colours, these sarees remain an evergreen choice for festive and daily wear alike.
3. Chettinad sarees: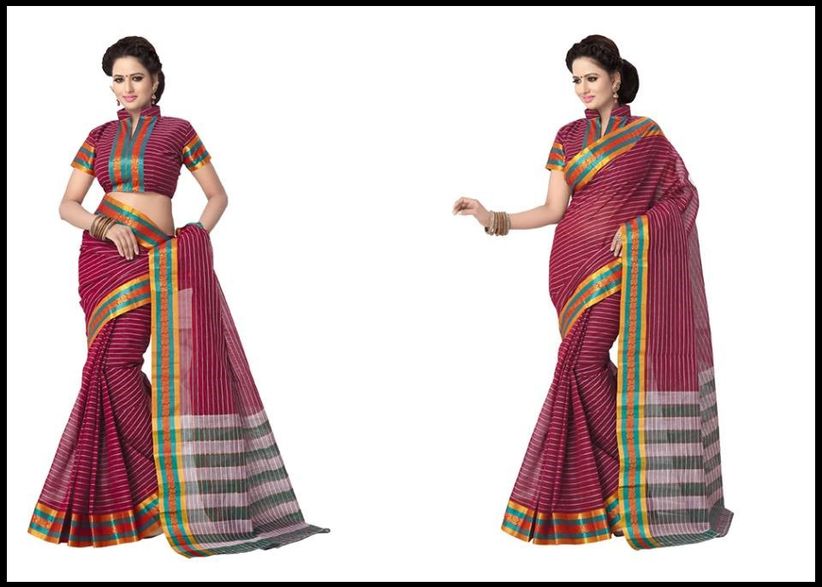 Do you want to feel the magic of expert weaving? Chettinad sarees are another stunning bridal outfit choice. Crafted from cotton thread combined with silk, they retain their contemporary look.
The weavers create vibrant motifs with the use of vertical or horizontal lines and check designs. The borders add beauty by creating a contrasting tint. Chettinad sarees are available in traditional hues like black, red, mustard colour and can be a go-to option for your morning wedding rituals.
4. Mysore silk:
Weighing between 400 gm to 600 gm, lightweight Mysore silk sarees in rich, bright hues are clear favourites amid South Indian wedding sarees. The base motifs remain fruits and birds, after which they are dyed with natural colours. These carry Kasuti embroidery, including designs of conch shells, lamps and chariots.
The ancient embroidery style adds to their appeal, even as the sarees remain highly sought between millennials and GenXers because they are so lightweight.
5. Pochampally sarees:
Pochampally sarees follow the Ikkat style of dying. A typical contemporary saree flaunts the motifs of flower, diamond, elephant etc. It ranges from either silk or cotton and even Sico blend.
For the upcoming wedding season, you can consider these as the right outfit.
6. Konrad sarees:
These kinds of sarees are famous in South Indian marriages. The body contains stripes or checks woven pattern and the pallu has zari stripes along with interlocked weft pattern.
It can be earthly hues of grey, off-white or brown to bright shades. Konrad sarees has its distinct identity in bridal attire.
South Indian wedding sarees are an intrinsic part of Indian wedding ceremonies as the most beautiful silk sarees are weaved there. You can spot a sheer elegance along with unparalleled designs which will help you stand out on your big day.
Go ahead and choose these bridal sarees for your big day.