Wedding Makeup Tips And Looks To Help You Shine On Your Big Day
Wedding makeup is an essential part of every bride's attire. If you're looking for some great tips on what type of makeup to go in for, then check out these stunning looks.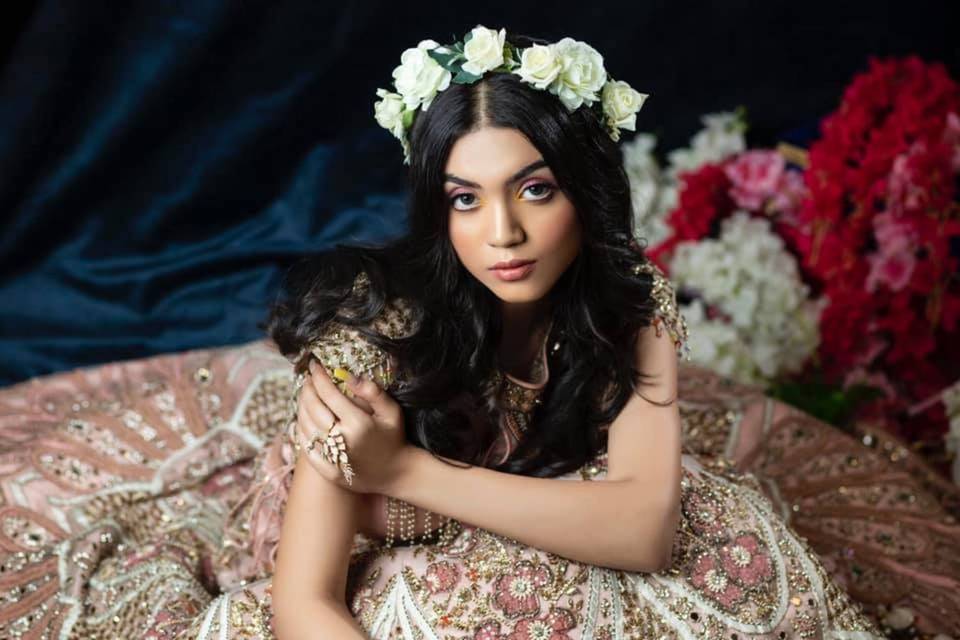 A bride is incomplete without her wedding makeup. Looking your best on your wedding day is way too important. Along with choosing your wedding outfit, jewellery and other essentials, it's equally important to choose your makeup too.
Make sure to research and come up with a list of good makeup artists for the day. Go through their websites, Facebook and Instagram pictures to check out their work before you book one. Here are some essential wedding makeup tips for you in order to look flawless for your wedding day.
Essential Tips to Get Your Wedding Makeup Right
Take care of that skin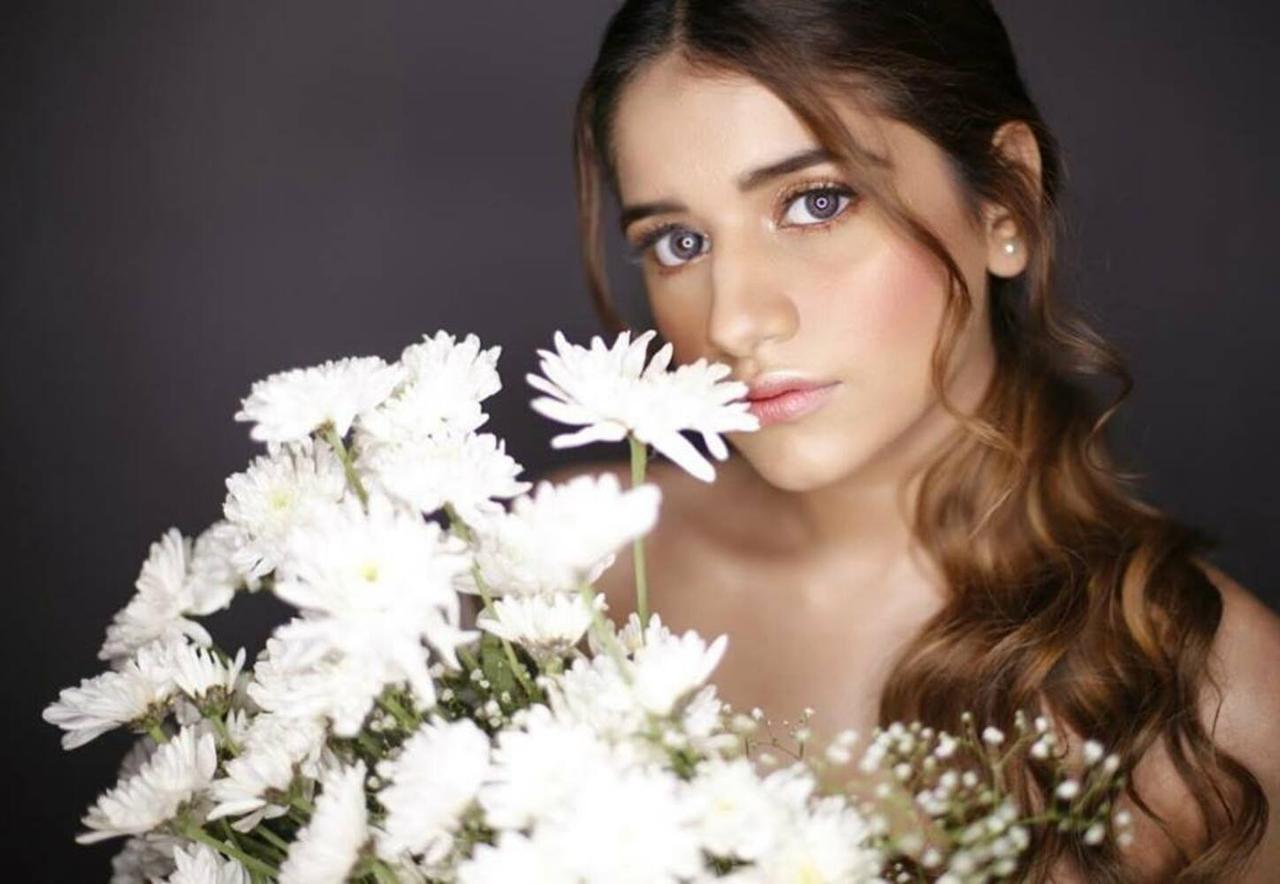 In order for your makeup to look fabulous on your wedding day, you have to start taking care of your skin at least 6 months ahead of the wedding. If you suffer from skin problems like acne and pigmentation etcetera, fix an appointment with a dermatologist who will advise you on the right treatment. This could include medication, skincare routines or even other treatments if needed.
If you're not a water person, make sure to start your intake of at least 8 glasses of water daily. Water helps to flush out toxins from the body, so if you're someone who has acne, this could really help out. It's only when you take care of problems from within will your skin look clear and flawless from the outside. Having a smooth skin texture will help your makeup to glide evenly and sit well on your face, making it look flawless.
Go for a wedding makeup trial
Going for the wedding makeup trial is key. However, make sure to get a trial done at least 3 weeks before the big day. Your makeup artist should try on the exact same look you're going in for the big day. Do your hair and put on your wedding jewellery as well. This will help your makeup artist to get an idea if your makeup matches the total look. You wouldn't want a total mismatch on the day, right? So make sure you insist to get a trial done.
Also, when you go for your makeup trial wear something that is a similar colour to your wedding outfit. This will help to check if everything matches up well. You could also go ahead and take pictures of yourself to see how the whole look has come together and make changes if required.
Go through different looks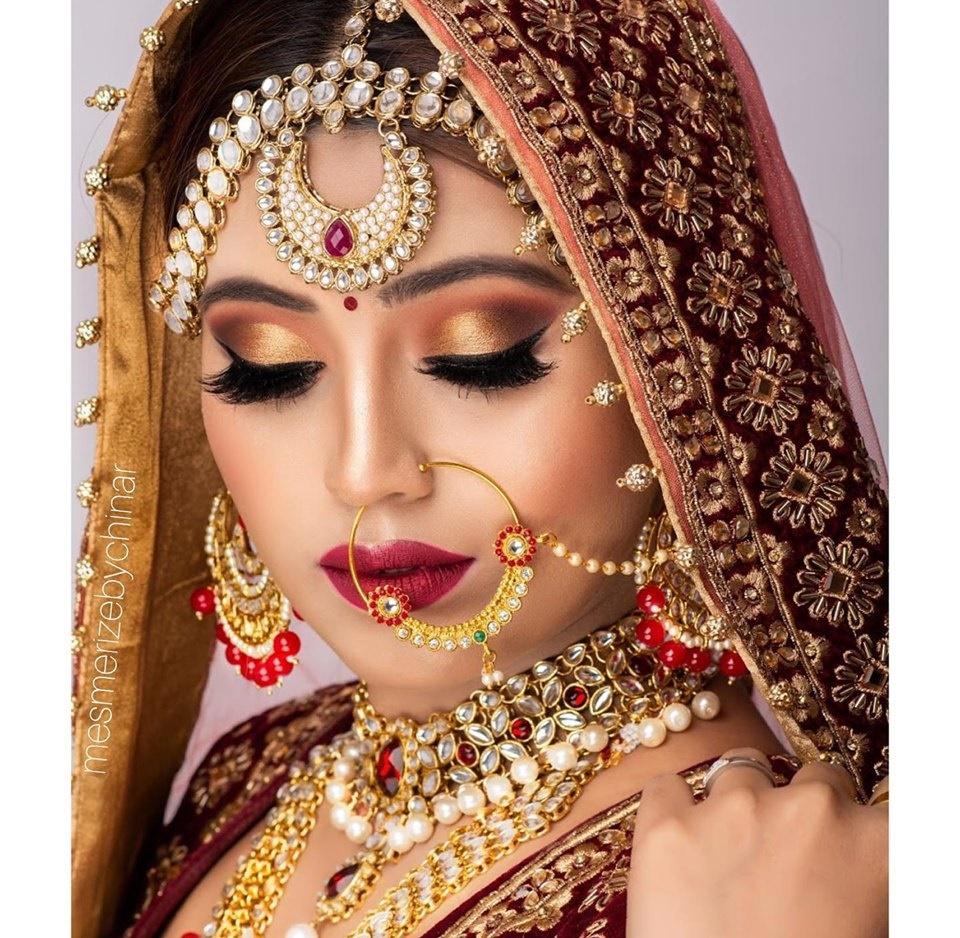 Whether it's your wedding dress or even your wedding makeup look, doing a little research and checking out different looks will save you a lot of time. Go through different bridal makeup looks, and see which one you prefer. Save those up on your phone, so when you go for your trial you could ask your artist if the look would suit you or not.
Emphasise those eyes
When going in for any makeup look paying attention to your eyes is very important. Your eyes are the most expressive part of your face, so making it stand out on your wedding day is really important. Your artist should cover up flaws like dark circles using a concealer and corrector. This should be done to perfection ensuring the right tone is used for your eye colour.
There are many different eye makeup looks to go in for. Right from soft pink shades to cat-eye looks, choose the right one that matches your overall look.
You could also go the individual false lash way instead off the full lash strip. Individual lashes give a more natural look, which can fit in between your natural lashes, allowing for a fluttery finish.
Don't be afraid to go heavy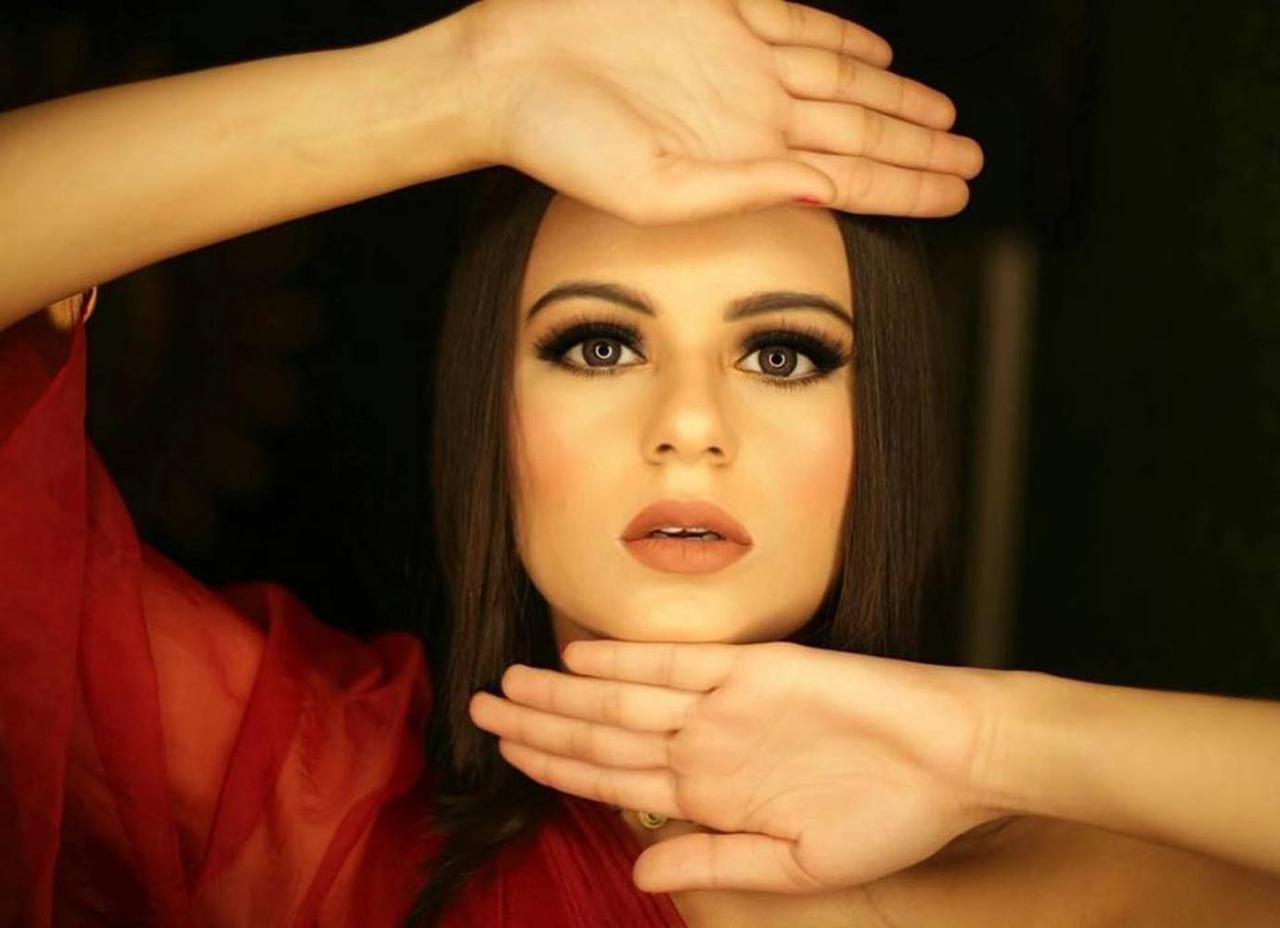 Your wedding day is a day for you to look stylish and glam, so why shy away from going a bit heavy with your makeup. If your look calls for a dark lip colour or a darker eyeshade, go ahead with it if it makes you look stunning. It's not always possible to have a makeup artist with you throughout the function, right?
So your makeup needs to stay intact till the end. If your wedding day is going to involve a lot of dancing and other activities, you need to go a bit heavy so that it stays throughout.
Let your artist know your needs and ensure that the products used are long-lasting and wouldn't fade away easily. If you're someone who is used to a particular brand or would like to use that even on your wedding day, take it along for your trial as well. You could tell your artist your preference in advance. If it's a brand that's not easily available, ask your artist to use your own product. This also applies to products that you could be allergic to as well.
Never skip the basics
Always concentrate on the basics such as your skin, brows and lashes. Once you get these basics right, your wedding makeup will fall in place well. Also, try and finish off the look using a nice highlighter in order to stand out. Go ahead and highlight your brow bone or go for contouring to accentuate or enhance the shape of your face.
Wedding Makeup Looks to Inspire You
Gold glow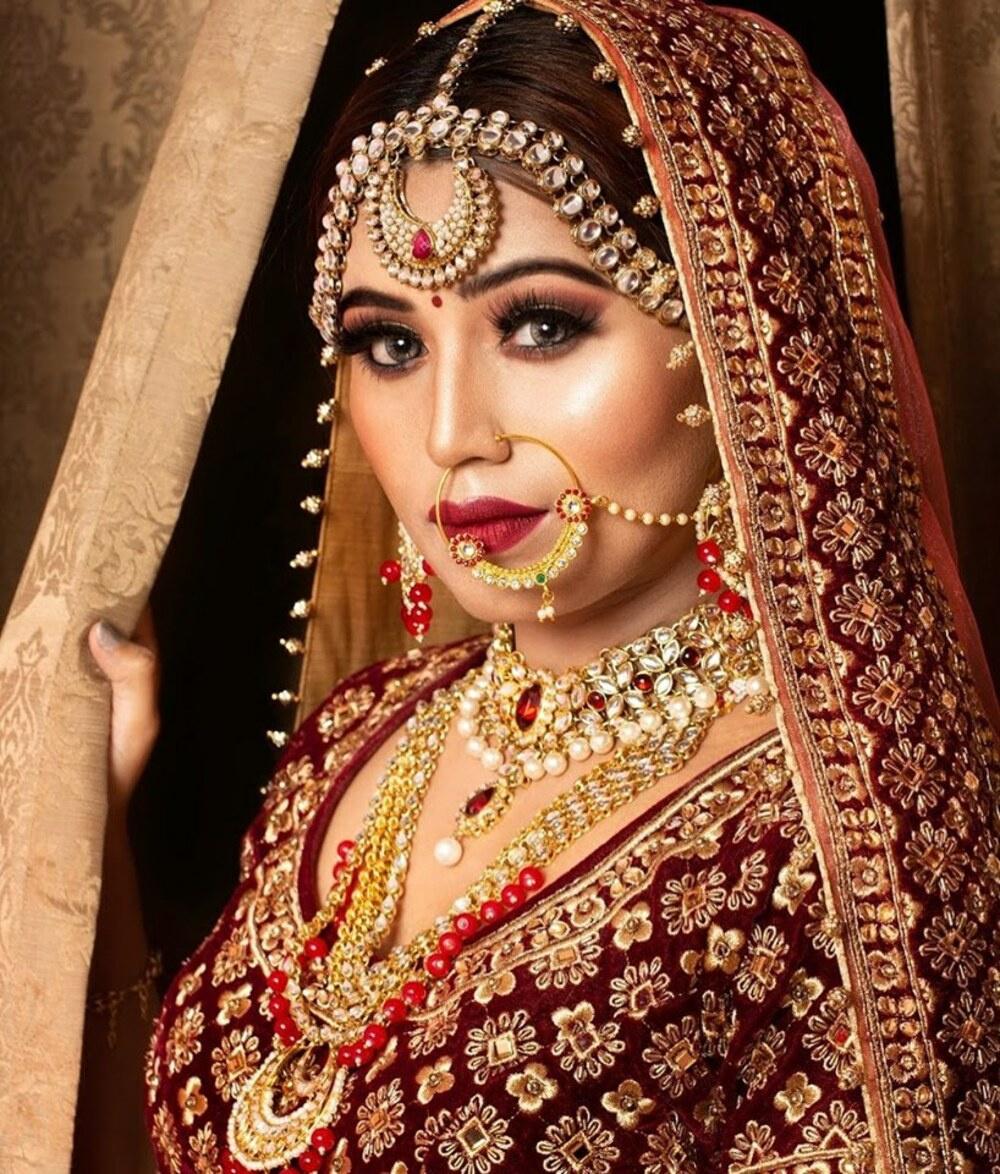 When it comes to wedding makeup, the gold look will always give you the much-needed glow for your big day. This bride has done it perfectly with the best wedding makeup look that is just stunning. Highlight your eyes with the right gold eyeshade and lashes that emphasises your eyes in the best way possible. With a gold highlighter go ahead and highlight your cheekbones and brow bone, making it standout. Finish your look with bright red shade to glow and shine throughout the night. Choose the right accessories for this look and you could never go wrong.
Blush pink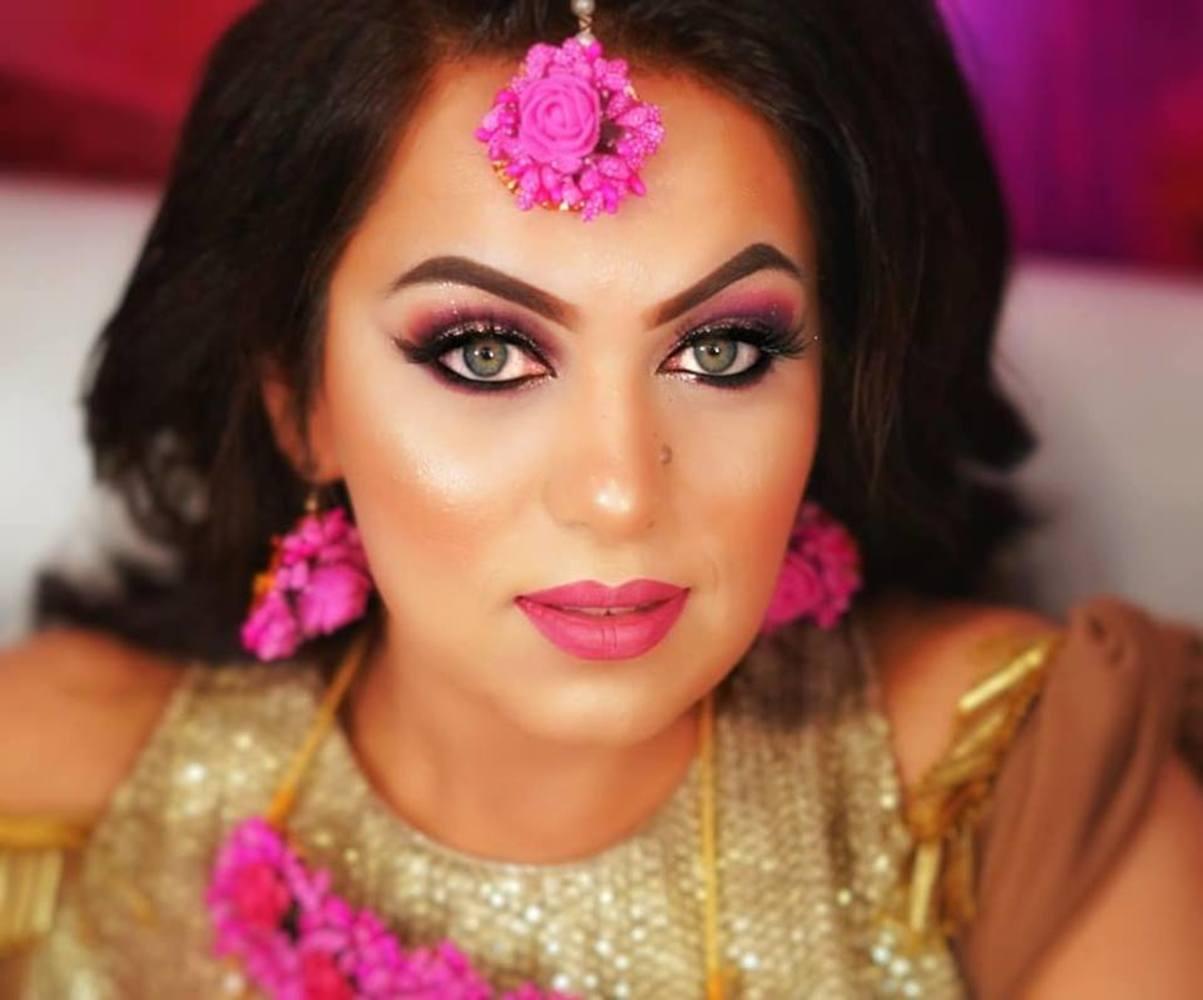 Going in for a blush pink look is another fantastic way when it comes to your bridal look. Right from your eyes, cheeks and to your lips, choose a soft pink shade to look fabulous. This kind of look is perfect for a Mehndi, Haldi or a Sangeet function too. If you're going in for a look like this for a pre-wedding function, then wear artificial flower jewellery for the best look. Adding the glittery effect to your eyes just adds on to the overall look.
Make those lips standout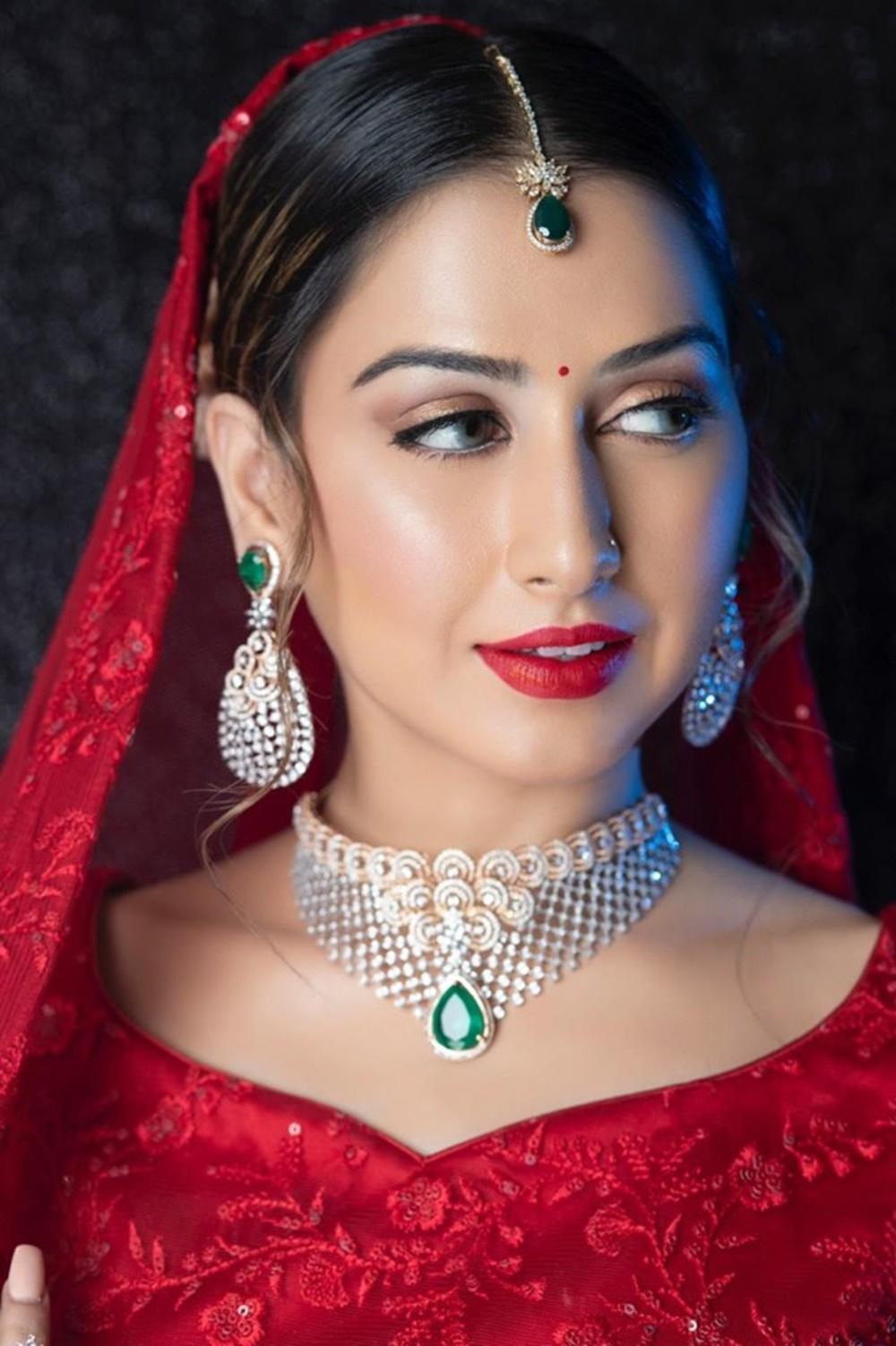 If you're a lipstick girl and love your lips to grab all the attention. Go for a mild wedding makeup look all over, while you could go for a darker shade on your lips just like this. This look is perfect for those brides who love to go the traditional way with a red wedding outfit.
The soft look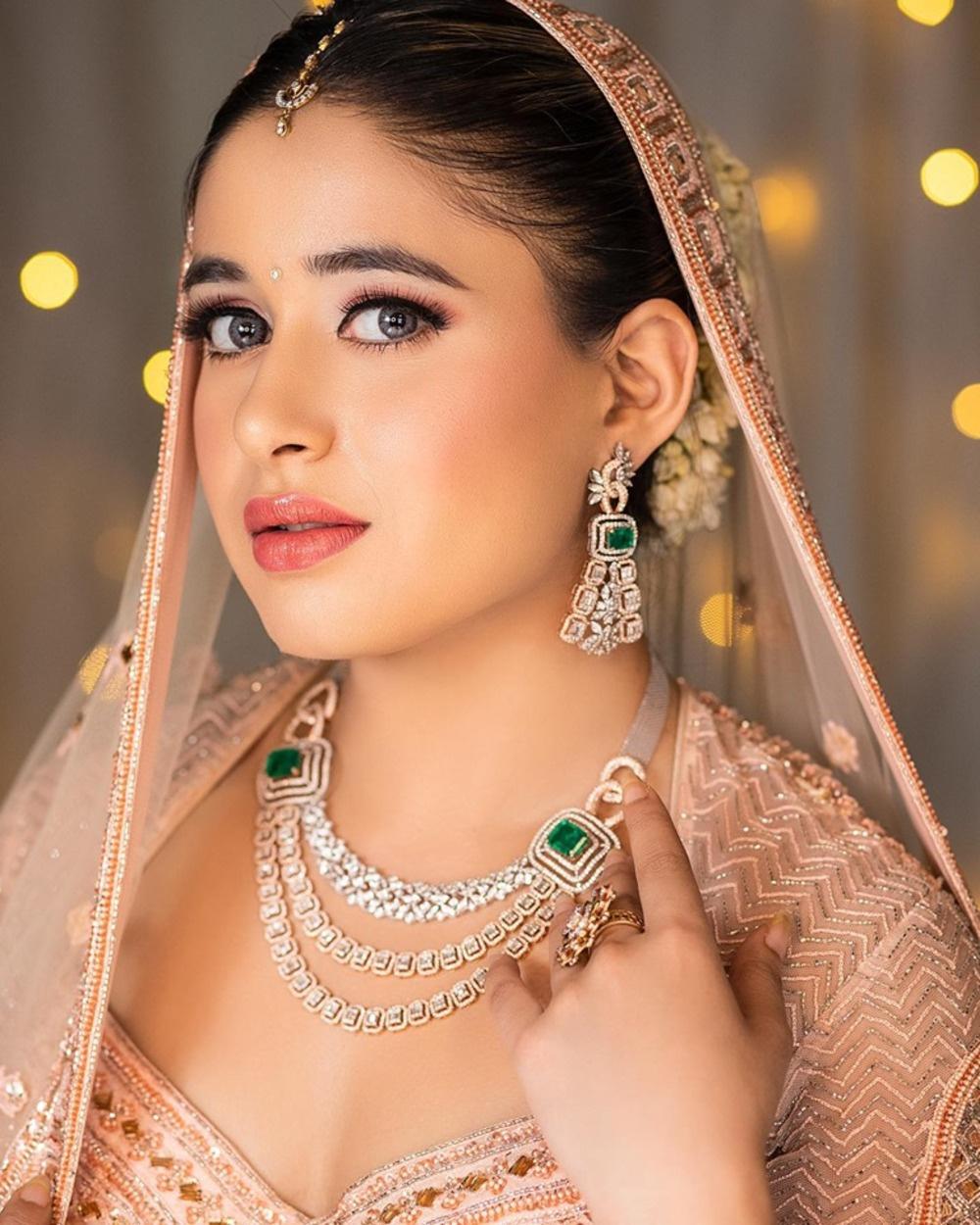 A beautiful soft look is always a winner when it comes to wedding makeup. One of the best looks to go for if your outfit is a soft pastel colour. This bride has chosen the perfect look for her outfit. Flawless and soft, this look falls together with light shades and glossy lips.
Sometimes heavy is good!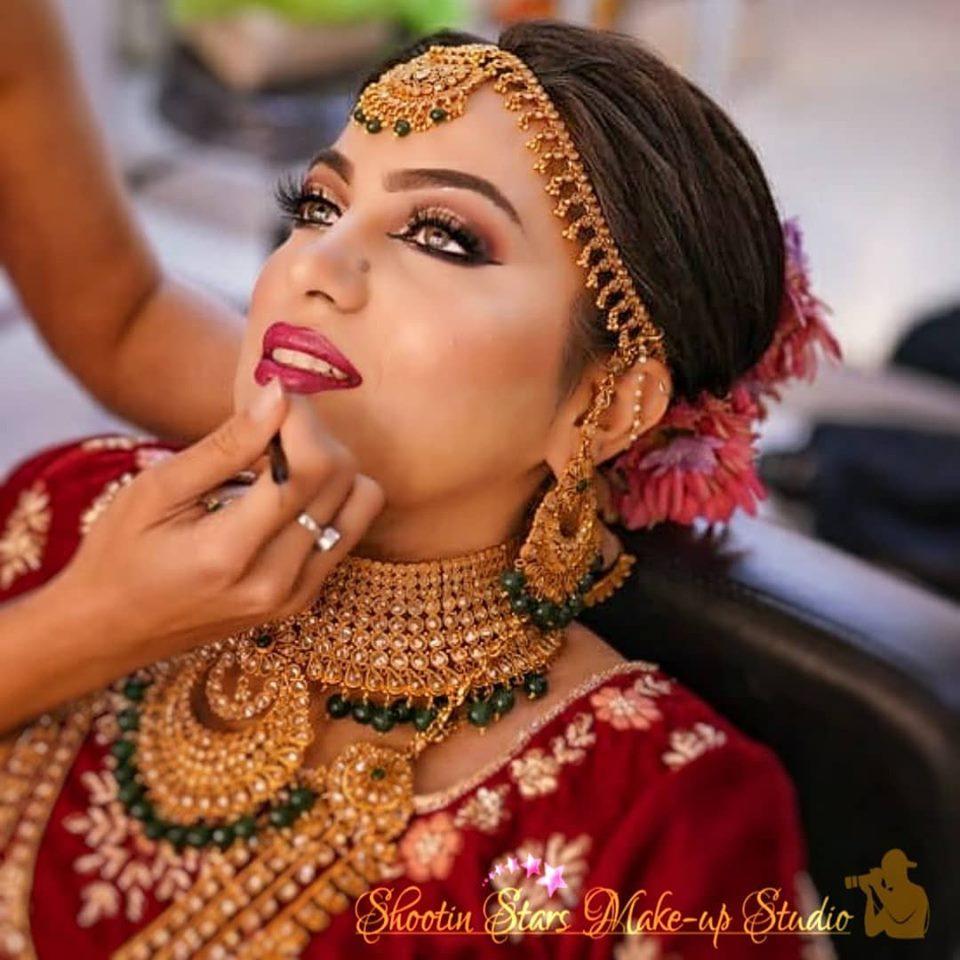 Don't shy away from going heavy with your bridal makeup. Go dark with your lipstick and eye makeup for the perfect wedding look. This makeup look is great if you're going in for a red lehenga. Heavy jewellery would beautifully complete a look like this.
Hope these few wedding makeup tips and looks will inspire you to choose the perfect makeup look for your big day. Whatever you choose, make sure to go for colours and shades that match your skin tone. Also, always get a trial done well in advance in order to check out your whole look before the day.
Looking to get any of these above looks for your big day, contact one of our bridal makeup vendors for the best results.