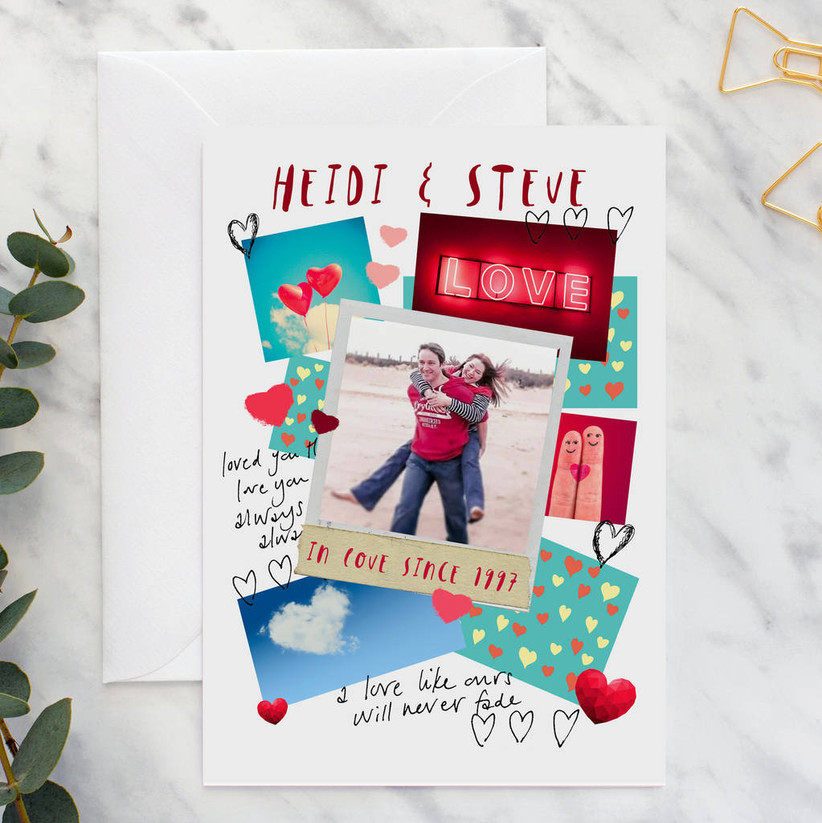 Image Courtesy: Not on the High Street
DIY, undoubtedly, always stays in trend because it is one of the sweetest ways of letting someone know you care. What day needs it better than the wedding anniversary? Every once in a while, it is essential that you make your partner know how much you love them. This time, go an extra mile and put efforts to profess your passions by way of creative anniversary greeting cards.
It does not matter if you are not "artistic." It is all about the efforts and the thought behind it. Therefore, here's a little something to get you started- a list of 9 ideas for your DIY wedding anniversary greeting cards:
1. Heart & Ribbons
If your partner is one for the frilly kind of love and a believer in a fairytale romance, this is the kind of wedding anniversary greeting cards you can make for them. Take a foam sheet or a plain simple pastel sheet. Style it up with a liberal amount of ribbons cut up and sewed to create roses and other motifs. Use your glitters and little heart cut-outs to decorate it for the declaration of your love this anniversary.
2. Handmade Collage
This is the easiest and most thoughtful of the wedding anniversary greeting cards. Simply print out pictures of you and your partner and make a collage out of them. To add a creative touch to it, you can also add floral motifs to it or glitter work to make it artsier.
3. Pull Out Entrance
This kind of wedding anniversary greeting cards has been in the market for long enough and are generally seen with an image with a very simple lever to pull out a message or picture. You can have a classic shadow image of a couple in a dance pose and use the heel of the woman as a lever to pull out a handwritten message for your partner.
4. Made Of Scrap
This is generally used by people who maintain scrapbooks or art journals but can be a pretty sweet idea for your DIY wedding anniversary greeting cards too. Buy some really old newspapers in preferably other languages. You can find these from scrap markers easily and then cut out ads or phrases and piece out a message for your partner with that. On the front page, you can doodle, paint or stick cut out motifs or ribbon arts.
5. Reusing Classics
One classic method of creating fun wedding anniversary greeting cards is to go vintage and classic. How? Well, it is pretty easy with options like customised postcards. Pick up an old postcard and paint it with little memories of both of you, sticking a picture on the other side along with a heartfelt message for your partner.
6. Floral Hints
There are a lot of videos on creating paper flowers on YouTube, Pinterest and Facebook. Pick up this easy skill and use it to create your DIY wedding anniversary greeting cards. Make up a bunch of enthusiastic sunflowers to brighten their day and put them in a cut out pocket on the first page of your greeting card with a bunch of separately cut out sunflowers inside with a picture as the centre and your messages on the petals.
7. Jar Of Open-When Cards
Instead of one card, you can also go for a bunch of wedding anniversary greeting cards in a mason jar. These little folded cards will serve as your open-when letters for your partner which they can open and read whenever they need a little lifting up or warmth, throughout the year.
8. A String Of Little Messages
This one is a little different from the usual, and not in the range of wedding anniversary greeting cards but a pretty cute way of letting your partner know of your love for them. Put a bunch of little cut-outs in cute small shapes and write messages in them. Finally, put them in a glittered string and bind them over your partner's work desk or some such place they access every day.
9. Hand-painted
The final one is a bit off, but if you are good at painting, this one is for you. Go for whatever media you are good at, from elaborate oil pastel to breezy watercolour or even caricatures, it is the thought that counts really. Make their heart flutter with both your artistic rendition of your feelings and the message inside the card.
Anniversaries are milestones and ought to be celebrated. These amazing wedding anniversary greeting cards are sure to add a special touch of love and make the day a lot more beautiful. Also, through in a gift or two along with these cards! Also, go check out some gifts now!
Which of these are you going to try out? Let us know in the comments below!