8 Absolutely Amazing Ways to Announce Your Engagement Online
If you are planning to announce your engagement online, here are 8 amazing ways to announce your wedding online. Don't forget to take note!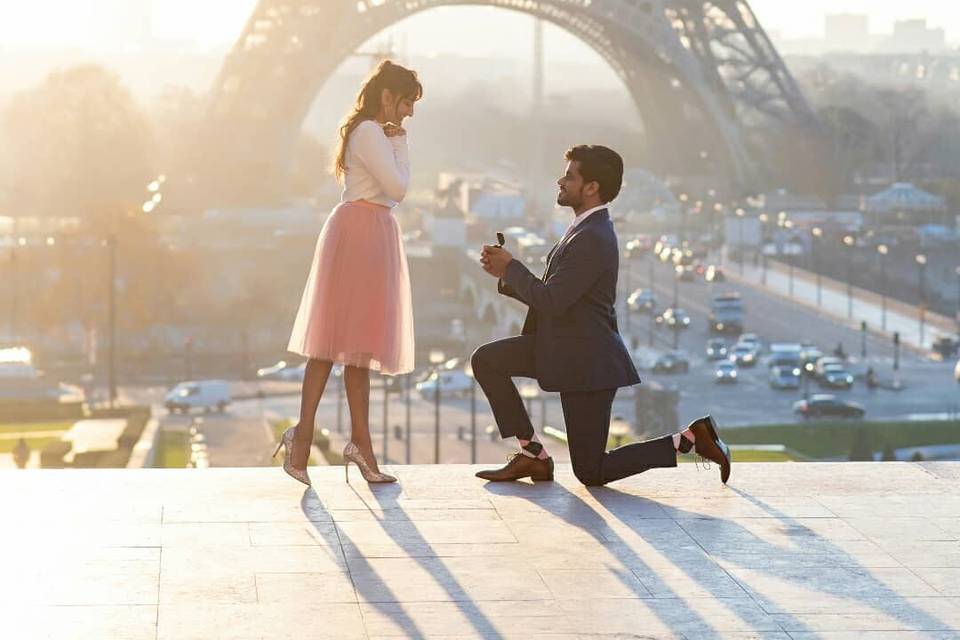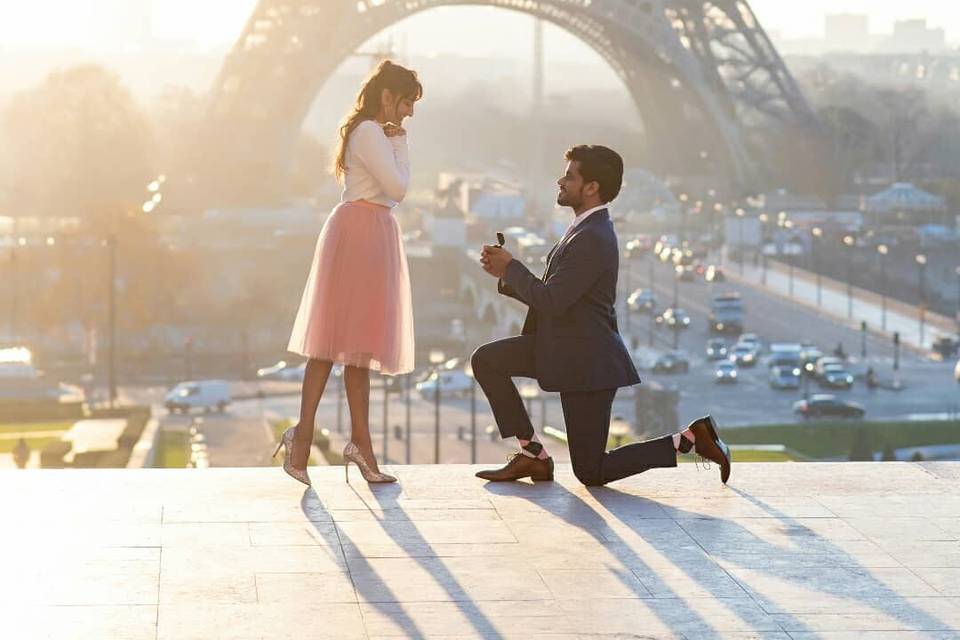 Image Courtesy: The Paris Photographer
Who doesn't love to share their good as well as their bad news with the dear ones? With millennials being so well-connected with the internet, every news can be easily shared. That being said, your engagement is not just any news, it is THE news! You must be stuck wondering how to share this news or what are the ways to announce your engagement online.
Like the good old times, it is very important to share the news with your closest friends and family by meeting them or through a personal phone call. Make sure they know it before you make it officially big on online platforms. Once you have done that, it is finally time to break the news to everyone else you know through online platforms or social media.
We have curated a list of ways to announce your engagement online along with some etiquette to help you do it right and do it with ease. Read to know more.
Post A Picture
You and your partner must be a part of different social media platforms. You can make use of these and post a picture of you and your partner or even your engagement photos on these platforms. It could be a selfie with the ring with an exciting caption that says "He asked!" Maybe post a picture of the princess cut diamond ring that sits on your ring finger now.
Tip: You could hire a photographer if you are planning on this proposal with professional help or you could ask a friend to capture the moment in the most candid way ever. This will not only give you your proposal pictures but also freeze these legendary moments in beautiful frames for you to cherish.
Instagram Post Caption
Instagram is the new go-to for all the millennials. In order to tell the world that "He has put a ring on it," an Instagram post would work wonders. You could post a cute picture of a #ringfie or you could pose with your partner showing off the ring. Couples have also done an engagement shoot and have posed while holding signs like "I said YES!"
Tip: Avoid gushing. Keep the photo adorable and write a short and sweet caption to tell your story without getting into much of the details. Save the details for later. Use #hashtags like #ISaidYes #SheSaidYes #HePutARingOnIt #WereEngaged.
Facebook Relationship Status
While many of you will have those teenage years flashbacks hearing Facebook Relationship Status, but updating your Facebook status with a message on it is surely a good way to announce your engagement online. However, the chances of everyone noticing it might not be promising, but it is still a very convenient way. Especially for couples who do not want to create a hype about it by posting a picture with mushy captions.
Tip: Even if you do not mention the details of the engagement or any further plans, make sure to write a few words along with changing the caption keeping in mind that many family members and friends will take a look. You need to be grateful and thank everyone for their good wishes.
Live Video
Another fine way to announce your engagement is through live video sessions. Live videos are not only restricted to Facebook and Instagram but you can even use other platforms like Zoom and so on. While you go live with your fiance, make sure to post a message or notify the people before you go live. This will help people be aware and join at the moment with you.
Tip: Since live streaming does not allow the people on the other side to talk, you should keep a track of all the congratulatory texts that reach you during the video or even after and take time out to thank them for the love.
TikTok Video
TikTok is one of the most popular social media platforms that allow you to create your own videos and post them. You could make a video of the engagement and post it or you could use different props to recreate not only the engagement but your story as well. Use the right filters and background music that fits perfectly to make it beautiful. Most importantly have fun making it!
Tip: You could even make a collage of your engagement pictures if you are not that comfortable with all the behind the camera tasks.
Email
The good old school email is a very sophisticated way of doing it. A beautiful email to all your friends and colleagues and even distant family members with a creative backdrop can be an amazing way of announcing the engagement online.
Tip: You can also pick your pictures as the background of the email and write it like a newsletter or a postcard. You could also use the name game if you want to take after the groom's second name by signing off as "The future Mr & Mrs.........."
WhatsApp
WhatsApp is another social media platform where most of us have family groups, groups for friends and maybe one for colleagues and workspace. You can send individual messages to your family and peers on WhatsApp and take a personalised approach with each message you send. Or you could send messages to your family groups and your friend groups too.
Tip: Since WhatsApp is a platform where you might expect prompt replies to your messages, you should brace yourself for a shower of congratulatory texts and some other relatives and friends asking for more details. We suggest doing it at a time when you are free to respond to these.
Wedding Website
Launching a wedding website is not always the immediate next step of getting engaged. However, if you do launch a wedding website you can upload all your engagement photos on the website and send the link to your near and dear ones.
Tip: We suggest you pick another social media platform like WhatsApp or emails to make your friends and family aware of the wedding website. You can write a warm introductory message.
Also read: How to Create a Free Wedding Website on WeddingWire & Why?
Get ready for the notification frenzy because once the cat is out of the bag, there will be an outburst of excitement and congratulatory messages pouring from everywhere. There are various ways of including your pet in your wedding and posting a cute picture with the pup holding your ring on his nose or sitting next to a sign that says "Just Engaged" will work wonders!
Whichever way you choose to announce your engagement online we suggest you post a little something before making the actual announcement. Maybe a video that says to tune in later for some big news or a vanishing story on social media and so on.
Get in touch with the best photographer's in town to have the magical moments captured perfectly for you to treasure.