Throw an Epic Bachelorette Party With These 5 Easy Tips
Bring your best girls together, plan an exciting itinerary and get set for the most memorable holiday of your friendship! Host an unforgettable bachelorette party and follow the mantra of being young, wild & free.

You are tying the knot. Congratulations! But, you still must plan your bachelorette party. I mean what's a wedding without some fun and epic moments you share with your longtime BFFs. Gather your gang of girls and plan a night where you can happily relive the old days, golden days might we add of college and times before that. Go for a pre-wedding photoshoot or find some amazing pre-wedding favours and celebrate this new journey of yours with friends like family. Ensure that you double check with your friends and confirm their presence. Move around the day a bit if one or two are unable to make it on the set date. You wouldn't want even one single friend of yours to miss this epic night.
But, just the thought of having a bachelorette party is not enough. You still have to plan it out. But, should the bachelorette party be set on the theme of Game of Thrones or a tropical bachelorette party with tasty and tangy margaritas! With the help of this article, we will help you narrow down a few pointers that will come in handy as you plan an epic bachelorette party for yourself and your BFFs.
1. Do something you've always wanted to do
Before the dream wedding comes the dream bachelorette. Get your best girls together and plan a bachelorette that involves everything you've always wanted to do with your friends. Whether it's climbing a mountain or partying like there's no tomorrow or skydiving, plan a trip just for the girls. It could even be something as simple and amazing as planned photoshoot with your best friends.
2. Play a game to figure it out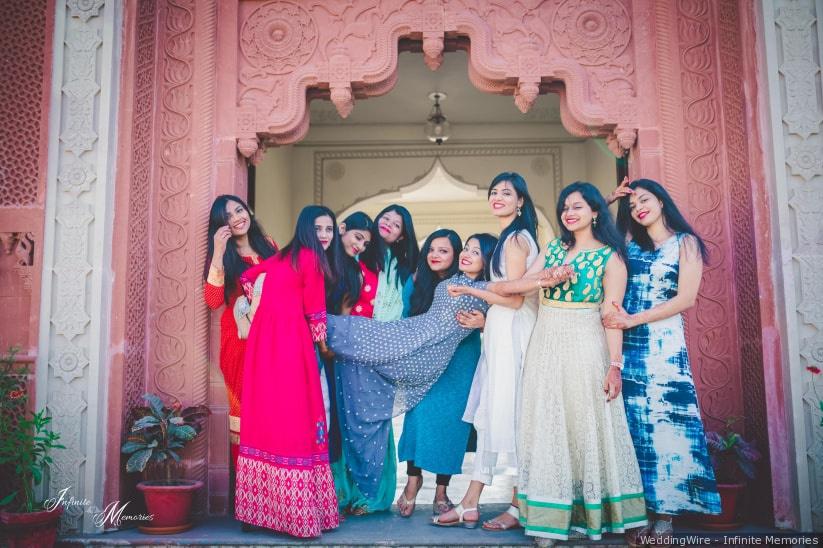 Create a game to figure out your ideal bachelorette party plan! Get your crew together on a lazy afternoon and let everyone write down ideas and places on cards for the bachelorette party. Play a game to allow the winner to pick up one card that makes the decision for everyone. Remember to ask people to include their best ideas with plenty of activities to make sure that every option is appealing and worth trying.
3. Plan a pampering staycation
If a holiday doesn't seem logistically possible, try getting your friends together for a staycation instead. Rent rooms in a villa or hotel, snooze through the day and pregame with champagne and toasts before heading out to the best bars in your city. This is especially great for a group of college friends and will give you the perfect throwback feeling.
4. Customise your crew gear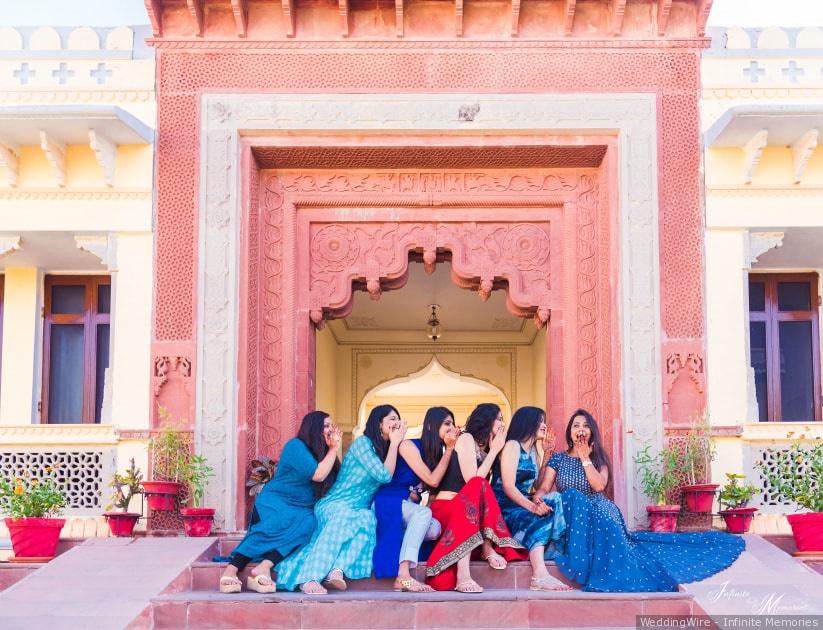 There are plenty of brands online, which help you create customised gifts for your entire crew. You can source bride and bridesmaids tees, gowns, sunglasses, and even bikinis to get into squad mode for the bachelorette. These make for great pictures too! Wedding favours or creating customised gift hampers for your ladies is a thoughtful gesture. They'll love how you put your heart and soul into prepping a box full of things you all loved back in the day.
5. End the trip on a high note
Remember, the bachelorette is just the start of all the excitements and the main event is still to come. Create great memories and gear for the functions and give your bridesmaids reasons to look forward to the festivities. End the trip with a countdown to the wedding and give your entire gang something great to look forward to!
Bonus Tips:
Delegate responsibilities before the start of the bachelorette party itself. You know your girlfriends the best, use their strengths to make the party an epic ride of fun.
Check with everyone if their schedules are free for the bachelorette party. Most important of all, the bride's should be free regardless of the fact if it's going to be just one night of endless fun or a road trip on the way to get sloshed.
Gift the bride something collectively instead of bringing in individual gift items. This way the gesture becomes even sweeter.
Don't forget to thank all the girlfriends. Give them each a return gift to appreciate all their help in making it happen.
Choose a location suits everyone's convenience. If you think you're gonna go out of bounds wild, have a private party at a rented villa instead of going out in public.
Consider having a destination bachelorette party as that will surely take the bride's mind off all the wedding planning. As goes the phrase, "out of sight, out of mind."
In case things go awry, keep a first aid kit handy. You never know which one of you gets a bit too drunk and gets herself hurt. So, better safe than sorry.
Don't leave things for the last minute. Start planning for the party a few weeks in advance so that each an every friend of yours has the time to apply for leaves at work and be there for you. It won't be the same unless each and every friend of yours is there with you, right?
Double check all reservations before you leave for the trip. You wouldn't want any hassle to welcome you the minute you reach the destination.
Click lots and lots of pictures. Document your entire trip and add it to your treasure trove of memories.
You can also take some inspiration with our games for a bachelorette party ideas article and come up with a round of some exciting games which will keep you and your friends hooked for hours. Also, take some cues from this article and find out how to host an epic night of bachelorhood with some epic ideas. Ensure you get onboard a wedding photographer and a wedding videographer who captures every single of your moments on camera. Trust us, you'd want to have a wedding album with all your candid and fun moments to look back onto some years down the line from now.
Tell us about your own bachelorette party. Share your story with us through comments and snapshots.