5 Breathtaking Marathi Wedding Card Designs for a Creative yet Cultural Touch
Stuck between whether to go for a traditional Marathi card design or a more contemporary one? Traditional designs are timeless and add that beautiful touch of traditions and culture right from the start. Here are different designs you can consider.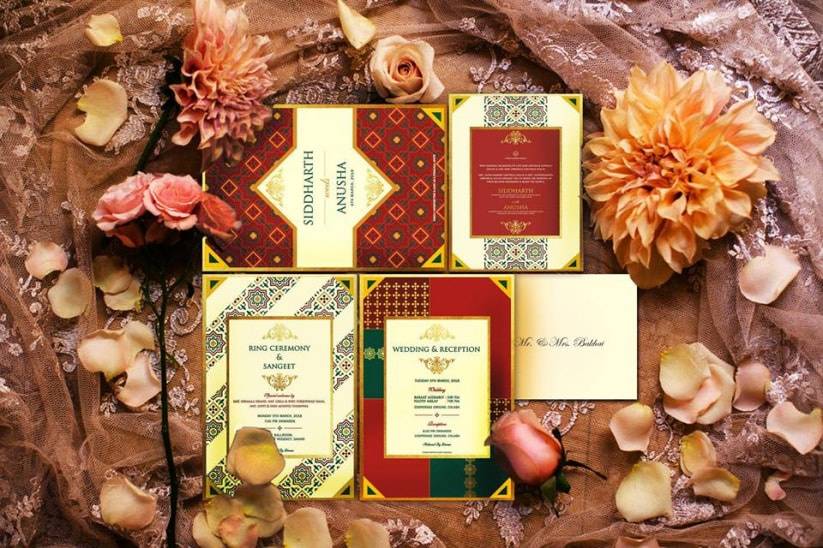 The date is set, the preparations have begun and it's time to pick the design for your Marathi wedding card. That can be a tough choice, especially now that there are so many different styles and designs of wedding cards to choose from. When picking your Marathi wedding card, the biggest battle will be to choose between going traditional or going contemporary. While most new age couples prefer the elegant pastels, quirky designs and uber stylish wedding cards, there is still a large majority of couples out there who prefer all things traditional and cultural for their weddings.
If you prefer a traditional Marathi wedding card, here are some wedding card designs and styles you can pick from. A traditional Marathi wedding card does not automatically mean old, boring and outdated, there are brilliant wedding invitation designers and vendors out there who can give traditions and twist of style.
1. Traditional Wedding Colour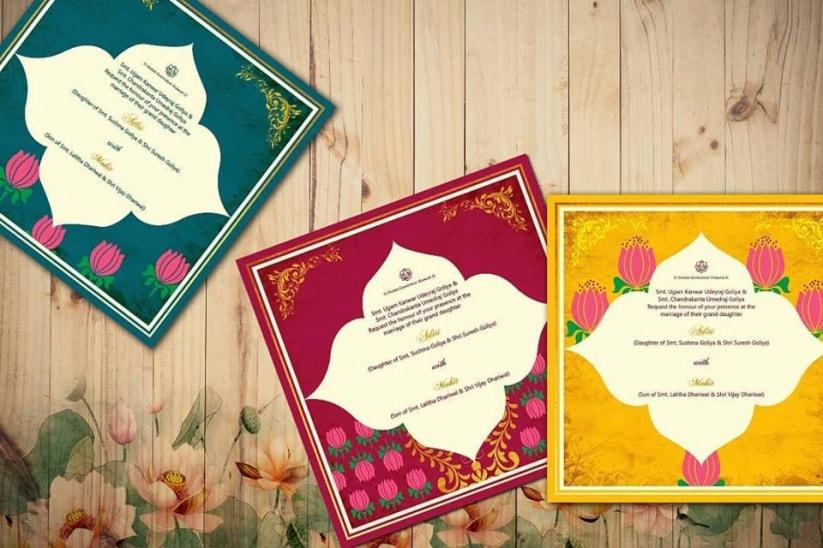 When we think of Indian wedding colours bright hues of reds, yellows and green come to mind and that's your first cue to a traditional Marathi wedding card. You can pick a traditional colour for each of the leaflets inviting guests for different ceremonies or have a splash of all in one leaf. This can be further detailed with gold detailing and designs, another colour true to Indian weddings, for a pop of sparkle and style.
2. Wedding Storytelling Elements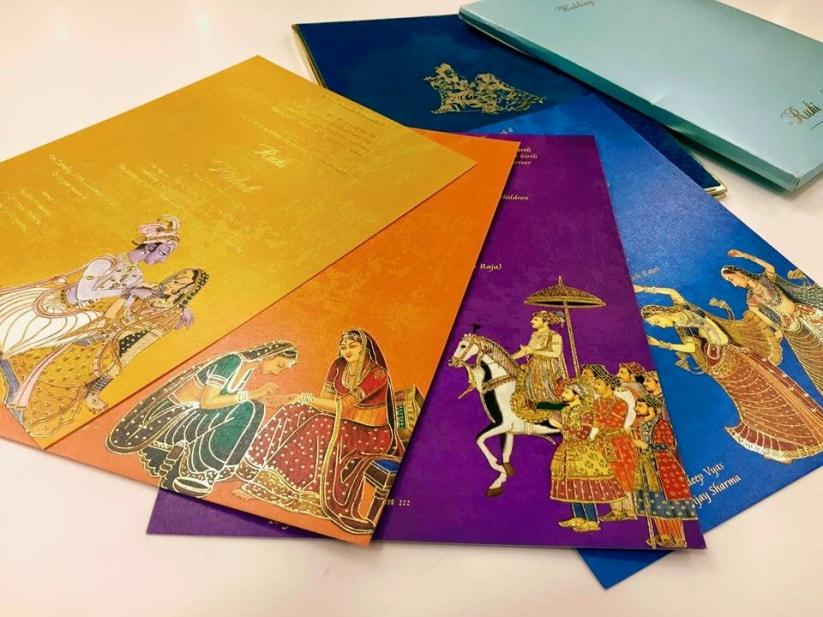 If you want to take the traditional game a notch higher, add traditional wedding storytelling elements along with the traditional colours. This could be small pictorial representations of what happens at Marathi weddings like the dancing of the bridesmaids at the Halad Chadavne, the bride and groom performing rituals at the Antarpat etc. Each Marathi wedding card leaf could visually represent the story behind the ritual.
3. Ganpati Motif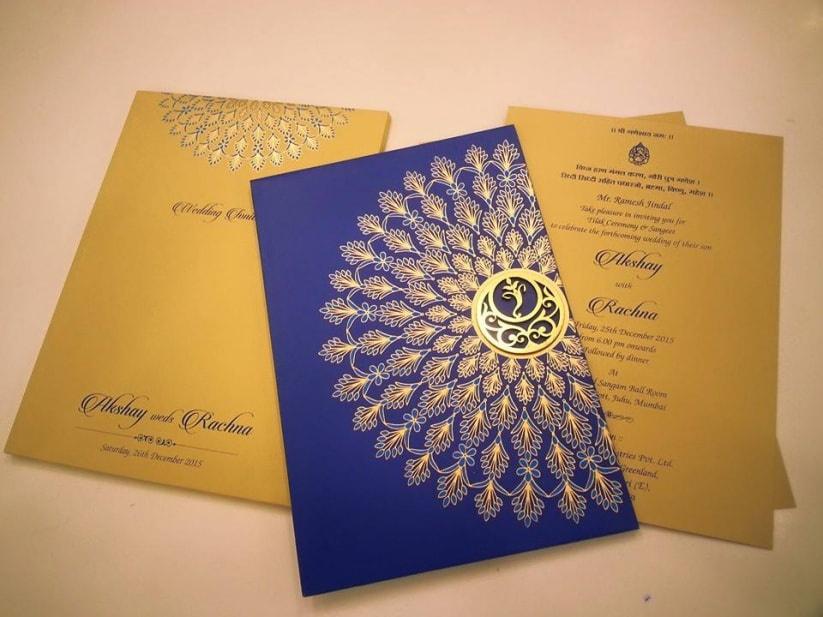 Ganpati Ji is the God of all things auspicious and ceremonial. A Marathi wedding is incomplete without praying to Lord Ganpati and this could be the cue to your traditional Marathi wedding card. A Ganpati motif with or without any other design element is beautiful and rich in itself. You can pick bold colours with an embossed, metallic or printed gold Ganpati motif to add a touch of tradition.
4. Traditional Maratha Motifs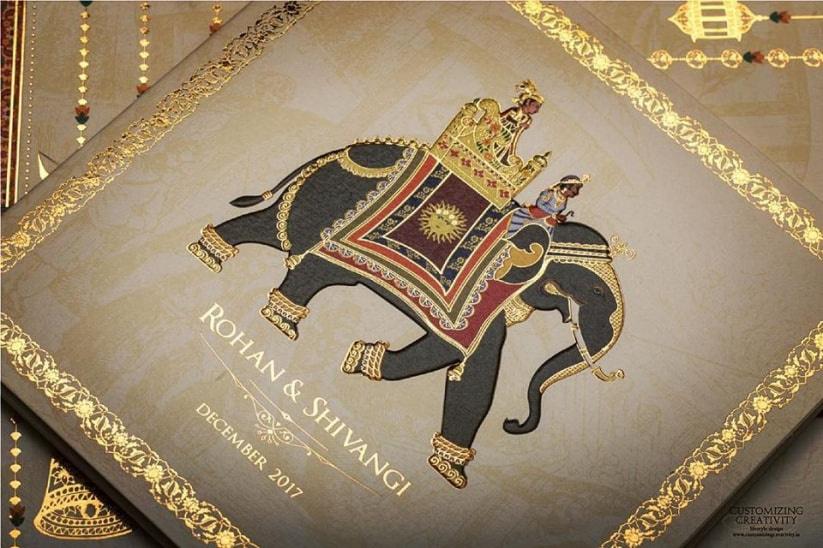 The Marathas are a ruler clan and mighty proud of their history. A traditional Marathi wedding card can depict Maratha motifs like elephants, palaces, horses, lotuses and other motifs that represent the history and the Marathas in general. This could give the perfect royal but also a very traditional look to the wedding card. The best part of, most of these motifs are also associated with grand processions and ceremonies, including a wedding.
5. Including Wedding Décor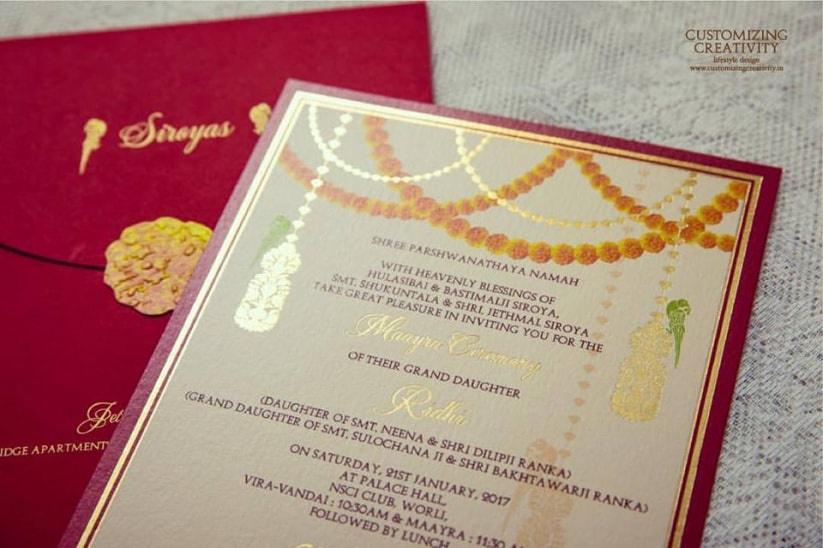 If you are already planning the Indian wedding decorations for your wedding venue, take a hint and add those décor elements to your Marathi wedding card. Strings of Marigold flowers, Betel leaf, the Puja Thali, Kalash, Coconuts etc. All the physical wedding décor elements can make for the perfect touch to a traditional Marathi wedding card too.
What to Write on Your Traditional Marathi Wedding Card?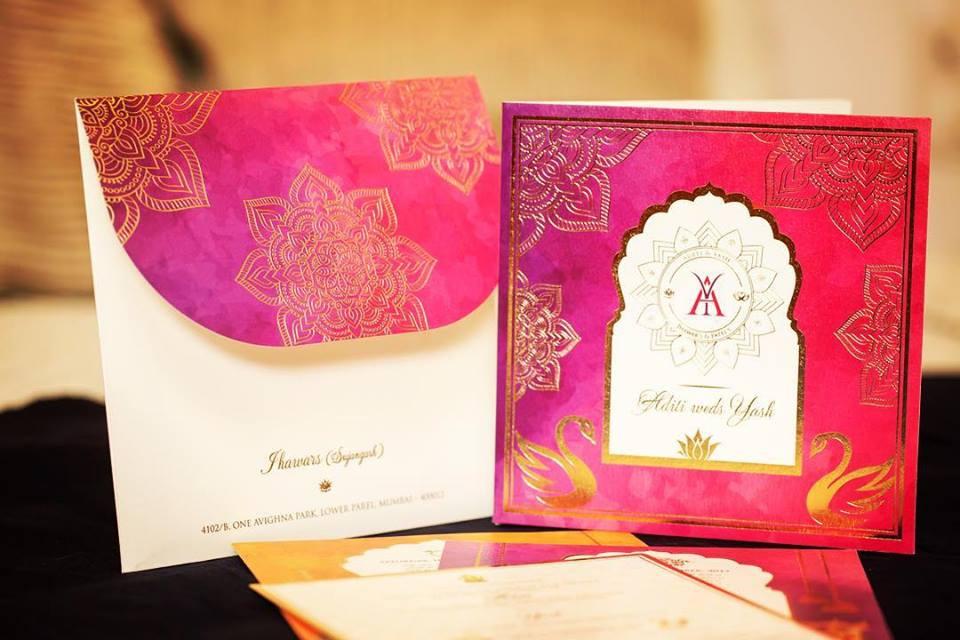 Well, now that you have a fair idea of which direction to go in terms of picking the design and style for your traditional Marathi wedding card, it's time to start writing and adding the text to it. Your chosen words should definitely complement the style and design which you have chosen for your wedding card.
The most important thing here is to add accurate information for the basics like day, date, time, venue address and RSVP information. Once your basics are sorted you can either simply write the name of the bride and groom and invite people or be a little more traditionally creative.
Here's a Write-Up Sample for a Marathi Wedding Card:
Om Ganeshaya Namah
Mr and Mrs Shinde
Request the pleasure of your company to bless the wedding ceremony of their daughter
Neha
with
Mahesh
Son of, Mr. & Mrs Rao
On Saturday, 10th of November, 2018
At:
Time:
Venue:
What All to Consider While Choosing the Invitation Matter for Your Marathi Wedding Card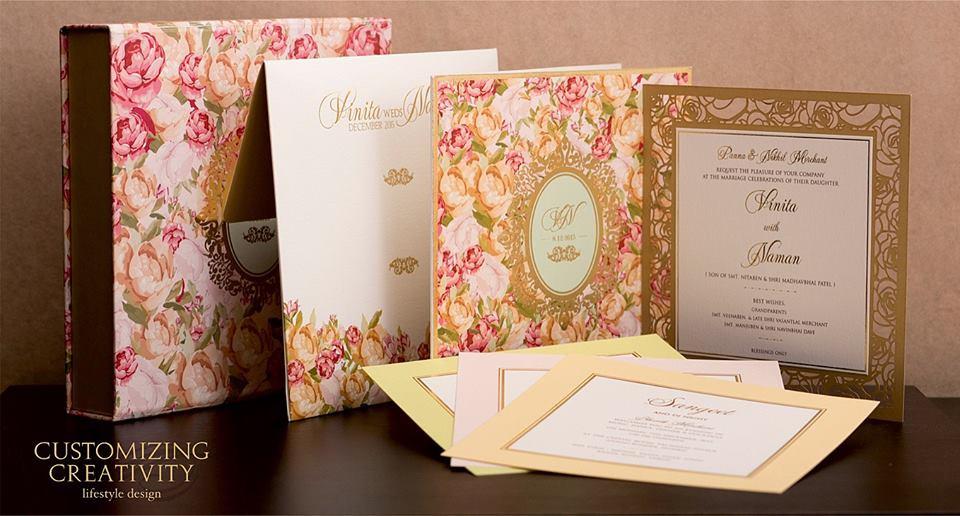 Each Marathi wedding card has the images of god or goddesses for the auspicious beginning of the new journey of the bride and groom as well as incorporating good luck for them.
Scripts from holy books are often seen and considered as the part of invitation card matter which you can choose as per your liking and beliefs.
Your wedding card is the first step towards wedding planning and therefore the most creative and artistic element of your preparations. A unique and one of a kind designs and style should be chosen as it speaks volumes about the kind of wedding celebration that you would be having.
Religious symbols and icons are also included in the wedding cards.
Each colour represents a different and unique thing and therefore care must be taken in order to ensure that the right colours are chosen for your wedding card.
Yes, a simple prayer to Lord Ganesha at the beginning is enough to complement your traditional Marathi wedding card. You can do the same for all different leaflets or get a little more creative for smaller, private wedding functions. Marathi weddings are full of vibrant colours and fun rituals that would certainly add spice and zeal to the entire event and help you have the time of your life.
So what's it going to be for you? Will your traditional Marathi wedding card be full of traditional motifs, colours, designs or something else? Share your ideas with us and other couples like you who may be battling between the traditional-trendy dilemma and find for some invitation vendors right here.