9 Creative Wedding Cards to Tell Your Story Right and Ignite the Romance of Your New Journey
Want to explore some creative wedding cards before you finalise your own invite? We have compiled a list of some extraordinary wedding cards for inspiration.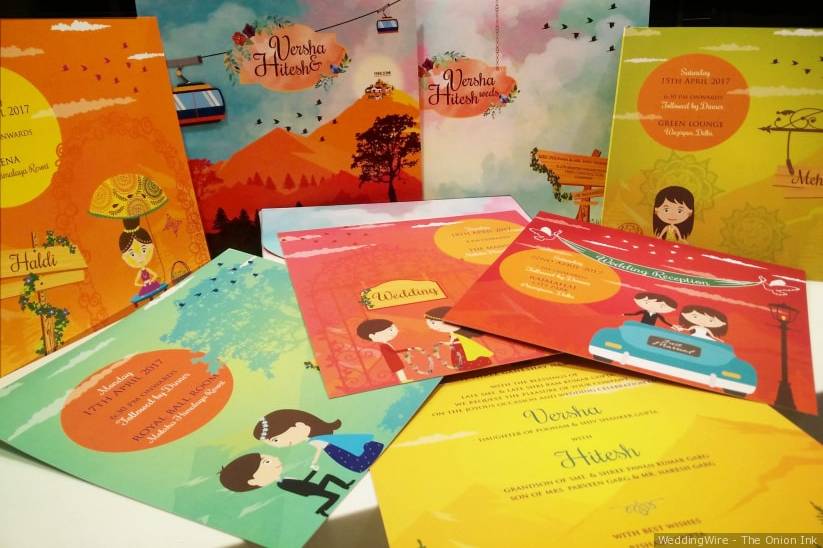 If you think that your wedding shopping is more important than deciding your invitation cards, you could not be more wrong than you thought. Remember that your wedding card is more than just an invitation, it's the first glimpse into the kind of wedding you will be having. And you obviously want your guests to remember your wedding, for years to come, right? So, give this piece of information a thorough read and understand all the different ways in which you can create your very own creative wedding cards that will not just be personalised but also completely out of the world!
Here is a list of 9 creative wedding cards that can inspire you to create one stunning wedding invite. Take a look at these creative wedding cards and we are sure you will find a few that inspire you to come up with something even more creative and spectacular!
1. Story Book Invite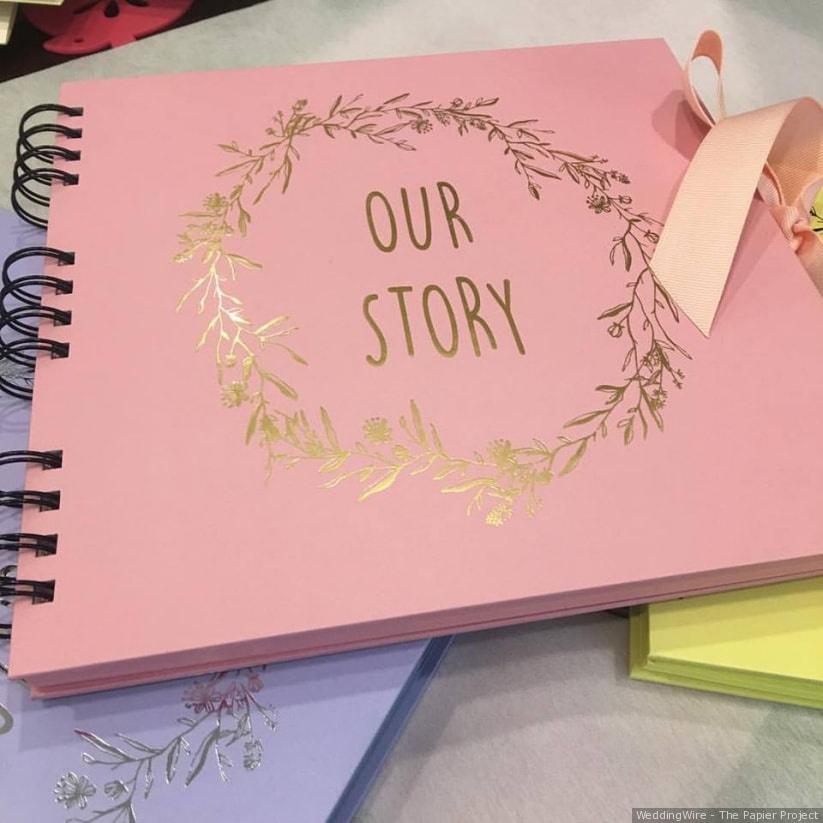 One creative way to invite your guests is by sharing your love story with them. Did you meet your better half at school? At college? In office? Or maybe at a mall. Nothing works best than sharing all the fascinating details. Better so, it will save a lot of questions that your parents otherwise would have had to answer. This particular design is by The Papier Project and their work starts at ₹50 per invite. They are always up and open for customisations and you will be surprised with how innovative their mind works when designing a wedding invite that will shock you for all the good reasons. A little sketch or a photograph of you with your significant other is a perfect add on to the creative wedding cards and your invitation will be a unique one.
2. Caricature Cut-out Invite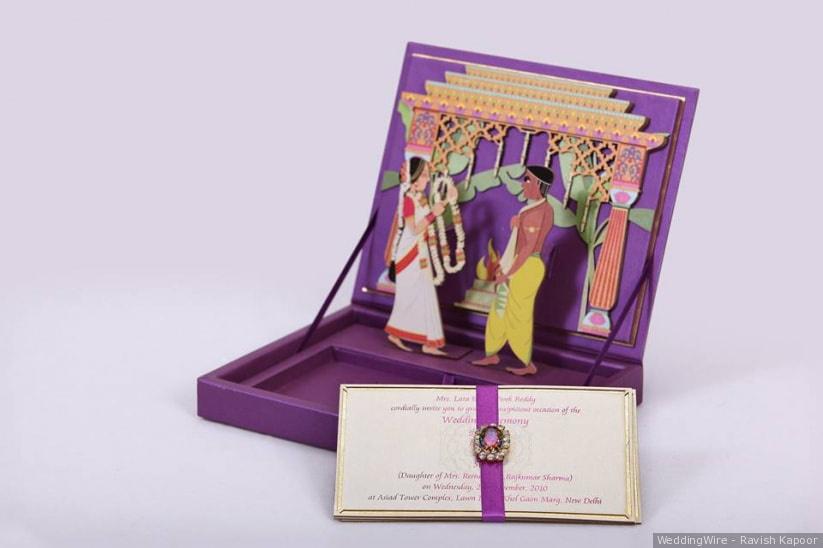 If you're looking for a fun element in your wedding card, try this fun caricature cut-out design by the talented Ravish Kapoor. While this card shows a South Indian couple, you can definitely customise it according to your culture. His card catalogue starts from ₹675 per invite. Ravish Kapoor is one of the names that runs synonymous to perfection and the plethora of creative wedding cards that his designers have designed are absolutely breathtaking, to say the least! If you are one of those couples who does not want to settle for anything less than perfect - then this man is the one who will help you realise all your dreams! The detailing that is exhibited by the creative wedding card for the invitation and the precision of cutouts to bring life into a miniature art is just what you need for your big day!
3. Tug of war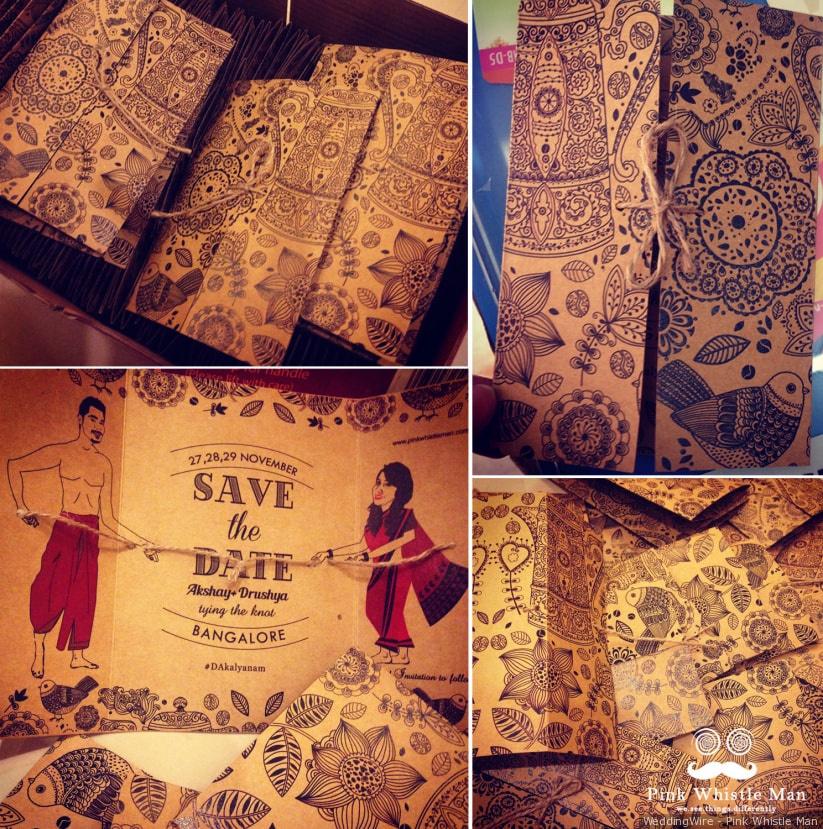 Wedding is no less than a constant tug of war between a husband and wife! This couple took it to another level and designed their wedding card that opened into a tug of war. This creative wedding card is one of a kind, designed by the talented team of Pink Whistle Man. The price starts from ₹80 per invite. This is a fantastic way to keep the quirk on and still uphold the essence of the traditional celebrations that the wedding is all about.
4. 'Wedding Passport'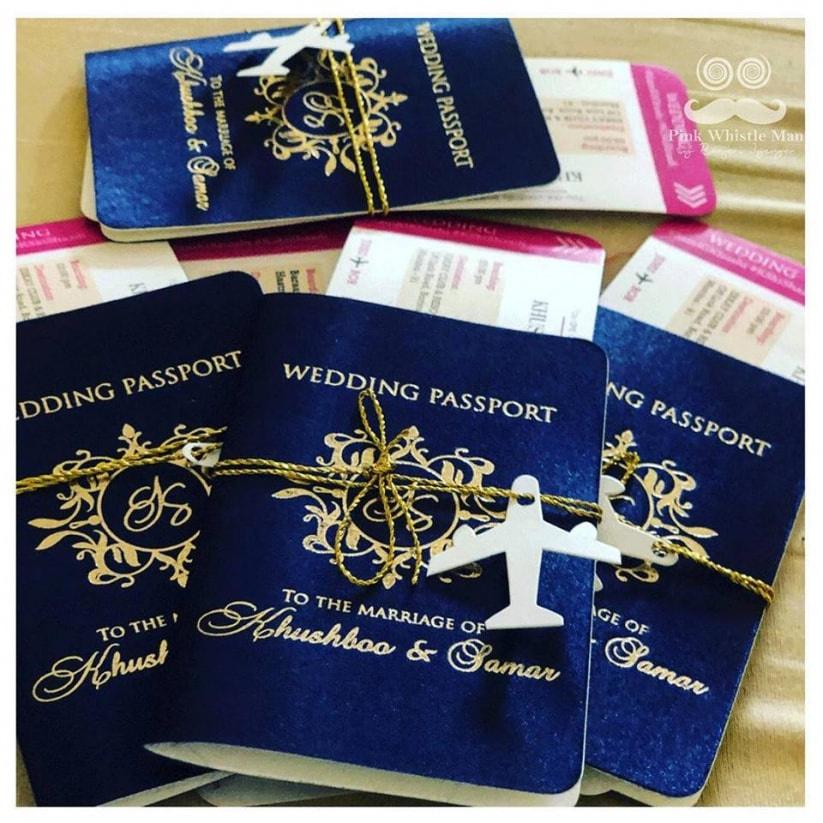 One of the other creative wedding cards done by Pink Whistle Man is the Wedding Passport. The couple, who were having a destination wedding outside India, got this unique card designed for their wedding. The invite was in the form of a boarding pass. Isn't that cool? Invites like these cost around ₹160 per invite. The idea is excellently put through for the destination wedding and you will be impressed by the uniqueness of the idea and the effect of it on your guests who receive it.
5. Wedding Toolbox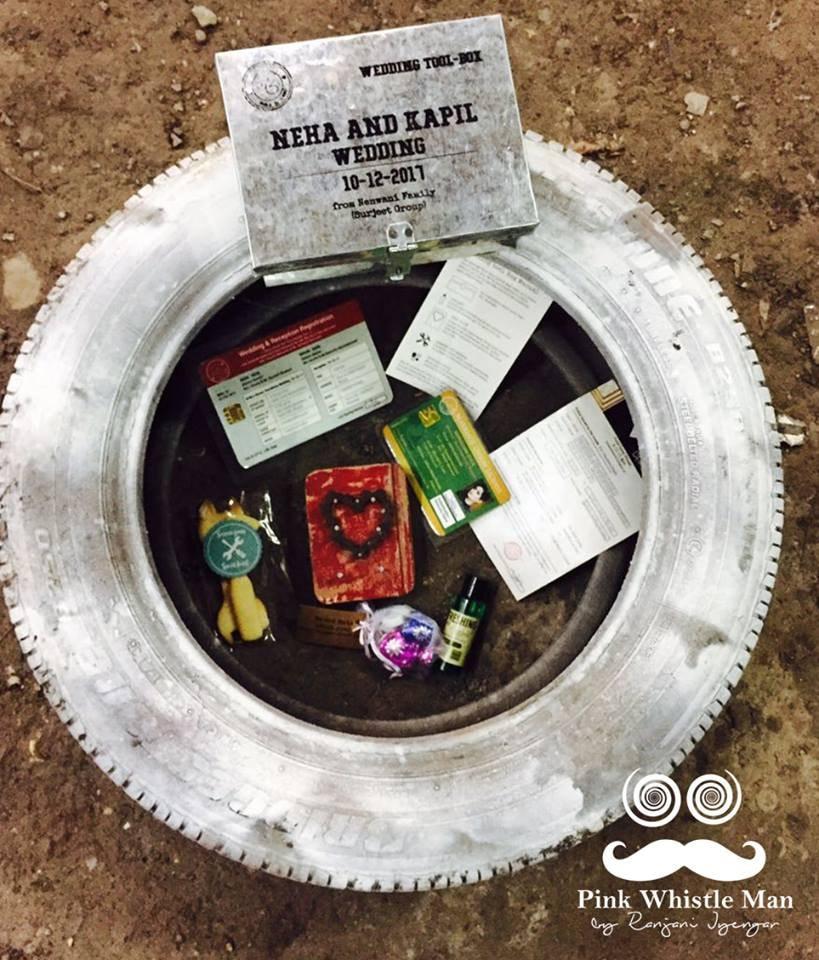 If you, as a couple, want to break all norms, then you can take inspiration from this wedding invite, again done by Pink Whistle Man. Originally done for a couple who were both from the automobile sector, they designed their wedding card in this unique way. The toolbox had a keepsake value, and also something everyone would remember. Lately, customised wedding cards are trending more than the usual paper printed cards. Customised invites like these can cost anything above ₹600 per invite. It carries your message with your emotional investment intact that compels the guests to come and shower their love on you and your better half.
6. Riot of Colours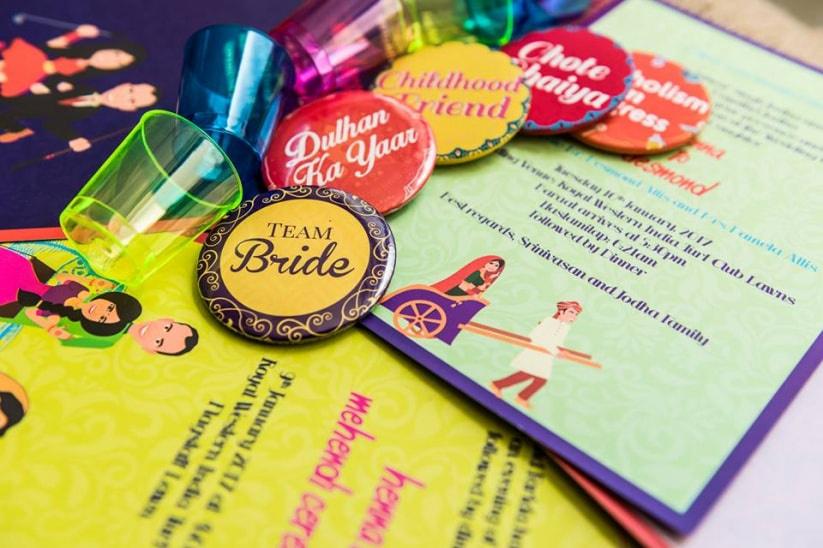 A wedding is all about colour, so why not let your creative wedding card speak for itself? Customised illustrations, traditional motifs and bright colour palettes are currently trending. Rather than sticking to the traditional red and gold, you can opt for bright and youthful colour palettes. The talented team at Design Tuk Tuk was responsible for making these creative wedding cards. Cost of these cards and boxes start at ₹1,000 per invite. The pop of so many bright colours in one place never looked any happier an invitation than this.
7. Message in a bottle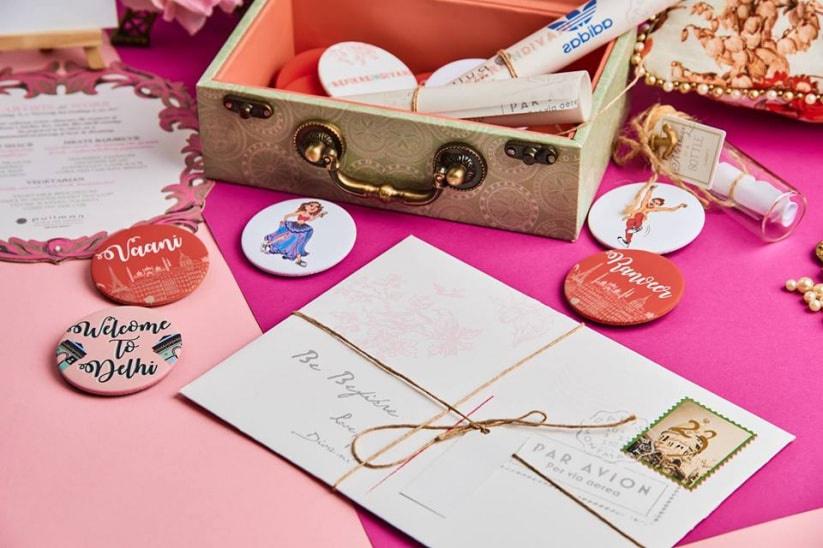 This is yet another creative wedding card by Design Tuk Tuk. The card includes a message in a bottle (message from the bride and groom) in the form of a rolled up scroll put in a beautiful glass or metallic bottle that gives the idea of royalty that will unroll with the scroll. They also have a wedding invitation in the form of a postcard, some fridge magnets and some stickers which are creative wedding cards and they make a lasting impression. This kind of creative wedding cards works perfectly for couples who love travelling or have a strong connection between their love story and travelling. These cards can cost you anything above ₹200 per invite.
8. Wedding Blueprint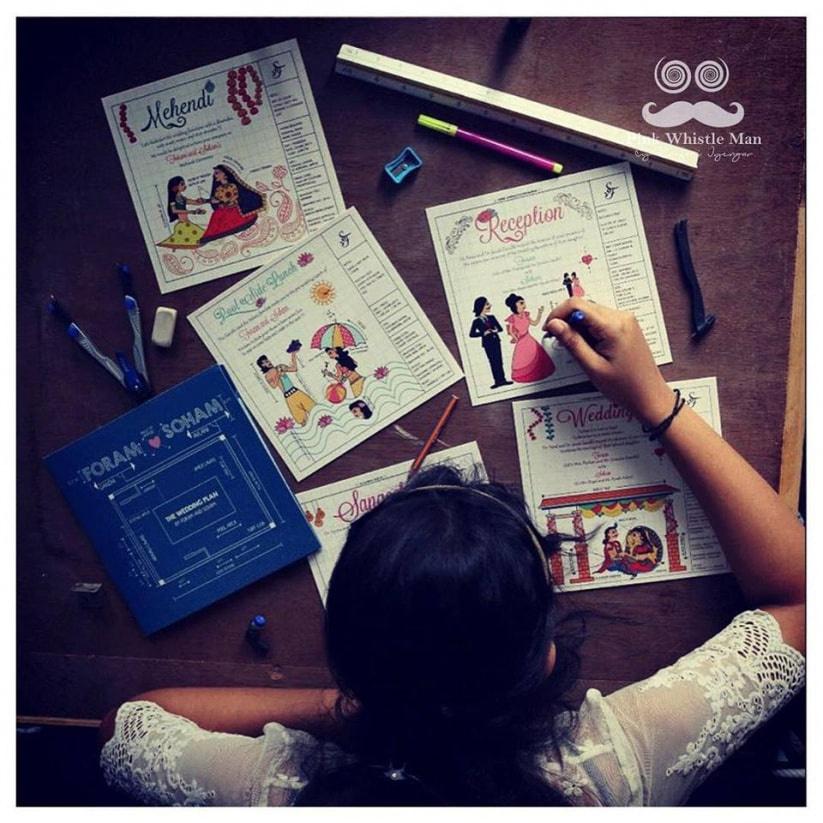 This creative wedding card is also by Pink Whistle Man, which is a wedding celebrations' blueprint. Each card depicts the details of the function being hosted that day. Details like date, time, venue and dress code are all mentioned in the card. Are you inspired? A card like this can cost you anything above ₹200 per invite.
9. Pooja Thali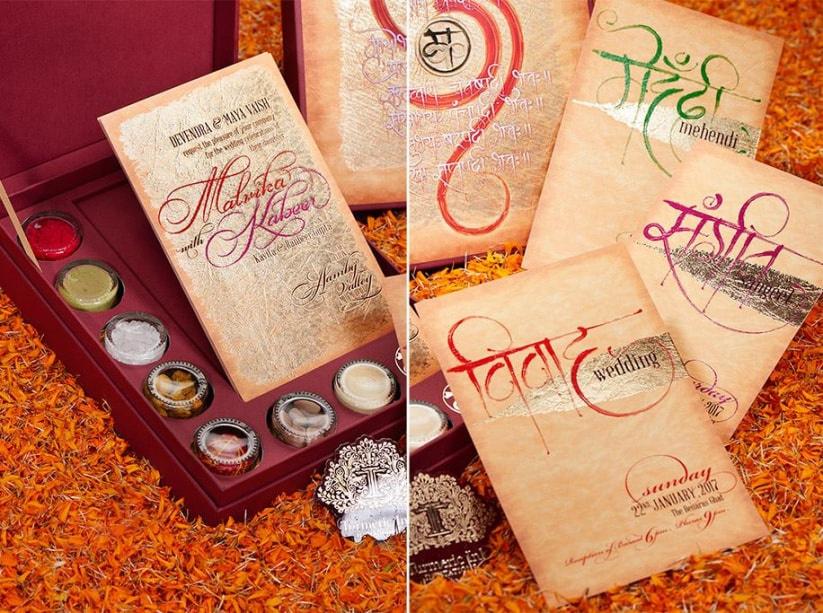 This lovely Hindu traditional Pooja Thali wedding invite includes some Mishri, Roli, Moli, Haldi, Chandan, Supari and Kesar. This is both a practical and thoughtful way to invite someone to your big day! The beautiful calligraphy on the card just adds to the card's authenticity. This creative work was done by Turmeric Ink and each card can cost around ₹450.
While a lot of thought and effort goes behind designing a personalised wedding card, we suggest you come up with a bunch of creative wedding cards ideas. Run them by your designer and see how you can make it your own.
Feel free to explore more wedding card designers and their work before you finalise your own wedding invitation.