Understanding different kinds of wedding cards with price range is important to ensure you make the perfect pick, stay well within your budget and also explore the many different ways of making your wedding invite unique and memorable. Wedding cards today are far from dull and boring; you can explore colourful and quirky options that match your personality and also beautifully highlights your love story.
Whether you are looking for a traditional wedding card design, a quirky one or even a digital invite; it's always good to know what are your options here. Here's a brief overview of the different kinds of wedding cards with price to help you make the perfect choice:
1. Single-leaf wedding cards with price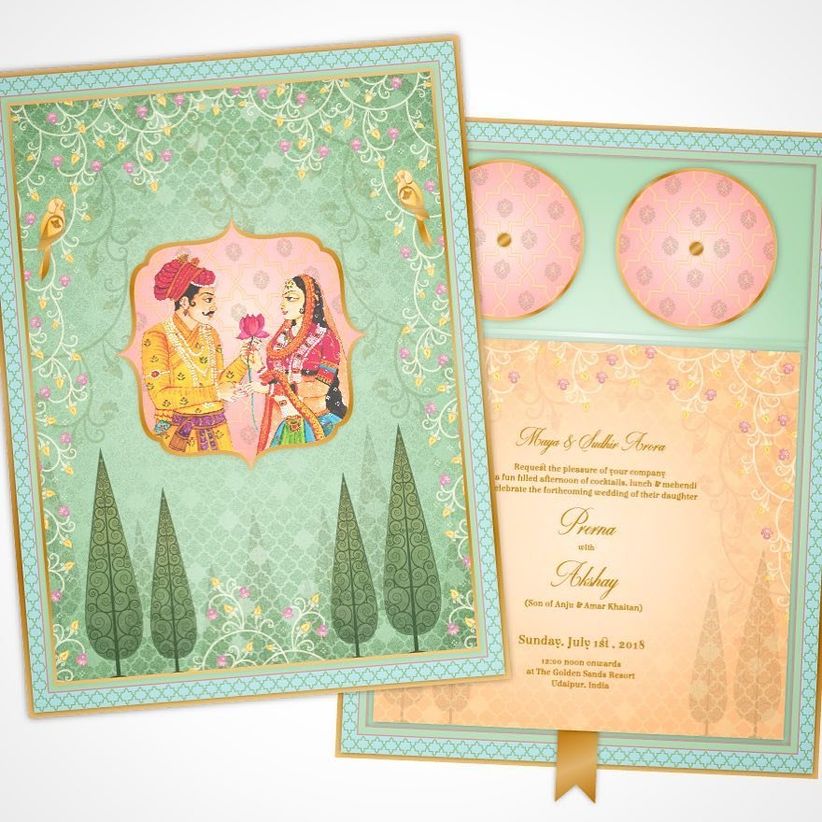 A single leaf wedding card works best when you are inviting guests for one or maximum two of the wedding ceremonies. This kind of card has great design potential, as it can be a pretty postcard picture on one side, that can be framed by the guests, with the details about the event at the back. Since there is a single design element and only one leaf, the price also comes down, as compared to multi-leaf and other styles of wedding cards.
Price Range: Approx ₹50-1000 per card
2. Multi-leaf wedding cards with price
Multi-leaf wedding cards are perfect when you want to segregate your guest list into people who are invited for all events, a single event or some of the multiple events. The envelope remains the same, and each insert carries details of separate events. You can then decide who gets how many invites. For example, if you are hosting three events - wedding, reception and Sangeet - you can decide who gets all three invites, while some may get just two or one of the three.
Price Range: Approx ₹200-3000 per card
3. Different printing styles for wedding cards with price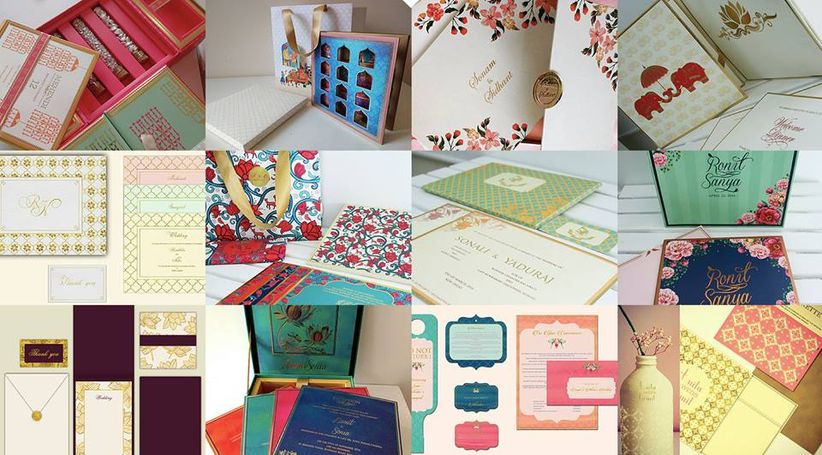 Today, wedding card designers and printers have multiple printing style options for wedding cards. These can range from embossed printing to digital printing and even hand-painted wedding cards. The material used for the card, the design and the complexity of the printing style all impact the total price of the card. You can also choose special design elements like caricatures, gold/silver emboss, leather printing or even fabrics and laces especially printed for the card.
Price Range: Approx ₹150-3000 per card
3. Digital wedding cards with price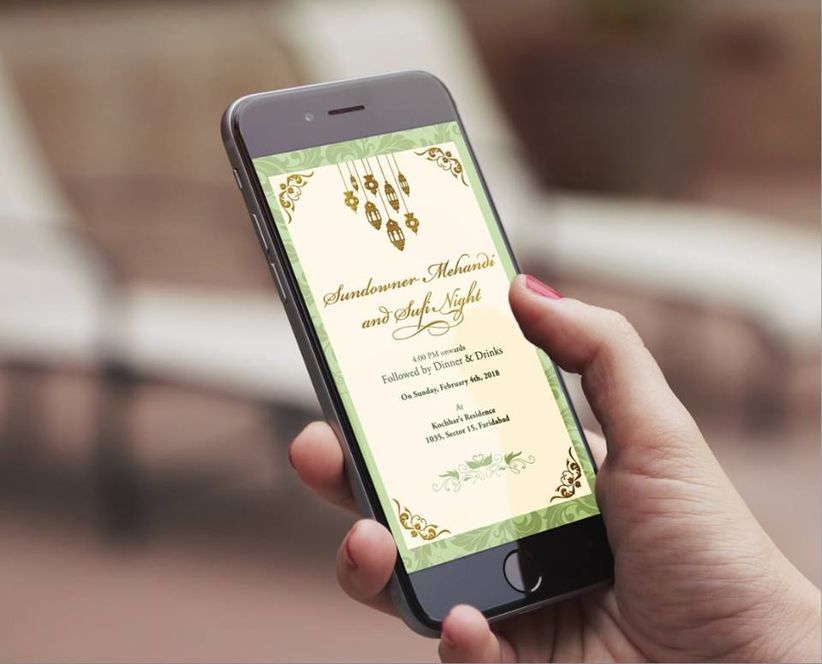 Digital invites have become the new-age wedding cards with most people relying on technology to reach out and connect with one another. Digital invites are also cheaper, easier to make changes too and a paper-friendly option. You cut down on expenses in many ways as not just the per-card price does not exist here, but also the cost of posting and couriers. You can play with different animations and visuals here.
Price Range: Approx ₹1000-3000 per card
4. E-invites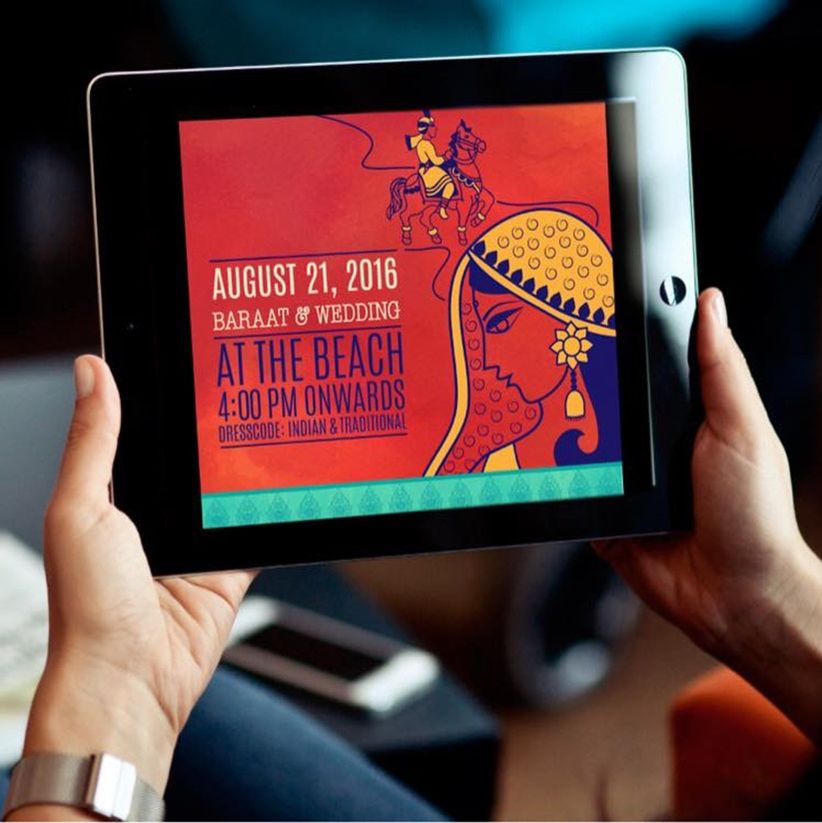 Like digital invites, e-invites too have garnered popularity amongst today's couples for the ease, versatility, cost-effectiveness and eco-friendly solution that it has become. This can easily be designed, styled and played around with to get traditional, formal, quirky or even animated e-invites.
Price Range: Approx ₹1000-3000 per card
5. Quirky wedding cards with price
Modern-day couples are all about the quirk. Everyone wants personalised solutions even when it comes to their wedding cards. You can add your personality and your style to your wedding card with quirky elements like caricatures, snippets of your love story, funny visuals that capture your characters and more. These quirky invites can be printed or digital.
Price Range: Approx ₹200-1000 per printed card & approx ₹1000-3000 for digital/e-invites
6. Boxed wedding cards with price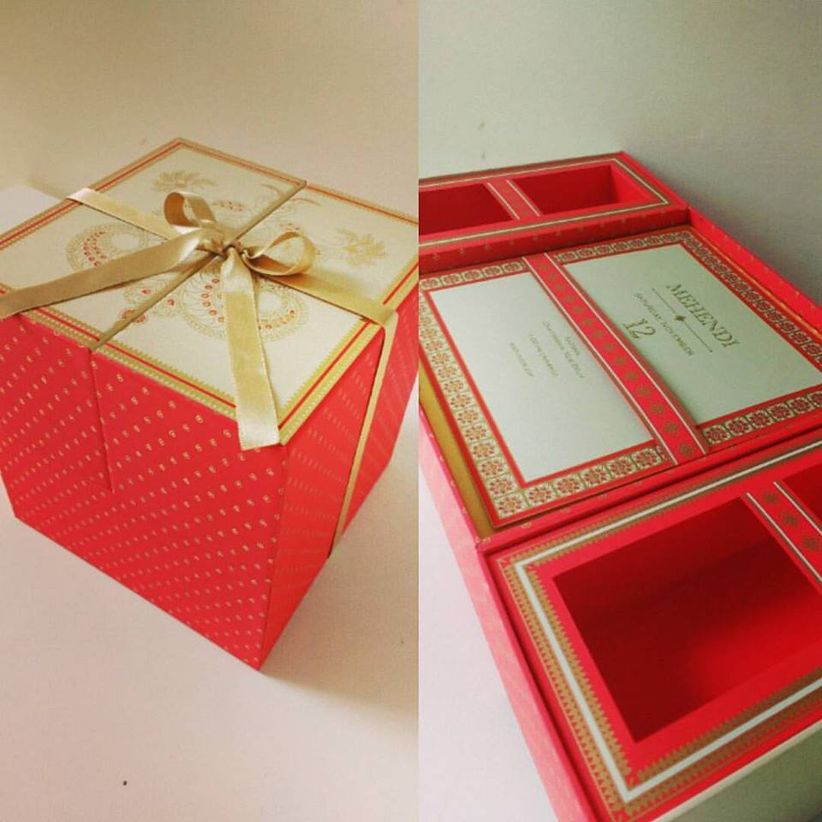 Boxed wedding cards give way to great design and styling options. These boxes can carry just the wedding invites or along with a small token like a silver coin. Boxed wedding invites look great, have a lot of room for creativity and personalisation and will definitely make your guests eager for the wedding ahead.
Price Range: Approx ₹750-2000 per invite
7. Invites with giveaways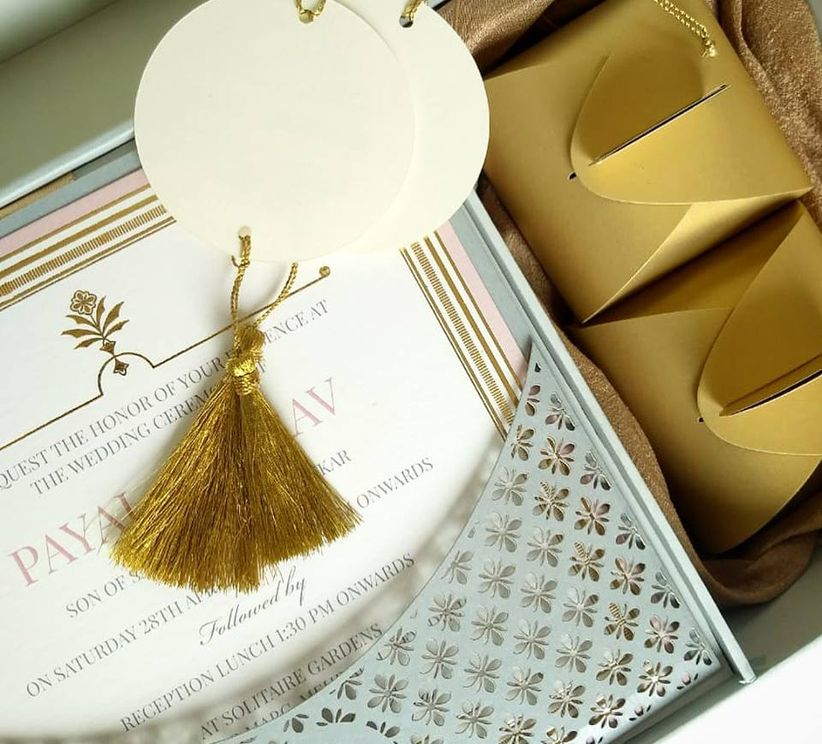 Wedding invites with giveaways are gaining a status symbol that remains unmatched. From pretty reusable boxes filled with goodies like dry fruits to essence sticks to small boxes carrying sweets and traditional wedding symbols. An invite with a giveaway is expensive but has a memorable impact on the guests. Most people believe that a wedding card must be accompanied with sweets and gifts, and this has become the perfect way to do just that. This also gives room for personalised goodies and invites. The giveaways can range from traditional gifts to quirky things like coasters, coffee mugs, candles, silverware etc.
Price Range: Approx. ₹1500-5000 per invite.
Note: The price range of the cards varies according to the style as well as the complexity of the design. The price range mentioned here is an approximate estimate and may vary according to the final design you choose.
Things to consider when looking for the perfect wedding card with price:
Different styles of printing
Design complexity
Your budget
Your guest list
Number of wedding events
Some Extra Tips to Ensure That Your wedding cards with price are just as spectacular as your lovely couple!
We have enlisted for you some hacks on how to curate some uber stunning wedding cards with price. Read on and curate your very own wedding cards with price now
1. Point is to be precise. Make your invitation personalised. Your wedding guest should feel warm and welcomed and should instantly have a smile spread across their face as an when they see your invite for the first time.
2. Also, create a group for RSVP and in case of some changes notify your wedding guests accordingly. One less detail and it could go haywire!
3. Ensure that you make it a little personalised. Include something special that defines your relationship. Since your wedding invitations will remain as a memory of your forever after it should encapsulate the same in how it looks.
4. Include a photograph of your couple while you're at it and then you can always get it framed and keep it as a memento, a relic of love frozen through the sands of time!
Ready to design your own wedding card? What will your wedding card be like; will it be simple and traditional or bold and quirky? Will you add goodies to the invite or let the words do the talking? Your wedding card is the first formal invite that your guests will receive, make sure it's beautiful and more importantly has all the necessary details.
What's your idea of the perfect wedding card? Share with us in the comments below.