A List of 5 Wedding Card Designs With Price That Will Increase the Horizon of Creativity for the Big Announcement
Discover what's trending in wedding invitation card designs. Creative ideas from the couples and designers are inspiring unique designs, both traditional or unconventional.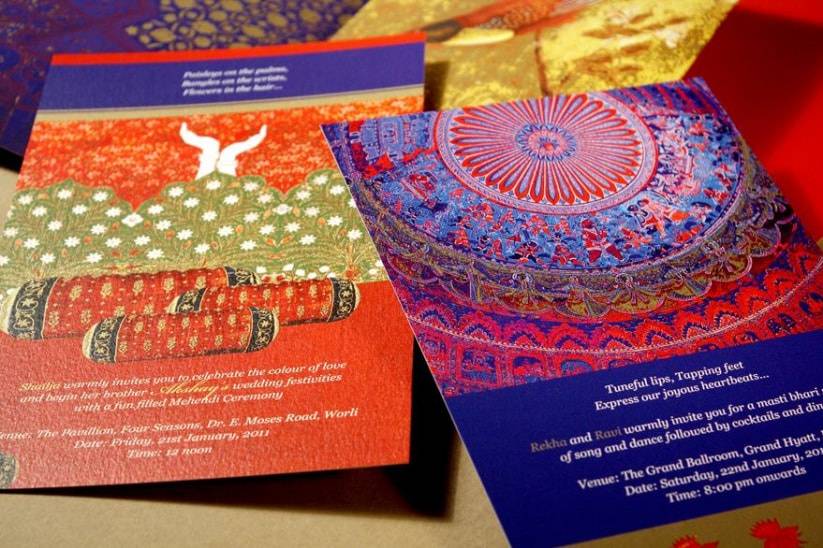 Wedding cards and invitations might not sound very hectic in the first go, but once you get down to designing it and deciding upon other aspects like the guest list and the names that should be on the invitations and the price and what all you want to include within your budget, everything is time-consuming and it is a difficult task at hand that officially marks the date of announcement of your wedding for all in beautiful documents in the form of the wedding invitation cards. These wedding card designs with prices provide you with a wide field to choose from their variety of options - be it the theme, the colour, the text font, the message and even the packaging. It is a wide area of experimentation that has to be perfect before it finally reaches out to the doorsteps of your near and dear ones.
It can be on a piece of paper, it can be in a box full of goodies and it can also be online, but keeping in mind what all troubles and hindrances one can face while formulating the wedding invitation card for your big day and the official announcement of the dates and invoking the presence of your friends and family, the list curates about 5 basic ideas of wedding card designs with price for you to take inspiration from.
Nowadays everyone wants a wedding that reflects the personalities of the couple. Everything from invitations to wedding décor is customized to follow the same theme. Couples increasingly want more ingenious and unique wedding invitation cards since it serves as the first glimpse into their wedding. Meeting such high expectations is what the talented designers in the industry expertly do by bringing the couple's ideas to life. They use their extensive knowledge to experiment with a variety of themes and add accompanying elements to amplify the impact. We have curated some of the most captivating wedding card designs with price as suggested by the top designers themselves.
1. Fusion of evergreen traditional and floral styles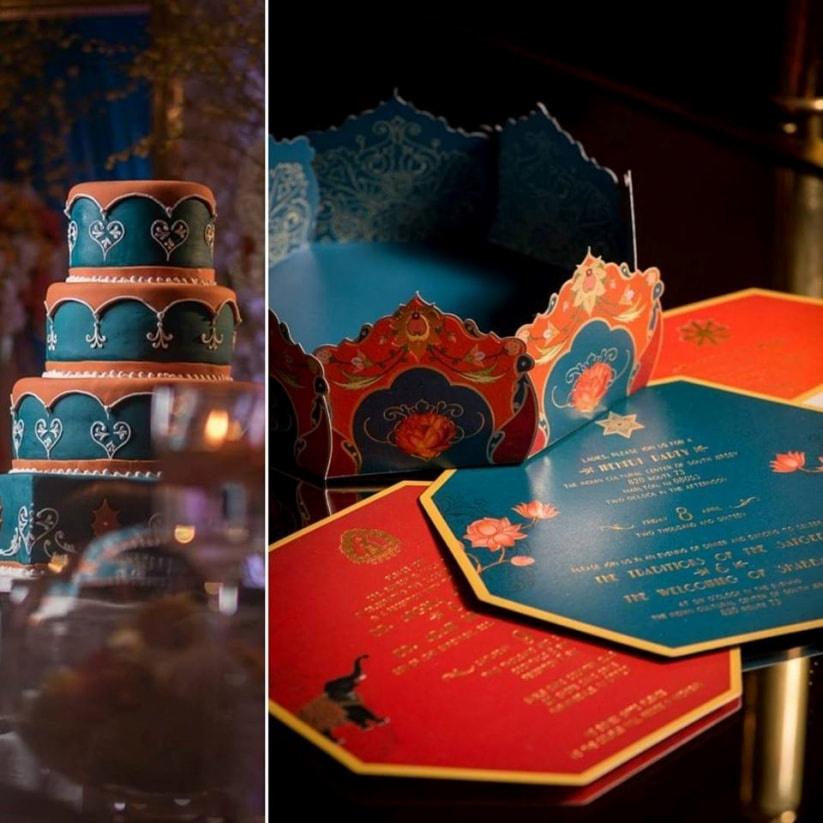 Being fond of the traditional theme does not imply you need to compromise on style. Revamp the evergreen traditional style by creating a fusion with the floral designs and get yourself a marvellous wedding card designs with price that won't burn a hole through your pocket. As Sonal Aggrawal, director at Turmeric Ink explains, "We handcraft these cards using kalamkari designs, watercolour designs, hand lettering, and calligraphy, among many other techniques, to cater to everyone's requirements. The evergreen themes go well with any sort of wedding, be it an intimate one or a lavish one."
Price starting at: Rs.400
2. Boxed invites with unconventional giveaways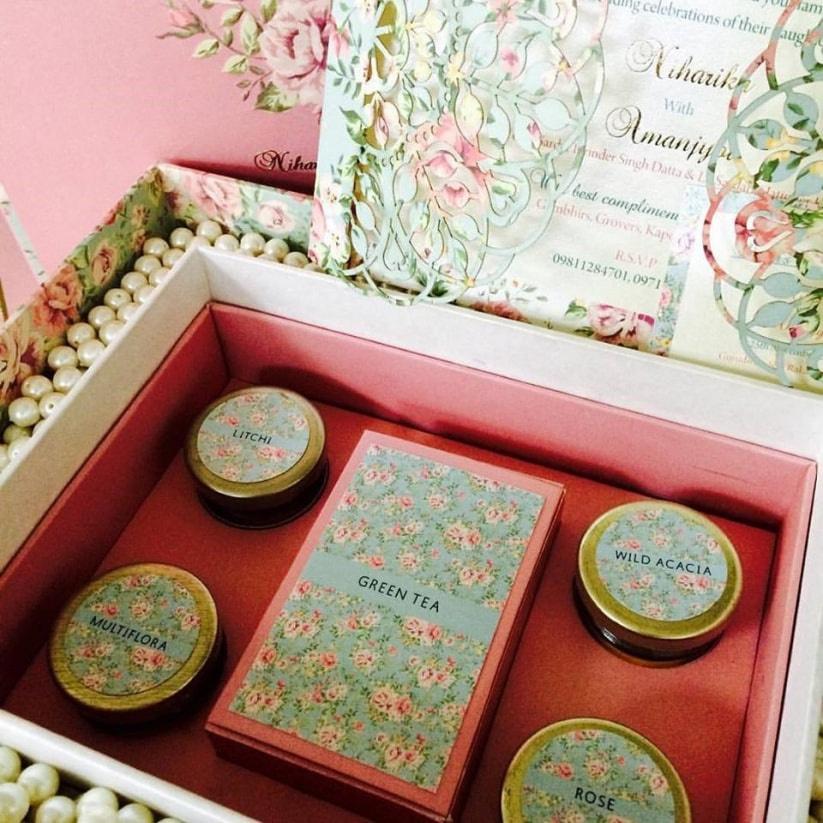 Boxed invites are becoming a favourite among the couples opting for contemporary wedding card designs with prices within your estimated budget. "We create elegant laser-cut vintage designs coupled with boxes of unconventional and healthier giveaways to form an alluring package," explains Neeti Eshpuniyani from White Mirage Creatives. You can get all the customizations you need right from the colour scheme to jars and edibles that go into them while staying true to the age-old idea of 'mooh meetha karana'.
Price starting at: Rs.2000
3. Illustrations-based invites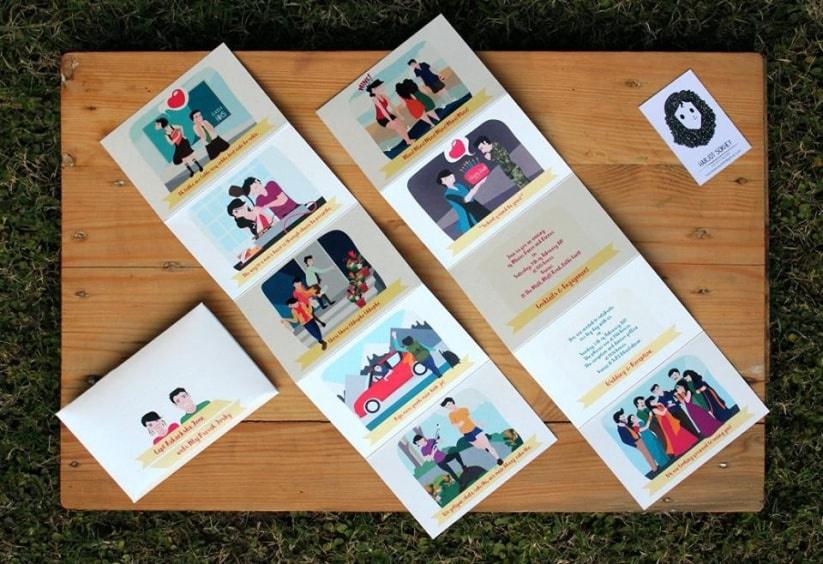 Portray your personal story in a captivating manner through an illustration-based wedding invitation card design. Instead of making an announcement, they will tell an honest tale of your relationship, just like your pre-wedding shoot pictures. The designers can turn them into quirky infographics by integrating the couple's mutual love of pets or music or travel. Even something simple and seemingly insignificant can be woven into the design to encapsulate the story behind each couple, like your favourite wedding songs as wedding invitation quotes. You can choose from a variety of printing techniques, high-quality paper and canvas to add to its freshness. Such illustrations would also make for wonderful engagement decorations for your wedding card designs with price that will have you dancing with joy.
Price starting at: Rs.400
4. The minimalist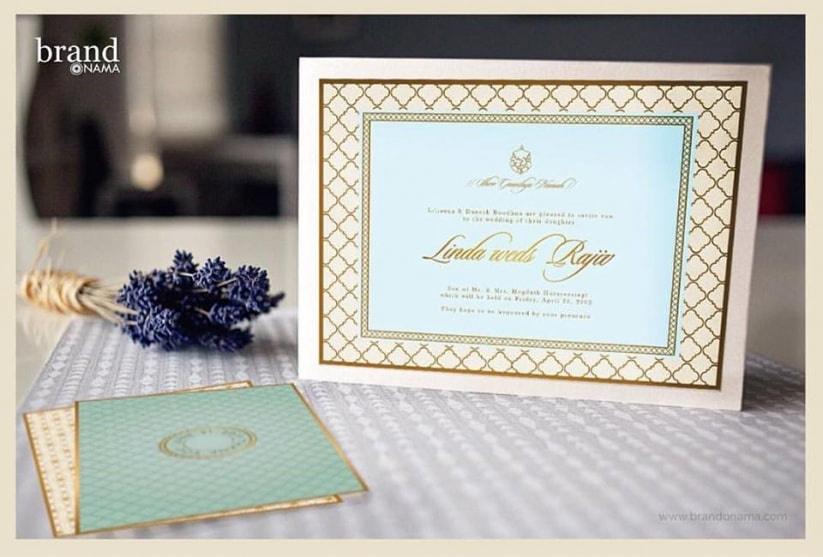 A lot of couples are moving towards minimalist wedding card designs nowadays. You can pick from the themes of metallic colours and geometrical designs that convey the message gracefully. Opt for a wedding card format that has separate cards for each occasion and it won't even become a heavy bundle. "The sophisticated and soothing look of such wedding cards carries a charm that will suit both, the daytime weddings and the evening ones," Sandeep Dahiya, co-founder & director at Brandonama Creatives emphasises. This wedding card design with price of the same is a common choice of the people in general and the size, shape and content of it, is very handy and convenient too while keeping it elegant.
Price starting at: Rs.150
5. Destination wedding theme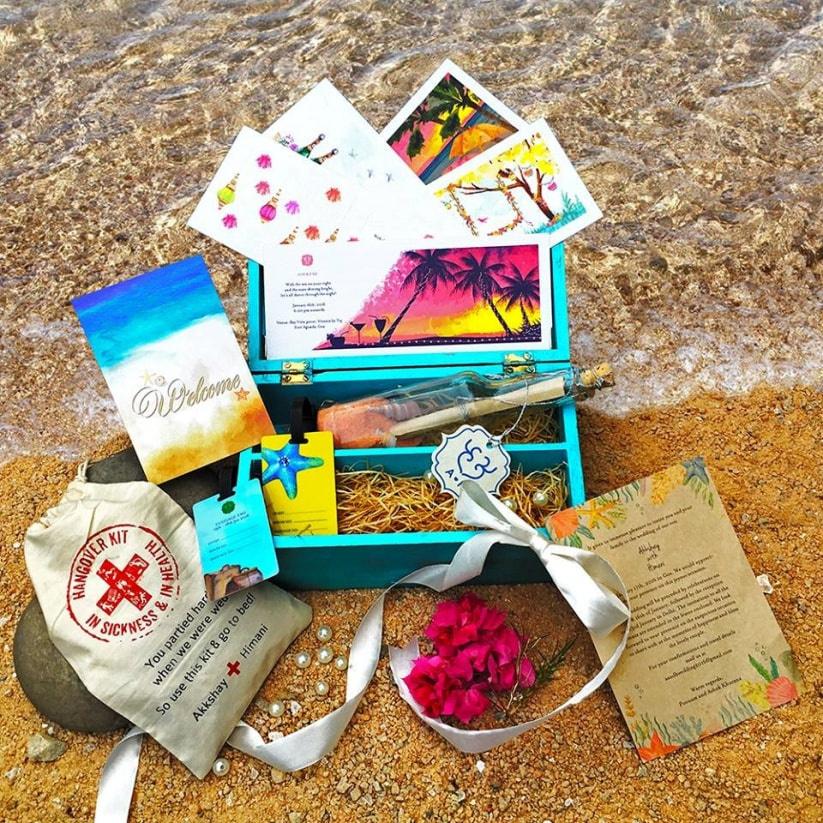 Prepare your guests for a destination wedding from the moment they receive the invites using the wedding card designs to your advantage. Aisha from Design Dimensions suggests, "For destination weddings, create additional collateral for the package - like luggage tags, welcome notes, itineraries, thank you cards, car stickers, driver's cards, door hangers, hangover kits etc." People will enjoy using these accompaniments and keep them as cherished memorabilia. Just as the glass bottle with sand and scroll from the package above will make for a gorgeous home décor item for the guests. These cards can have unique wedding invitation wording to go with the theme, creating a delightful anticipation. You will find plenty of inspiration online on the popular Indian wedding photography pages. The goodies with price as well as the wedding card designs with price can be looked up on the Internet.
A destination wedding might already call for a lot of expenses and if you want a wedding card design with price that is affordable, you can simply print the cards in the shape and look of a flight or train tickets and that has the passenger's name as the guest's name and the onboarding will be their residential address with the destination being your wedding venue. These quirky yet unique designs have taken the market by rage and the trends are such that each of these wedding card designs with price is a treat to the one who chooses them.
Price starting at: Rs.3000
Invitations are a warm gesture and the wedding card designs with price(s) should reflect the same. Wedding card designs with price should be a part of your overall theme and planning process. These wedding card designs with price that are eaily affordable or worth every penny, can give your wedding photographer some amazing shots to add to your wedding trailer or videos, apart from the mandatory mehndi and Bridal Lehenga pictures. Bookmark the ones you find inspiring for your own wedding.
Don't forget to tell us which one did you choose in the comments.