This Couple Hosted a Lockdown Wedding in a Luxe Hotel in Gurgaon
Aastha & Sushant started with a civil wedding & ended up having a wedding in a luxe hotel in Gurgaon. Read on to know more about their small wedding ceremony.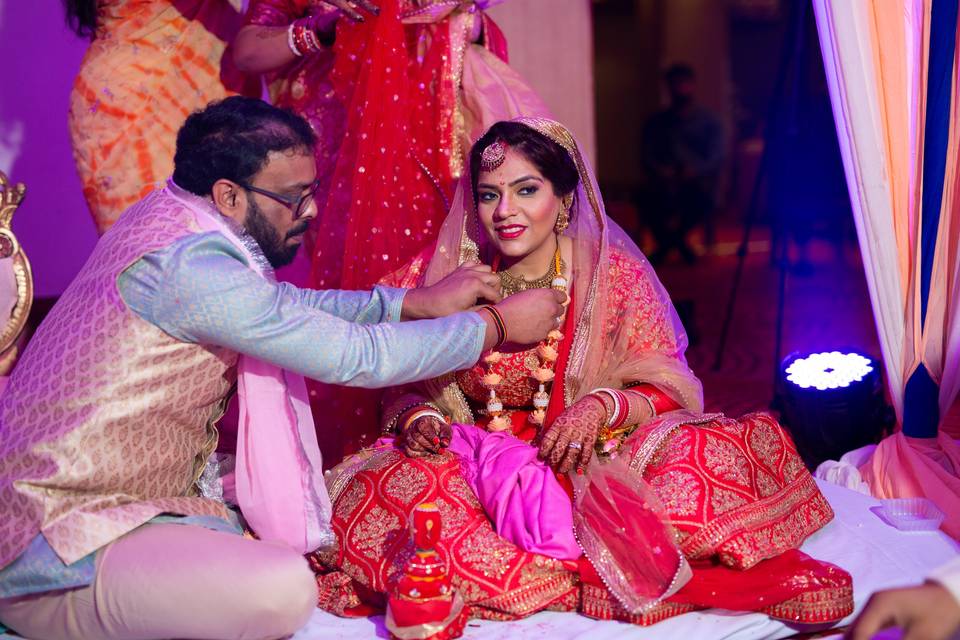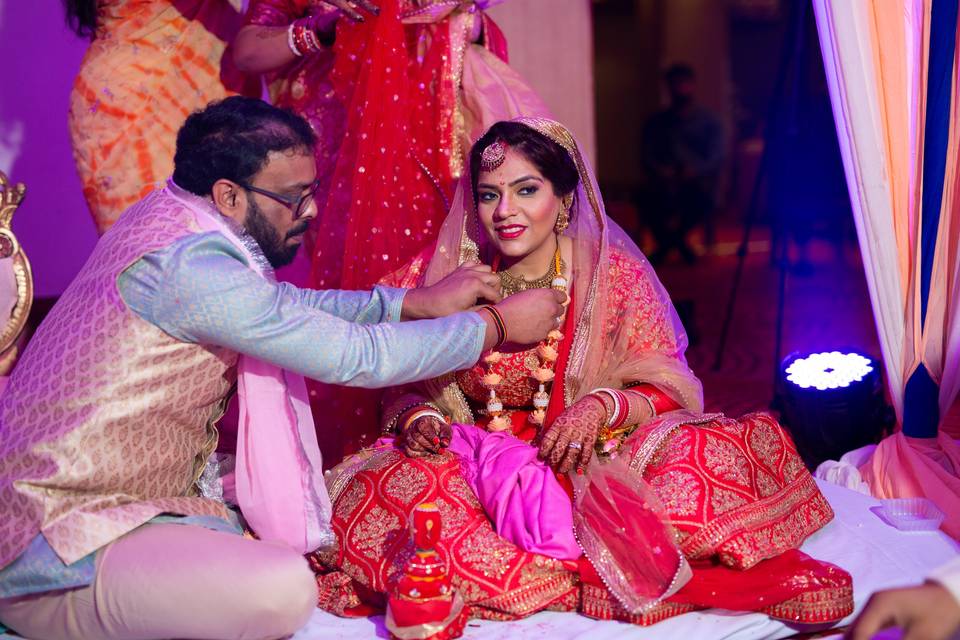 Intimate weddings
have been the talk of the town. Every couple who had planned to host their wedding in 2020 were caught in a fix with the air of uncertainty that the pandemic brought along with it in late March. While some of them decided to wait and observe until times were better to re-plan everything, some couples have decided to tie the knot amidst these circumstances.
We have heard couples say that waiting for another year or even more maybe because the pandemic has unravelled the ambiguity did not sound very promising. It is indeed true that people want to cling to their loved ones when faced with difficulties. One such couple is Aastha Dhingra and Sushant Sinha who tied the knot in a luxury hotel in Gurgaon on the 27th of June beyond all odds.
Here is an entire walkthrough their lockdown wedding story for inspiration.
How They Met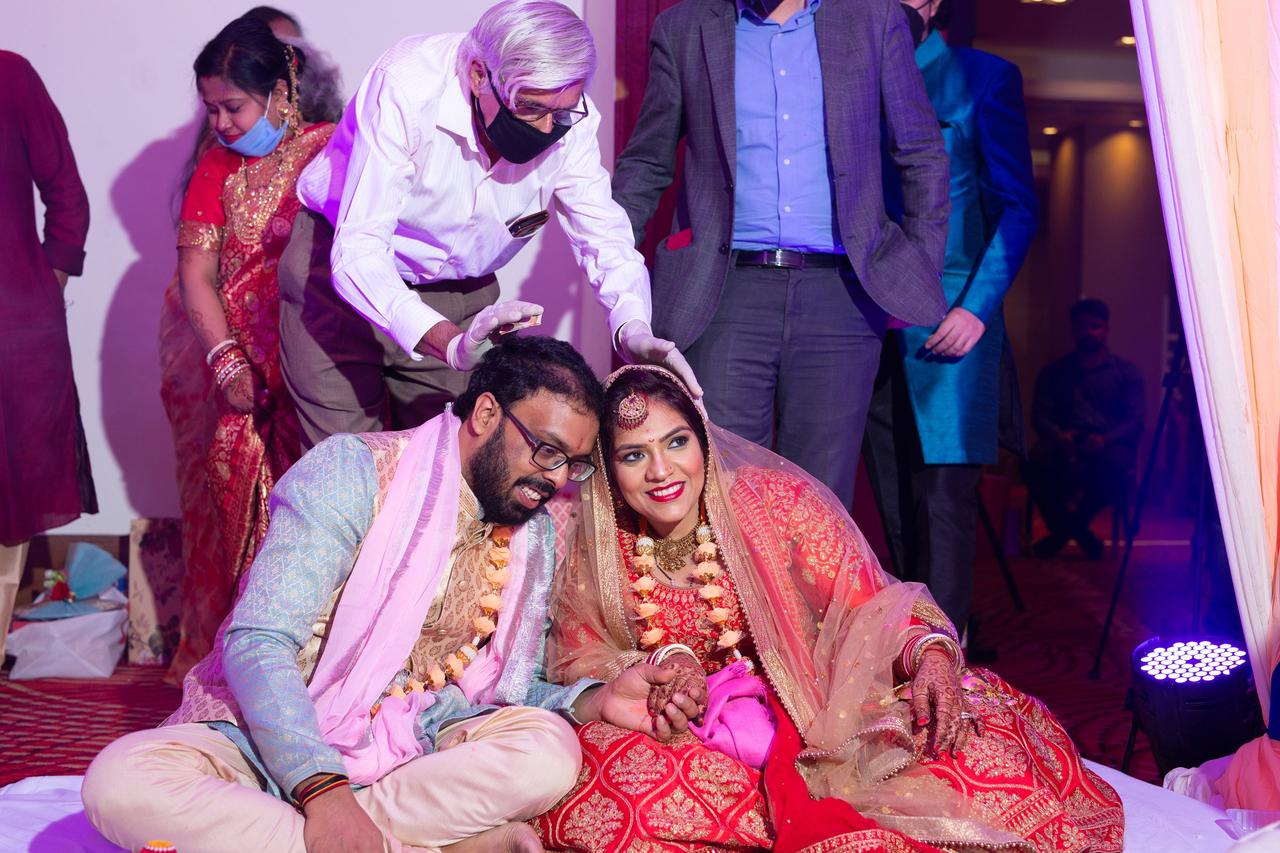 The richness of the Indian traditions are impeccable and arranged marriages are one of these life-long conventions that have been nurtured by the culture. Meeting the boy in an arranged marriage set-up is also one beautiful way to mark the beginning of a happily ever after.
To prove this right, Aastha tells WeddingWire India, "We got hitched the traditional way. Our families introduced us to each other. We spoke for a few days and then decided to meet. We got enough positive vibes to explore it further. We collectively decided to give it 3 months before taking any call. And on 4th Feb Sushant went down on his knees and proposed to me. My response obviously was YES. After that, I met his family and right after a week from that we flew to Mumbai to meet my family, and he asked for my hand from my parents and rest is history."
The Wedding Venue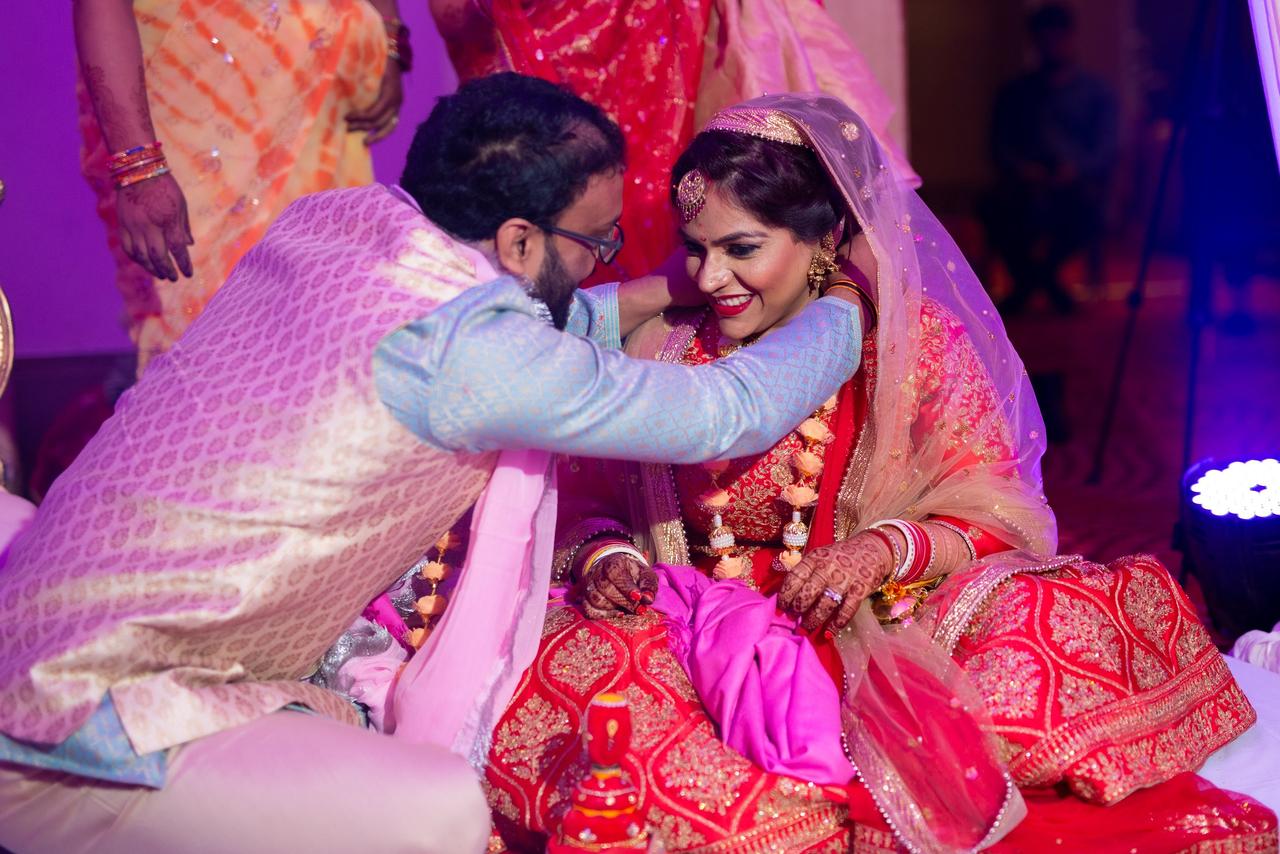 The pandemic has been the reason why many couples had to postpone their weddings. Some even had their entire wedding planned perfectly but the lockdown pushed them to take a sharp U-turn and do things differently. On similar lines, Aastha and Sushant's wedding was planned for the 29th of June. They had initially decided to postpone the wedding in August ut there were no auspicious dates until later in November so they had to tie the knot in June itself.
Sushant says, "Our initial plan was that of a court-marriage. But since courts were not opening and were not accepting wedding requests, we decided on an intimate Gurudwara wedding. Initial preparations and planning were all done but then again the government passed a guideline saying that religious places will not be accessible for the public and the Gurudwara authority also asked us for a list of approvals and permissions. It was then, that we decided to move the wedding to a hotel. And surprisingly, all of the hotels in Gurgoan were booked for June 28, 29 and 30th! So we were only left with the option of June 27 to book the place. We ended up preponing our wedding by 2 days to host it on the 27th at Le Meridien, Gurgaon."
Aastha adds, "My pre-wedding functions (Mehndi, Haldi, Sangeet, Gharoli) all took place at my friend's place. My extended family managed the Sagan function."
Their Wedding Plans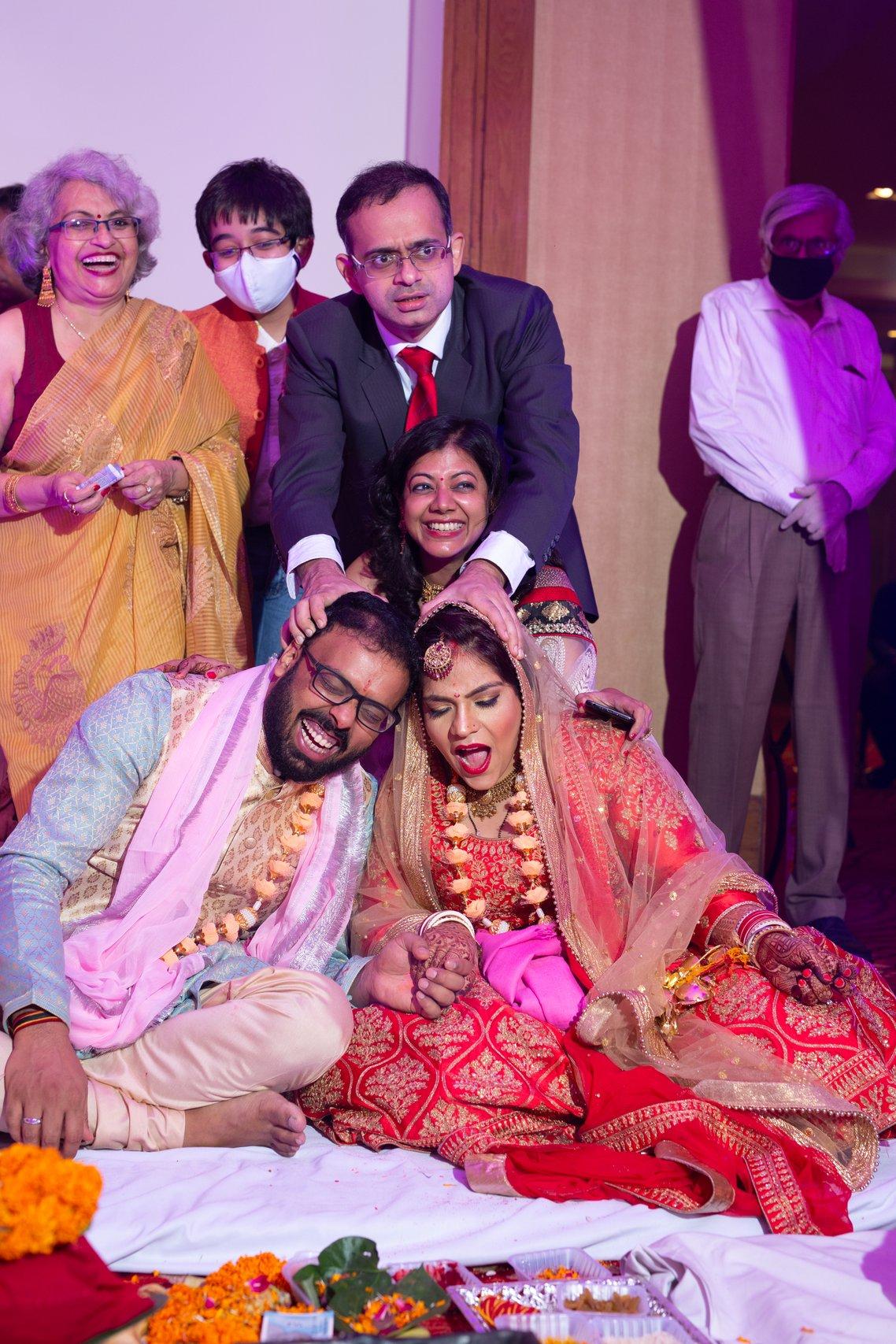 Planning a wedding or hosting one is very stressful especially in the middle of the pandemic, it is nothing short of a rollercoaster ride. Treading uncharted waters is not an easy task and the emotional topsy-turvy is almost overwhelming at times.
Aastha adds to that saying, "The venue, outfits, gifts, makeup artist and even the food arrangements seemed like a hurricane task. Moreover, my family was in Mumbai and was not coming down for my wedding owing to the high risks regarding travelling under these circumstances. In fact, this was the only condition I agreed to get married on - they will stay put and will not fly down to Delhi. And to add to that it's an inter-cast marriage - I am Punjabi and Sushant is Bihari, so trying to know and understand each-others customs with the looming worries of family and pandemic was also an additional task for us."
She continues about the challenges she faced saying, "Getting started about the entire thing seemed like too much already. But it was my friends and extended family who stepped in and took over the entire wedding preps and arrangements. My friends, from the past 25 years, took it upon them to host my wedding. They just said that so what if my family is not here, we will still go ahead and have each and every ceremony and ritual. I was not willing and wanting for a celebration at all because of the fact that my family will not be around on MY WEDDING. But my friends and my extended family members made it all possible. They even aced the Zoom screening of all the rituals. So in short…I and Sushant did nothing for our wedding apart from just arriving at the venue on time and getting married. It was literally a cakewalk for us, thanks to my friends and extended family."
Their Take on Intimate Weddings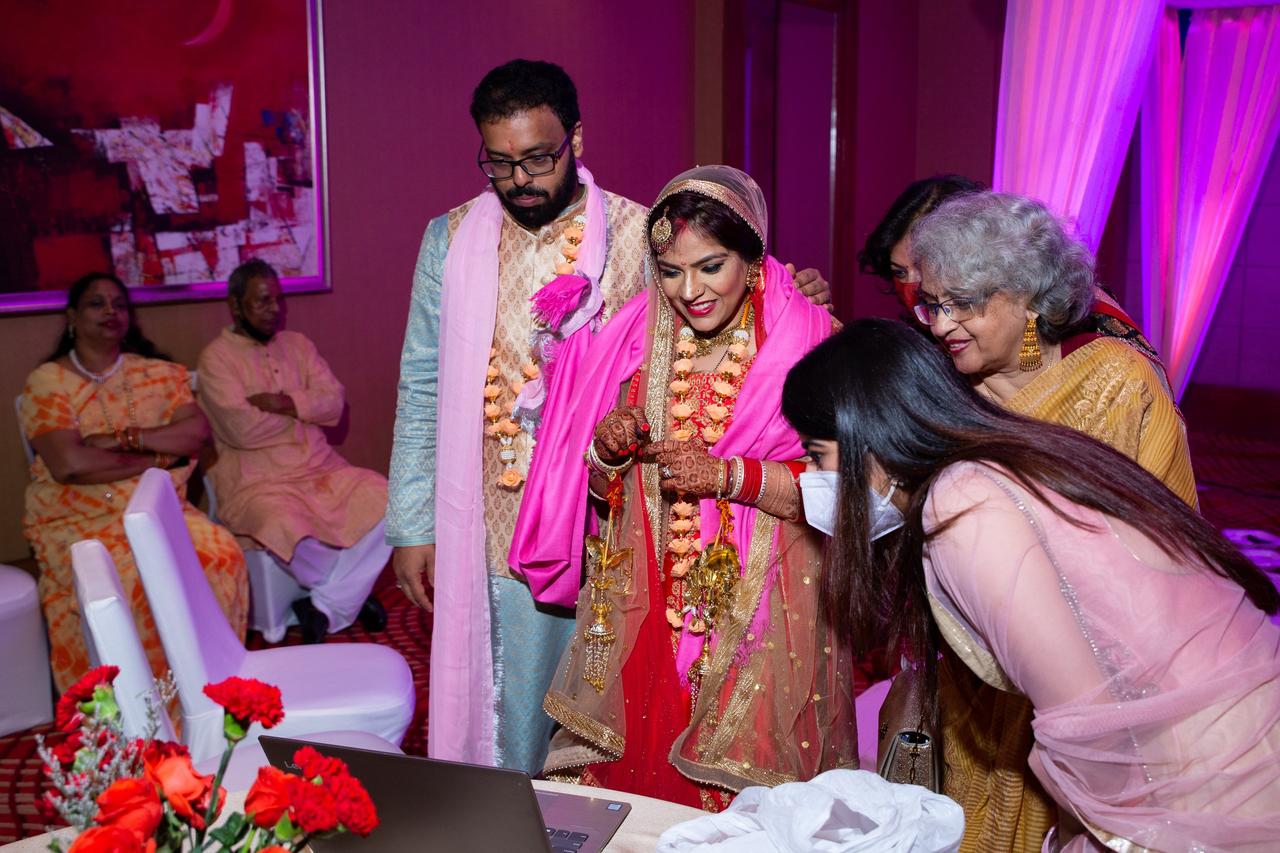 While intimate weddings have very much become the trend, the pandemic and the lockdown acted like the catalyst that speeded the process up. However, many couples have been loyal fans of intimate weddings and there are quite many reasons to host one. Sushant says, "I think intimate weddings are here to stay. Where on one hand we will always have people who want their big fat weddings to go on for a week, on the other hand, there is a sizeable population who believes in not splurging and spending so much on a wedding guest list."
Aastha quickly adds, "We both were very happy with the intimate wedding – very close group of people who were genuinely happy for us, we were actually a part of each and every moment, we could meet/attend to each and every guest. There was no formality and no inhibitions because we were surrounded by 'our people', and it actually felt like 'our day'. Mentally, it was not at all stressful rather we enjoyed our wedding thoroughly. And lastly (though it's not the prime factor) you end up saving a lot of money too. And to tell you a fact, even after a month of our wedding we are still happy that it was a very low budget affair. No-frills-and-fancies were our ideal plan of getting married from the very beginning and we were happy to have it that way."
But of course, even if it was an intimate wedding that they had always wanted, the lockdown and unsafe times kind of disturbed the ideal flow of this celebration. There were things that they definitely missed in their lockdown wedding and Aastha says, "My family. Not even in my rarest of the rare dream I could have thought of getting married without them. Though we all joke that it seems as if I eloped and got married!"
The Lockdown Wedding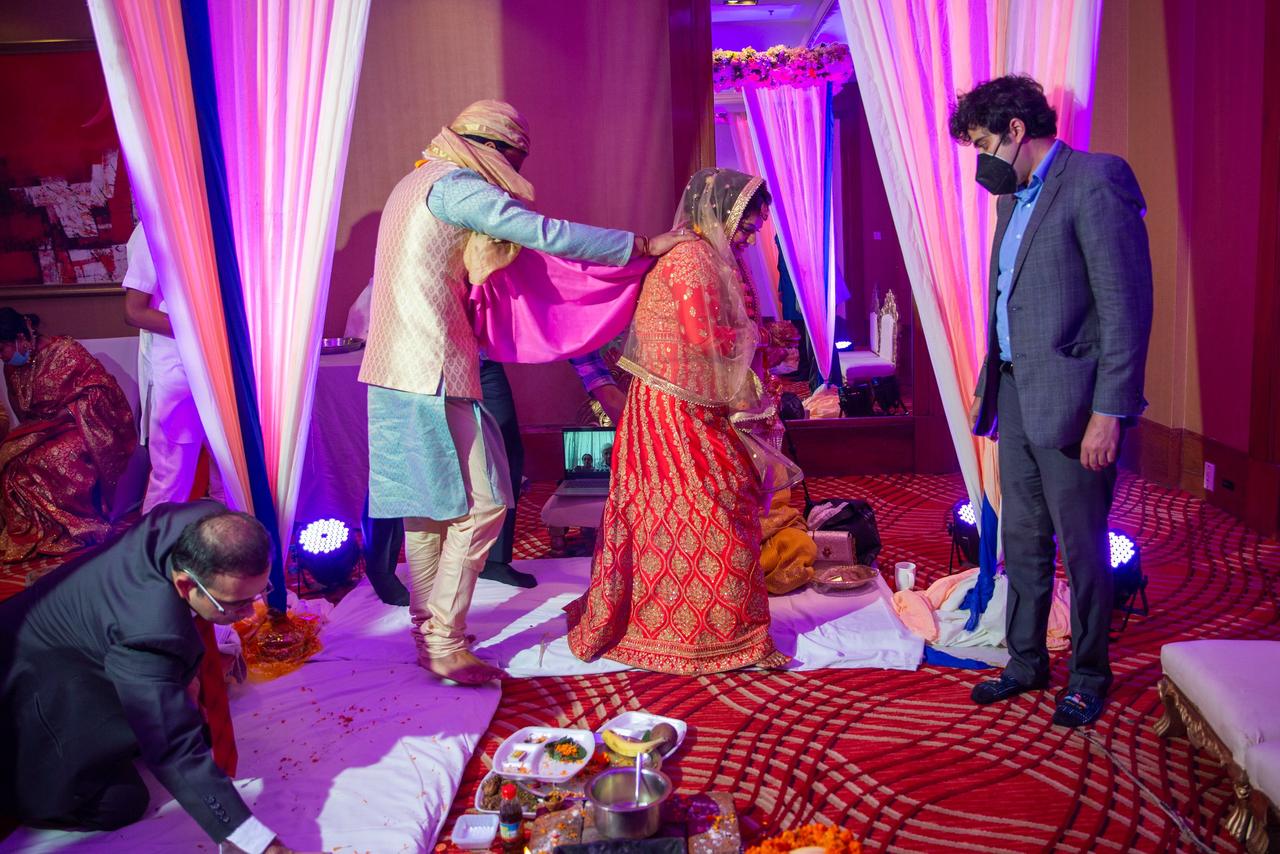 Aastha tells us, "We did not hire a vendor/wedding professionals. Everything was planned, managed and executed in-house by my friends. Even the food for the pre-wedding function was prepared at home to avoid any risk as much as possible. We did not want it to be a hassle for others by picking any fancy theme at this moment, so we kept it simple and easy - pink was the colour. All the guests, even those on Zoom, were dressed as per the theme."
The Basic Safety Precautions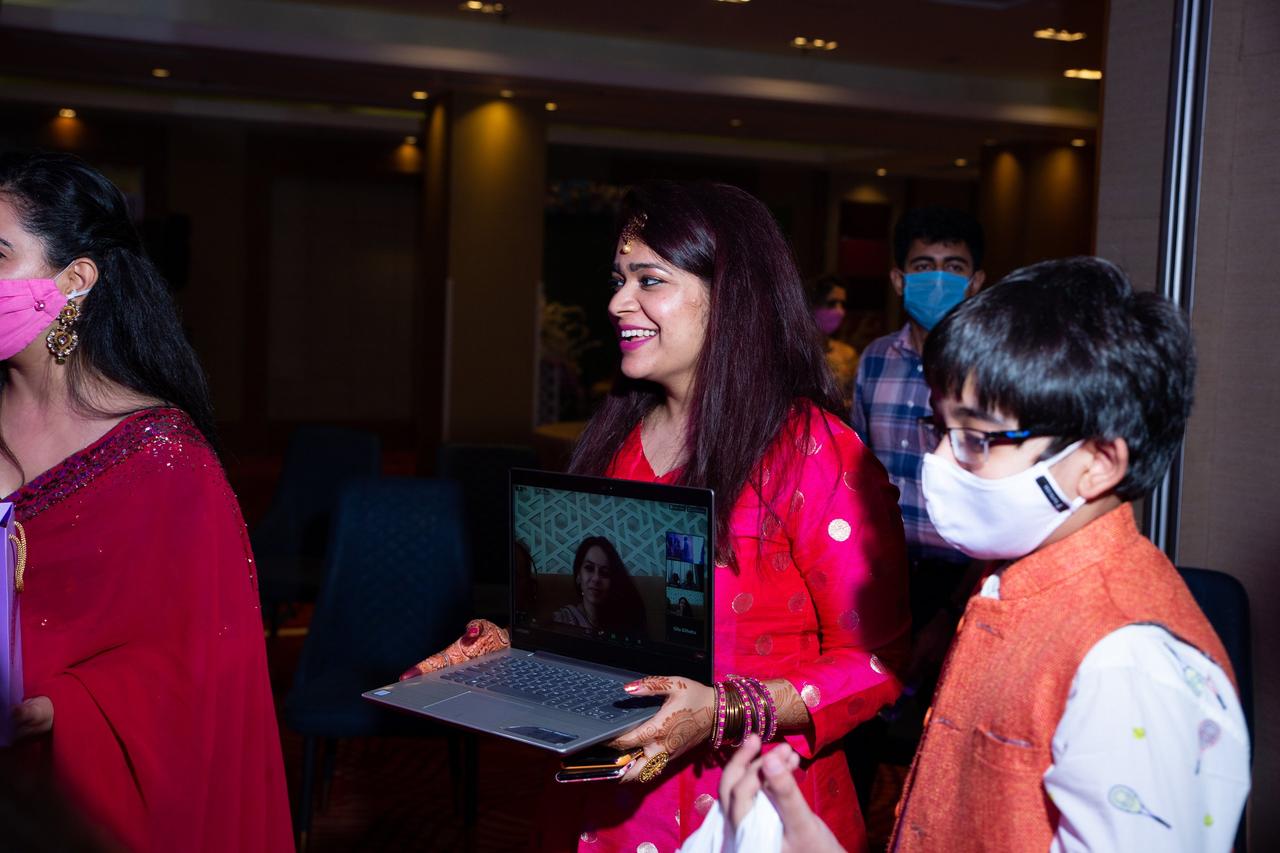 The times are not safe. While the world tries to adjust their ways to the new normal that has face masks and sanitisers made mandatory, the celebrations have also taken a U-turn. Maybe the enthusiasm and the fervour remains the same, but people will still have to up their game and be a little more cautious than usual to ensure the safety of all. Weddings in the Times of Corona is indeed a revolutionary step in the world of weddings.
"It was a small intimate affair with 35 people (family and friends only). The venue came with proper sanitisation along with regular temperature checks for one and all who entered the wedding. Arogya Setu App was also made mandatory by the hotel authorities for all guests to enter the space. Masks and gloves for the hotel staff were also ensured by the hotel. And the guests who travelled from Delhi and Noida (as the wedding was in Gurgaon) acquired the inter-state travel pass", Aastha says.
What Aastha & Sushant Wore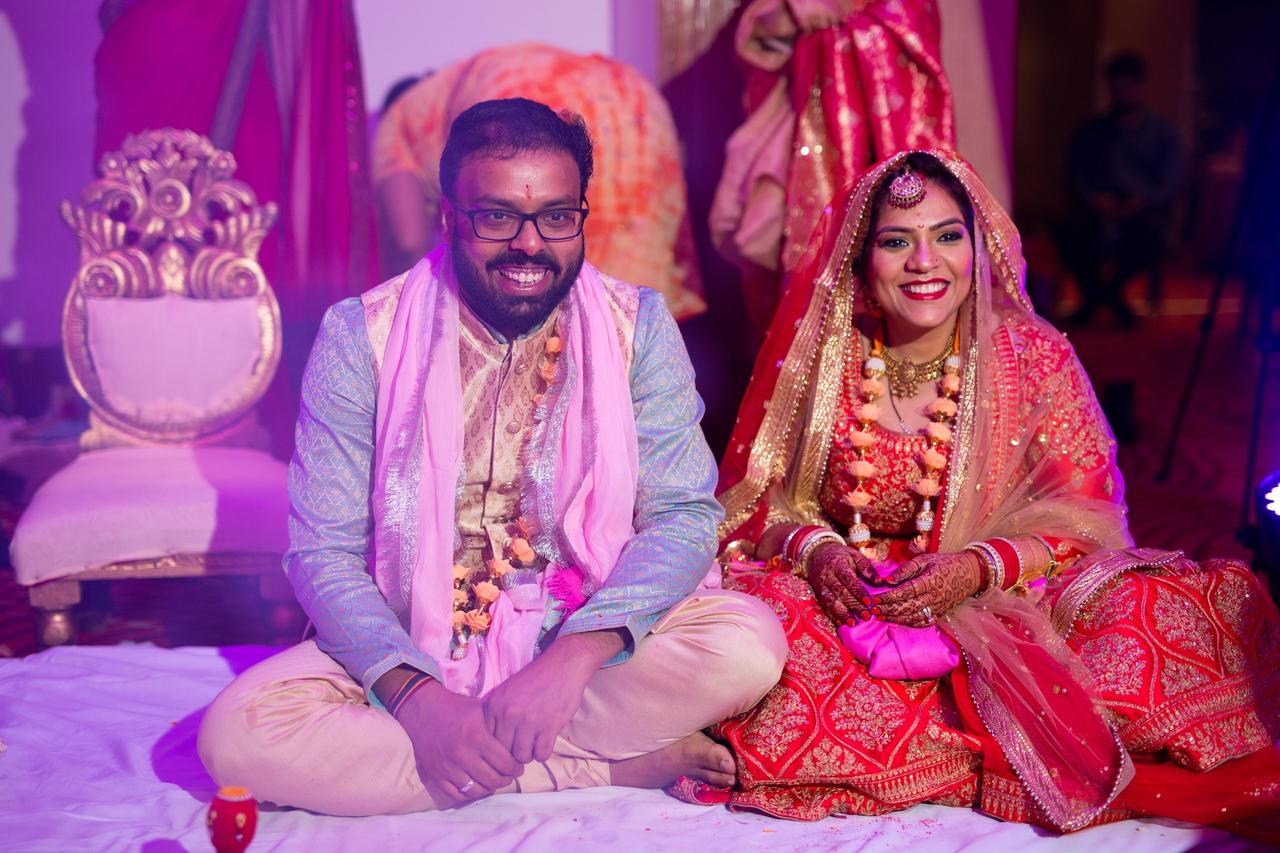 For the couples who planned to host their wedding amidst this crisis, one herculean task has been deciding what to wear. From a scavenger hunt in everyone's closet to pick the ideal heirloom piece to flaunt to fixing online appointments to get an idea of the lookbook and shortlist one outfit - the journey of shopping trends has been impeccable. Many businesses have therefore made their online presence official during this time as shopping ideas change for all.
Aastha gives us further insights, "We did not go big on outfits considering the situation, safety was our top priority. We decided on having only the main wedding outfit. We went to our regular ethnic dresses shop and picked our respective outfit from there. Before visiting, we scheduled an appointment to avoid the rush. Also, I scanned the outfit first on a video call just to be sure that it will be a fruitful trip. For my pre-wedding function, I wore my bhabhi's skirt. And the jewellery was borrowed from my friend."
Aastha and Sushant agree to the idea that intimate weddings are not about the budget. One can host a lavish intimate wedding too because the guest list does not decide your experiences. Aastha says, "Rather the intimate wedding is an enhanced experience. It's more of 'your day' wherein you live, enjoy, feel, celebrate and get to be a part of each and every moment so candidly. The formalities can be kept aside and there is no match for the quality time that we have."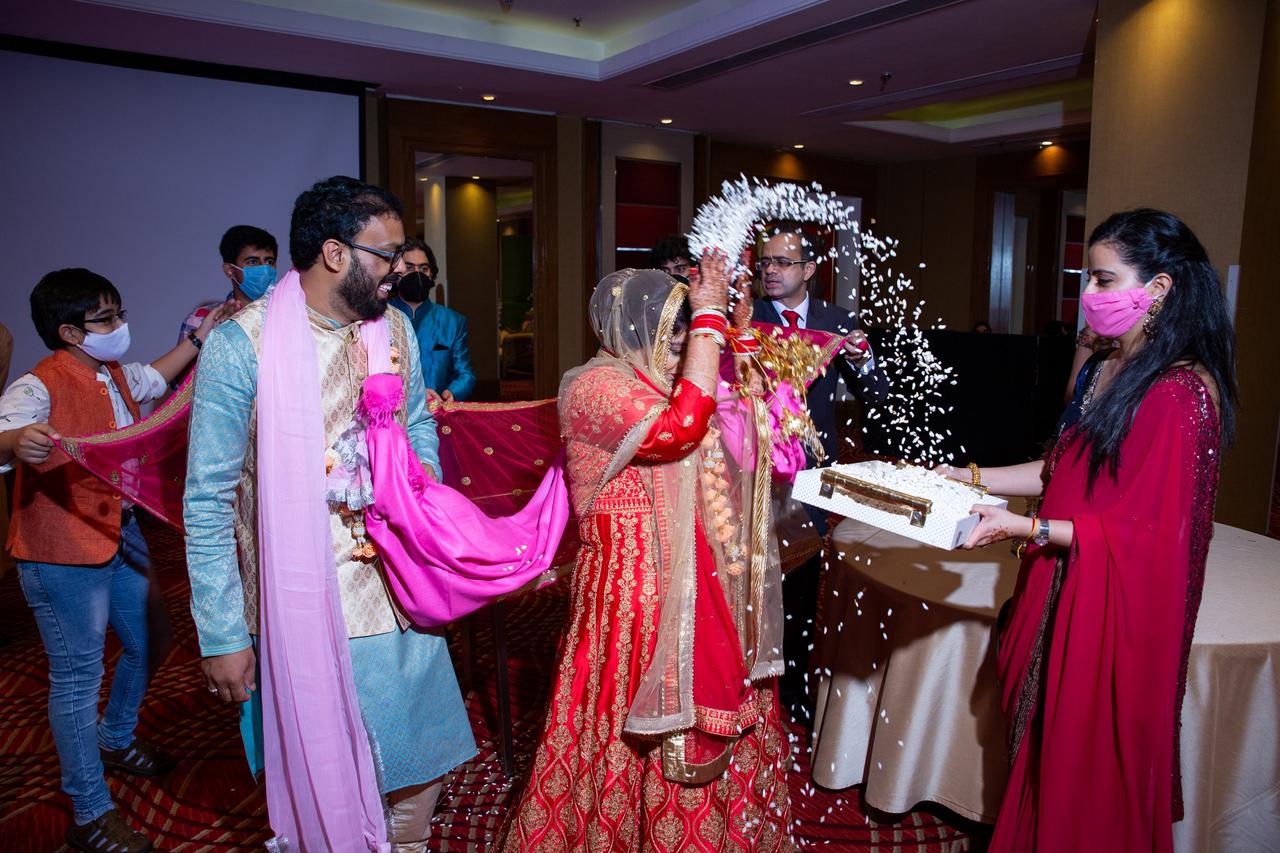 While most couples are waiting for the times to get better to host a big gala of a reception party or another wedding celebration later apart from this lockdown wedding, Aastha says, "It was our ideal kind of wedding so we don't think we will be planning any other bigger celebration. But yes, another celebration is on the books with my family, as and when the situation permits of course."
The trends in the wedding industry are changing drastically. Many couture labels, as well as small homegrown brands, have switched to online marketing and e-commerce websites to make their products available for the consumers. Couples are opting for virtual ways to hire a vendor. You can even host a virtual bachelorette party or some virtual ceremonies too.
If you are planning to host an intimate wedding, don't forget to get in touch with the ace professional planners on board who can assist you through the process and make it a flawless memory.