20 Stunning Lehenga Blouse Back Designs Every Bride Must See
Choosing the right blouse is the catch as it brings grace and life to your outfit. Browse through our selection of lehenga blouse back designs to find out.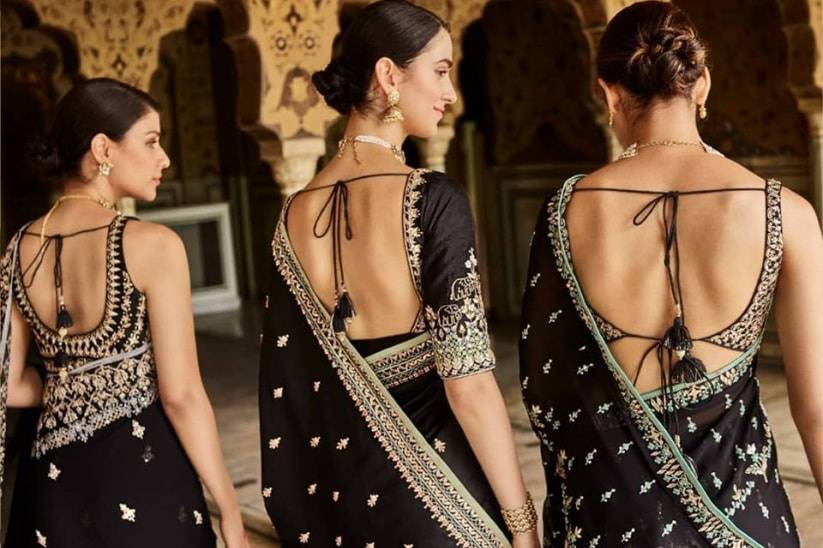 A bride has too much pressure of making each outfit look different from the other. Each time you select a blouse for your lehenga, you want it to be distinct. Keeping all this in mind, the lehenga blouse back design you select must also pass the test of the current fashion trend.
One of the most important and fun elements in your lehenga blouse is its back. It is important as it completes the look of your blouse and has the ability to make your outfit as simple or as daring as you want it to be. With infinite options available, it can get confusing sometimes to be the one who gets "sexy back" after all, on the D-day.
So, here we have curated some unique lehenga blouse back designs for your lehenga to stand out each time.
1. Deep Square Back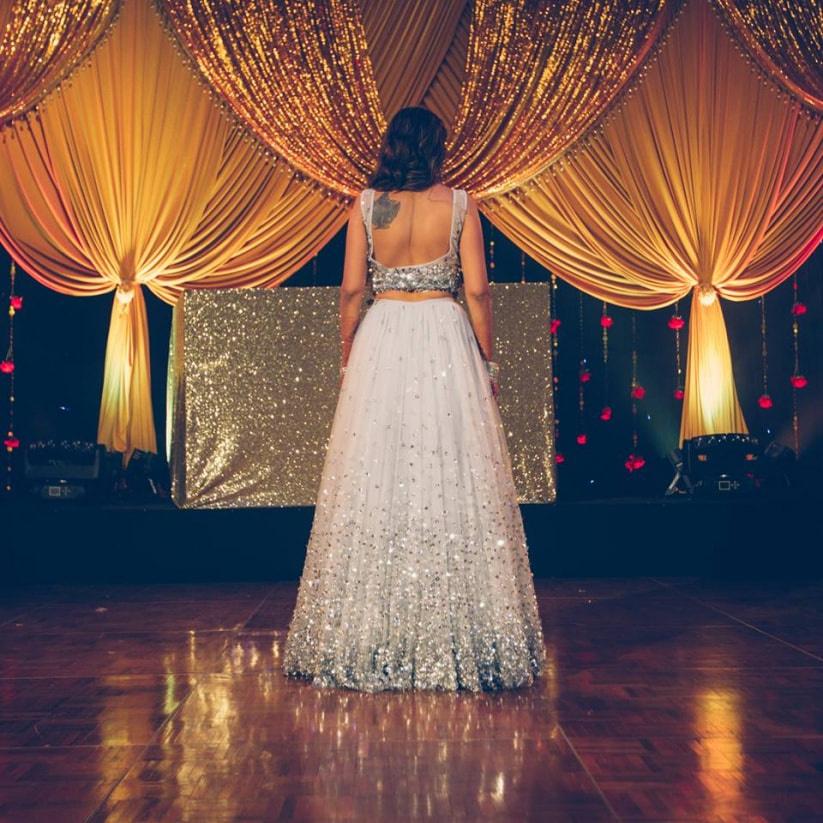 This is a relatively common lehenga blouse back design. The reason it is interesting is you can do anything with it. This look works with almost any type of material or colour. It can be made heavy enough for a bridal blouse lehenga and light enough to be worn at a casual function as well. It is an elegant look and at the same time it keeps up with the entrancing beauty of the lady.
2. Half Net Back with Embellishment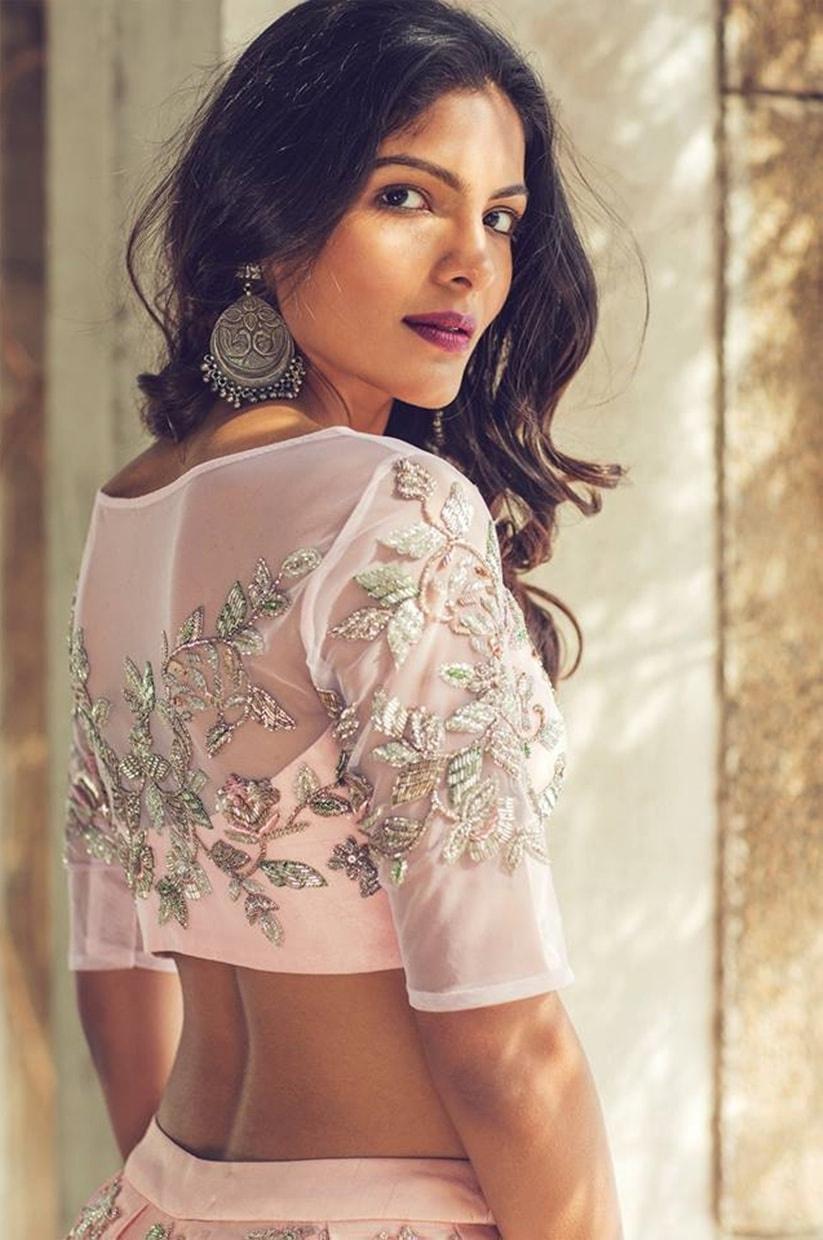 Photo Courtesy: Mani Bhatia
These types of blouses make your outfit look very classy. For a day function, a pastel colour would look amazing, and for a night function, a dark colour like royal blue or burgundy can be worn. Silk can also be used as the other fabric for these blouses. This lehenga blouse back design works well for formal functions in conservative groups as well.
This type of embroidery is seen mostly in the Christian wedding gowns, but the lehenga blouse back design has uniquely moulded it into traditional Indian wear as well.
3. Short V-cut Blouse with Cape Sleeves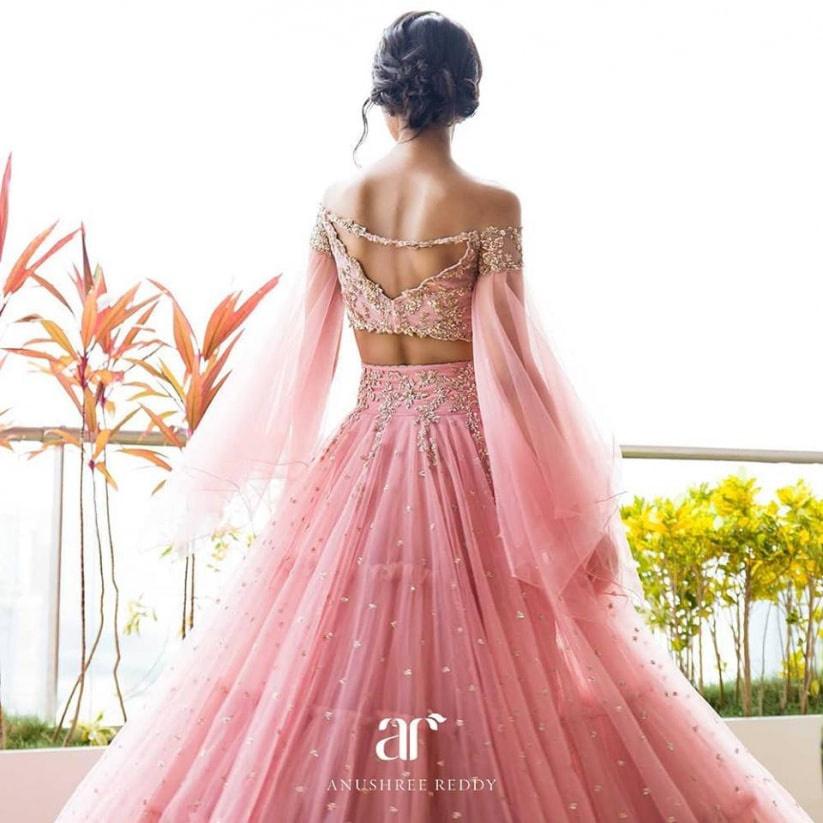 A relatively daring blouse, which can make you feel very young and elegant. It is a good idea to get this type of blouse done with raw silk choosing light colours. This is a good day-wear lehenga blouse that allows you to ditch a dupatta for once. The off-shoulder blouse gives this Indian wear a western and modern twist that is a treat to look at.
4. Halter Neck with Bow Detail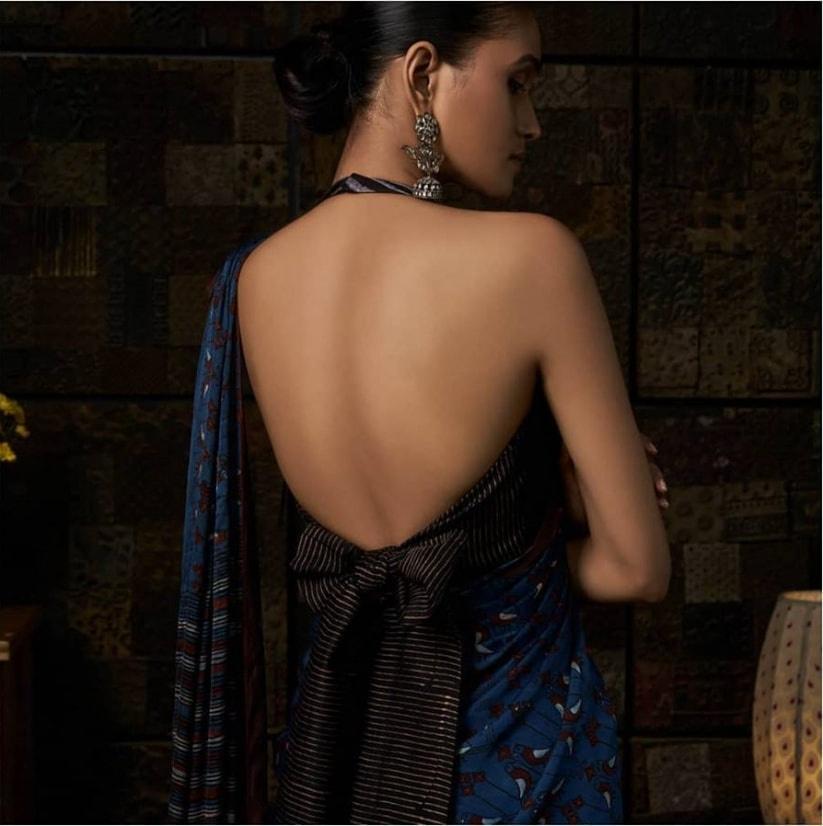 Want to make a bold statement with your outfit? This lehenga blouse back design is the right design. It looks good in dark colours that add to its bold statement. Crepe is a good material option for these blouses that would help you ace the fashion game especially if chosen as one of the Engagement dresses. It is also a graceful and apt look for the cocktail night and brides make sure to add the smokey eye makeup to make it stunning.
5. Deep U-cut with Tassels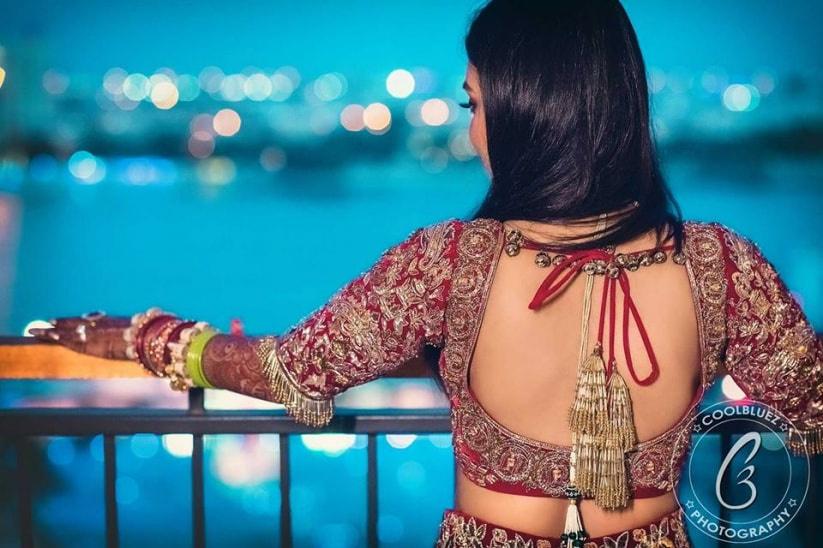 This is known to be the most evergreen lehenga blouse back design, and very rightly so. The real reason being that this can go along with almost any lehenga fabric details and any colour of your choice. It can even be perfect for your bridal blouse design.
6. Open Back with Latkans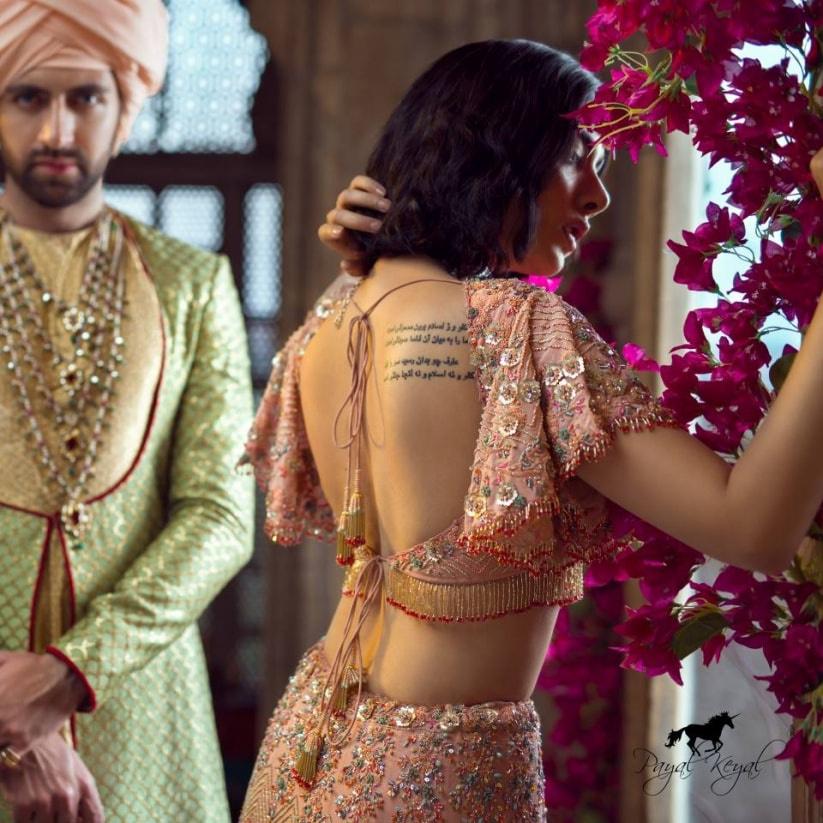 The Latkan in this lehenga blouse back design is what gives it a wow effect. It looks very beautiful in brighter colours and can be made to look heavy with a lot of embellishments. It can be worn for occasions like Mehndi and Sangeet.
7. Deep V-blouse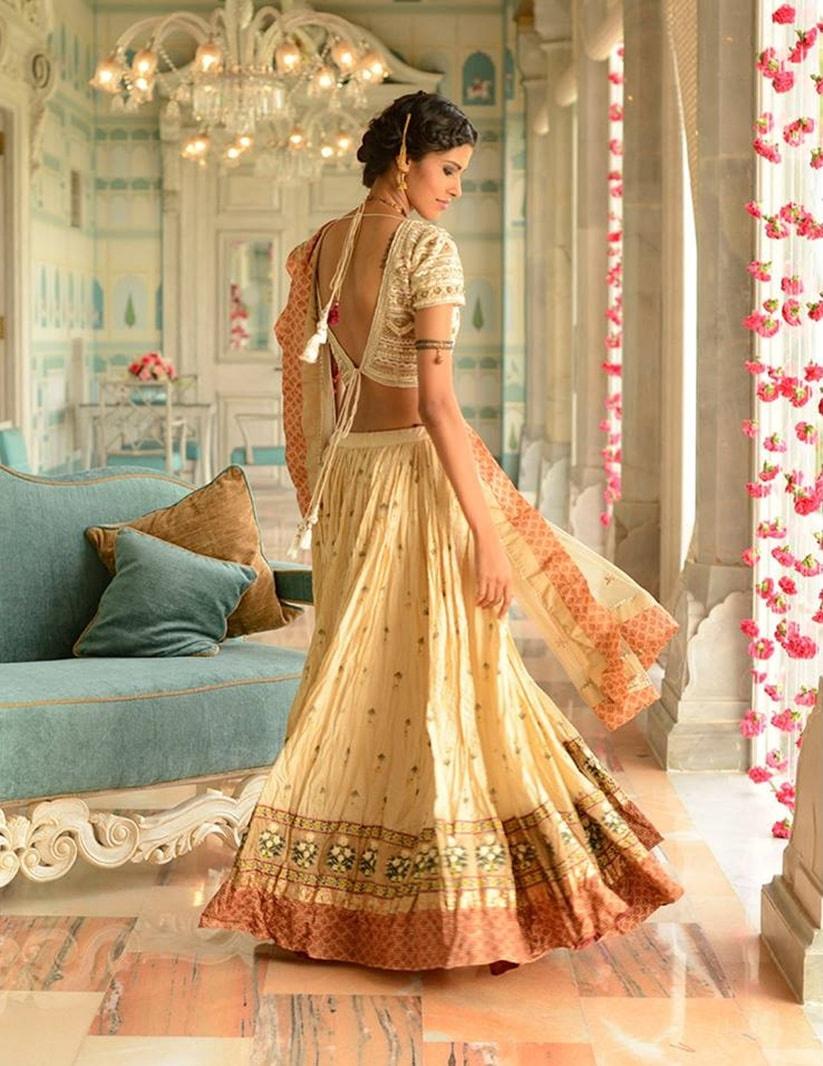 Not a very daring blouse, but not very tame either. This lehenga blouse back design can be your choice if you want to look relatively light and elegant. You can choose any colour for it but a relatively stiff fabric would make you look ethereal.
8. Open Back Blouse with String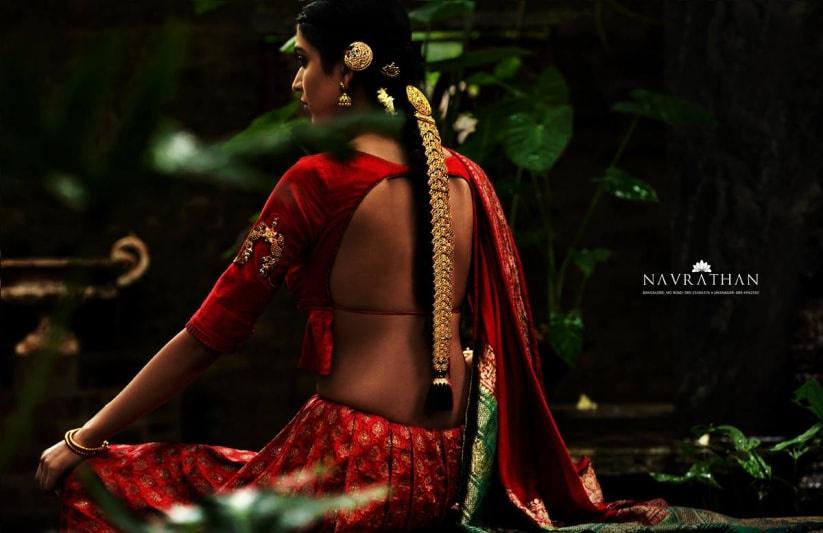 A very popular option if you want to look sexy from the back and keep it subtle in the front. It goes well with silk and is an ideal choice for casual gatherings or even Navratri. Let your long fishtail hair braids fall straight down and people are sure to turn their heads wowed by the look.
9. High Neck Printed Blouse with Zipper Back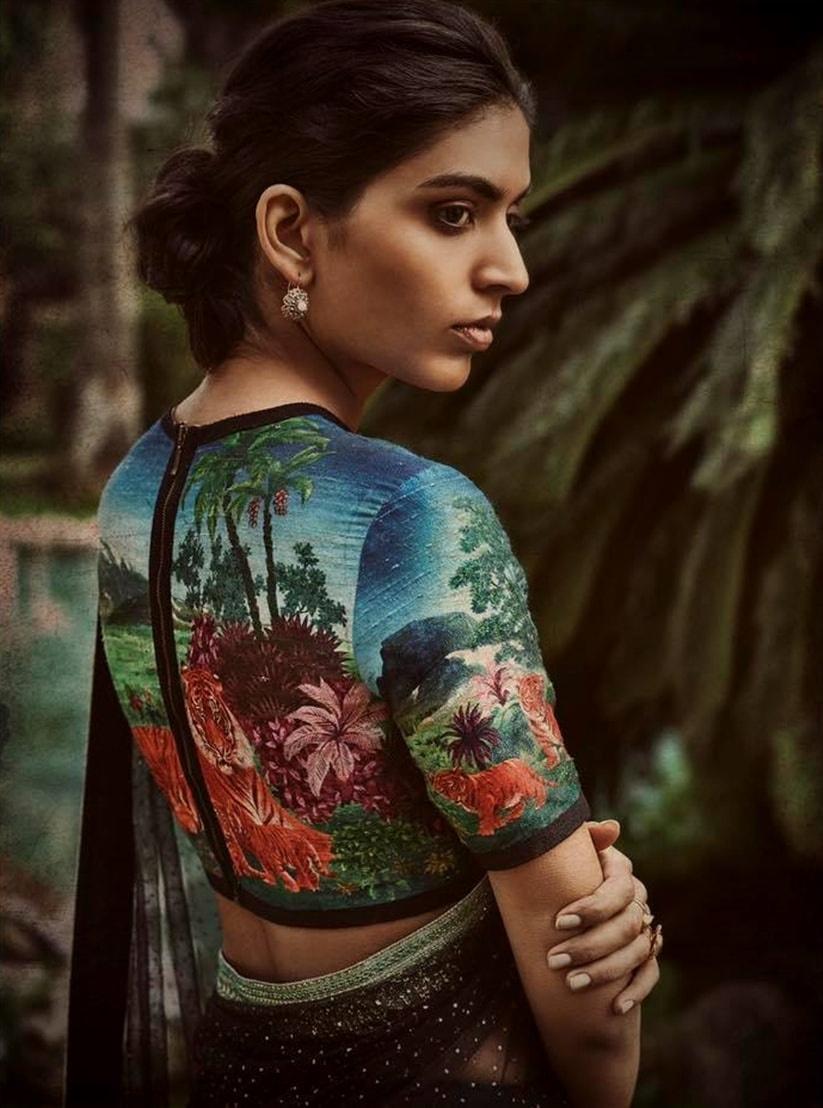 Photo Courtesy: Sabyasachi's Facebook Page
This is an elegant choice for lehengas as it is simple and yet very eye-catching. It goes well with raw silk and the pattern printed can be whatever you want. This can be a good blouse for receptions and formal gatherings. It is subtle and yet has the look of a lehenga blouse back design that is a class apart.
10 Bondage Blouse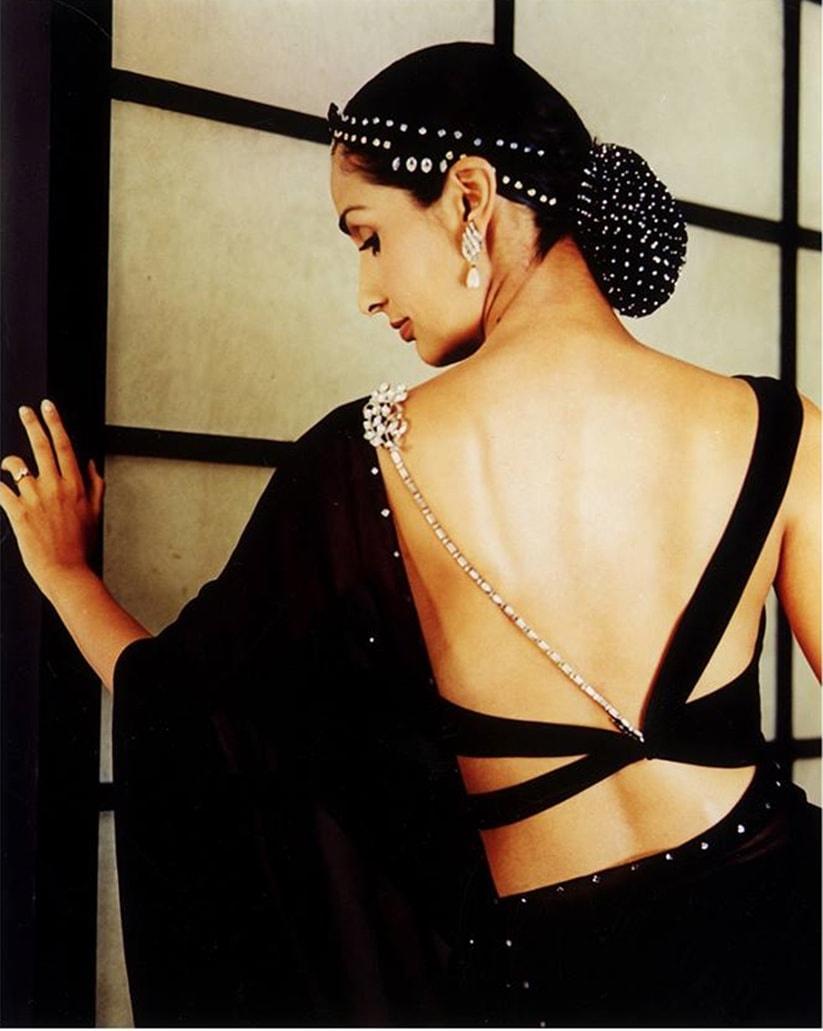 If you are feeling adventurous, then this is the blouse for you. Choose this in a darker colour, to add to the effect as it works well with any stiff fabric. This can be a good option for your cocktail outfit.
11. Inverted V-cut blouse with Bow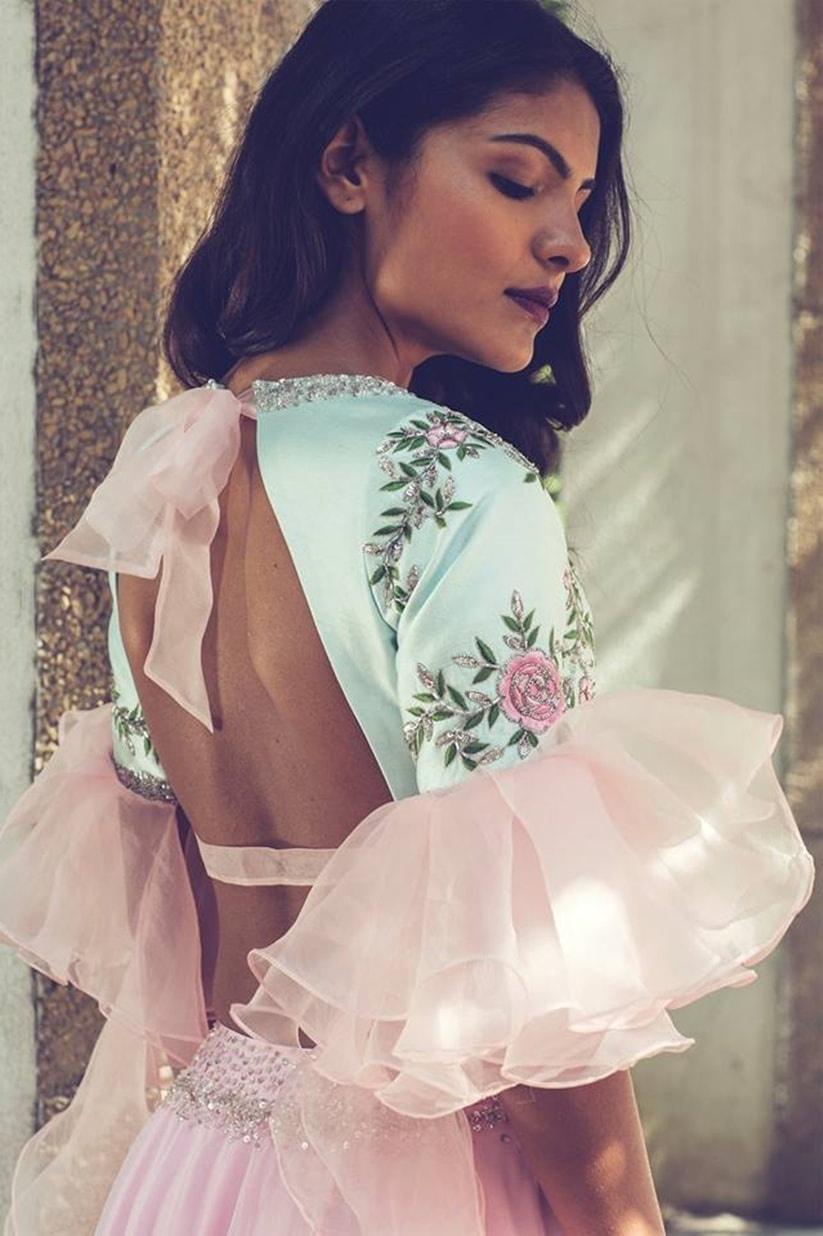 Photo Courtesy: Mani Bhatia
Want your outfit to look young and trendy? Then this is the blouse for you. Add the ruffle sleeves and it gives it the wow factor you need. It looks good in light colours and any fabric. It is a good idea for your day-time functions.
12. Open Back with Tassels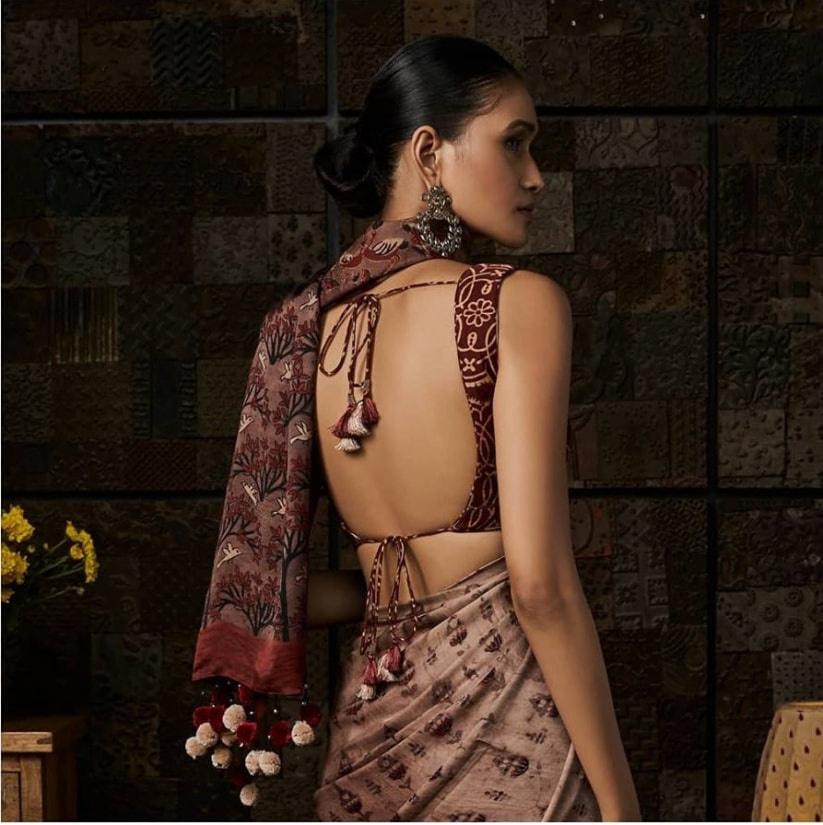 This is also an evergreen option. You can create an added effect if you add big tassels to it. It works with any colour and fabric, but darker colours might look richer. This is the most obvious bridal choice and works well with almost any kind of lehenga.
13. Long Blouse with Deep-U Cut and Brooch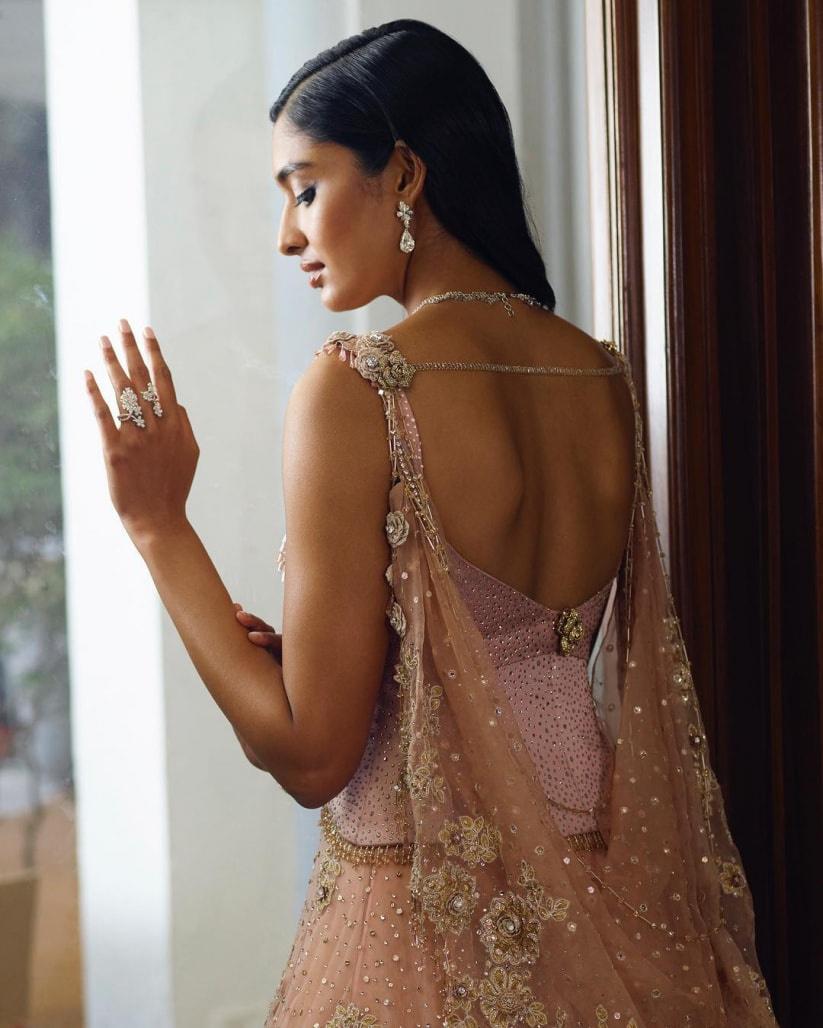 If you want to go for a unique lehenga blouse back design for any of your functions, then this is it. The brooch here gives an added charm to the blouse back. It looks good in lighter pastel colours and gives a great fall in satin. This could be your ideal choice for Mehndi.
14. Cutwork with Tassels
These blouses look very intricate and elegant. They look good in deeper colours and can have a lot of embellishment. It is a good wedding ceremony or Sangeet choice with all eyes on you and your delicate blouse design catching the attention.
15. V-cut back with Heavy Embroidery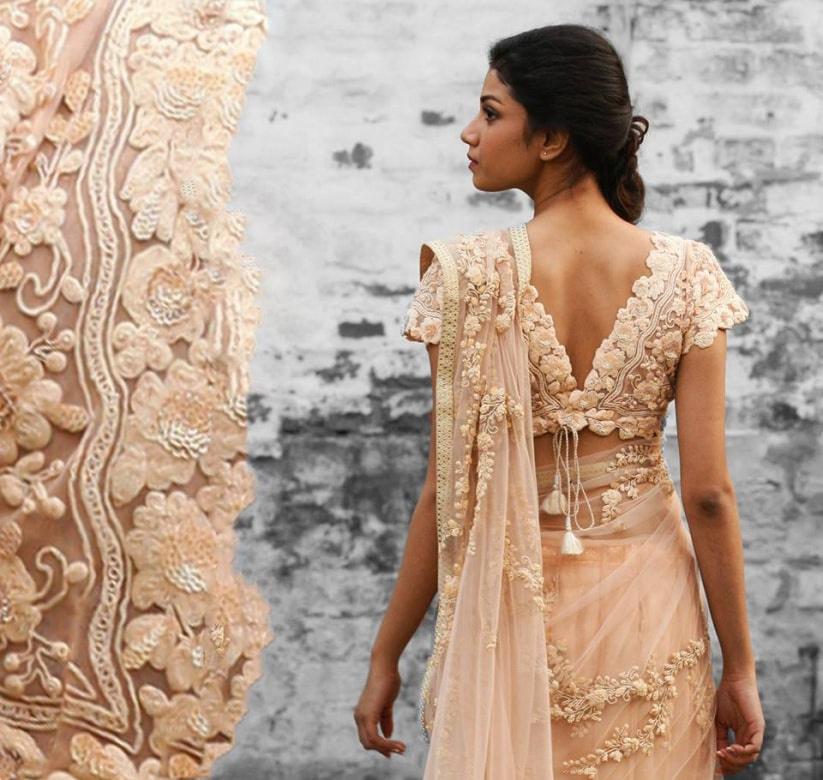 A very stylish choice that is sure to make heads turn. Lighter colours work for this blouse, and fabrics like organza and net should be used. This is a good bridal blouse to be worn at your reception.
16. Button Down High Neck Blouse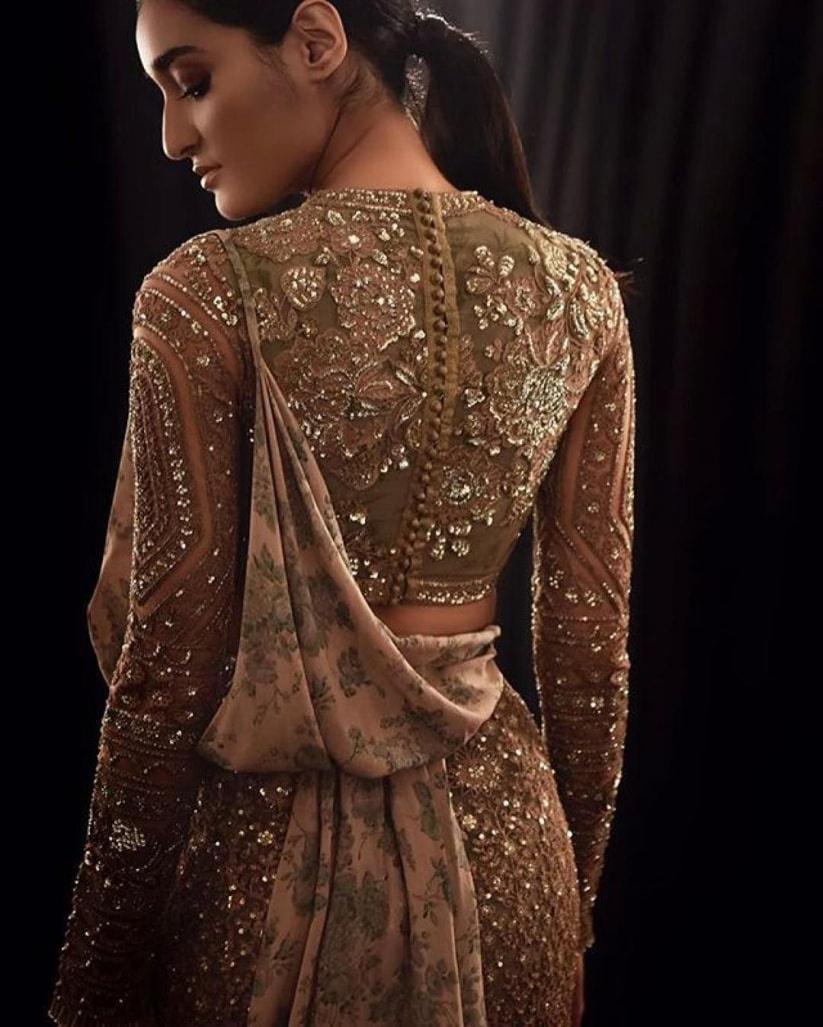 Photo Courtesy: Sabyasachi's Facebook Page
This is a classy option for all the current generation brides. It looks good in raw silk and if done in net, looks even more appealing. The colours to opt for this type of blouse are dark deep colours. You can wear it for your reception, wedding, and even Sangeet.
17. Net, Lace and a Veil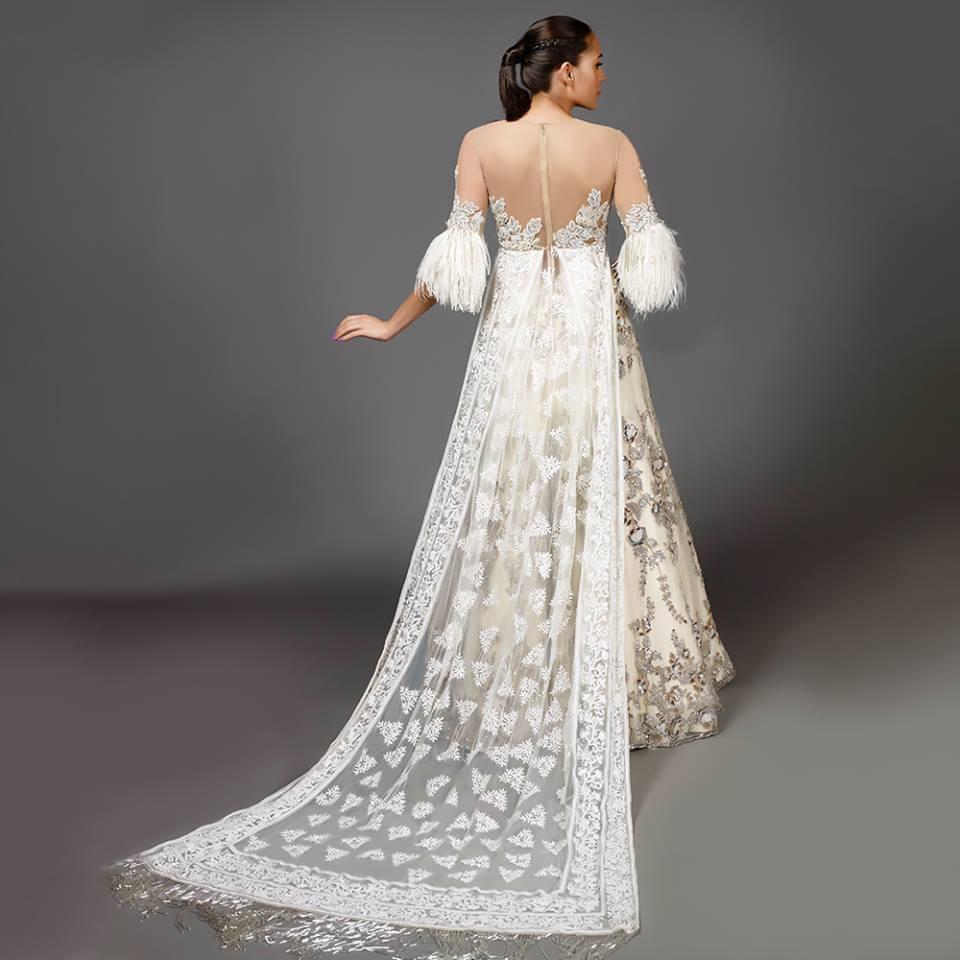 Photo Courtesy: Manish Malhotra's Facebook Page
When you wish to have your fairytale wedding as a reality, this is a beautiful option for a lehenga blouse back designs by Manish Malhotra. The dreamy lace and net are combined into a veil for your lehenga that resonates with a regal and royal aura. Choose this in vibrant colours or go for the classic and elegant while for any of your wedding festivities, while you can be assured that all the eyes would surely be on you.
18. Net Back with Crystal Embellishments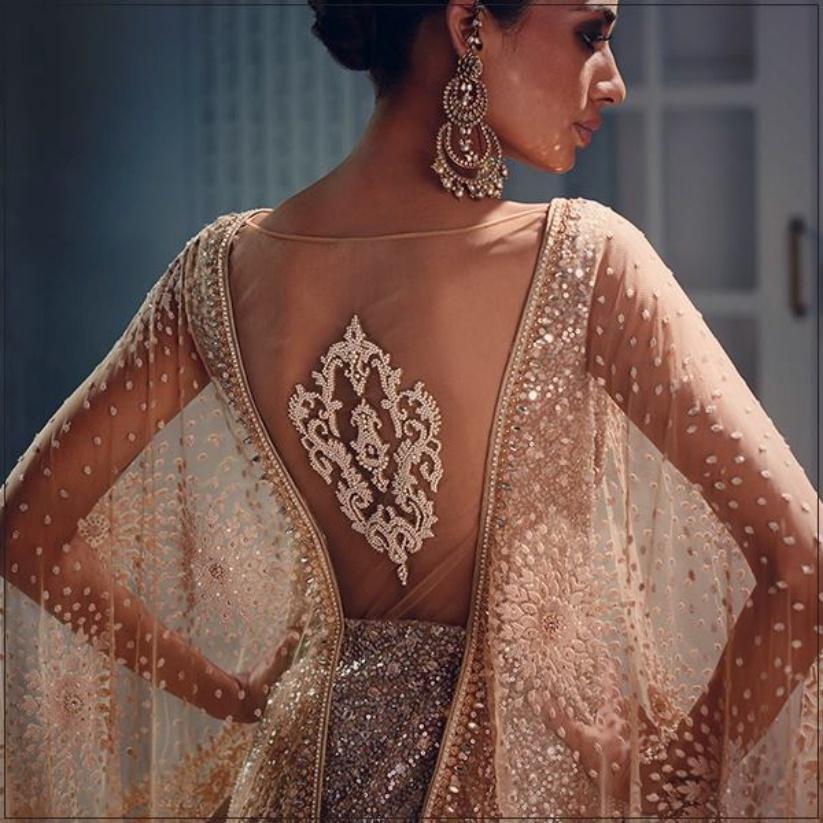 For millennial brides, this is an option to go to, where you wish to adorn a traditional attire like lehenga with a modern twist in its aesthetics. The beautiful embroidery on the back of the blouse would surely steal the show and make you the star of the night. The heavy ensemble is perfect for your reception ceremony or your cocktail party where you can flaunt it with perfect dewy makeup and pinning up your tresses as shown.
19. Ruffles and More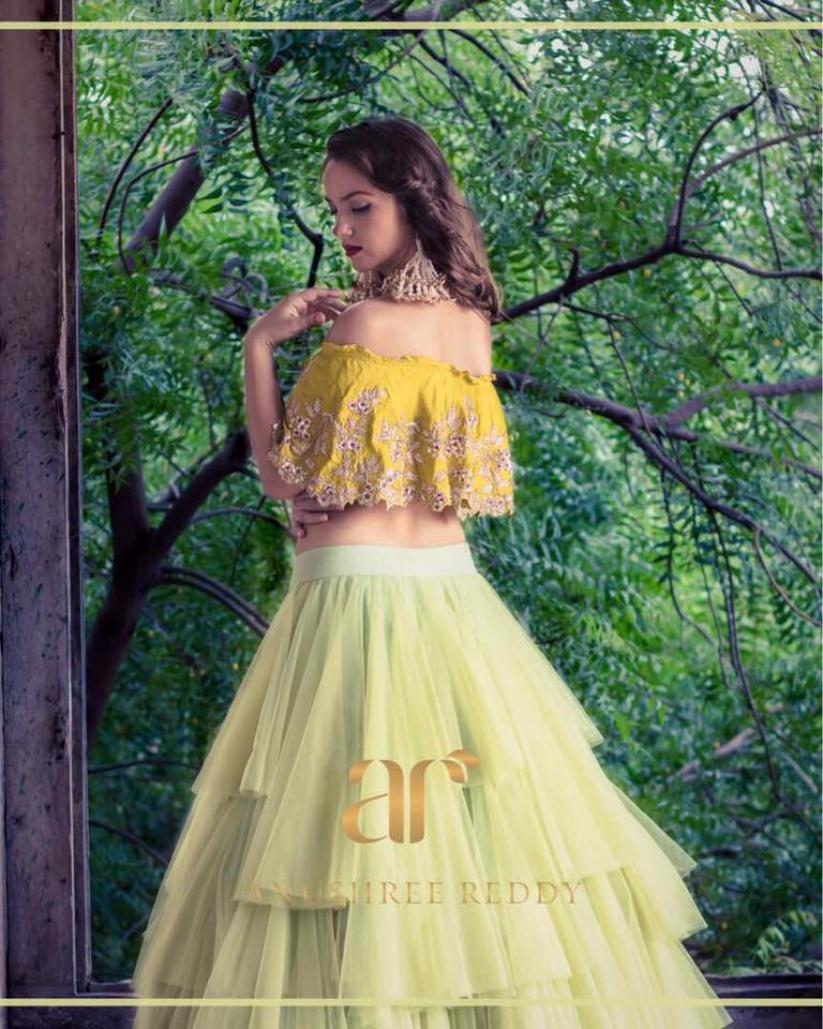 If you are looking for something classy yet chic, then this is the lehenga blouse back design that you should be choosing. Its trendy and stylish and can be made in different styles and colours. It would be perfect for your sangeet or Mehendi function where you would be a bride keeping with the latest and beautiful fashion traditions. This blouse design will surely turn some eyes.
20. Net and Embroidered Back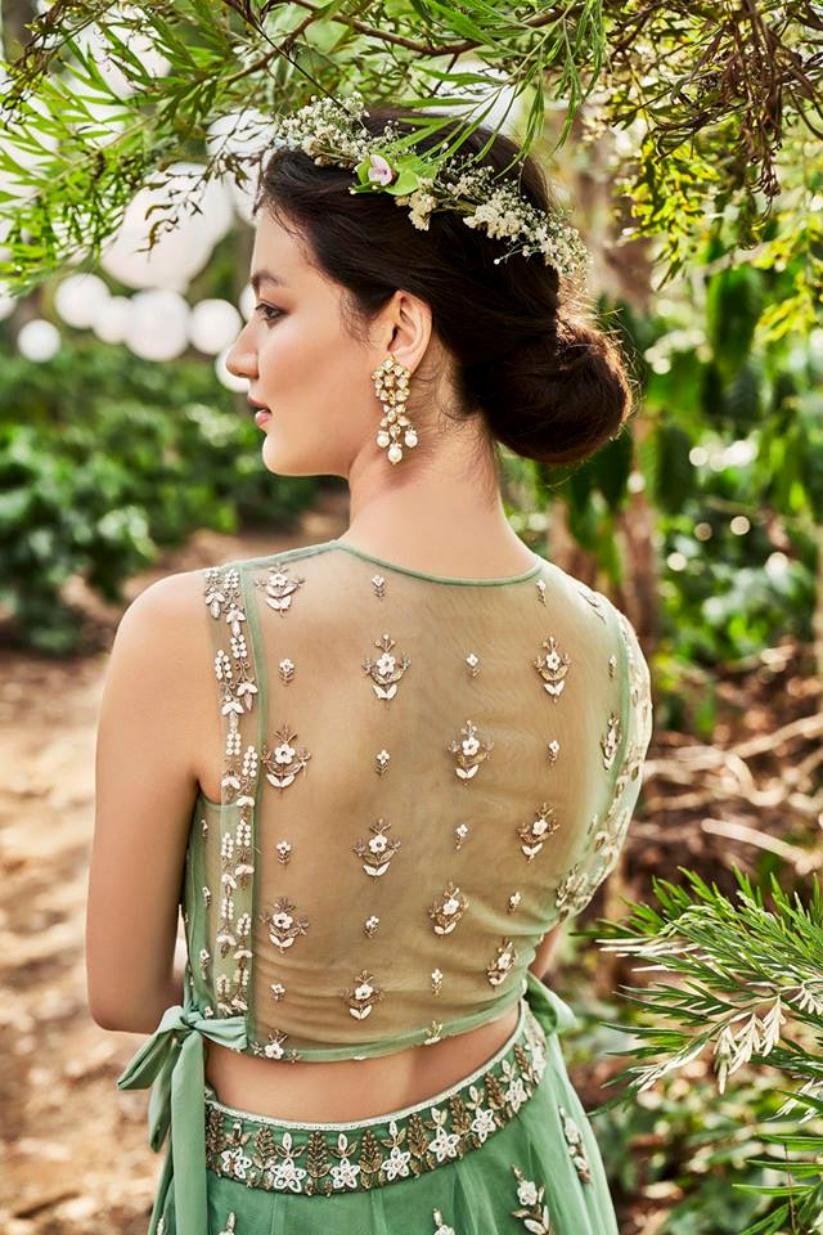 Sheer lehenga blouse back designs are the most trendy this wedding season which everyone, from bride to the bridesmaid are choosing. If you wish to wear a net blouse for any of your wedding functions and studded with embellishments to completely transform your look, then this can be a great inspiration. This beautiful design with dainty sequence work is a stunning choice for any of your wedding festivities.
These lehenga blouse back designs can give you the idea of the never-ending options that you have for your wedding. Look for what suits your body type and your skin colour, and then go crazy over these designs.
You can go through our bridal lehenga vendors and choose the ones that you like. Tell us which of these lehenga blouse back designs you would love to wear, in the comments below!