The Latest Design of Wedding Invitations That Made Us All Go Wow!
With the changing times our wedding invitations have drastically changed too. Let's show you some latest design of wedding invitations that we were amazed to find on the internet.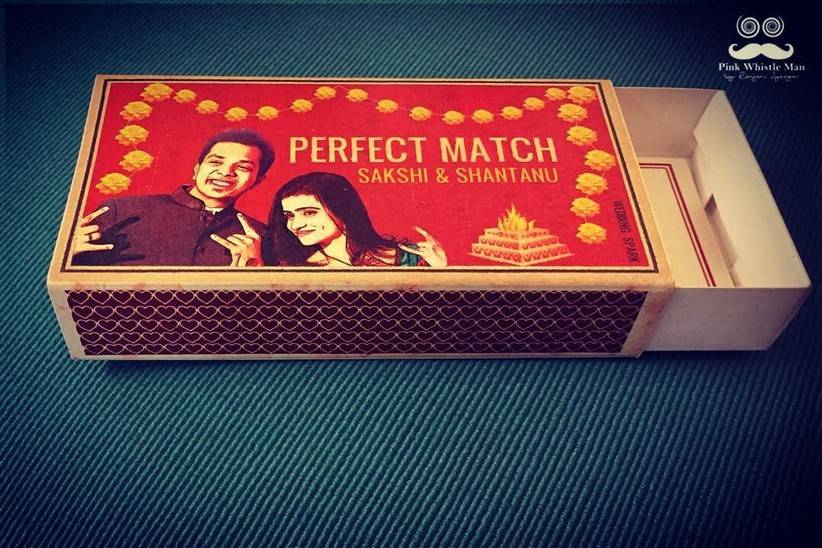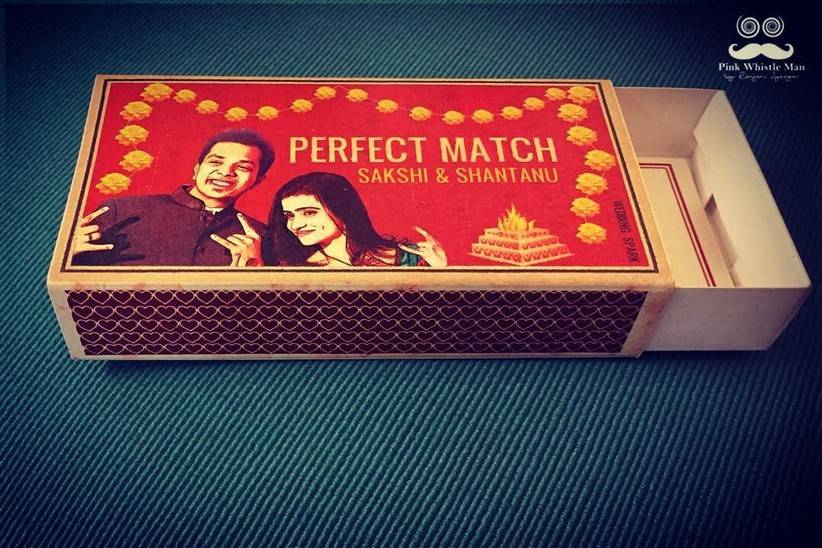 Wedding invitations have always been a cause of great distress amongst brides, grooms and their families. There are way too many aspects that need to be taken care of while zeroing down on the final design of your wedding invite.
Brides and grooms in the current times are always on the lookout for the latest design of wedding invitations that no one in their close friends and family circle have ever chosen or thought of. The need for wedding invitations to be quirky and have the latest design is so high that the classic format, design, font, and style have been forgotten long ago.
We know that every couple starts to search the internet the minute they get engaged for the latest design for their wedding invitation. Well, we've made your job much easier as we have done your research for you and come with a list of our favourite wedding invitations that we found on the internet. We hope you find them as quirky as we did!
Instagram is the Newest Wedding Invitation Trend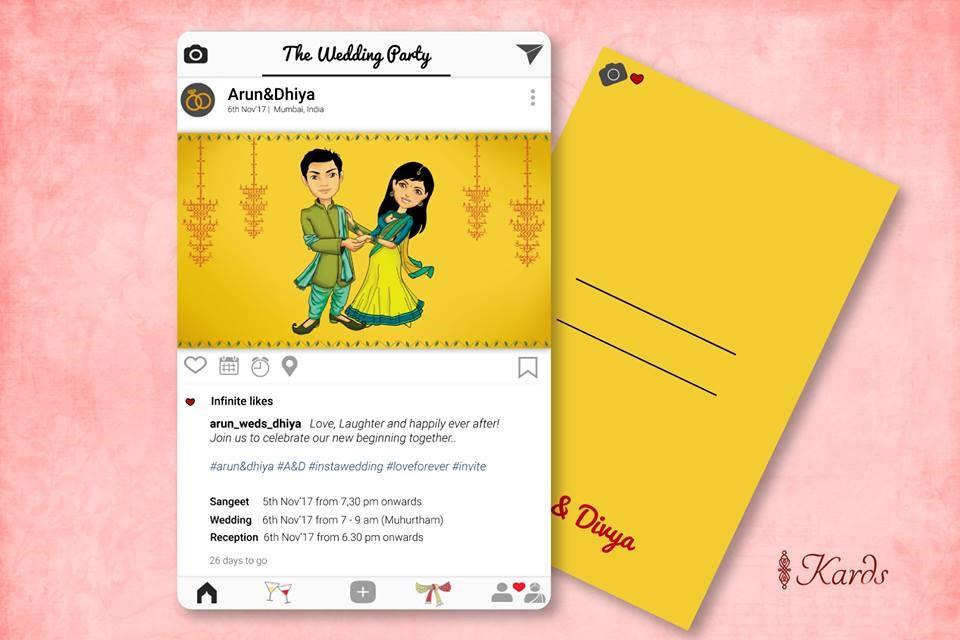 Image Courtesy: Kards
With the world being run by social media these days, it wouldn't be wrong to say that marriages are being made on Instagram instead of heaven. In a time totally dictated by social media, this design of the wedding invitation that is inspired by Instagram is one of our favourites.
Apart from being one of the coolest ideas, brides and grooms that actually met through Instagram can use this as a subtle hint to all the relatives and friends about their love story. Looking at this, we rest assured that the relevance of social media in Indian weddings is here to stay.
Tell Your Story with Comic Book Caricatures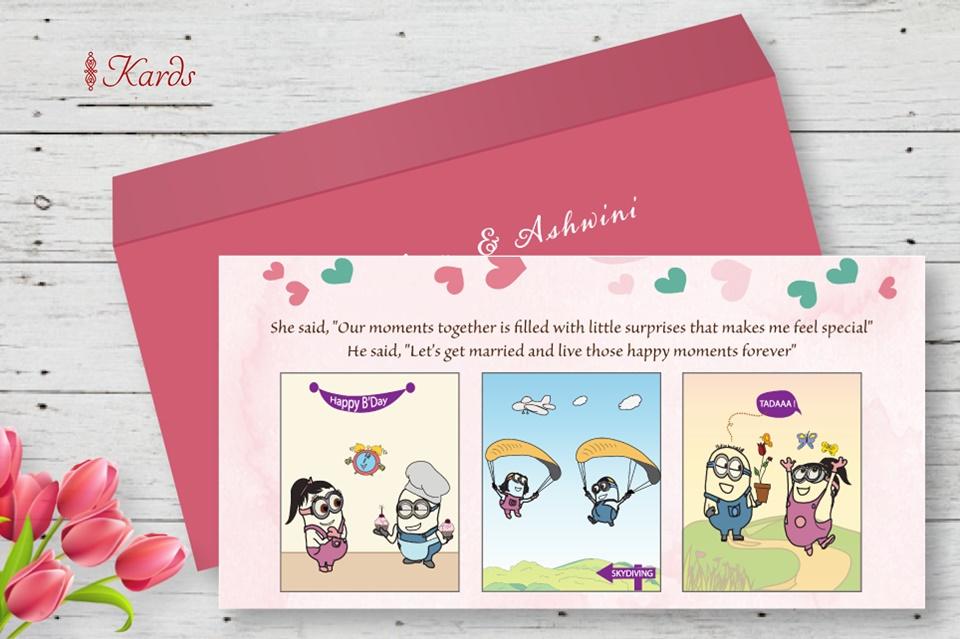 Image Courtesy: Kards
While we have all grown up reading and loving comic books, we all know of some people that have had a lasting impact of the comic books and feel the same love for it still. Well, if you or your fiancée have had a similar relationship with your comic books, then it is time to announce your big day in your favourite style.
This latest design of wedding invitation that we found on the internet uses the storytelling element with comic book caricatures and makes for an extremely quirky choice for a bride and groom in today's competitive times.
Wedding Invitation for the On-Call Doctors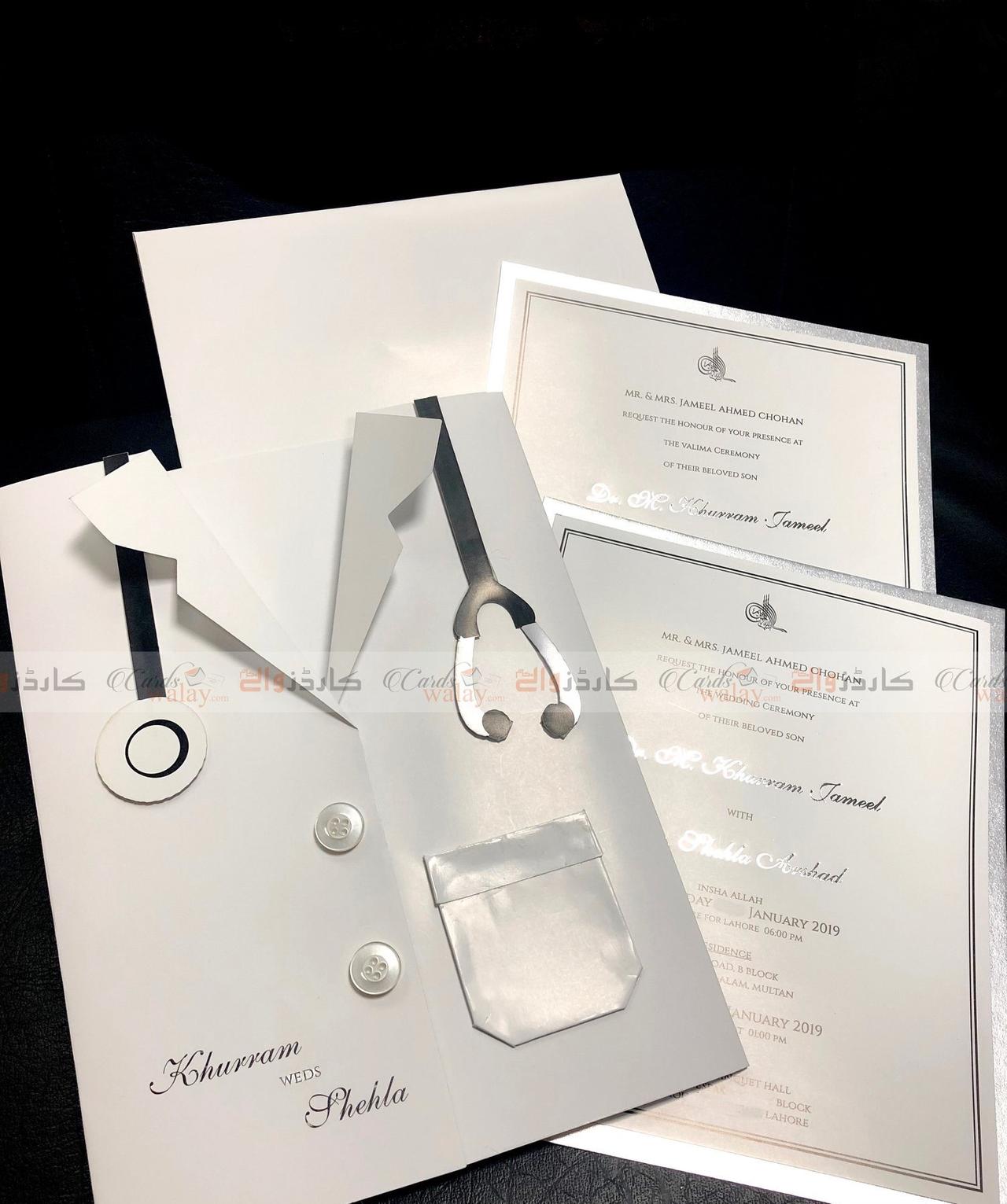 Image Courtesy: Cards Waley
Heard of a doctor marrying a doctor, or an actor marrying an actor? Well, we're sure you have. But have you ever thought of how their wedding invitations would look? Let us tell you that whatever you've thought of wouldn't be enough after you see this awe-inspiring funny wedding invitation that uses doctor's coat and stethoscope to tell the world that two doctors are getting married.
If you are a doctor couple about to get married then this is the first thing you need to see the minute you decide on the wedding date.
Every Guest's Most Awaited Destination Wedding Invitation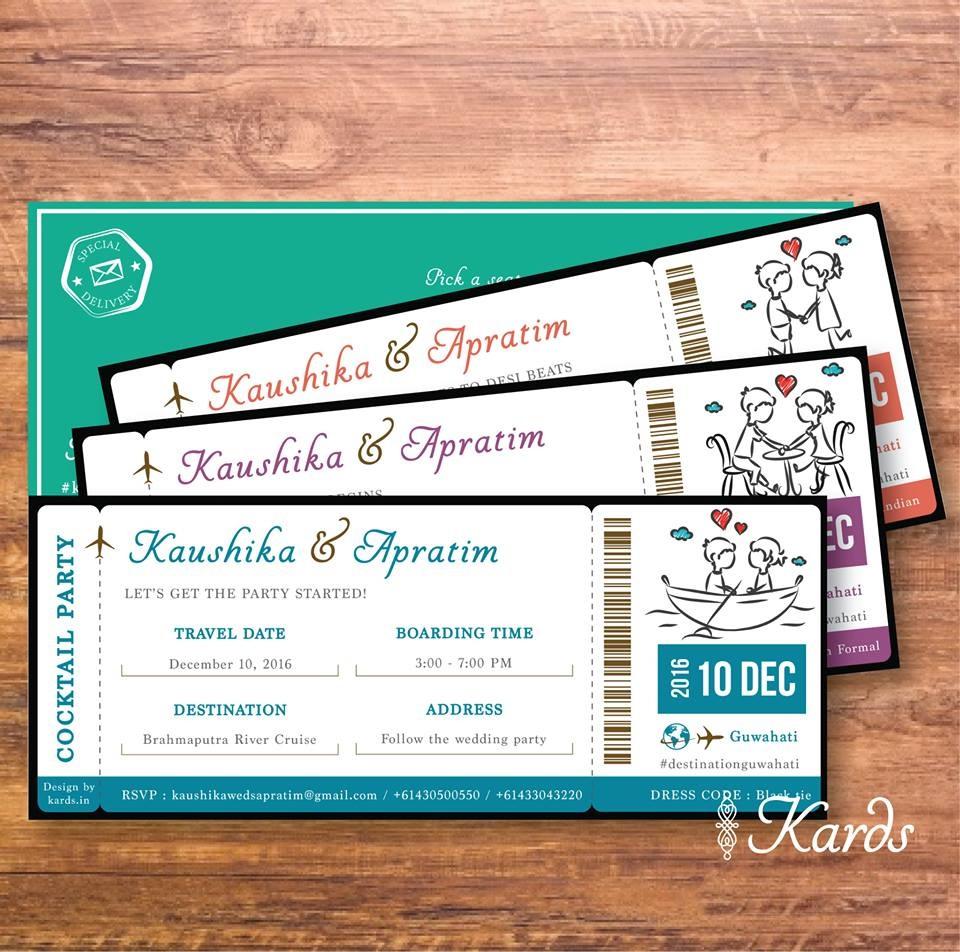 Image Courtesy: Kards
One of the most exciting wedding invitations to be received by guests is that of a destination wedding. Travel being most people's favourite thing to do, going to a new place for a close one's wedding makes it all the more special and exciting. But wait as a couple you can make this even more exciting for them by getting your wedding invitations designed in this latest design that we found on the internet. This boarding pass inspired wedding invitation will not just give all your relatives the feel of travelling but also make them restless for your wedding trip to begin.
Let's Take A Leap To International Destinations Now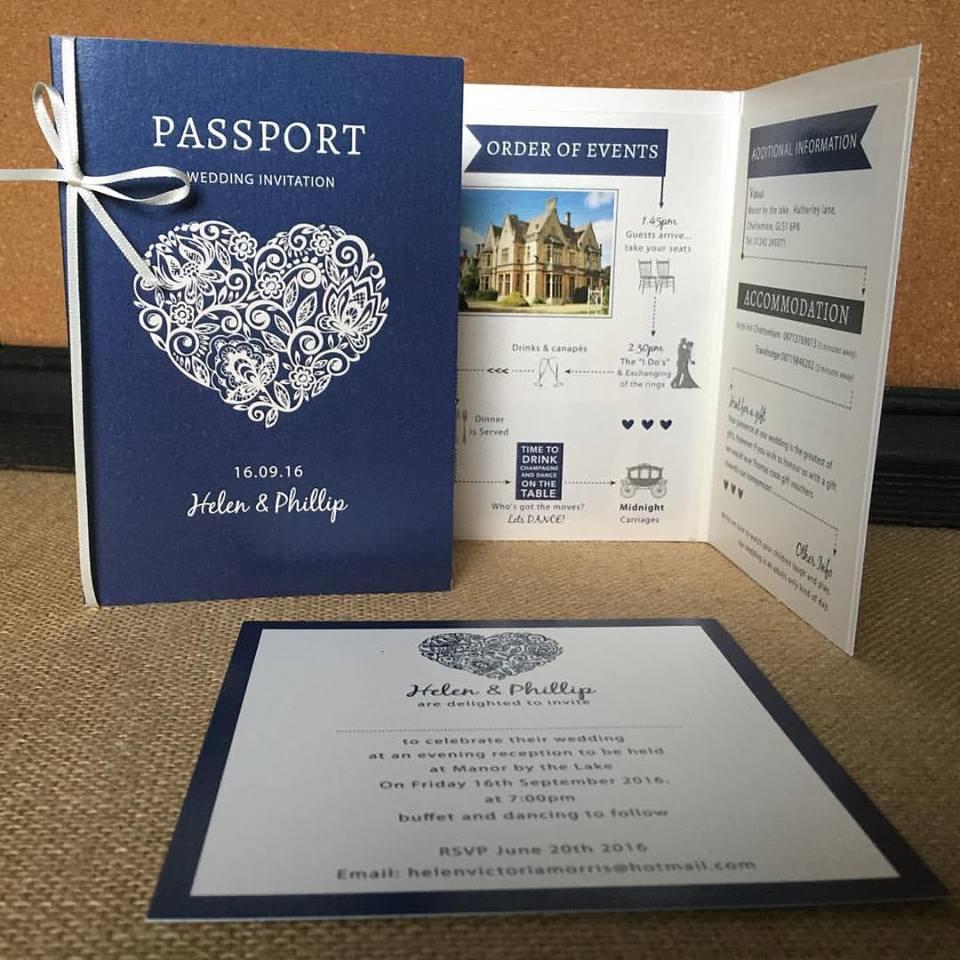 Image Courtesy: Louise RowlesDesigns
While the boarding pass inspired wedding invitation is truly special, what should a couple getting married out of the country do to make it even more relevant? We bet you cannot guess what we found on the internet. Well, yes it's the latest design wedding invitation inspired by passports that is sure to get your guests' hearts beating faster. After all, the fun of a destination wedding is to see all your guests counting days as badly as you are for the fun to unwind.
Wedding is Coming - Game of Thrones' Style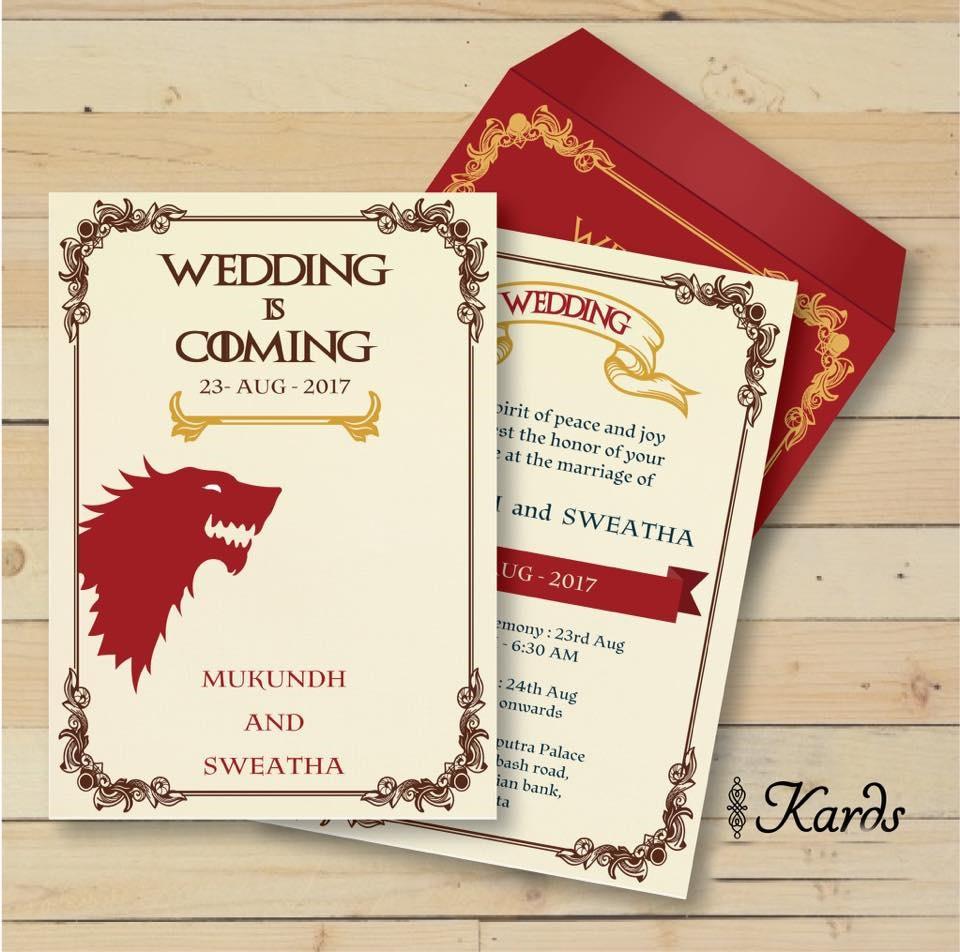 Image Courtesy: Kards
With a gazillion Game of Thrones fan around the world, this latest wedding invitation design is for our special couples that have binge-watched every season every episode and cannot believe that it's over. Well, this is a way you can pay homage to the iconic series and incorporate as the latest design for your customised wedding invite.
We are sure your guests are going to find it extremely amusing, and for the ones that are a Game of Thrones fan too, yours might be the first-ever wedding invitation that they save till eternity.
The Quirky Balloon Wedding Invite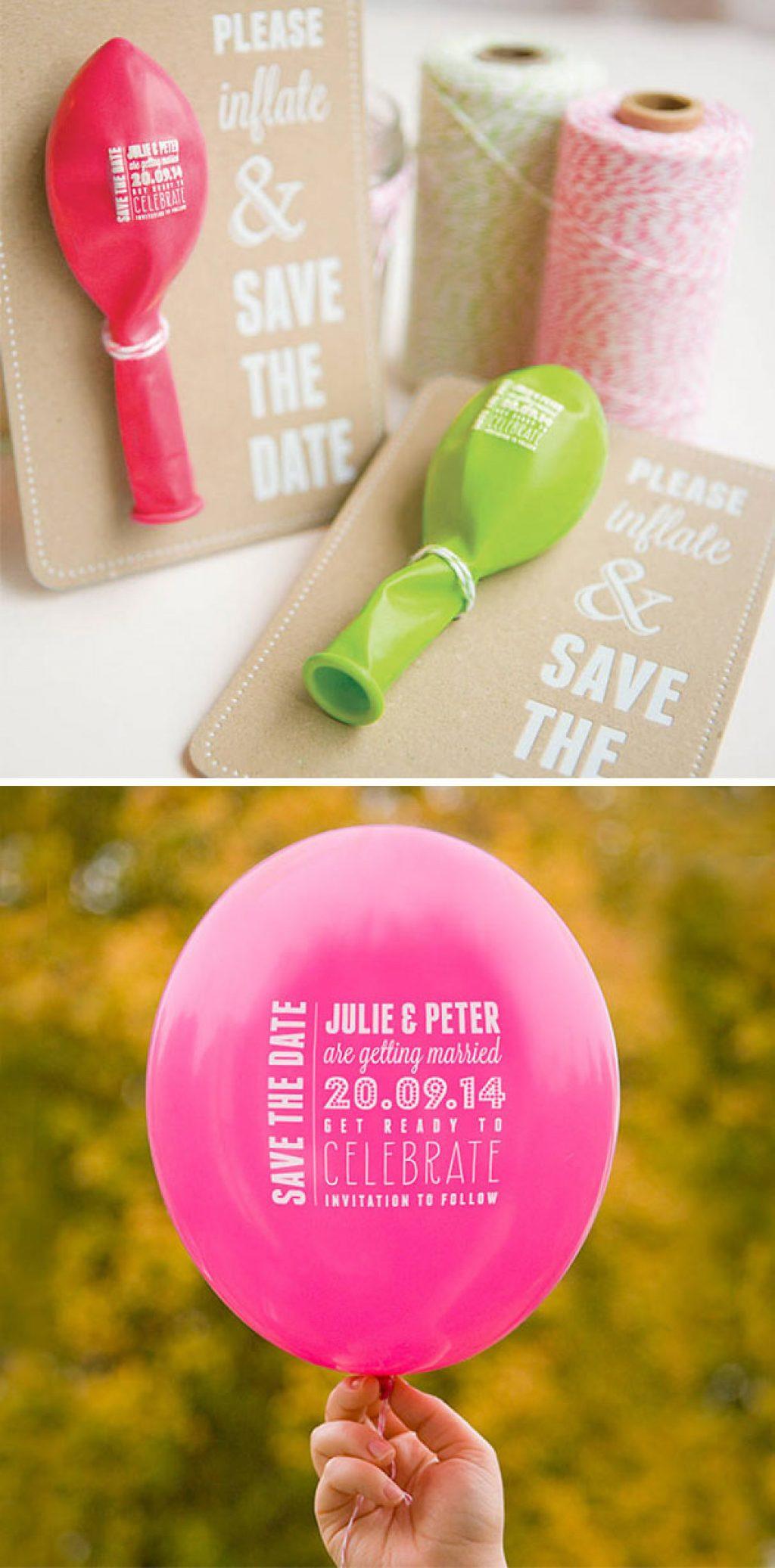 Image Courtesy: My Wedding Day
Balloons are an integral part of many celebrations across the world, but what people don't expect is a balloon as a wedding invitation. When we talk about quirky designs for a wedding invite, this one just blows our mind off. An invitation printed on a balloon that needs to be fully blown for the guests to read the content of it is a one of a kind idea for the couple that really wants to make a choice unlike what anyone has ever attempted. This cool wedding invite design is sure to bring lots of praise their way.
For the Couple That Is Always Counting Calories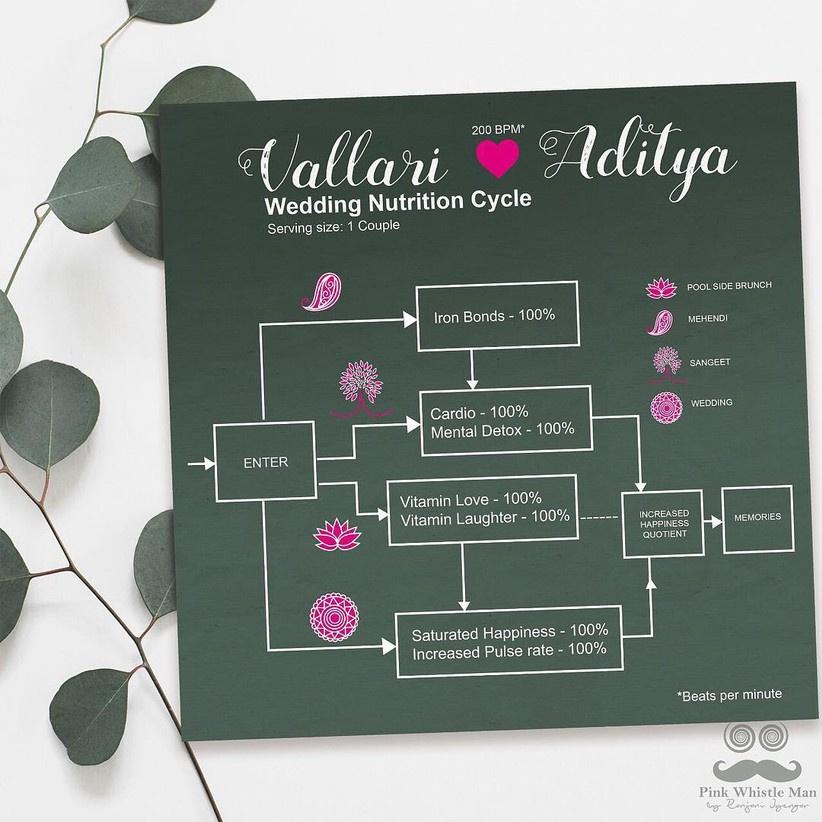 While health and nutrition are increasingly becoming an interest for most people that are into fitness, we all know that one couple that is super involved into counting the number of calories they are eating, making sure that their diet is full of nutrition and also don't leave a chance to advise you on the same. Well, we have found the perfect design for their wedding invitation. It is one that is inspired by a nutrition cycle that also tells the guest which nutrients to have when. We totally love this latest design from the internet, what do you think?
The Save the Date Dice For All the Players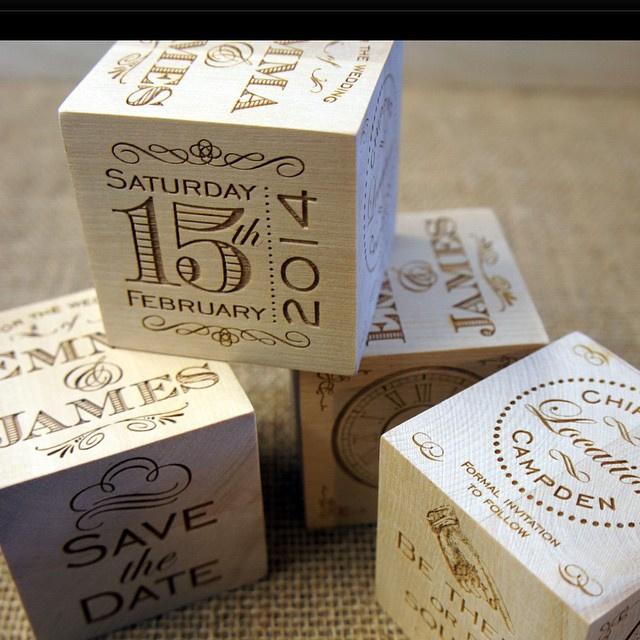 Image Courtesy: Camdeco
Enough of wedding invitation cards, let's look at some unusual save the date ideas that couple who want to ditch the traditional invitation cards can choose. This wooden dice with Save the date details is what caught our attention immediately. It is quirky and yet a very classic idea to remind your close ones of your big day. This dice cum paperweight on the tables will not let your big day slip out of the minds of your friends and family. Unlike the wedding invitations, these might not go in waste as well.
Let's Analyse and Make a Report on Your Big Day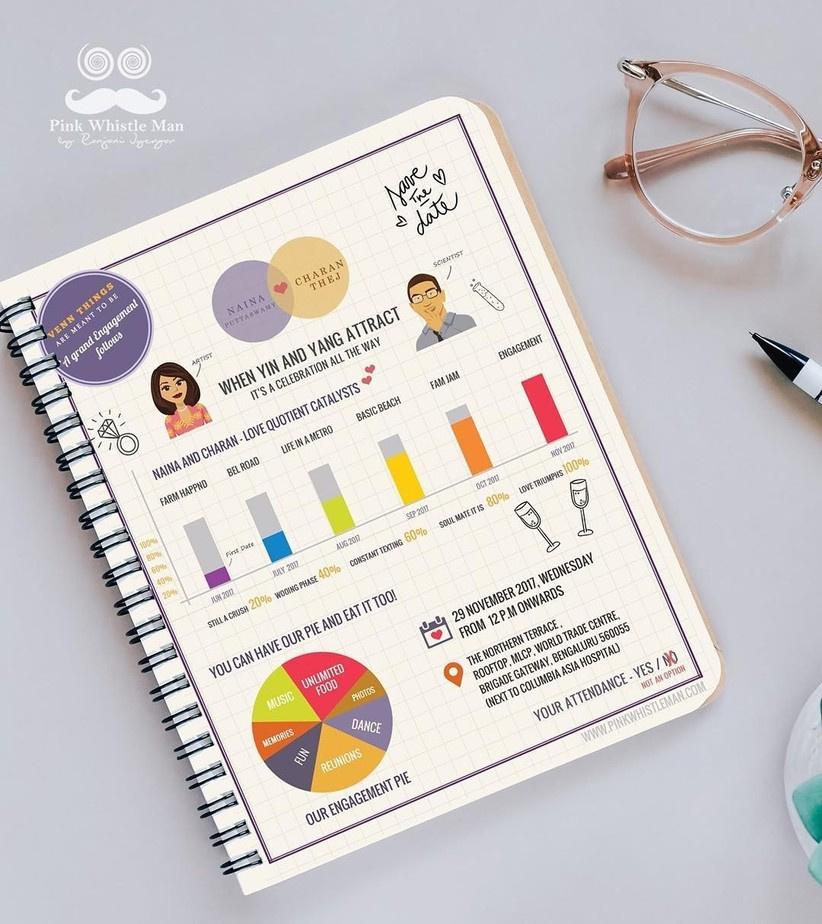 If you and your wife are corporate executives that can't talk beyond numbers, and can't explain without graphs, then this latest design of the wedding invitation is just the right thing for you. It is time to tell your guests what every decision if life looks like to you.
This wedding invitation inspired by an analysis report with graphs and charts is sure to take your guests by surprise. If going in for a customised latest design is your thing, then this one is a super hit idea for all corporate executives.
For the Love of Poker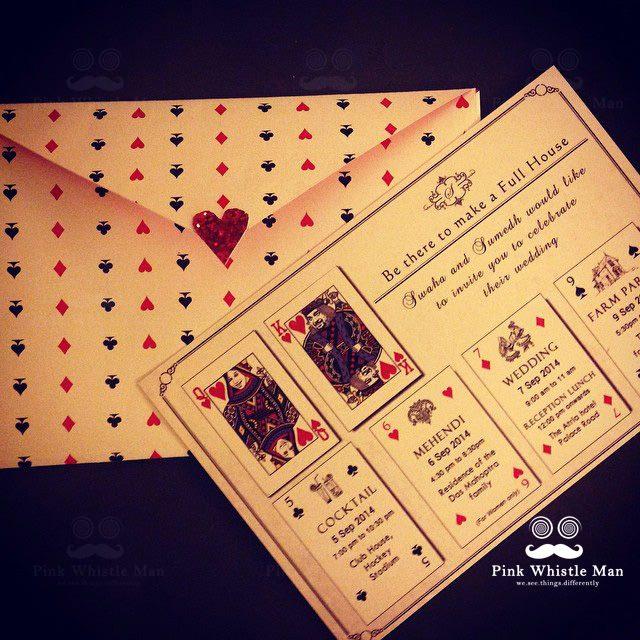 If you and your gang are poker lovers and know no other way to unwind than an engaging game of poker, we have something for you. This poker inspired wedding invitation is the coolest thing we found on the internet. This one is especially for your poker gang and a personalised way to tell them that it's their presence that going to make it a full house on your big day. This gesture is going to be a very emotional one for your close ones, and they are going to surely love it.
Invitation to the Hearing of Your Criminal Case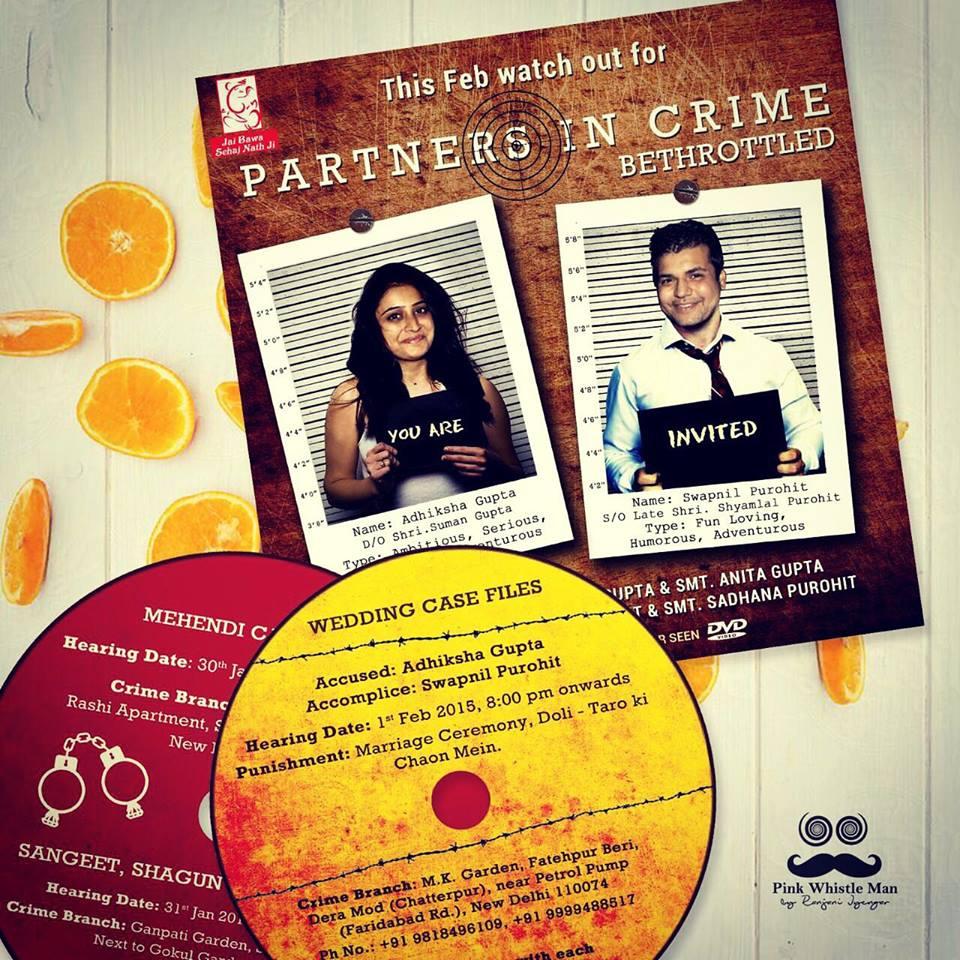 Is falling in love a crime? If yes, then all brides and grooms are guilty. This latest design of wedding invitation is one you need to look out for. It is inspired by the FIR of a criminal case. For the couples planning to choose this as a surprise, we'd say include your parents in it the first thing.
There is a great chance that this comes as a shock more than a surprise to them and we wouldn't want that to happen. Well, this cool idea is for the light-hearted and the quirky and we are sure it is one that is going to get you a lot of praise.
Tell Your Story Through Your Wedding Invite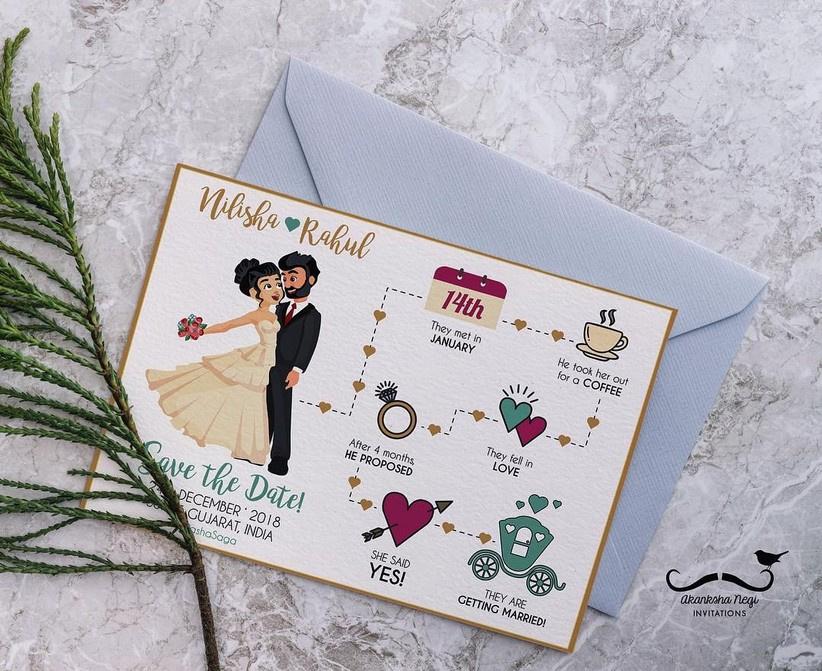 When you invite your close friends and family for your big day, you are making them a part of your journey and inviting them to witness and be a part of the celebration of your love.
Isn't it a great idea to do it with all the details? Well, if you agree then this cute wedding invite with all the important milestones of love before you and your partner tie the knot is what you are looking for.
Okay, Whatsapp me the deets.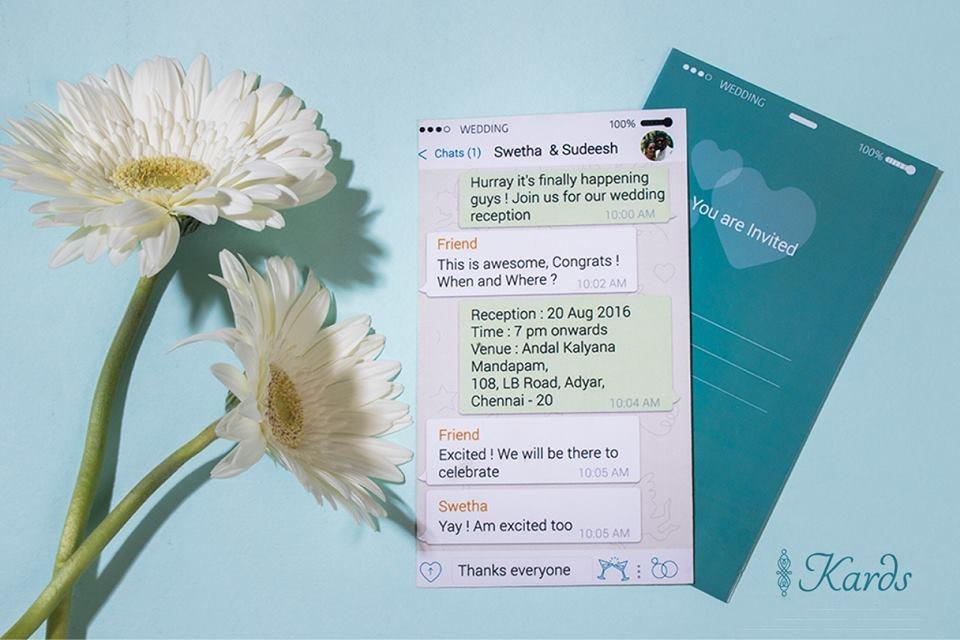 If Instagram can be the theme of a wedding invite, then technically WhatsApp should also not be far behind. Well, it's no race but we are just happy to have found both these quirky and eccentric designs for wedding invites.
If you and your partner are WhatsApp addicts, then you know what your first choice of latest design wedding invitation should be. Let this not come as a surprise to your guests because a WhatsApp invitation is what is the most expected out of you.
Well, the key to choosing the perfect theme and design for your own wedding invite is to gage which one you and your friends and family will relate to the most. While your wedding invite must have an essence of you and your partner's story or life, it should also be one that your guests find relatable because at the end it is them that you are doing it for. So, for all the couples out there that are still stuck with this decision, we hope this article helps you decide how trendy or quirky you want your wedding invites to be.
Choose the latest design of wedding invitations that you never thought could have existed? Comment below and tell us which one are you closest to zeroing down for your big day.