Lakme makeup has been a part of the Indian makeup scene for a while and this brand is known for continuously putting out great, affordable products that perform well. While makeup can be worn for practically anything, Lakme is especially favoured for bridal makeup. This is because it is designed for Indian skin (and not many other drug store options are Indian skin-friendly) and it lasts long, even without the use of a fix spray. Here, we're going to tell you all about why brides love Lakme makeup and Lakme makeup products that stood out in particular!
1. Foundation that aces the Indian-weather test
How many times have you stepped out of the house with flawless makeup, only to have it slowly melt off your face as the day progresses? To be fair, this is entirely the brand's fault – with Indian summers touching 40 degrees with alarming ease each year, your makeup is bound to bear the brunt of the heat. When you think about the constant glare of lighting around Pandals, and the heat from the Havan Kund, you know you need a foundation that can handle it all.
This is why Indian brides love Lakme. Their foundation range is heat resistant and also has a light texture. Its initial coverage is medium but, it is buildable so brides with different makeup styles can easily wear this.
Which product stands out?
Lakme Absolute Skin Intense Cover Foundation.
2. Shimmer that competes with your jewellery
Indian brides deck up in heavily embroidered clothes and mountains of jewels. In the face of all this glamour, generic makeup tends to wane a bit and make one's face look bare. There are many Lakme products that offer shimmer that can help your face stand out even with all the Maang Tikkas and heavy Dupatta around it.
Brides love Lakme eyeshadow because they come with a metallic finish that is apt for both, night-wear and heavy functions. A great feature of these eyeshadows is that they do not crease so brides can wear them for a long time without worrying about how their makeup is looking. With a creamy application and a shimmery finish, there's no way brides don't look their best when wearing Lakme makeup on their eyes.
Which product stands out?
Lakme Absolute Baked Eyeshadows.
3. Intense Kohl That Lasts All Night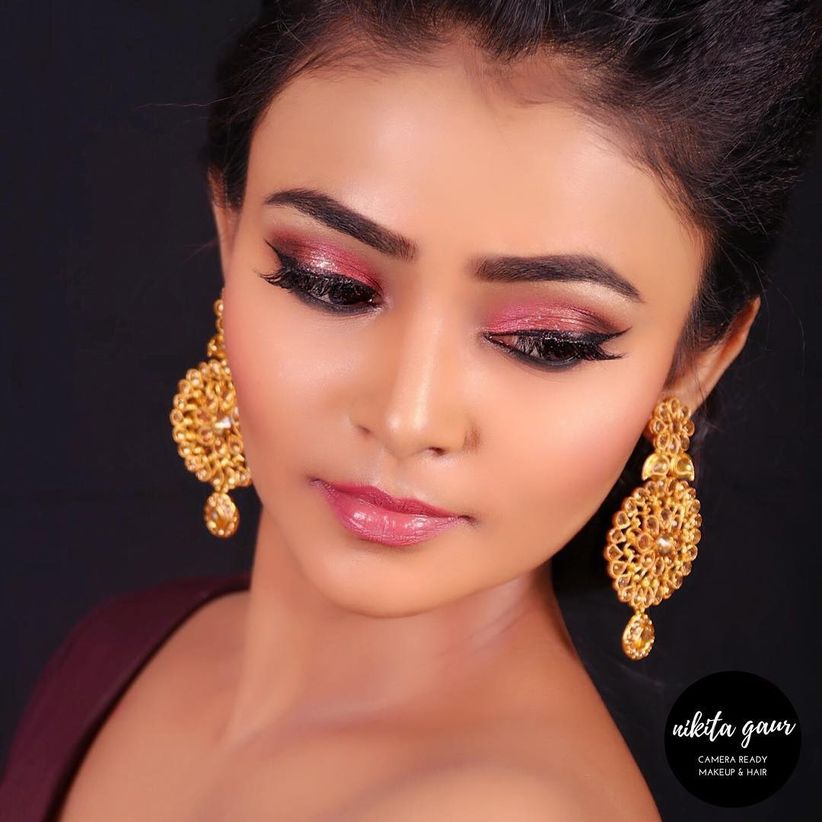 Kohl is an important part of the Indian aesthetic. But, it can also sometimes be the diciest part of your makeup. Bad kohl tends to smudge out of the waterline and smear under the eyes, giving you a panda-inspired look more than the chic one you envisioned. Finding the right Kohl is essentially a process of trial and error – unless the first one you pick happens to be a Lakme one.
Indian brides tend to love these products because they come in a variety of great shades – black, grey, white, brown, green, and blue. No matter what eye look you are going for, you can make sure that your waterline stays enhanced and the makeup does not run.
What product stands out?
Lakme Eyeconic Kajal.
4. Lipsticks that nourish your lips
When you're wearing makeup for a set of hours, you need to make sure that it's all skin-friendly, no matter which makeup type you're thinking of. Your lips are extremely sensitive and can dry out quite quickly and easily. As current trends all move towards matte finishes, your lips will probably end up feeling dry and cracked by the end of the night. This is why you need to choose lipsticks that nourish, rather than just add pigment.
Indian brides know that when it comes to matte finish, glossy toppers, or even creamy-matte lipsticks, they can find them all at Lakme. As this makeup brand constantly looks at the Indian skin tones for inspiration, you're going to find shades that suit your undertones and also match your outfit at the same time.
Which product stands out?
Lakme Absolute Argan Oil Lip Colour (if you are not worried about chapped lips and want a proper matte finish, then we recommend Lakme Absolute Matte Lipstick)
Whether you are getting ready for your Sangeet, Mehndi or wedding ceremony, your makeup needs to look absolutely perfect. More importantly, your skin needs to be able to breathe through the layers of makeup, so that you do not break out the next day. Use Lakme makeup products that offer a light finish and are easy to remove. Take care of your skin during your wedding week by removing all makeup at the end of the day and giving yourself natural turmeric and honey face pack to prevent pimples.
Not a pro at putting on makeup? That's okay! Get in touch with our expert makeup artists today!