Weddings and fashion share an everlasting bond. Girls love to doll up on everyone else's weddings; how could they risk looking anything but perfect on their own? The classic bridal ensemble, lehenga, is the most go-to option for Indian brides and choosing the perfect one is crucial. If you're not a fan of insanely heavy lehengas and messy can-can or wish to embrace traditional Indian craftsmanship, pick a Jaipuri lehenga.
What's so special about a Jaipuri lehenga
A quintessential Jaipuri lehenga is made with the finest of silk fabric. It's high on Gota Patti and zari work, which keeps it beautiful yet lightweight. You can trace the silent chaos of nature throughout the lehenga in the form of magnificent elephants, tigers, lakes, and lush trees.
Jaipuri Lehengas on Real Brides
You can also spot Zardosi embroidery on these lehengas, that was used to embellish the attires of royalty. It's there on - with gold and silver threads - is often seen adorning such lehengas. The borders of the lehenga skirt as well as the bridal dupatta, enhancing the grace of the outfit.
1. Mirrored Gota Patti lehenga
First and foremost, let's consider a Jaipuri lehenga without the trademark traditional pink, maroons or reds. Here we have an offbeat JJ Valaya creation minus the can-can, that's traditional AF and yet evokes a bit of modernity. We point to the subtly done mirrorwork, linear designs and the threadwork - all on a rich teal fabric.
Pairing this with the same colour or contrast blouse are both excellent ideas, though we would recommend toning down your bling with it, so that the outfit shines through.
2. Majestically yellow Jaipuri lehenga
Subtle Gota Patti elements that are big enough to confuse with contemporary mirror work? Check them out here in this Jaipuri lehenga from Ashiana Couture in Chandni Chowk. The pale yellow outfit is great for daywear and can work for your Sangeet function too, if you think you're not enough of a yellow lehenga enthusiast for your wedding.
3. Traditional red vines
Think vine, think Jaals, think Gota Patti - then you're thinking about this very Jaipuri lehenga design. The traditional crimson comes from Anita Dongre too and works splendidly with a contrast pastel blue blouse (get the exact shade inspiration from the lehenga border down there).
Pair it with subtle Meenakari and you will have a lehenga popping for attention.
4. Pair it up: Crop top and Jaipuri lehenga
Blogger bride Urvashi looked ethereal in this blood red lehenga by Anita Dongre. High on Gota Patti work, this lehenga offered the perfect mix of modern and tradition. Since her choli was a statement piece in itself, she didn't go overboard with jewellery and gave the bridal nath a skip. Classic bun, bold brows and red pout kept her hair, as well as makeup, understated but traditional!
5. Candy pink lehenga with floral jewellery
The Queen of Gota Patti, Anita Dongre, has helped spread Rajasthani artwork across the globe. This bright pink number, donned by Nikita on her mehndi, is yet another stunning way to show off Jaipuri craftsmanship.
The 100% silk lehenga features rich Gota Patti work in the pattern of fresh leaves. The bride created a princess-like look by pairing this lightweight lehenga with yellow floral jewellery and a laidback side braid. Minimal eye makeup and pale pink lips along with her natural bridal glow complemented her look.
6. The VOW lehenga
Hold your breath for this is one of the most stunning lehengas you'll ever see! Bride Nindiya envisioned this larger-than-life lehenga, which was brought to life by Olga by Jay. This unconventional lehenga featured seven vows in the form of gorgeous embroidery - with loads of gota patti and zari work. Unlike traditional Jaipuri styles, this one was pretty heavy and OTT.
The classic Indian bridal look lent the perfect touch of tradition to her highly creative look. The bun added a twist, quite literally. Her exquisite jewellery - necklace, maang tikka, earrings and a lovely nose ring - in diamond and emerald created a dreamy look.
7. Peach Jaipuri lehenga with a splash of colours
This outfit oozed elegance and tradition and we surely love this colourful creation by Nidhi Tholia. Heavily inspired by the culture and colours of Jaipur, this lehenga featured extensive gota work along with intricate zari and zardozi embroidery. The pretty peach lehenga boasted of floral embroidery with a hint of red, mint, blue and green throughout the outfit.
The bride let her lehenga do the talking by keeping her hair beautifully tied up in a bun. For makeup, she opted for the fresh base with a hint of peach on her cheeks and then some more peachy goodness on her lips. The kundan and pearl jewellery perfected her look.
8. Red and gold tiered lehenga
The red lehenga with an embroidered blouse and net dupatta is a hidden gem. The skirt featured various tiers that showcased various styles of Gota Patti; the tiers added beauty and style sans the heaviness. Since the Jaipuri work is pretty prominent throughout the skirt and choli, the inclusion of an effortless net dupatta helped balance out the entire look. This bride opted for gold and red bridal makeup with a bun to keep up with the traditional vibes.
9. Bright pink lehenga with statement dupatta
This bright pink lehenga with embroidered choli features two dupattas. While one dupatta is a plain net with silver gota patti border, the other one is a statement piece. She draped her statement hand-embroidered dupatta very creatively. The bridal jewellery was kept light to make her look charismatic.
Another plus was her dewy and fresh makeup that's not screaming for attention yet enhanced her bridal glow. The neatness and detailing in her lehenga managed to show up pretty beautifully in the pictures as well.
10. Dreamy pastel perfection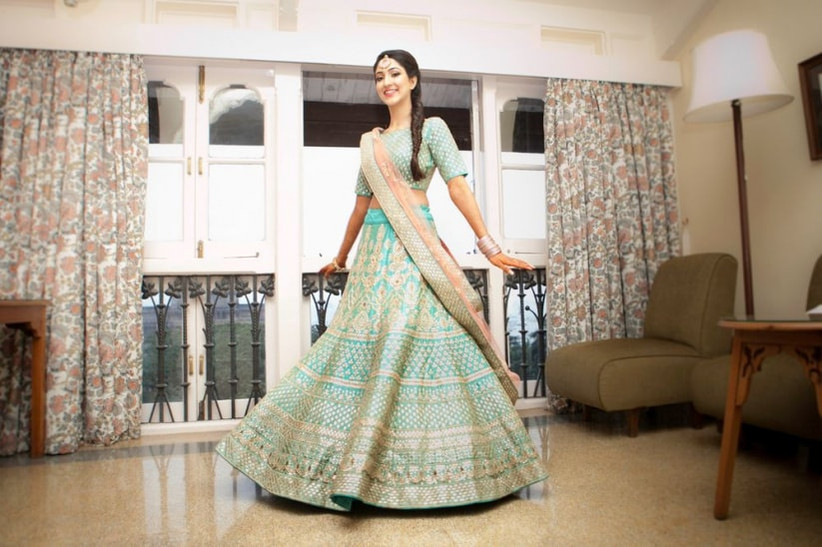 Think brides doll up only on their big day? This stunning bride Aalika, slew her mehndi look in a Jade by Monica and Karishma lehenga. All thanks to gota and zari work, this pretty pastel lehenga was heavy enough to give one a bride-like appeal and light enough for them to enjoy their function. She elevated her look by opting for a lovely maang tikka and bangles with her high neckline. The effortless side braid helped keep her look breezy.
These Rajasthani creations are a gift to contemporary brides who wish to embrace their traditional roots. Loved and approved by royalty, the Jaipuri lehengas are perfect for your modern day fairy tale wedding.
Inspired to shop for your own Jaipuri lehenga? Get in touch with our vendors.