Getting Ready? Indian Wedding Guest Dresses to Inspire D-day Look
Attending a family wedding or BFF's D-day? Make the wedding album a lookbook and take a peek at some stunning guest outfit ideas for inspiration!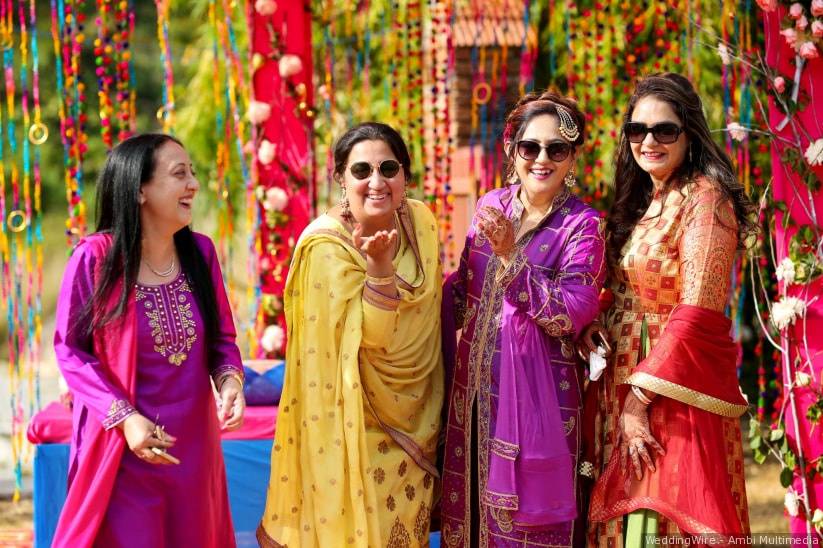 The wedding guests are the ones who really glam up your wedding. Every major Indian wedding ceremony represents fun, gaiety, togetherness and warmth. So how about adding some extra dash of colour to your vibrant wedding? You've spent hours and days choosing the perfect bridal lehenga, sherwani and jewellery...now it's the guests' turn!
During the wedding season, we see some of the most beautiful and stunning fashion inspiration, and these are the styles that are not only flaunted by the bride but also her wedding guests. As they say, you just need a reason to dress up and make the world your runway.
To make sure that you get to pick the trendiest of the attires for any wedding festivities you might be attending, we enlisted styles and dresses which you can draw fashion inspiration from.
Pick gorgeous, swanky and sassy Indian wedding guest dresses that would totally dial up the cool quotient. Let's take a look at some inspiring outfit ideas for your wedding guests:
Make way for the Coordinated Bridesmaids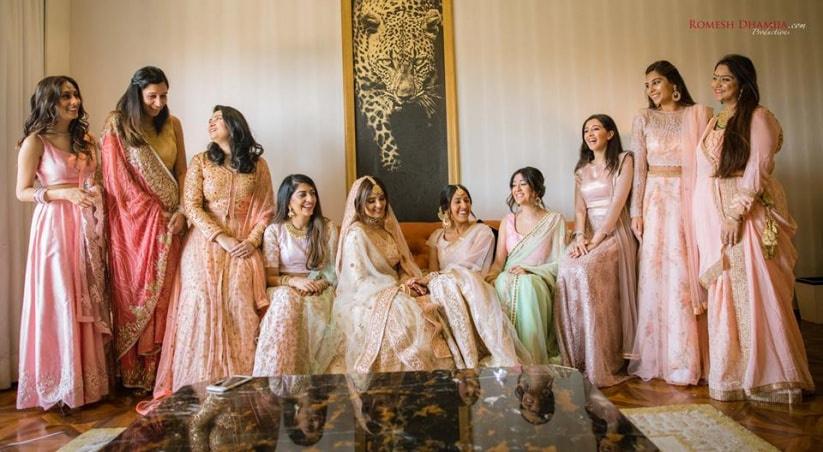 As you already know, it's not an easy job to choose the perfect outfit for the bride's sister, well, the bridesmaids too need some extra care! Let's find out some cute and ravishing Indian wedding guest dresses, especially for the bridesmaids.
It is the day where they tend to support the bride who has been their friend, sister and confidante in every way possible, which can even mean to dress up according to a theme which can make her wedding day much more special for her.
1. Sea-green Chiffon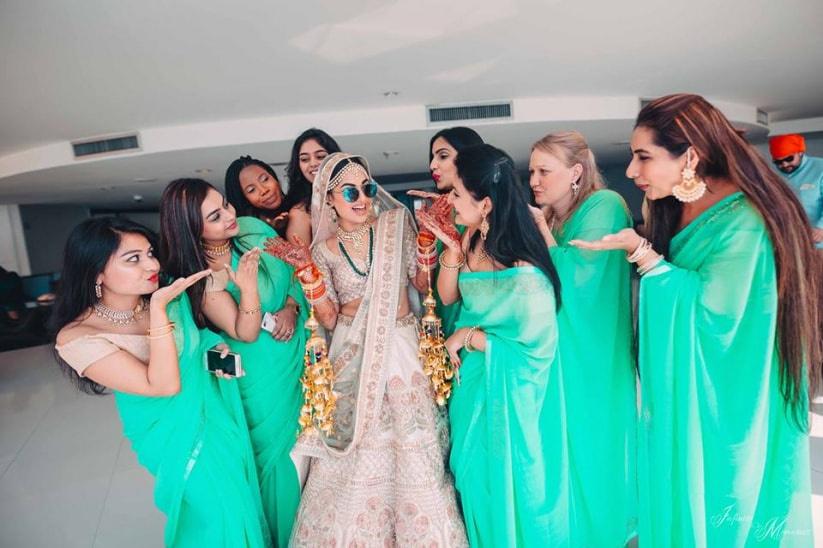 If your bridal dress is of ivory or soft pastel shade, pick sea green or turquoise chiffon sarees as the colour for your bridesmaids. The idea is to mark a contrast from the bridal outfit. This particular combination of white/ivory with sea green is a glamorous choice for Indian wedding guest dresses!
This certainly off-beat and would make all the eyes in the room turn to you.
2. 9-shaded Rainbow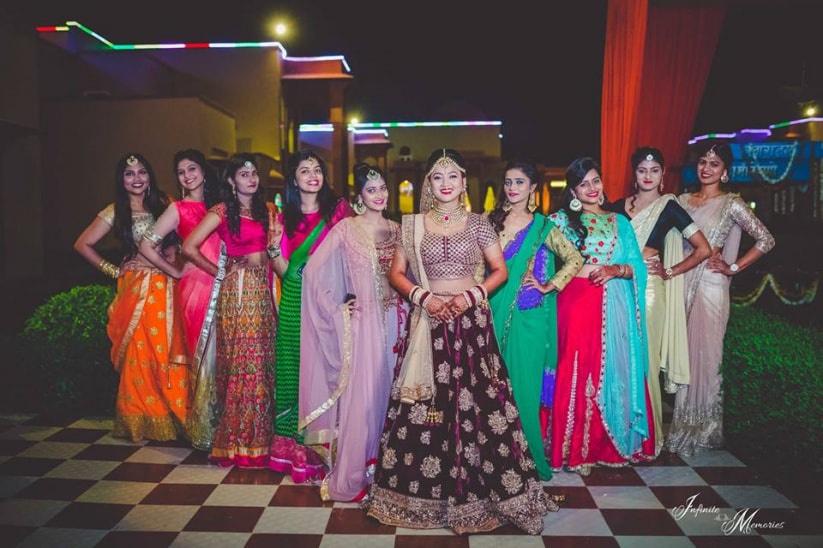 Colour up the stage on your wedding night by bringing all the hues together! Bridesmaids dressed up in vibrant coloured desi lehenga cholis alongside the blushing bride would be an epic wedding picture to remember forever. Just like the picture above, everyone can choose a colour to flaunt while you can make the rainbow shine on the wedding festivities.
3. Pink and pastels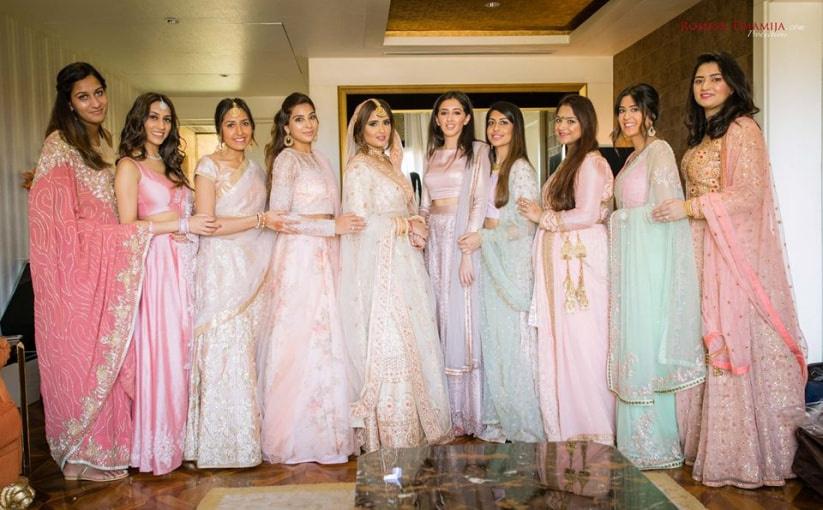 Soft pastel hues like cyan, blush pink, sky blue or lilac are an instant hit among the bride and bridesmaids. When it comes to Indian wedding guest dresses for an elegant day event, you can almost never go wrong with soft pastel shades.
Pastel shades are often more greyed tones of the colours which can make you look dull sometimes but nevertheless, they have been a favourite choice for the wedding season. You can contrast it with a warm makeup that will accentuate your whole look.
4. Peach princesses for the Lady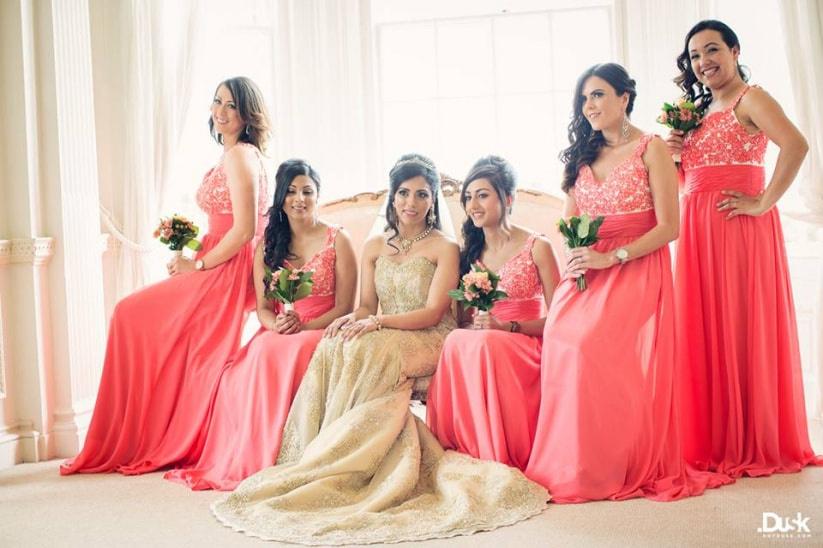 Always a popular choice, peach coloured floor length gowns look dazzling on bridesmaids especially for an Indian Christian wedding. The contrast with the bride's white/ivory/beige or cream-based wedding gown is a sure thing to hit off as Indian wedding guest dresses!
For the maid of honour and bridesmaid, this is definitely the colour to opt for as it contrasts perfectly with an ivory dress of the bride.
5. White beauties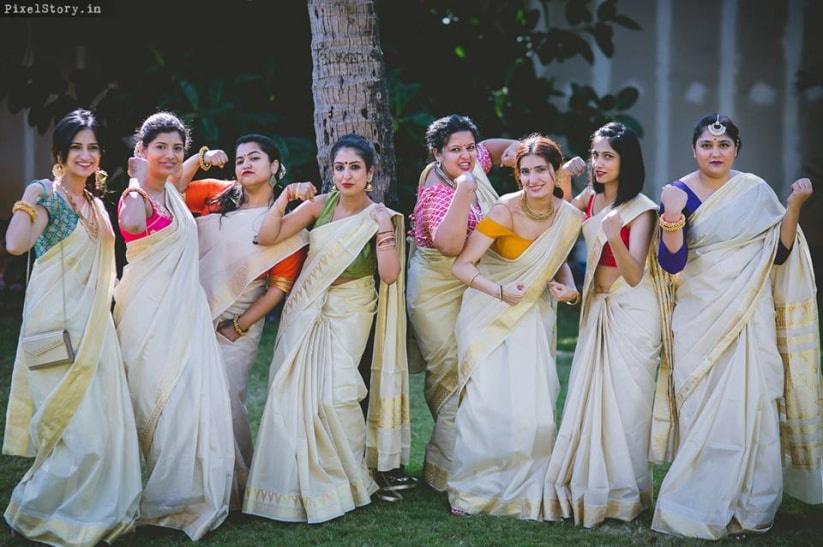 Choose a white and gold silk saree for the bridesmaids on your wedding day. Pair them up with contrasting bright coloured blouses like magenta, orange, mustard or red. You can try many other sarees and south Indian dresses for the bridesmaids from a plethora of options.
Here come the Groomsmen!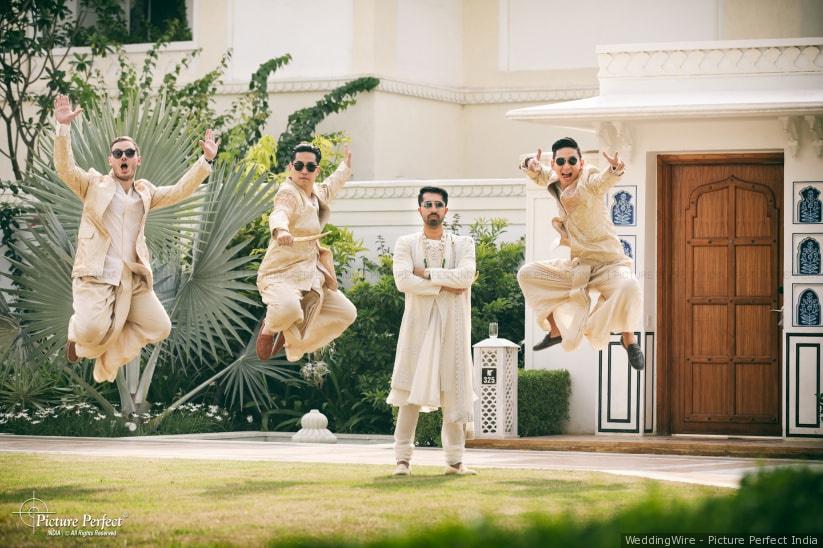 Why should girls have all the attention? Today millennial groomsmen take equal care about their looks and outfits, and why not! Take a look at Indian wedding guest dresses and what groomsmen love to sport these days:
1. Soft green Nehru jackets steal the show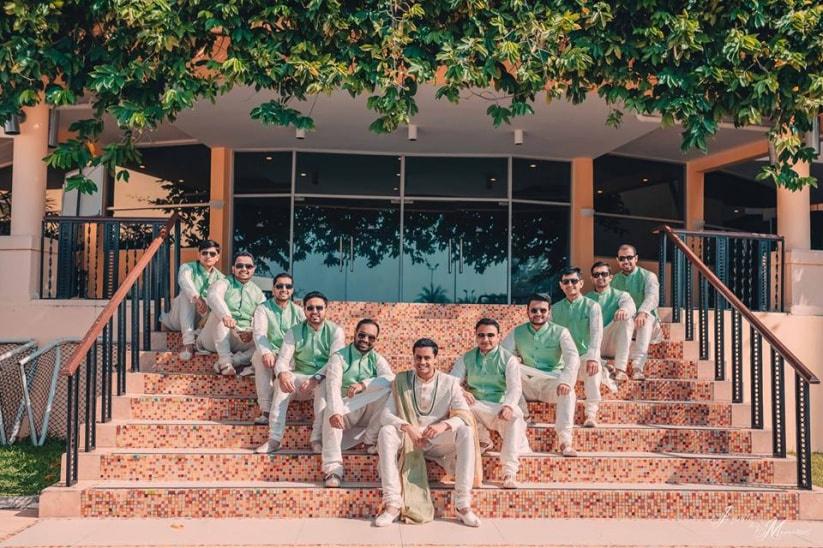 Keeping in sync with the groom's dress, and taking just a hint of a similar shade of groom's uttriya- such a simple idea, yet it looks like a million dollars! Apart from the Nehru jacket, make sure all the groomsmen wear the same footwear and accessories too.
2. Handsome in printed jackets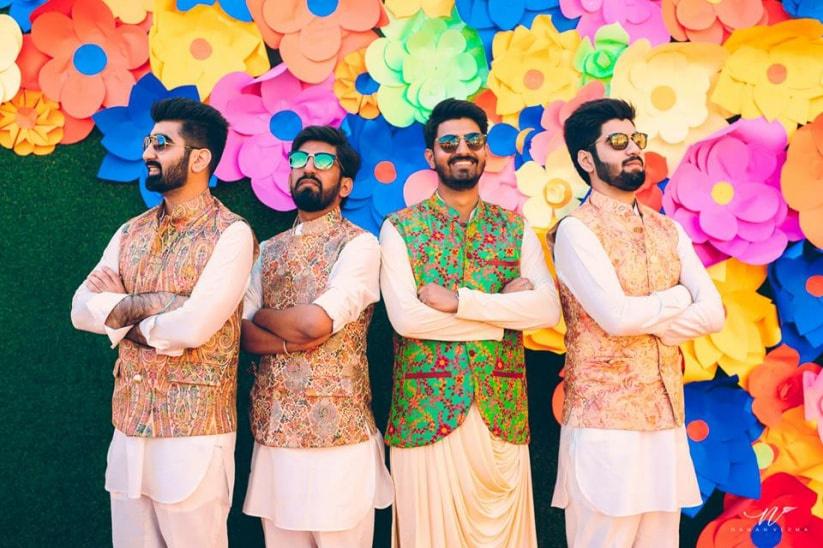 So you're not afraid of some extra colours...just perfect! Indian wedding guest dresses should scream colours of happiness, so why should the groomsmen outfits be any different? Flaunt multi-coloured jackets on beige Patiala kurta pyjamas with coloured glasses and enjoy all the head turnings!
3. Maroon-ed men at the service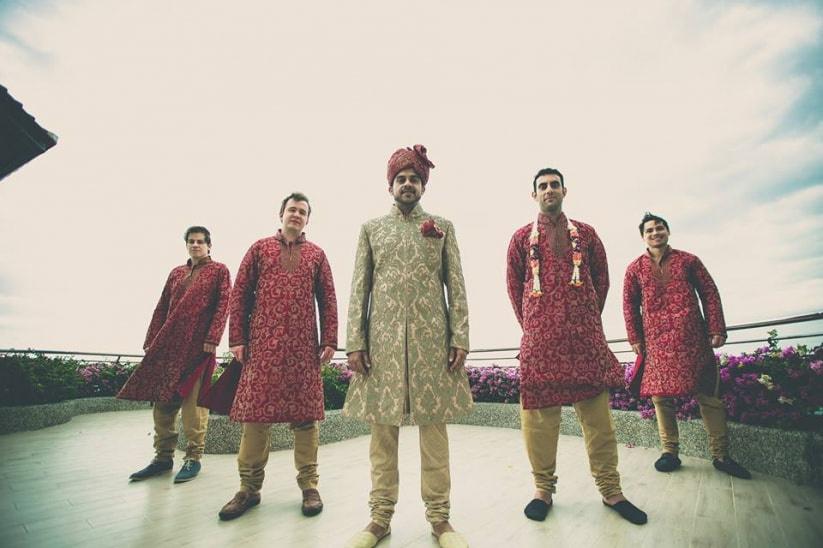 Don those dashing maroon kurtas with intricate embroidery for a show-stealing effect! Red, maroons, rust, mustard...these colours always go really well as Indian wedding guest dresses. Just accessorise them well with a contrasting pyjama and juttis.
4. Vice-versa people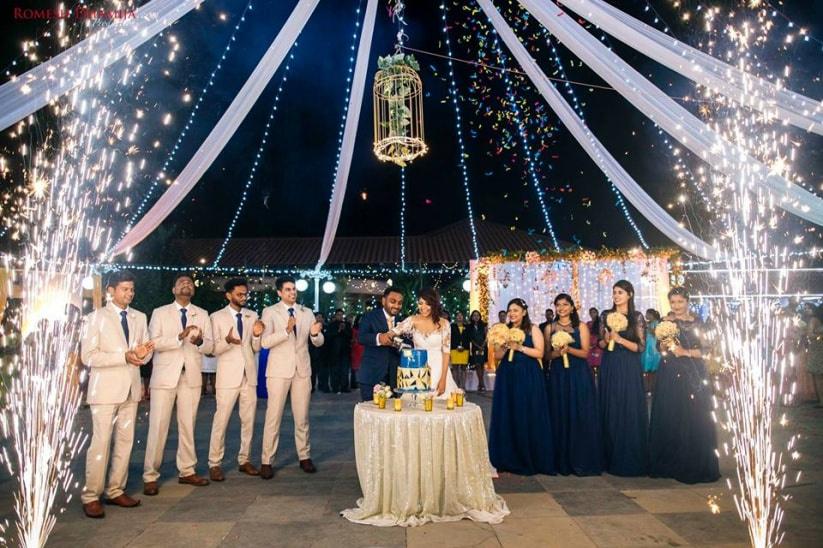 Another interesting way to go is to match the groomsmen suits, with the bride's gown while contrasting the same with the groom's suit. Similarly, the bridesmaids can match their gowns with the groom's suit and contrast with the bride! The play with colours is quite fun to watch later on a wedding photo album.
For the Little Style Icons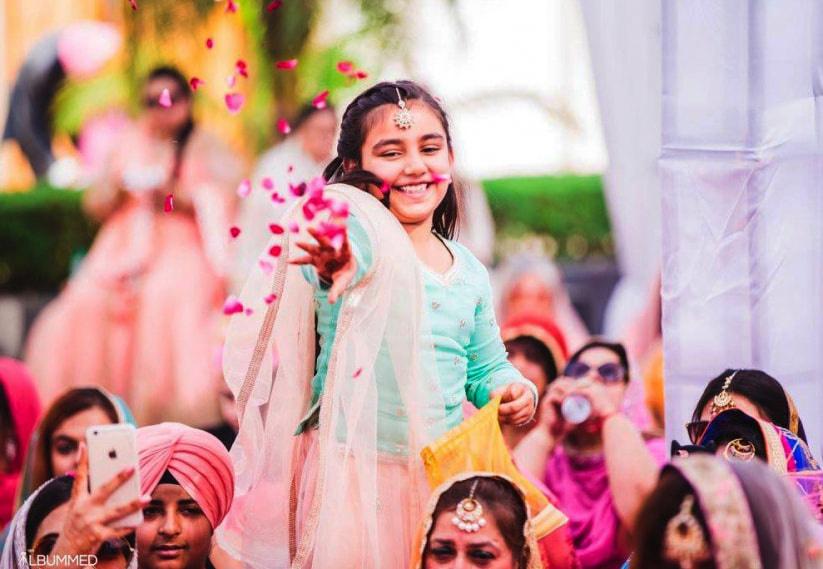 Now comes some very important decisions to make - Indian wedding guest dresses for children! Because what's a wedding without the giggling and chirping of the little ones all around? So better style them seriously! Here are a few ideas:
1. Red and golden Ladybirds in Patialas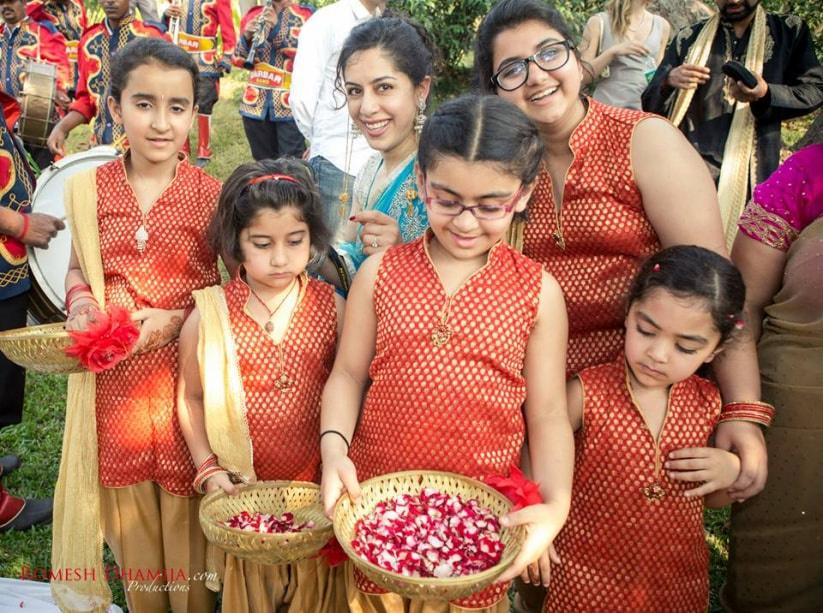 The future fashionistas can choose a wedding colour like red or orange kurti with golden polkas on it. Pair the kurtis with golden or beige coloured Patiala salwar and a contrasting dupatta.
2. Pink is never less cute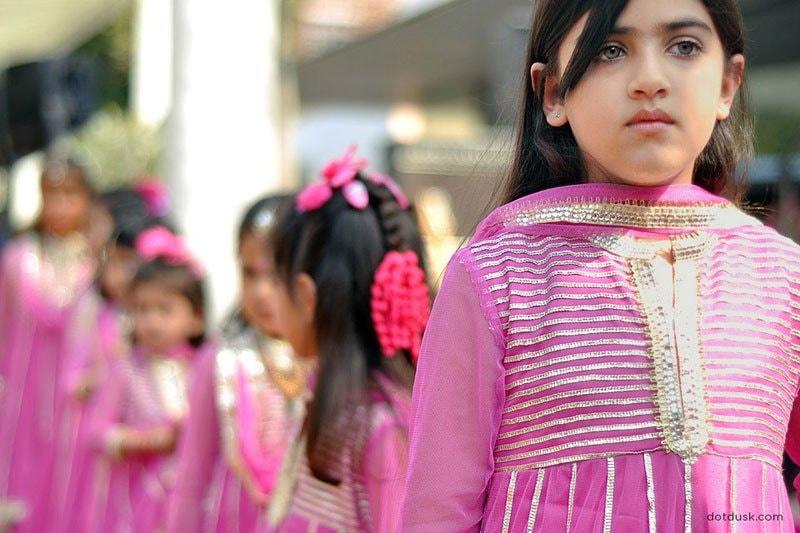 There's hardly any little girl who doesn't love pink. A pink chiffon salwar kurta with some gota or mirror work on it would look beautiful and it would be easy for a kid to carry.
Family and relatives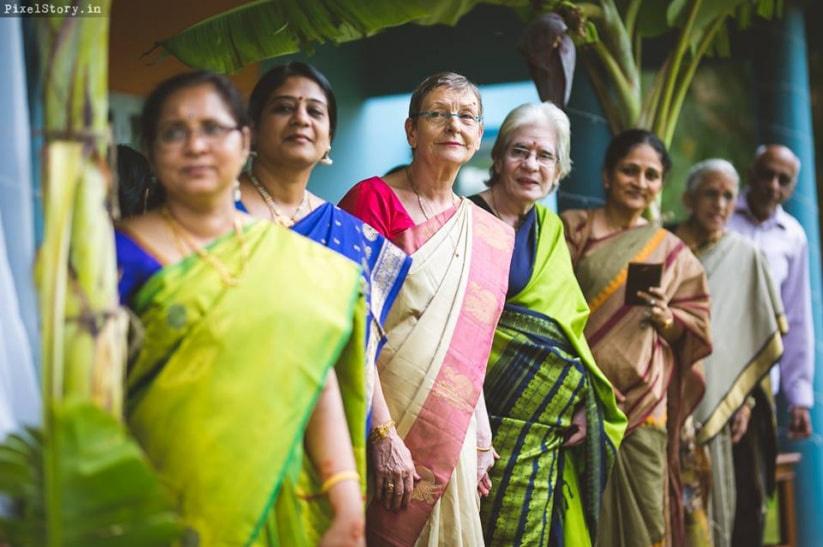 And then we come to the core pillars of an Indian wedding - your family.
1. Bandhej saree gang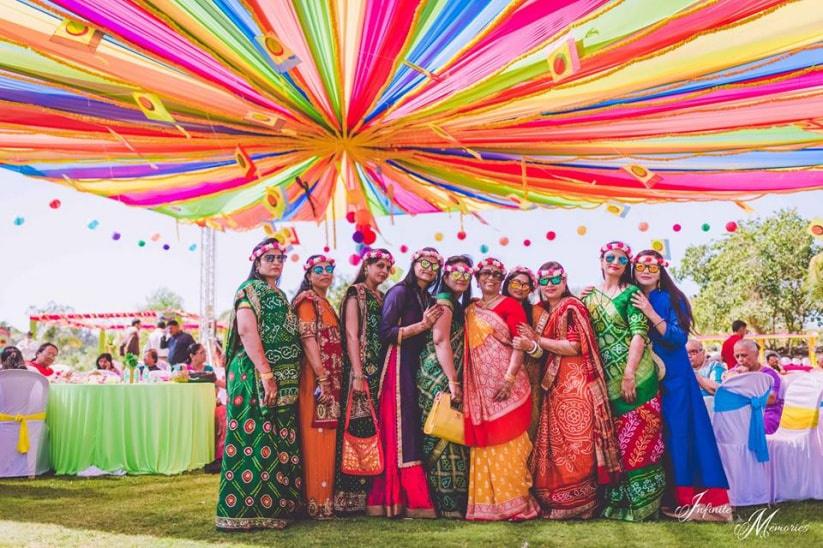 Give it up for all the wonderful women in the family! Get your aunts and Bhabhis draped in vivacious tie and dyes printed sarees and brighten up your whole wedding album. Indian wedding guest dresses are all about colours and liveliness, after all!
2. Blue is the code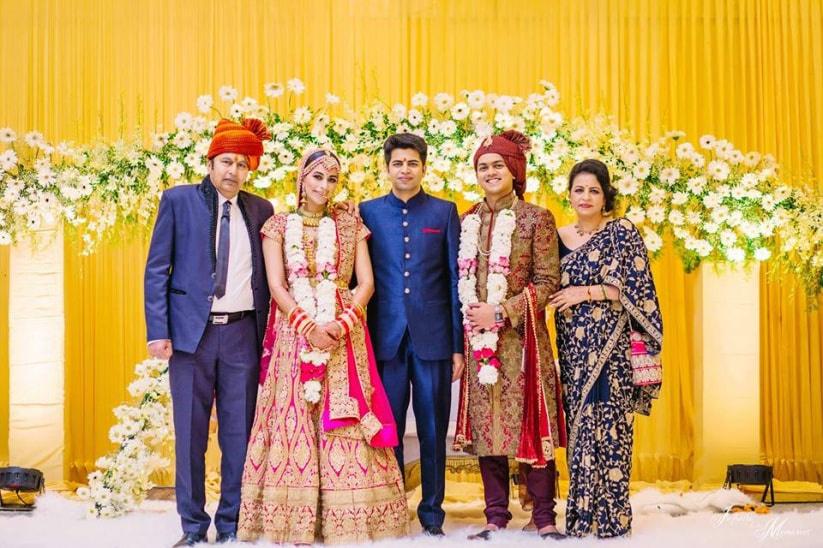 Mom's Banarasi, father's suit and brother's Bandhgala-the common factor can be the colour blue! The best thing about blue is it's a universal colour and goes with any outfit. So choose a midnight or royal for Indian wedding guest dresses for a dose of divinity.
Whether you choose matching colour outfits or similar patters; whether it's just the colour of a dupatta or the design of the lehenga- it's your choice how you want to coordinate your Indian wedding guest dresses.
Make sure you communicate with your guests first about your idea of outfit coordination. If you have a particular wedding theme, you can also ask your guests to dress accordingly. It's all about how you want your entire wedding to look like. Have a word with your wedding planner for help in case you run out of ideas.
Take a look at our list of wedding photographers and give them a call for best deals on your wedding.