Here Are Some Hacks to Click Beautiful Honeymoon Pictures, Handpicked and Curated in One for Your Special Moments
Just like your wedding album, your honeymoon album should be nothing less than perfect. If you don't know how to click good honeymoon pictures, let us help you.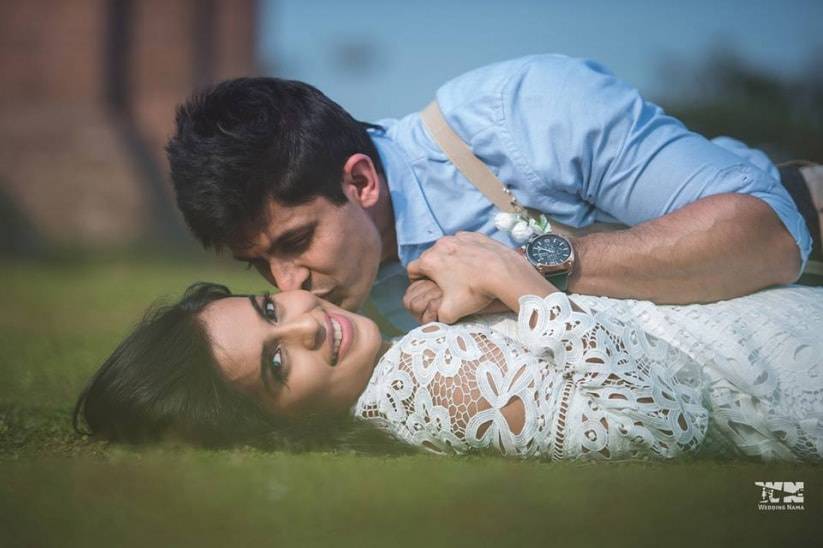 And so, the wedding saga is over. You are all set to hit the most romantic destination with your beloved, who is now your husband/wife. What is that one thing that is awaited after you have been declared man and wife? The honeymoon! A new city, a new destination, a new journey and all of it about the honeymoon is absolutely refreshing and you dream of an unforgettable one. To make it unforgettable you need to make memories and thank technology, today memories can be captured and frozen in the reels and you have the lenses to thank. Away from the crowd, in the company of the person you love the most, in the most exotic setting; would you not want to lock these moments forever in your camera?
Wondering how to get the most amazing honeymoon pictures? No, you need not take the photographer alone on this special trip that is meant for you and your better half only to spend some quality time together. You need not even be a professional photographer to get good shots. Take a cue from the easy hacks that we have mentioned here, and get ultimate pictures.
1. Get a good camera or phone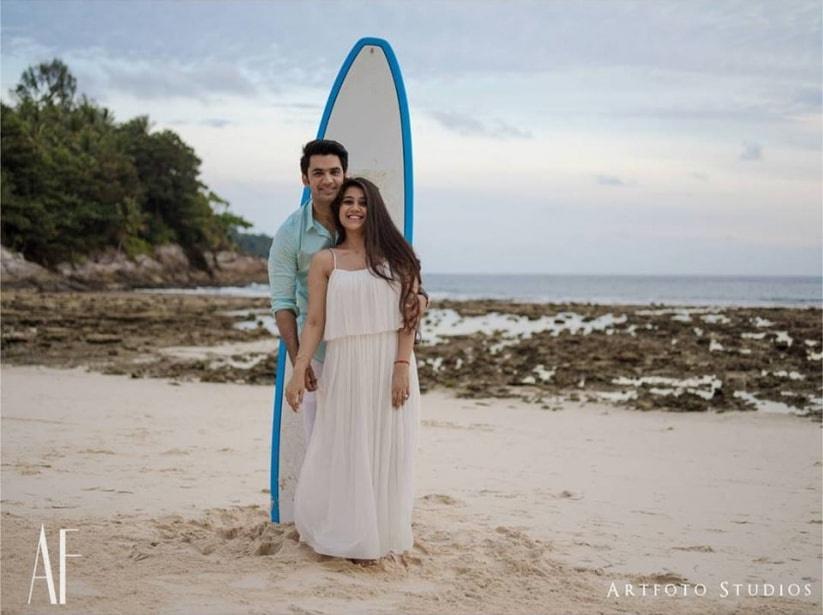 You cannot take your photographer to your honeymoon but you can definitely take a good professional camera to get some enthralling honeymoon pictures. A DSLR camera comes with numerous coming-of-age technological features. Make it a point to buy the camera a little before setting off for your honeymoon. This will give you ample time to get acquainted with the complicated features of the device. Did you remember self-timer and a tripod stand? Because this is the perfect occasion to use it all.
If you are a little apprehensive about carrying a heavy camera along with you, you can buy a good smartphone with excellent camera quality. There are many smartphones on the market that have a superb camera quality. Might as well take the selfie stick along too.
2. Take the mounts along with you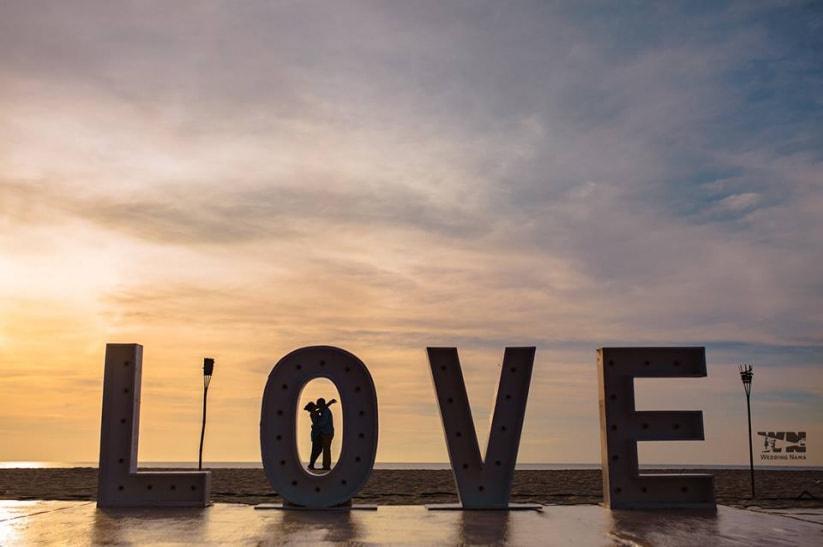 All that given, you would definitely not want to fill your honeymoon album with selfies. Also, you cannot bother strangers all the time to click your photographs or a friend or professional to third-wheel you at all times. Hence, make it a point to carry the mount along with you. Look for smaller mounts that don't take much space in your bags and are easily transferable. Your wedding images need to narrate your story with your emotions.
3. Show some love on the camera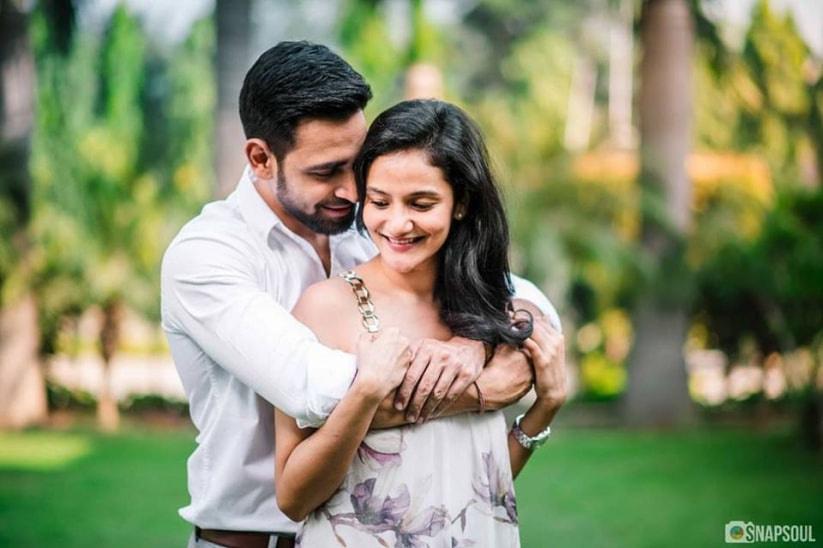 These are your honeymoon pictures and so, no one can stop you from indulging into some PDA in front of your camera. Show some love and closeness. Surf the internet to get some gorgeous poses. This honeymoon trip makes the beginning of this gorgeous journey home to remember.
4. Keep timing in mind
If you are looking for some excellent honeymoon pictures, you should keep timing in mind. The best time to click good photographs is early morning and evening. During early mornings and evening, the sun tends to be at a lower angle and the warm light complements the pictures.
If you want a daytime picture, stand in front of the sun to avoid glare.
5. Backlighting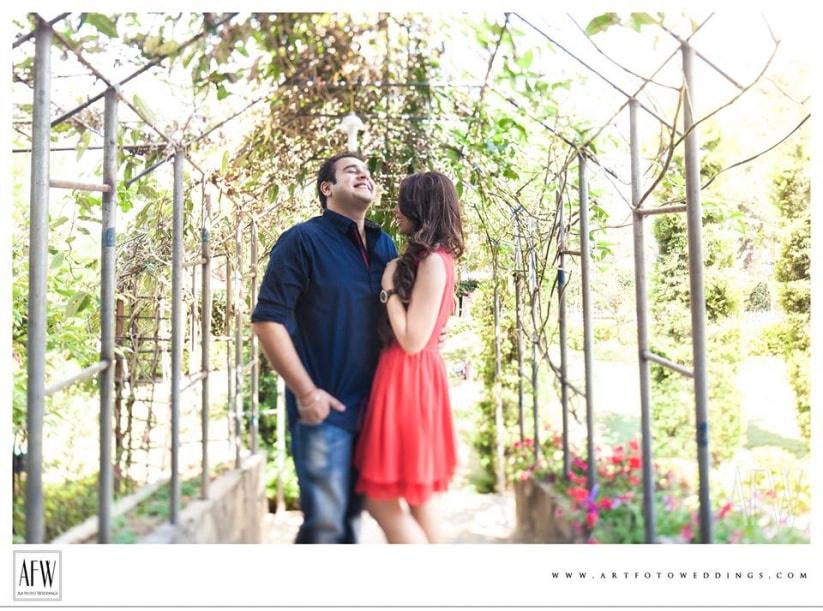 You need not be an expert photographer to perfect the backlighting shots. It is a very easy technique. To click a good picture in backlight effect, keep the light behind you. This will give you a picture with some excellent effects like depth and separation of subject from the background.
6. Pay attention to angles too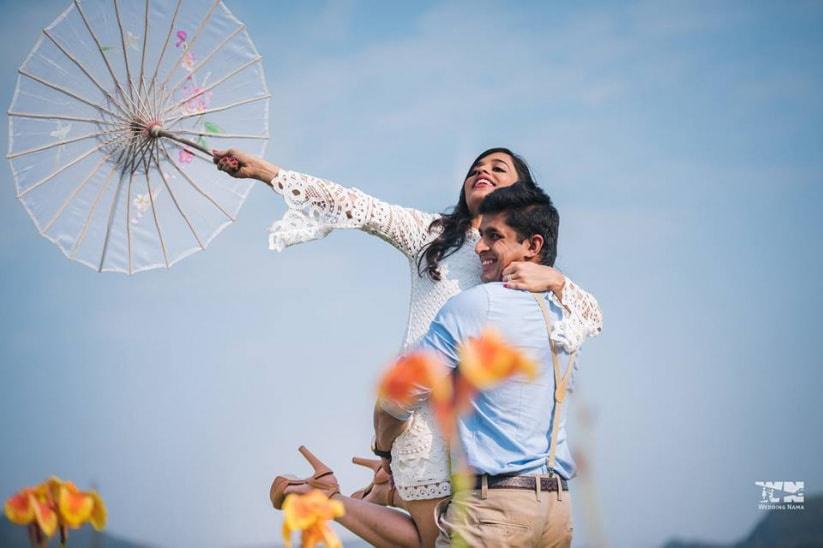 Clicking image with a straight angle is a little boring. Click pictures in a high or low angle to get some professional-looking honeymoon pictures. Keep the camera at a low angle or a very high angle to get some playful images. The markets are loaded with cameras that feature a tilting screen that makes it easy to click pictures at different angles.
7. Sunset Shots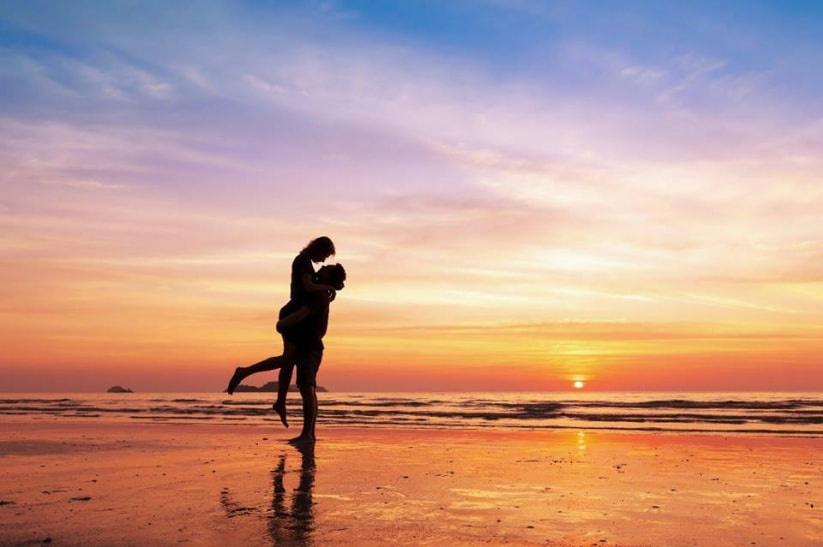 Sunset shots look beautiful and are very easy to capture. Make it a point to get some beautiful sunset shots for your honeymoon album.
Get a perfect sunset shot using the rule of 3rd. Divide the frame of your camera into 3 parts, i.e. right, centre, and left. Do not place the sun right in the centre while clicking the sunset shot. To create a beautiful sunset backdrop, keep the sun either to the right or to the left.
8. Underwater Shots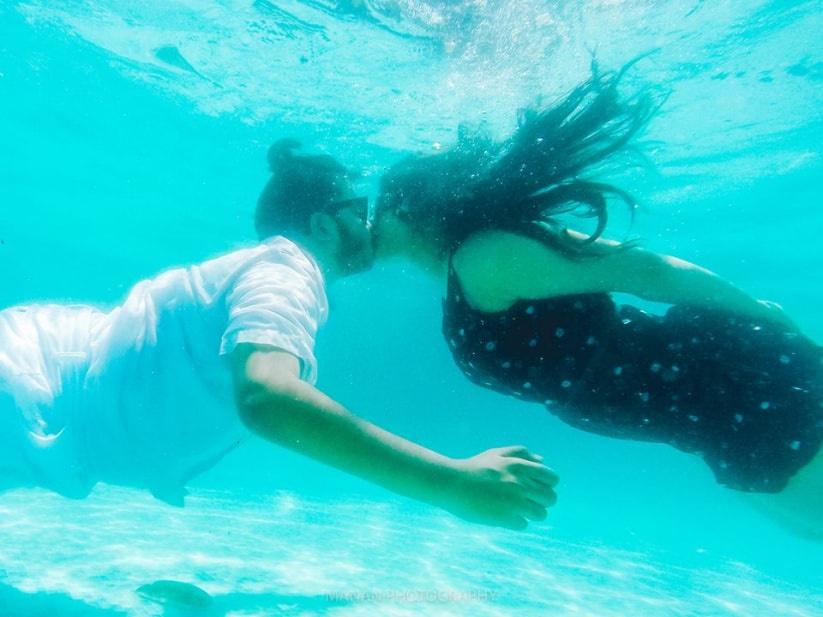 Taking underwater shots is not a rocket science. You just need a good waterproof camera to capture some fun and different shots for your honeymoon album. Just get inside the water with your waterproof camera and click quick shots. Do not worry about posing. Keep it easy and fun.
9. The silhouette shots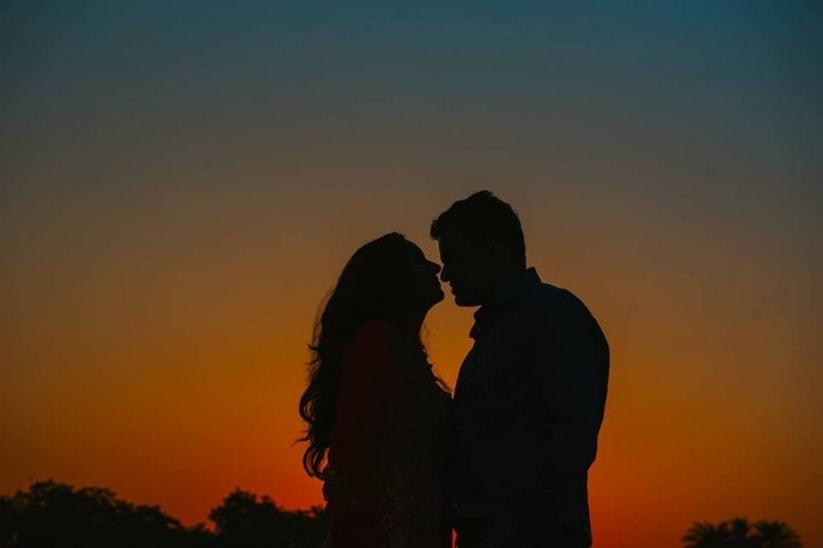 A honeymoon album is incomplete without a silhouette shot. Hide the sun behind you and pose. That's all you need to do to get a good silhouette shot.
10. Try some fun and crazy poses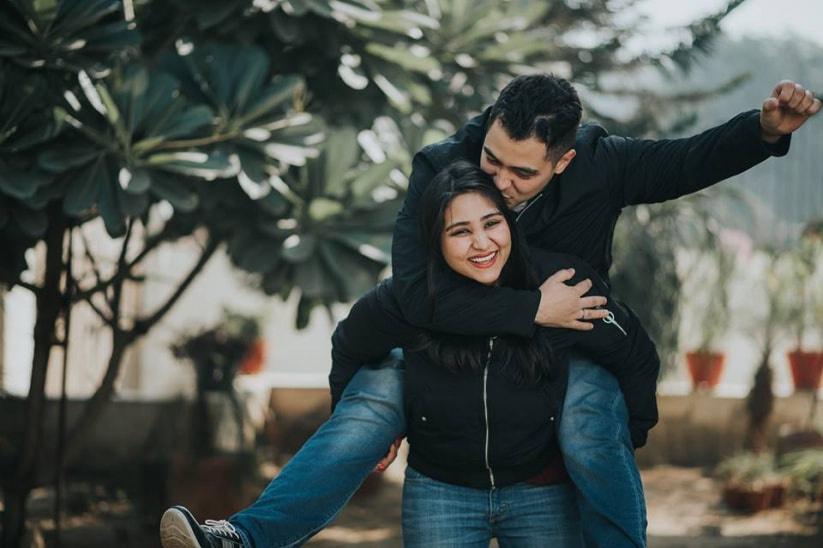 Don't stick to the regular cuddling and kissing poses. Be a little crazy and make your album eclectic. Try some playful poses. Just be yourself and enjoy. Keep clicking in the process and you will get some very interesting shots.
11. Click the scenic views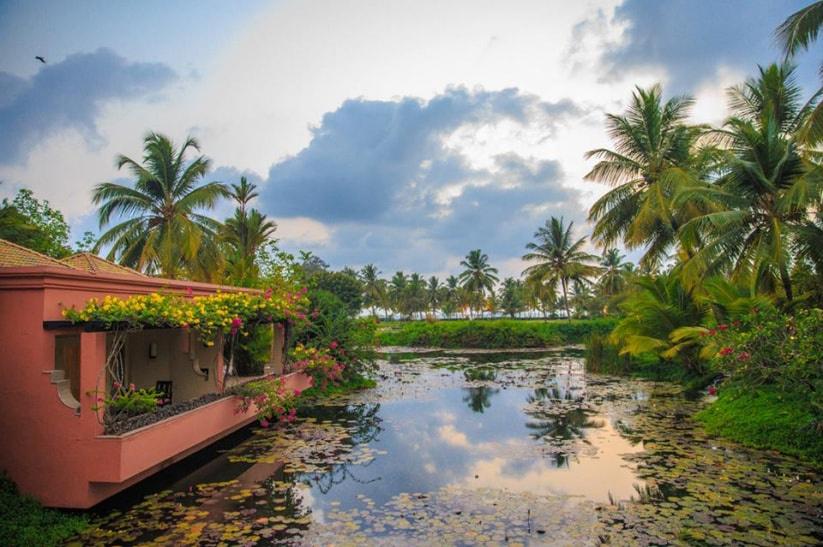 We know it's your honeymoon album and it is very obvious that you will dominate it. But, keeping some shots without you in them will do no harm. Take the focus away from you and click some scintillating shots of the exotic location.
You would have definitely chosen the most exotic and picturesque destination for your honeymoon and it wouldn't be wrong to capture the drop dead gorgeous scenario in your camera.
Using these easy hacks, you can make a beautiful honeymoon album without the help of an expert. If you loved these hacks, show some love and comment below.