Delhi NCR Couple Hosts an Intimate Less Than 50 People Wedding
Yash travelled 27 hours by road from Pune to Delhi to get married to Pallavi. This Delhi NCR intimate wedding with less than 50 people amidst lockdown will melt your hearts! Read to know.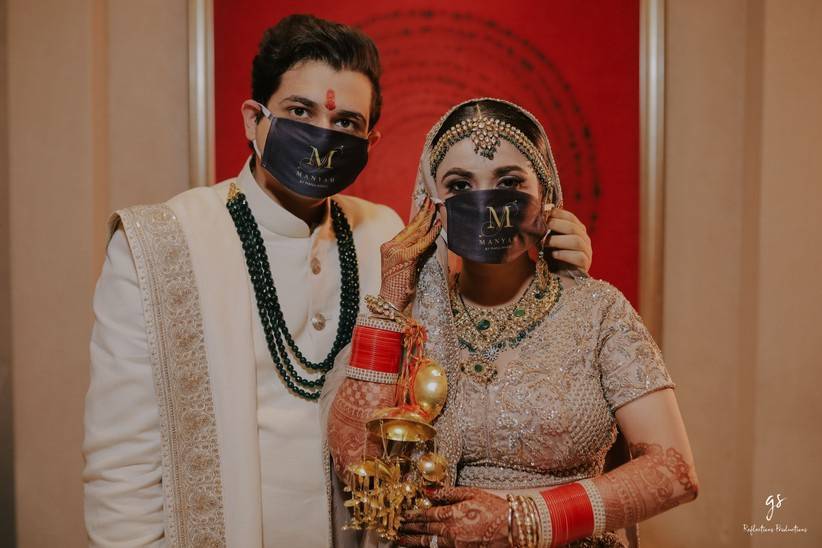 Even if the lockdown slowly recedes, the pandemic is still making it difficult for everyone to resume a normal life. There are many socio-cultural celebrations that still stand postponed until further notice. And while many of you are still dealing with the uncertain circumstances, some couples have decided to take their leap of faith and get married in the times of Corona.
#WeddingsInTheTimeOfCorona are the magical silver lining stories that every couple is looking forward to for inspiration. While most couples have postponed their weddings due to the red flags of the pandemic unravelling itself during this period, many other couples have decided to tie the knot, no matter what.
If your wedding plans are meandering around the ungodly hours and you are looking for light at the end of the tunnel, this story of Pallavi and Yash's lockdown wedding is sure to encourage you to be positive and celebrate your love.
Here is the motivational and exclusive story of Pallavi and Yash's intimate wedding with less than 50 people to melt some hearts. Read to know.
Their Desi Love Story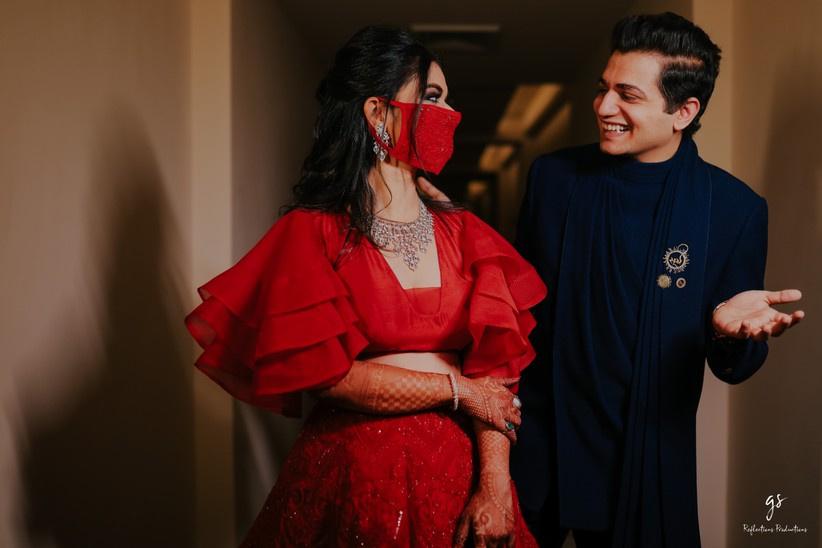 Almost every love story begins on the most ordinary days when you least expected to fall in love. In a survey conducted by IPSOS in India, about 74% of the age group between 18-35 years prefer the idea of arranged marriages. The role of a family in helping one take the right decision for a happily ever after in India is enormous and kind of sweet.
Pallavi tells WeddingWire, India, "Ours is a basic Indian love story. It is an arranged marriage. We met through our parents. Talked for a few months, went on some dates and fell in love. Most of our courtship period was during the lockdown. So virtual dates and video calls are all that kept us connected and maintained the spark between us." Well, a GenZ virtual date is nothing basic!
The Lockdown Wedding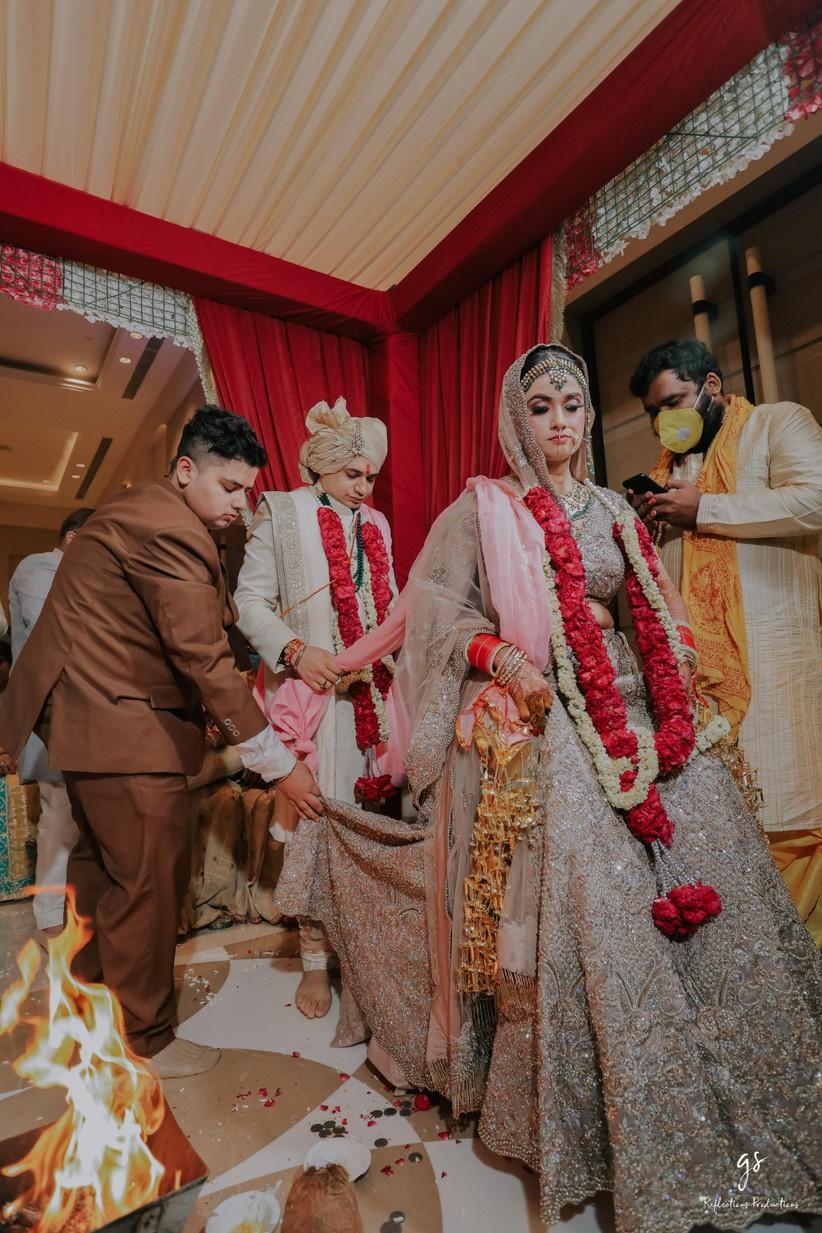 The groom, Yash, is based out of Pune and Pallavi is from Saddi Dilli. The wedding was originally supposed to be celebrated in Hua Hin in Thailand. The lockdown situation was, however, the reason that they postponed the plans like many other couples. While the wedding postponement blues can be tackled in many ways, they planned their wedding as soon as the government eased the travel restrictions.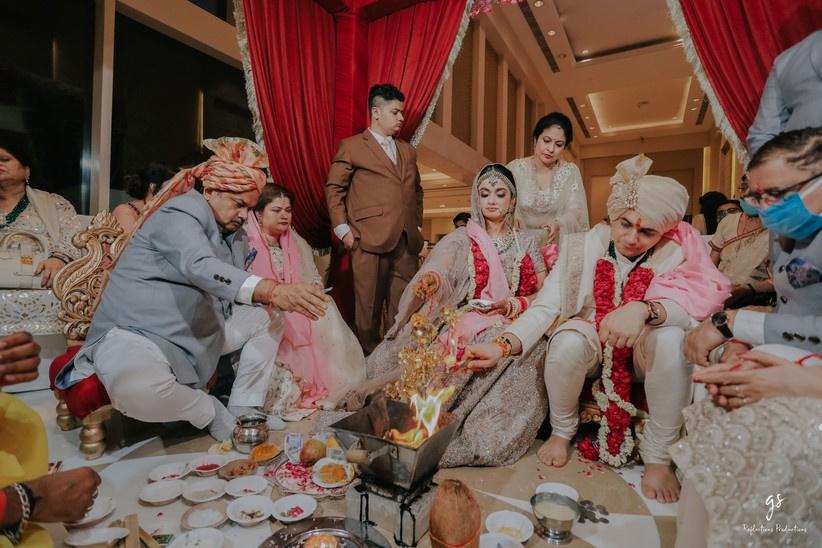 Pallavi says, "So, we started planning once the government allowed for rail transport. But considering the fact that people were being quarantined, we didn't opt for rail or air transport."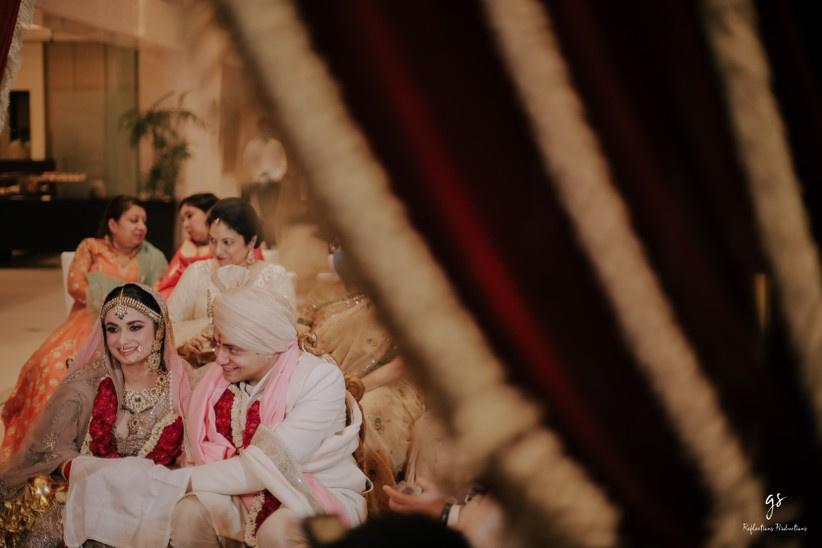 But then there are some who cross the oceans for people they love. And here is the best part of Pallavi and Yash's love story. "Once lockdown 4.0 came in and interstate travel was allowed, Yash and his parents took permission for interstate travel from Delhi and Haryana government and they travelled for 27 long hours by road to reach Haryana", tells Pallavi.
This is an impeccable story and one to cherish forever. The pandemic and the lockdown did not stand in the way of their love and we feel fly!
What Pallavi Wore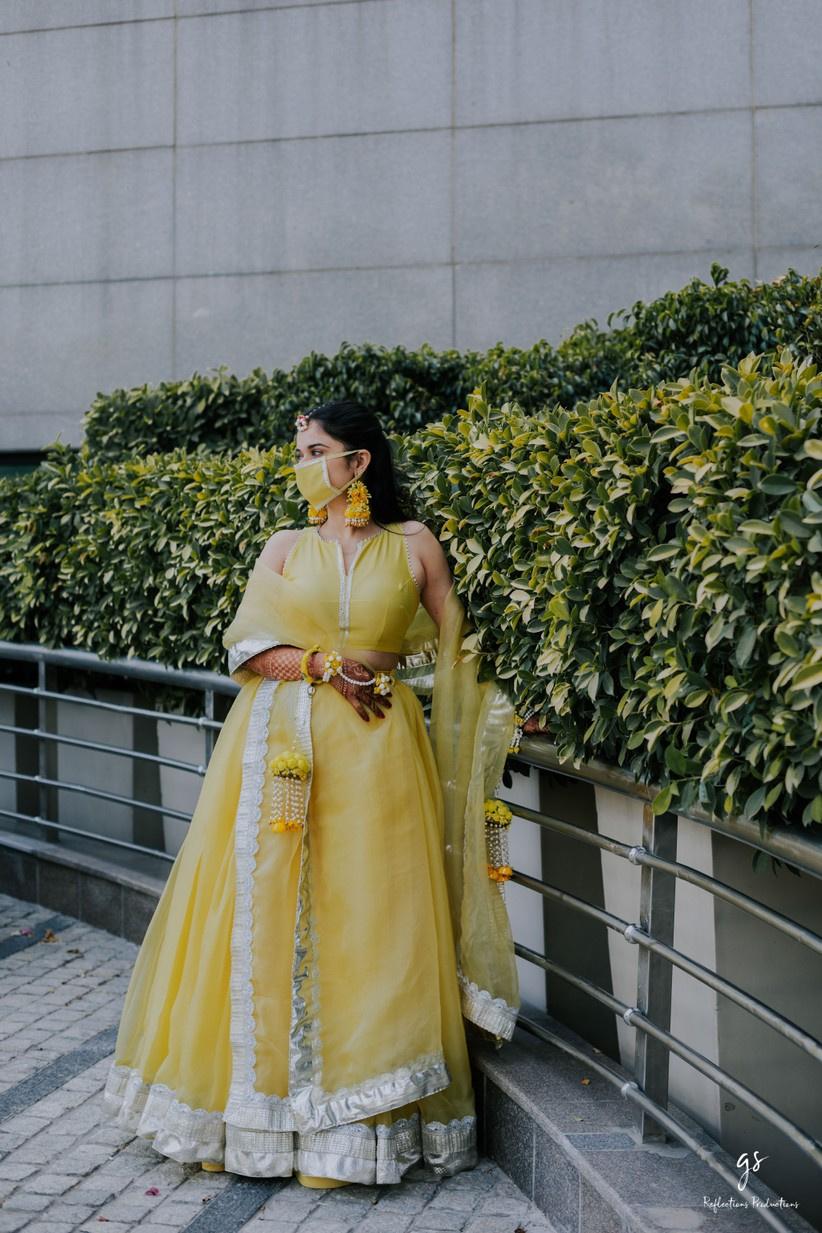 Haldi ceremony was one of the pre-wedding ceremonies that they had celebrated and she looked stunning. Pallavi picked a yellow lehenga for her Haldi ceremony look. It was a simple organza lehenga with a silver Patti on the hem of the dupatta and the lehenga. Her floral jewellery to compliment the attire was also swoon-worthy.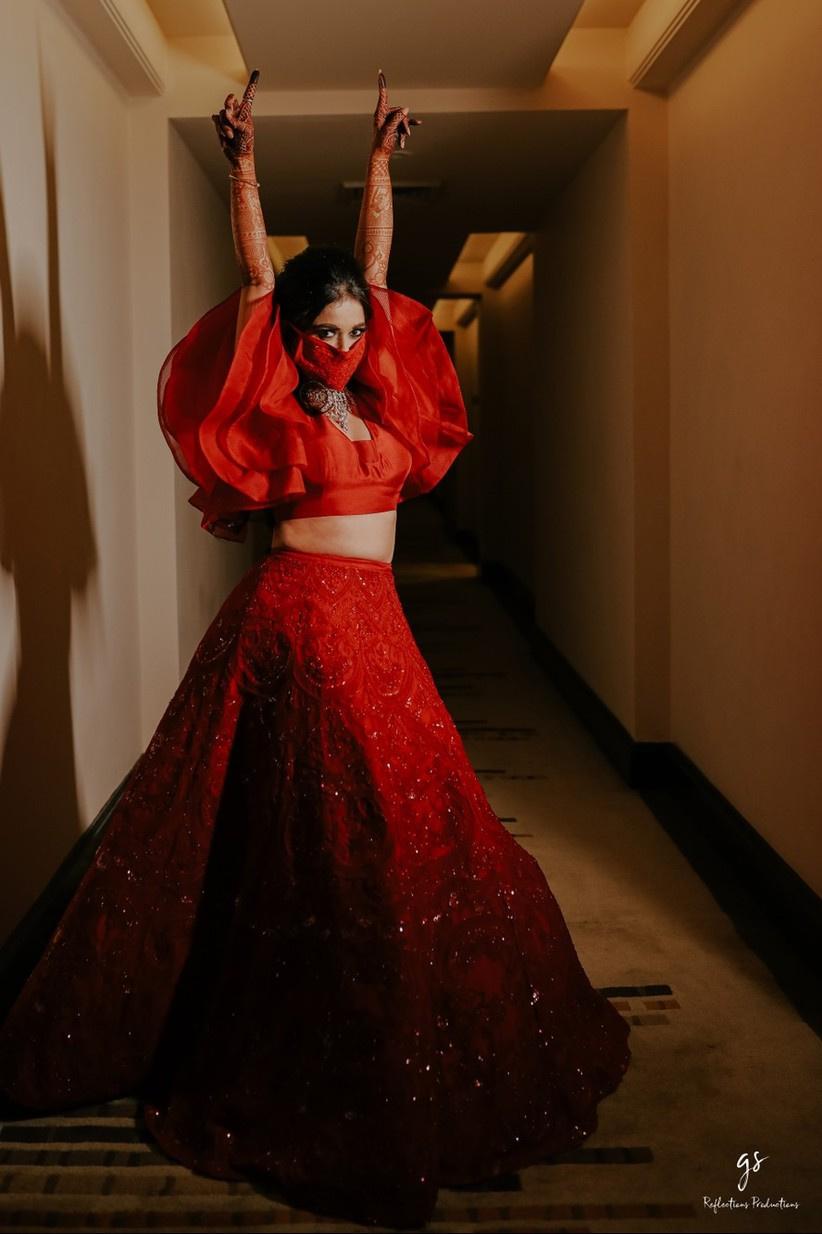 For her Engagement ceremony, Pallavi picked a gorgeous red outfit. The Chikankari lehenga with the structured blouse flaunting a dramatic sleeve design is as glamorous as it gets. She paired it with a beautiful diamond necklace and matching earrings made by Rama Krishna Jewellers in Lajpat Nagar. The matching red mask tells us how safety was maintained, without losing out much on fashion!
The Haldi and Engagement outfits were beautifully designed and stitched personally by her aunt who owns a label of her own known as Asira The Label.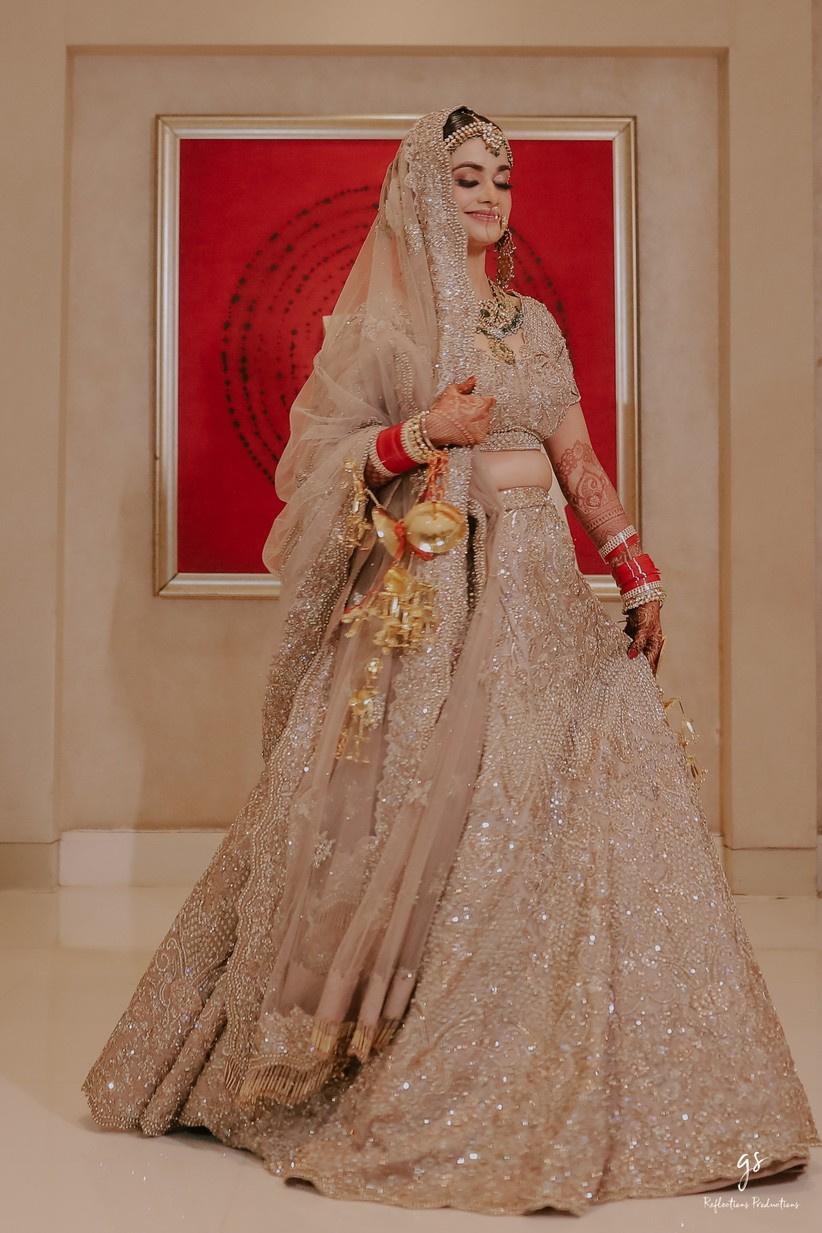 The wedding outfit along with her other outfits was delivered at her doorstep. This gorgeous lehenga was designed by Asiana Couture. It was made keeping in mind the destination wedding in Thailand in Sheraton, Hua Hin. Pallavi, however, decked up to look dreamy as she walked down the aisle to tie the knot with Yash at her intimate wedding in Gurgaon.
Her breathtaking jewellery that complemented the golden lehenga was designed by one of her acquaintances for the big day.
What Yash Wore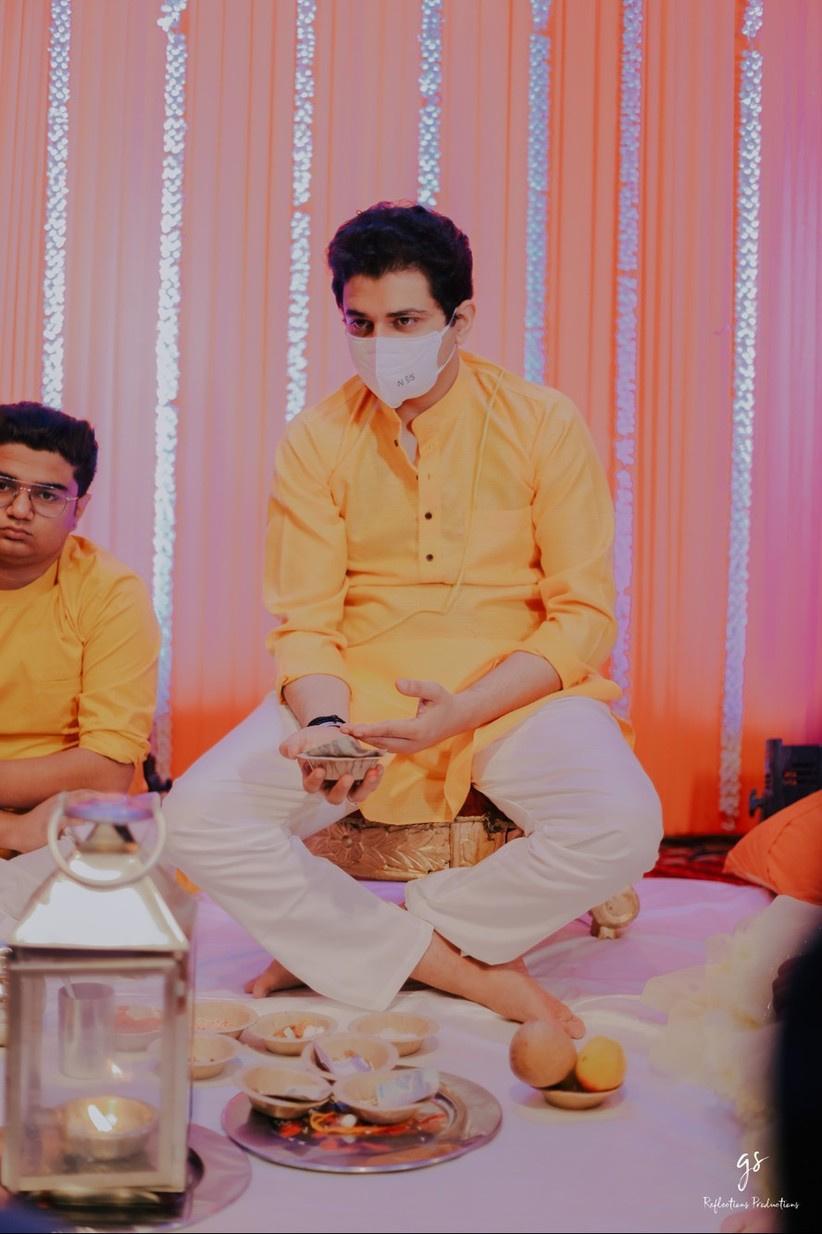 Yellow is a magical colour that completes the Haldi ceremony. Matching his bride, Yash also flaunted a simple yet crisp yellow kurta with a white pyjama. The mask matches his pyjama and was a necessity during these times.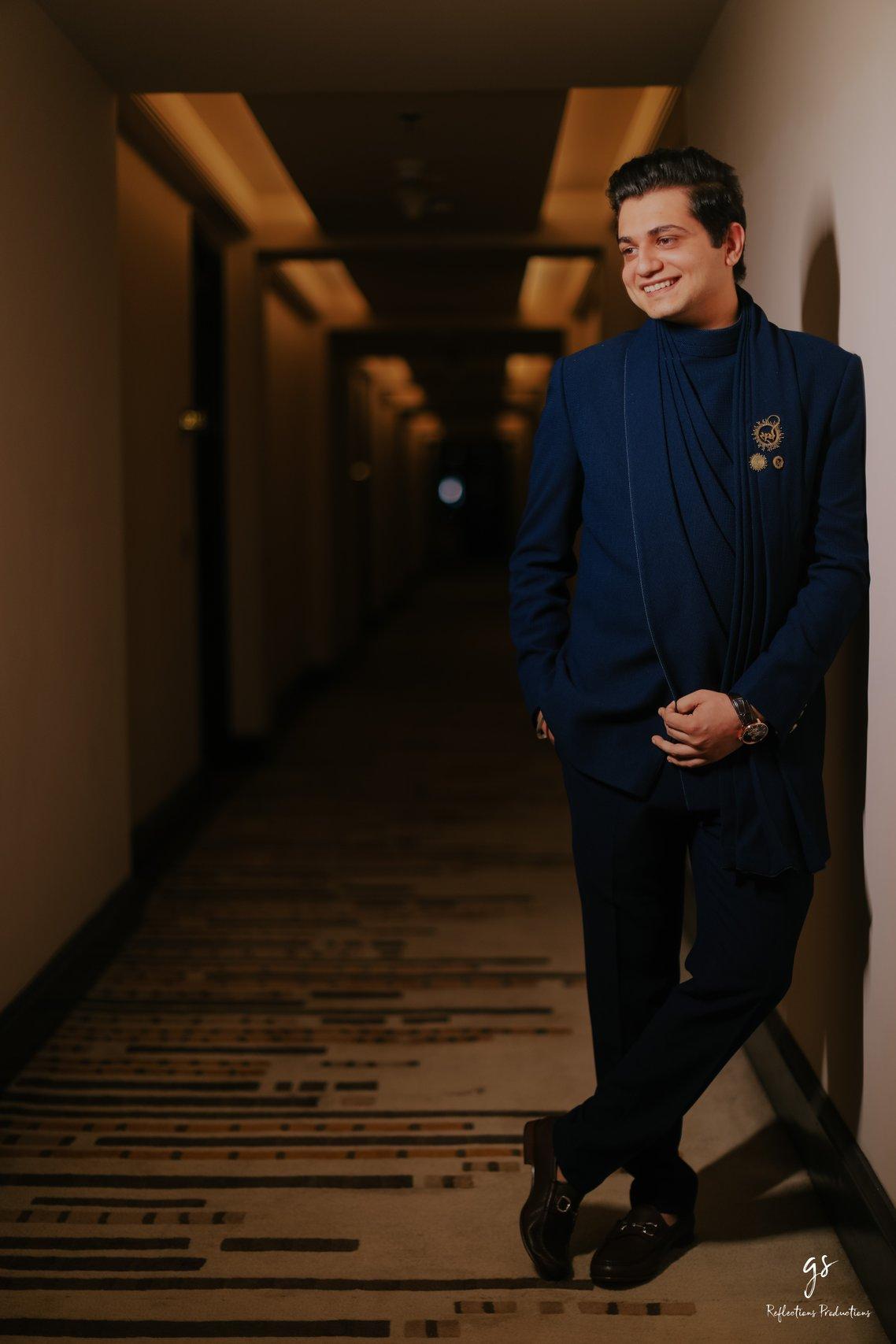 The stunning bandhgala with pleated detailing and a customised brooch made the groom look handsome as ever for his engagement look. The outfit was picked from the Heritage in South Extension, New Delhi.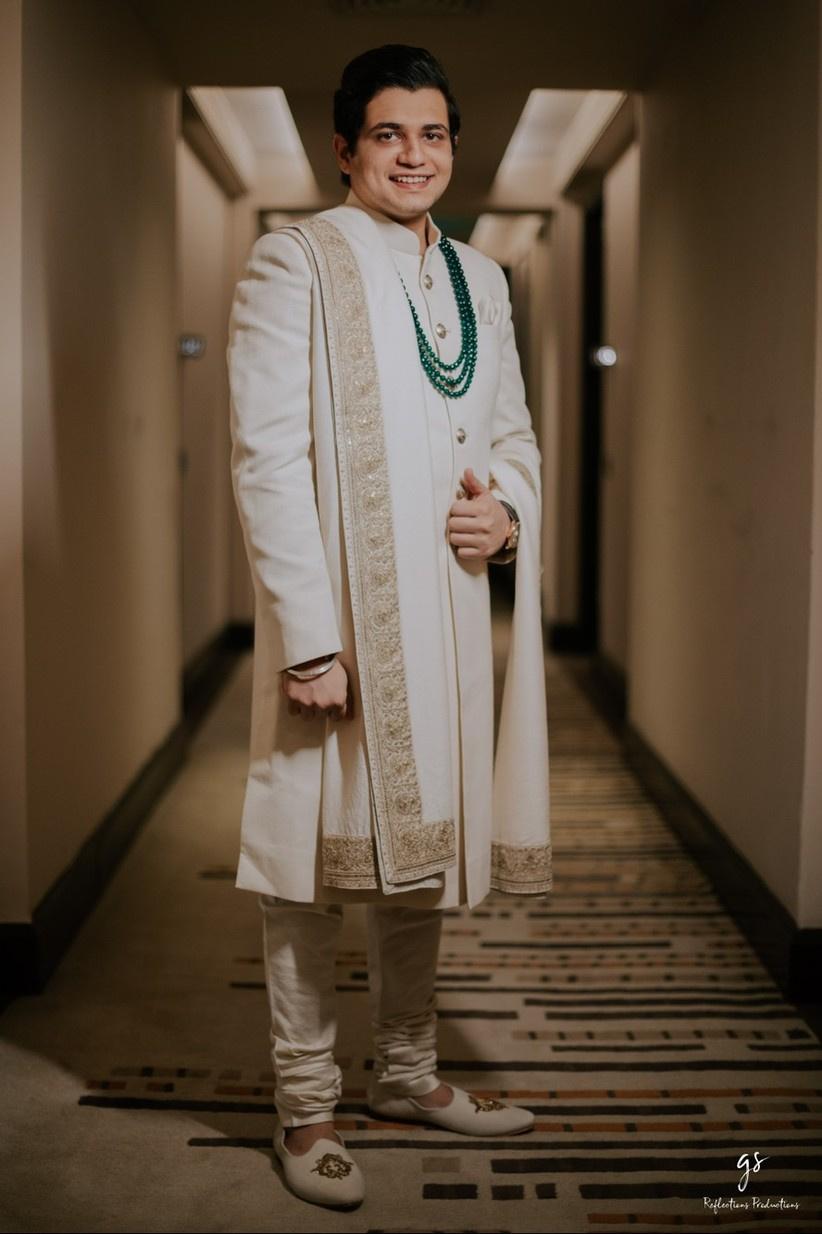 The groom wore a fabulous Sabyasachi sherwani for his wedding and paired it with an emerald haar, looking royal as ever.
The Wedding Planning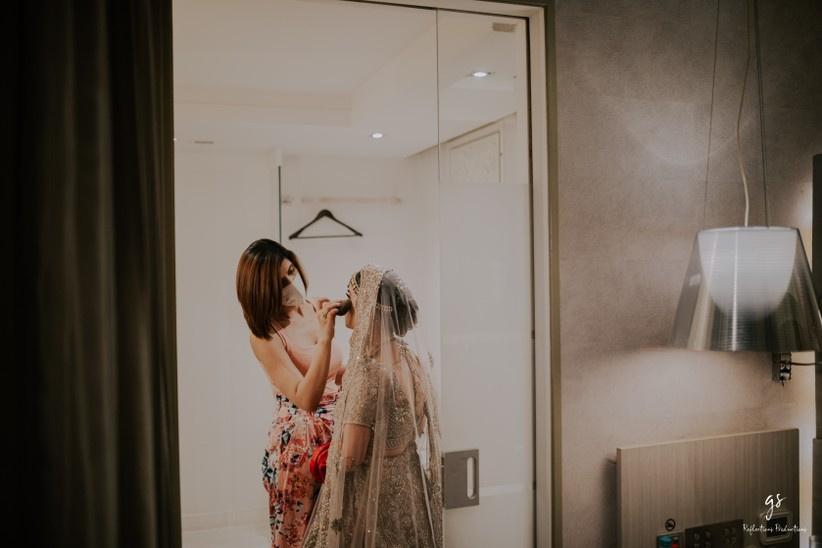 They had earlier planned a big fat Indian wedding in the gorgeous white sands of Thailand in full swing that was to be held on the 4th of May. From that to a small wedding with 50 people in Gurgaon on the 24th of May, is a journey that Pallavi and Yash had definitely not imagined coming their way. However, fate had it in-store and their intimate wedding became a story to tell forever!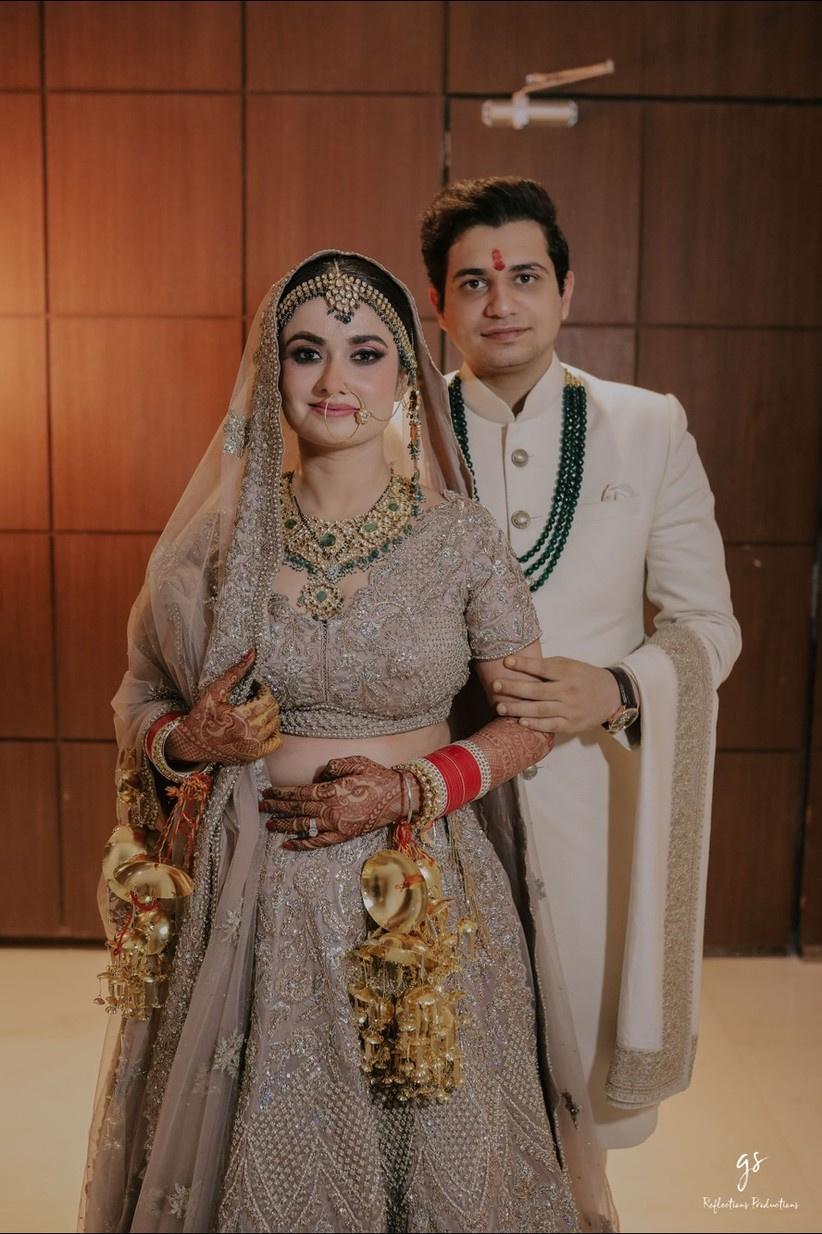 While the groom was travelling to take his Dulhaniya, Pallavi says, "On the other hand, my family and relatives were doing all the wedding preparations. Earlier, we hired and paid an advance to Manyan Event Planners for the original wedding. So we asked the same team to organise a small wedding event in Gurgaon with 40-45 people for us."
"So, literally in 3-4 days, we planned everything. We got permission on 19 May and our wedding happened on 24 May. So everything happened very quickly. As Delhi shops were opening up slowly, some of the arrangements for wedding rituals were arranged in 1-2 days from those vendors", says Pallavi.
The bride's makeup artist Rashi Sehgal has got us swooning with her bridal makeup on each of her ceremonies. While many of the early #WeddingsIntheTimesOfCorona brides had to do their own makeup, the professionals are re-opening slowly and steadily. Many vendor professionals are available again to provide impeccable services and make your wedding dreams come true.
A Guest List of Rishtedaar & Friends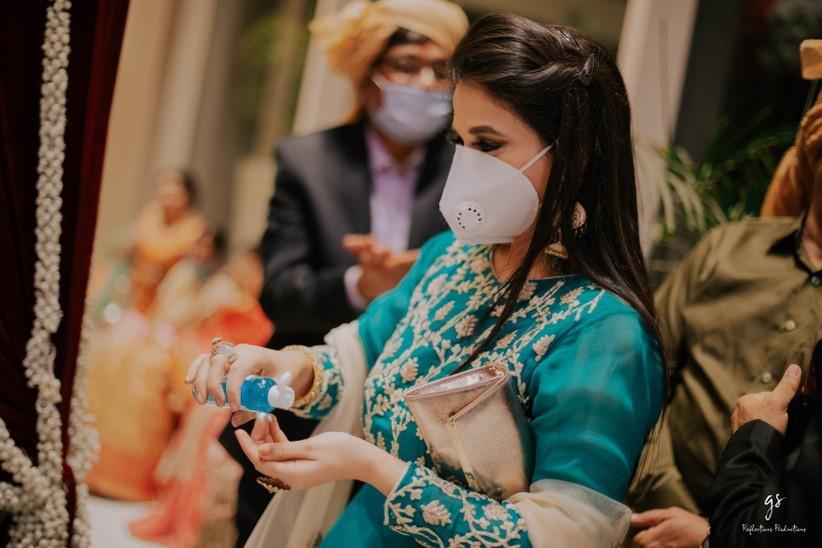 Their intimate wedding consisted of 40-45 people and at every step, safety was maintained with constant usage of masks and hand sanitisers. Apart from the dear ones present to bless her at the venue, the bride and groom also had their friends and relatives watching their wedding on virtual platforms.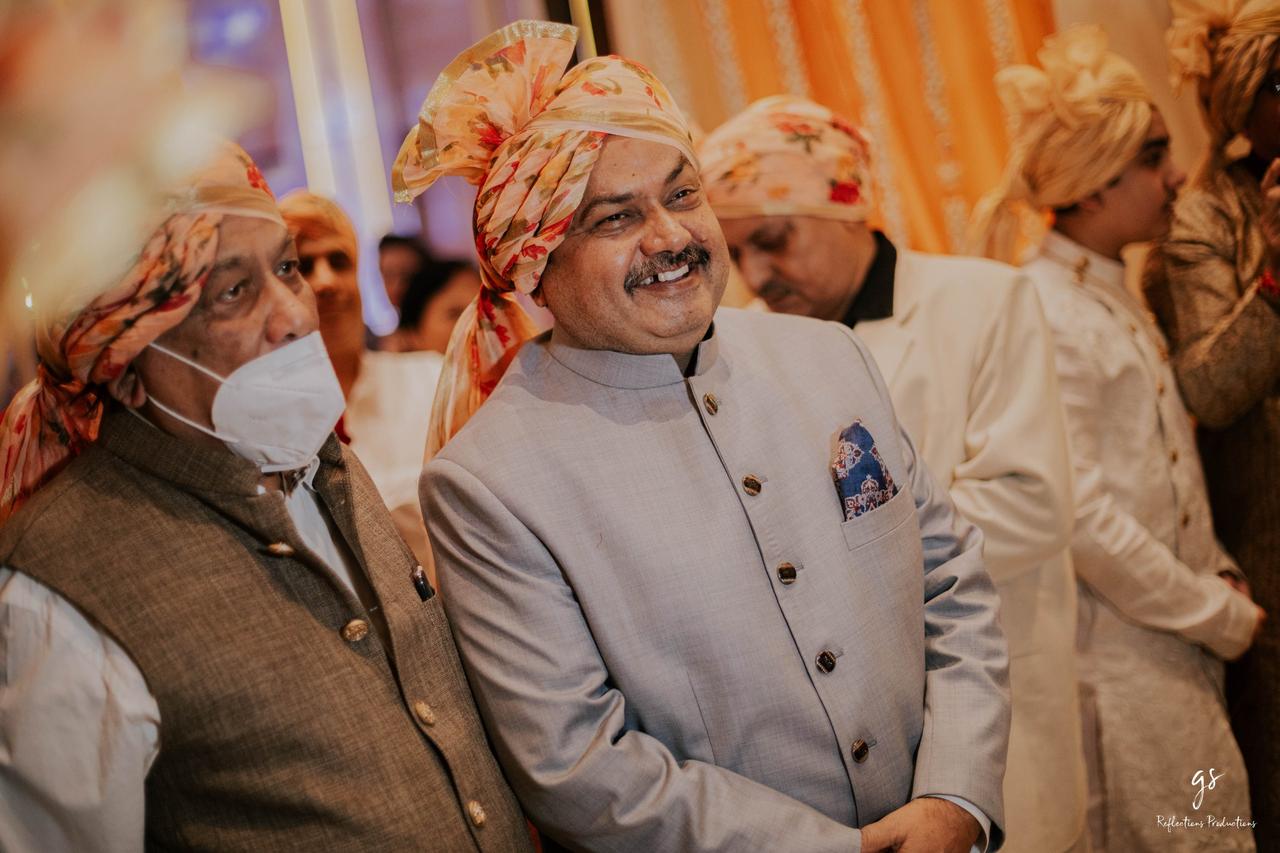 Virtual weddings are indeed making their way to the new normal amidst the pandemic and lockdown and the story of Pallavi and Yash travelling 27 hours to get married and live happily ever after is one to remember.
The wedding was captured by Weddings by Reflections. The ace photographer made sure that each moment was captured with precision for the couple to cherish forever.
Photographers, bridal outfit designers, wedding decorators and even wedding venues are slowly opening up for your assistance. Plans may be postponed, but there is no perfect time to celebrate love and Pallavi and Yash is one couple to be inspired by.
Note: All images have been provided by the photographer, Reflections Photography.
If you are planning to host an intimate wedding, get in touch with the professional wedding planners who can help you plan an amazing intimate wedding with less than 50 people.