12 Incredible Cartoon Cake Ideas That Are The Ultimate Wedding Goals!
No wedding is complete without a beautiful wedding cake? Skip on the plain white cake in favour of these incredible cartoon cake ideas that are true works of art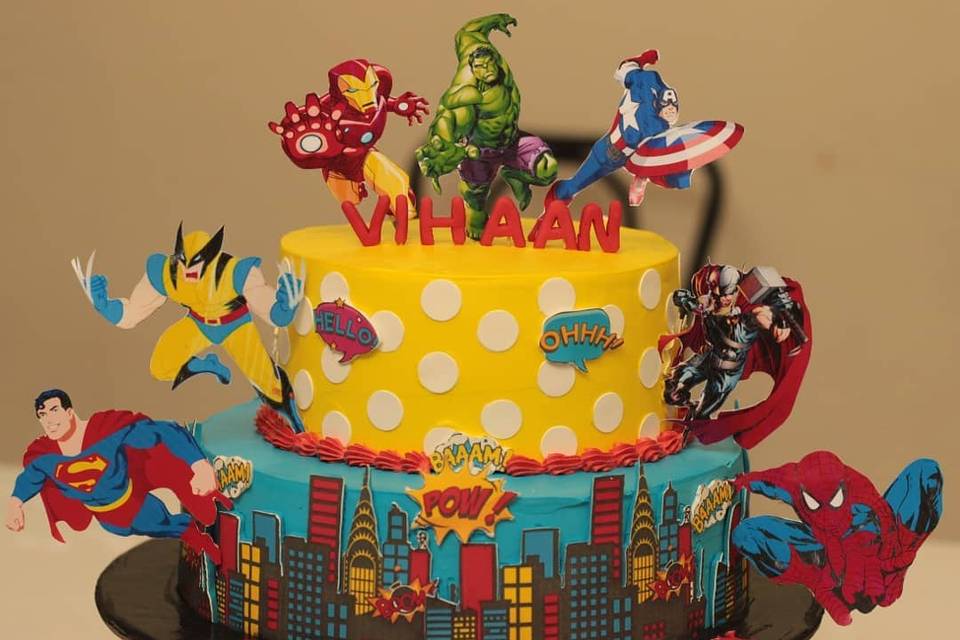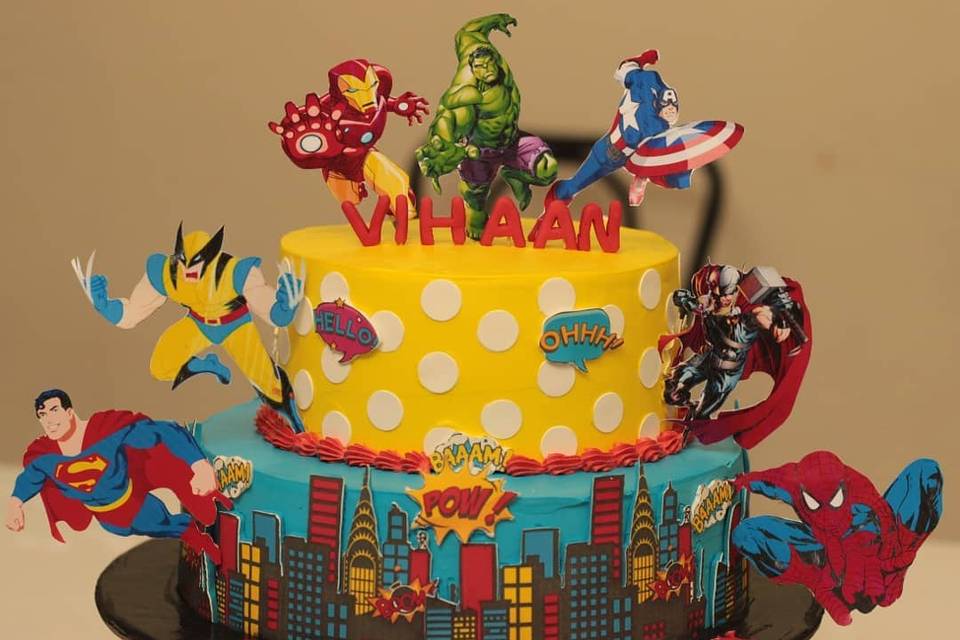 Image Courtesy: Cake Shugga
Your wedding is just around the corner and you have all the details figured out- the venue, the décor and the perfect dress. But one element that you might be overlooking is the wedding cake. There are few things in this world that we appreciate more than a beautiful wedding cake to satiate our senses.
There is no doubt when it comes to wedding cake designs, choices can be overwhelming, should you go with buttercream or florals? Maybe you consider yourself a contemporary bride and want to incorporate your favourite movie on your cake. Whatever it may be at the end of the day your wedding cake should be a reflection of your personality. To inspire all the modern brides out there, we've rounded up the top 12 cartoon cake ideas that have been a big hit at weddings!
1. Disney castle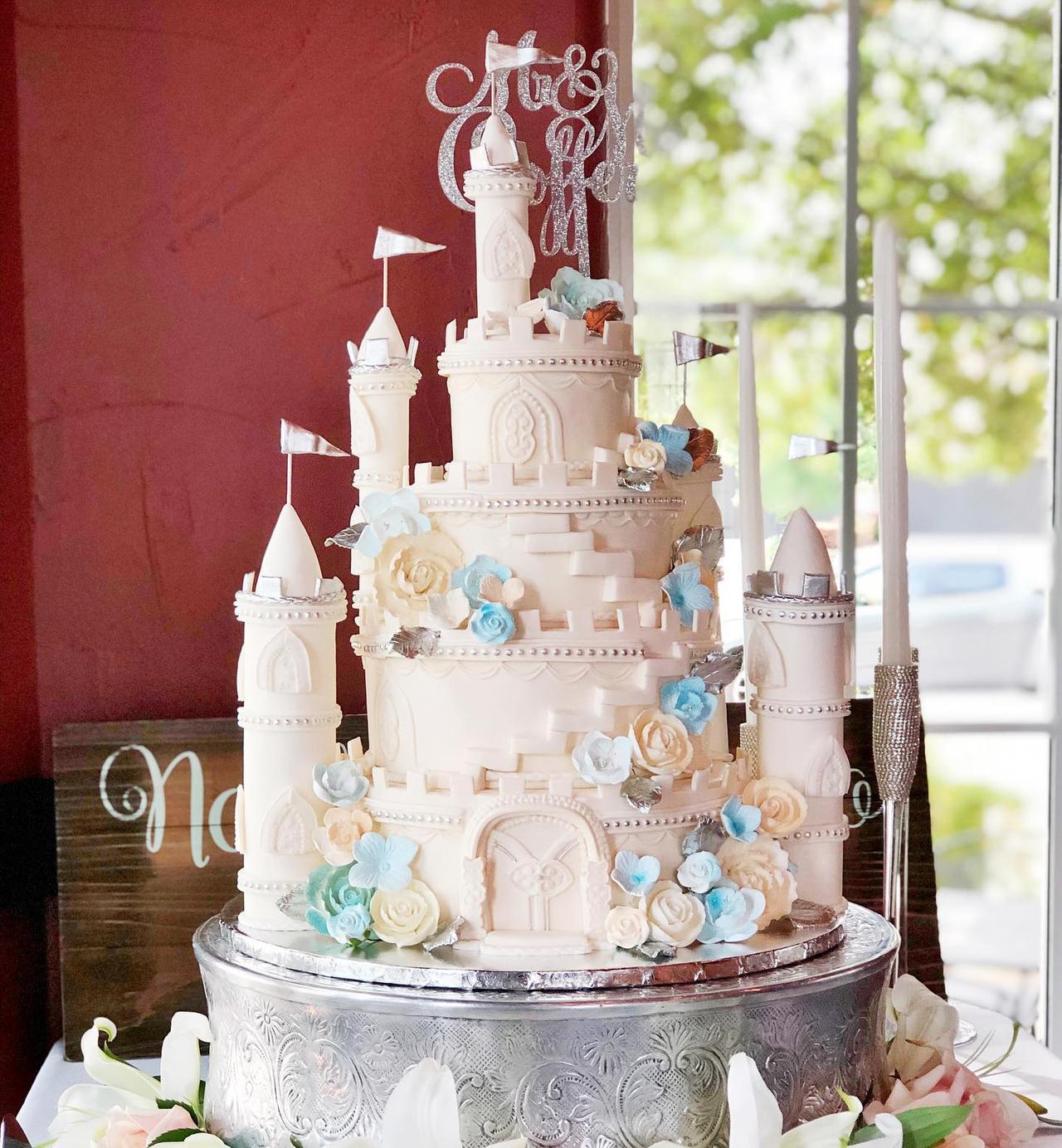 Image Courtesy: 2 Tarts
Cakes with multiple tiers have always been a classic when it comes to weddings. But if you consider yourself an eclectic bride and want to add your unique touch, a great way to do this is to incorporate your favourite movie on your cake. When it comes to Disney movies, it's often hard to choose just one so why not go all showcase your love for all things Disney with this beautiful castle cake.
The cake design features a stunning castle with gates, steps and towers mounted with silver flags. To add some colour to the all-white cake, the tower is embedded with pretty pastel coloured roses. The enchanting cartoon cake will make you feel like a fairy tale bride.
2. Harry Potter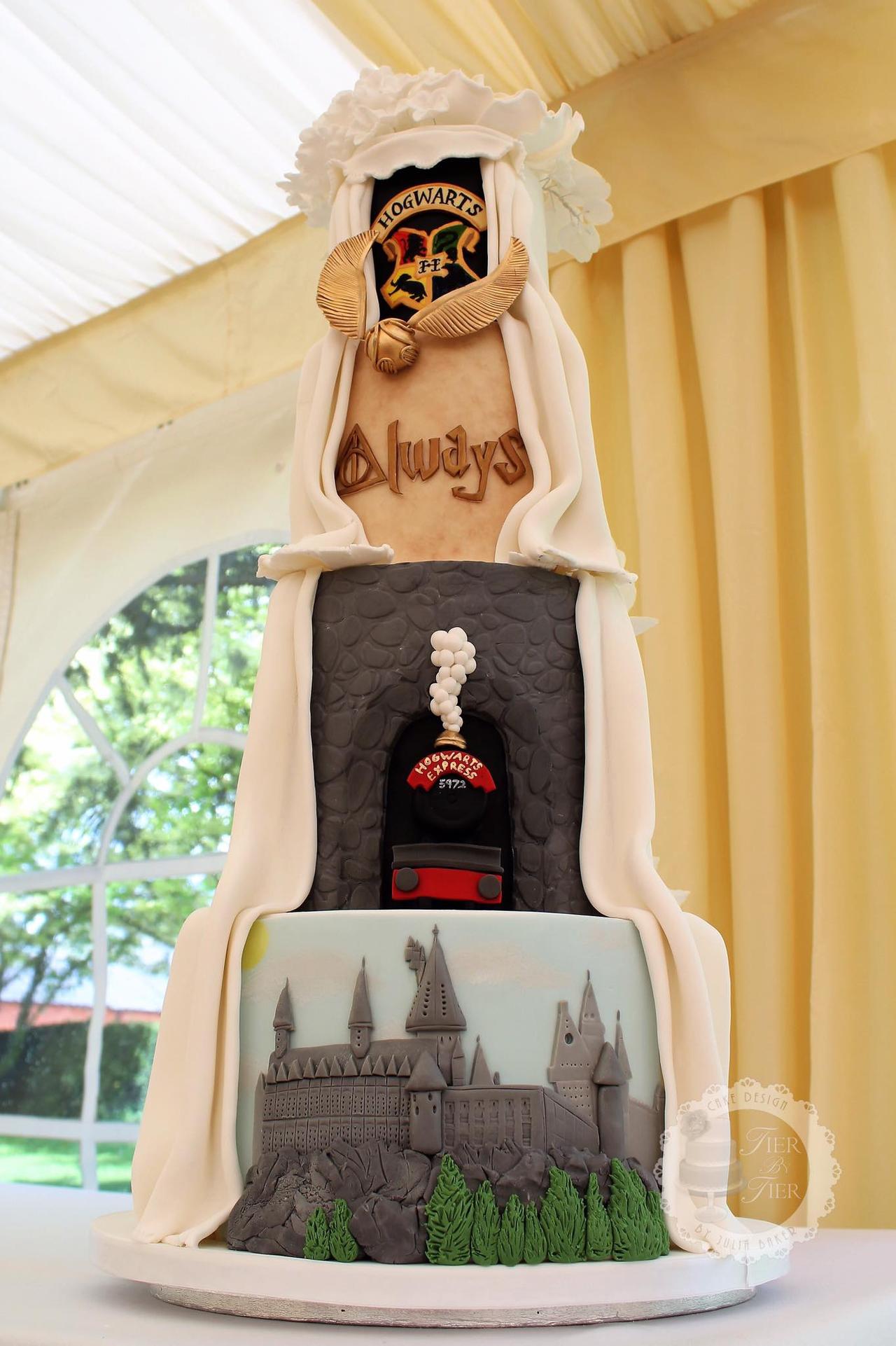 Image Courtesy: Tier by Tier
Don't deny it, we're all Harry Potter fans at heart! So what better way to showcase your individuality than with a wedding cake featuring your all-time favourite movie. For all the 'Potterheads' out there, this is what we call a dream wedding cake.
This cake incorporates everything we love about Harry Potter, illustrated beautifully on each layer. The four-tier masterpiece includes the Hogwarts school, the Hogwarts express, the word 'Always' in classic Harry Potter font, a Quidditch ball and the Hogwarts school emblem. This cartoon cake will be a big hit at the wedding.
3. Beauty and the Beast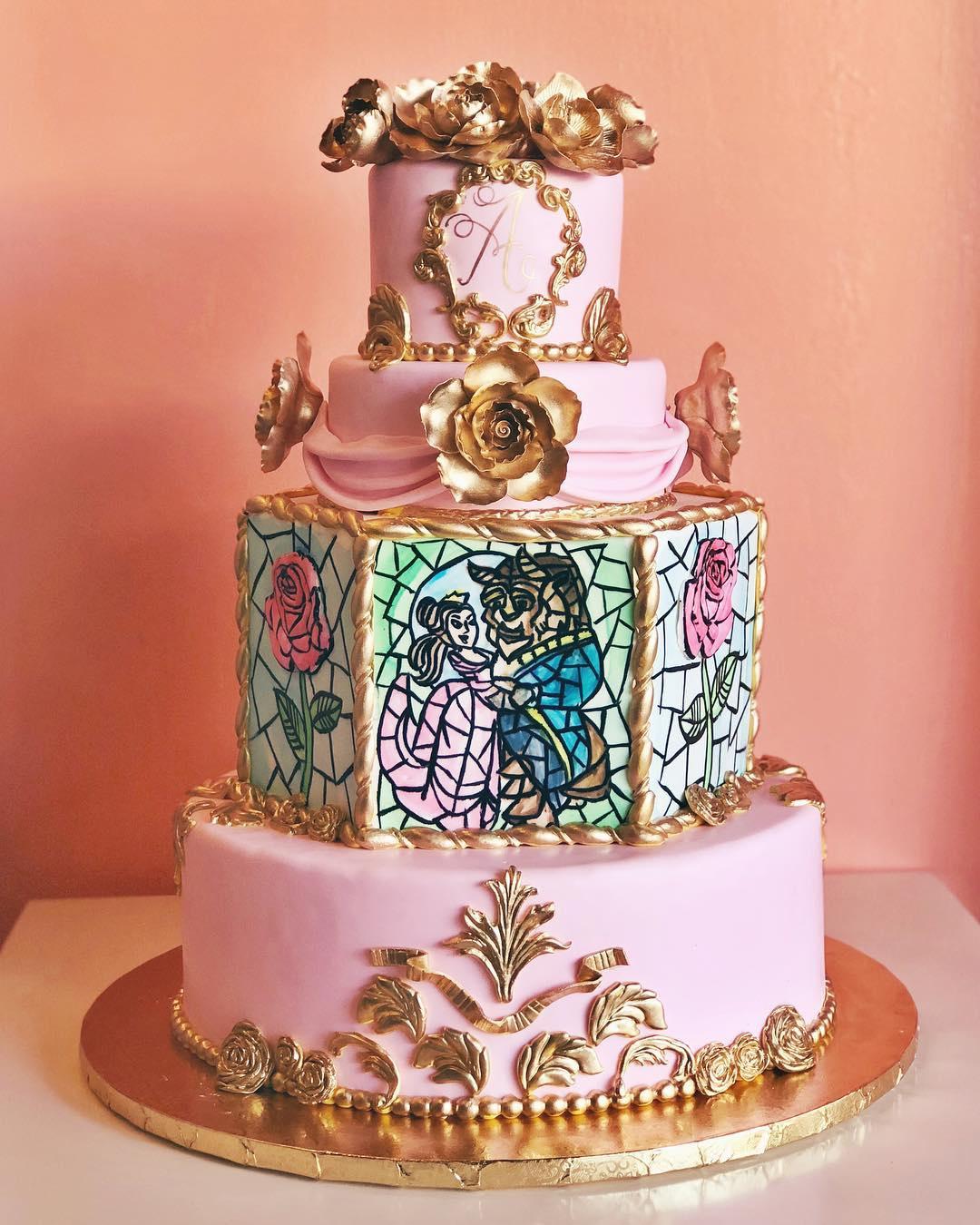 Image Courtesy: 2 Tarts
When it comes to weddings, we're all about beautiful pastels and hues. So a pastel pink cake is our definition of 'too pretty to eat'. If you grew up watching Disney movies as we did, then you'll love this Beauty and the Beast inspired cake.
The cake has four layers with a pink base. It is enhanced with some stunning gold rose motifs across all three layers giving this cake a royal look. The beauty in the cake lies in the third layer which incorporates a stained glass painting of Beauty and the Beast and 2 pink roses on either side. The intricacy of this painting done with icing is the highlight of the cake and gives it a unique edge. For all those Disney movie lovers, this cartoon cake is a must-have!
4. Alice in Wonderland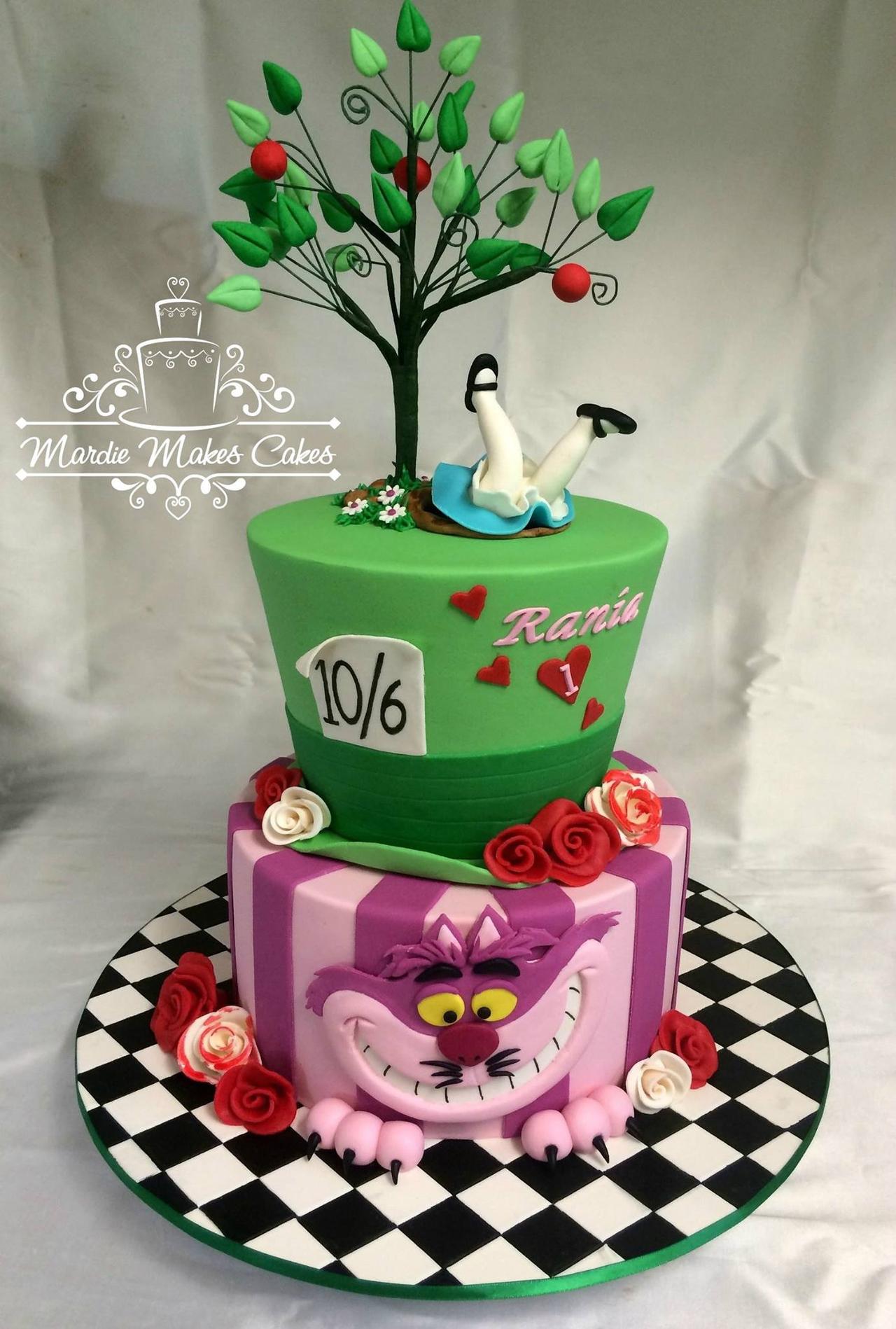 Image Courtesy: Mardie Makes Cakes
Alice in Wonderland is a classic movie that is loved by many because of its unique story and quirky characters. This gorgeous cake embodies the essence of this movie in a fun and exciting way.
The first layer of the cake is the Mad Hatter's green hat embedded with roses and includes Alice falling into the well by the tree. The second layer is the Cheshire Cat- the mischievous cat in the movie. With its bright green and pink colour palettes, this cartoon cake takes us back to our childhood.
5. Aladdin and the Magic Lamp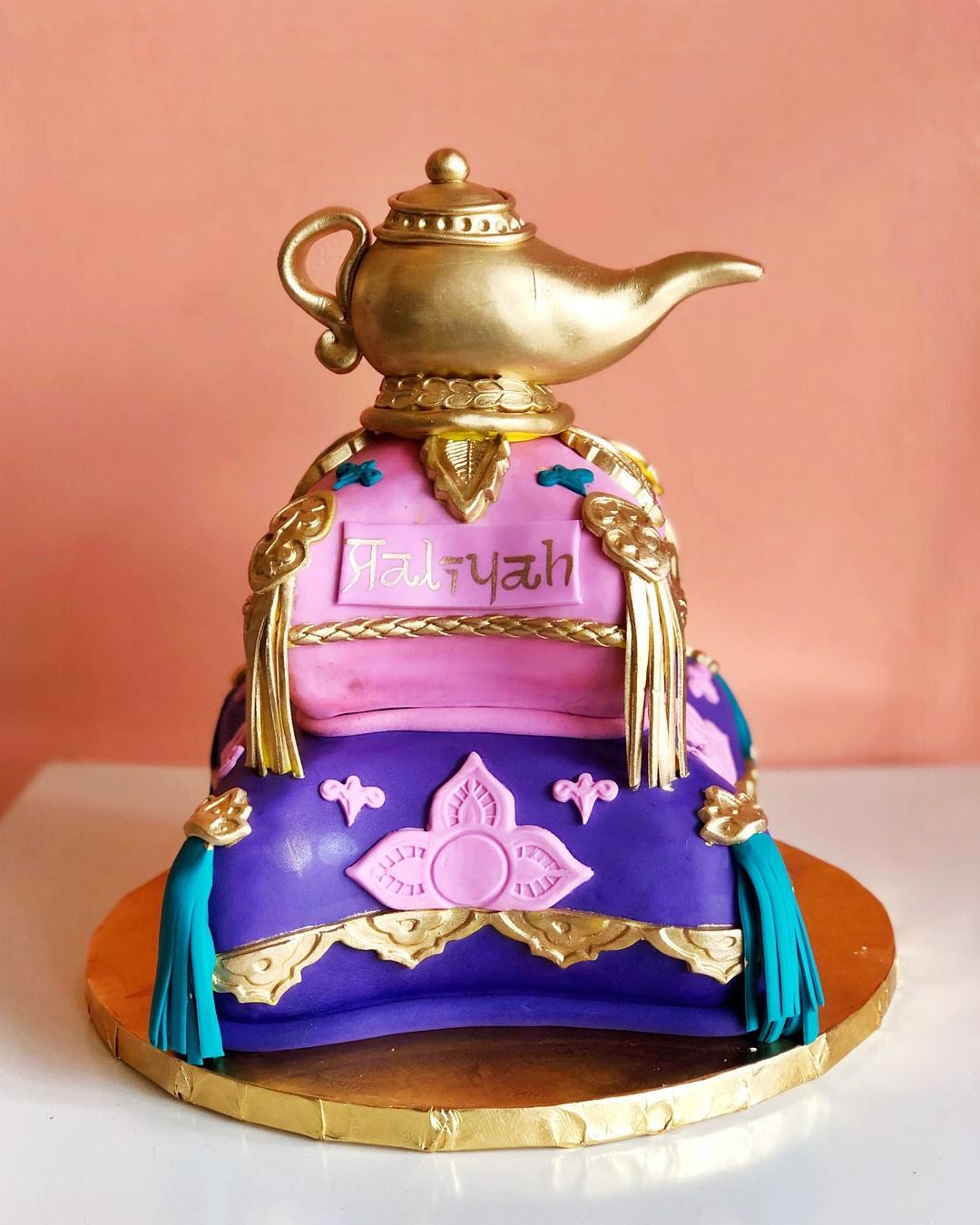 Image Courtesy: 2 Tarts
One of our all-time favourite movies is Aladdin. With its colourful songs and unique characters, there's nothing we don't love about this classic Disney film. If you want to incorporate a piece of your childhood in your wedding theme, this cartoon cake will do the trick.
This cake brings out the spirit of the movie without actually featuring the characters. The two tiers of the cake is a traditional cushion that features multiple times in the movie. This is embedded with beautiful tassels and pink florals. But it is the golden magic lamp that is the crown jewel of the cake. This cake can add a pop of colour to your reception.
6. The Nightmare Before Christmas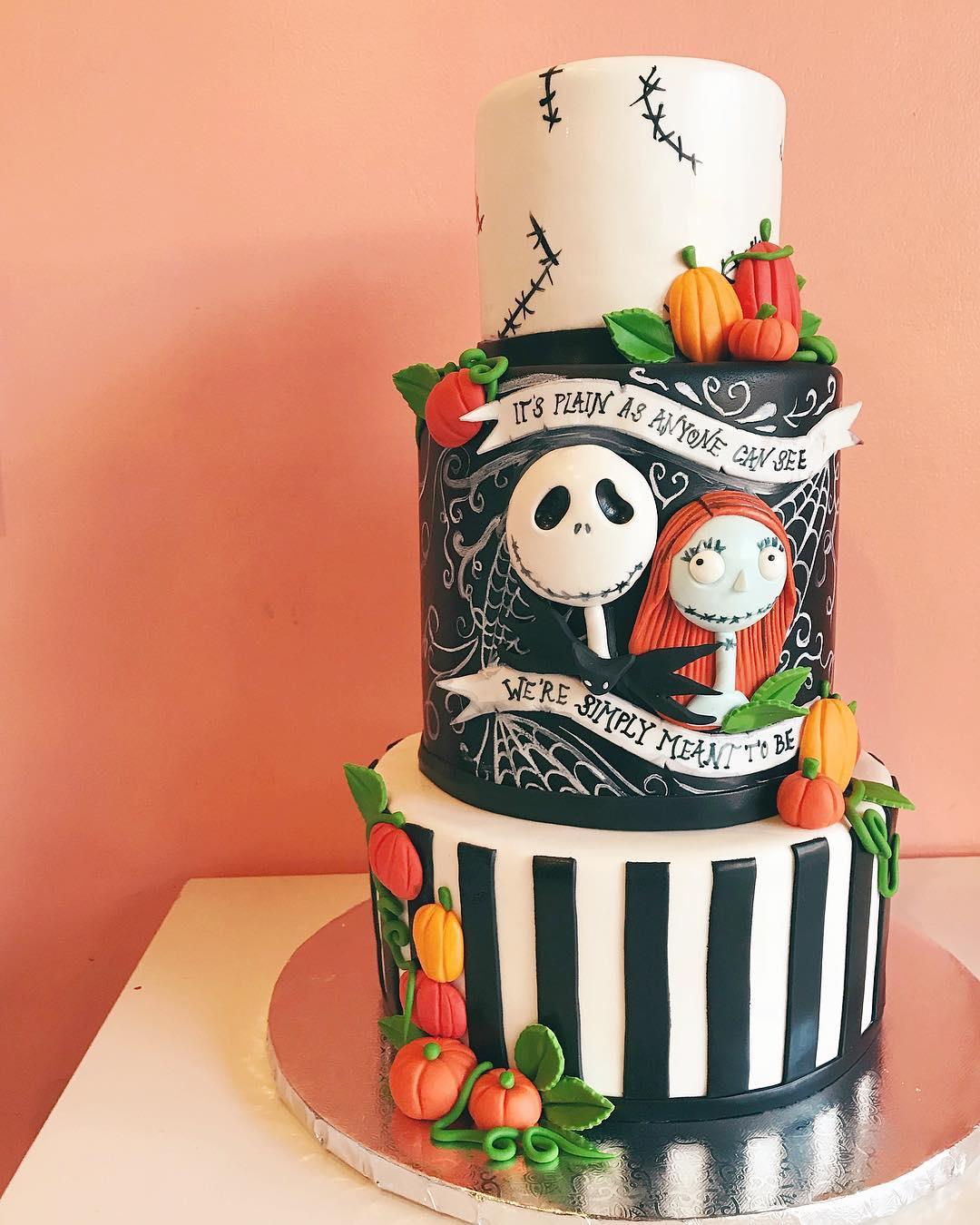 Image Courtesy: 2 Tarts
The Nightmare Before Christmas is not the first movie that comes to mind when we think of Christmas but nevertheless, it is a classic holiday movie. One of the highlights of the movie is the story between Jack Skellington and his love interest Sally that many people came to love.
So if you are looking for a quirky wedding cake with an edgy look, this cake is a must-have. The black and white wedding cake features Jack and Sally with a love quote from the movie 'It's plain as anyone can see, we're simply meant to be' depicting their timeless love. There are also pumpkins and cobwebs embedded on the cake to give it that distinctive look. Surprise your guests with this one of a kind wedding cartoon cake.
7. Batman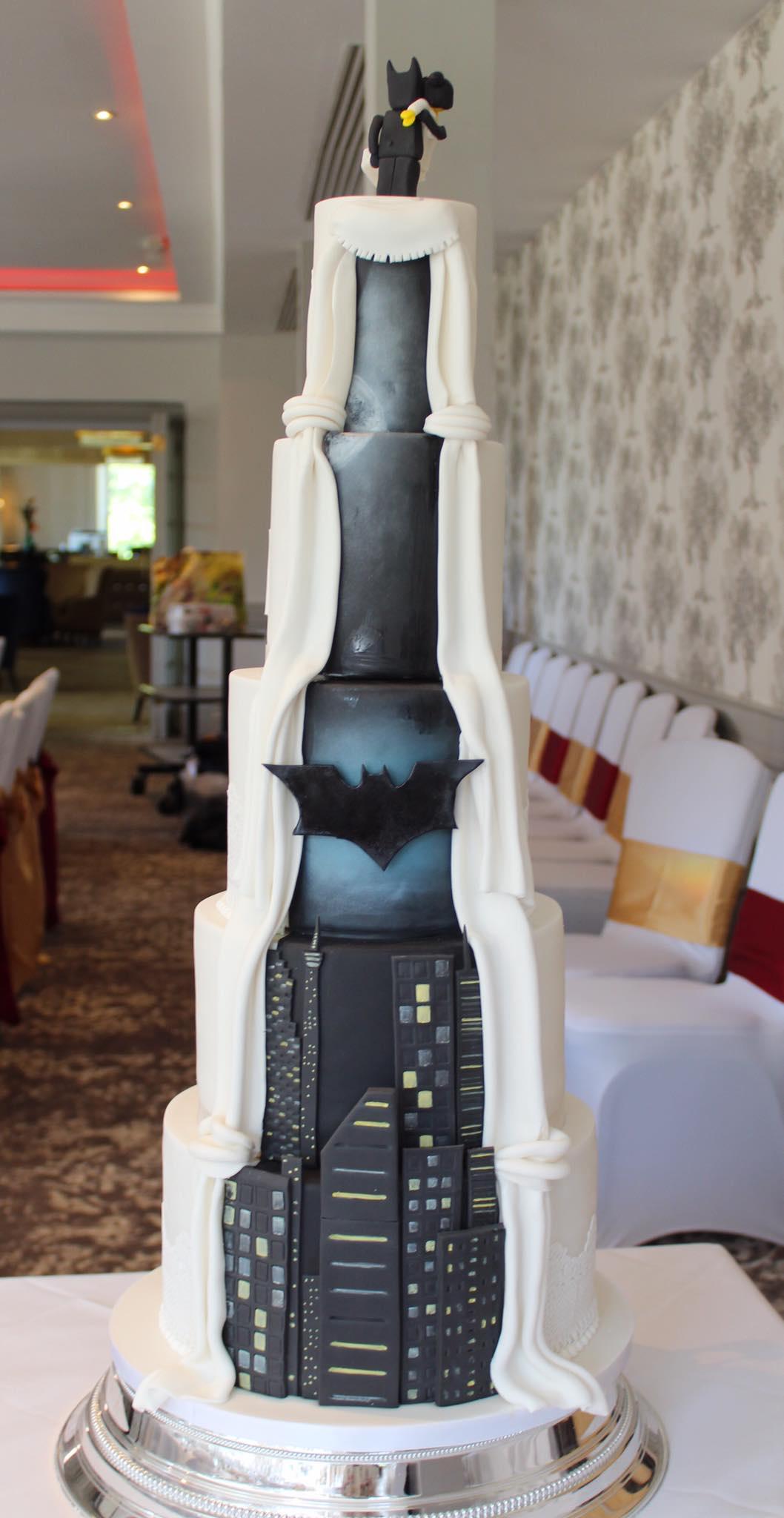 Image Courtesy: Tier by Tier
Batman is without a doubt, one of the best superhero movies of all time! So why not add a dark, edgy look to your classic white wedding cake with the city of Gotham. The first three layers of the cake feature a 'Dark Knight' theme and the classic Batman logo. The last two tiers showcase the skyline of the beautiful city of Gotham that adds an ethereal feel to this cake.
The cherry on top of the cake is a miniature figurine of Batman carrying the Bride. This is a unique twist on the traditional bride and groom cake topper. If you are a big fan of the DC Universe, then this cartoon cake is a great way to show it some love!
8. Coco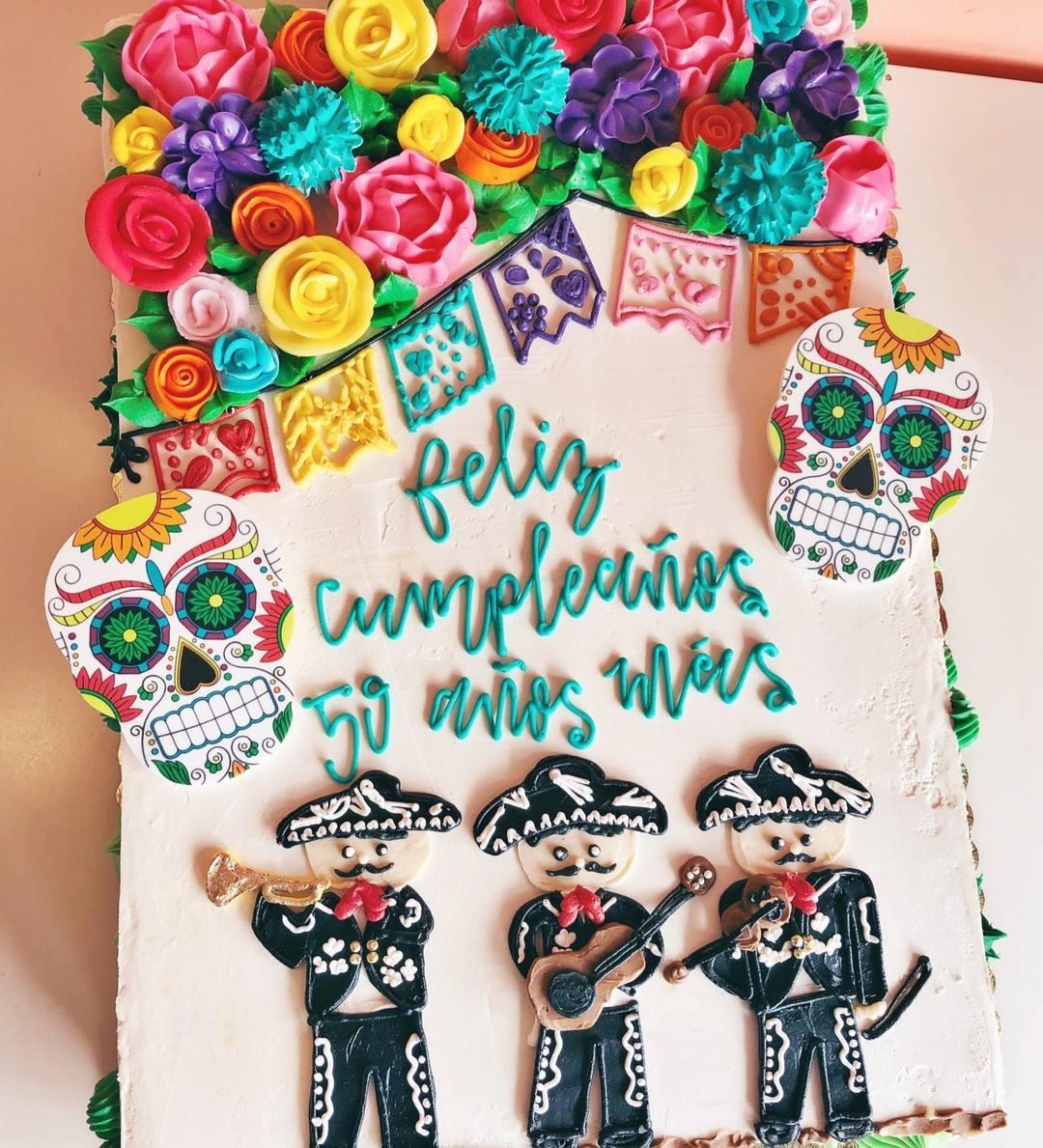 Image Courtesy: 2 Tarts
The movie Coco was one of the best-animated movies ever made because it taught us the importance of family and love. Since your wedding is a celebration of your 'happily ever after' with your loved one, a cake with this movie theme is perfect.
The movie celebrates the rich Mexican culture and heritage through song and dance. You can incorporate this on your cake with Sombrero dancers, Calaveras' and bright coloured flowers that are an important part of Mexican traditions. This fun cartoon cake is sure to add some colour to your wedding!
9. Game of Thrones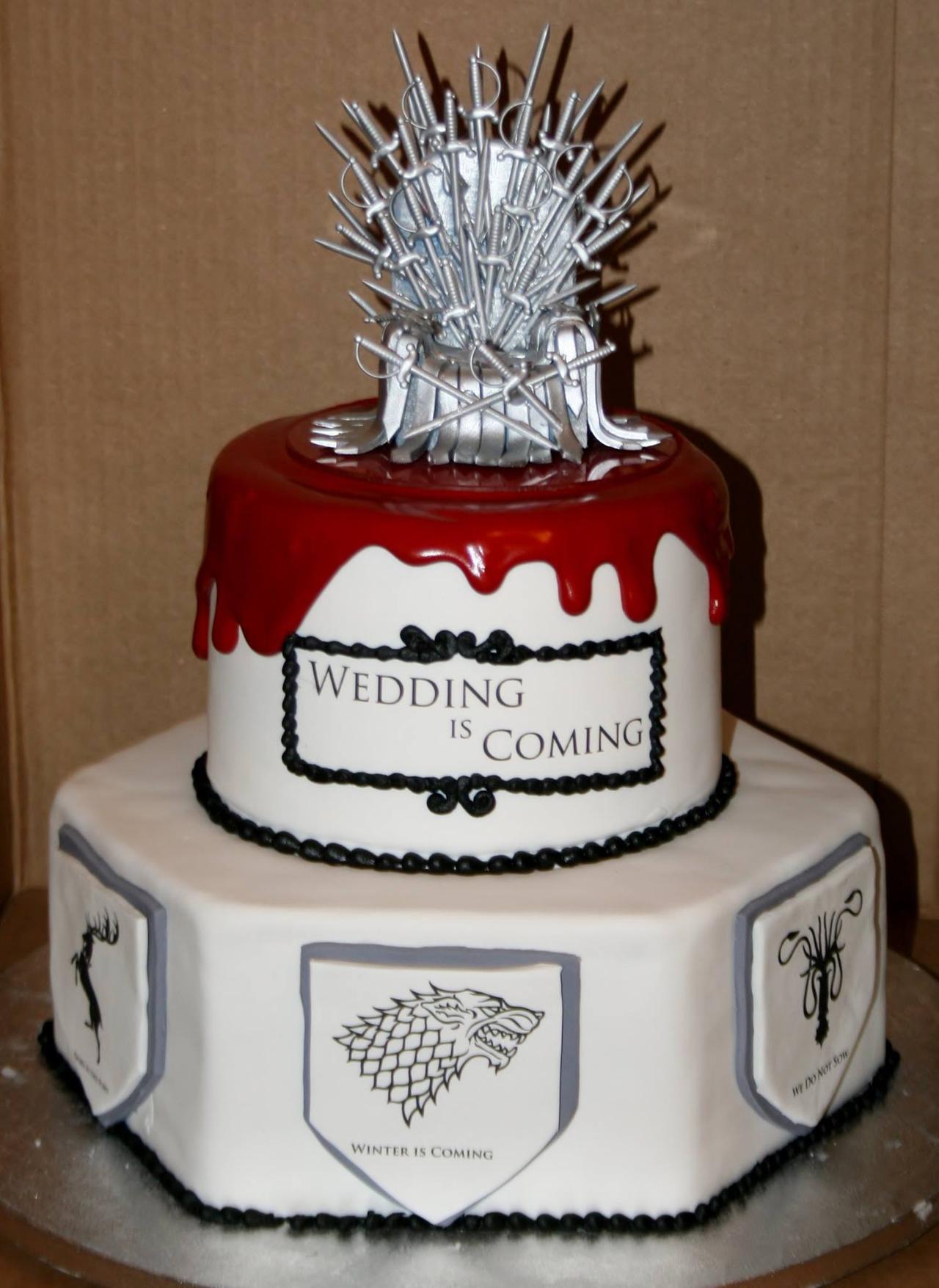 Image Courtesy: Icing Baking Company
While we're disappointed that Game of Thrones has come to an end, there's no reason why we can't have a wedding cake inspired by this incredible show. This cartoon cake features the iconic Iron Throne in all its glory. It sits on a red icing that drips down the first layer of the cake. The second layer features the emblems of three of the seven kingdoms, masterfully illustrated on the cake.
The cake also incorporates a twist on the classic quote from the show 'Winter is coming' which now reads 'Wedding is coming'. Planning for a Game of Thrones inspired wedding? Then this cake is a great place to start.
10. Minions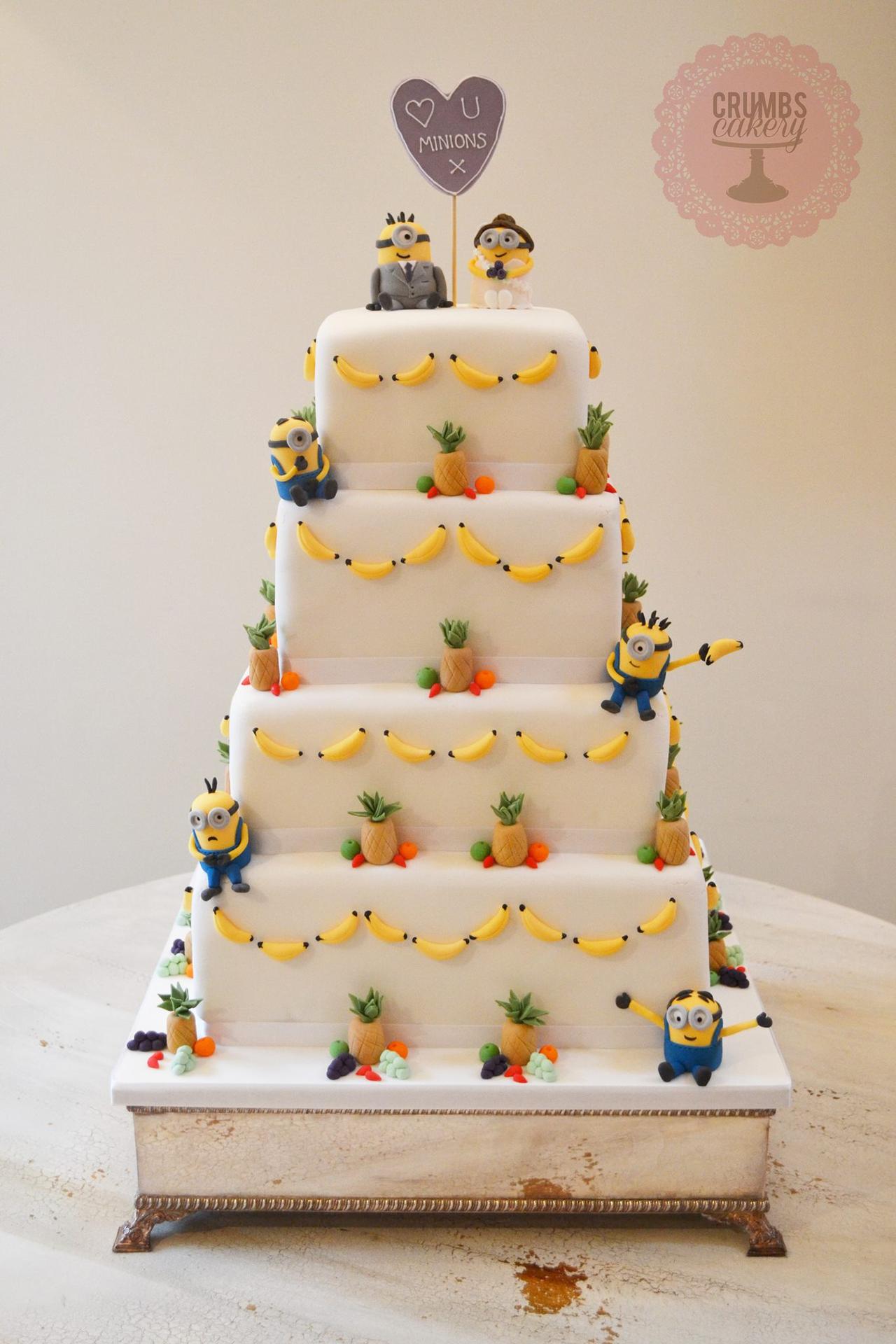 Image Courtesy: Crumbs Cakery
We can wholeheartedly agree that minions are one of the cutest animated characters to ever exist. These cute yellow creatures are the perfect addition to your wedding cake. The 4 tier wedding cake features members of the Minion clan seated at different levels of the cake.
Minions love their fruits and each cake is bordered with tiny bananas and pineapples. A minion bride and groom are seated atop this beautiful cake with a love you minions sign. This cartoon cake can add a fun element to your wedding theme.
11. Cinderella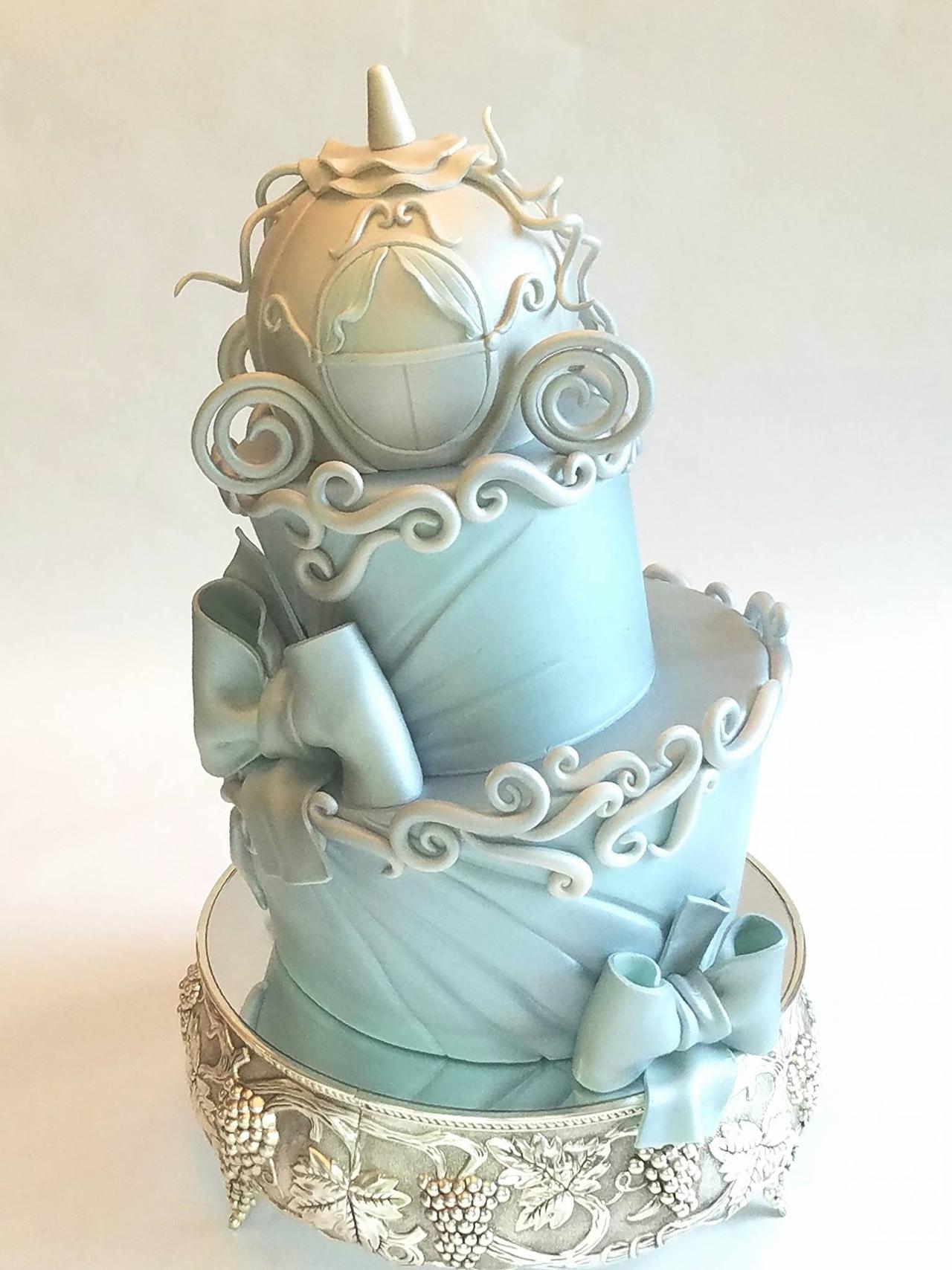 Image Courtesy: Hope's Sweet Cakes
A timeless classic Disney fairy tale that we will always love is Cinderella. This modern, princess themed cake showcases elements of the movie perfectly. The different tiers of the cake in Cinderella blue are stacked unevenly on each other giving the cake a contemporary feel. A curvy pattern borders the edge of the cake and each layer is tied together with a bow.
The cake is topped by a silver carriage, that really enhances the beauty of this cartoon cake. This stunning cake is sure to make you feel like a princess!
12. The Little Mermaid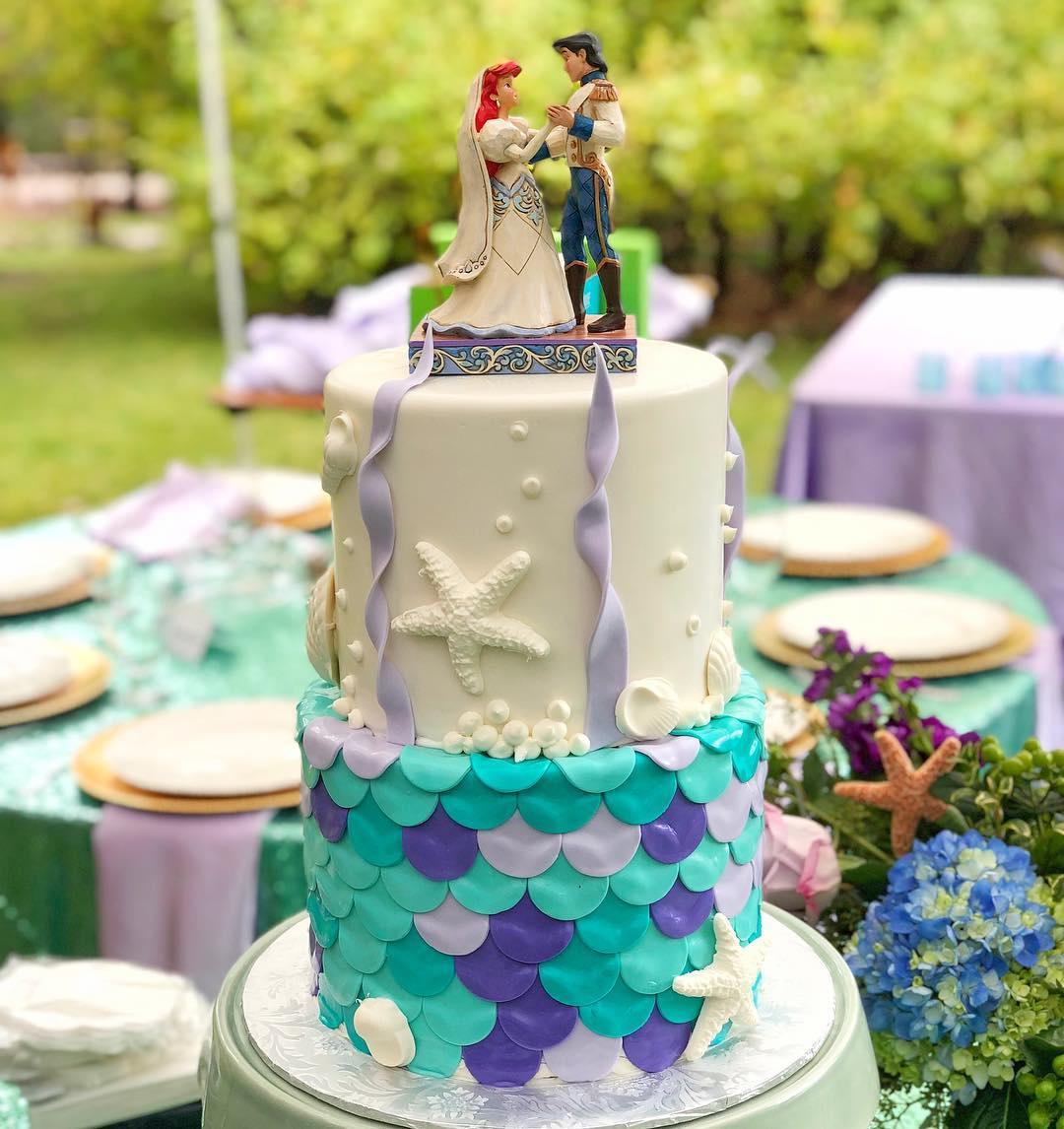 Image Courtesy: Sister My Sister
If you want to bring the beach to your wedding, this cake is all you need. There is a perfect merge of colours between the first layer which is a classic white wedding cake and the second layer that includes different hues of blue and purple. Complete with shells and starfish, this cartoon cake embodies this classic Disney movie perfectly. The beautiful Princess Ariel and Prince Eric wedding cake topper adds the finishing touch to this work of art.
No wedding is complete without a one of a kind wedding cake and it is a great way for the bride and groom to showcase their unique personalities. These cartoon cake ideas shown above can add character and depth to your wedding theme. These fun cakes can also be designed to match the theme of your wedding be it tropical, beachy or contemporary. Who knew a modern twist on the classic white wedding cake could taste so sweet?
Which of these unique cartoon cake ideas would you like to have at your wedding? Let us know your favourites in the comments below!