7 Quirky And Unusual Wedding Cake Designs That Refreshing To Look At And Delightful To Eat
While we absolutely love tiered white wedding cakes with sugar flower details, there's something appealing about the quirk of unusual wedding cake designs. We've put together some of the most quirky ideas that we spotted around.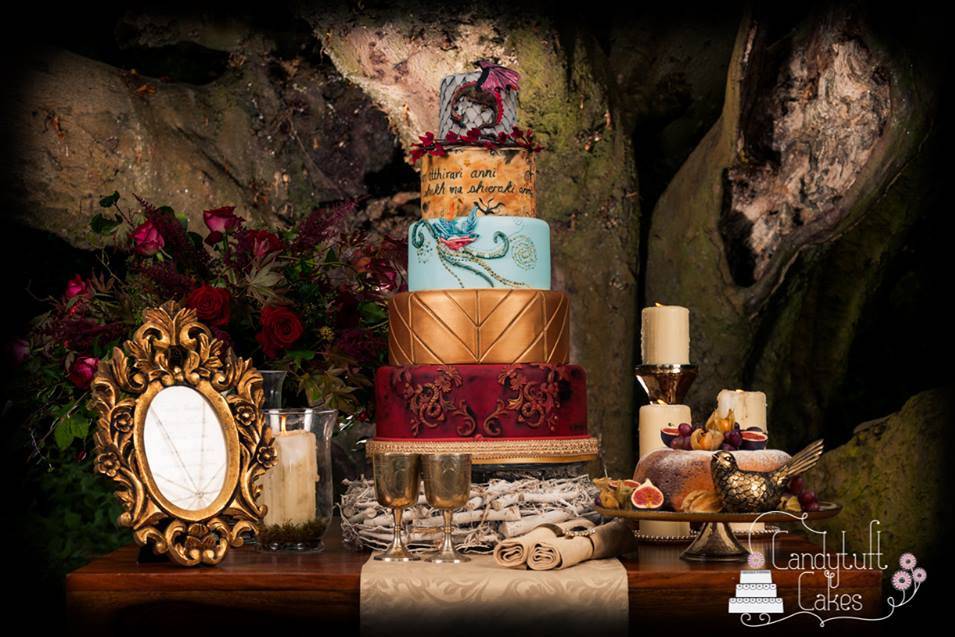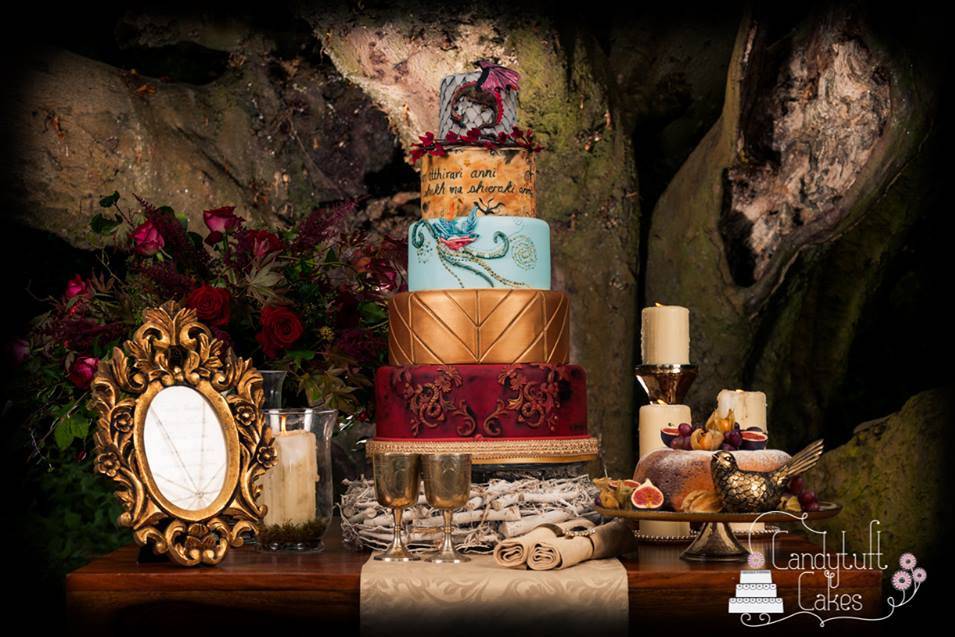 Image Courtesy: Candytuft Cakes
Have you heard girls say that they are tired of seeing red bridal lehengas and that they will choose something different when it is their turn? Well, the same goes for the wedding cake design as well. Everyone loves floral, tiered, beautiful wedding cakes, but are sure to choose something quirky for their own wedding. But the question here is how out of the box couples can think for their wedding cake designs.
We tried to look up the internet and find the weirdest and coolest wedding cake design ideas that nobody could in a million years guess to be a wedding cake. While there reasons to choose those themes might be very personal but all we know is that we had a good time figuring out what that reason could possibly be. Go ahead and read this article to take cues for your own wedding cake designs so that you can say that you did something quirky.
1. The Game of Thrones Wedding Cake Design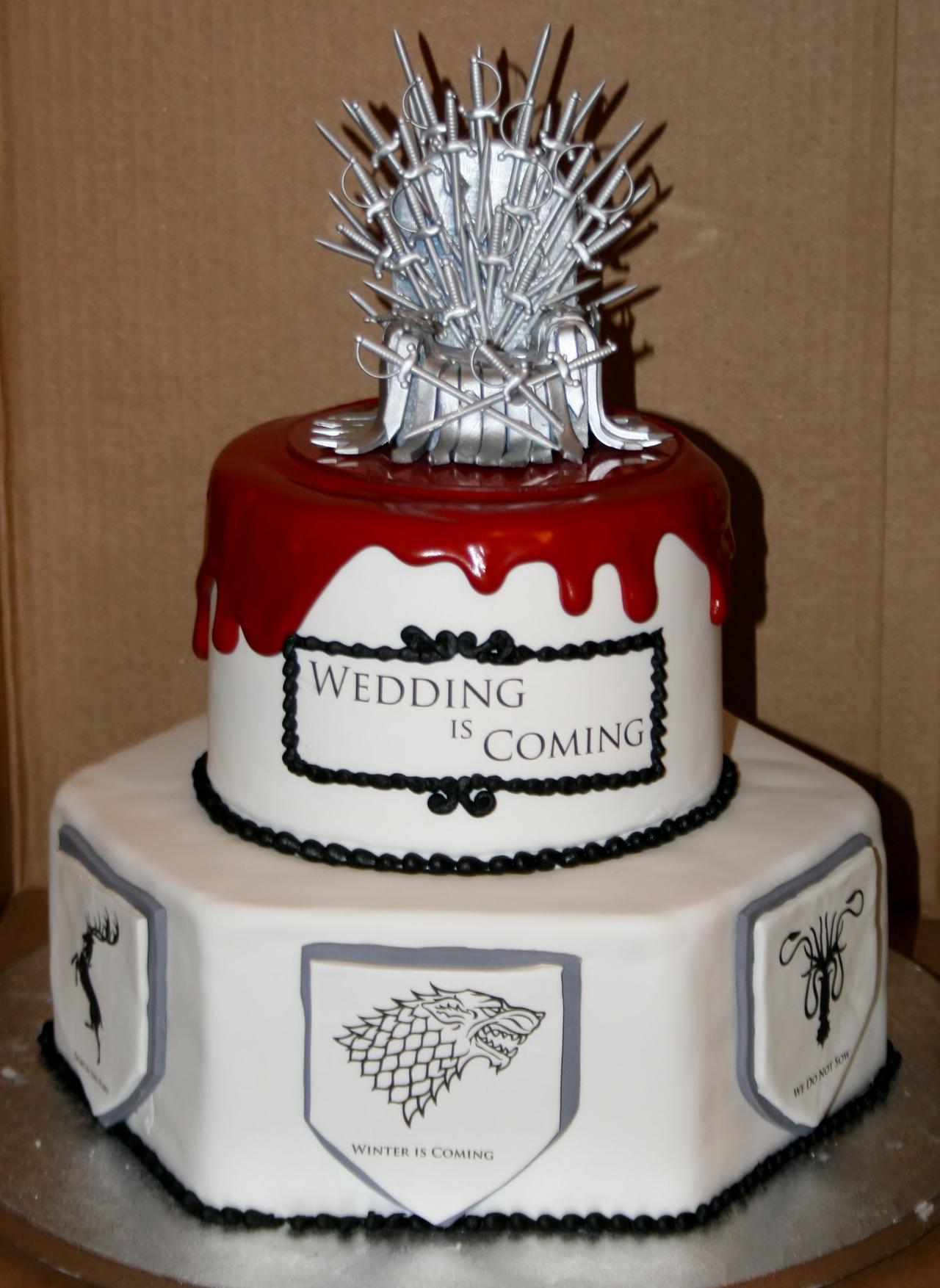 Image Courtesy: The Icing Baking Company
Let's start with one of the obvious ones. In today's times, Game of Thrones is the most loved series around the world. Therefore guessing why a couple or their immediate family decided to go for wedding cake themed over this famous series is kind of obvious. We are guessing that the bride and groom are extremely fond of the series and probably it has been a huge factor that has led them to decide on forever.
So if you are a couple that feels the same way about Game of Thrones then look out for some cool wedding cake designs with this theme.
2. The Wedding Altar in LEGOLAND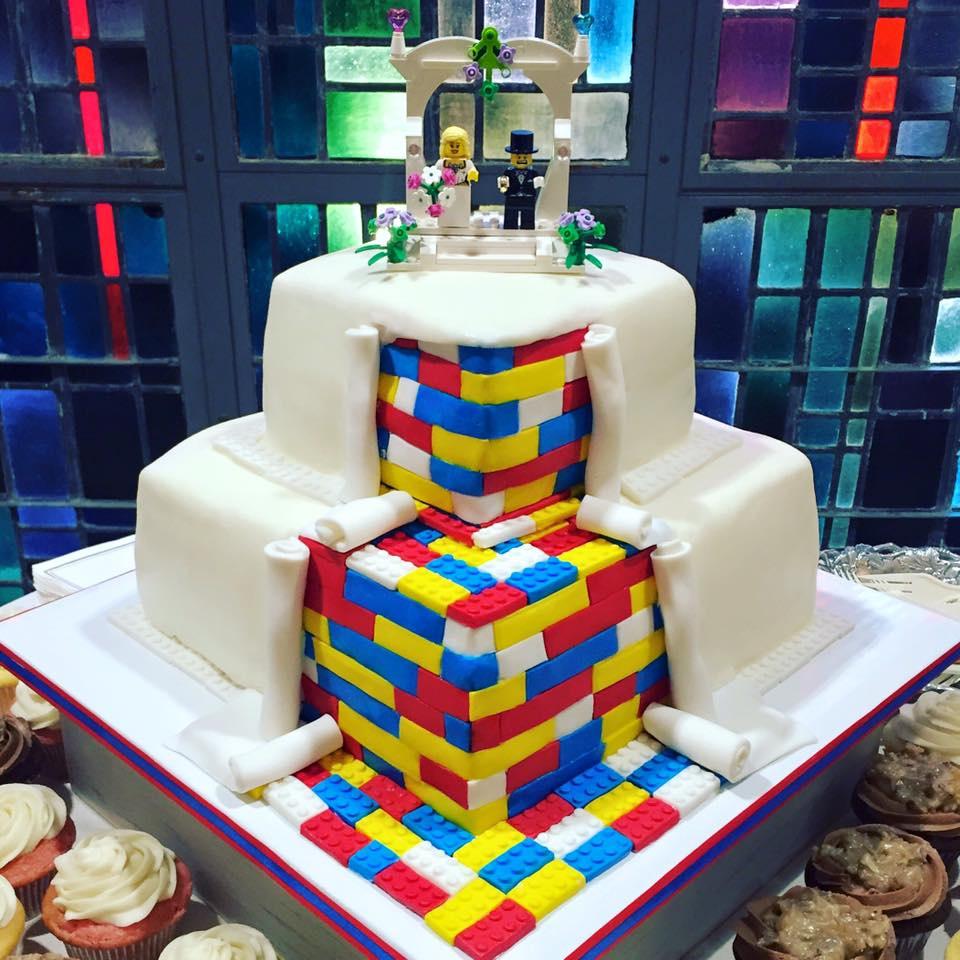 Image Courtesy: Brandy Cakes
Have you grown up playing with Legos? Well, we are sure you have. We found a wedding cake design, themed after lego and we were shocked. It is one of the quirkiest wedding cakes that we found made of Lego-styled bread on the inside with the usual white wedding cake covering on the top.
This two-tiered cake has a wedding altar at the top with bride and groom toppers that are compulsory for all wedding cake designs. It is almost like the cake says that it is the lego puzzle pieces that led the bride and groom to the wedding altar. Do you agree?
3. The Desi Minions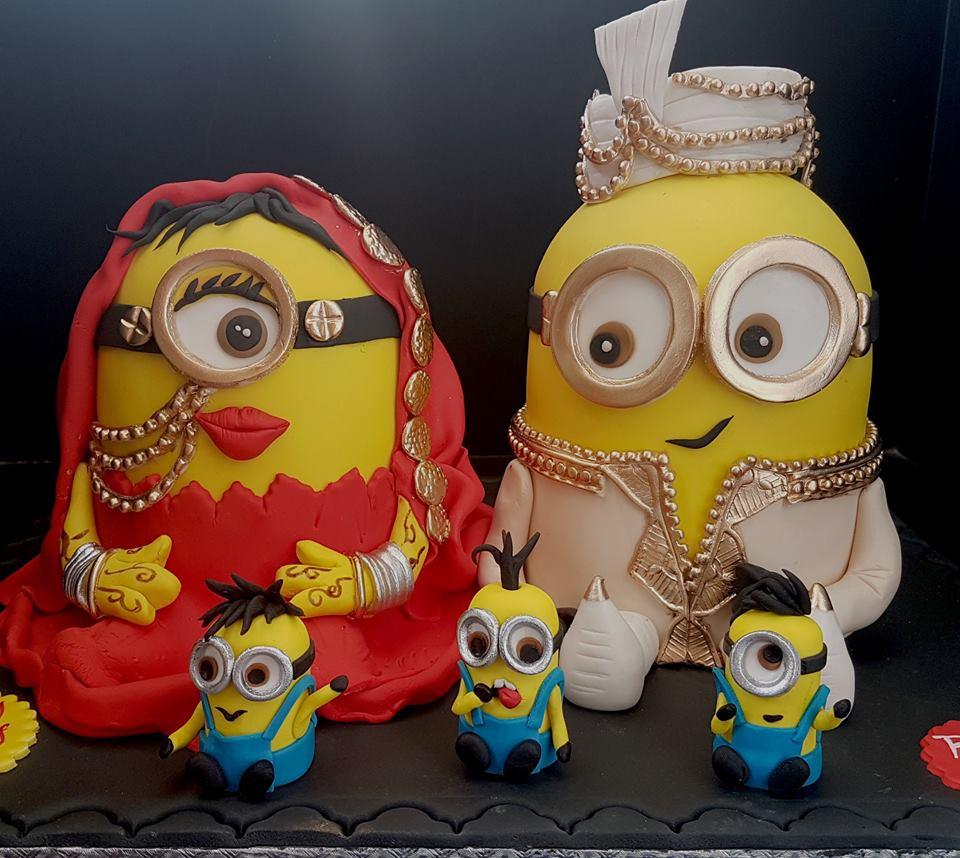 Image Courtesy: Funky Bakes
While minions are extremely cute to look at, we came across a wedding cake design with minions that made us laugh our hearts out. The bride and groom minions are made to dress up like the Indian wedding couple and they also have a few mini minions around them that probably depict the guests that are attending the minion wedding.
It is one of the perfect yet unusual wedding cake designs that mix the Indian culture with the interest of the bride and groom while making it so relatable as well as hilarious at the same time. Looking to do something similar? Then you can consider replacing the minions with any other cartoon character of the choice of both you and your partner. Just don't miss out on the cute Nath design and Wedding Safa on the bride and groom.
4. Super Mario Found His Princess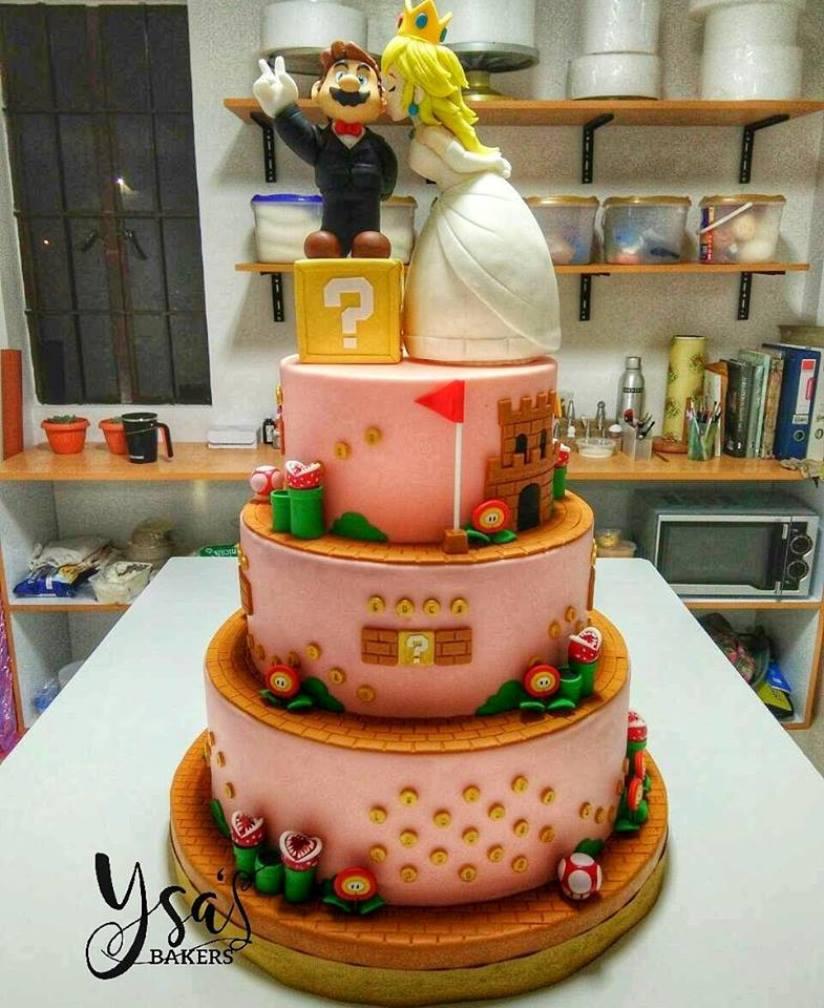 Image Courtesy: YSA's Bakery
If you were addicted to Super Mario as a kid, this wedding cake design is for you. This beautifully designed cake has all the elements of a Super Mario game that ends on the famous speed buster Mushroom where Super Mario finds his Princess.
Sounds like your love story? Then go ahead get something as quirky and out of the box made as this wedding cake design.
5. Wedding Cake Designs for the Book Lovers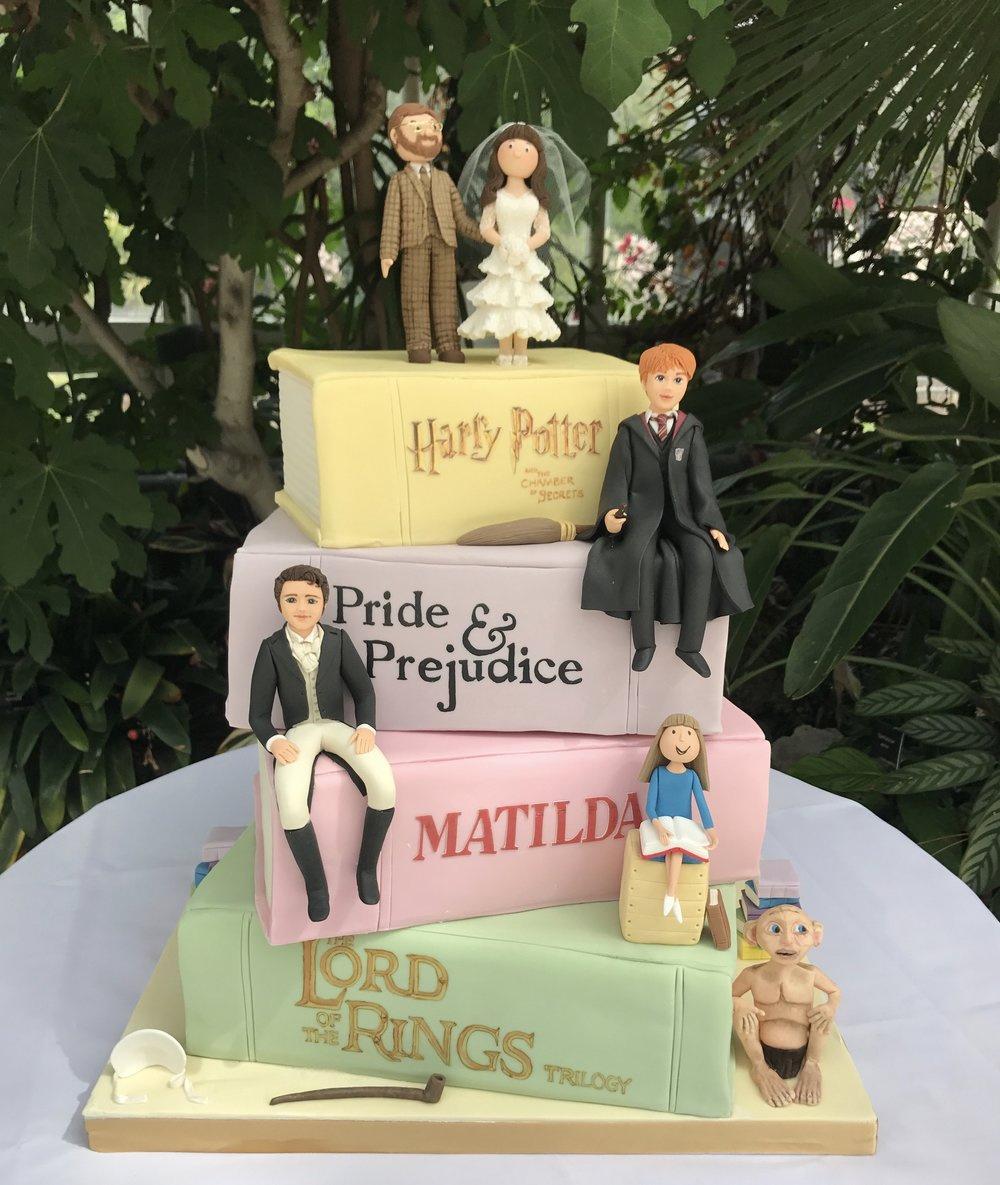 Image Courtesy: The Cake Shop
We all know couples that are avid readers and can spend hours and hours of their time together reading books. If you are a couple like that, then this stunning wedding cake design with the classic books you are sure to have grown up reading is what you should have at your wedding.
We love it when brides and grooms personalise everything at their wedding and it gives us hints of their love story. Just like this cake is surely telling us what the bride and groom must have bonded over.
6. The 'You Are What You Eat' Cake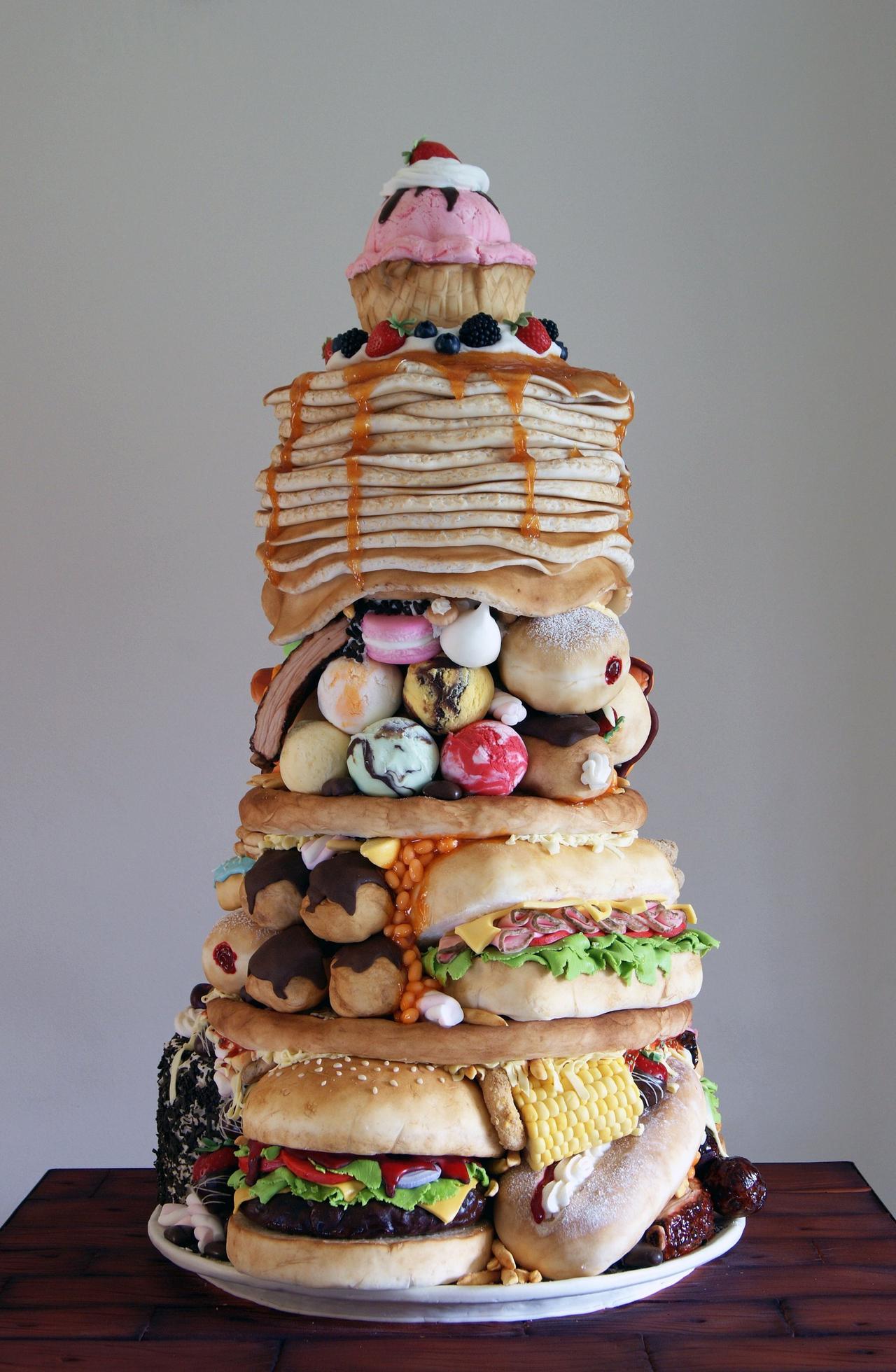 Image Courtesy: The Invite Shack
This is definitely of the yummiest looking wedding cake designs with all the fast food that we love. The burgers, hot dogs, pancakes, and cupcakes make us want to take a bite immediately. This is a cake for the food lovers, so if you and your partner go crazy over food then you must get a similar wedding cake design. Also, if you've heard the saying 'you are what you eat', then you'd probably believe that this cake depicts your love story pretty accurately ;)
7. For The Marvel Hero Fans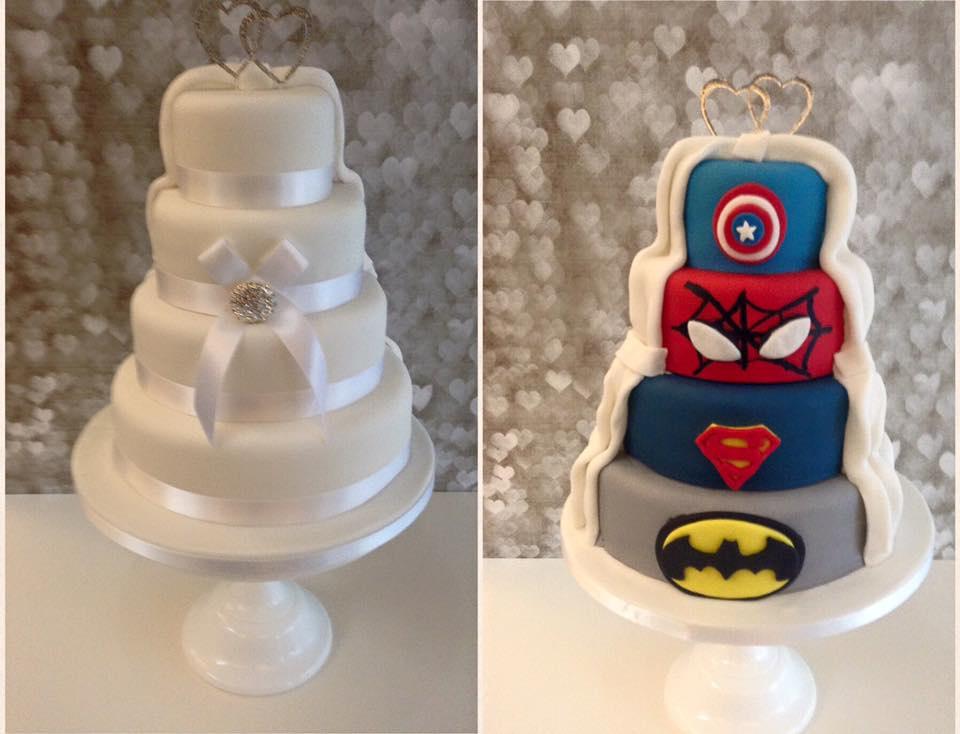 Image Courtesy: Once Upon a Cupcake
Last but not least, this out-of-the-box wedding cake design is for the couples that love the superheroes. Well, we don't guarantee that you and your partner wouldn't fight over your favourite superheroes on the wedding cake. Which is why we loved this idea with multiple marvel and DC heroes so that no one feels bad.
Also, don't miss out on the white wedding cake covering that leaves us to so many interpretations of our own. What do you think this wedding cake is trying to say?
It is about time that the wedding couple ditches the usual white wedding cake and go for something unique. It is your big day and your wedding cake must tell us a little about your love story. Choose a design or element that got you and your partner together. Take a cue from the wedding cake designs from the internet and start thinking on the lines of how vague you and your partner can be in choosing a theme for yourself. As all the above wedding cake design ideas totally make us believe that the vaguer the wedding cake design, the more fun it will be to cut it.
Find out the perfect wedding cake maker who can bring your fantastic wedding cake design to life.