Cancan Saree: 9 Examples of How To Work This Hot Bridal Trend
Love silk sarees, but would love to do more than a simple saree drape this wedding season? Then, go for cancan saree - an unusual trend of combining your nine yards with a cancan skirt.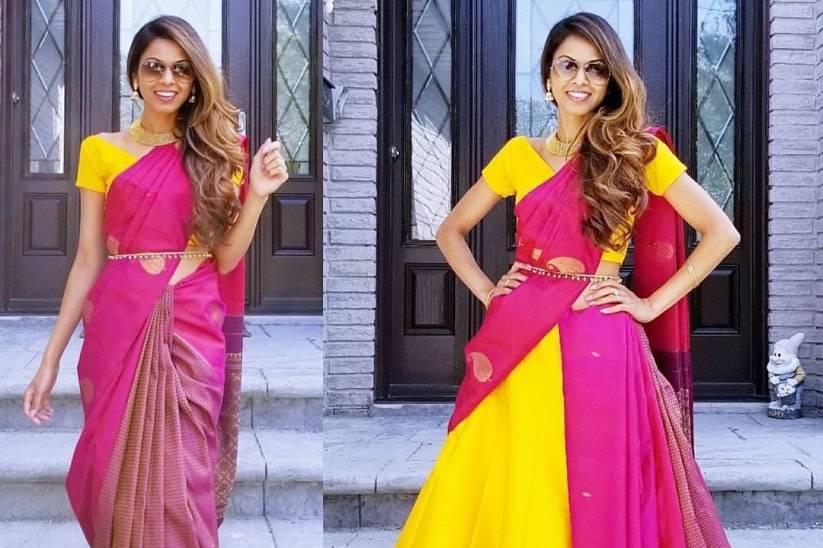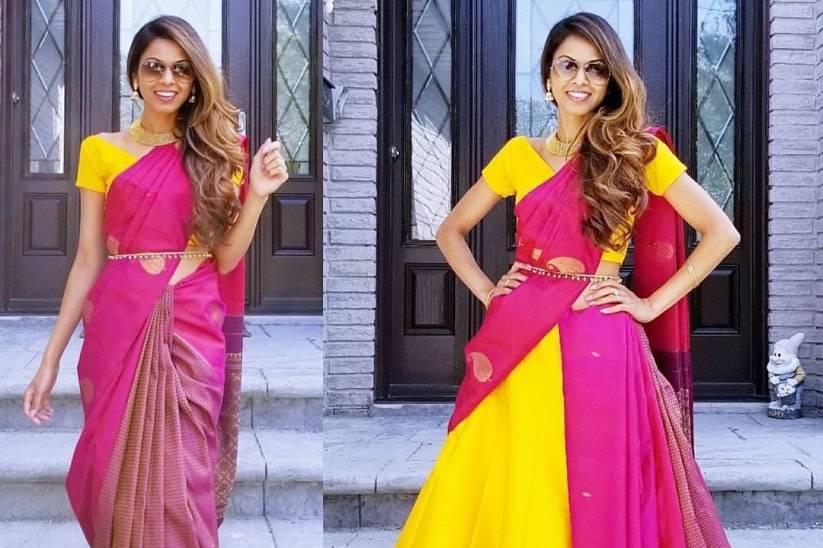 Image Courtesy: Pinterest
Cancan saree is a recent fashion phenomenon that allows you to experiment with the drape of your saree by adding a cancan skirt to the entire look. Although it is usually worn with a silk or Kanchipuram saree to give the stiff fabric some volume, this style can be paired with almost any saree that you wish to drape in an unusual way. Cancan saree doesn't just look elegant but also adds the oomph factor to your look by making it more dressy and unique. This idea also works for the brides who feel that they don't get to wear their silk sarees enough number of times. Repeat your silks pairing it with the cancan skirt and make it look classy.
If you're wondering how to drape a saree over a cancan skirt, then let us help you figure it out. We now show you a list of cancan sarees that are sure to help you choose yours.
1. Blue Saree with Yellow Blouse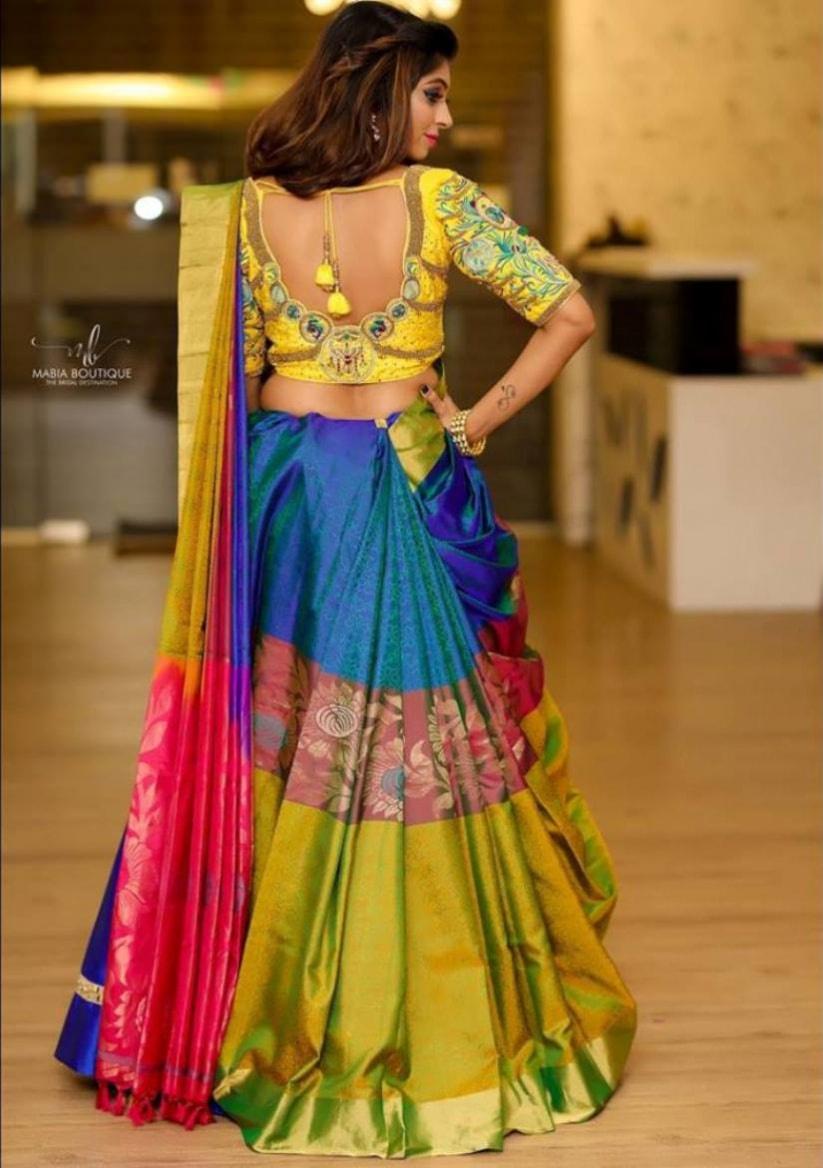 Image Courtesy: Mabia Boutique
This is one of the best cancan saree combinations that we have come across. The blue saree with pleats at the back goes extremely well with the yellow Maggam work blouse. While the yellow blouse is making the outfit vibrant, the hint of pink in the saree is adding warmth to it. The colour combination of this cancan saree makes it an appropriate choice for both your day as well as night functions. The pleats at the back is definitely making the back of this outfit the highlight, also drawing attention to its cut blouse back cut-work design.
2. Peach Saree with Golden Blouse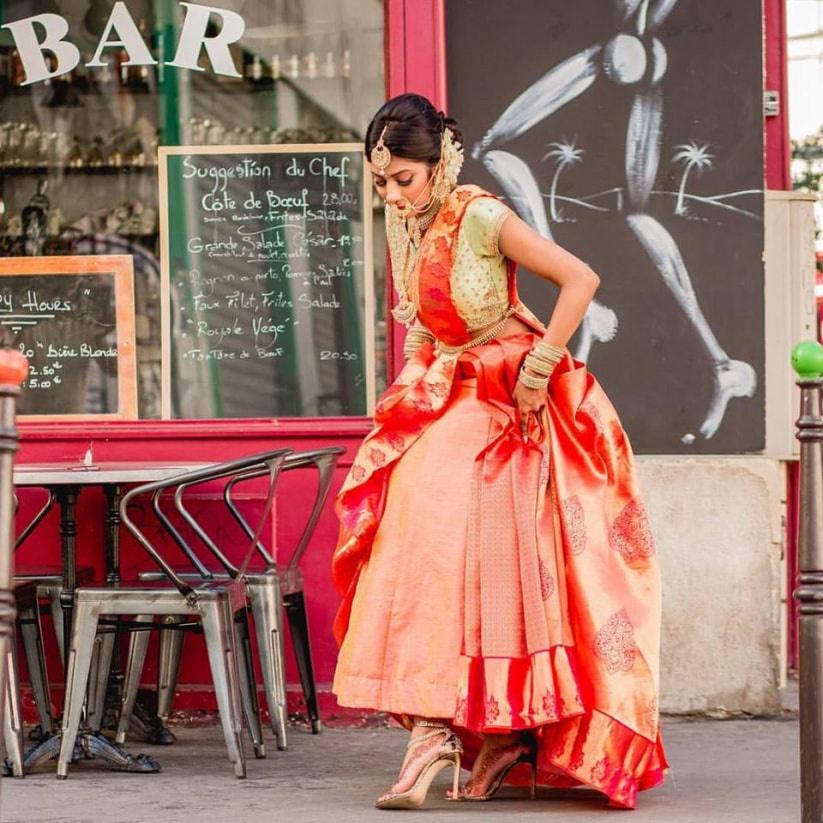 Image Courtesy: Photon Image
Going by how dramatic the picture looks, this cancan saree is an ultimate fit for the bridesmaids to rock at their best friend's wedding. The gold blouse is adding a very girly charm to the outfit, while the motif on the saree is making it look more formal and apt for a wedding ceremony. The pleats at the side are helping in highlighting the waist and the waist chain, also called as Oddiyanam in the south. So, if your bridesmaids are hell-bent on wearing a cancan saree to your wedding, then let them know this is the ideal style for them to rock.
3. White and Gold Saree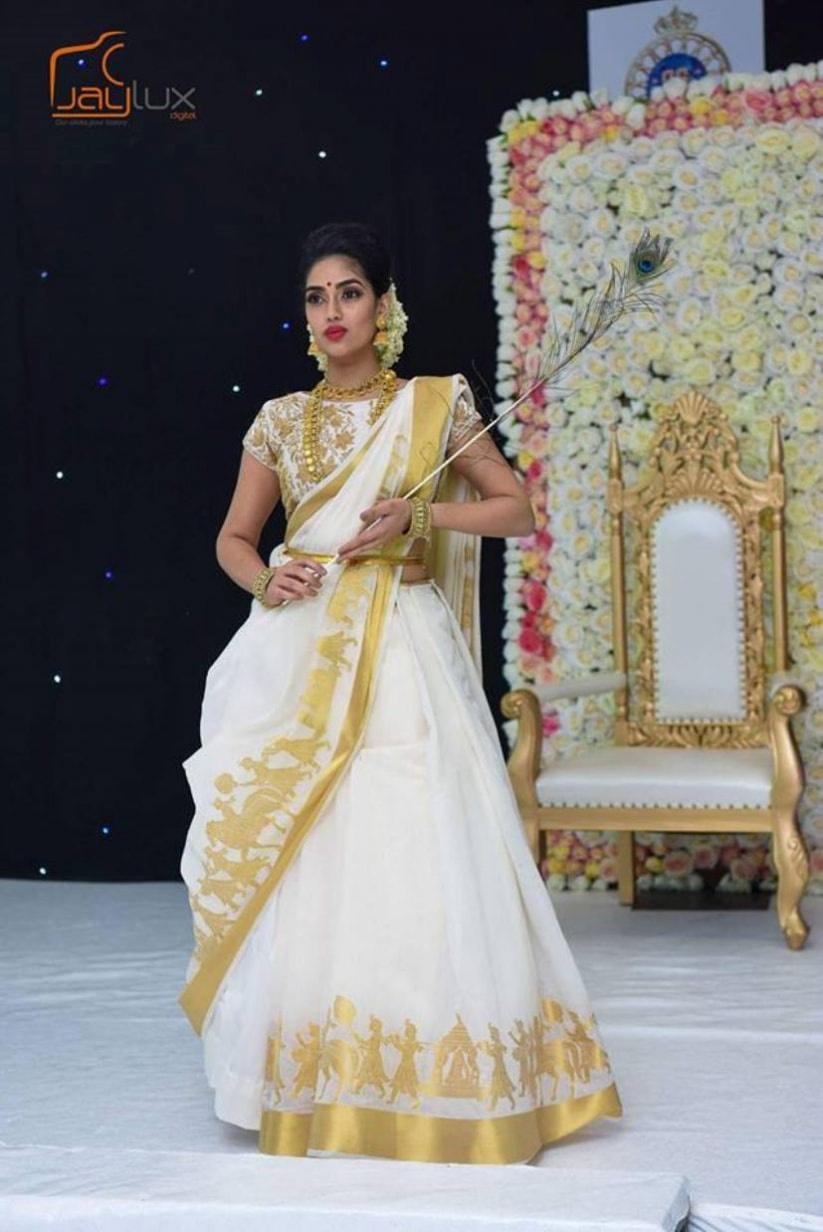 Image Collection: Shivi Collection
We love this white saree paired with a white cancan skirt that is making for an extremely elegant outfit. The gold detailing on the saree and the blouse make the outfit look more appealing while the gold jewellery is completing the look in the most subtle way possible. If you're done with the blues and pinks and are looking for a change then this white cancan saree is the right choice for you. It is refreshing to the eyes while also makes for a great outfit to be worn for any of the daytime functions.
4. Pink Banarsi with Pink Cancan Skirt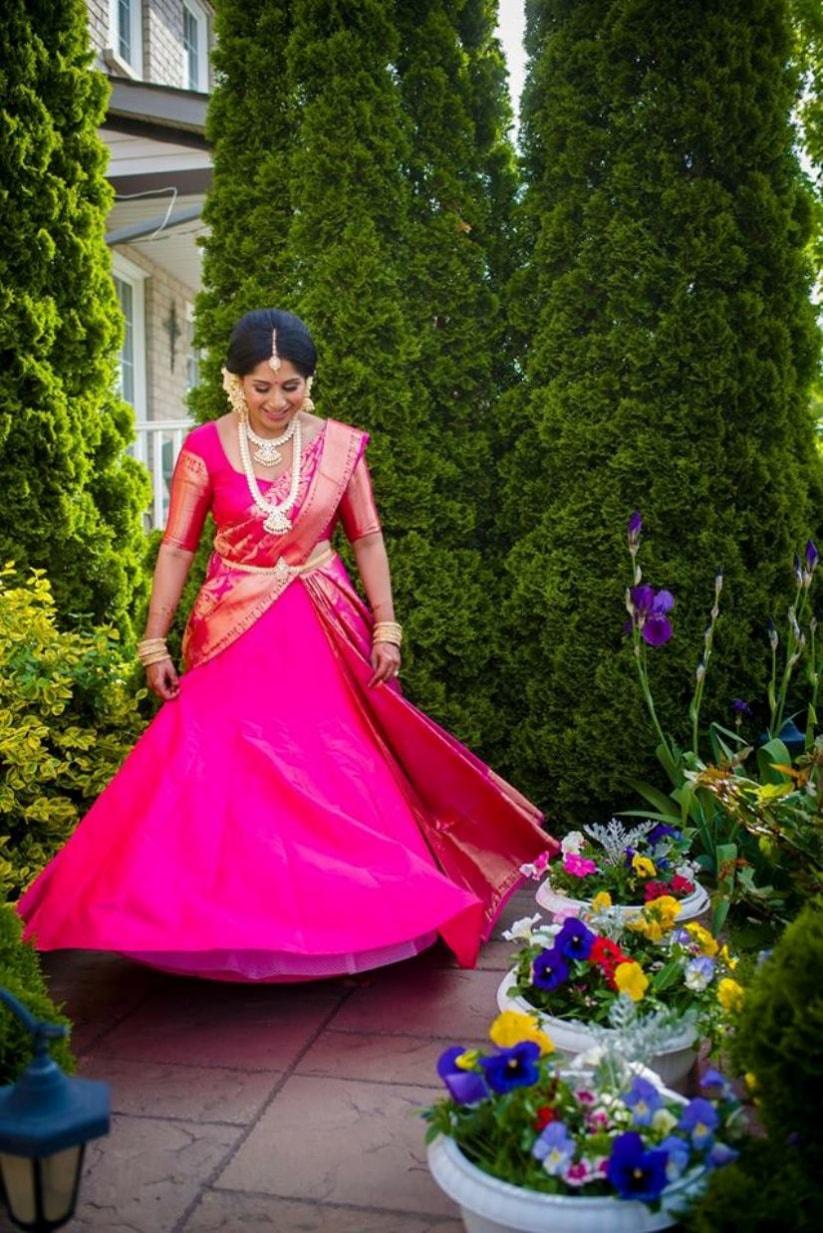 Image Courtesy: Yours Sarista
This is sure to be a favourite of all the brides-to-be. The bright pink Banarasi is surely a choice that many brides go for, but pairing it with a pink cancan skirt can be the highlight of your outfit. This bright pink outfit will look amazing on your wedding day when paired with an elegant Maang Tikka, a delicate waist chain and a gold necklace. You could also add floral hair accessories to the look for your big day.
5. Blue and Pink Kanchipuram Saree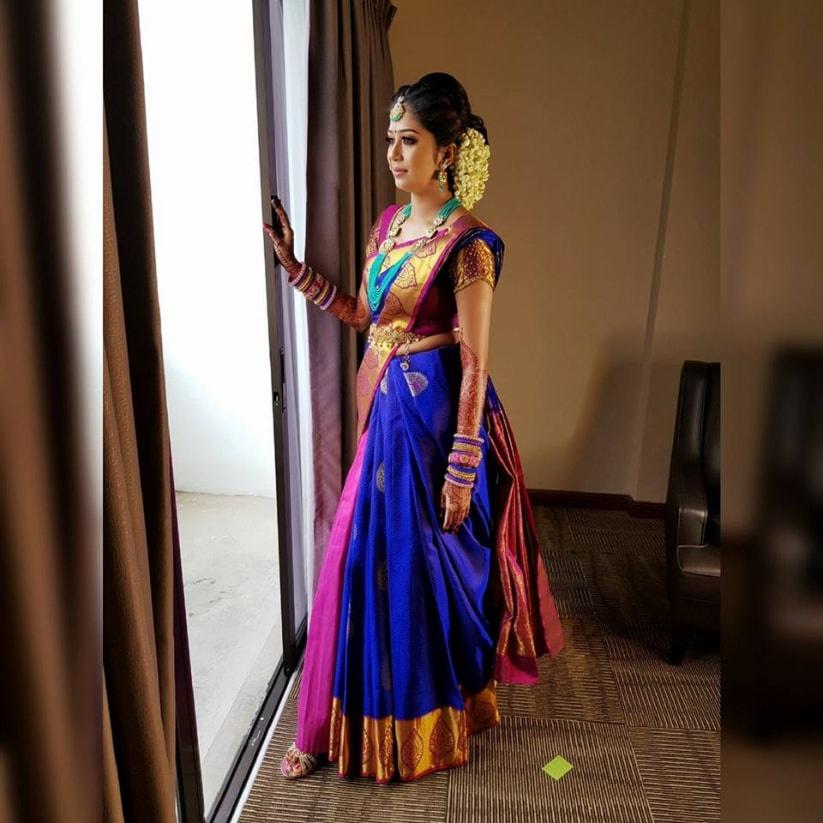 Image Courtesy: Thuri Makeup
Kanchipuram sarees work extremely well with cancan skirts. This blue Kanchipuram saree with pink border will look extremely elegant when paired with a pink cancan skirt on your wedding day. If you don't wish to go for something very unusual, you could keep the pleats in the front to make it look more traditional. Pair this outfit with some traditional jewellery and look drop-dead gorgeous on your big day.
6. Red-Pink Saree and Red Cancan Skirt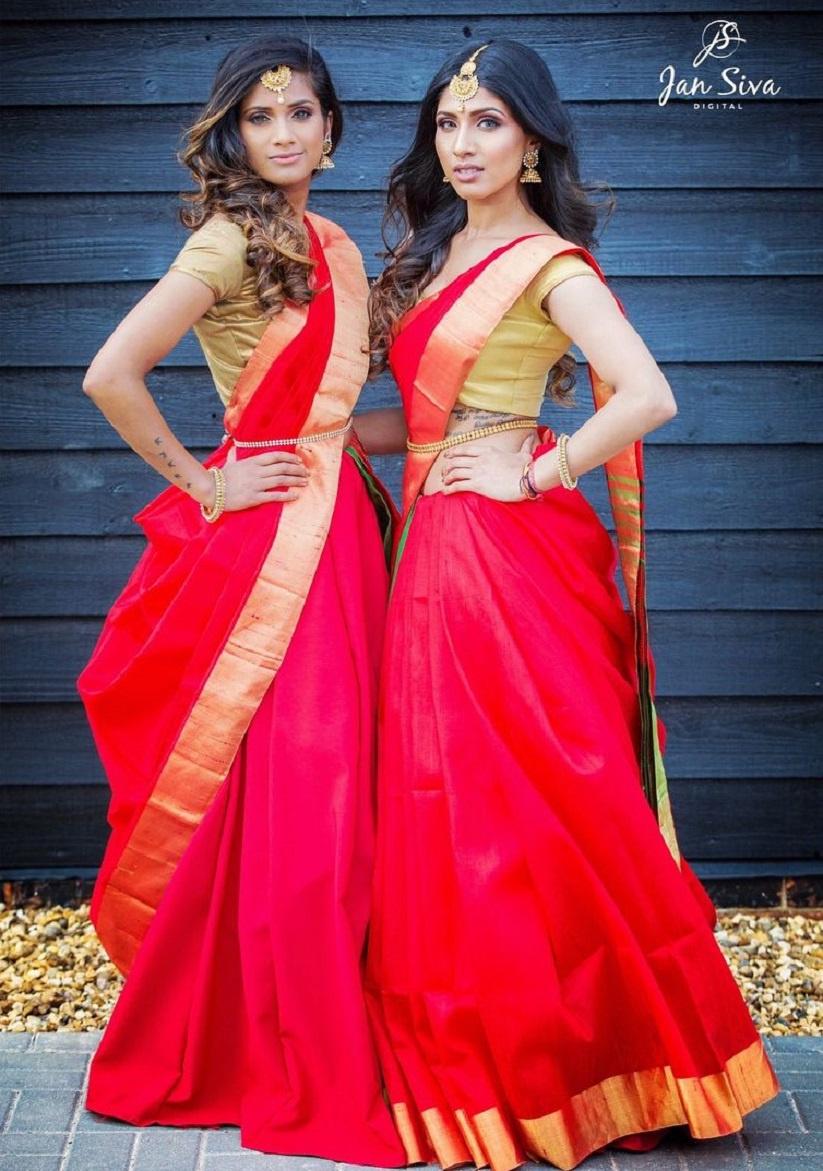 Image Courtesy: Jan Siva Digital
This combination of a hot pink saree with a red cancan skirt is more casual and chic that can be worn for the day functions. The red cancan skirt does break the monotony in a very subtle way and makes for a minimalistic look. Pair this one with minimal jewellery or probably just small Jhumkas and you're good to go. This is another outfit for your bridesmaids' to rock on your Haldi or Mehndi function.
7. Golden Saree with Purple Cancan Lehenga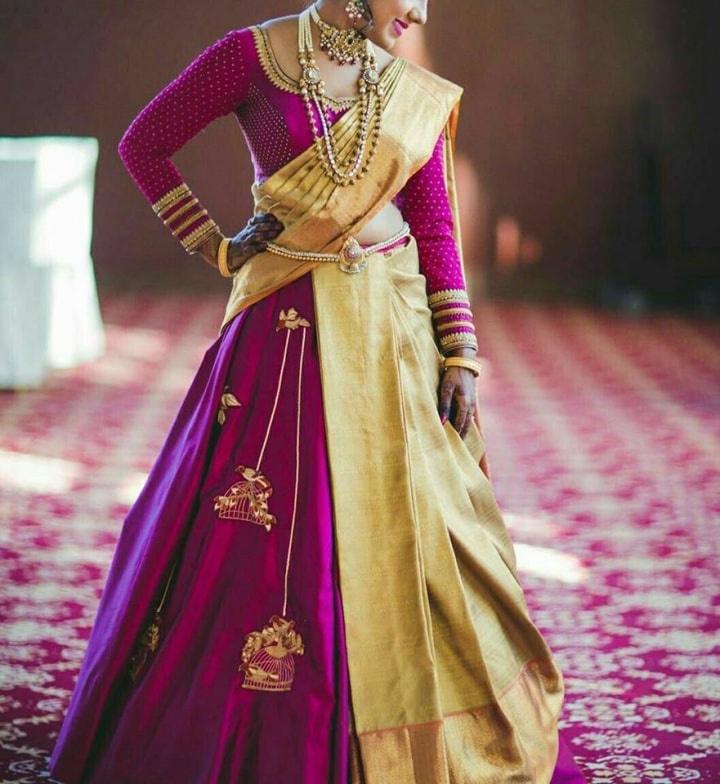 Image Courtesy: Menarena
If you do not wish to pair your saree with a cancan skirt, you could also pair it one of your cancan lehengas. This is another cool way of draping a cancan saree. If your lehenga is one with too much detailing, then go for a simpler saree and vice versa. This purple lehenga with gold detailing is going absolutely well with a simple golden KanjIvaram silk saree. This not only helps you use your lehenga in more than one way but also creates a unique look with a simple saree.
8. Blue Saree with Blue Cancan Skirt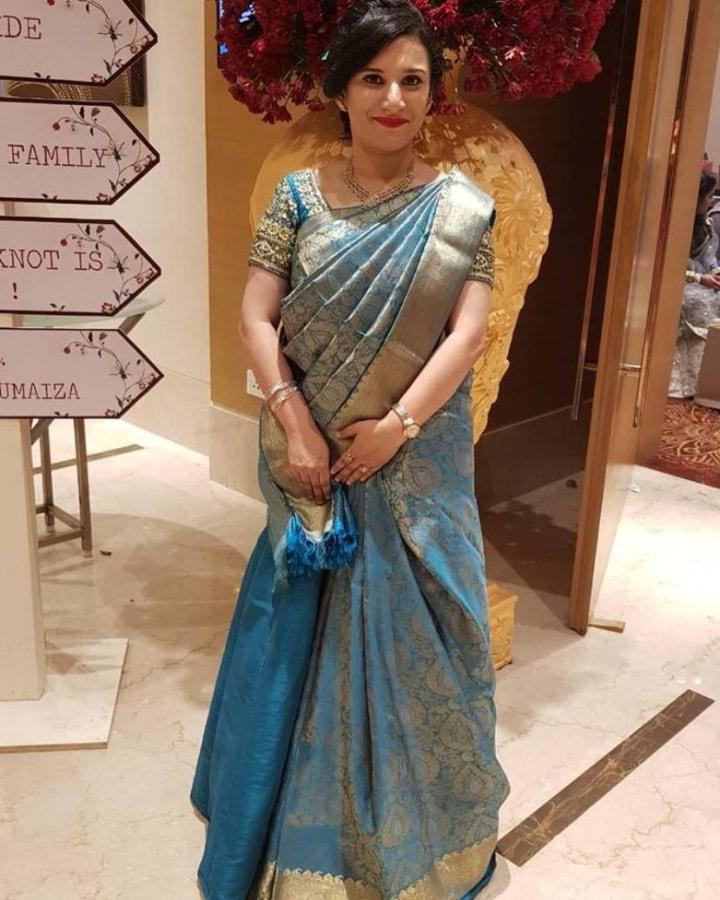 Image Courtesy: Madhu's Maquillage
The blue and blue combination is currently trending as most brides prefer monotone shades rather than contrasting ones. The beautiful zari work blouse with this cancan saree is adding a lot of richness to it. Brides could also go for Maggam work blouse with this combination for their Sangeet Function.
9. Kanjeevaram Saree with Purple Cancan Skirt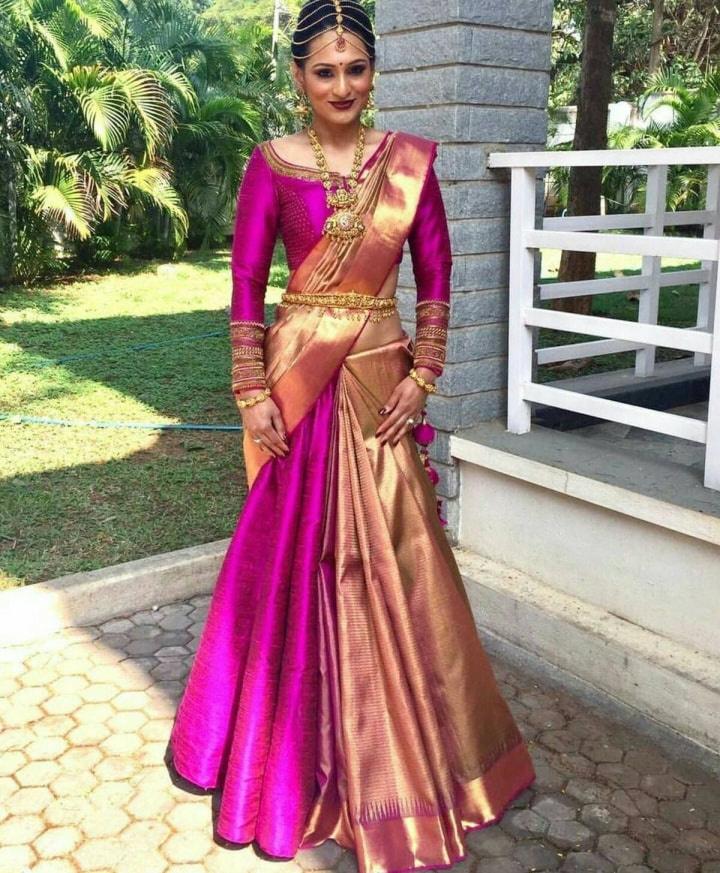 Image Courtesy: G3 Fashions
This extremely rich looking Kanjivaram saree could be every bride's dream. But have you considered pairing it with a cancan skirt to make it look trendier? The pleats in the front make the saree look more voluminous and are sure to give you the bridal feels.
All the brides who are bored of the wearing a saree at their wedding, the cancan saree allows you to play around with colours and even draping styles. They can be draped in multiple ways to make your saree fall gorgeously. Choose the draping style you like and pair it with a cancan skirt that doubles the elegance of your beautiful saree for the big day.
Like the idea of pairing a traditional saree with a cancan skirt? Tell us in comments which look did you like the most and are sure to try.