6 Best Makeup & Hair Ideas That Work For Brides & Bridesmaids
Are you the bridesmaid and are looking for something trendy? Browse through the best hair and makeup ideas.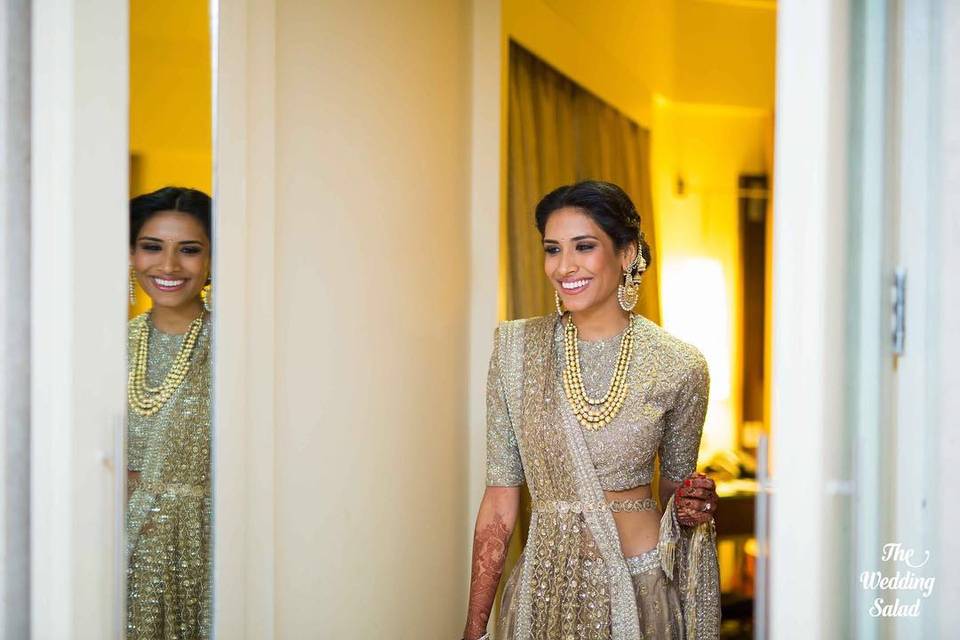 If you are a bridesmaid, you are the next person right after the bride who has to keep up with chic hairstyles and makeup. Trends keep changing but you must know what compliments your face, and make sure that the hair is in sync with the makeup look.
A tip to be kept in mind if you go heavy with makeup then keep your hairstyle simple, but if you have an intricate hairstyle try to keep the makeup subtle. As a bridesmaid, you have a plethora of hairstyles and makeup looks that you can pick from for wedding occasions.
6 Best Makeup and Hair Ideas
Let's take you through a few of the best makeup and hair ideas.
1. Waves with Tiara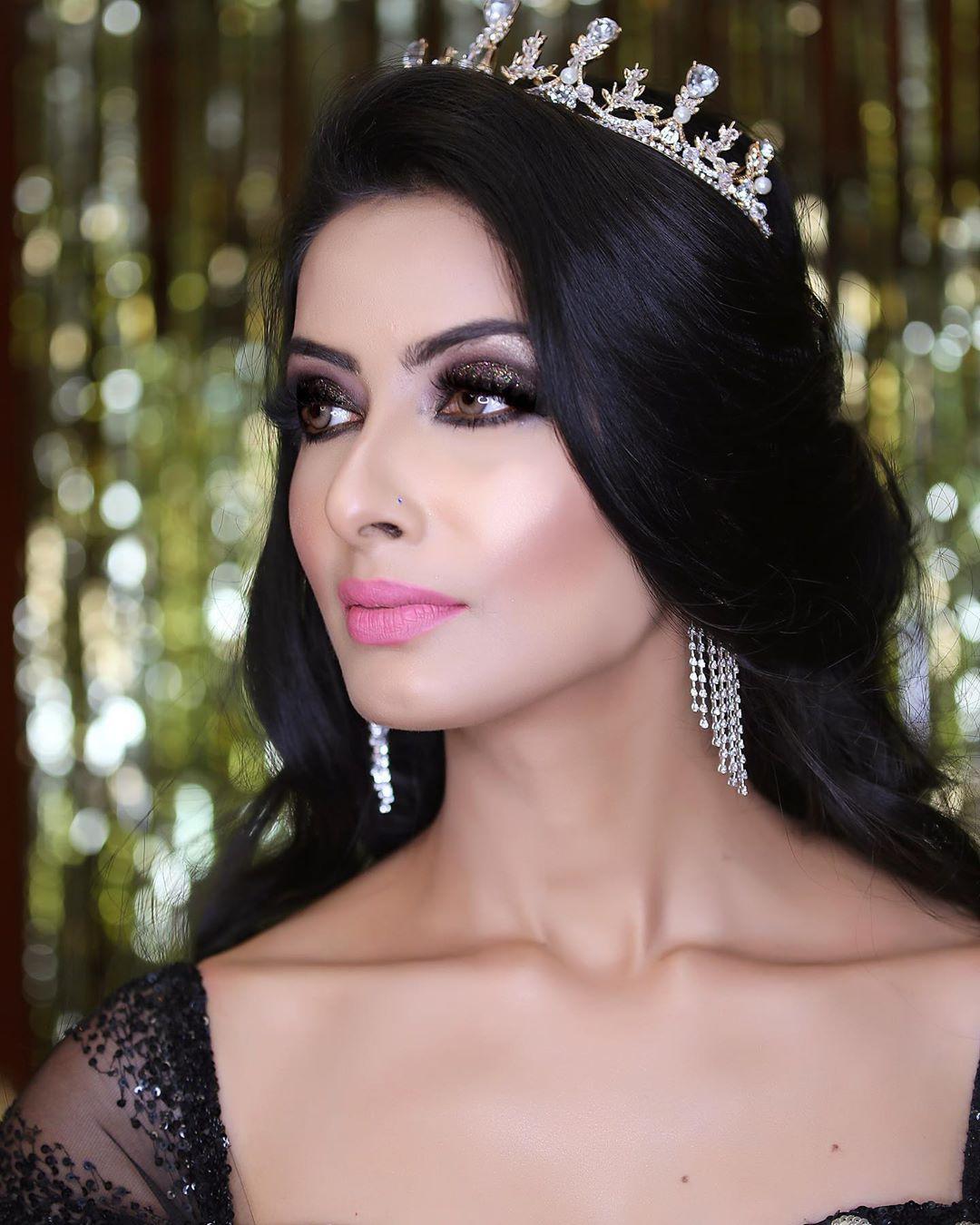 This stunning bridesmaid decided to curl her hair in such a way that it added volume to her hair. She made beach wave curls and then accessorised with a tiara that adds great detail to the hairstyle. You can check out some crazy studded hair-bands too and use them as a hair accessory. Try to colour coordinate the hair accessory with your outfit!
For makeup, she has a bit of kohl in the bottom waterline along with a smokey eye with coppery glitter eyelids. She has completed the look with a pink matte lip colour, however, you can wear a bold red too. The contour is so strong that it defines her face really well. Bookmark this if you are browsing for the best makeup and hair ideas!
2. Crimping with blue smokey eyes
This bride started off by crimping her hair and then made an intricate hairdo out of it. The crown area of the hair is pulled back in a hair bun and the front section is twisted at the sides. Now for the makeup, she went with a very colourful look, and this is definitely one of the best makeup and hair we've seen.
If you want a similar look, you can try out the eye glitter by NYX and put it on your eyelid. Before you put glitter on your eyes, always prep them well so that the glitter sticks better. The dull pink colour on the lips looks stunning. If you have a fair skin tone, you can try wearing a bright orange as well. Bright colours definitely do justice to fair skin tones. Also, spritz a lot of hairsprays so that the hair stays intact.
3. Messy tuck with pinky, red lips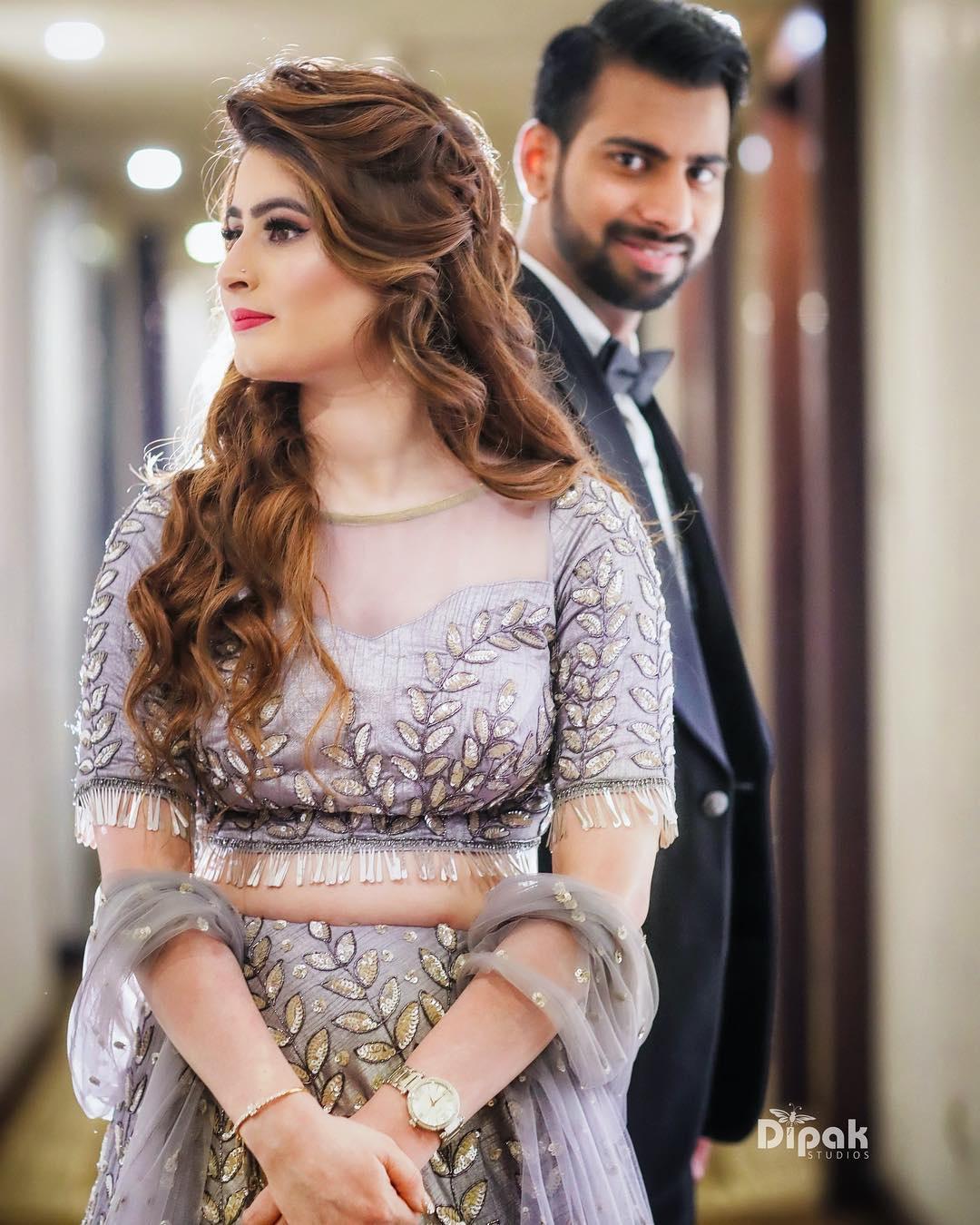 Red lips, curly hair and a heavy contour are all that you need for the best makeup and hair. Roughly curl your hair and tuck the locks randomly on the crown section. To experiment a little, spritz temporary hair colour on your hair as curly coloured hair looks absolutely stunning. You can put some fresh red roses on your hair and that will speak for itself.
Leave the lower ends of the hair free and put a hair setting mousse before you curl them. For such hairstyles for curly hair, you can dampen your hair, braid them, and open after a couple of hours – this will result in natural heatless curls. Do not go for thin tong curls are they can destroy the essence of the messy curly look.
Tip: Carry a few bobby pins in your bag and a blotting paper - the best hair and makeup need to stay intact and sturdy till the end.
4. Sectioned front with Shocking Pink lips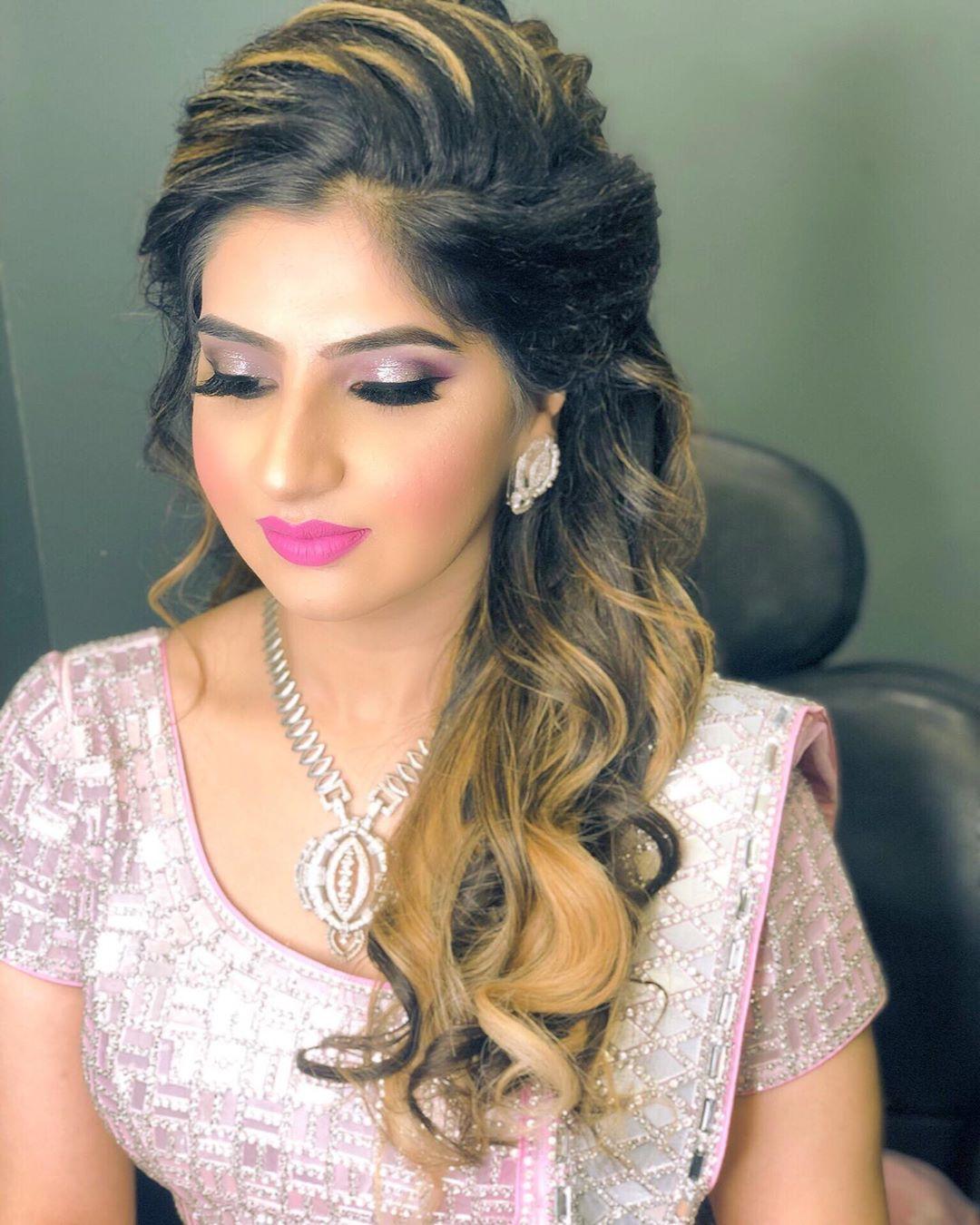 For this voluminous hairstyle, you may or may not crimp the front section of the hair. Once that is done, get some invisible pins and pinch sections of your hair and gently put them. This is how the symmetric sectioning of your hair is created. For makeup, you can do halo eyes. Halo eyes are all about popping eyelids so take a pinch of glitter and put it on your eyelids. If you like electric and shocking colours, this pink has to be your go-to lipper. Smoke out the ends and put heavy, fake eyelashes for a great look.
Makeup Tip: Checkout Makeup Revolution's eyeshadow palettes, you can find many glittery and matte colours. The lip colour in the picture looks like Candy Yum Yum!
5. Matha Patti with Nude makeup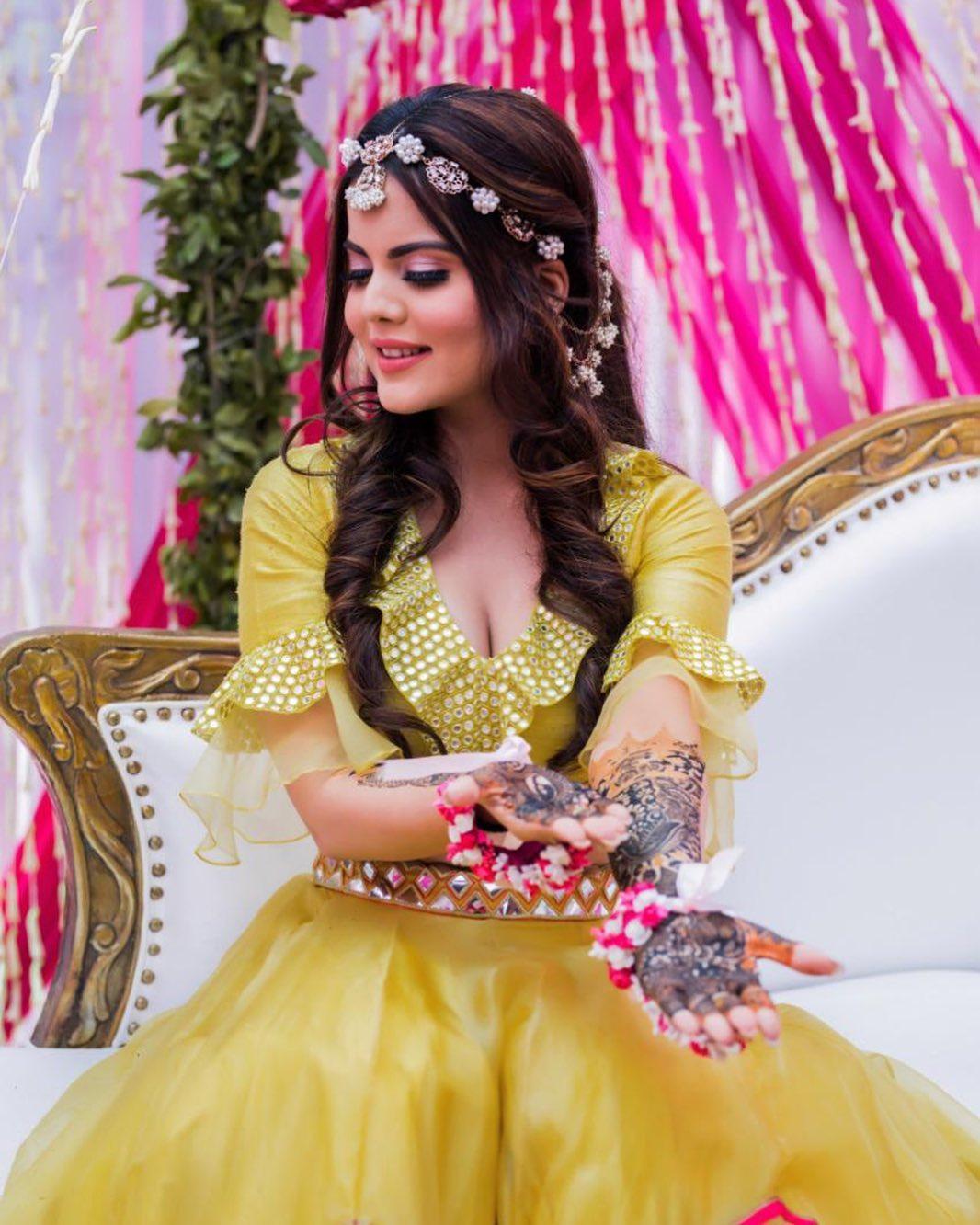 If it is a day function, this is an on-point look. Simply use a rod to curl your hair and throw on a Matha Patti, and your hairstyle is ready! A nude makeup look always looks great. Overdoing the makeup can ruin the entire look, but minimal makeup can still make you stand out. Try out the lip colour Taupe from MAC - it is a perfect nude shade. Put lots of highlights and keep the contour as light as you can. The pop of highlighter will make you glow like a princess. This is an example of the best makeup and hair.
Tip: Try Anastasia Beverly Hill's highlighters! You can also save up for the Dyson hair wrap for perfect curls, and together, these two can give you the best makeup and hair.
6. Mermaid hair with glossy lips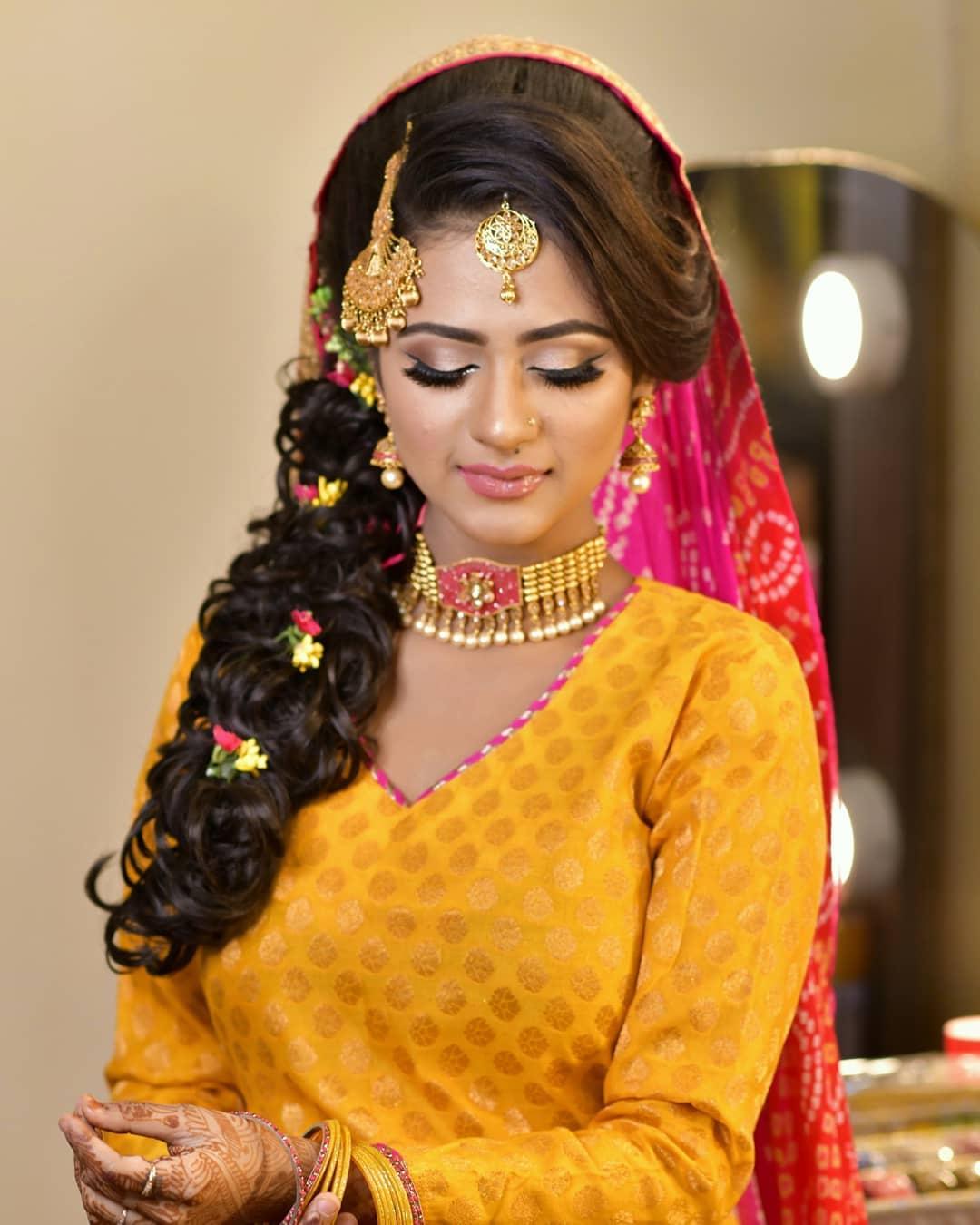 Mermaid and fishtail hairstyles are trending and can contribute to your having the best makeup and hair. Only a professional hairstylist can do this hairstyle. For hair accessories, wear flowers. The scattered placement of the flowers makes the hairstyle stand out. Wear a nude colour lip gloss and look absolutely gorgeous.
Tip: Wear a Passa and a Maang tikka, both. Do not forget to contour your nose as a sharp nose is a prominent feature that can make you look great.
We hope you like our best makeup and hair ideas put together with tips and tricks. Don't forget to share your pictures with us!
Get in touch with these makeup artists!