A Wedding Planner's Lockdown Wedding With His Beloved in Mumbai
Rachita Shah & Virat Luhar tied the knot in a beautiful Gujarati wedding during the lockdown. The details of the wedding planner's lockdown wedding in Mumbai are here for inspo!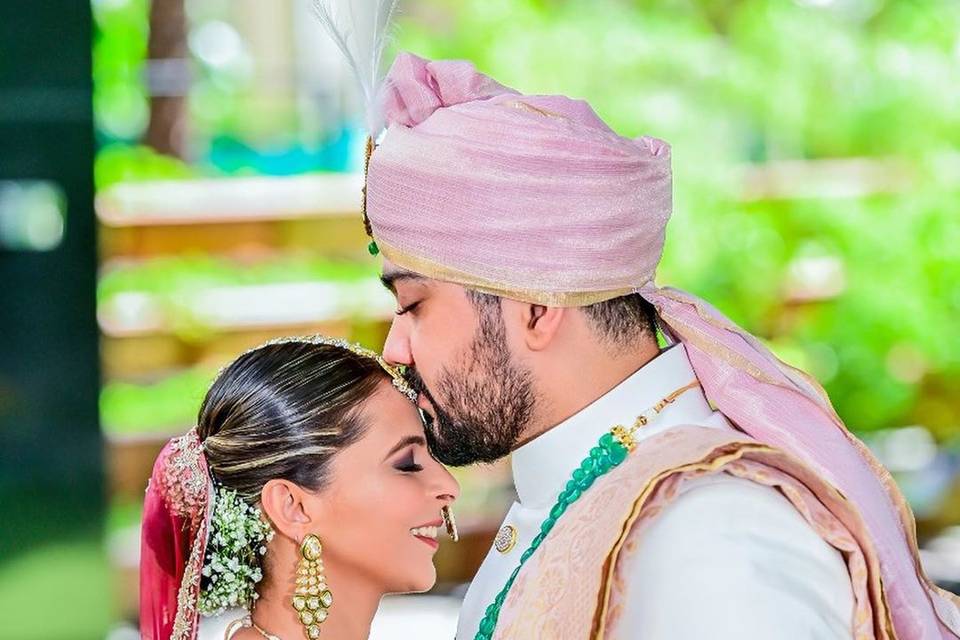 The timelines for everything have shifted drastically owing to the rapid unfurling of the pandemic. Almost half of the world came to a halt in the first half of the year 2020. With the passage of time, people are figuring out ways to meander their way around the situation. As the world adjusts to a "new normal", the celebrations are starting to gain pace. The Weddings in the Times of Corona have become a beautiful success story for many couples and an inspirational story for many more.
The couples have gone out of their conventional ways to tie the knot at temples or inside their homes amidst this lockdown and it is indeed a story to tell for years to come.
One such couple who got hitched during the lockdown is Rachita and Virat. The newlywed duo based out of Mumbai hosted a beautiful wedding ceremony and here is the story of their lockdown wedding for inspiration!
The Lovers' Tryst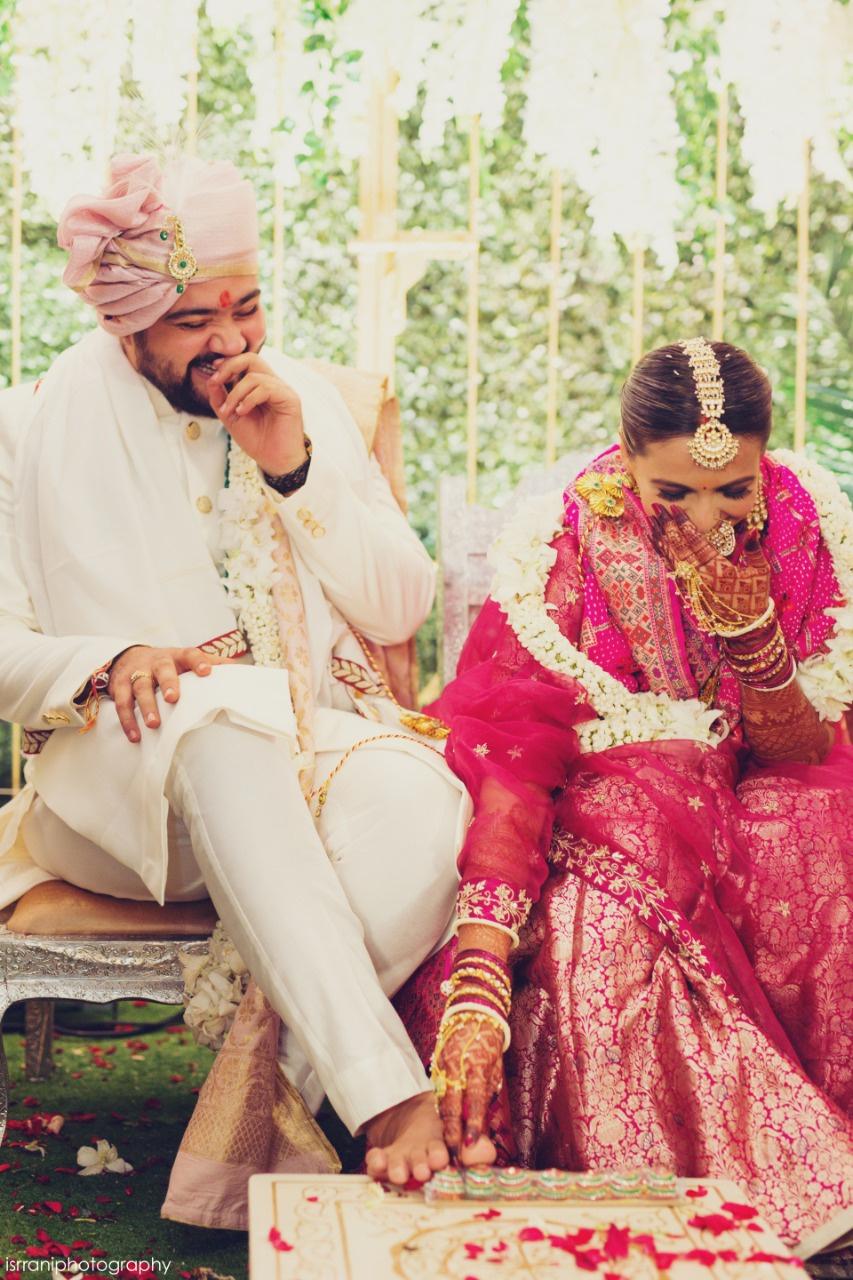 Rachita and Virat have known each other for a decade now. The relationship started in their college days where they met through a common friend. Two months later, they casually started talking to each other on Facebook and since then there was no looking back.
Their relationship strengthened and bloomed over time and today they stand stronger than ever. Nikita Upadhya says, "Virat is a calm and composed man who has always been ambitious in life and Rachita, on the other hand, is very impulsive. But one thing which is common between them is their loving and caring nature towards people." It was a perfect match made in heaven!
Wedding Diaries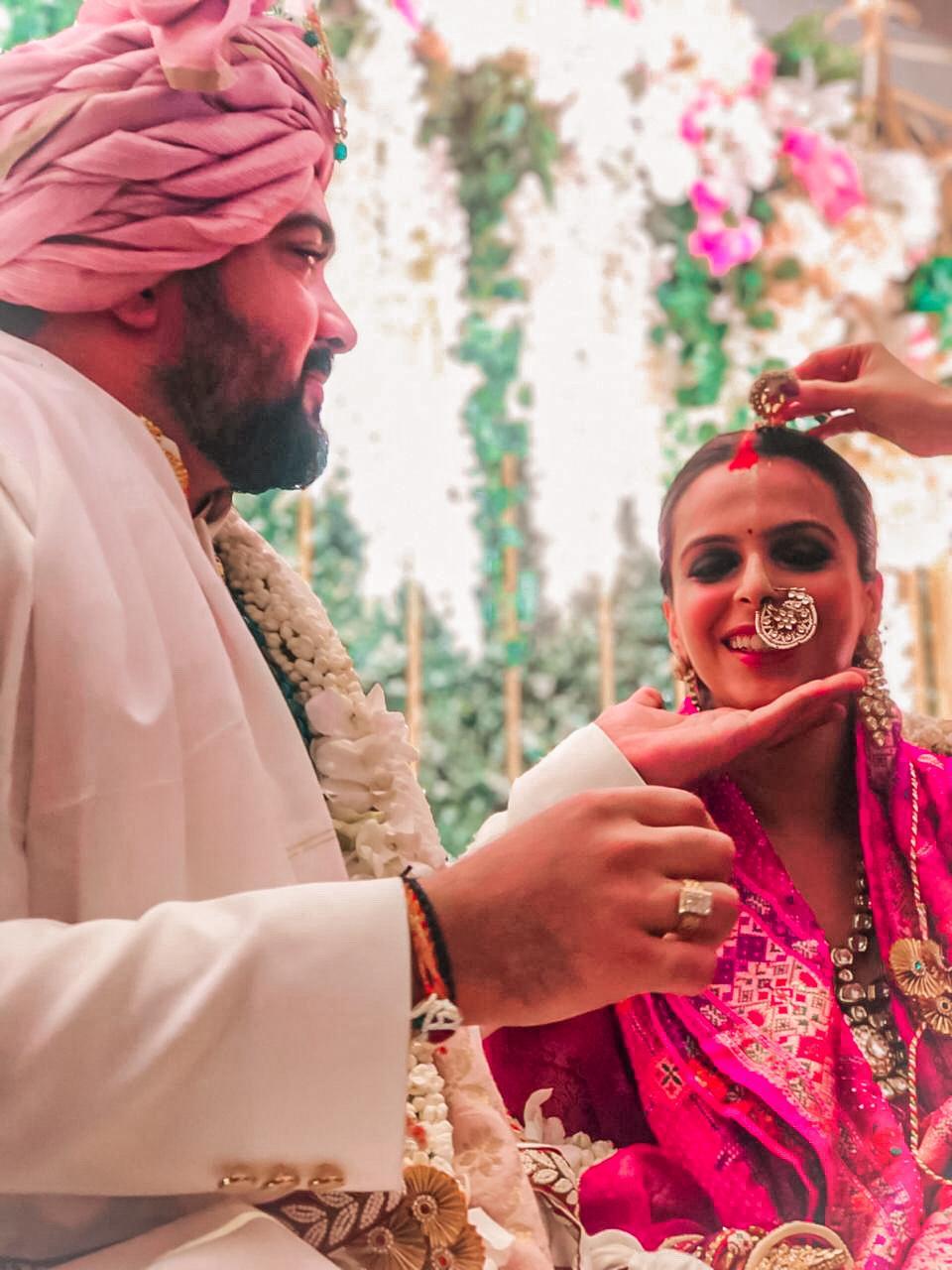 Rachita and Virat were looking forward to having a destination wedding. The idea of a destination wedding has almost always been a thrilling yet mesmerising one. However, their idea of a wedding was always a small, intimate wedding with only their close family members and friends to join them and bless their new beginnings. A big fat Indian wedding was not on their books especially when it came to their guestlist.
While the wedding was on the books, they had a few dates in mind and two of the shortlisted dates from the wedding calendar 2020 were during the lockdown. They decided over a casual dinner discussion to get married on the 25th of June.
They knew they wanted to be married to each other right away and this pandemic situation wouldn't hold them back. Which is why they decided to go ahead with their beautiful lockdown wedding in Mumbai. As they say Jab Miya Biwi Razi, toh kya karega Qazi!
What They Wore?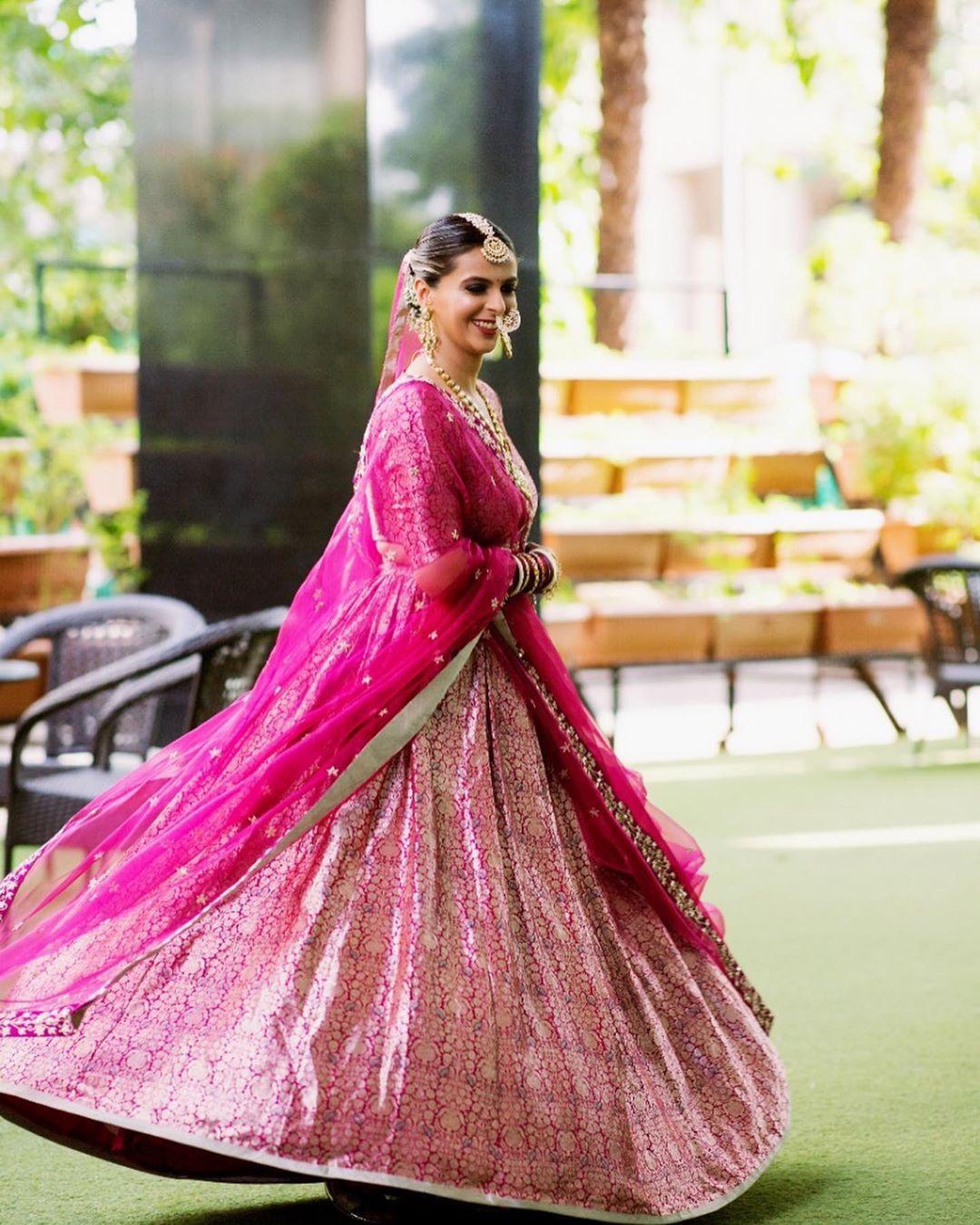 Rachita Shah is a fashion stylist and designer who has a knack for all things simple and basic. The lehenga that was gorgeously fabricated out of Banarasi fabric worn by Rachita was designed by herself. The elegance of the conventional colours at a wedding is unmatched to any other and Rachita looked breathtaking!
Rachita had her makeup done by makeup artist Neha Singh and her hairstyling was done by ace makeup artist and hairstylist Swati Daga.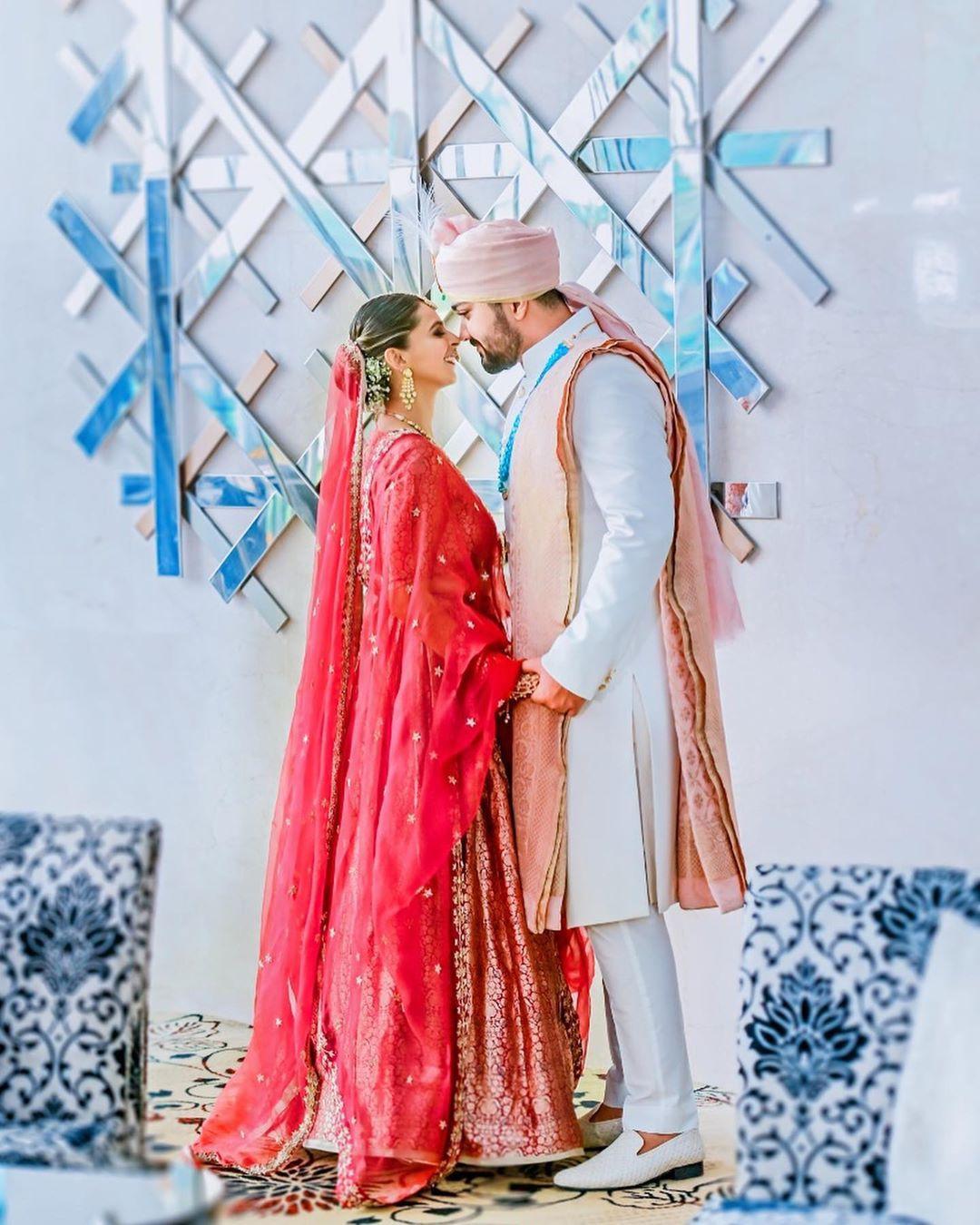 Virat Luhar, a wedding planner himself and the co-founder of Meraki Luxury Events, looked as dashing as ever in his groom avatar and the shawl that completed the look so well was made out of his mother's saree by Rachita.
Wedding Planning Amidst Lockdown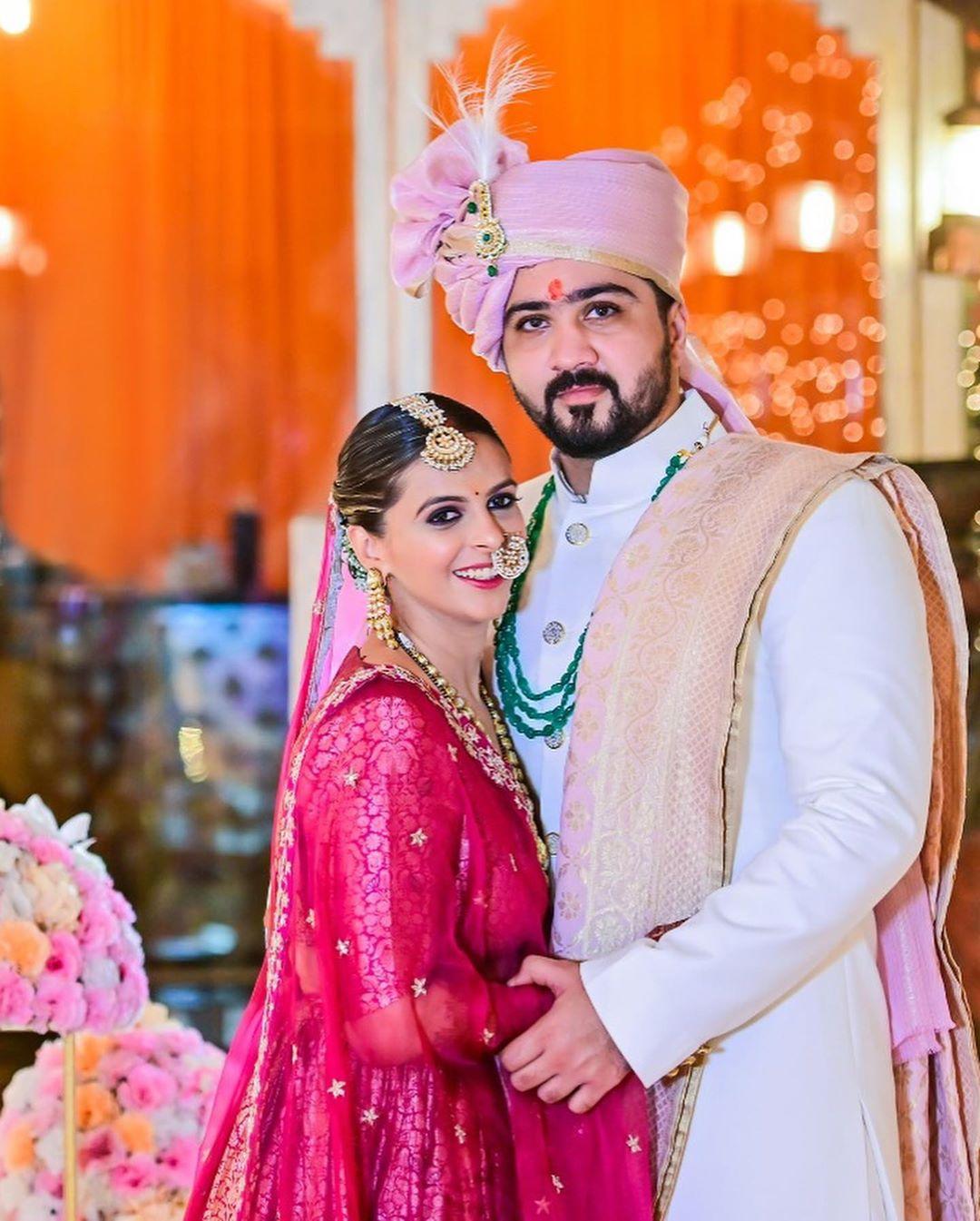 Their wedding planner, Nikita Upadhya of Meraki Luxury Events, says, "The entire wedding was planned in just 2 weeks. They both live near each other so both families would meet for dinner almost every other day. One evening while dinner the discussion arose and within 2 weeks they were married."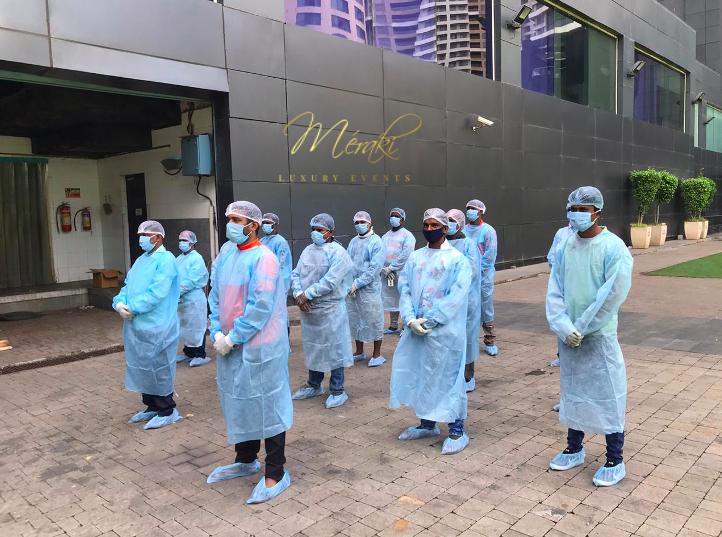 Image Courtesy: Meraki Luxury Events
Nikita also has to say, "While planning a lockdown wedding you must remember to inform the guests about what all measures they would need to take during these times. Sending out all instructions of dos and don'ts before the wedding would be very helpful. We ensured that complete sanitisation processes were followed before and during the wedding."
Rachita and Virat's wedding was actually the first lockdown wedding that took place at Sofitel Hotel, BKC. On being asked why Sofitel, they said that Sofitel's restaurant, Jyran has always been close to their heart. They would go there for a lot of their dates and thus they couldn't think of a better spot to be married in.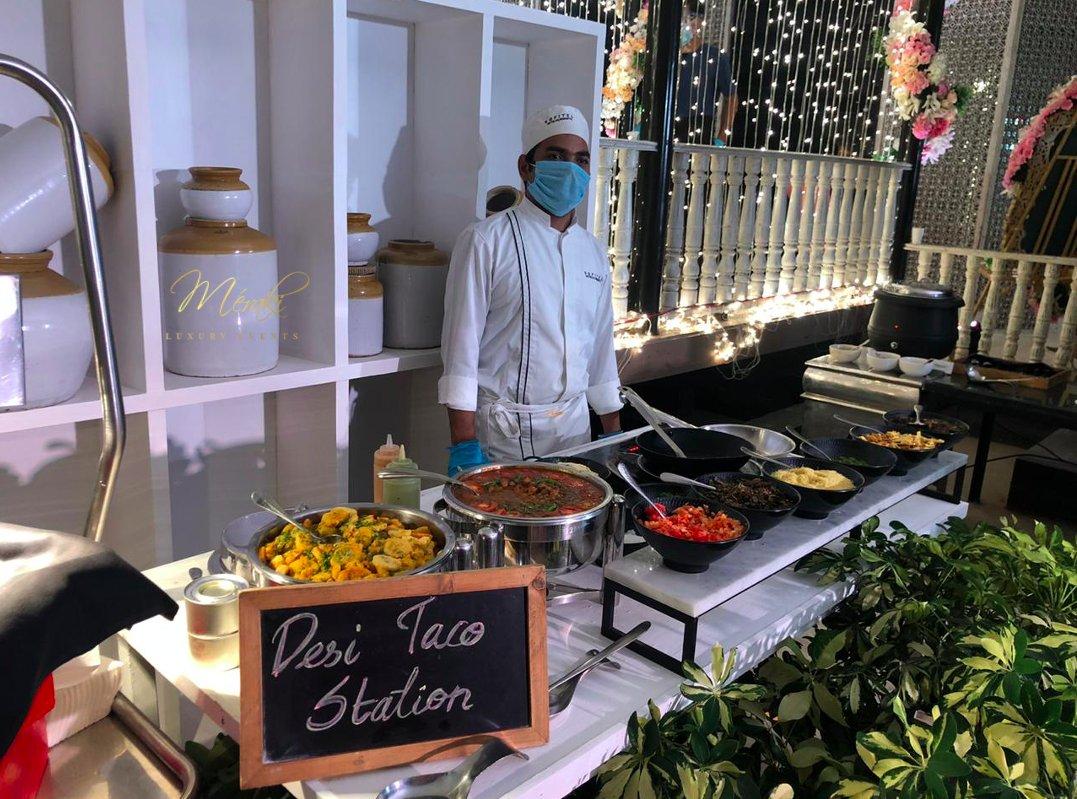 Image Courtesy: Meraki Luxury Events
The event planning and decor was done by Meraki Luxury Events.
At Sofitel Hotel BKC, Rachita and Virat had about 46 guests who attended the wedding. Personalised fresh masks were provided and sanitisers too were given to the guests. Temperature checks at the entrance of the venue were also made mandatory to make sure that safety precautions were prioritised above everything else. A live Zoom call on a big screen was set up too, for everyone to watch the wedding ceremonies and much more.
They celebrated a beautiful traditional Gujarati wedding and the pandit who commemorated their wedding ceremony was their family friend and they got him tested before the ceremony to be on the safer side.
The wedding celebration of Rachita and Virat was nothing short of a dream come true. Especially because the couple was always keen on hosting an intimate wedding ceremony with their dear ones instead of a big fat Indian wedding, the situation looked up for them even if it was not the ideal intimate wedding they had in mind.
Note: All images have been provided by Isrrani Photography.
Get in touch with the amazing wedding planners on board with us to make sure that your dream wedding is planned flawlessly and fuss-free. The best wedding photographers in town are now reopening for business and are here to capture the best moments from your big day.
If you have a lockdown wedding story to share, let us know in the comments below!