Wedding Rings Photoshoot to Breathe Love Into Your Life
Wedding rings! Don't just wear them, flaunt them and create some everlasting snapshots wearing them! Use these great pictures as inspiration for a photo session with your wedding rings as they mark the beginning of your new journey.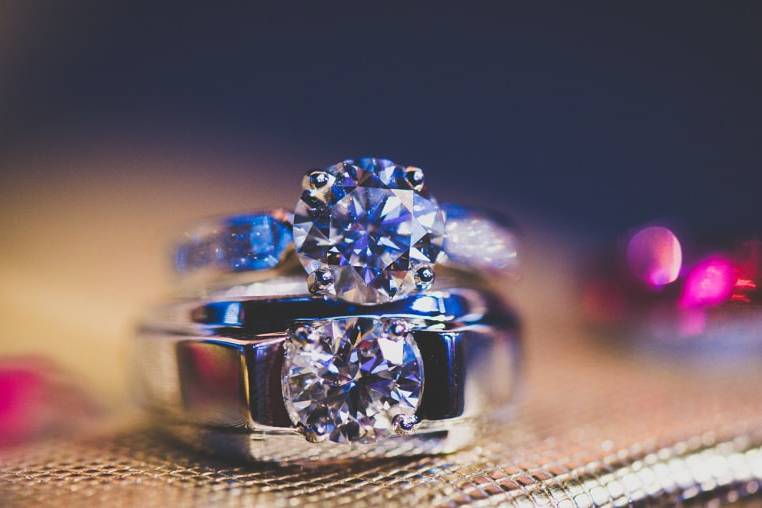 Your wedding rings are the most important wedding accessory of them all. Every couple has a different ring story but the emotional attachment to the ring stays the same. These sentiments are visible across the many stunning ring portraits we've recently found online. Take inspiration from 10 of our favourite wedding ring pictures and show off your wedding rings in style. Contact your wedding photographer and wedding videographer now and bring to life your moments to build on a treasure trove of memories.
Elevate your pre-wedding shoot with your wedding rings and incorporate some wedding props too to add a rustic charm to your photoshoot. Also, look at some of our bridal jewellery vendors to curate a wedding ring that has your name written all over it. Follow these ideas and include your wedding rings in what will turn out to be the best pre-wedding photoshoot that will breathe love and romance into your beautiful and meaningful forever after.
1. Create a Pretty Frame with Your Wedding Flowers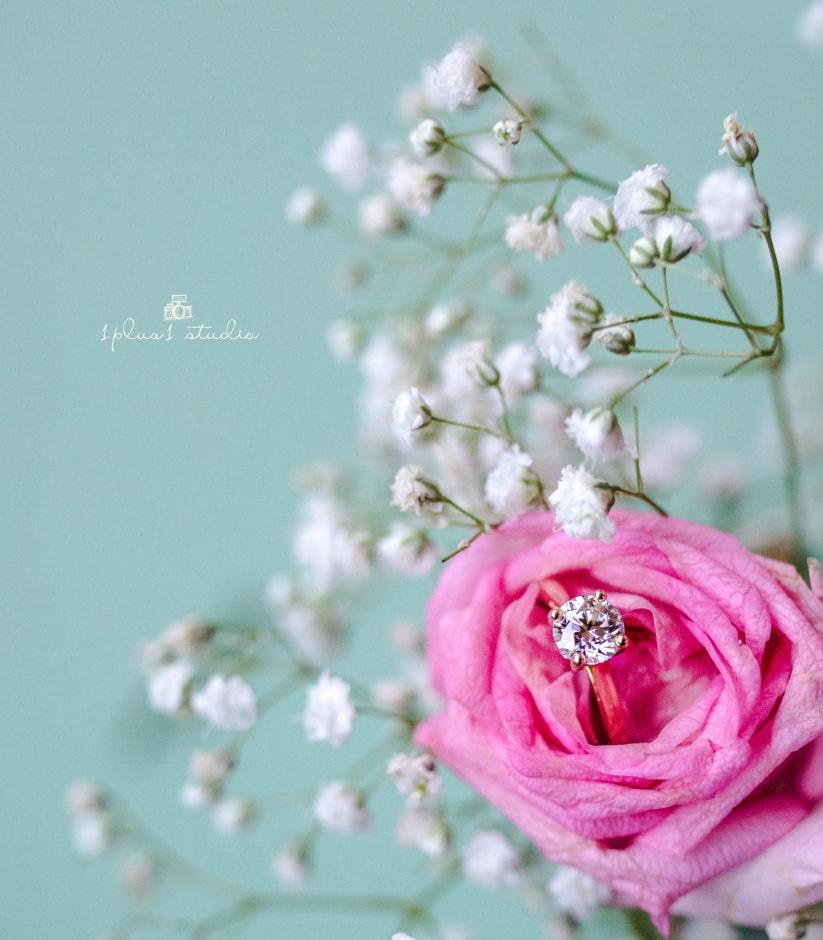 Your wedding flowers can act as the perfect backdrop for your wedding ring pictures. This lovely picture shows you how that's done. You can do the same or take this as an inspiration and create something even more magical. Try it with your decoration flowers or the ones in your Puja ki Thali. Fresh flowers have a unique charm which can be used to enhance the beauty of your wedding rings in a photoshoot. Not only does this look stunning but is also a very unique take on using your wedding rings as an improv prop for your pre-wedding photoshoot.
2. With Your Wedding Invitation Cards as Backdrop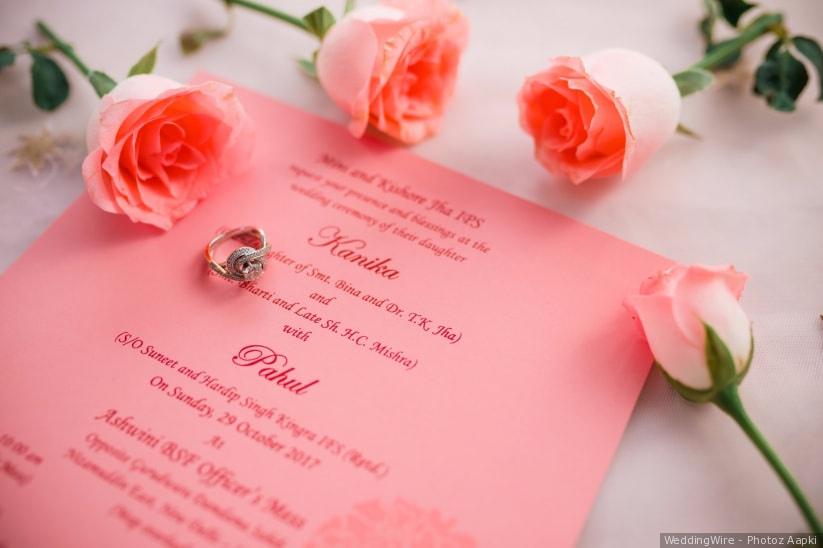 Your wedding invitation cards and wedding rings are both memorable in their own way. Creating a ring shot with your wedding card designs will bring focus to both these special elements and give you a picture that you'll cherish all through your life. Whenever you will look at this image, you will think about the whole thought-process that went behind the final selection of these two. What a wonderful way to reminisce old memories. Cute, adorable and absolutely one-of-a-kind idea to make any pre-wedding photoshoot all the more personalised.
3. Pose with Your Pooches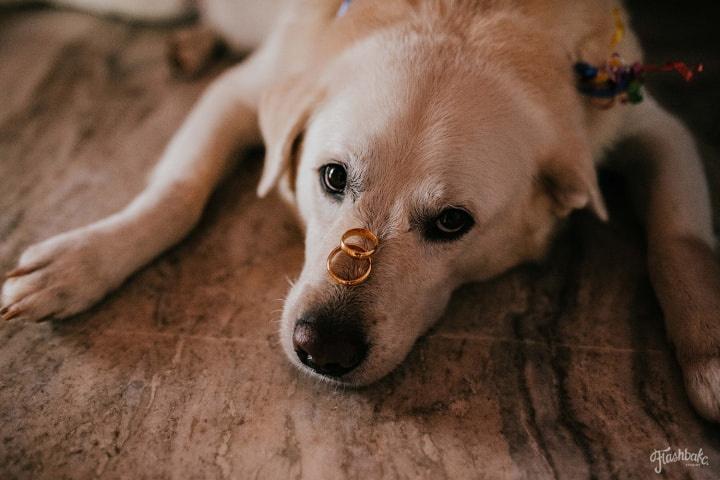 Image Courtesy: Flashbakc
We're all for involving your pets in your wedding pictures and a great way to do that is during your wedding rings photoshoot. You can play around with them for the shoot or make them sit at a place. It really does not get any cuter than this quite real. Let your pooch share this moment of love with you & have your pooch hold onto the wedding rings as the photographer captures this surreal moment. !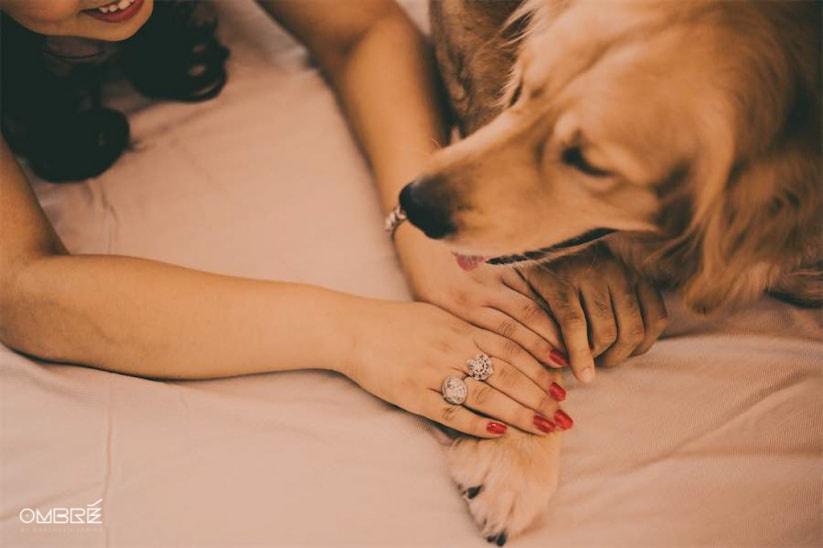 Though make sure you have a camera-friendly pooch who'll value your wedding rings just as much as you would. Prevent the mishap of your pets ending up swallowing the rings.
4. The Reflection Shot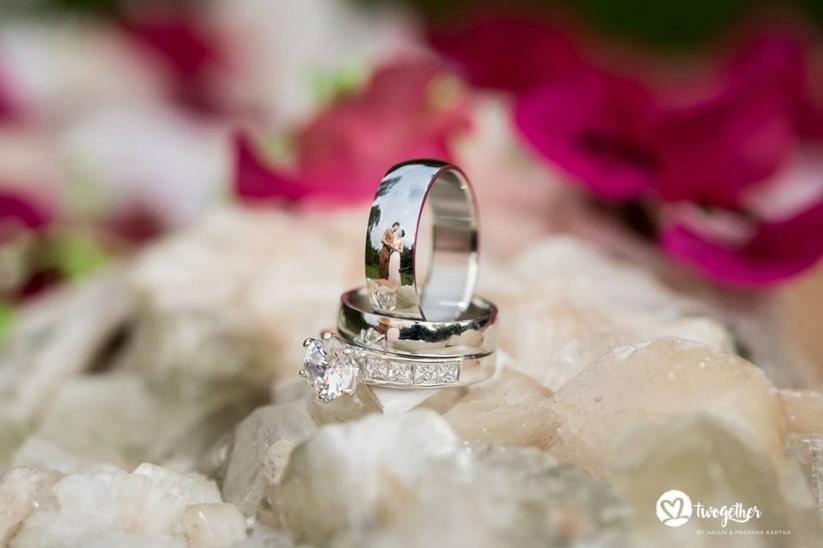 Combine your wedding rings picture with your pre-wedding photoshoot to create a memorable shot like this one. All you need is a pose-friendly couple, a talented wedding photographer and a shiny wedding band! The reflection pose will put everything in the background of your rings out of focus. But that does not mean you shouldn't give it proper attention. The colours will still get captured and that should give you reason enough to pick a nice one.
5. Use Your Favourite Desserts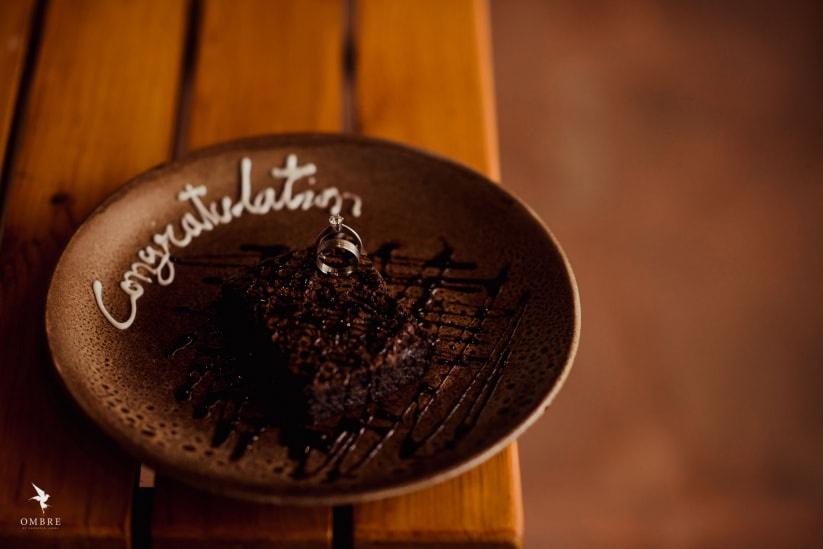 This one's for the couple with a sweet tooth. Add a sparkly topping to your favourite desserts and create a tempting ring portrait like this one. You can even place the rings as your engagement cake topper and have that be the central element of your photoshoot.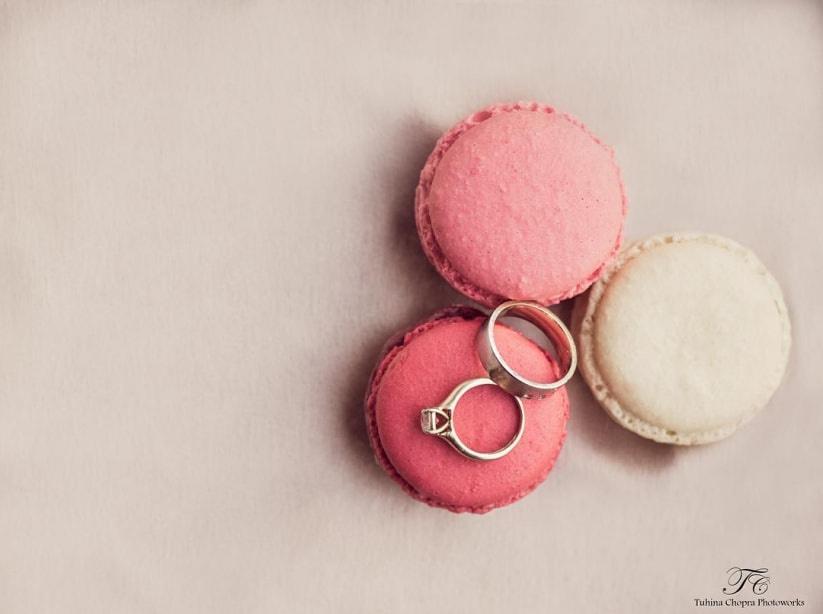 Or pick simple backgrounds, with just your favourite dessert and engagement in focus and get a spectacular shot such as this.
6. Underwater Magnificence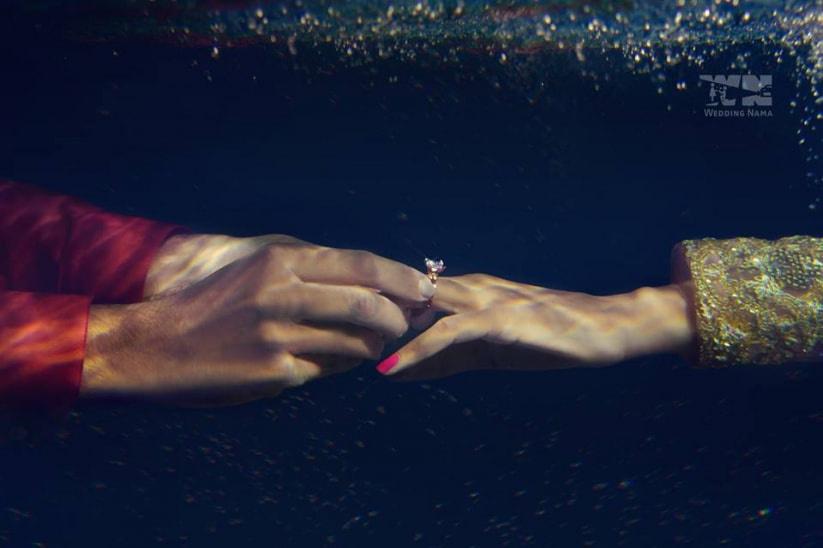 This portrait needs two very experimental water babies and a photographer who's willing to go to any depths to capture the perfect ring picture. The results are obviously magnificent. You might want to get a similar picture clicked on your proposal day as well.
7. Capture the Sparkle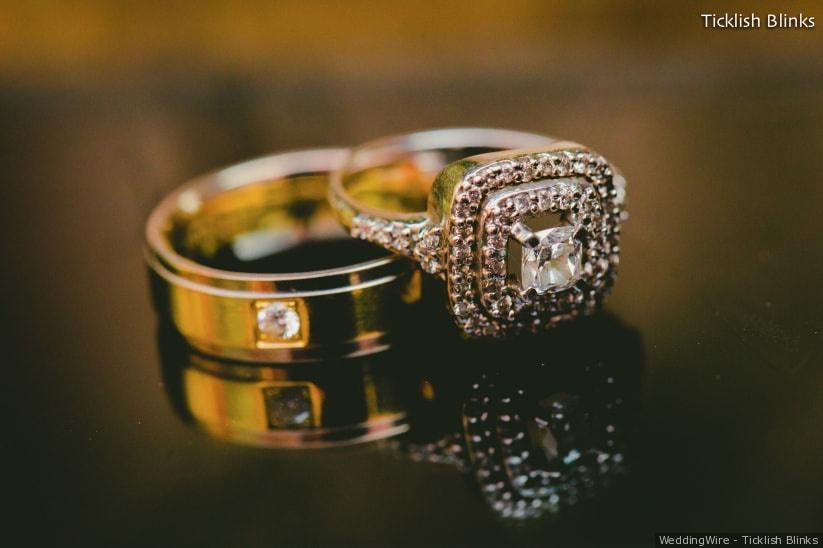 The best thing about your wedding rings is the sparkle and a great ring picture just needs to capture that well.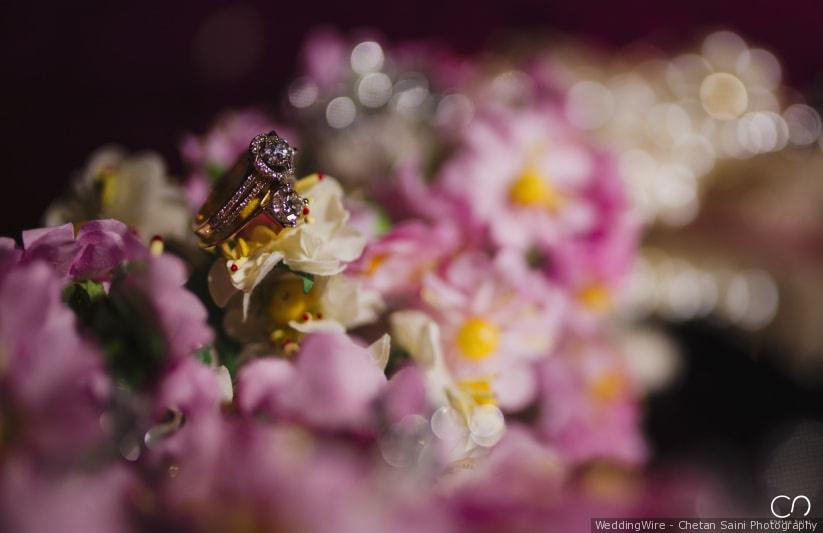 Keep things simple and you'll still have the wedding picture worth a lifetime. Focus on the rings and let everything else become blurred lines.
8. Ring and Bands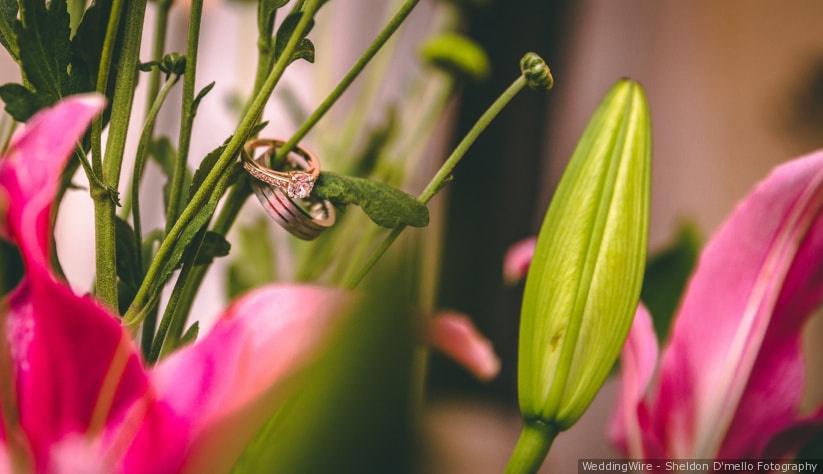 This one's another all-time favourite wedding ring picture. Get the ring and the person who is going to be wearing it together and voila! You have an Instagram-worthy picture instantly.
You spent so much time and effort searching and finalising your engagement rings. So, why not celebrate them with a special photo shoot of their own. Show these amazing pictures to your wedding photographers and get them to create memorable pictures that you'll cherish throughout your life.
If you and your significant other are taking the next step then it is the time for you to think of innovative ways in which you can use your wedding rings to have a pre-wedding photoshoot. The wedding album is a treasure trove of memories and sacred moments.
From Pheras to the Jaimala ceremony to Vidaai each and every function and moment is special and therefore should be captured in the most serene manner possible.
Get in touch with your wedding photographers and wedding videographers well in advance. Share with them your thoughts and ideas about the ideation, execution of the shoot and what you would like to do at your pre-wedding photoshoot. Take his suggestions as well. Curate a list of all things possible and most importantly have fun. These moments will become the beginning of a beautiful journey. Take this moment and own it by transforming your feelings into a wedding album you will be able to hold close to you forever.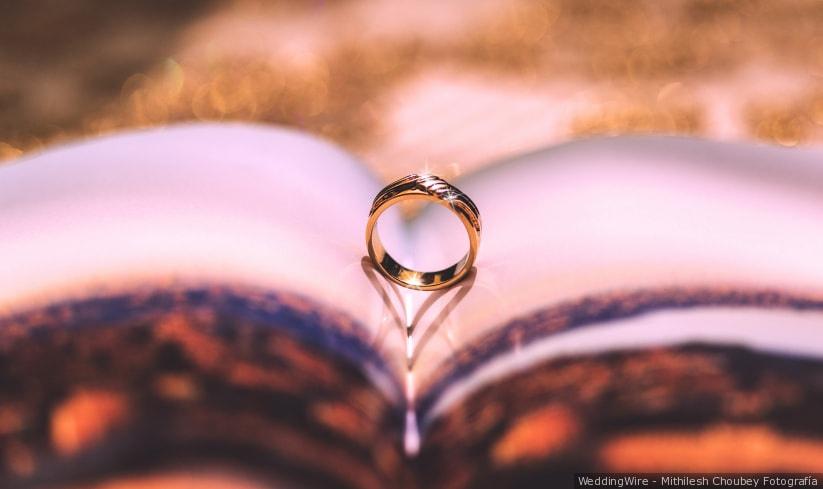 We hope you enjoyed reading about how you can use your rings to elevate your pre-wedding shoot. Have an idea or two more to suggest? Tell us through comments.