7 Wedding Invitation Models That All Couples Will Love & Needs to See Before Their D-day!
With so many wedding invitation models choose from, it must be exhausting for you to decide on one wedding invite. To help you out, we have some amazing designs for you that will get you started on the right path.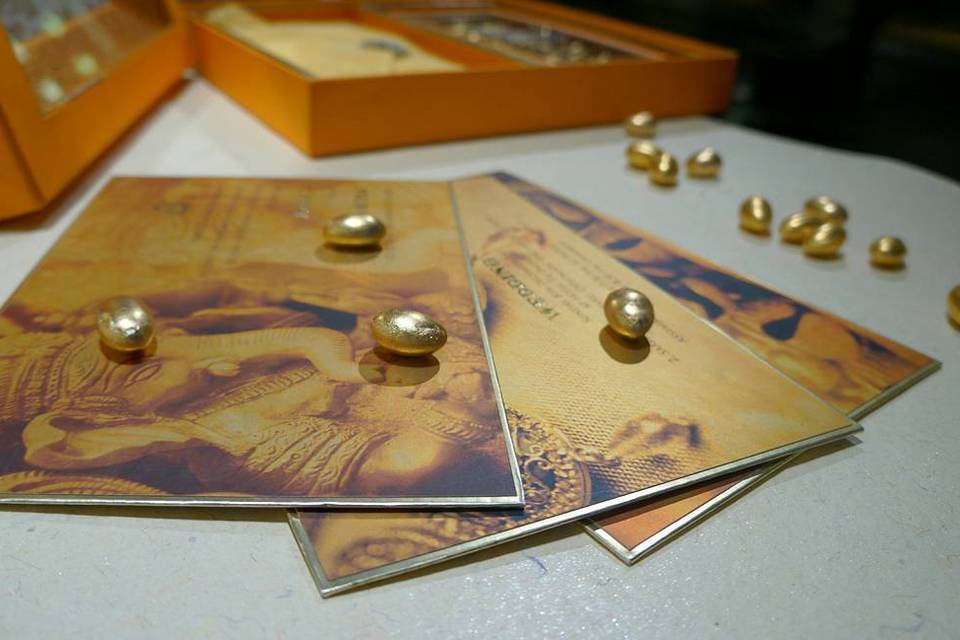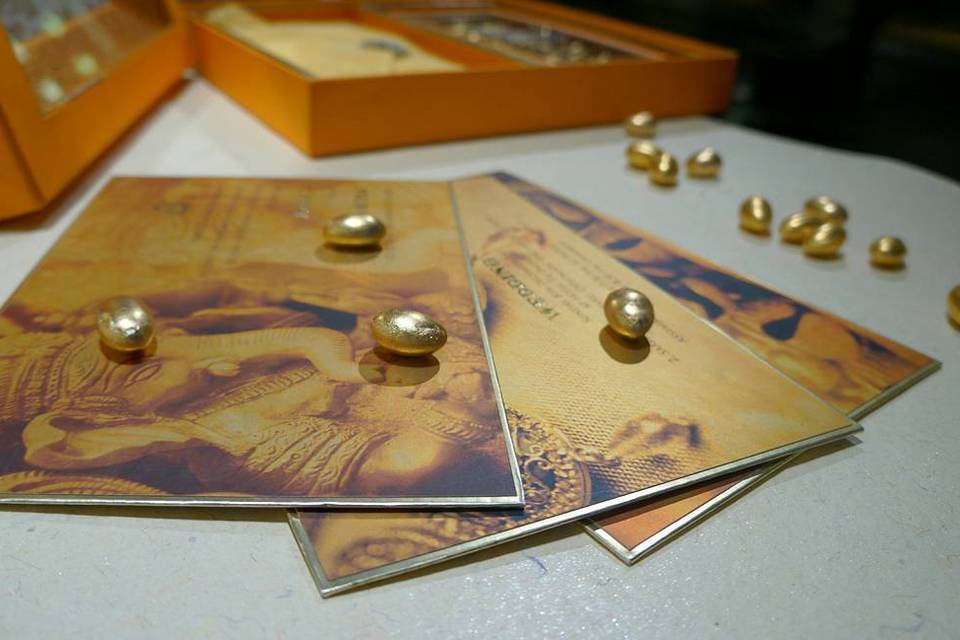 Usually, people think that choosing their wedding invitation models will be an easy job and they won't have to think about it much. However, you need to customise and plan out your wedding cards according to your requirements. You need to think about the colour combinations, the weddings invitation pattern and only then will you able to get your wedding invitation models ready. What feels like easy work is actually a hard job to do. You need to decide if you want boxed invitations, laser cut invites, scroll wedding cards, separate email invitations to send to your friends and much more.
With so much to choose from, let's have a look at some of the top wedding invitation models that you can opt for and use in your wedding.
1. Traditional Invitation Model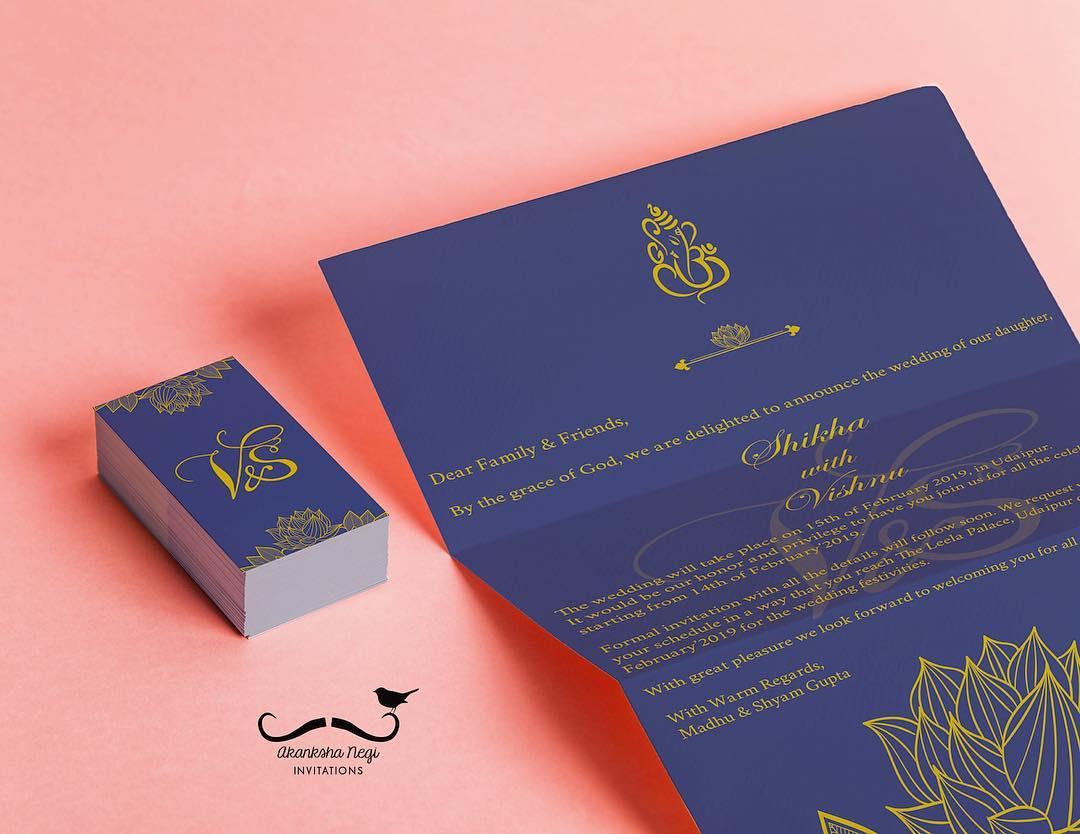 With a dark blue background, this amazing invitation looks chic and classy. Looking like a spectacular Indian wedding invitation card, this is one of those wedding invitation models that many people have been using in the country. Apart from that, a golden ink has been used to write on it and to make beautiful patterns as well. If you belong to a traditional family, this is the wedding invitation for you.
2. Contemporary Invite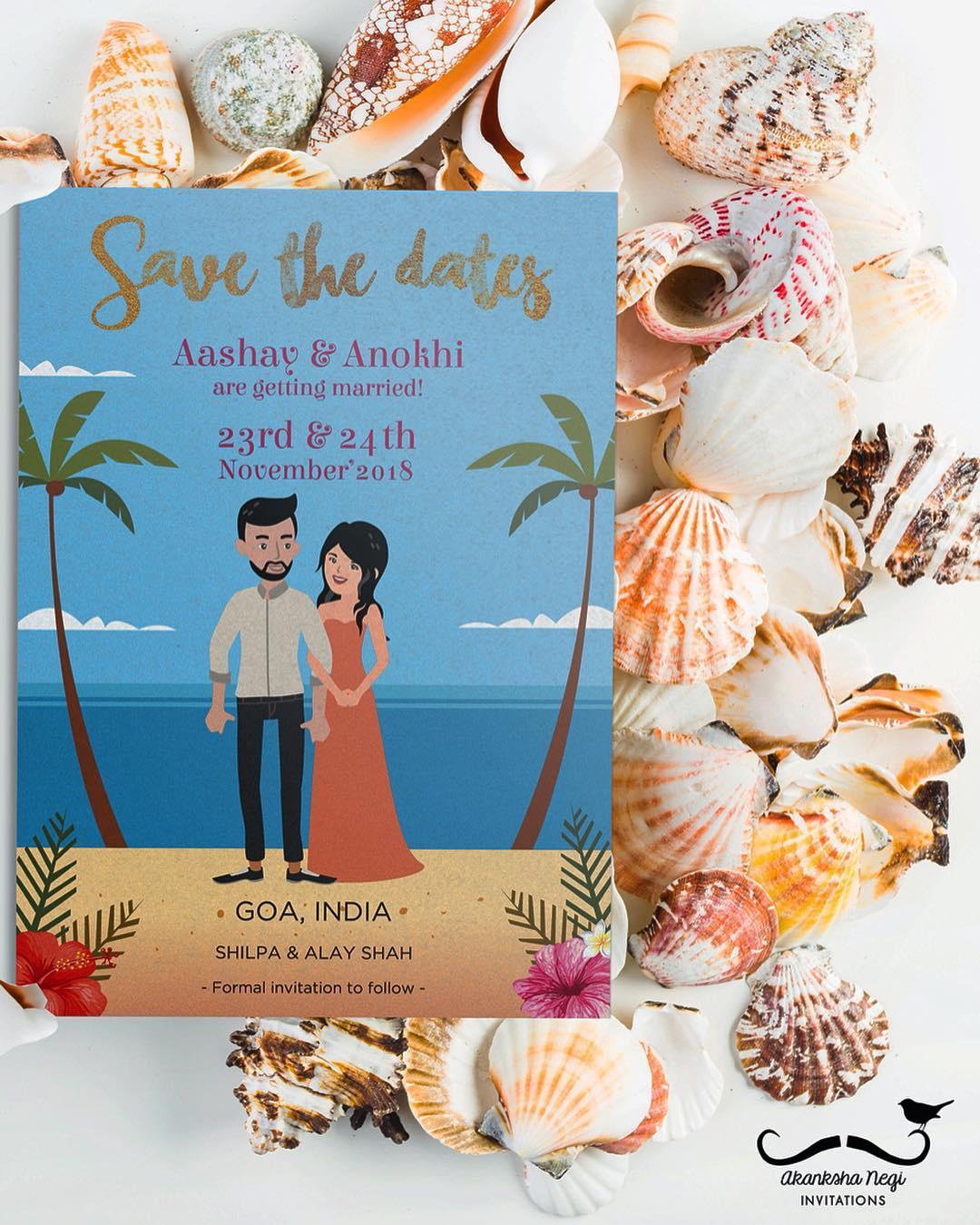 Asking you to 'save the date', this beautiful contemporary wedding invitation is made for those who want to add some creativity in their wedding. Filled with cartoons, this invite shows the bride and groom in Goa together as it is their wedding destination. Colourful and out of the box in terms of design, such wedding invitation models are not used by every other person. Moreover, they look quirky and beautiful!
3. Colourful Invitation Cards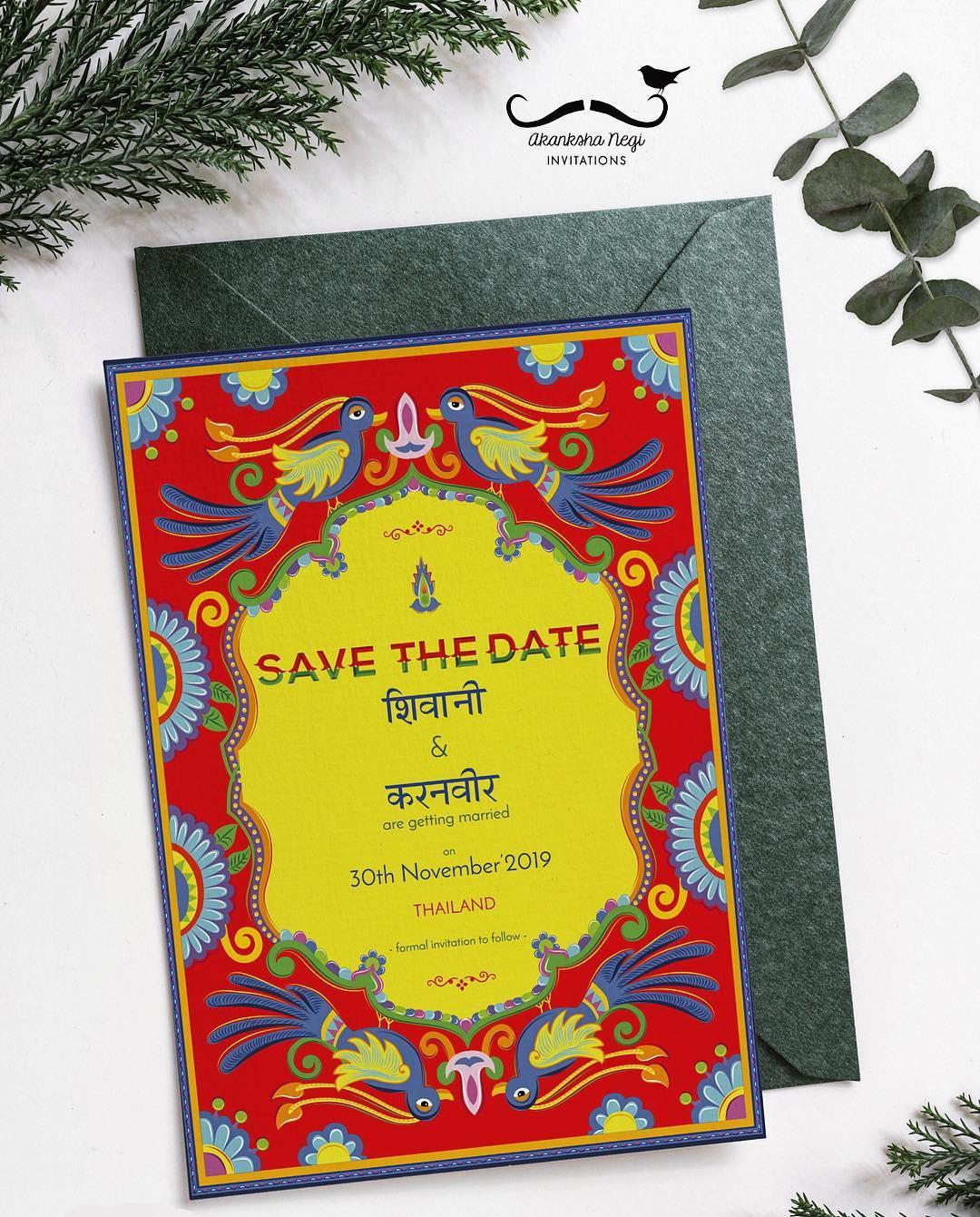 A wedding invitation card that is bright and vibrant, bringing out all types of colours, looks amazing. And no other example would be a better one. With the text in the middle on the yellow colour, it looks very funky. Apart from that, the wedding card has been designed all over with floral motifs and birds, with a red background. In total, the whole design looks very cool. Such wedding invitation models have a great future in the wedding market.
4. 3D Invitations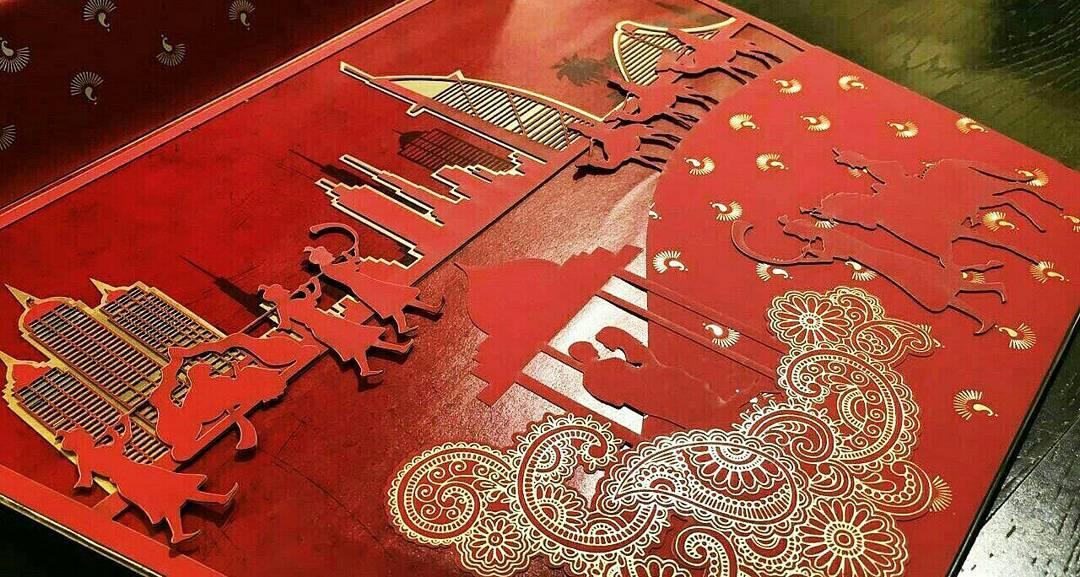 3D invitations are the new level of contemporary designs in the wedding invitation models and look stunning when designed properly, like in this wedding invitation. Designed in red colour, it has been combined with gold, a great colour for an accent shade. While below it showcases Rajasthan, which is where the wedding is taking place, the upper area has been intricately designed like Dubai with the combo colours. This 3D wedding card gives an amazing royal feeling.
5. Red Elephant Invitation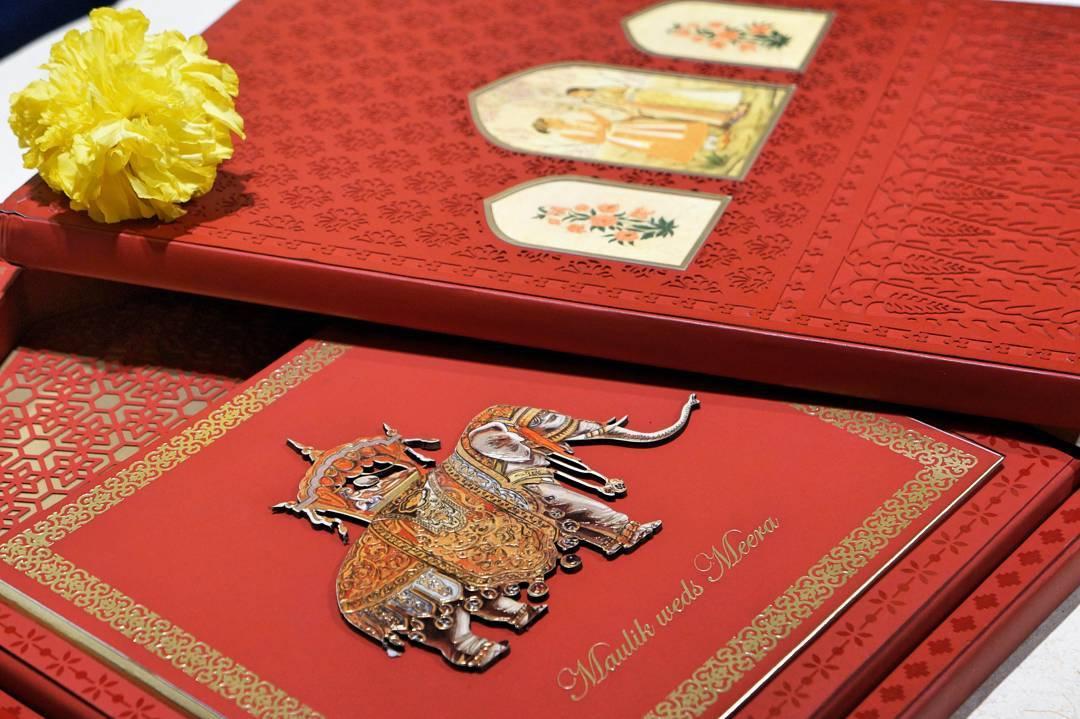 With pieces of beautiful red coloured wedding invitation models comes an intricately designed elephant. It's not a normal elephant that is placed just for decoration. This elephant has been created in a way that it's showing that it carries the bride after the Vidaai, as they did during the times of the kings and queens. With the embellished elephant, the wedding card has been decorated with pictures of the royals.
6. Grey Box Invitation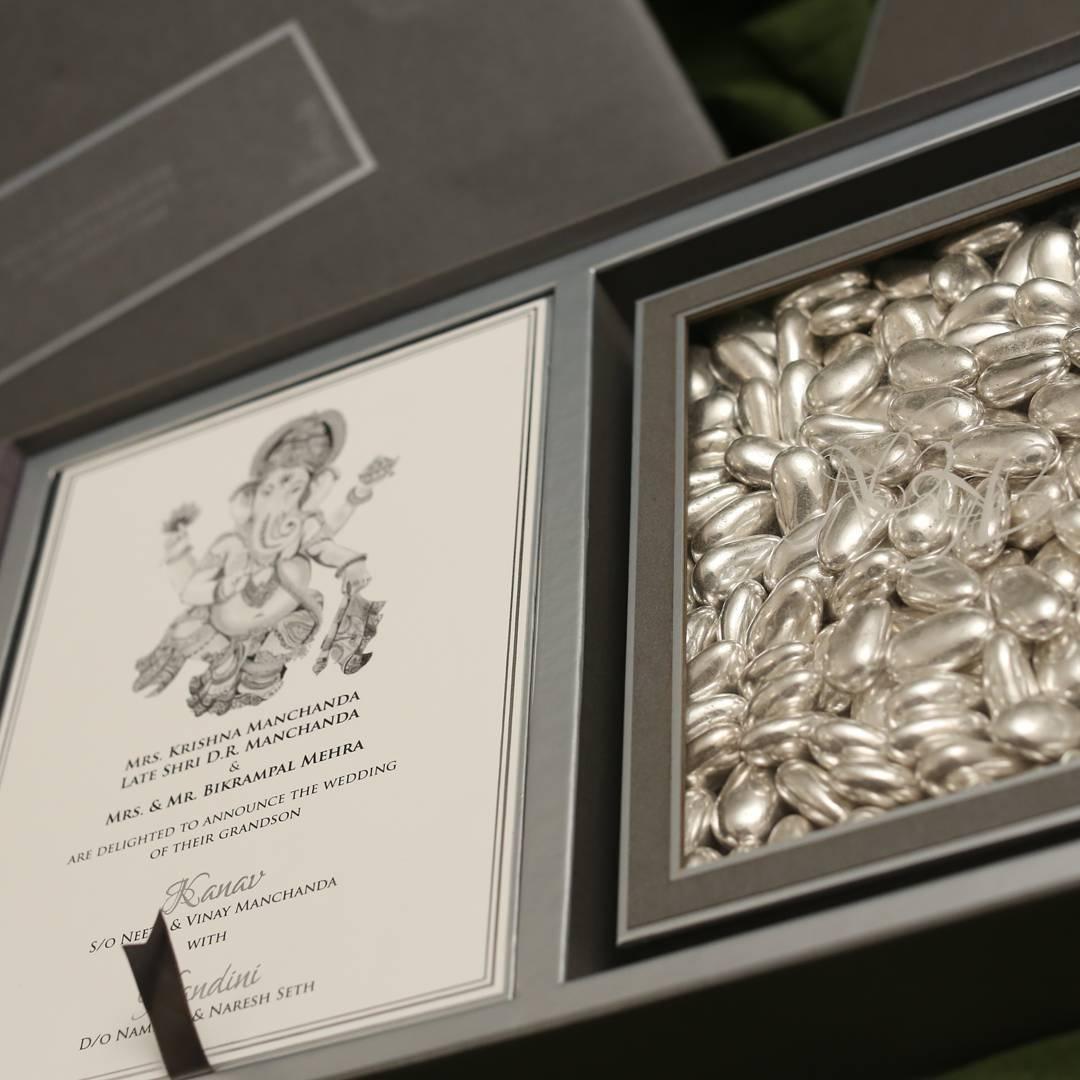 Here's a wedding card box that is perfect for people who like cool tones and contemporary designs mixed with a touch of culture. It has been designed with grey and silver pebbles on the right side. The whole space has been filled up with grey and silver pebbles and looks beautiful as it shimmers. On the left side is a wedding card with Lord Ganesha on the top. As a religious invitation card, this box invite is being used as one of the common wedding invitation models. It is available in different designs, colours and patterns.
7. Ethnic Invitations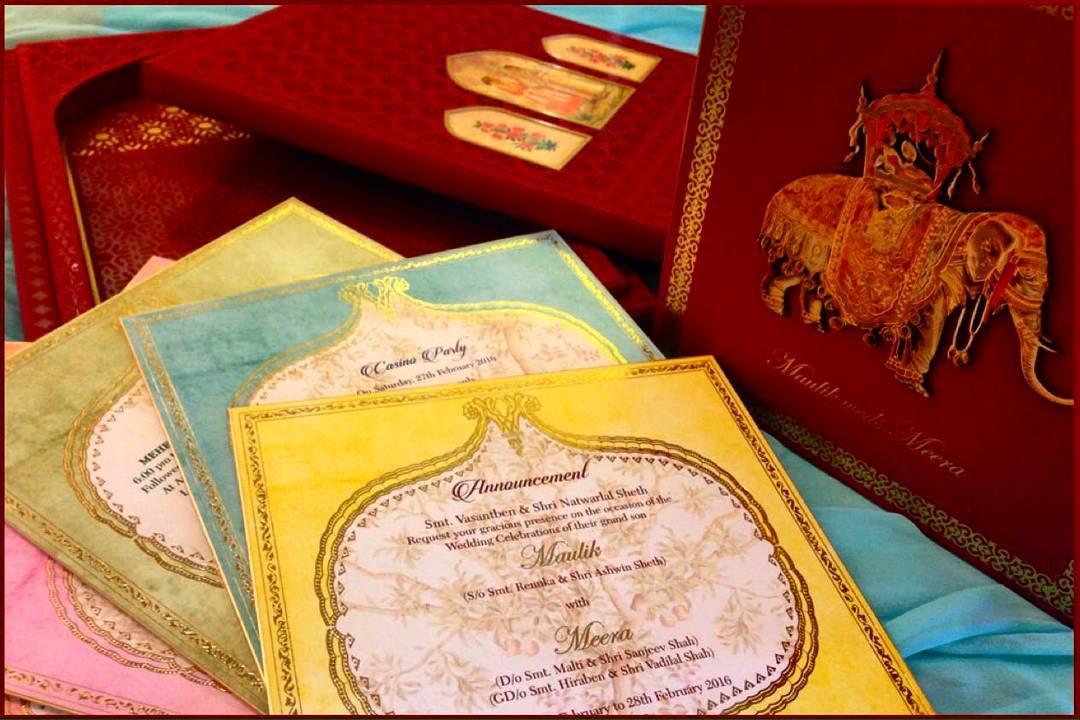 With all event cards available in different colours and ethnic designs, such wedding invitation models are quite common to see in the wedding season. Available in the most soothing colours, like blue, yellow and pink, these cards have ethnic designs on them. Apart from that, they don't need huge embellishments to look royal or classy. Beautifully designed, they are the need of the hour in the wedding season.
Your wedding invitation cards symbolise your personality and your relationship with your partner. Choosing the age-old wedding invitation models can be your choice, however, these given options have always led to making wedding couples happy and satisfied. No matter which one of these wedding invitation models you choose, you will certainly add some spice to your wedding! Make sure you pick wedding card fonts that are legible so that the final product looks amazing! We're sure no matter what path you choose, the card will be the perfect reflection of you!
Want to know where you can get quirky wedding cards made? Just get in touch with our card makers near you right now!