8 Essential Wedding Design Elements That Help Make Your Event Pop
Discover ways in which your choices in wedding designs really make your event unforgettable. Eye-catching invitations, amazing decor pieces, and props - here's all you need to know.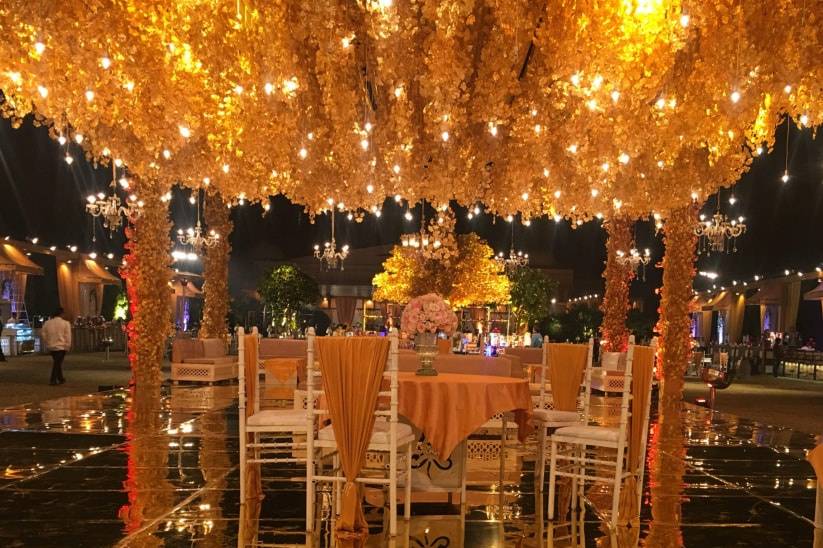 Your wedding function dates are out and you have always dreamt of a luxe celebration with an uber creative decor in your mind. However, that's just one of the many things where you can unleash your creativity in full flight. We're counting down a list of areas which come under the beautiful blanket of wedding design opportunities. Weddings are the times where you can go all out especially in terms of decoration and design elements. These are the things that can truly transform your chosen wedding venues while offering your festivities an edge of uniqueness.
To ensure that you are able to include as many beautiful design elements at your wedding festivities so that it is a wonderful event to remember for life, we can pick few ideas and tips to make it one of a kind. Treat this as a checklist for all the things you need to cross off, so that you can achieve your expectations, in your budget range.
1. The Perfect Wedding Invite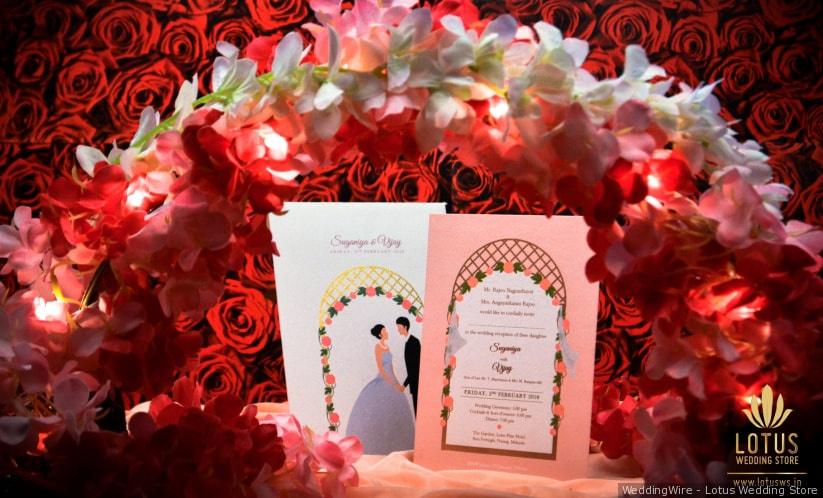 First things first - your wedding invitation is your first chance to showcase your wedding design quotient. Ensure that you make it sweet, quirky and add a personalised touch to it. Your invite should go beyond telling your guests about venue details and functions. In fact, the wedding invitation matter should be in line with your sense of aesthetics, the wedding theme and the larger cultural canopy. While there are a lot of new and trendy options available, here you can get the most creative design elements to portray your love story and announce it to the world.
Things to keep in mind:
The wedding theme, colours and motifs
Trending wedding invitation card designs
Recipients for the card - Friends, colleagues or relatives
2. Pay Attention to the Wedding Backdrop Details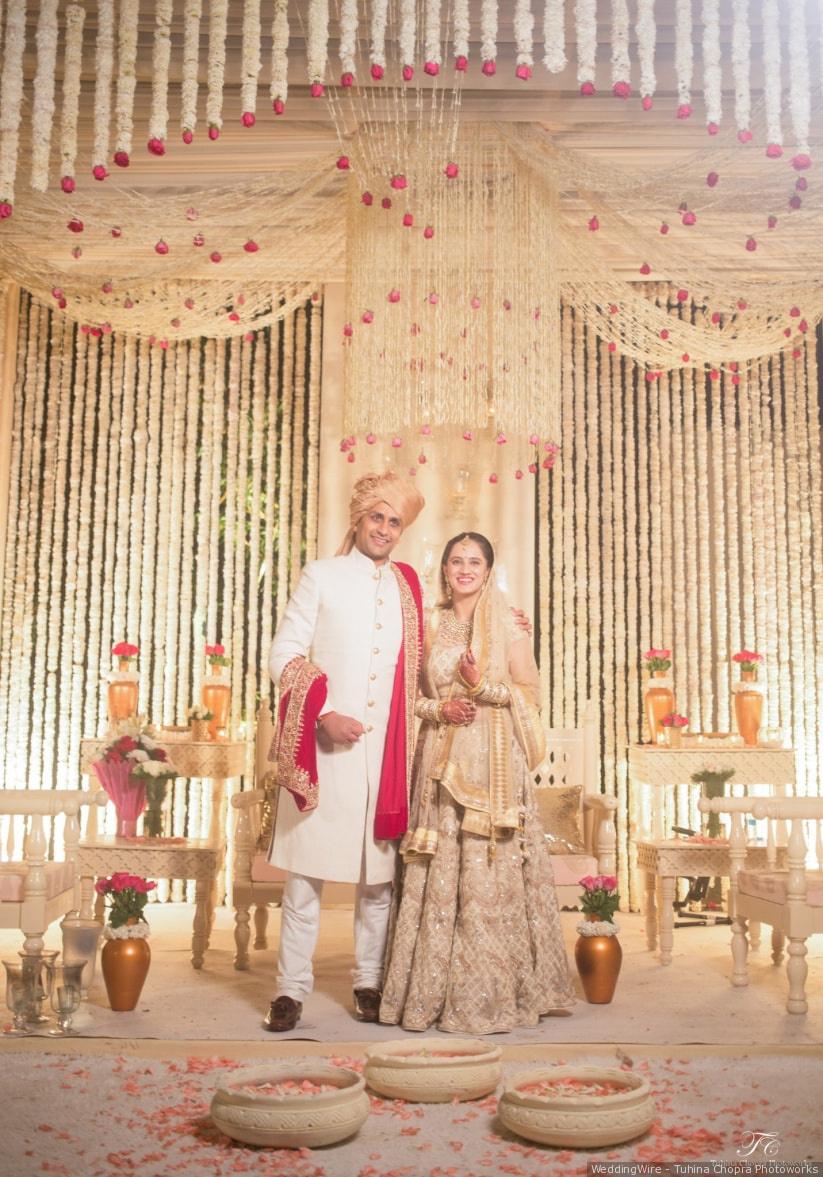 Have you ever noticed a beautiful wedding picture without the perfect canvas? This canvas is the wedding backdrop, be it a standalone installation or a part of stage decoration. If you're looking at a wedding design which is Pinterest-worthy, then a way to make your pictures look fabulous is with a beautiful backdrop which also has a touch of luxury attached to it.
Look at the exuberance of this gorgeous stage decoration with flowers and white drapes. Doesn't it look straight out of heaven?
Things to keep in mind:
Location for the backdrop
Overall wedding theme
The intent for the piece - is it for the stage, as an installation or for a bridal / groom seat?
3. Make the Centrepieces the Centre of Attraction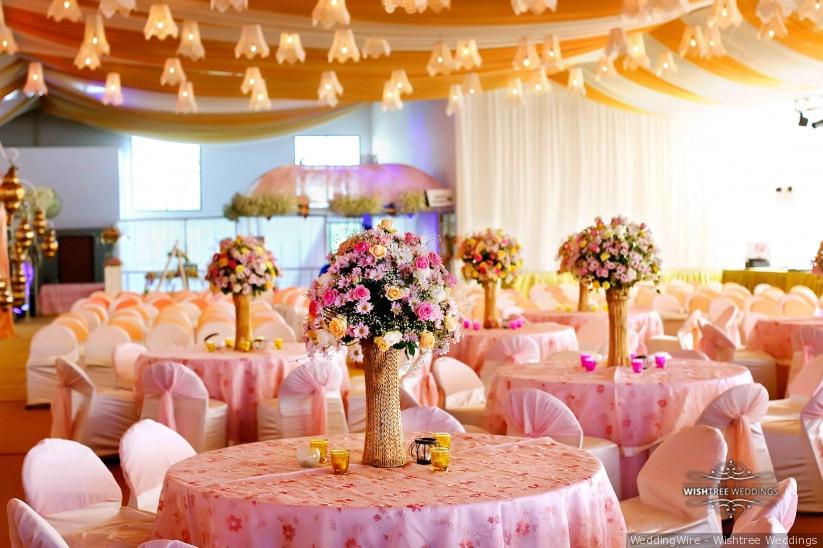 Centrepieces are usually said to set the tone of your wedding design. Starting from candlelit weddings to weddings with mason jars, all of it decides the theme of your wedding. Depending upon your style, you can choose from a rustic theme, a fairytale theme or vintage theme; and add some drama to your big day with these beautifully designed centrepieces.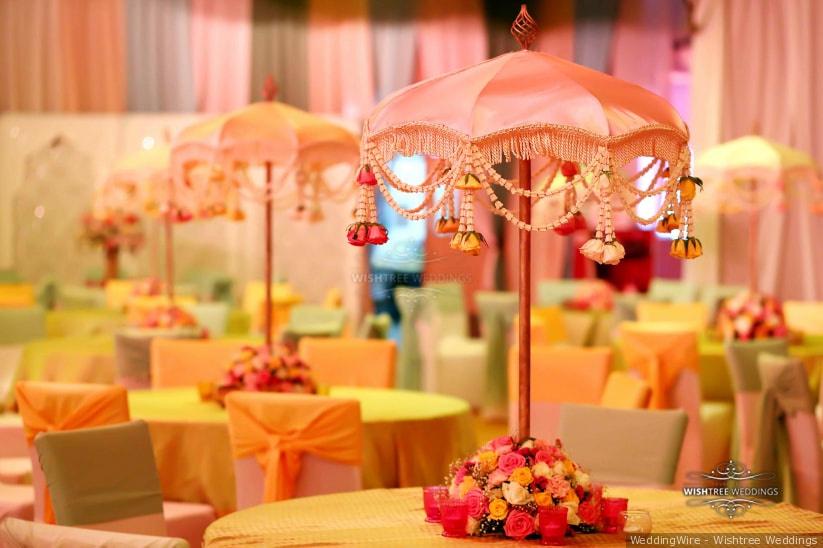 You can put some cute baskets with love quotes written on them which secretly speak of your love story. Or go green (yet quirky) and use all those wine bottles that you finished in the previous functions as candle stands!
Things to keep in mind:
Overall seating arrangement
Wedding design, colour and ideas
The intent for the piece - is it for the stage, for guest seats or as showcase items around the venue?
4. The Social Media Touch - Wedding Photobooth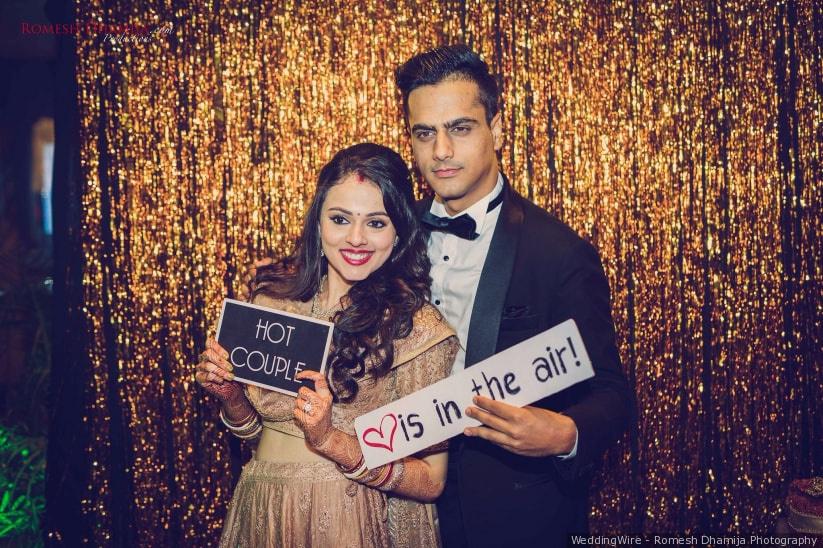 When it comes to adding some creative quirk to your wedding design, we believe in Photobooths! They are the newest trend on the weddings block that has now become a mandate as all your guests love to pose for social media. Photobooths are a fantastic way to remember your wedding party and make great memories!
Look at these quirky designs where you can place a Polaroid camera or go for a corner and place the hanging photo frames!
Things to keep in mind:
Photobooth themes and ideas
No. of people that can be engaged with it
Inputs from your wedding photographer
5. Setting the Stage Right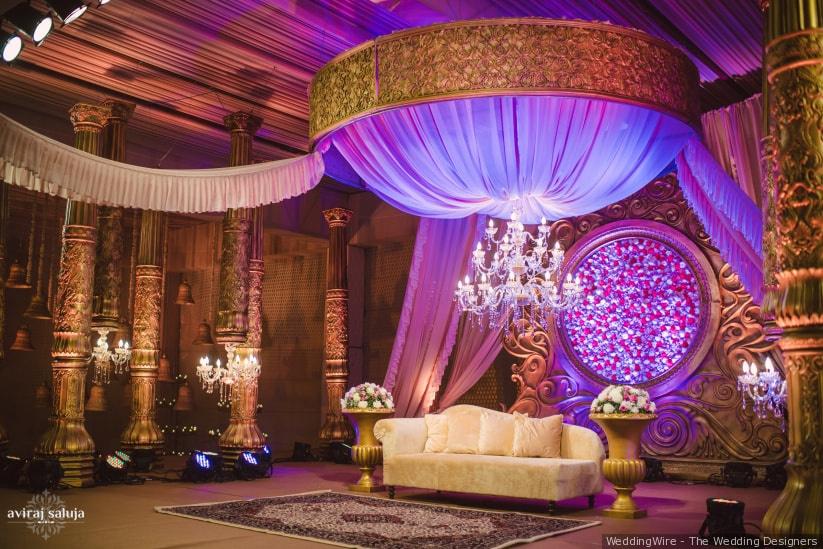 On your wedding day, all the eyes are always set on the stage and that's what makes your stage the best place to show your creativity. It's the place where all your candids will be clicked along with those posed pictures with both the sides of the families. So, the stage decoration is very important in your wedding design.
You can go either keep it simple with flowers, opt for fabric bolts and dupattas or create composite wedding design inspirations.
Things to keep in mind:
Location for the stage
Overall wedding theme
Looks for your wedding album
Overall wedding venue setup
6. Add some drama to the Mandap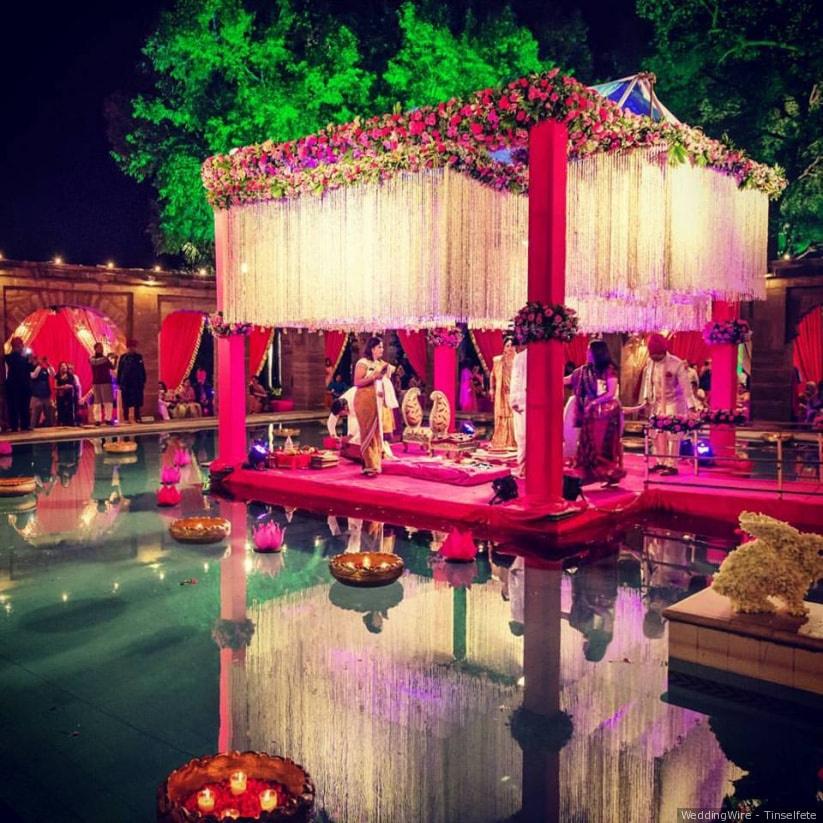 Usually, mandaps in Indian weddings are outdoors (because 'Taaron ki Chaaon Mein') and is the most important element of your wedding design. Having the right kind of flowers, the lightning and gorgeous drapes is what will make your wedding mandap stand out. Depending upon the banquet hall for this is not advisable. Or if you're seeking them ask them for reference images and select your perfect setup accordingly.
Things to keep in mind:
Location for the mandap
Time of day for the wedding ceremony
Overall wedding theme
7. Bar Bar Dekho!

We saved the best for the last! We know that mandaps and stages hold their own place in the wedding design, but let's be honest. Bar counters are the most visited area of any Indian (read Punjabi) weddings! So how can you not emphasize on the bar design? Make the bar counter a place that speaks of fun and craziness that your wedding is going to bring and celebrate the edgy designs in the epic post-drinking-scene pictures!
A playful and refined decor is what defines the wedding design best in today's scenario. We're always constantly thinking about the experience of our guests during the wedding as the whole event unfolds starting from the wedding invitations to the departure of the bride! So make sure that you carefully skim through every detail of the design. And if you need any help, we have a plethora of wedding decorators who value a beautiful wedding and work in a collaborative relationship to throw the most amazing wedding bash!
Things to keep in mind:
Location of the bar
Bar setup and catering services
In sync with the overall theme of the wedding
Quirky wedding design elements to help it stand out
8. Head's up!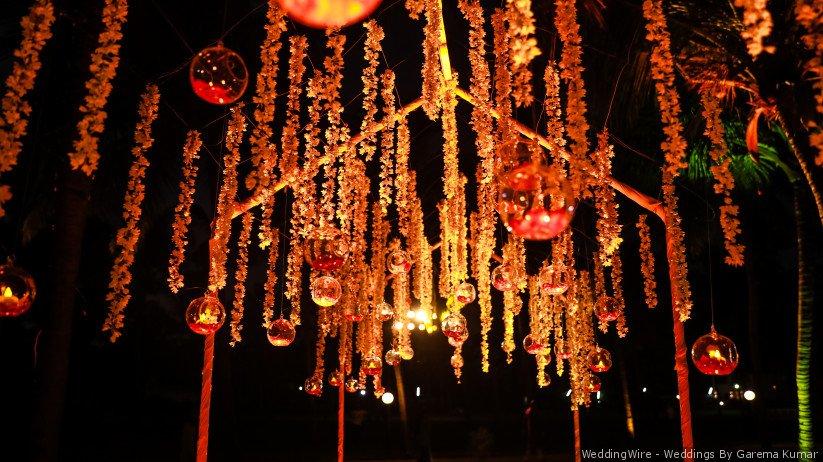 When thinking of splendid wedding design elements that everyone would recall from your wedding, don't forget to include some overhead inspiration. While wisteria vines have become an idea that's run its course - be it in real flower hangings, their silk thread or silk fabric versions or even basic plastic interpretations.
However, what's new is the concept of combining these with other eye-catching elements. These include the glass bowls here, Kalire and terracotta bells, charms and nearly everything else you can think of. Combine these ideas in contrast or with similar colour palettes. You can also think of combining these ceiling delights with ground-based spotlights, colourful ribbons and fabrics or even fairy lights.
Things to keep in mind:
Location of your event
Design element in sync with the overall theme
Light-weight handing decoration items
Strong ceiling or decor structure
Indian weddings are a grand affair with multiple events taking place in the course of days. Each of these wonderful ceremonies provides you with a new opportunity to create a unique experience not only for yourself but for each of your wedding guests who travel to be a part of your big day celebrations. We hope that our extensive list of beautiful wedding design elements was able to offer you some inspiring ideas and decoration goals for your wedding day.
Find out more from the expert wedding decorators right away and get going with your wedding design ideas!