The days when wedding decor used to be a couple of hastily put together tents and seats are long past us (and thank God for that!). Nowadays, wedding decor is one of the top-most priorities of the bride and groom, right next to the Muhurat and the pandits. If you are looking for some inspo for your wedding decor, you have come to the right place. Here are some carefully curated wedding decoration images which made us stop and stare. Are you ready to screenshot your way through this list?
1. A poolside party
Is there anything more fun than a poolside marriage ceremony? There are some marriage decoration images which immediately set you in a festive mood, this is one of them. Indulge in some refreshing pool party games too while you're at it.
2. Swinging by your mehndi
The Mehndi decoration is one of the most vibrant and colourful out of all other wedding decoration images. And this beautiful swing-set done up with fresh flowers for the bride's mehndi is all sorts of #Goals!
3. Pretty in Pastel
Set amidst nature, this beautiful canopy has our heart. Such subtle and grand wedding decor images are capable enough to transport the viewer into the peaceful and serene evening of the wedding ceremony.
4. Witty wedding decor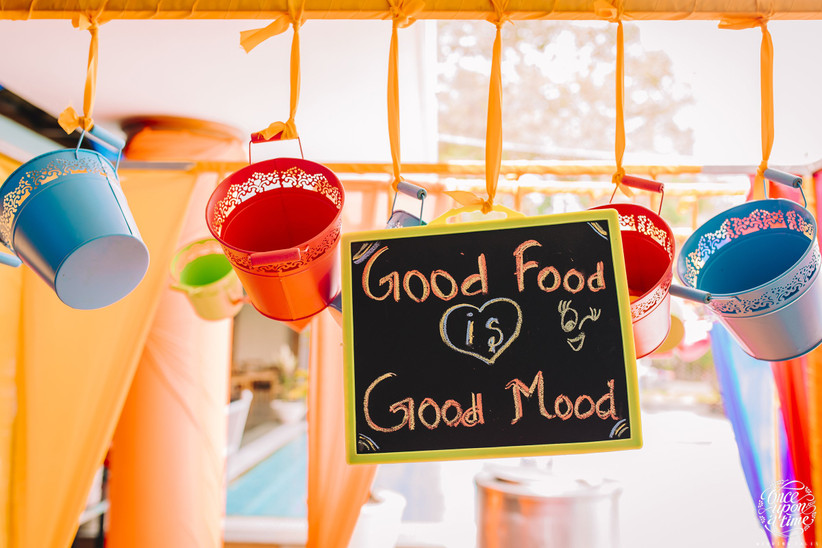 A punny one-liner immediately lifts one's spirits. Wedding decor which is not only pretty but also witty is a win-win for us. Beautiful to look at, and amusing to read - what's not to like.
5. Dance the night away
This notice board might not be the prettiest element of the wedding decor but it is definitely a must-have if you plan to have a smashing sangeet party. things like your guest's comfort should also be on your priority list while picking out the elements for your wedding.
6. We do love it
A proclamation of your love and commitment during the sundowner at your wedding eve is such a good idea. This minimalist yet grand gesture is sure to make your spouse all mushy, and the wedding guests would be lining up to take pictures with it soon.
7. The pedestal for the bride
This is one of our favourite wedding decoration images. The serenity and the beauty of the space are unmatched. Definitely a great idea if you want to host an outdoor wedding but want something a little sturdier than a canvas canopy between you and the Sun.
8. Spring is coming
A canopy of flowers is always a good idea, ALWAYS! These fresh blooms will surely rejuvenate all your tired wedding guests after the Mehndi and Haldi function. Prepare for getting lots of pictures clicked in the shadow of flowers.
9. A colourful affair
Marigolds are the quintessential decor element for all Indian festivities and ceremonies. Their vibrant yellow is enhanced by the canopy of colourful clothes all over the sitting area.
10. Say cheese
This photo booth for wedding entrance takes all the points when it comes to wedding decoration images. Wreaths, wooden boxes and lighting have come together beautifully to make this happen.
11. The quirk factor
You sure want people to see something hat-ke when they go through your wedding pictures, don't you? Using quintessentially Indian elements such as a hand-held or auto rickshaw in your wedding decoration will surely do the trick.
12. Streamers and lanterns
This colourful tree brings a very vibrant touch to the otherwise serene venue. Adding a pop of colour here and there is most definitely recommended to make sure that your wedding decoration images come out beautifully.
13. Using the great outdoors
Talking about a pop of colour, why not use vibrant colours like oranges, yellows and reds to compliment the nature's greens. Your outdoor wedding decor images are guaranteed to leave a mark.
14. A royal canopy
Red and Golden are the colours of House Gryffindor and there is no mystery as to why. The instant association of crimson and gold with royalty is age-old and using this combo for your wedding decoration images is a great idea indeed.
15. A colourful chessboard
This floral arrangement has our heart owing to how unique it is and how creatively the framework has been used in the backdrop.
16. The couple's initials
There are a lot of ways to incorporate the wedding couple's initials into the wedding decoration images, and this is one of our favourites. The golden letters stand out among the harlequin decor and are perfect for a quick photo session.
17. Let there be light
A very underrated, but brilliant element in most of the wedding decoration images is the creative use of lighting sources. For instance, in this picture, the opulence of the venue backdrop is enough to be the show stopper and so the
18. The tabletops
Wedding decoration images are never complete without the table setting and this one takes the cake - well figuratively for sure.
19. Straight outta your daydream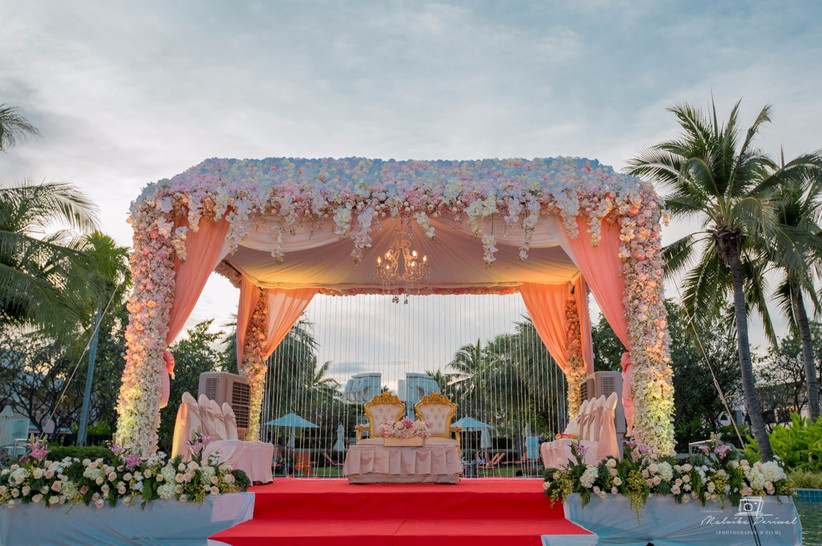 Image Courtesy: Malvika Periwal
This fairytale wedding decor arrangement is what dreams are made of for sure.
20. And it was yellow
This tastefully done setup for outdoor ceremonies is one of our favourite wedding decoration images. The cushions, the flowers, the canopy - everything is so much in sync without being overpowering.
21. Environmental friendly Ganesha
Highlighting the use of eco-friendly elements in this bride's wedding decor, we love how this has been achieved without compromising on the aesthetics.
We loved going through all these wedding decoration images and picking our favourites. Hopefully, they were useful to you as well in planning your own unique aesthetic for your wedding. We can't wait to see those pictures!
Share your favourite wedding decoration theme with us in the comments!