Creative Wedding Card Templates & Tips: Diy for Your Own D-Day
Getting hitched soon and wondering about creative wedding cards for the big day? Take a look at these amazing wedding card templates that's simply awesome and fabulous.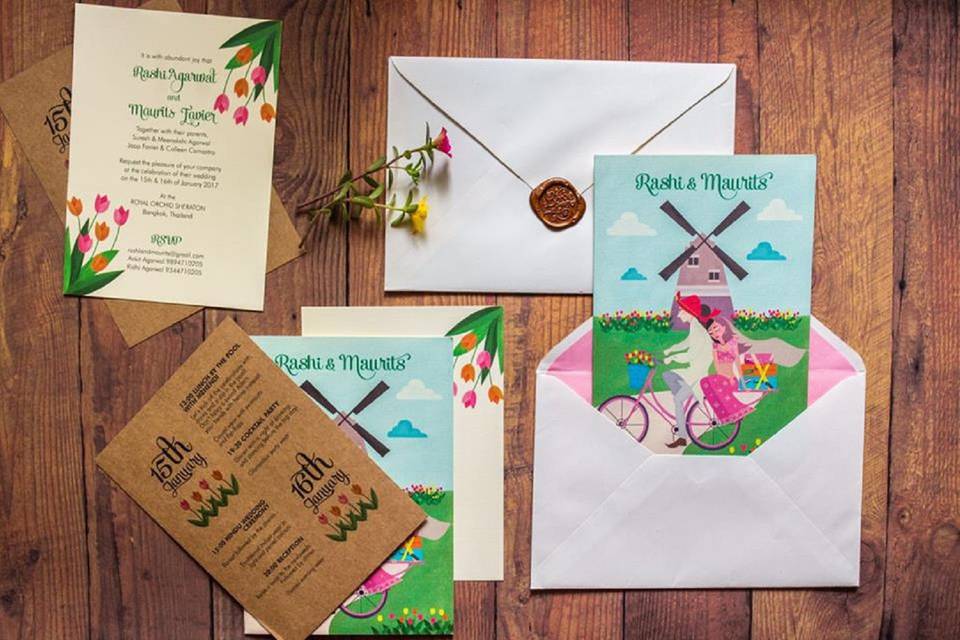 Planning a wedding day requires a lot of time and dedication and this includes things like your dress, venue, catering, decoration, pre-wedding functions and of course your wedding card invites. Wedding cards are an important part of any wedding celebration because it's the first impression of your big day.
The minute your guests opens up a card they can get a feel and idea of what your wedding is really going to be like, so make sure you create the best impression. After all, the first impression is always the last impression!
You can choose from a wide variety of fantastic cards like cute and simple to funny and quirky – the list goes on and on. If you're looking out for ideas on how to set the right tone for your big day, then these awesome wedding card templates will show you how to do it right. Check them out and get inspired!
Box it up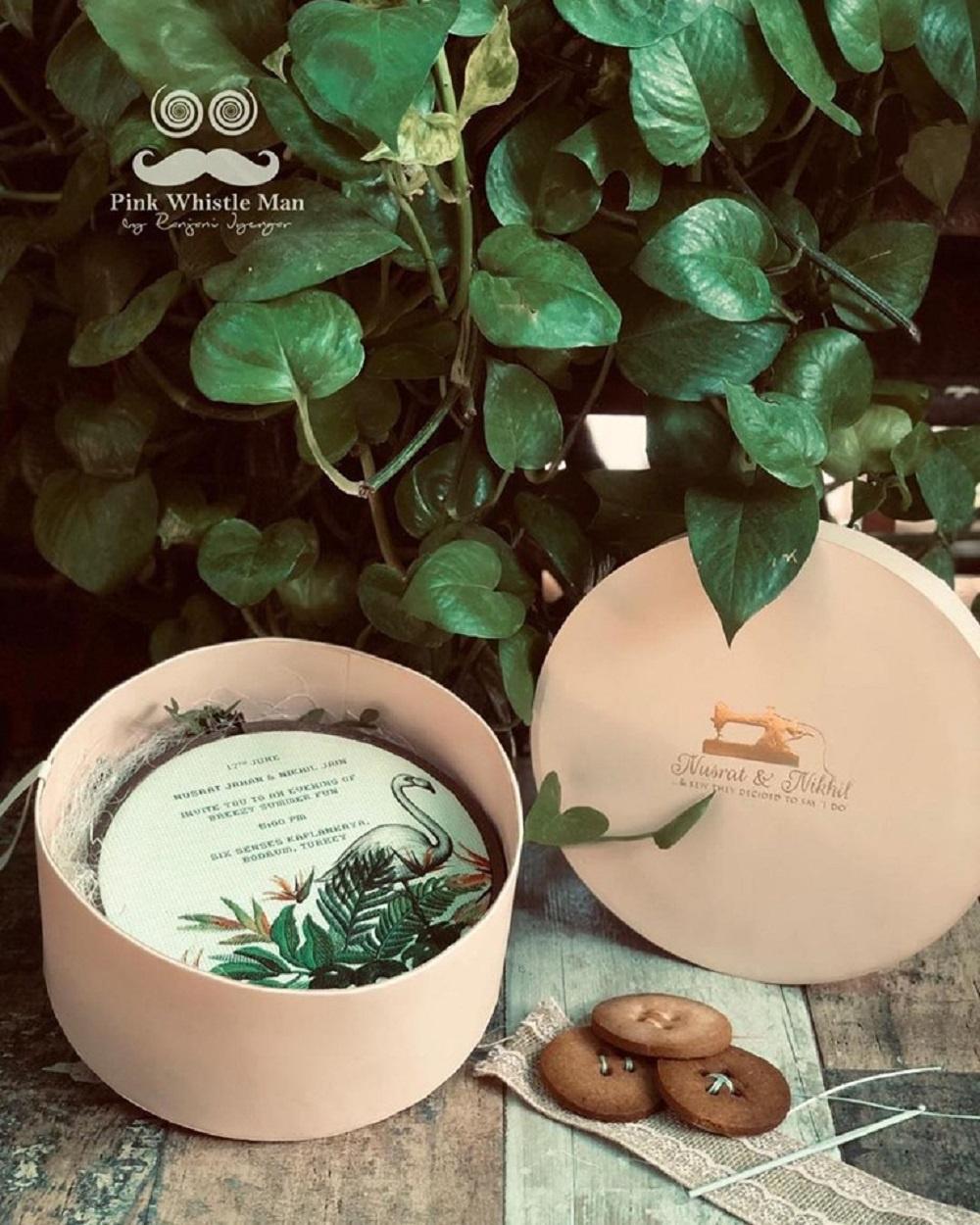 This is one of the best wedding card templates ever! Try out the box up card invites that are different and creative. Check out this pretty pink box with the card inside to create a feeling of suspense. You could add the names of the couple on the cover of the box just like this to make your invite look all pretty.
The box you choose could be of any size that matches up to the card and you could pick beautiful light pastel colours like pink, blue or green to create the right impression.
Black and white pencil drawing wedding card templates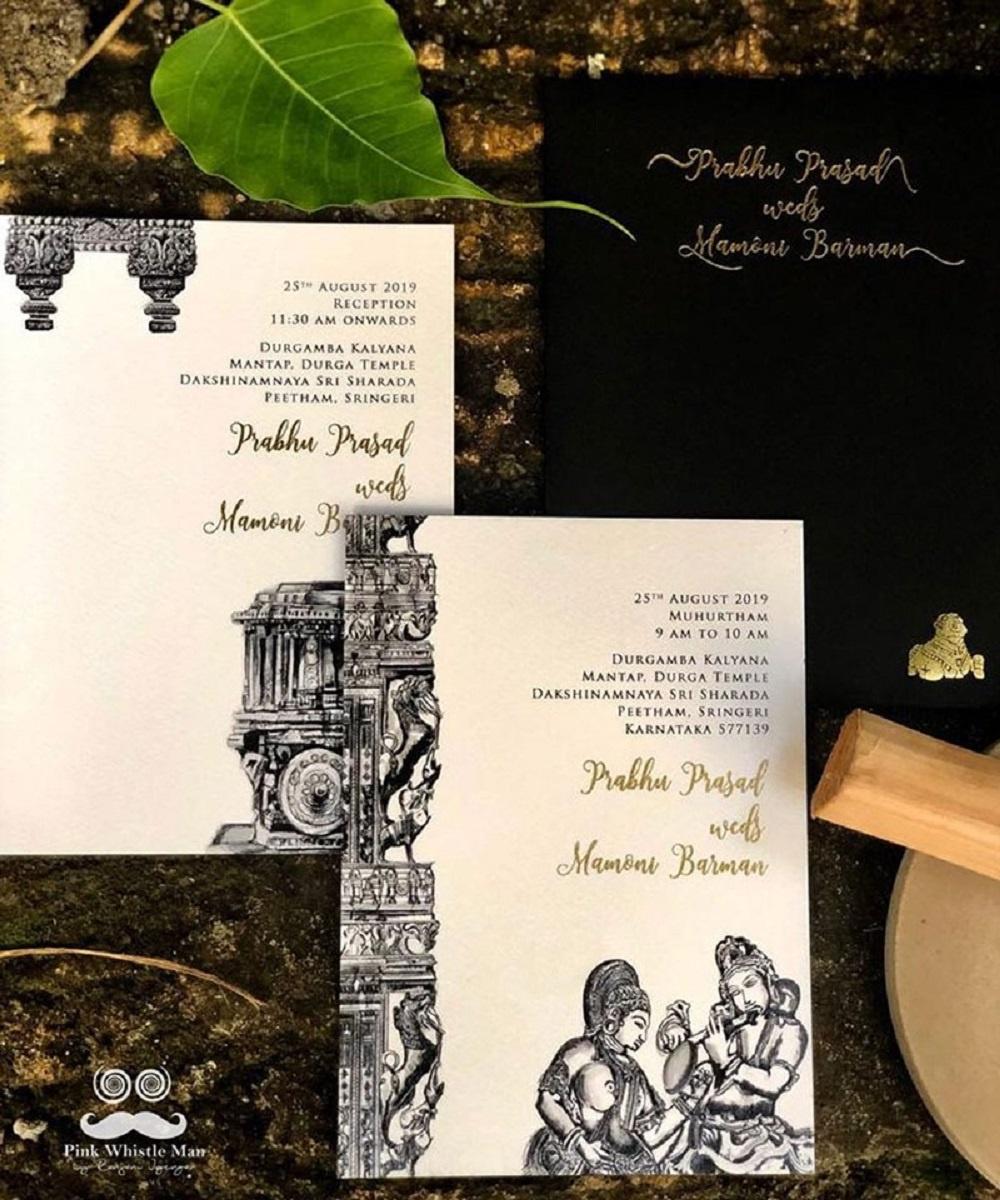 One of the most creative wedding card templates you could copy is this black and white pencil drawing card that's everything lovely. If you're someone who loves the black and white effect when it comes to colours, then going in for a card like this is always a great idea.
Pastel inspired wedding card templates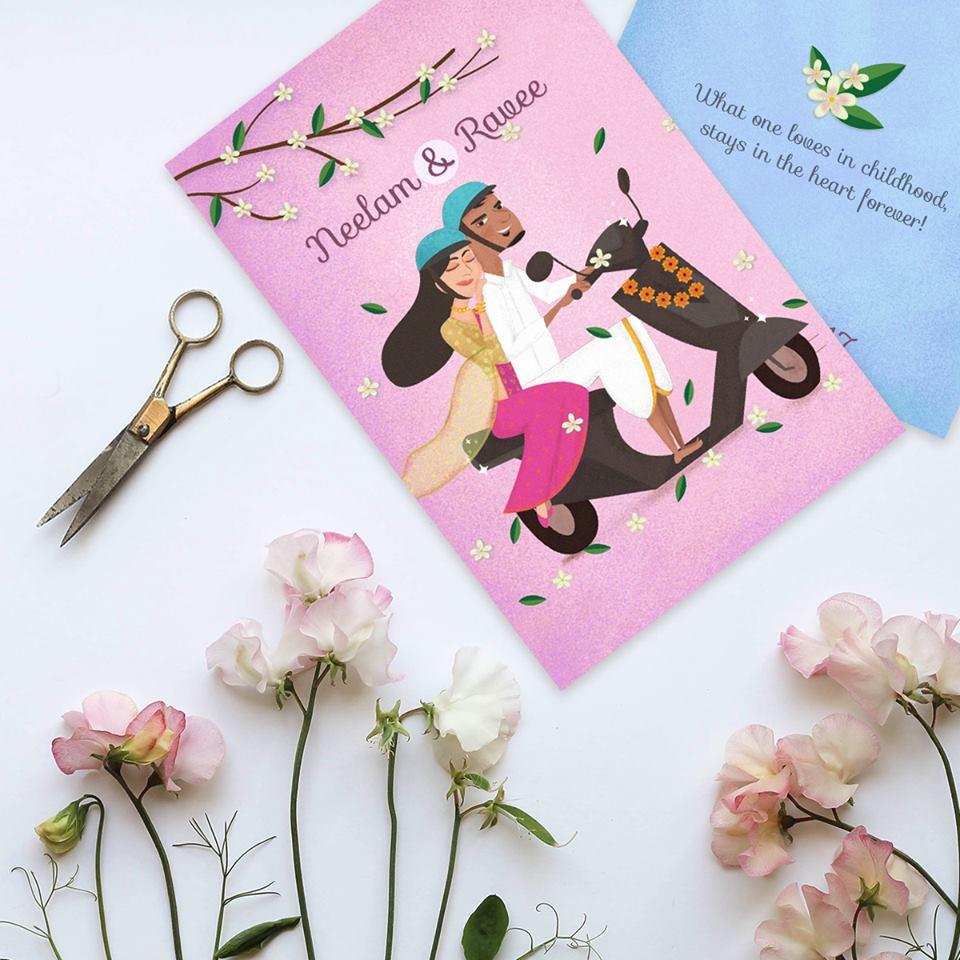 Innovative wedding card templates are always a good way to go if you're looking to go a totally different way with your wedding card invitations. Check out these pastel inspired wedding invites that are made using fun graphics just like this. This card is designed telling the story of the couple. It shows off the beautiful memories of the couple's initial relationship on a Deo bike.
Traditional card templates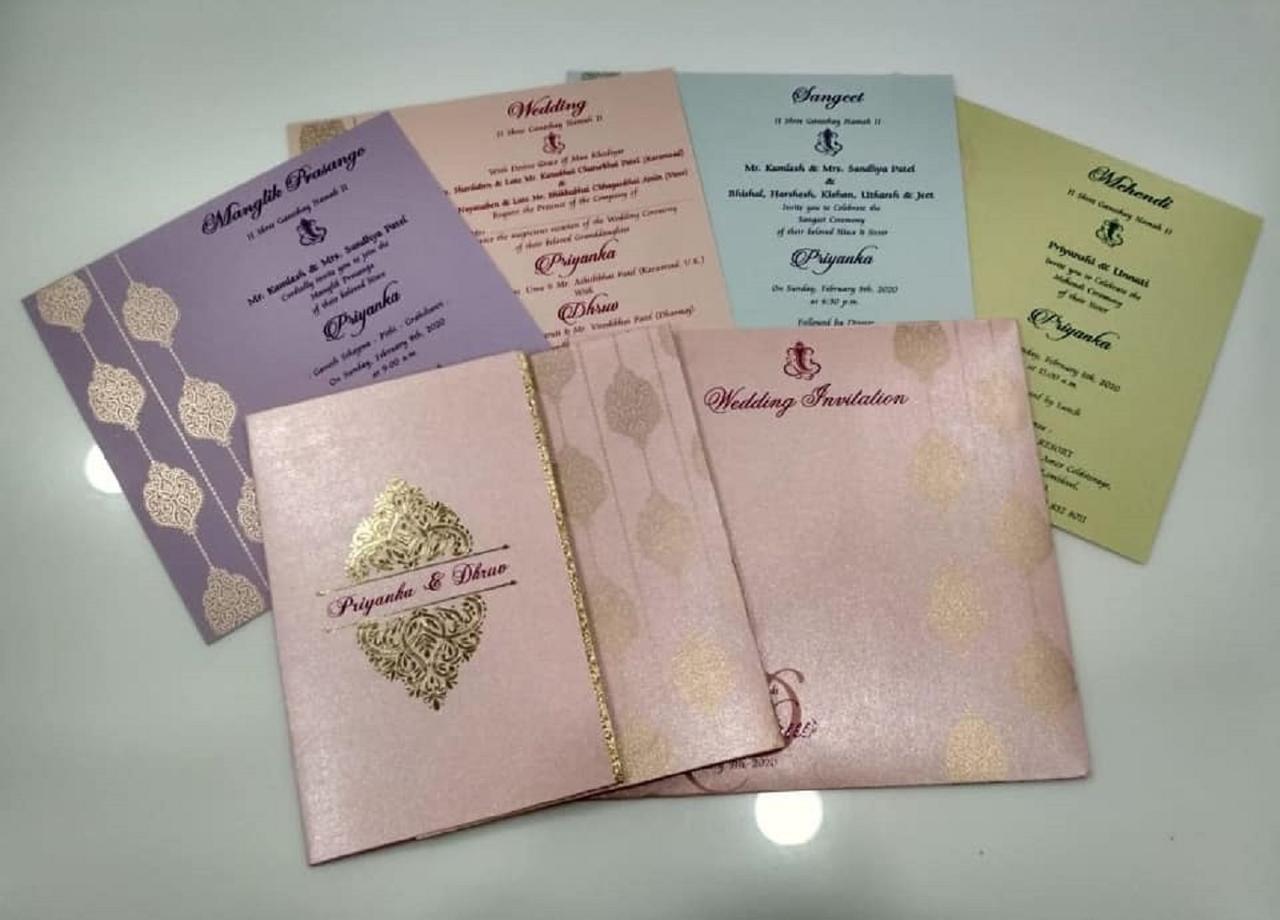 Image Courtesy: Shivam Wedding Cards
Looking for traditional wedding card templates? Well, you're at the right place. This is a traditional Nathdwara themed card that has very strong symbolic references to the wedding events. Here, the Sangeet invite comes with illustrations of the Ashta Sakhas – the eight devotional poets who composed kirtans in Srinathji's Darbar. So if you want a very traditional affair, then going in for wedding card invites that are equally traditional will set the mood from the very start.
Tying the knot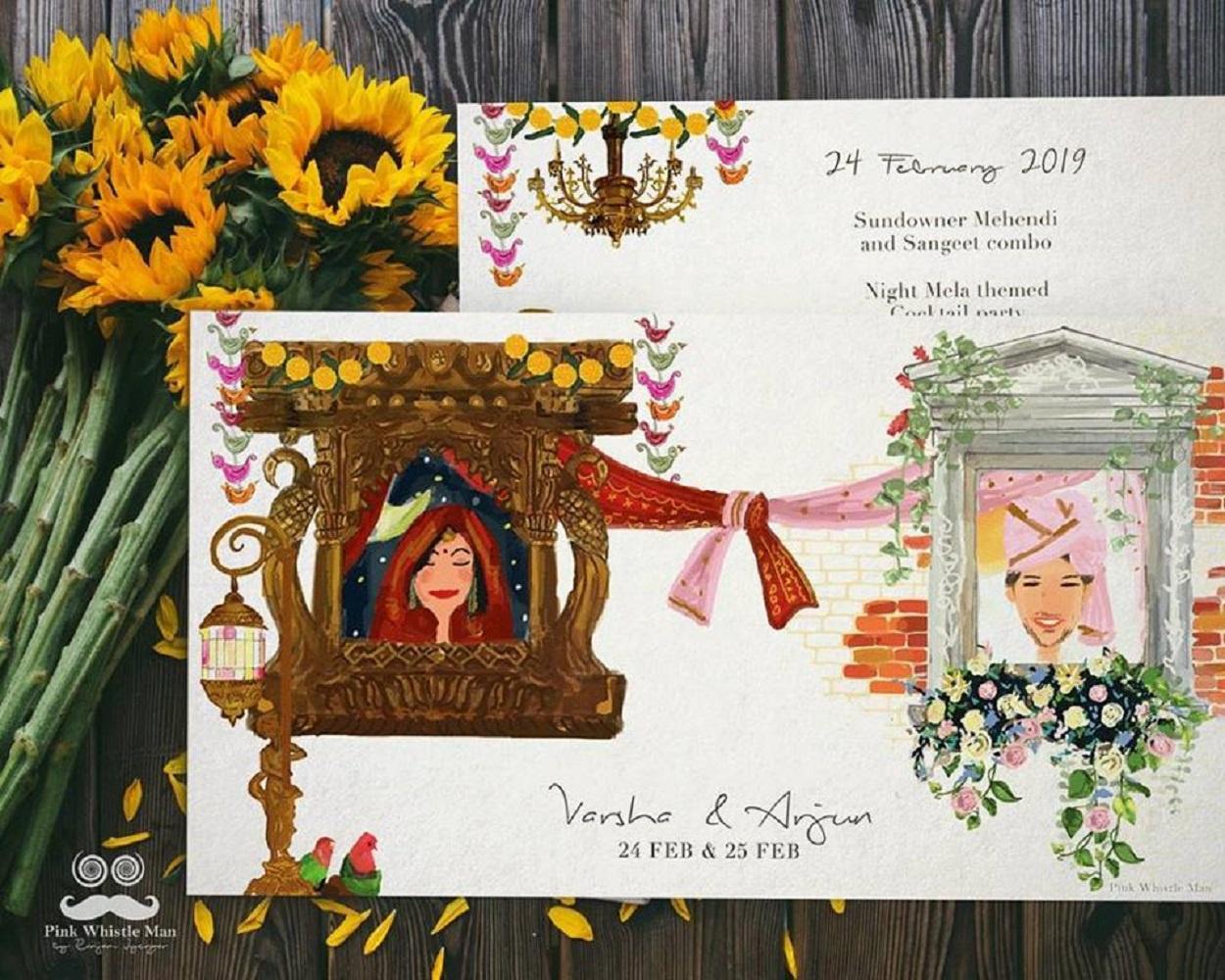 This wedding card template is really cute. It tells the couple's story in a beautiful way. So the card shows the two typing the knot from the windows of Mumbai to Brooklyn. So, if you've met your man online or in another land while on vacation, going in for something like this could be a very good idea.
Elephant themed wedding card templates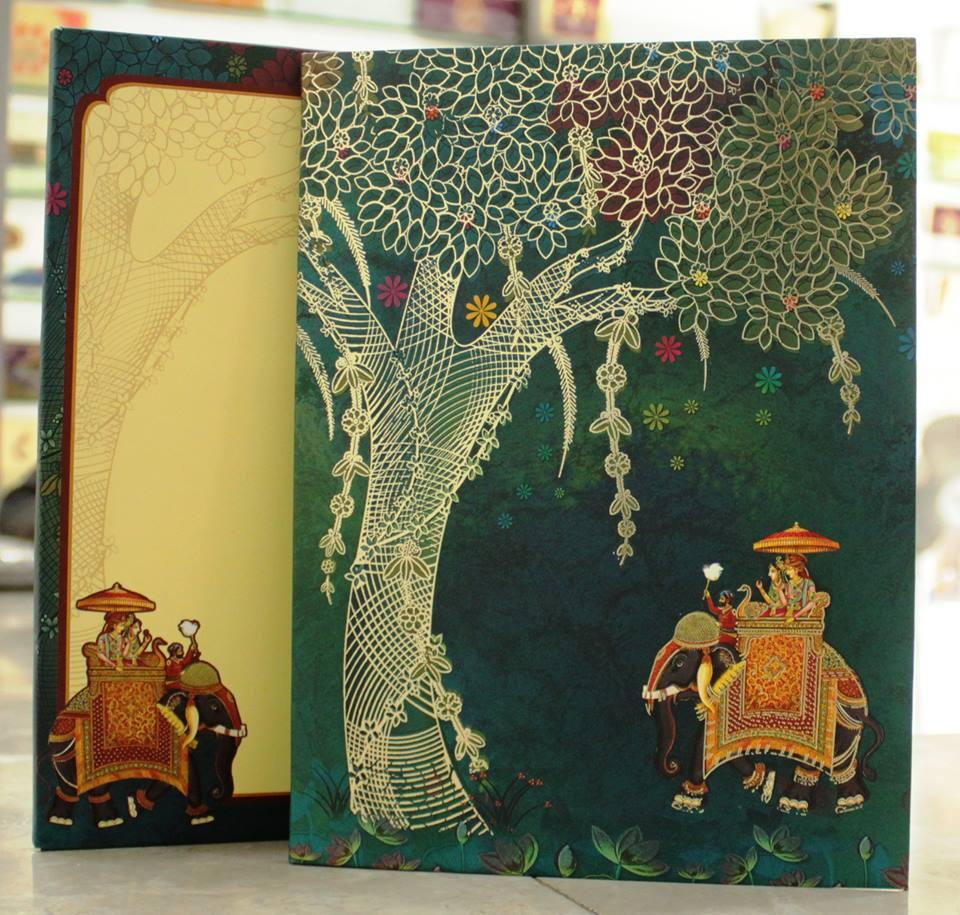 Elephant themed wedding card templates like this are quite popular when it comes to traditional wedding cards. Right from peacock themed cards to elephant and pencil drawing cards, you can choose from a number of different designs. This elephant themed wedding card comes with a more royal look. The colours used are so impressive and you'd want to take a look at this card over and over again!
Peacock themed wedding card templates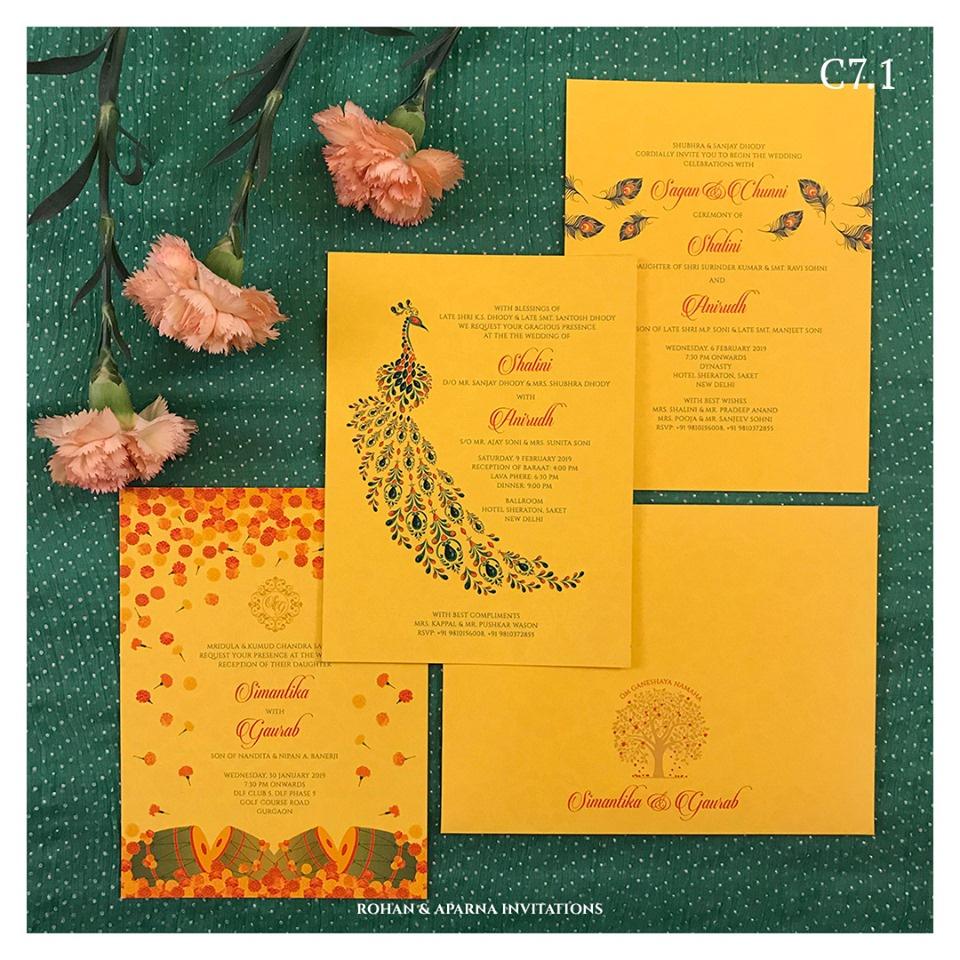 Another great one on the list of wedding card templates is the peacock themed wedding invites that are becoming quite popular these days. You could use beautiful peacock designs like feathers as well to make it look all the more beautiful. Check out this awesome wedding card design that comes with feathers and dhols to give it a nice traditional vibe. Choose designs like this to impress your guests and make them want to save the date!
The Royal wedding card template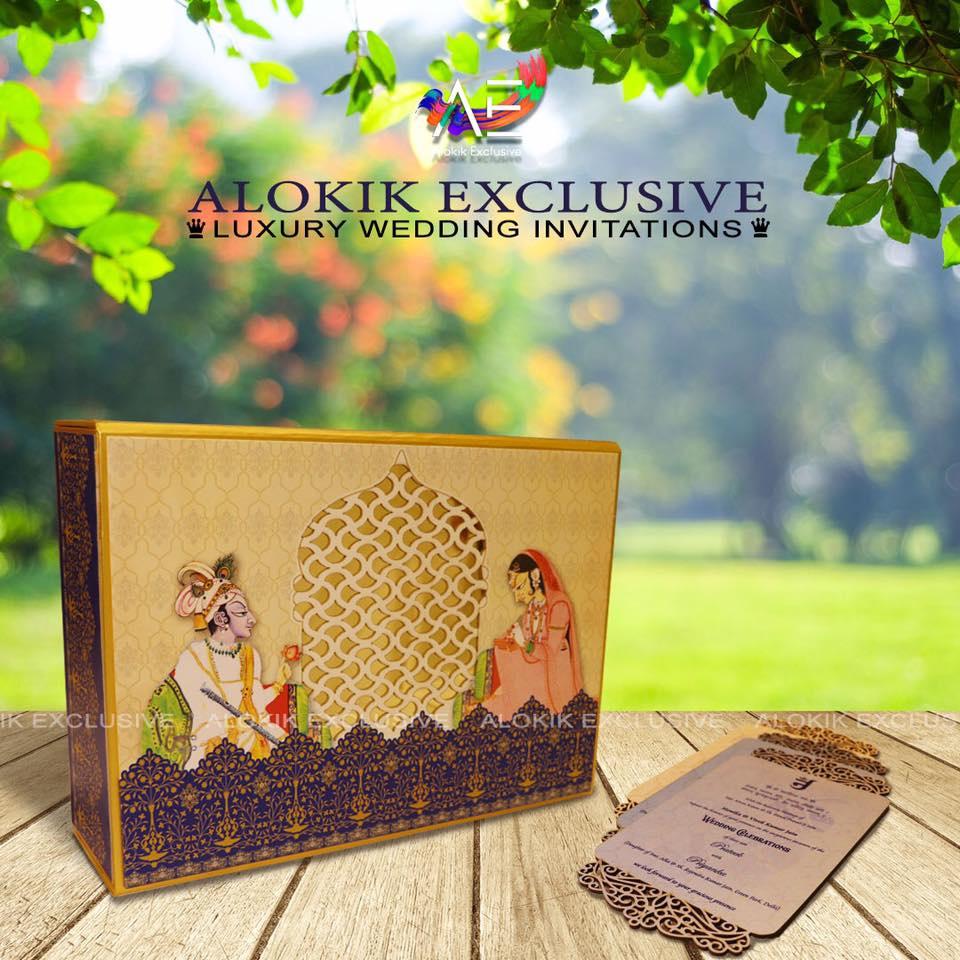 If you're planning for a grand wedding, then make sure you do not miss out on your wedding card designs. Make sure to go extremely grand right from the start. Check out this wedding invite that's got a royal wedding theme that looks so rich and elegant. Go for a royal wedding theme for all your wedding invites – this includes your pre-wedding cards as well.
Include gifts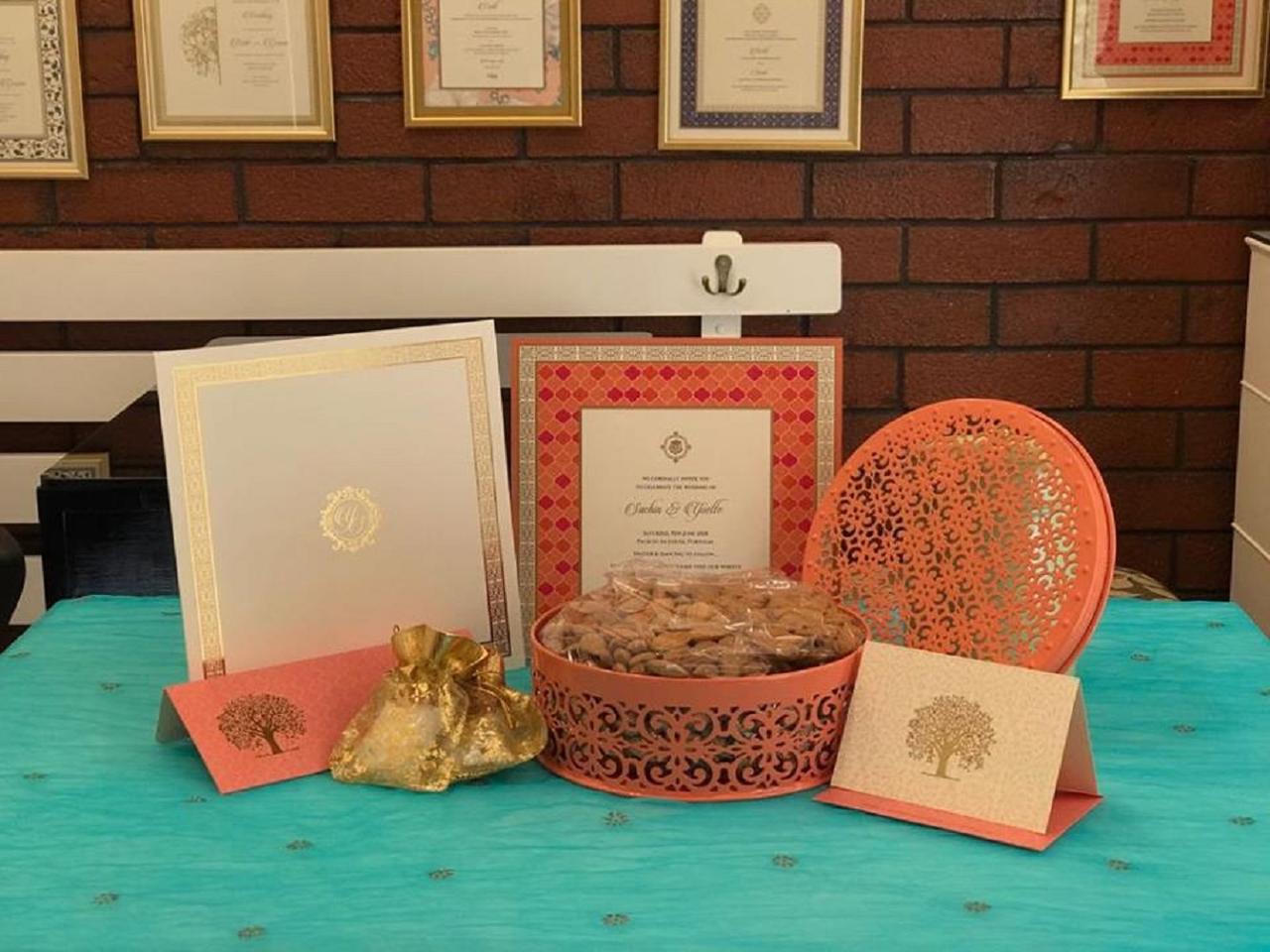 Make your wedding card different by including gifts with your cards. This is an extraordinary elegant tangerine wedding invitation that includes the cards of all the different functions. This beautiful coloured gift box comes packed with dry fruits, a best compliments card and a Shagun envelope too! Why settle for wedding cards that are common, if you're looking to add a unique touch to your cards, then wedding card templates like these will always seem like a perfect invite.
Beautiful Goa themed wedding card templates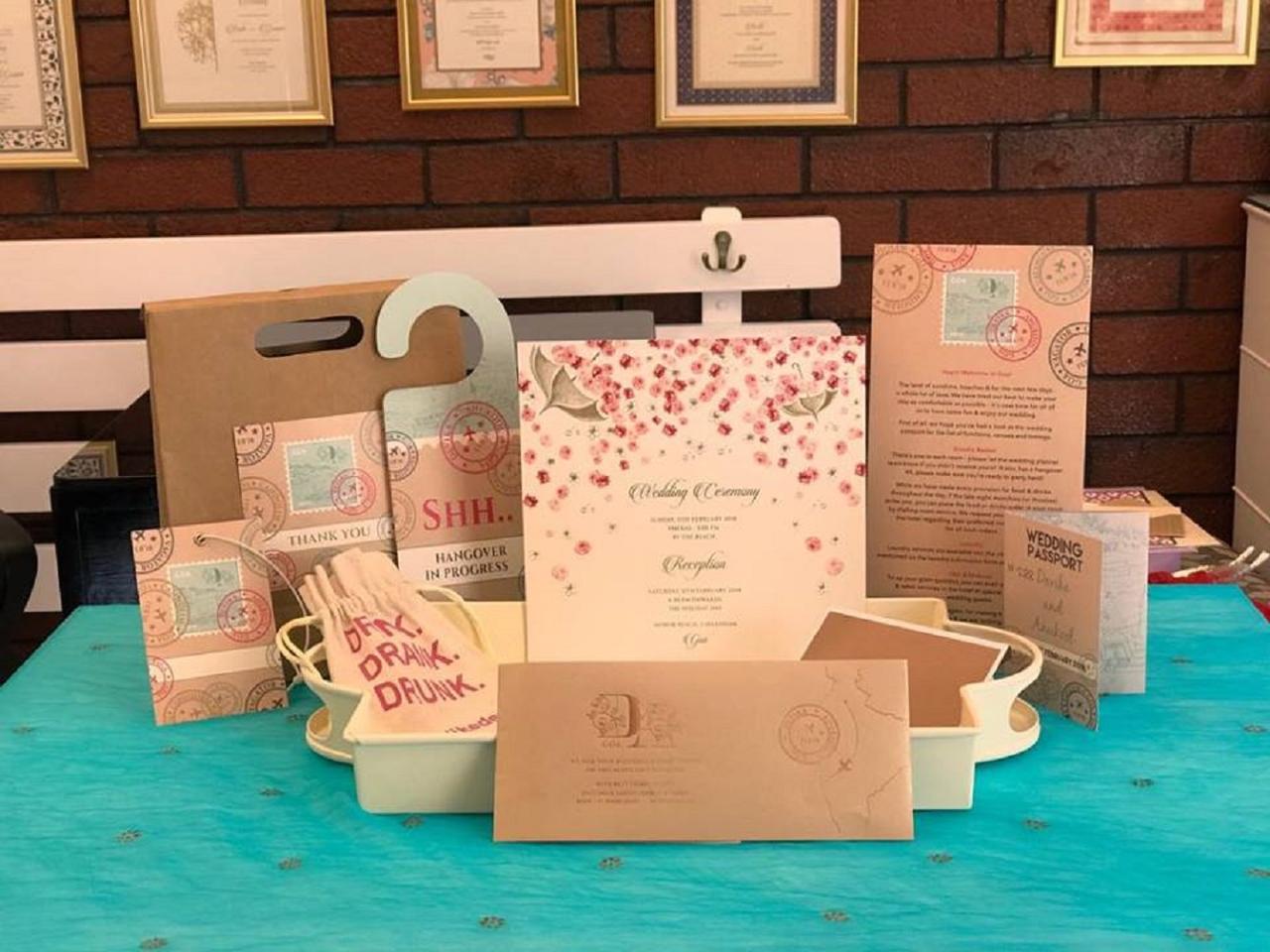 This wedding invitation comes with the concept of falling flowers, it's a Goa themed wedding invitation set that includes all the invitations wrapped with a lovely pink gold band, an itinerary that's made into a hotel room cardholder, welcome note, luggage tags, do not disturb, hangover kit, thank you cards, thank you gift and a beautiful cream tray full of all lovely goodies for the guests.
Few tips when choosing your wedding card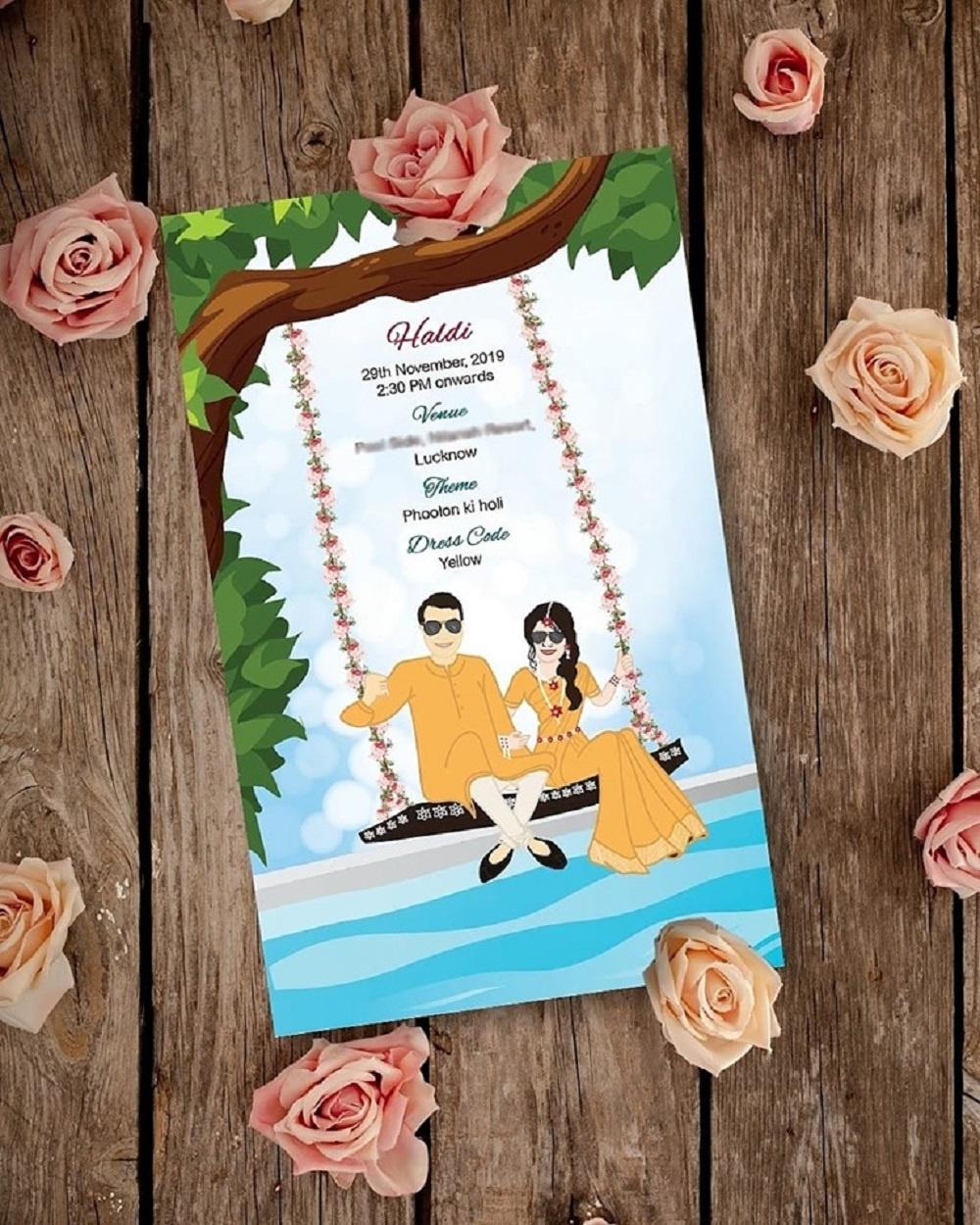 Here are a few tips to keep in mind when choosing your wedding card. This will help you understand everything you need to know about designing your wedding card.
Your theme
Just going ahead and copying from old wedding card templates won't really do much to set the right tone when it comes to your wedding. So begin with visualising the theme that fits you as a couple. Use themes that speak about your love story to create the right impression – this could be the way you guys met, the location, online etcetera to come up with innovative and creative ideas to put that across through your wedding cards. Also, style your wedding card according to the function – this would mean traditional, simple, minimalistic or modern. Another popular wedding card these days is going for the photo-based options.
Colours
We couldn't stress on this more. If you're having a particular colour theme for your wedding, make sure to incorporate the colours in all your wedding card functions too. You could then choose a design or style that would blend with the colour of your card. Though whites, cream and ivory are the most common options, you could choose to go for colourful, bright variants as well. Also, make sure to choose the colour of the text carefully, it should be readable. You wouldn't want to go for a similar colour for your background and text, where it would be difficult to read.
Shape and size of the card
When it comes to the shape and size of wedding cards, you can choose from a variety of different wedding card templates that come in different shapes and sizes. The standard size of a wedding card is 4.5-inch x 6.25 inch, while the common shape would be a rectangular card. However, these days the options are plenty, and couples are choosing unique and modern designs that come in circular shapes to square and heart-shaped options too. So, if you're planning something really different that would draw attention right away, go ahead with shapes and sizes that are different from the regular cards.
Choose the perfect wordings
Yes, wording your wedding invitation is very important. If you've got the design, shape and colour right, but the wordings are a mess, the whole purpose of a wedding card doesn't make sense. So, make sure you've included everything – the host, couple names, venue, and timing etcetera. Try and be creative with your wordings as well, rather than sticking to the regular wordings that most invites have. If you want to add that different flavour to the whole celebration, start off with your wedding invitation. Choose from quirky wordings to funny and even simple ones to get the best out of your wedding card invitations.
Proofread
This is very, very important! Always start off with a draft or a sample card before you actually start printing out the whole lot. Make sure to proofread and check the details of your wedding card invites. To be sure, make 2 to 3 people read and check the card as well, so you don't encounter any problems later on.
Send the cards out on time
Last but not least, always make sure to send out your cards on time. After all the planning and preparation, you do not want your cards to reach your guests after the wedding, right? So ensure your wedding cards are reaching them on time. Cards can take a while to print, depending on the design, so you should start visiting stationers at least 9 months in advance and try to order your wedding invites at least four months before the wedding, so you are all set to mail them out 8 weeks before the wedding.
These were some of the best wedding card templates we've found for you. Keep these wedding card tips in mind and you could never go wrong when planning and preparing for your big day!
If you're looking to get some cool wedding card invites made for your big day, then contact our wedding invitation vendors for the best ideas and designs.