5 Statement Ways to Include Denim in Your Ethnic-wear Wardrobe
Ace your fusion-wear game by infusing denim in your festive closet. Here are 5 legit ways to include denim in your ethnic-wear wardrobe to create a statement look.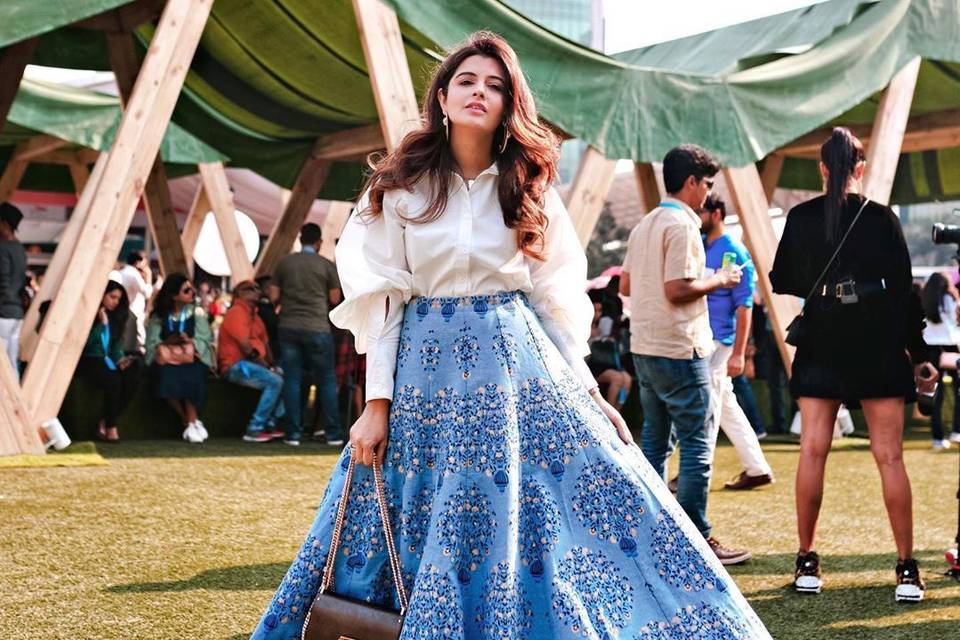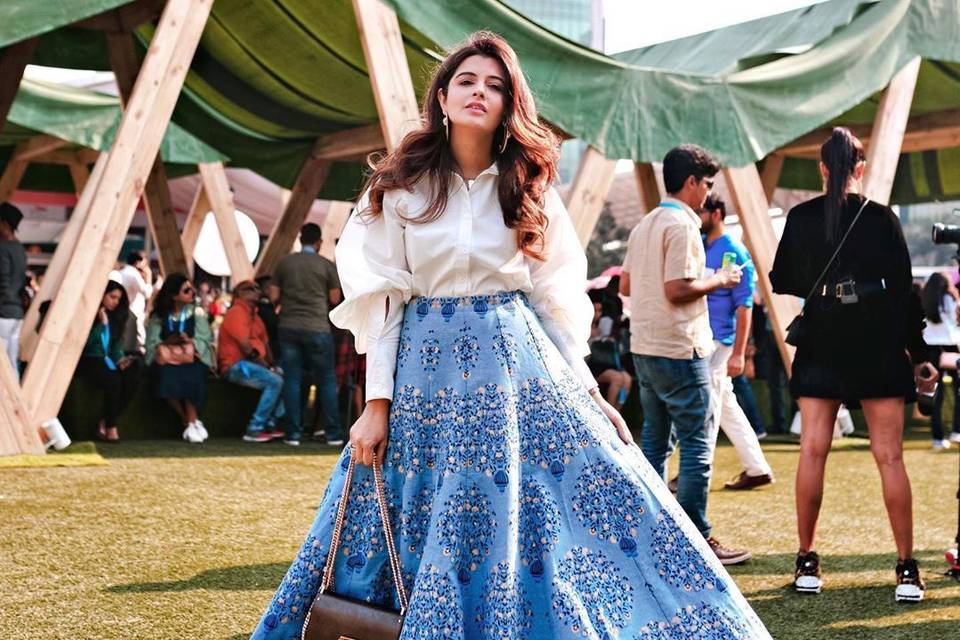 Image Courtesy: Natasha Luthra
The dynamics of Indian ethnic wear are ever-evolving, and all new trends are welcome with open arms in our incredible fashion industry. While some trends have been embraced for decades; some wane out over time. One raging trend that never fails to impress is the use of denim in ethnic-wear wardrobe. Many top-notch designers, including Masaba Gupta & SVA by Sonam and Paras Modi, have infused the ruggedness of denim with the opulence of their couture. They've given us some exquisite fusion ensembles to gush over!
With micro-weddings dominating the landscape of Indian weddings, everything in and around it; is evolving. From quaint homely decor to minimal wedding gear–the change is inevitable. Small weddings also open a whole new dynamic to experiment with the ensembles and by including denim in your ethnic-wear wardrobe, you not only bring in a dash of fusion into your look, but you also create a whole new statement.
Moreover, including denim in your ethnic-wear wardrobe can prove to be a smart investment since its durability lasts more than any other fancy fabric, and it won't lose it's shape or size too.
We've compiled all possible ways you can include denim in your ethnic-wear wardrobe with much panache and less hassle.
Wear a Denim Saree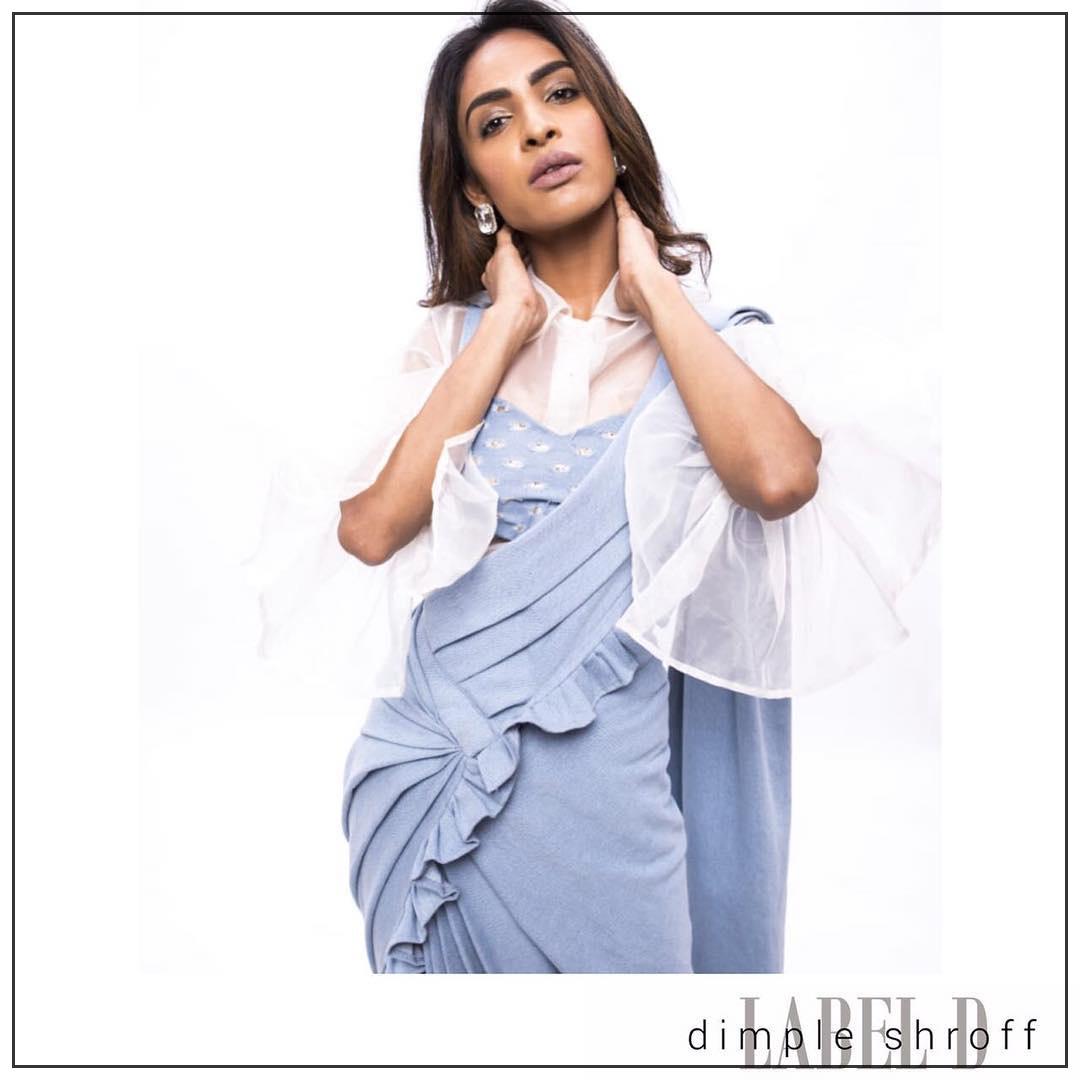 Image Courtesy: Label D by Dimple Shroff
Sonam Kapoor, the millennial style-icon, introduced us to the impeccable outfit trend of a denim saree and it has been on our favourite's list since then. A denim saree is just a genius idea in the realm of fusion wear, and there's no going back to ordinary. It is quirky, peppy, experimental and most of all pays tribute to our traditional wear without being anything like it. A denim saree can really ace up your wedding fashion in a snap!
Style Tip: Wear the plain denim saree with a heavily-embellished blouse to make a statement this wedding season. Throw on some silver jewellery FTW!
Perfect Occasion: Mehndi and Welcome Brunch
Experiment with just a Denim Blouse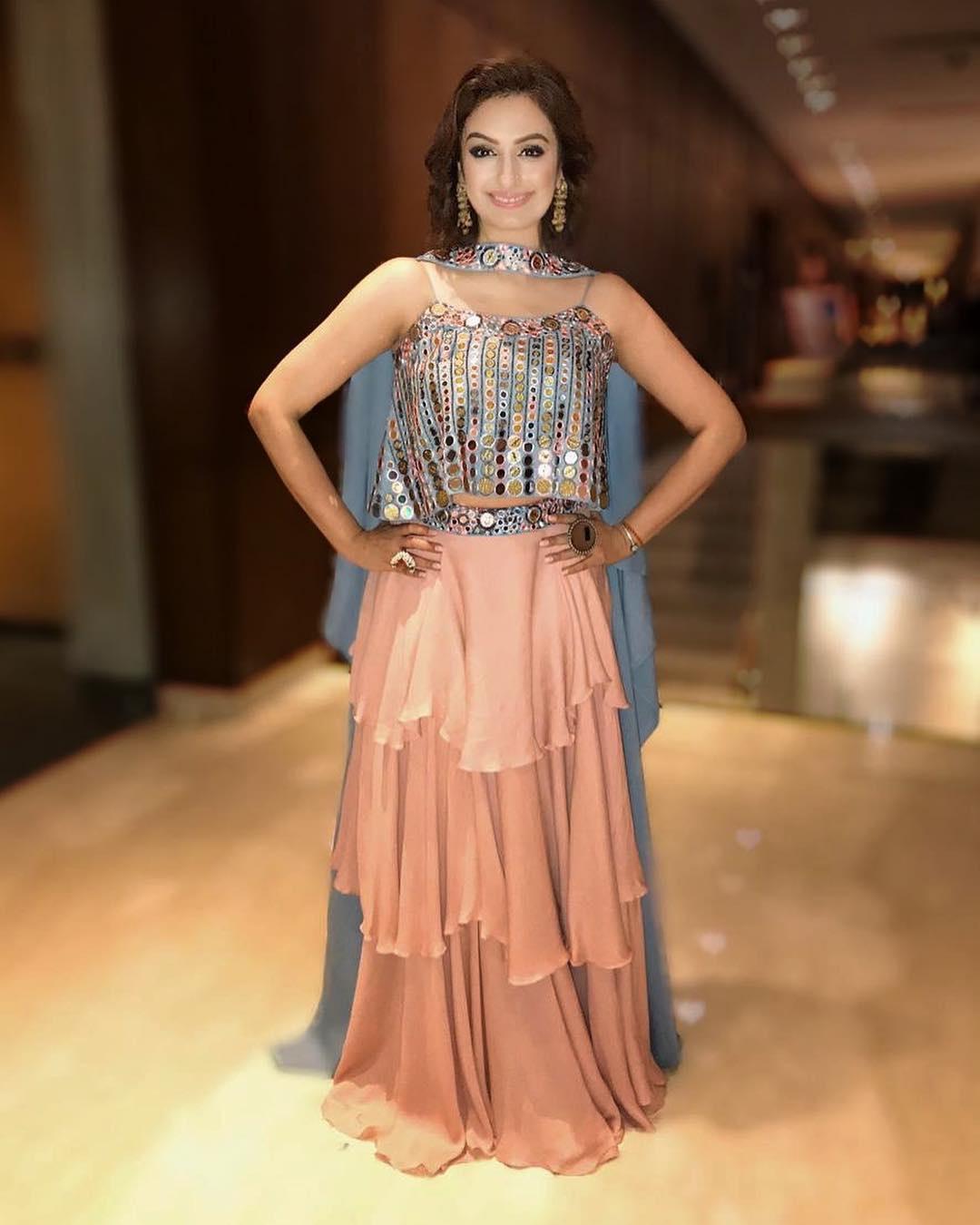 Image Courtesy: Nitara Dhanraj Label
Add oodles of charm to your otherwise basic ethnic wardrobe with this blingy mirror-work blouse. This mirror-embellished denim cami blouse is all you need to turn heads in a room full of people.
Style Tip: Pair a heavily embellished blouse with a plain skirt, saree or palazzo. You can also wear this denim cami with a pair of flared denim for a destination wedding.
Perfect Occasion: Mehndi and Sangeet
Go all out with a Denim Lehenga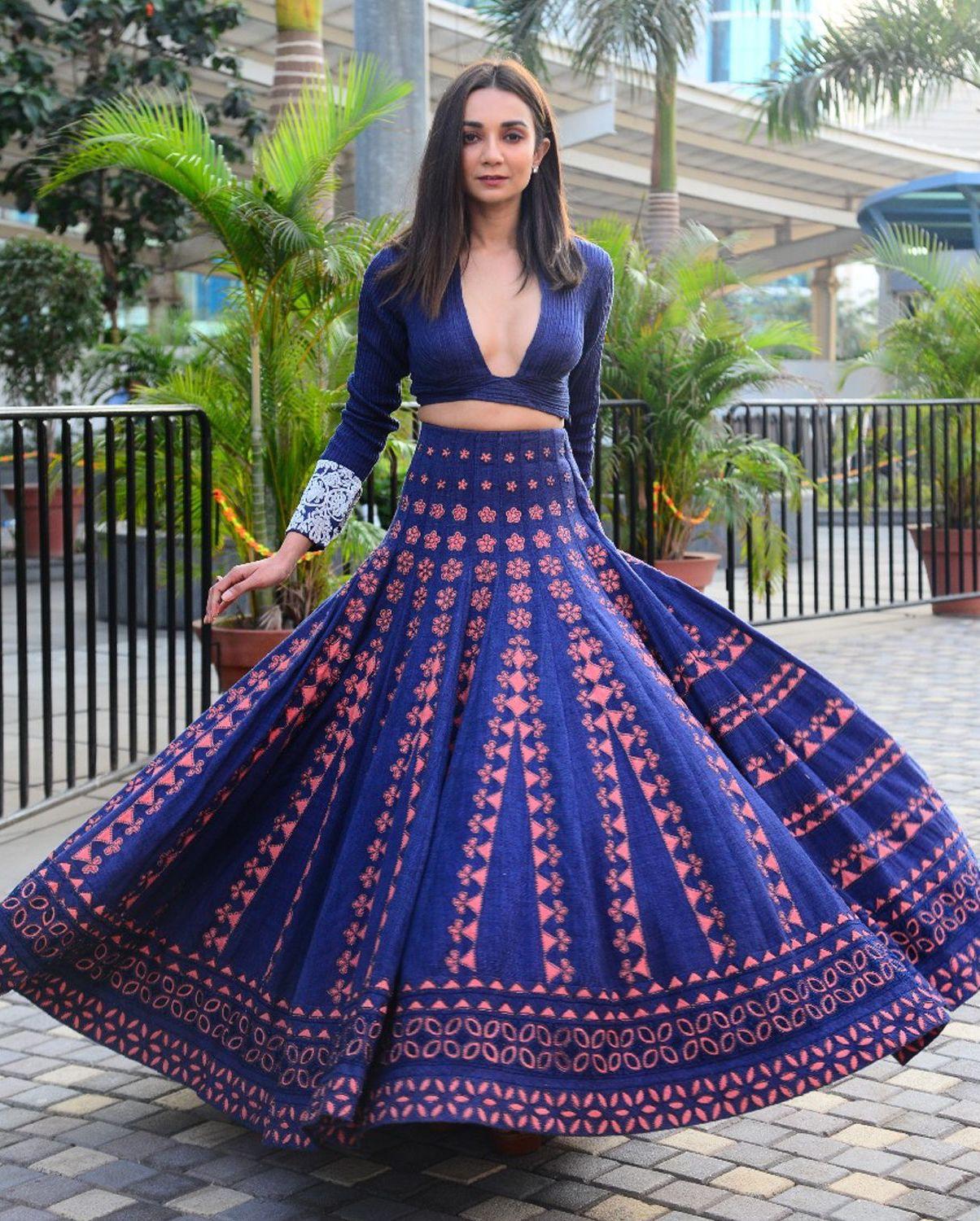 Dial-up the style quotient by strutting in a denim lehenga with a sultry denim crop top at your BFFs wedding. By adding a denim lehenga to your ethnic-wear wardrobe, you not only have a striking ethnic ensemble but two individual garments too. The lehenga and the crop top both can individually be paired with other outfits to create new ethnic-wear options and will definitely save you a trip to the boutique.
Style Tip: Accessorise this classic denim lehenga with bold Kundan or Polki accessory.
Perfect Occasion: Wedding and Engagement
Keep it Breezy with an Anarkali suit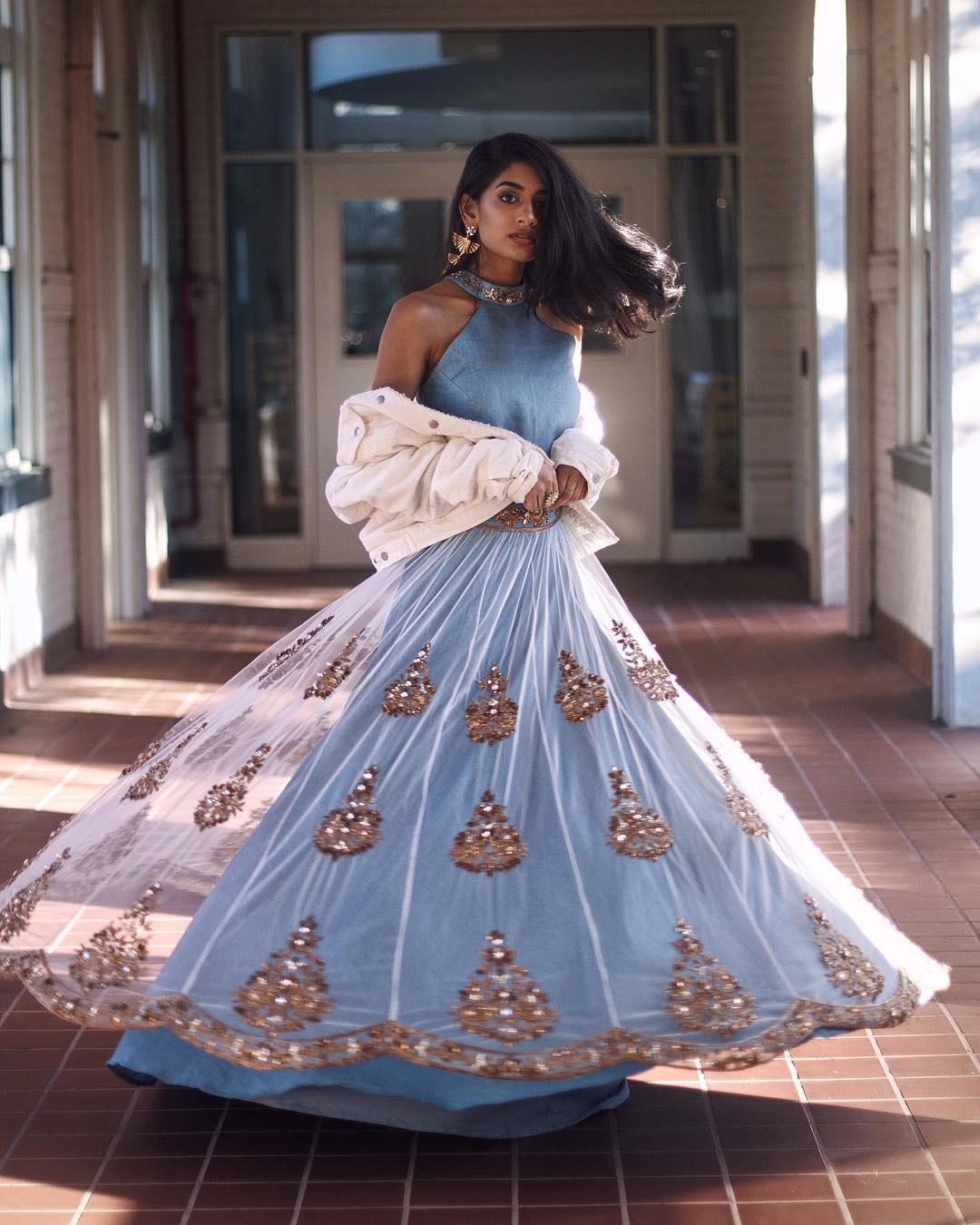 Image Courtesy: Hamel Patel
Anarkali suits, in general, are easy-to-carry ensembles and look super elegant. It's difficult for us to not gush hard over this stunning Anarkali made using denim. It's unbelievingly stunning! Layered with a booti-embroidered net skirt, this Anarkali suit has to be a statement piece in your ethnic-wear wardrobe, undoubtedly.
Style Tip: Wear chunky gold jewellery and carry a white denim jacket over the shoulder for some serious boho vibes.
Perfect Occasion: Anand Karaj, Wedding and Reception
Accessorise with denim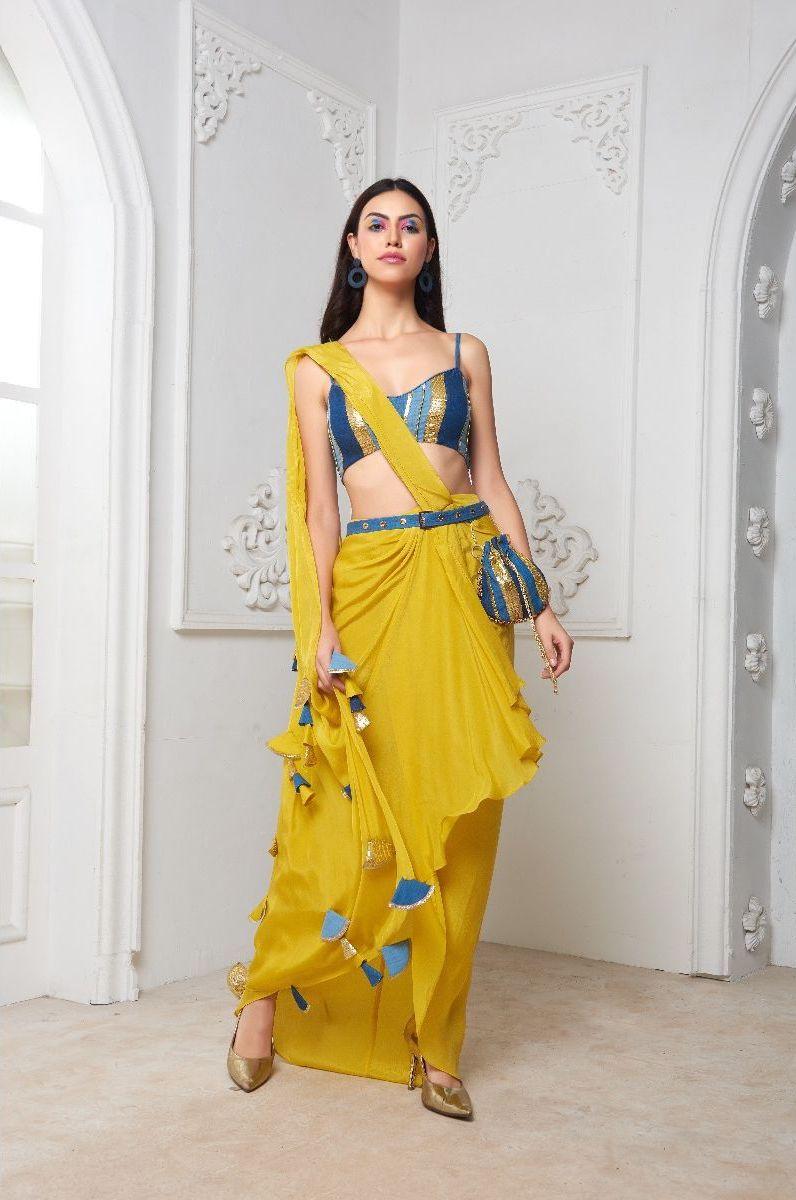 Image Courtesy: RS By Rippii Sethi
If you are hesitant to don a whole outfit woven in denim, throwing on some denim accessories is your safest bet to incorporate denim in your ethnic-wear wardrobe. You can wear an embellished denim belt over a plain suit or saree or you could carry a denim Potli bag too. You can also throw on a pair of denim earrings to take your denim-game a notch above.
Style Tip: Keep the accessories minimal but wear it tactfully. Ensure you're using contrasting colours to make your denim statement pop.
Perfect Occasion: Haldi, Mehndi and Sangeet.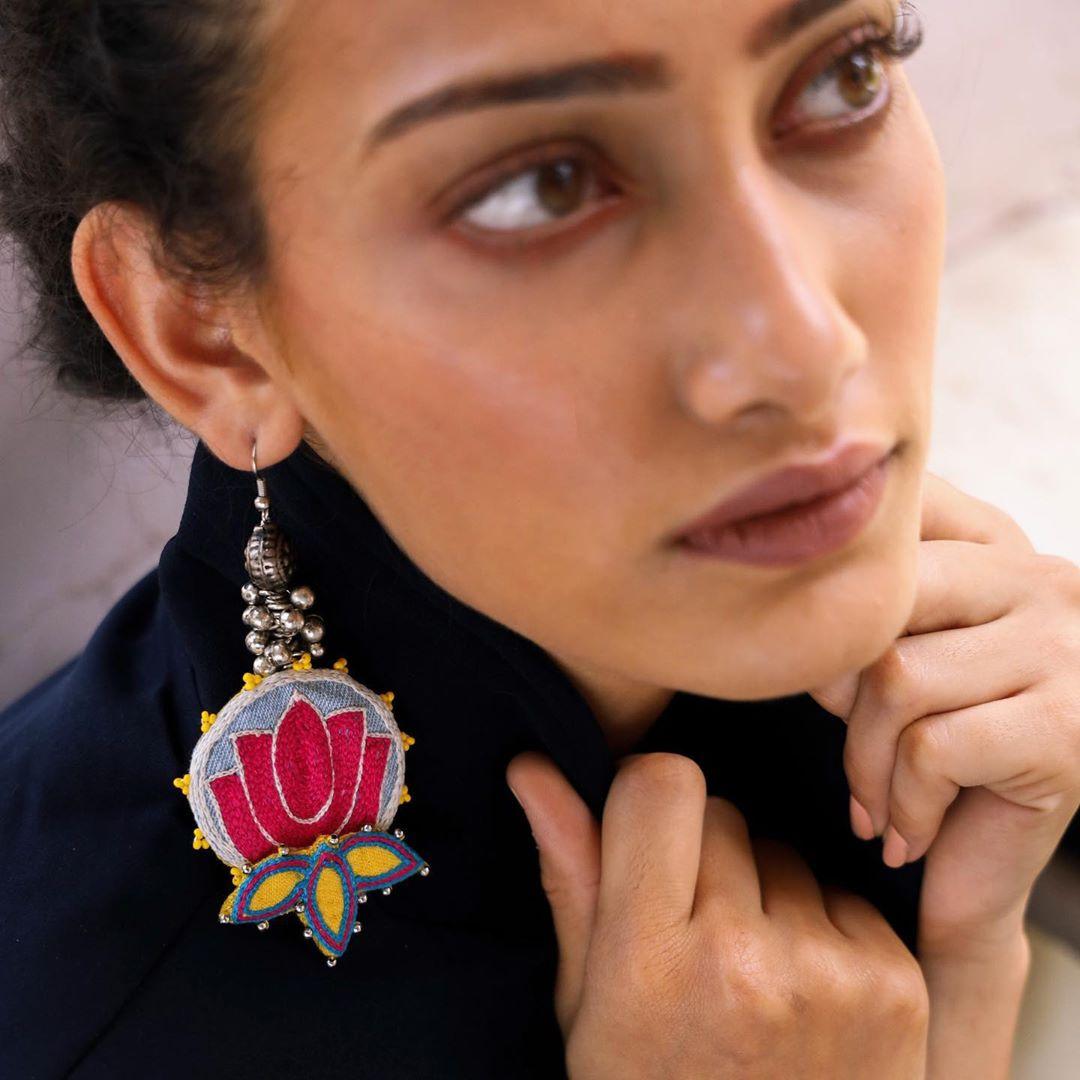 Image Courtesy: Saj K Jewellery
These are some of the many ways you can include denim in your ethnic-wear wardrobe to create a festive statement look. Whether you chose to add hints of denim or go all out with an all-denim ensemble, don't forget to wear your confidence all along. Since denim is not your regular ethnic-wear choice, pulling it off can be a little tricky, but this trend is totally worth the fuss. So go ahead, wear your experimental shoes on and conquer this trend like the sassy diva you are.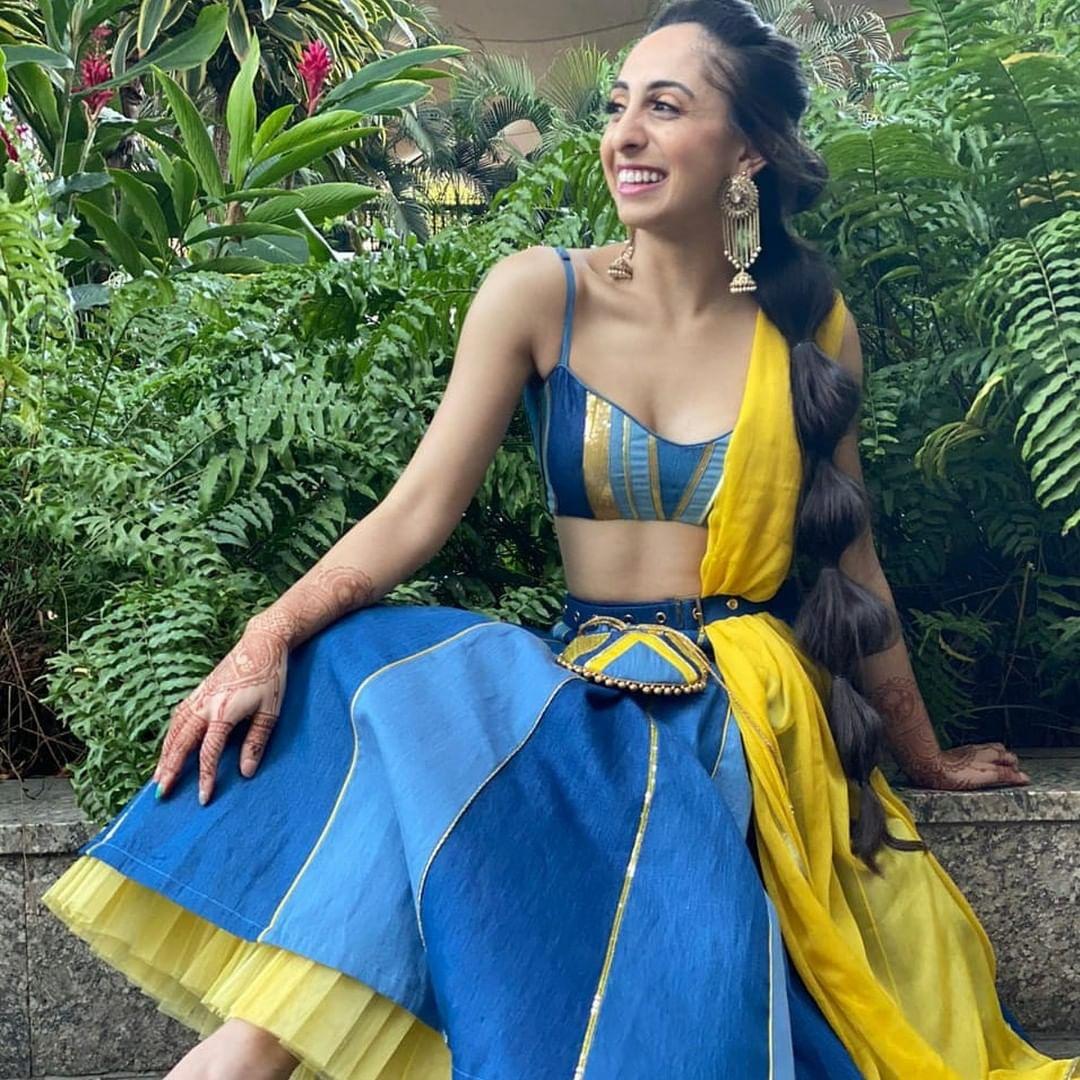 Image Courtesy: RS By Rippii Sethi
How are you including denim in your ethnic-wear wardrobe? Tell us in the comments.