All You Need to Know About Planning an Intimate Monsoon Wedding
With the onset of monsoons, you need some special preps to plan. Check out these Tips To Plan An Intimate Monsoon Wedding without any monsoon hassles.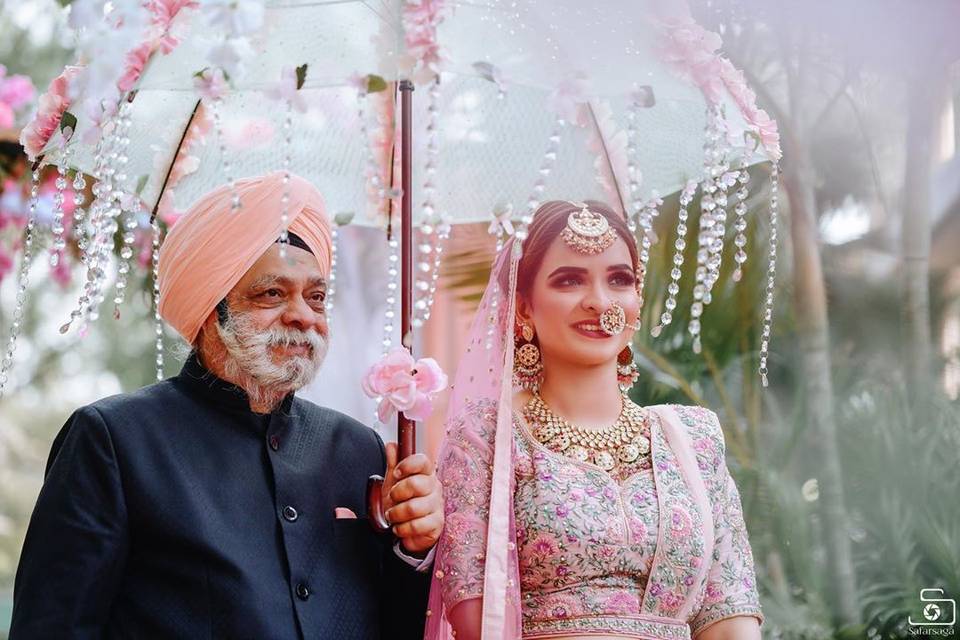 After the sultry summers, we're all kind of thankful for the rains. But when it comes to planning a monsoon wedding, things can be a little challenging. Choosing the right kind of monsoon outfits, preparing the wedding decor keeping the rains in mind, and picking the perfect venue with all the "rain-safe" arrangements without having to take a rain-check - these are some of the most significant elements to consider. And if you're planning an intimate wedding handling all of these can be much simpler.
So, here are some really smart tips to plan an intimate monsoon wedding that might prove super helpful to you. Stay prepared and simply enjoy the fun parts of your monsoon wedding!
MONSOON DECOR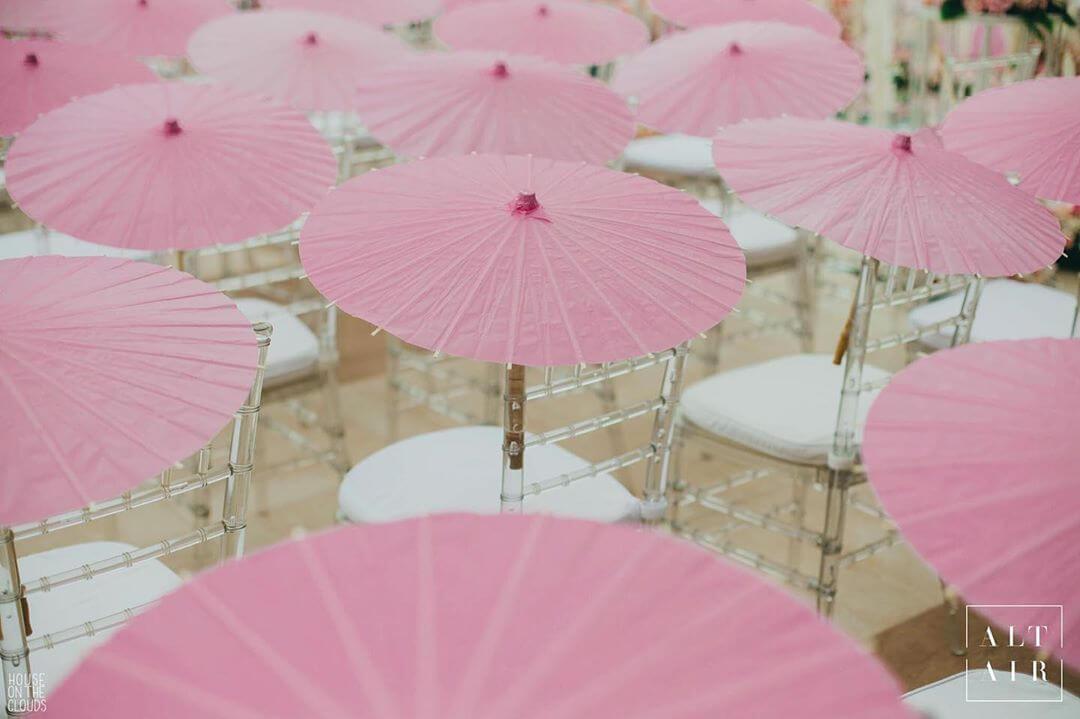 Image Courtesy: AltAir
Here are some of the exclusive DO's and DON'Ts in the wedding decor area while planning an intimate monsoon wedding:
Say "Yes" To Faux Flowers
Opt for artificial flower decorations that wouldn't go bad in case of heavy rains. Using real flowers would only be a waste of money in case of heavy downpours and storms.
Waterproof Drapes Please!
Forget those dupatta draping decorations or silk Shamiyanas for your intimate monsoon wedding. Go for waterproof fabrics and make sure they're sturdy and strong.
Umbrellas Are Your Friends!
Use umbrella decoration to your advantage. You can never have too many umbrellas on a monsoon wedding, right?
Go Light With The Lights
It's advisable to opt for low power wattage lights for your wedding decor. Like fairy lights would be a good option. You can also go for reflective light decoration using coloured glasses. Say "no" to chandeliers, candles, or Diya decoration to avoid fire hazards.
Paint Instead Of Rangoli
Use waterproof paints instead of dry powders for your outdoor rangoli designs. Go for Kalash decoration using hand painting. However, for indoors, you can stick to Rangoli powder or flower rangolis.
MONSOON VENUE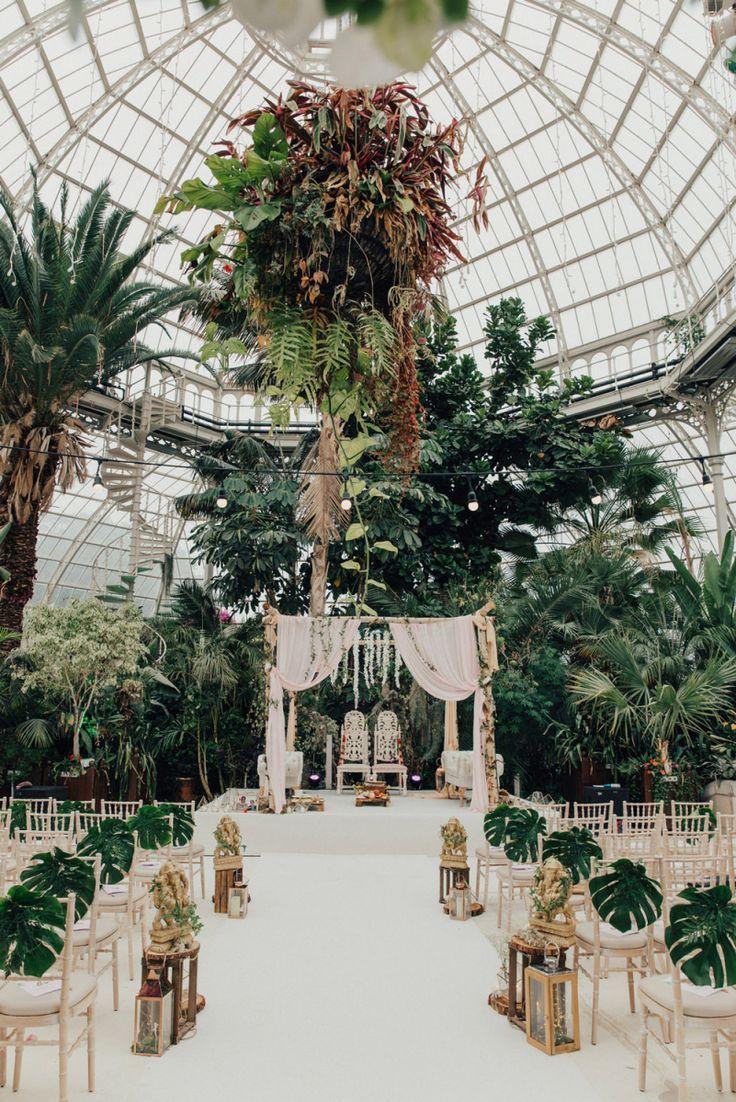 Image Courtesy: Pinterest
Choosing the perfect venue from the different types of venues during rains is yet another major task. Check out the tips to plan an intimate monsoon wedding while picking your wedding venue:
AC & Dehumidifier- Check!
The worst thing about having to plan an intimate monsoon wedding is the nasty humidity! So, make sure your wedding venue has air conditioners. In case of an outdoor event, check for dehumidifiers to balance the ambience temperatures.
SOS Indoors
You definitely need to ensure there is indoor space available (nearby) for sudden showers that could accommodate all your guests. Have a clear conversation with your vendors about that particular provision.
Faux Ceilings & Canopies
Ask your vendor to arrange for faux ceilings and decorative canopies in case of outdoor events. Monsoon wedding shouldn't mean compromising on your wedding look!
Pick The Location Wisely
While picking your venue location, make sure it doesn't fall in a water-logging prone area. You don't want yourself and your guests to get into a waterlogged mess. Not to mention the traffic hassle caused due to that.
Check For Parking Availability
In the case of monsoon weddings, you need to ensure proper parking spaces for everyone. Check with your guest list and ask your vendor for the exact availability numbers. Also, make sure for ushers and parking service staff to escort your guests with umbrellas when it's pouring.
MONSOON FOOD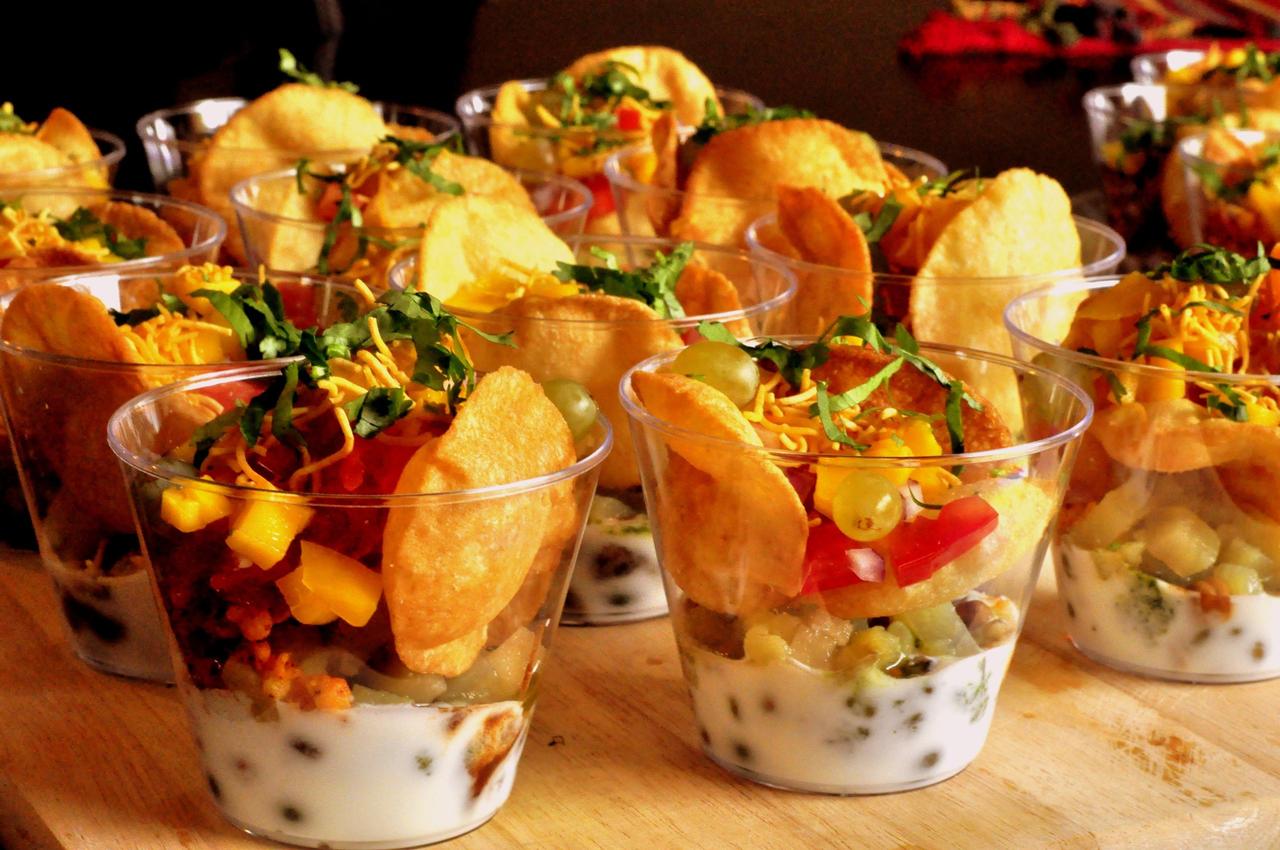 Image Courtesy: Pinterest
Now let's take a look at some food-specific tips while you plan your intimate monsoon wedding:
Chai-Pakodas Are MUST!
This goes without saying! You can't enjoy a monsoon wedding if there are no tea-Pakoda and other food stalls at the venue! Make sure there is enough free-flowing steaming tea/coffee along with fresh hot fritters as snacks.
Strike Off Salads
It's advisable to take raw vegetables or salads off your monsoon wedding menu. High humidity doesn't do well for the leafy vegetables and it's best avoided.
Hot Desserts Win
Replace ice creams and Kulfis with hot Jalebis, Gulabjamuns, and Chocolate fudge. Serve steaming sweet desserts to your guests for a warm fuzzy welcome! Who wouldn't love that?
Rum & More
It's important to keep the spirits high during a monsoon wedding! Keep fun cocktails on your bar menu. If the temperature drops down due to constant rains, add rum-based drinks to the menu instead of beers!
MONSOON FASHION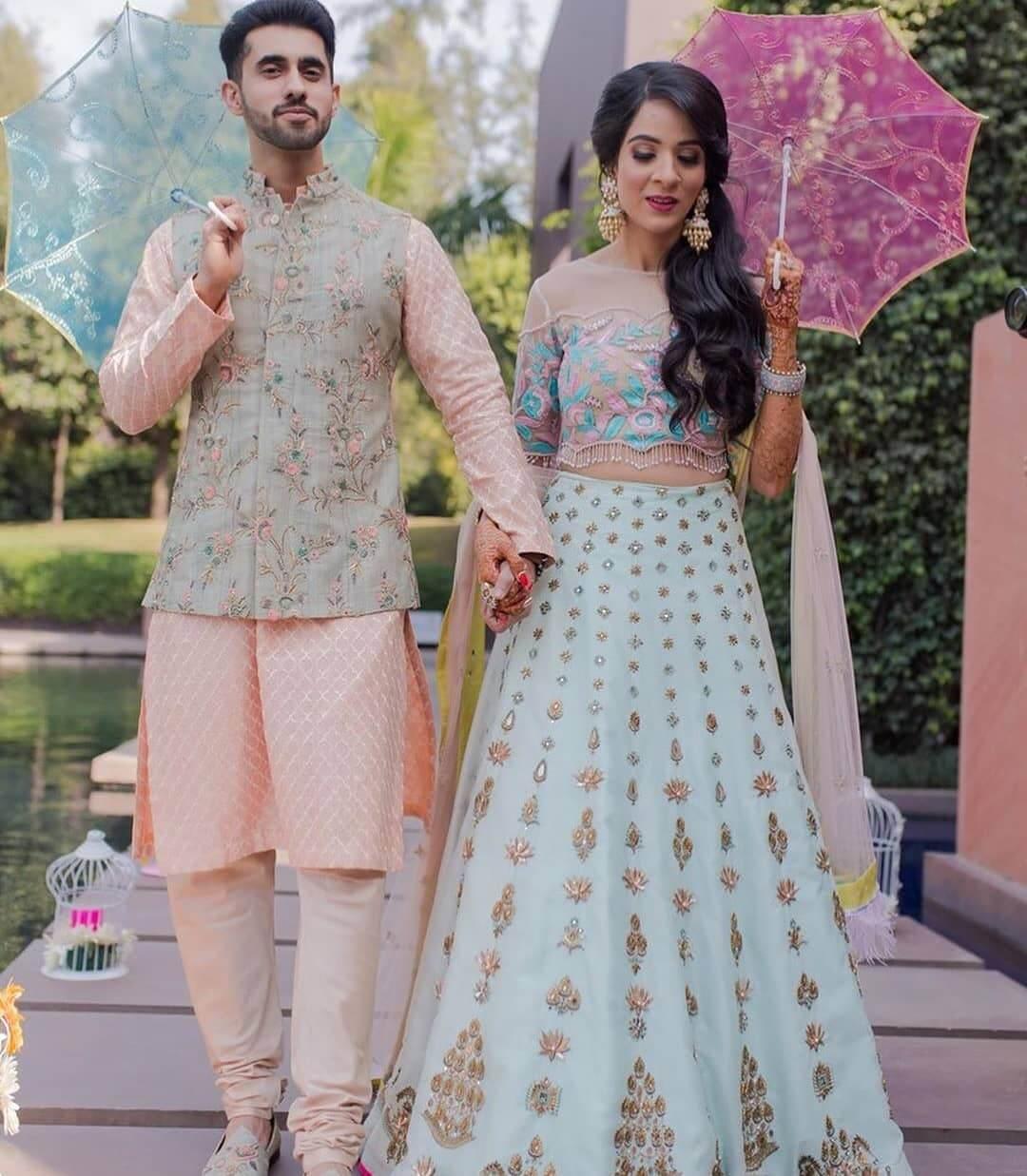 Image Courtesy: Pinterest
Pick your outfits keeping the rains in mind! Here are some quick tips to plan an intimate monsoon wedding in the wedding outfit and accessory areas:
Be Fabric Wise
Say no to cotton, silk or linens as they are not good ideas for a monsoon wedding. Avoid fabrics that soak water or colours that bleed. Pick georgette, chiffon, crepe or synthetic fabrics for your sarees, lehengas or salwar kameez instead in softer shades. Whether you get drenched in the rains or humidity, don't let that ruin your style!
Lesser Blings=Lesser Hassle
Cut down on your jewellery and keep them light. Also, avoid artificial jewellery as they tend to cause allergic reactions when you get wet. Keep your fancy silk dupatta or lehenga with minimum embellishments.
Floor Length Dress- Big No No
Wear fun short lehengas, skirts and evening gowns or drape your saree a little above your ankle-length to keep things comfy for monsoon weddings.
Replace High Heels With Flats
Remove the scope of any slipping or tripping by replacing your stilettos with flats, sneakers and platforms.
MONSOON MUSIC & DANCE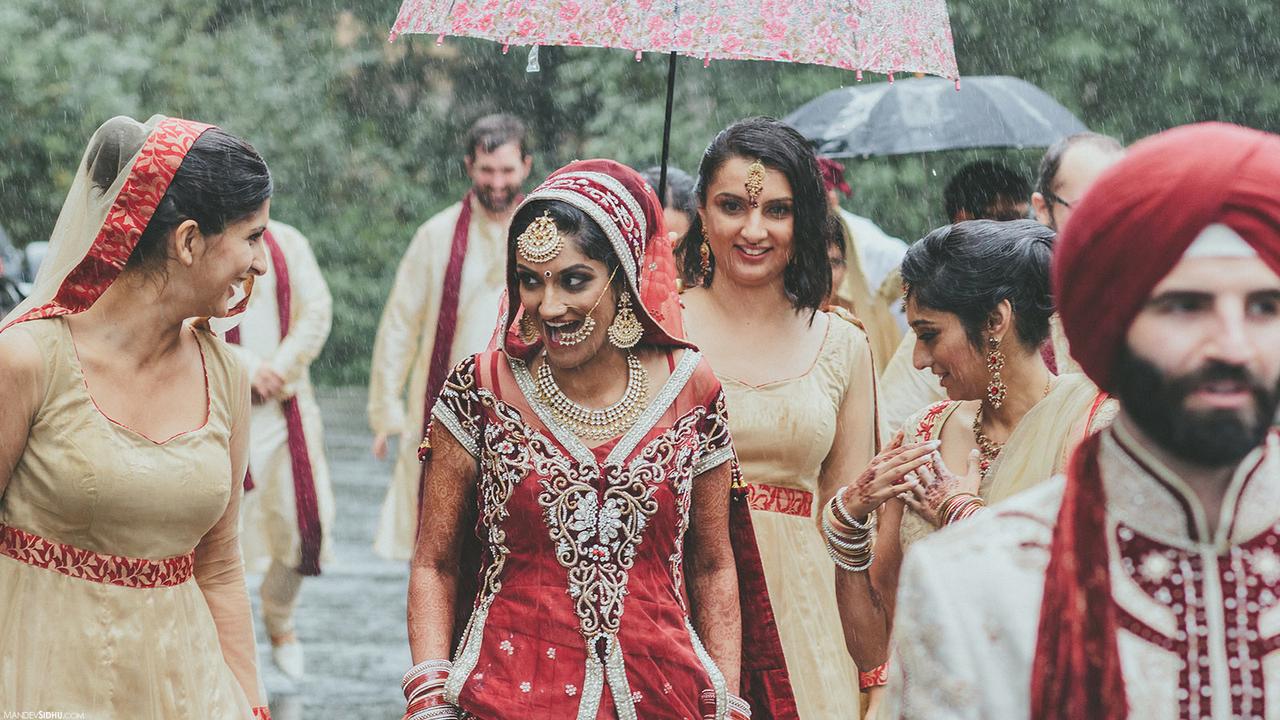 Image Courtesy: Mandev Sidhu
You just have to add some of the popular Bollywood songs on rains for your rain dance party. What's the point of planning an intimate monsoon wedding otherwise? Organise your indoor Sangeet followed by an open-air rain dance party to the peppiest songs. Play some beautiful romantic songs and old Hindi songs while everyone enjoys their drinks at a Cocktail party.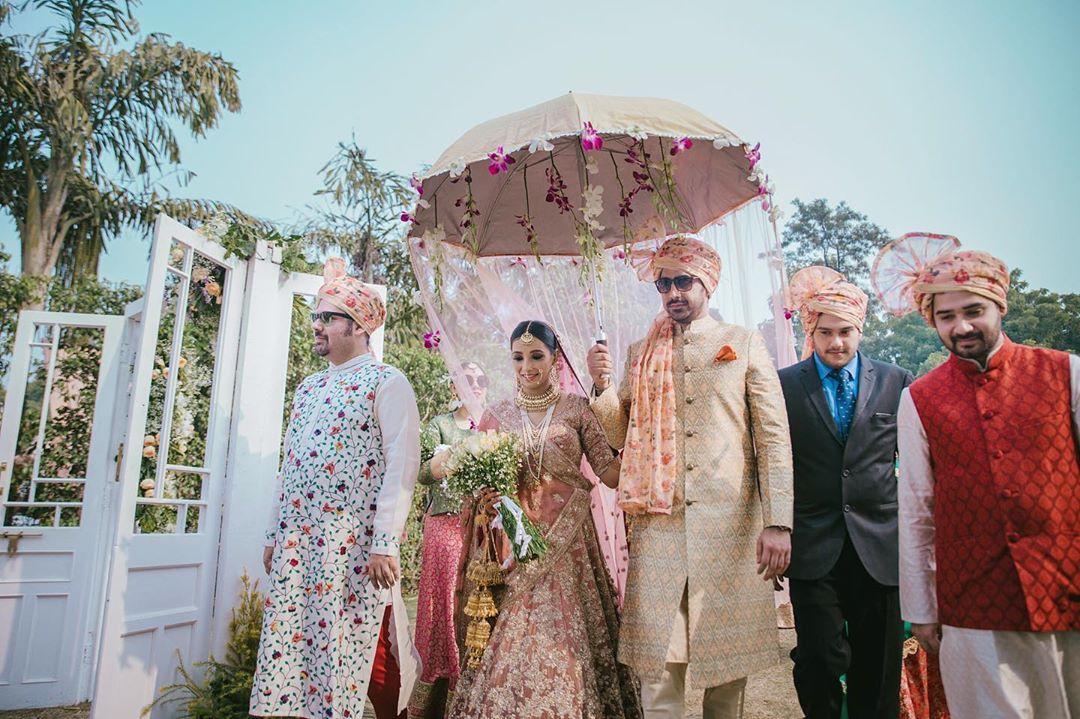 With these tips to plan an intimate monsoon wedding, you can have fun with the rains while you are totally prepared to avoid the hassles. Speak to your venue vendors and decorators about your requirements and ask about backup plans. The thumb rule to ace a monsoon wedding planning is to keep things as simple as possible. Be it your gorgeous sangeet lehenga, jewellery or Haldi decorations- more the elements, more are the chances of them getting ruined in the rains. Make the best out of nature's gift by being prepared!
Check out some really comfy bridal shoes to go with you monsoon wedding outfits!