Weddings are all about ethnic wear, whether we talk about the bridal sarees, lehengas, or the groom's kurta, pyjama and, of course, the sherwani. Wedding sherwani collections comprise of the most mesmerising attire a groom can wear and carry on his wedding day. Although modern grooms omit the sherwani dress and choose to wear a three or two-piece suit instead, it has always been believed that a sherwani is always the best ensemble to don at a wedding. Along with the dazzling bride, the groom always looks complete in this garment.
If you are thinking of getting a designer sherwani for groom for your special day and can't choose from the unbelievably huge sherwani collection you may encounter in stores, its time for us to come into the picture. Read on to know what type of designer ensemble suits you the best and look forward to getting hitched!
1. Asvatt Sherwani
Created by Anita Dongre, the Asvatt Sherwani is a part of her royal sherwani collection with its navy blue shade and silver buttons. With its embroidery and motifs, it's inspired by the dark woods of Ranthambore. Based on a navy silk fabric, it picks up the Chinese collar style and has a concealed single chest pocket.
At its best with white churidars, it should be paired up with navy blue Juttis to get the right look. The Asvatt Sherwani can be perfect for you, especially if your bride is wearing a blue bridal lehenga. However, if that's not the case, it can also go with golden and ivory bridal lehengas. After all, the wedding pictures need to look perfect.
This Anita Dongre piece would cost you ₹80,000.
2. Achkan Sherwani
Achkan sherwani must be a part of your wedding sherwani collection. Created by Abhipri, it has been made on black velvet and glazed with the dazzling work of zari to garnish it further. The golden zari work creates a fantastic contrast with black. This has always been a great colour combination. Achkan style, like this black velvet one, can be paired with golden dhoti pants to complete the ethnic look, along with black Juttis.
The designer, Abhipri, has played with creativity as well as traditional designs to come up with such a unique creation. Although black and golden are a common combination, he has made a unique attire to help all grooms feel like royalty.
This sherwani will cost you ₹40,000.
3. Brocade Sherwani
The brocade sherwani is one of the most demanded one in the sherwani collection. Set up with the Chinese collar design, this brocade sherwani has Zardosi work all over, front as well as back. Grey in colour, this attire has been made for the summer season with its brocade fabric. The designer has created beauty out of mere cloth, and set up fancy buttons in the middle for a chic look!
Along with a single concealed pocket and self- design texture, this Sherwani has many visually stunning elements. You must pair it with a beige salwar or churidar to complete the look. Apart from that, black Juttis will also look great as a part of the best sherwani collection.
This ensemble will cost you ₹22,590.
4. Linen Silk Sherwani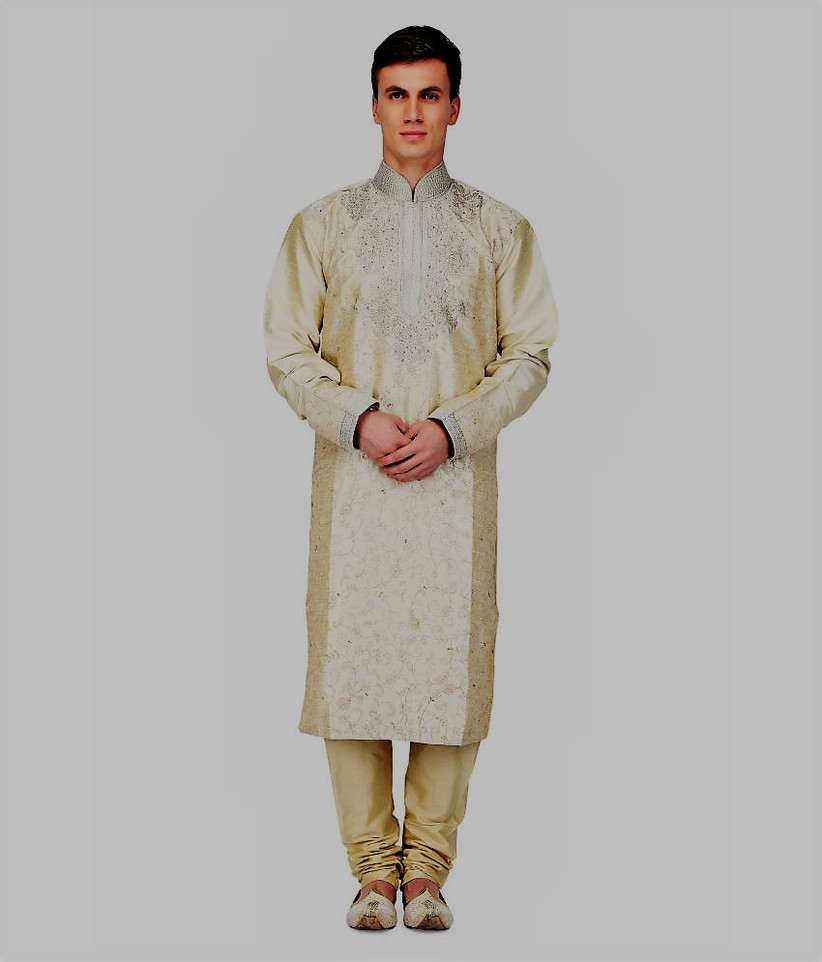 Image Courtesy: Snapdeal
With applique handwork on a cream coloured linen silk sherwani, this piece of art, made by Pret a Porter, can officially be announced as the best of today's sherwani collection. The fabric, consisting of linen and silk can any day be appreciated for its luxury and poise. Any groom would look charming enough to die for in this ensemble.
Apart from that, the cream colour here is signifying royalty without any effort. Paired with a churidar and cream coloured Juttis, the embroidery seems like a cherry on the top of the cake in this creation, making it the perfect choice for any groom.
It will cost you ₹3,350
5. Silk Sherwani with a red stole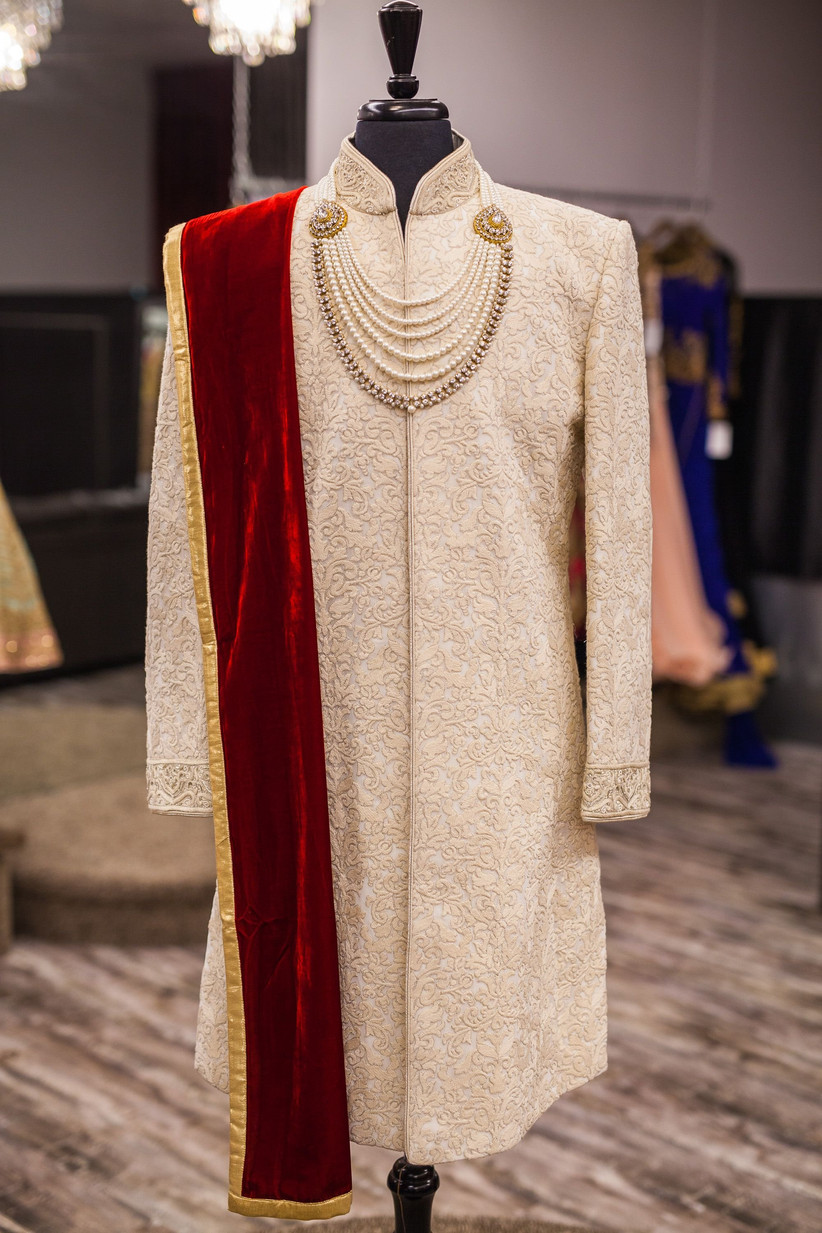 Image Courtesy: Pinterest
Donning a silk sherwani designed with Aari embroidery is certainly a dream come true for grooms. An old and traditional style of embroidery, Aari has been used to create breath-taking floral motifs on the sherwani, making it a part of the top sherwani collection of this year. Paired with churidar trousers and a red velvet stole, it has been designed with a Chinese style collar. Along with a kurta, the sherwani enhances your look!
Your wedding day only comes once in a lifetime, so why not look your best in a designer sherwani? We hope it will be easier for you now to buy the perfect sherwani from the top designer sherwani collection. After all, your wedding is the best day of your life!
Head down to the right salon to make sure you look your best on your wedding!