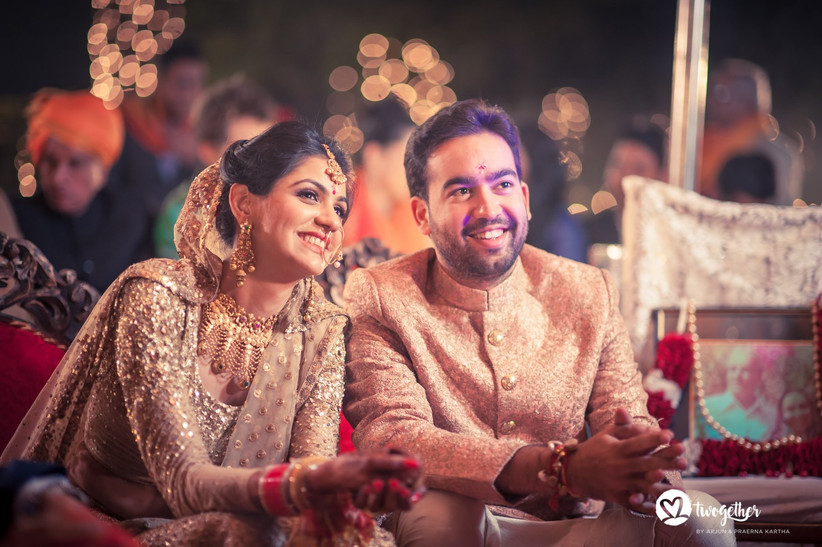 Marriage is a union that binds two people as one and is thus an institution that is built on respect, loyalty, understanding and the willingness to hold on even in throes of challenges. The fact that you feel you are ready to become a part of someone else's life irrespective of the good and bad is plausible in its own right.
So, we decided to help you prepare for your big day with the right dose of inspiration to make your new journey as magical as ever. These are some shaadi quotes which are perfect to be included in your wedding invite. Indian wedding invitations are elaborate and detailed with precision. Alongside all the necessary details that must be in a wedding invite, the opening/introductory line or shaadi quotes are very essential to set the tone of the wedding theme right. If you are hosting a destination wedding, in a palatial setting of Udaipur, then perhaps shaadi quotes which are from the same place would imbibe the royal vibe of the venue.
So, have a look at these shaadi quotes which we have picked up from the best of the lots to ensure that your wedding card matter is as spectacular and loving as your amazing couple.
Shaadi Quotes Which Are Perfect to Be Used in Your Wedding Card Matter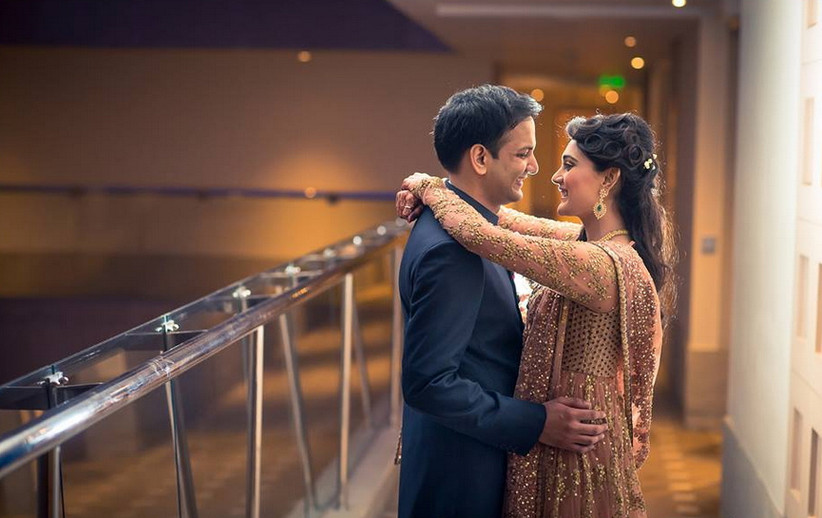 Use these shaadi quotes as the introductory lines of your wedding invitations, save-the-date videos, wedding box invitations and as a thank you note alongside your wedding favours. Get these shaadi quotes printed in dreamy fonts on fancy papers and you will have the wedding invitation that sums up your dreamy and romantic tale of forever after.
1. "There's a big difference between falling in love with someone and falling in love with someone and getting married. Usually, after you get married, you fall in love with the person even more." - Dave Grohl
2. "The real act of marriage takes place in the heart, not in the ballroom or church or synagogue. It's a choice you make - not just on your wedding day, but over and over again - and that choice is reflected in the way you treat your husband or wife." - Barbara De Angelis
3. "Tears of joy, laughter and countless emotions – that's what weddings are made of. A wedding is not just about a couple getting married. It's about vows of love and spending a lifetime together, the happiness on everyone's face, uniting families and having all your friends beside you wishing you all the best. It is a day with many memories in the making that you'll never want to forget."
4. "A successful marriage requires falling in love many times, always with the same person." — Mignon McLaughlin
5. "For it was not into my ear you whispered, but into my heart. It was not my lips you kissed, but my soul." — Judy Garland
6. "A great marriage is not when the 'perfect couple' comes together. It is when an imperfect couple learns to enjoy their differences." – Dave Meurer
7. "The greatest marriages are built on teamwork. Mutual respect, a healthy dose of admiration, and a never-ending portion of love and grace." – Fawn Weaver
8. "Once upon a time there was a boy who loved a girl, and her laughter was a question he wanted to spend his whole life answering." – Nicole Krauss
9. "Grow old along with me; the best is yet to be." — Robert Browning
10. "Once in a while, right in the middle of an ordinary life, love gives us a fairy tale!" – Unknown
11. "When you look for the right person, you always end up with the wrong one. But when you just sit by the corner and wait, he comes along and shares the corner with you." – Unknown
12. "You know when you have found your prince because you not only have a smile on your face but in your heart as well." – Unknown
13. "When I sleep, I dream of you, and when I wake, I long to hold you in my arms. If anything, our time apart has only made me more certain that I want to spend my nights by your side, and my days with your heart." – Nights in Rodanthe
14. "Love recognises no barriers. It jumps hurdles, leaps fences, penetrates walls to arrive at its destination full of hope."– Maya Angelou
15. "Two souls with but a single thought; two hearts that beat as one." – Friedrich Halm
Shaadi Quotes Which Are Perfect to Be Used as Wedding Vows
Wedding vows are the essence of any wedding and to perfect them to the 'T' is the goal of every couple who is tying the knot. As you walk towards each other on the aisle, put your mind to using one of these shaadi quotes to let your partner know who happy you are to have them in your life and how much you are looking forward to your new life together.
Use these shaadi quotes as you pen down your wedding vows and proclaim your love to one another in a grander than life romantic yet considerate gesture. Promise each other love, kindness, patience in throes of ups and downs as you get married, with these powerful words and shaadi quotes.
16. "As I promise always to be true I promise myself to you."
17. "I promise to hold our love as a love everlasting."
18. "Not just for this moment, not for an hour, or day, or year - I will always love you."
19. "An old myth states that man and woman were separated because the Gods were frightened of how strong we were together. Men and women then were left to search their lives for the halves they lost - you are my other half - let the Gods be afraid - they cannot keep us apart."
20. "I have to catch my breath to believe this is real, that I am marrying my true love, my heart's desire, and my best friend."
21. "I vow to carry you and to be carried by you, to journey with you and to love each minute because of our travels together. We will live a life of constant adventure together."
22. "I love that you and I will spend the rest of our lives together. Somehow my life has come to this amazing moment and now I will always share it with you."
23. "I vow to kiss you every day, as we do today - with love and devotion. That each kiss we share from now will be a remembrance of our wedding vows, our joy, and everything we share."
24. "I promise that my love for you will be an ever-flowing spring, never diminished and always sweet and life-giving."
25. "When you walked into my life, love walked in. It was a magical moment that I will treasure forever with you. I will walk together with you and with love."
26. "Together you and I will make one, one world, one universe of love, ever growing, ever expanding - perpetually and inexorably."
27. "I vow to love you as you love me, through all hardship, darkness, and pain to reach for our joys, our hopes, and always with honesty and faith."
28. "From this day forward, let us build a home together filled with love, laughter, joy, and light when two become one we create a family, built on love."
29. "My commitment to you is one if give willingly, absolutely, and without hesitation. I am yours utterly and have been since the moment we met. We were married before this day and will always be."
30. "I love the spark that is inside you, your eternal glowing lovely spirit, and I am so glad to be able to see that every day, warming my soul, forever."
We hope you enjoyed reading these shaadi quotes which are perfect to be used as an introductory line as you pen down your wedding card matter and as wedding vows(you will exchange as you tie the knot). either which way, these shaadi quotes will stand as the testament of your unique love story and sugar coat your new journey with immense love!
Which one of these shaadi quotes would you choose to be your wedding vow? Tell us through the comments!