Romantic Photos 101: The Best Pyaar Wale Shots For Your Wedding
Getting romantic photos clicked is all about the 'vibe'. Go through this ultimate guide to get your own special romantic photos!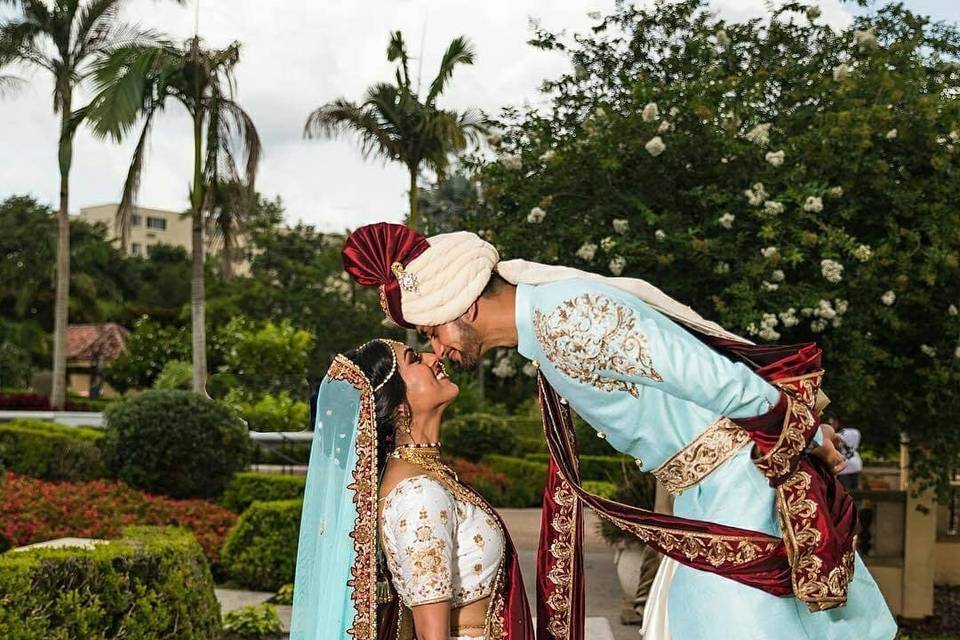 Be it a pre-wedding shoot or one during the wedding, having a set of romantic photos clicked with your partner is a must-have for you to cherish later. If you've been wondering how to get romantic photos clicked and want to try some fresh poses, we have a list of stunning and adorable poses for you!
1. The Mandatory Mehndi Pose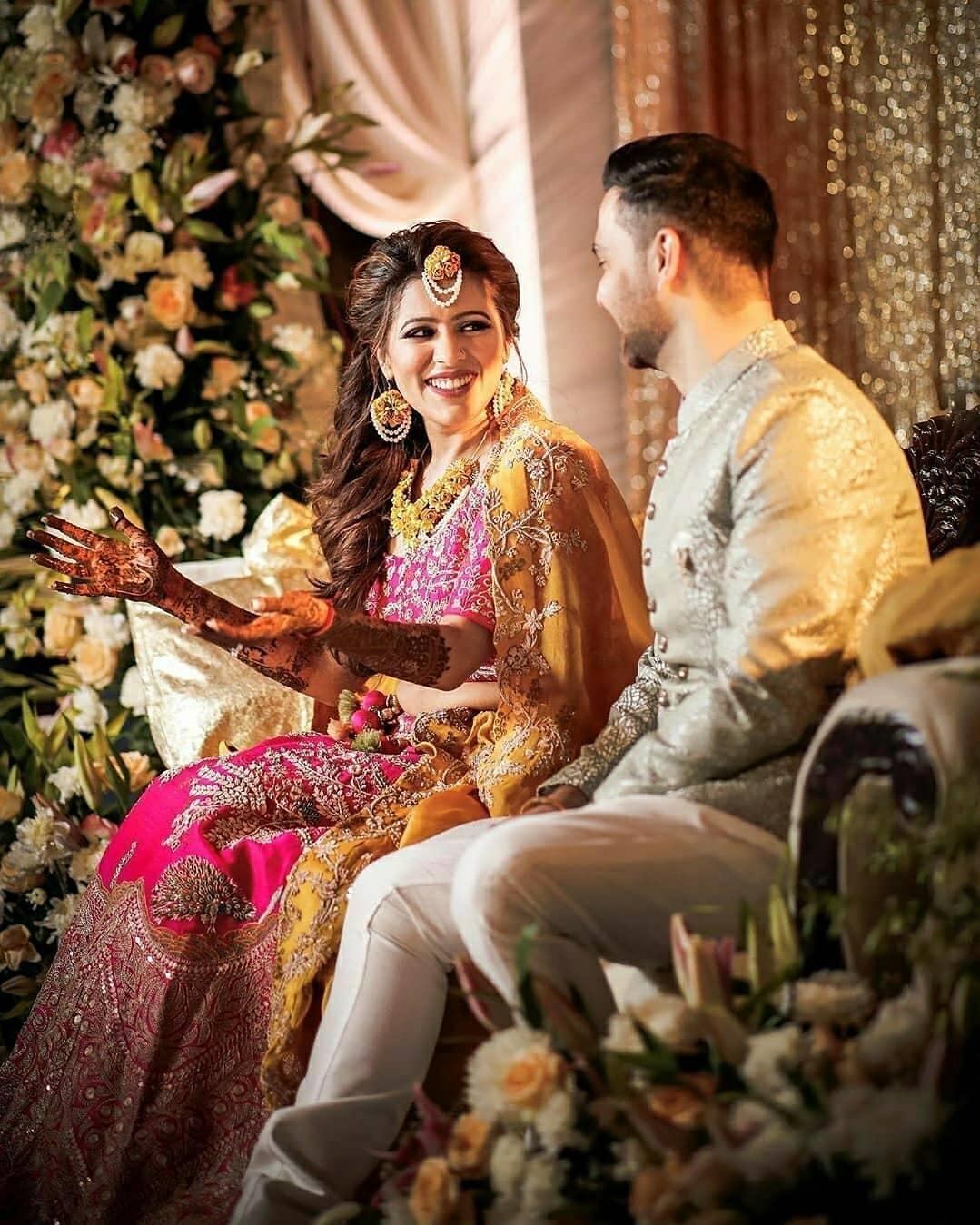 You have every right to show off your stunning mehndi and if you want a unique picture in the romantic photos list, then get your significant other to sit next to you while you stretch out your hands to put your mehndi on display! Remember - smiling is absolutely necessary!
2. The Royal Romantic Pose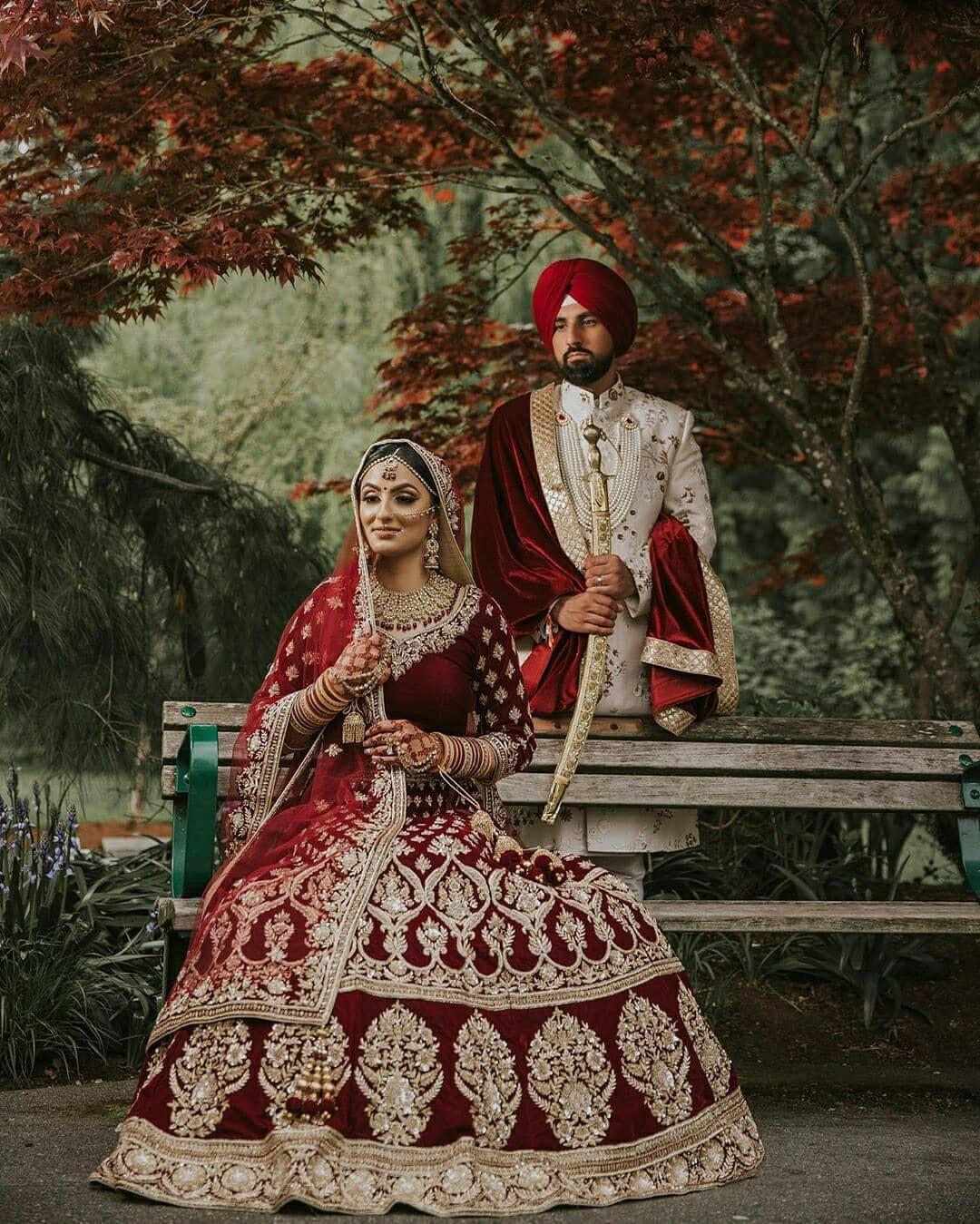 Image courtesy: Dream Box Creations
Who said royal and charismatic poses can't make for romantic photos? For a royal pose, make sure the groom stands right behind the bride. For this one, the outfit and the setting make all the difference. You can either put on a smiling face or a clam expression as shown in the photo!
3. The Poised Romantic Pose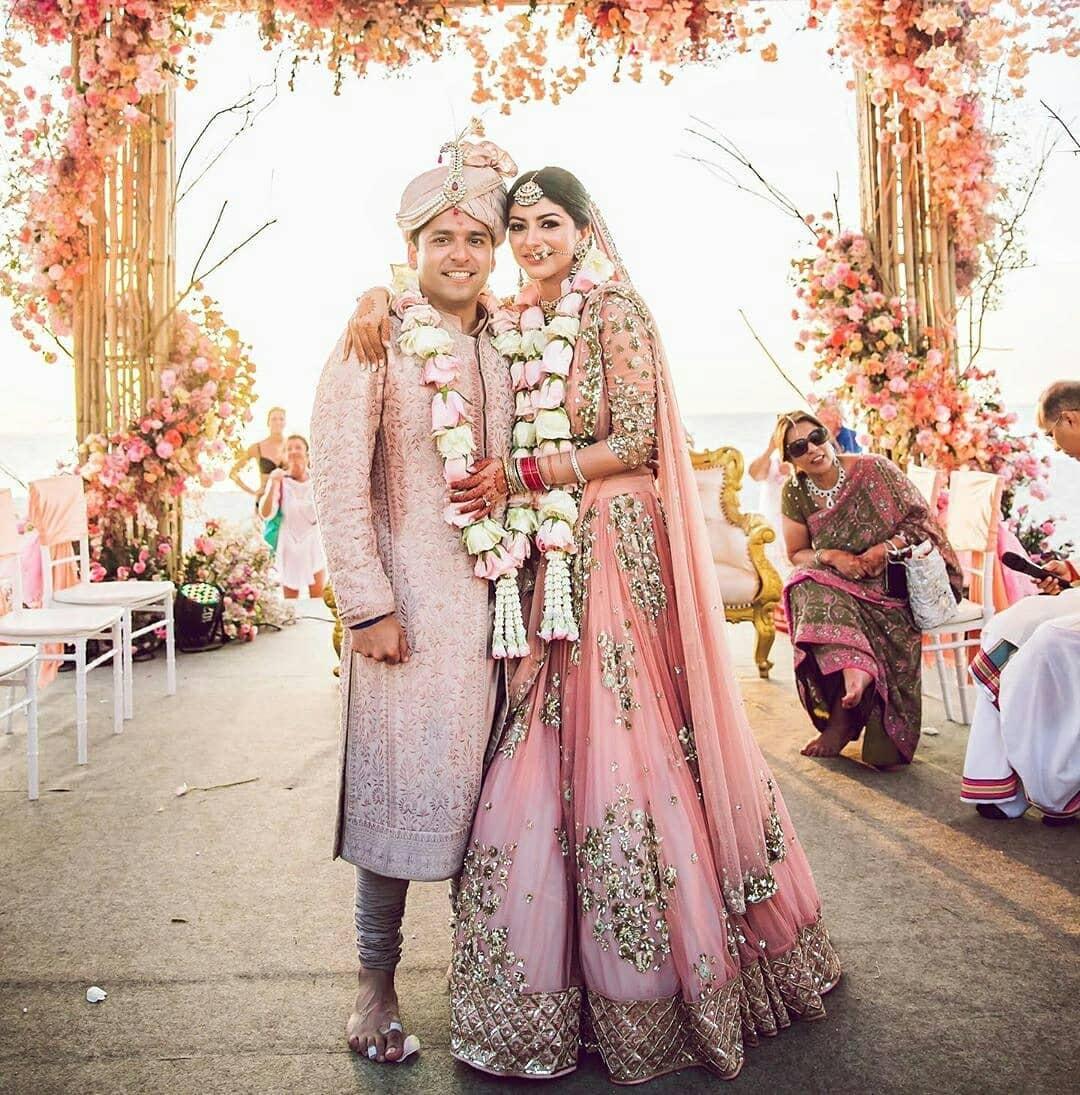 Poise and charm are sometimes the only things you need for romantic photos. Take a look at this gorgeous wedding couple, their outfits are colour coordinated, and the sideways hug looks so sweet!
4. The Happy in Haldi Pose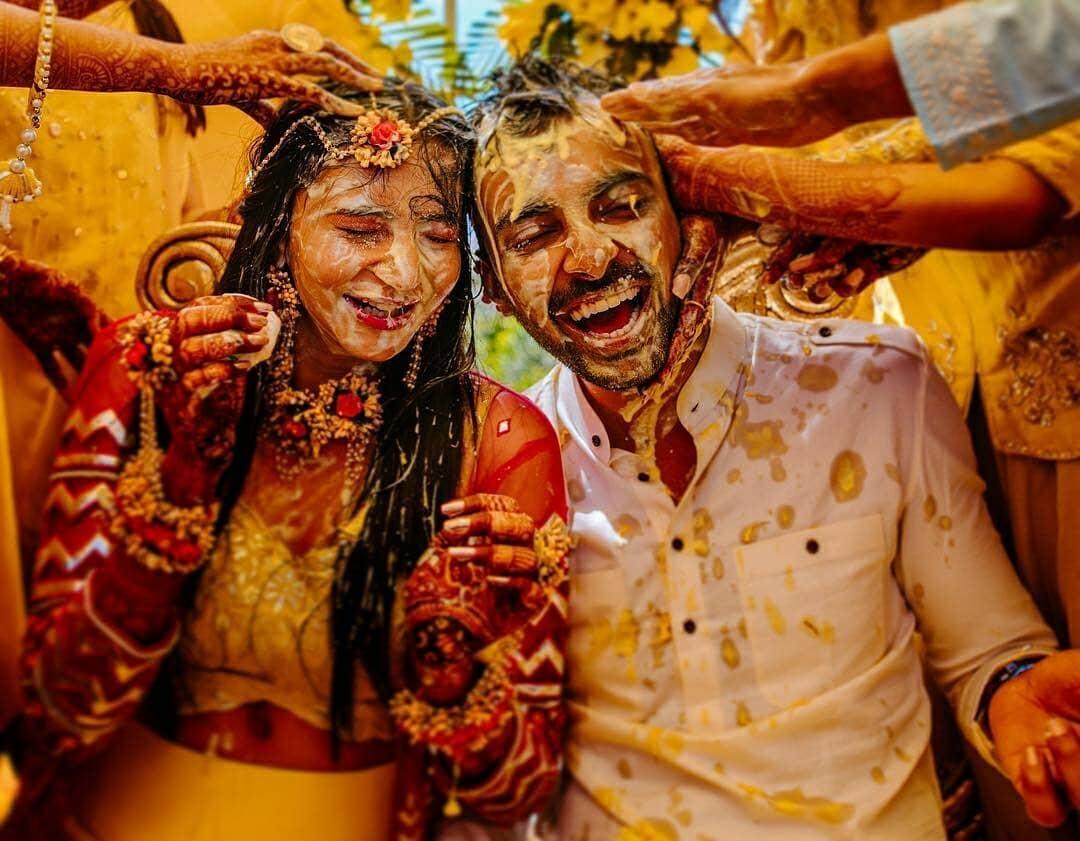 Haldi photos are always vibrant, fun and a great way to create romantic photos. For this one, try to be as natural as possible and let your wedding photographer do his/her thing. The more candid the photo is, the better!
5. 'Complete in each other's company' Pose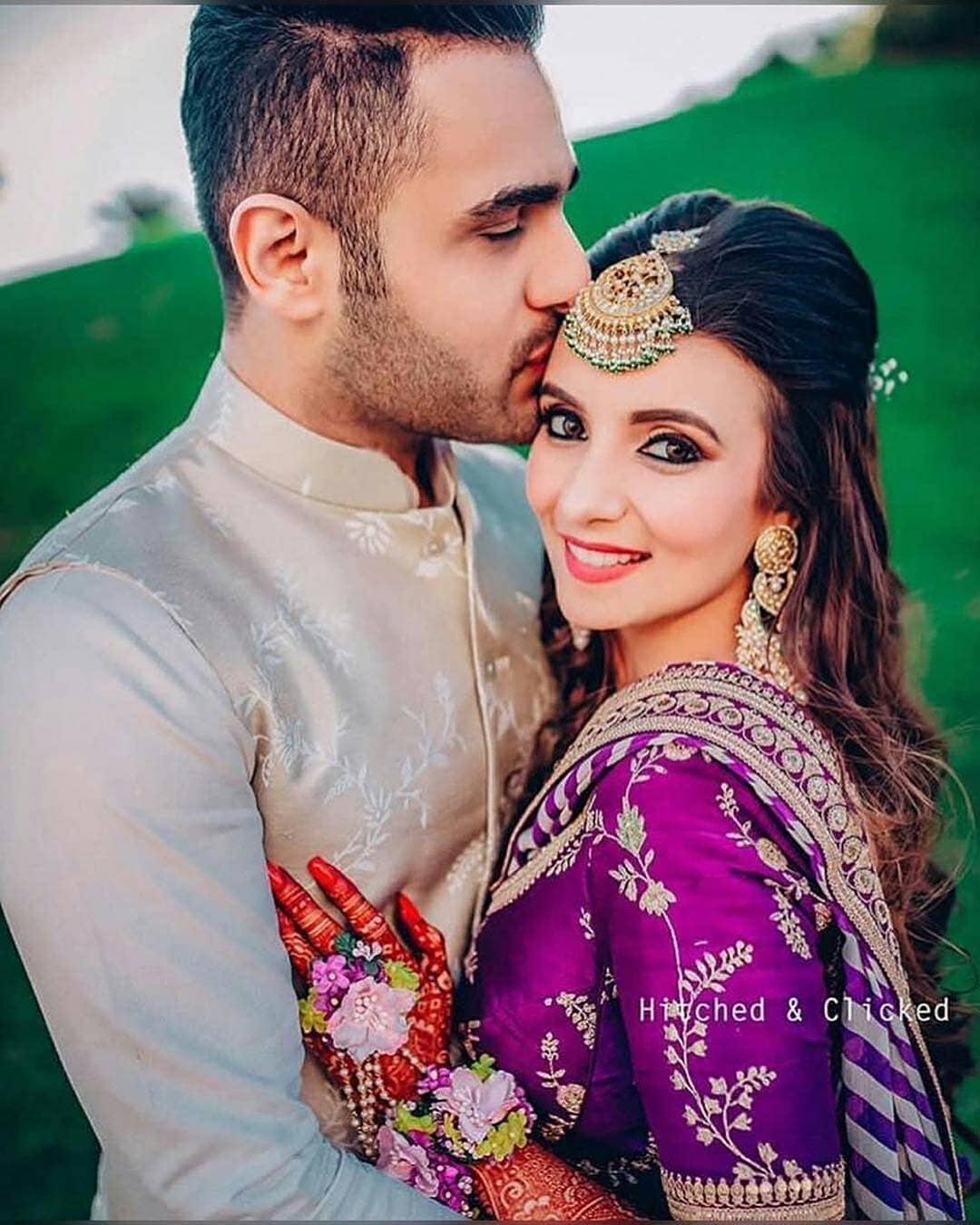 Ever seen romantic photos that look 'Oh-so-complete'? Let us tell you how to get one! The bride and groom must be hugging, and the bride's face should be turned towards the camera while the groom kisses her on the forehead!
6. The Goofy Couple's Pose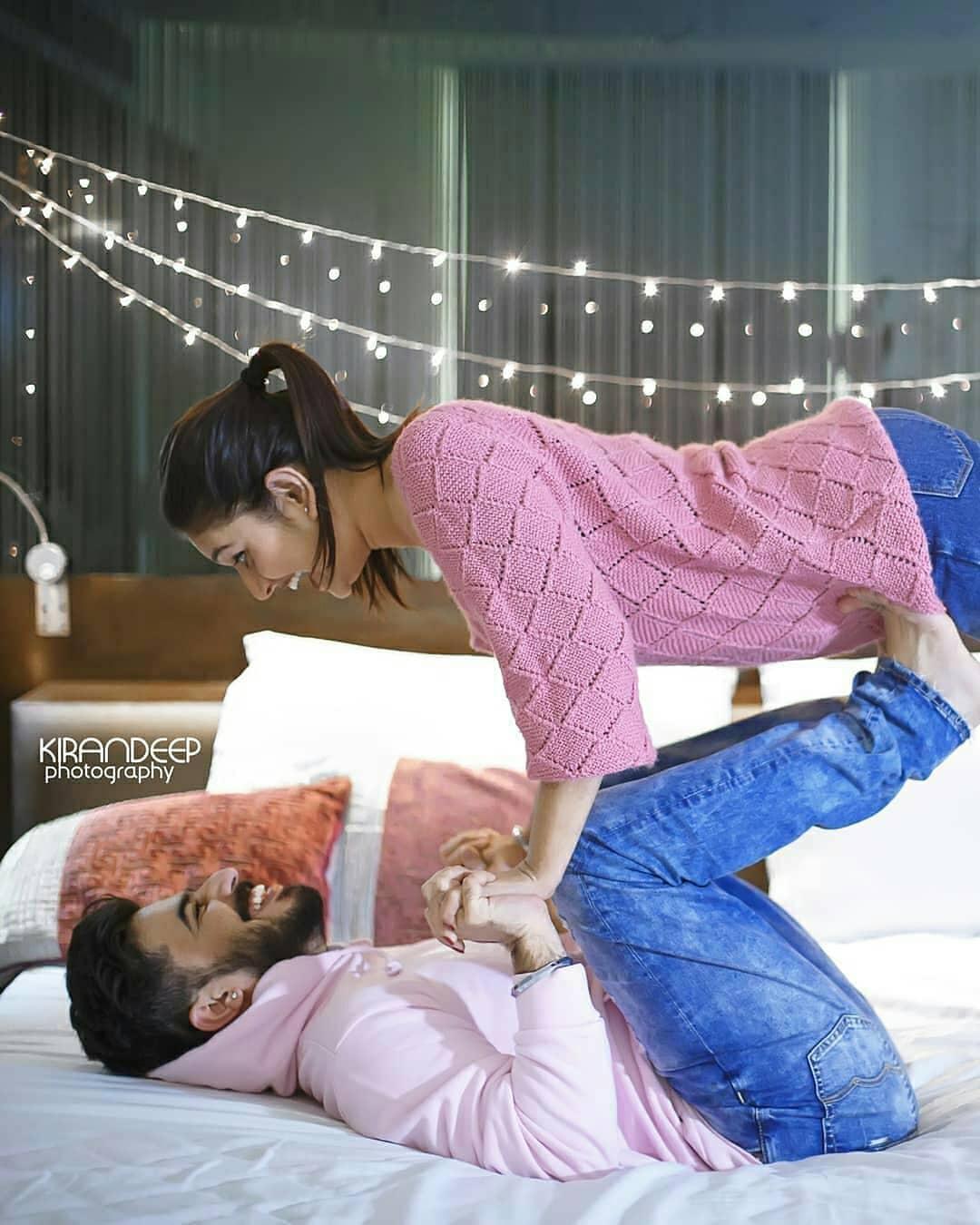 Goofing around is perhaps one of the best ways to get the romantic photos you've always wanted! For this one, you don't even need a ceremony-like setting. It can be in your casual clothes and in your home. Get some fairy lights to add to your setting and you'll be good to go!
7. The 'Closer Together' Pose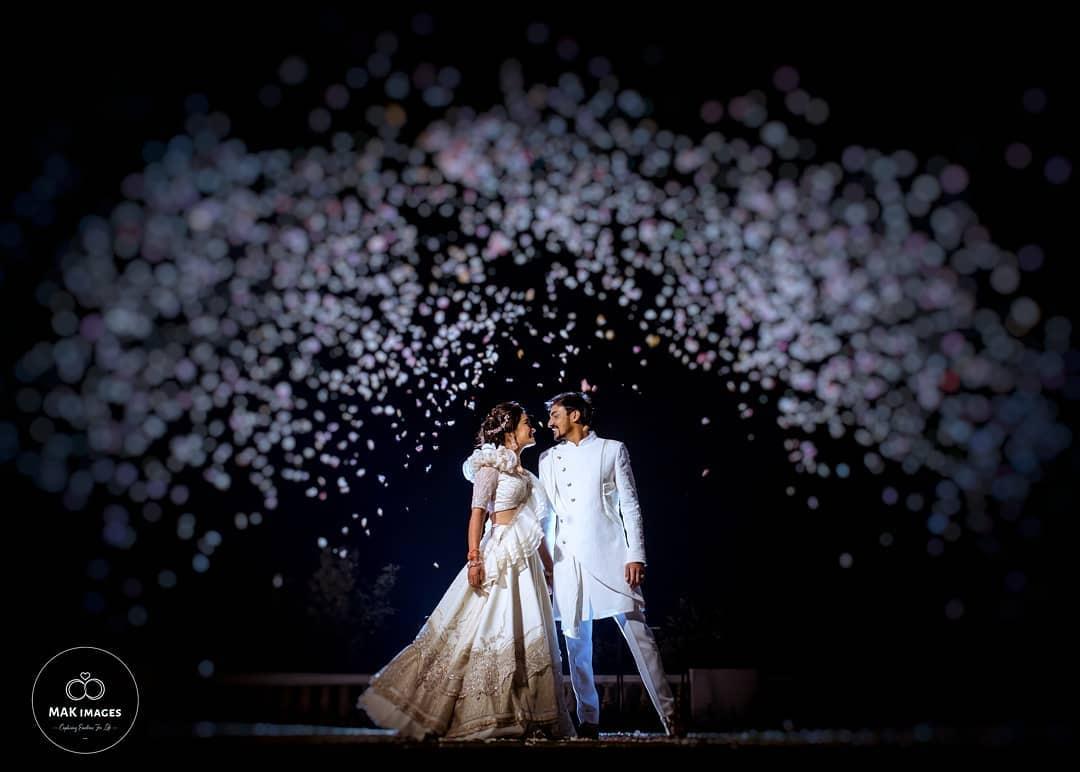 Image courtesy: Mak Images
Are dreamy photos on your romantic photos list? Then you should definitely go for this one! Ask your photographer to blur out the lights to create this effect and take a zoomed out shot of the two of you. This will come out even better if both of you are wearing white!
8. 'Always There to Catch You' Pose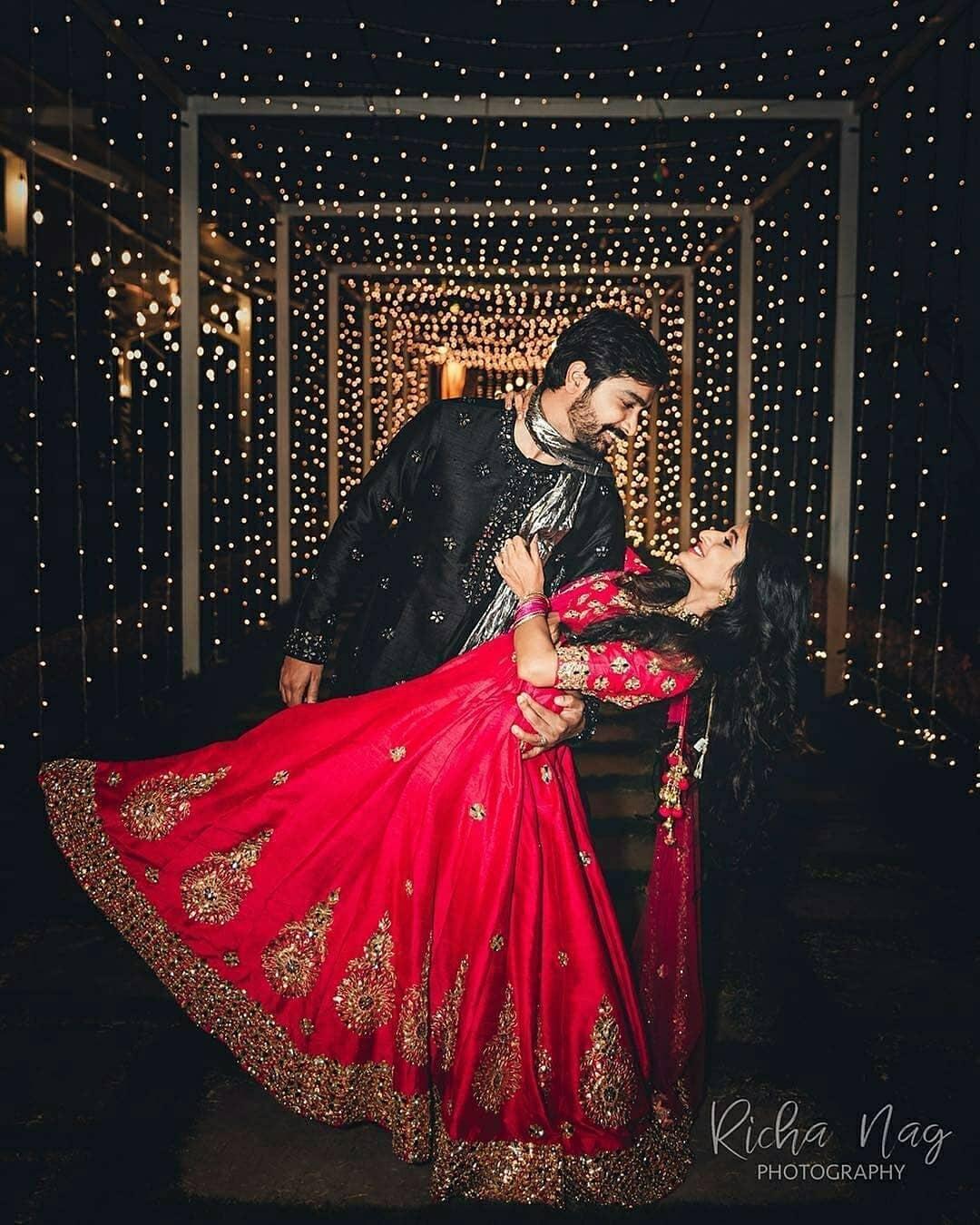 Fairytale moments can always be captured in romantic photos! Create gate-like structures one after the other with fairy lights and pose with your partner right in front of it. To make the picture more dramatic, the groom must catch the bride as shown in the picture!
9. The 'Can't Get Over You' Pose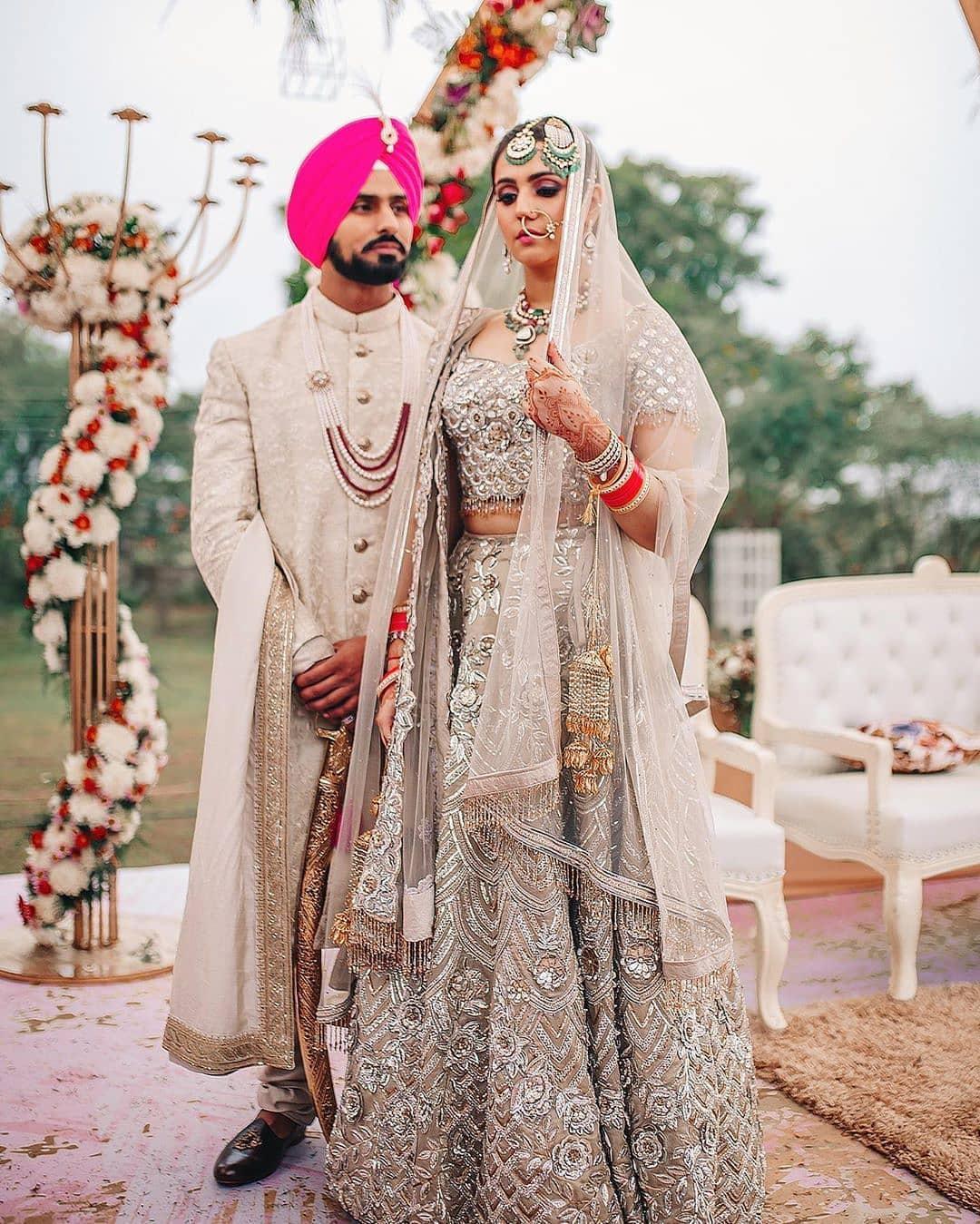 Image courtesy: Shades Photography India
You know, the feeling of looking at your loved one and knowing that you'll always be in love with them? This soothing one from romantic photos, with the bride looking down and the groom staring at her with love, conveys just that.
10. 'Let's Get Lost in Each Other's Eyes' Pose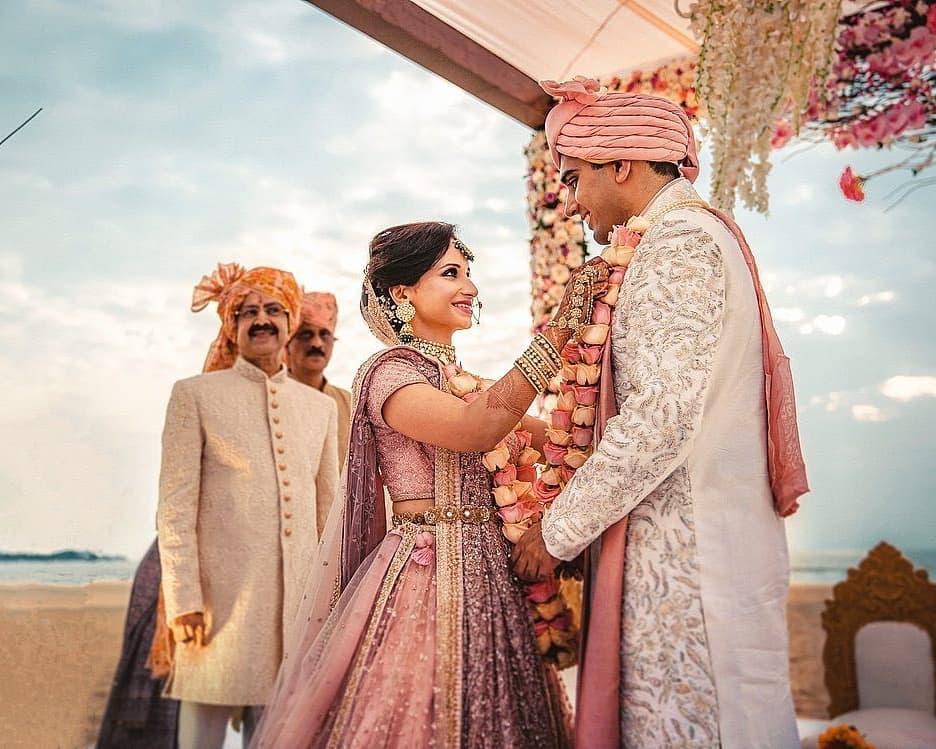 Image courtesy: Shades Photography India
Eye contact shows vulnerability, more so when you're getting married to the love of your life! This photo of the couple looking into each other's eyes as she drapes a wedding garland around his neck is so simple and still hits us right in the feels when it comes to romantic photos!
11. The 'Twirl with Me' Pose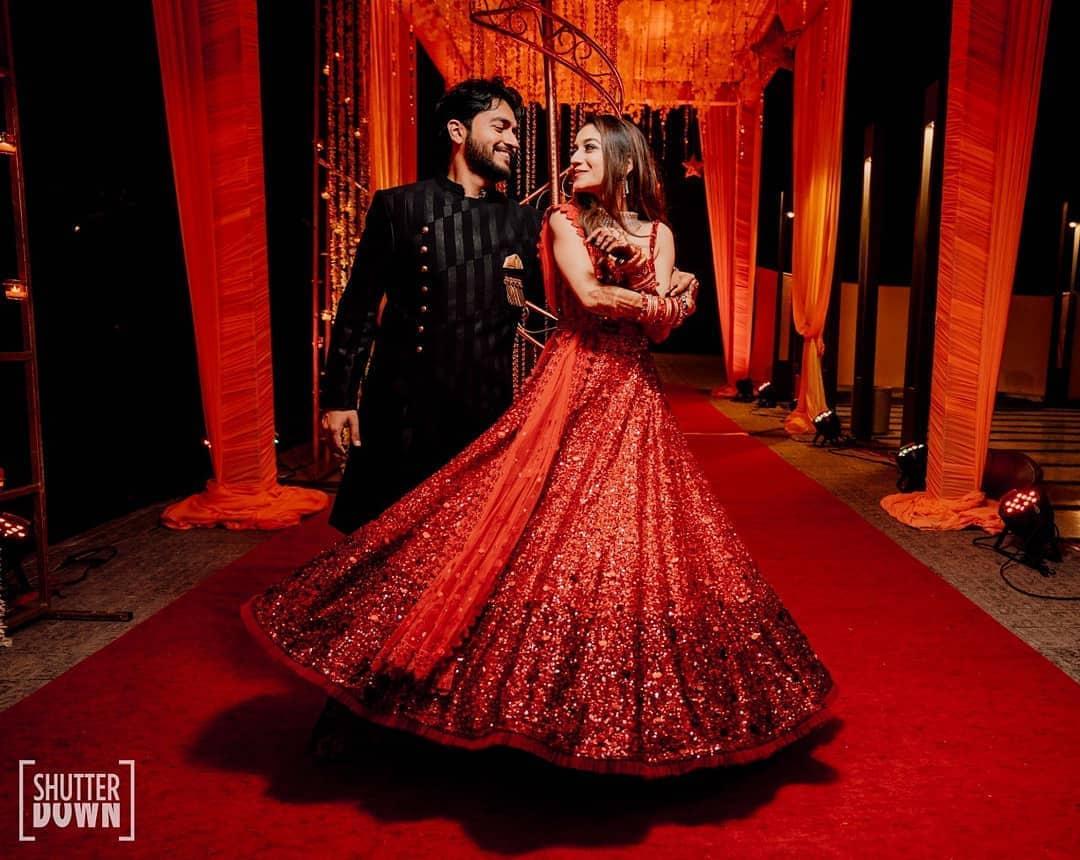 Let's have some fun while clicking romantic photos, shall we? Take a look at this couple, for instance. Dressed in classy colours and getting the vibe right with the 'twirl'! Red and black go together like you and your partner!
12. 'Let's Laugh Together Forever' Pose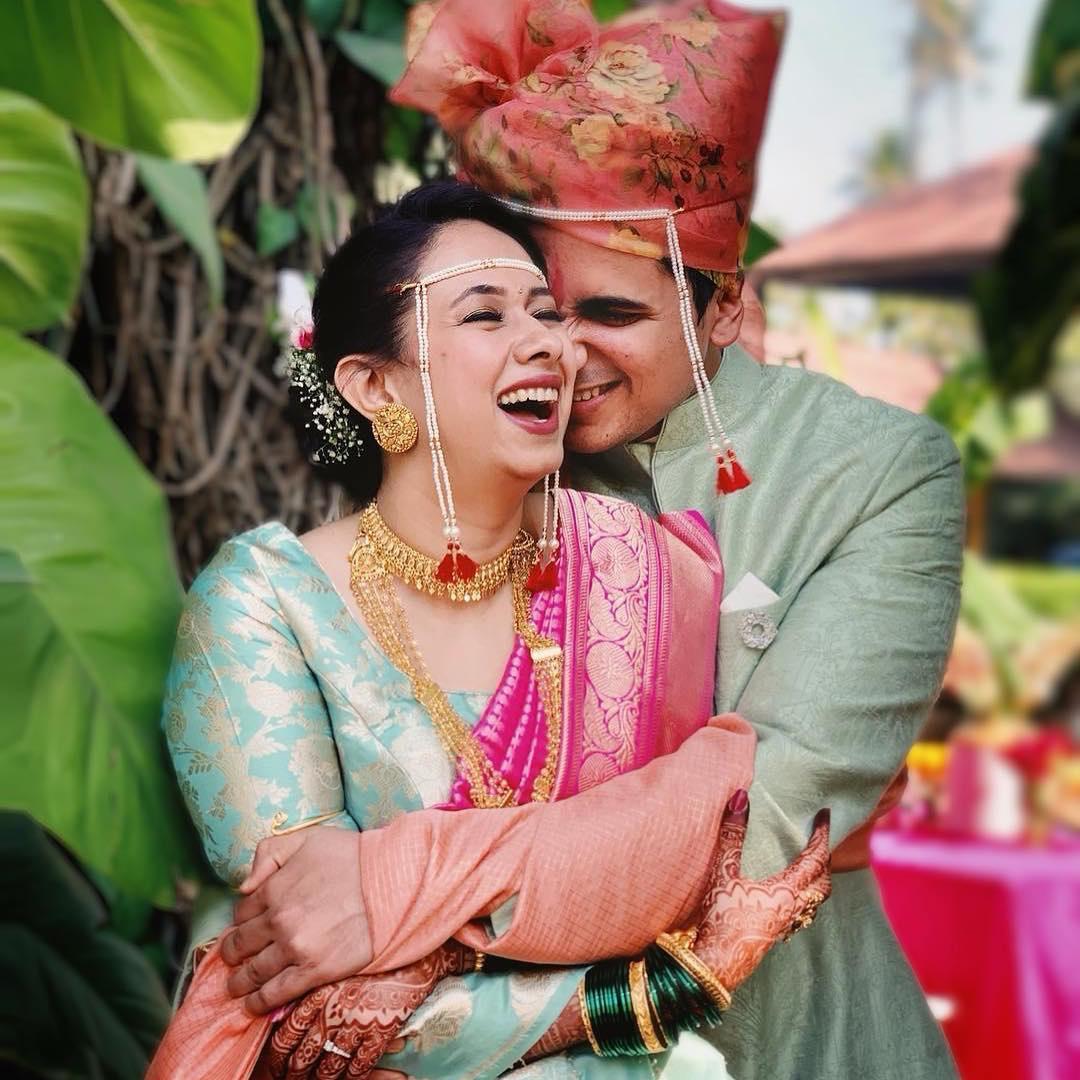 We can't get over this adorable one from our list of romantic photos! It's happy, beautifully colour-coordinated and all things nice. To get this picture, all you have to do is be in your element with your partner and leave the rest to your wedding photographer!
13. The Fun Vibes Pose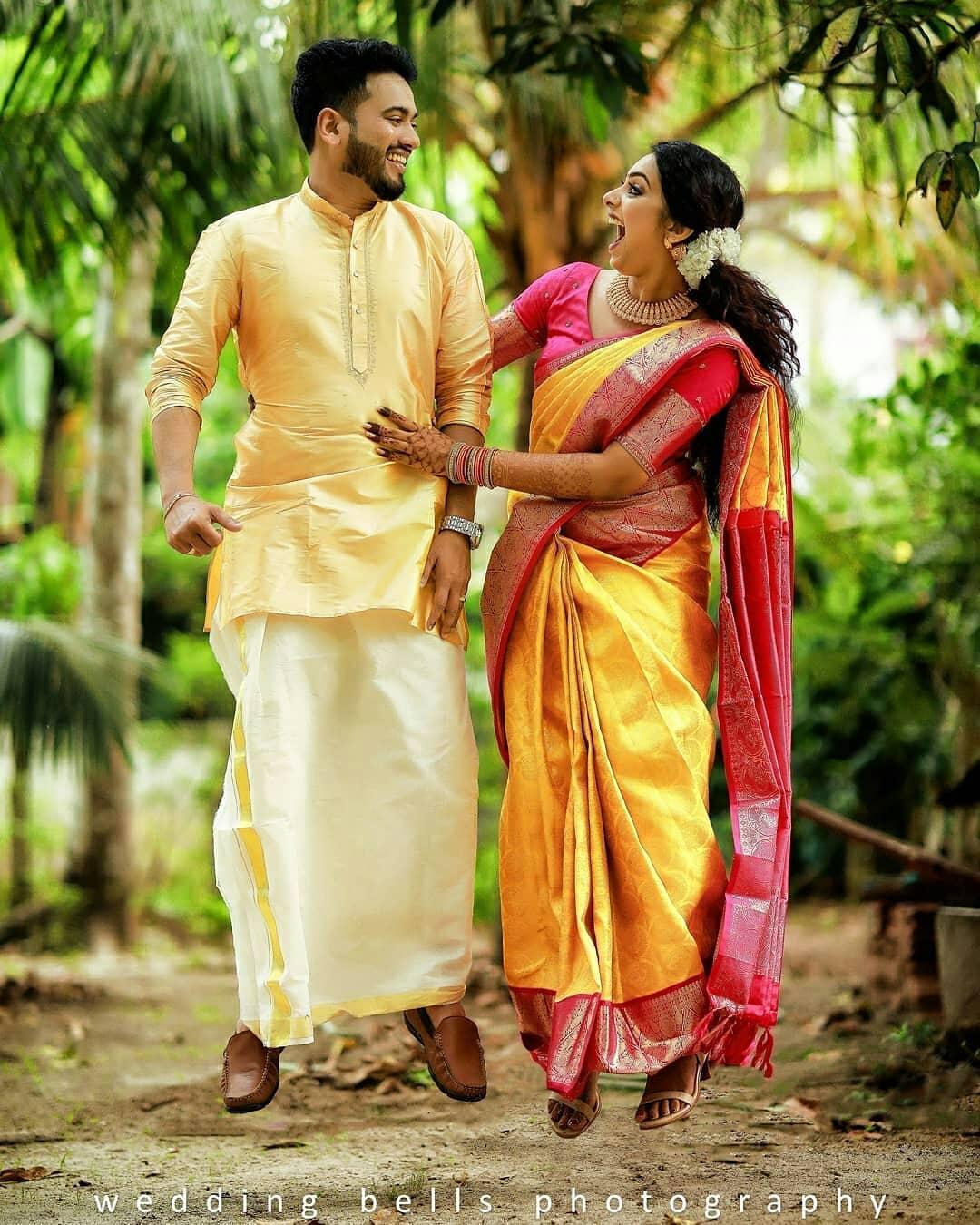 This one made us smile the moment we set our eyes on it. Whenever you look at it, you know that the newly married couple is having fun. So, if you don't want any of the typical romantic photos and wish to try something new, you can always get something like this clicked!
14. The 'Madly in Love' Pose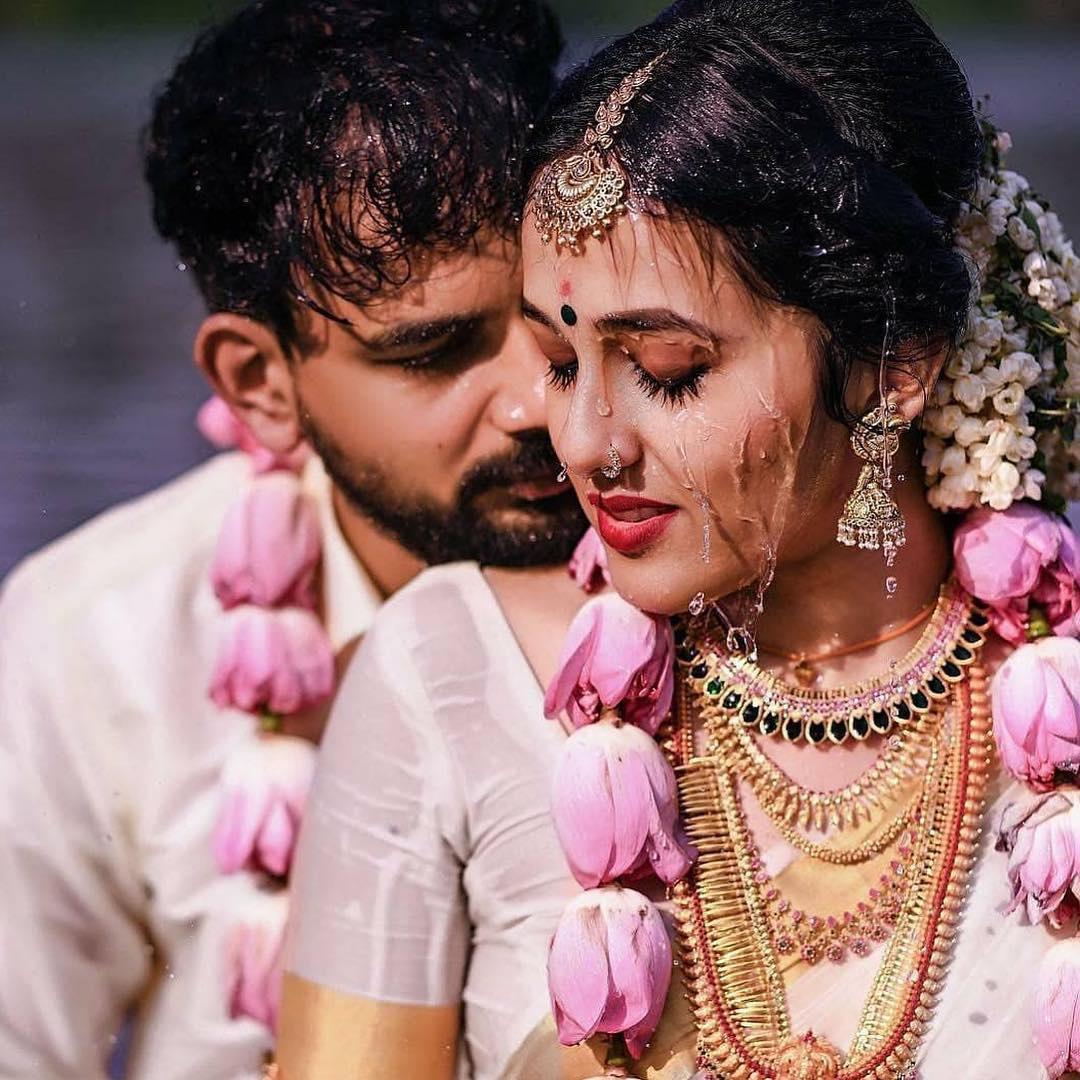 Attention South Indian Couples! Look at this pristine picture from the collection of romantic photos. The couple is clad in white and look madly in love with each other. The best part is, this picture is easy to get and doesn't need much setting up!
15. The Vintage Romantic Pose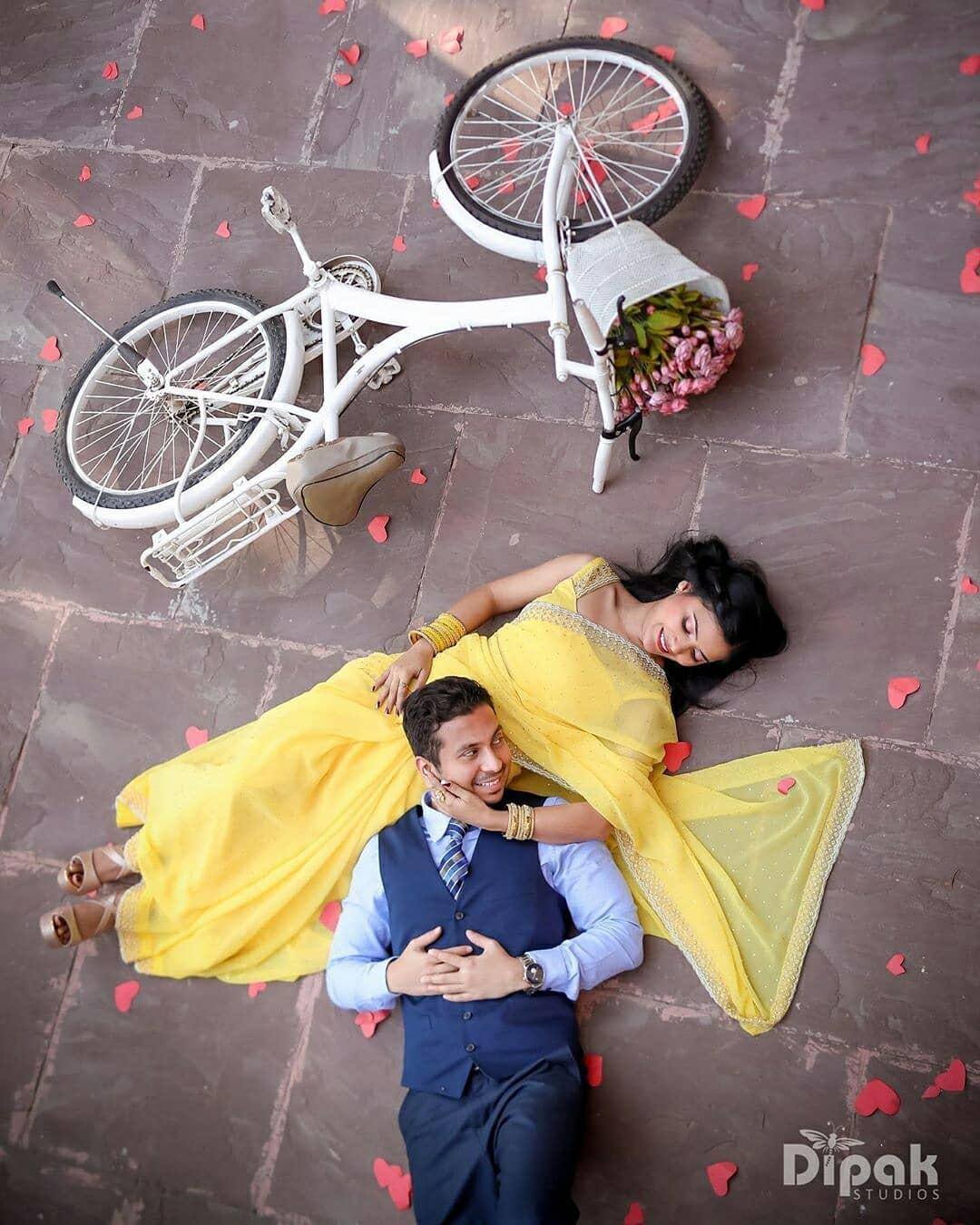 Romantic photos with vintage feel look lovely in any couple's collection of memories. Although this picture will need some planning, it'll feel worth the effort once it's done! Your outfits need to be 'vintage-ish' for this photo too. So make sure you speak to your photographer and your stylist beforehand!
You're all set to get the romantic photos. Choose a wedding pose or poses from this list, talk to your photographer and you'll have the pictures you've wanted!
What are you waiting for? Get in touch with our expert photographers now!
Written by Rohini Roy