How to Nail Wedding Poses on Your Big Day and Get Fabulous Pictures
Every couple dreams of a spectacular wedding album. That begins by shooting the right pictures in wedding poses that work for you. Let's see how this is done.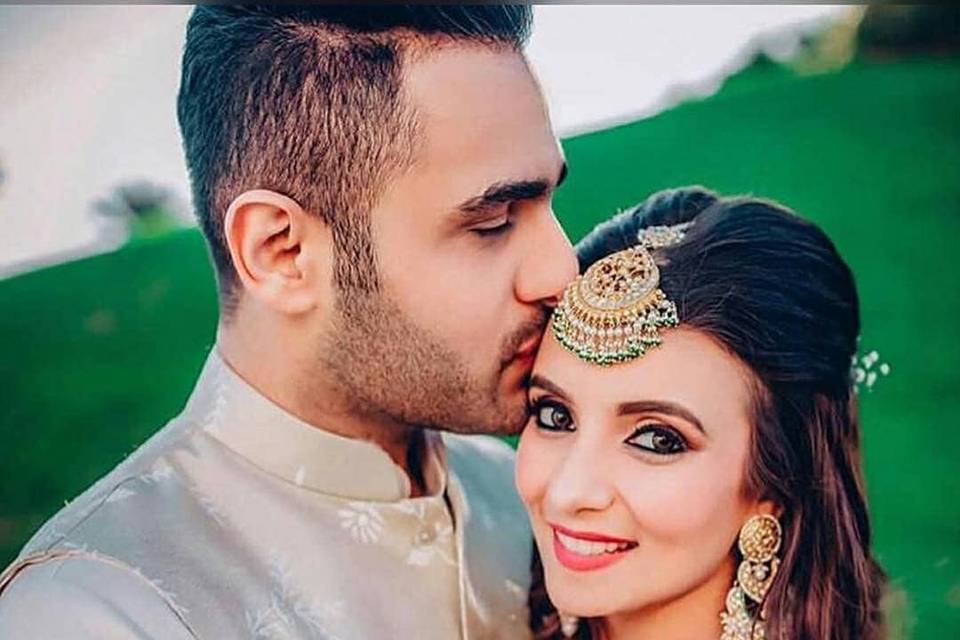 The wedding affair gets over in a matter of a few days but the memories from it stay alive for a lifetime, especially through numerous photos and videos. Many of those pictures can be similar because you couldn't think of a different pose every time. One with the wedding lehenga, one while getting makeup done, a few with the groom and then you start repeating wedding poses.
Here are some inspirations for wedding poses to get every click picture-perfect.
1. Work on your problem areas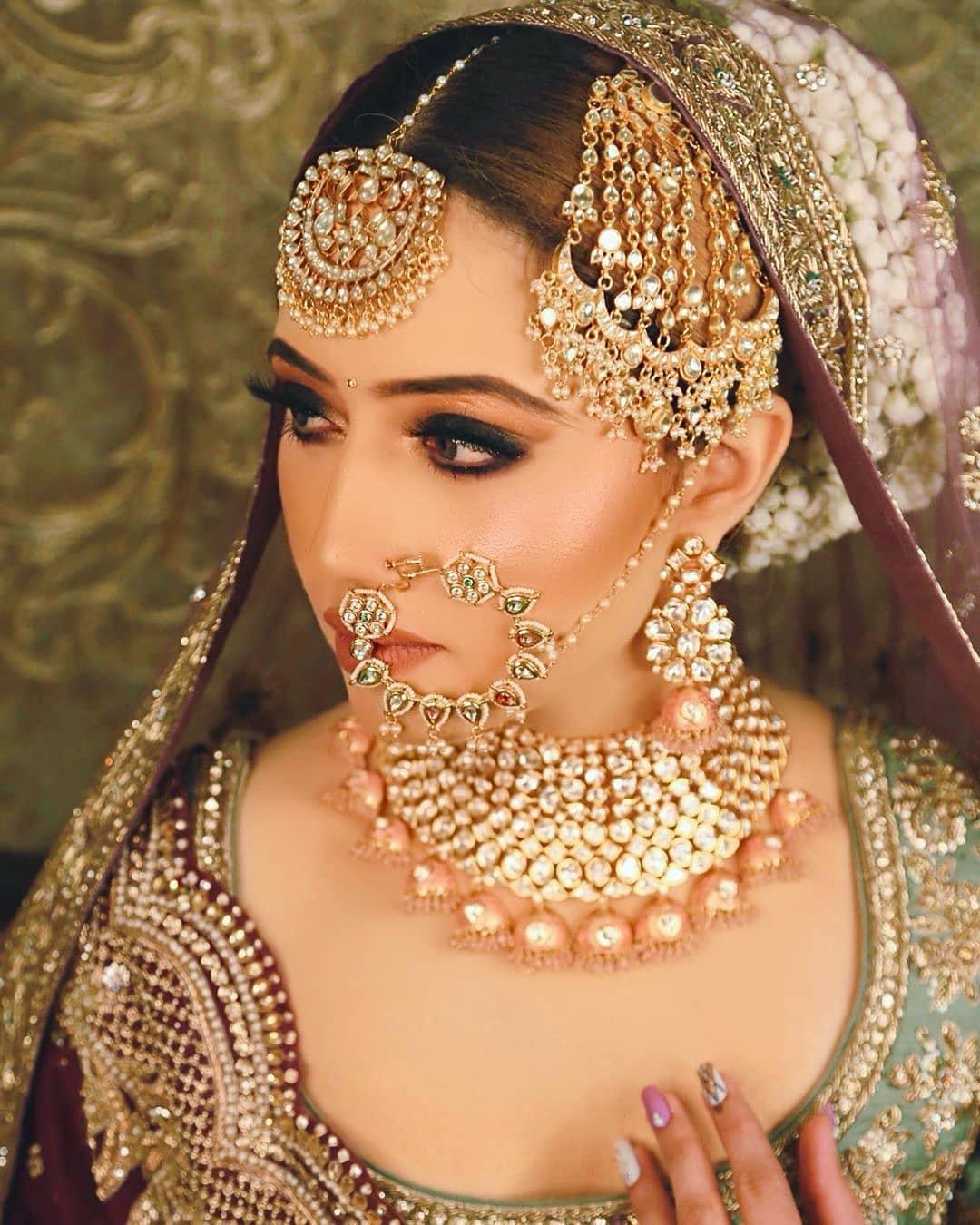 Since no one's face is perfectly symmetrical, you'll always find one side of your face slightly better. Stand in front of a mirror or take selfies to figure out your flattering angles. Then, use this knowledge it to your advantage during your wedding poses. Also, you may have great poses that usually work for you, but they might not look as good with the complete bridal attire.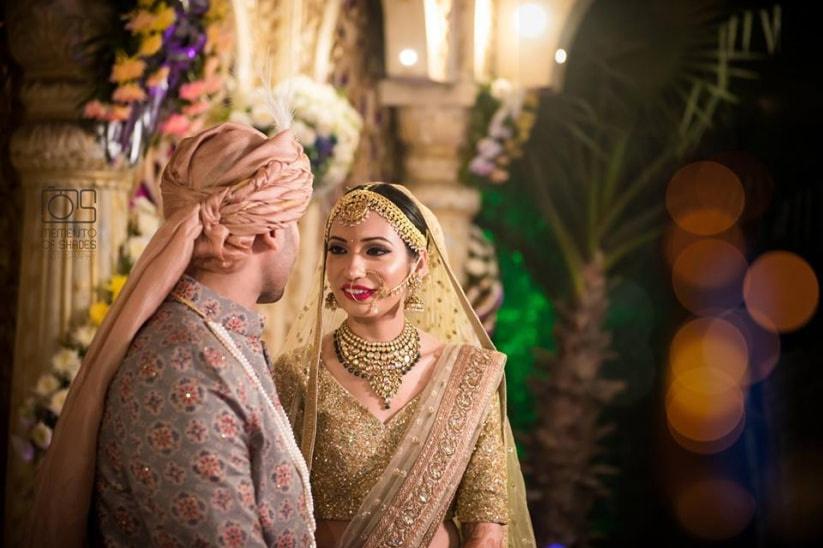 Practice your wedding poses with your dupatta or saree and find out what looks best on you. Pose in front of your close ones to get an honest opinion.
2. Look After Your Posture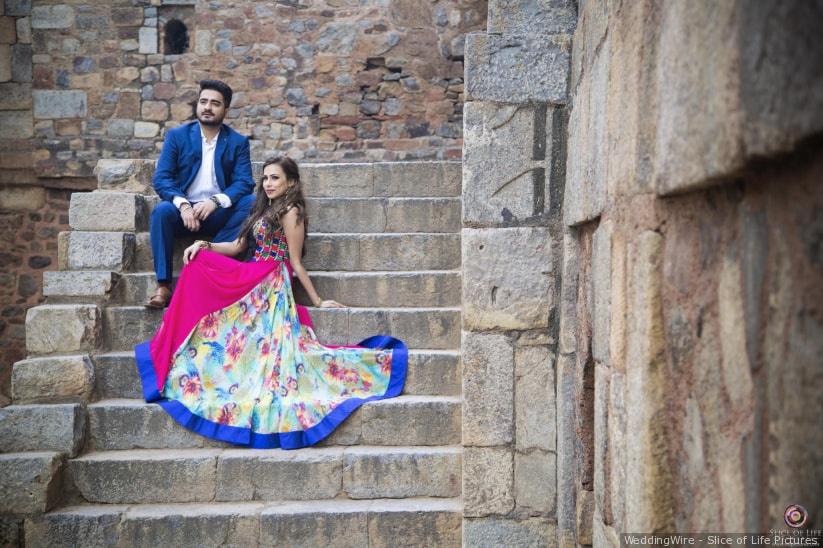 Make sure you're not slouching or standing awkwardly in any of your wedding poses. A great posture will help a lot when you're getting your pictures clicked. Not only will you look a lot more confident, but you'll also be able to get beautiful shots that'll make you feel great about yourself too!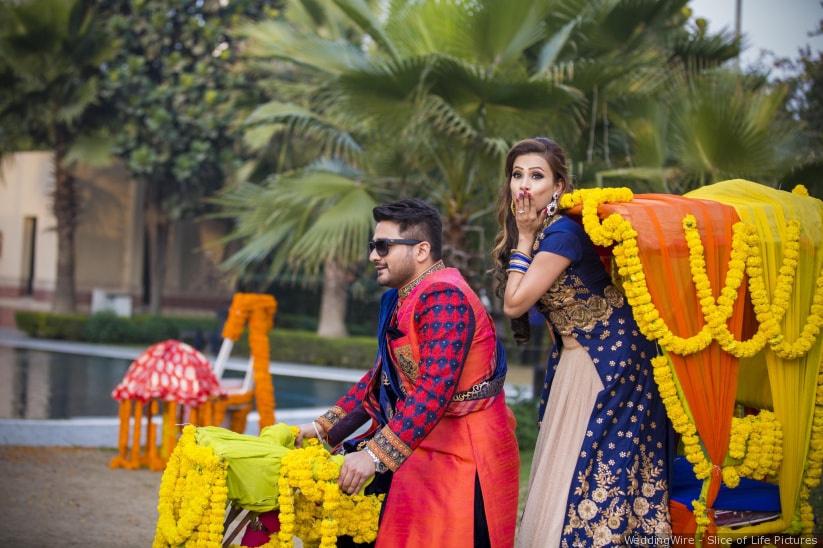 Though don't tire your back with unnecessary arching. To ensure you're at ease, make sure there is no discomfort when it comes to seating arrangements and your immediate environment.
3. Go Candid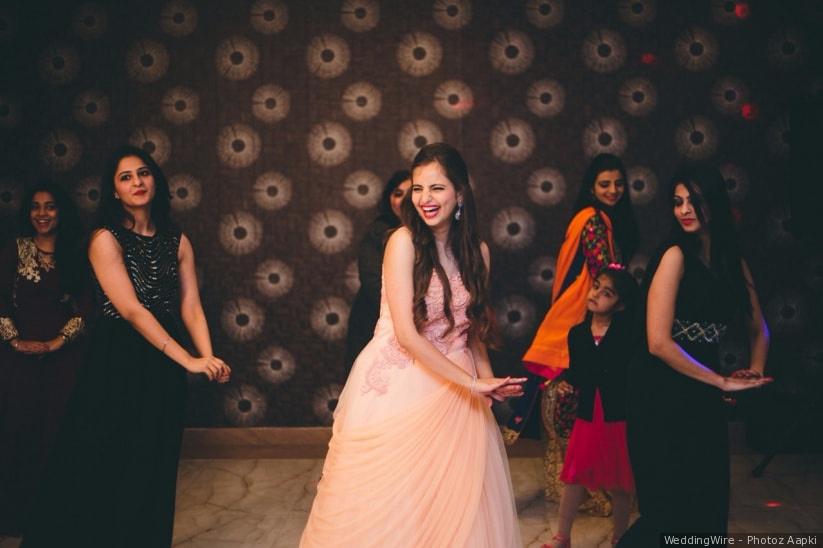 If you're camera-shy and feel uncomfortable at the sight of one, here's a useful tip, go for candid wedding photography. You can get splendid shots while talking to your better half or in your wedding gown as you step out of the car.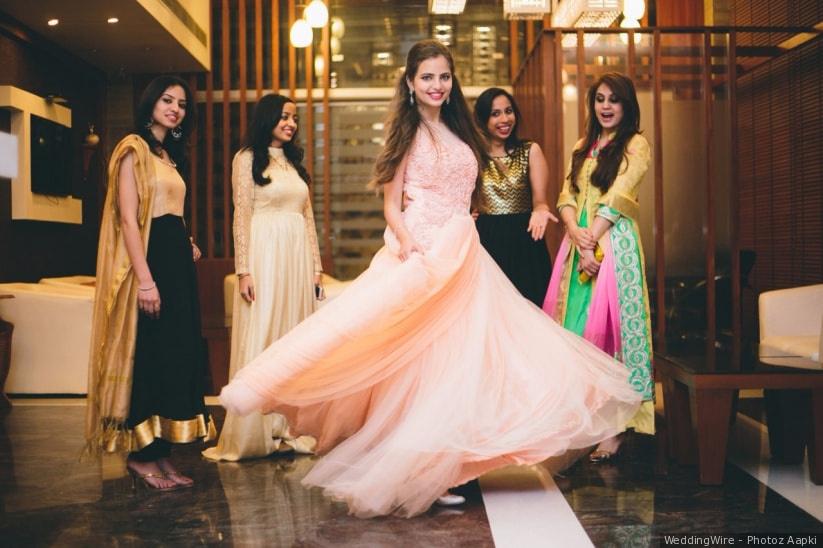 You'll be free to be in the moment and your photographer can capture moments as they happen.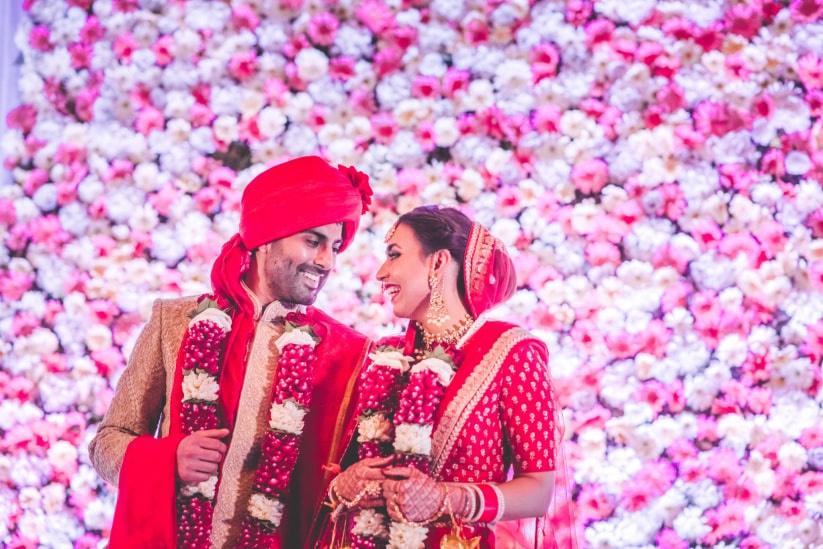 Candid photography will take the pressure off your mind that gives you room to have fun with your pictures and even adopt crazy wedding poses from the pre-wedding photo shoot.
4. Research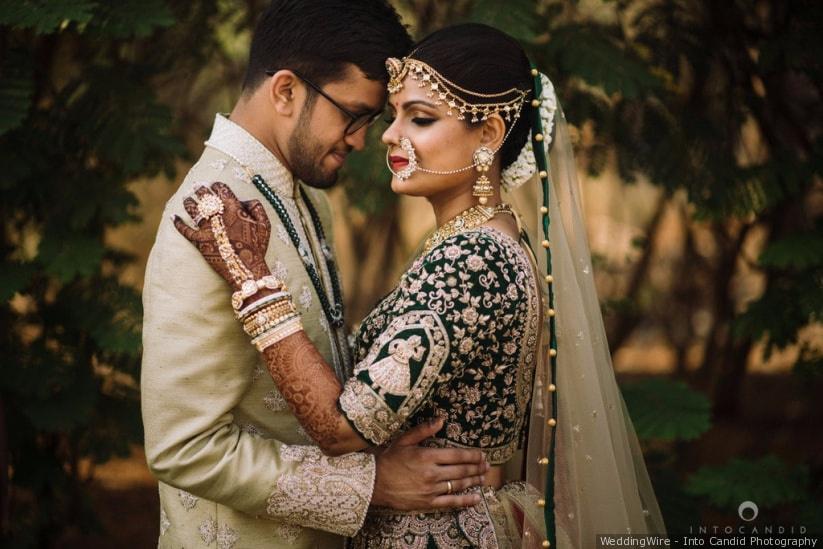 It'll really help if you go online to take a look at pictures of celebrities or models showcasing designer bridal lehengas and observe how they pose.
Pay attention to posture and details such as not directly facing the camera. Discuss the ones you like with your partner to make sure the wedding poses suit you both. Practice the ones you like together.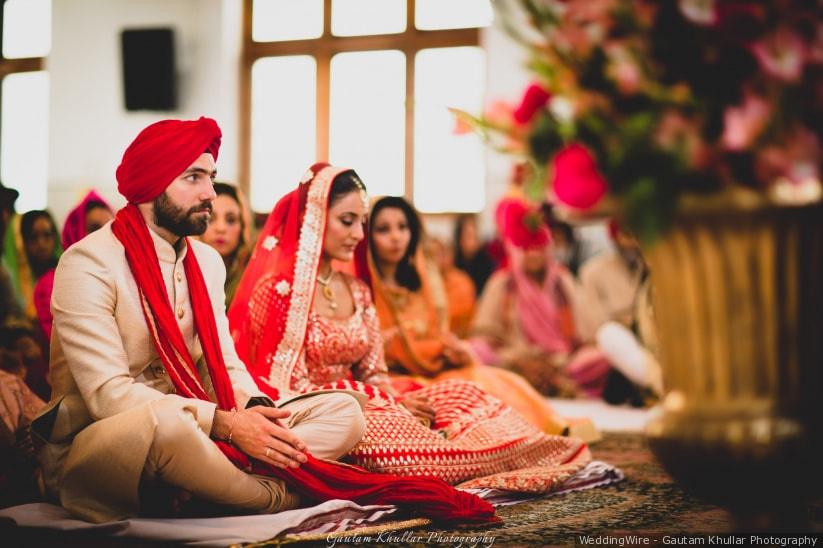 Doing a little bit of research will help you feel a lot more confident and prepared for your big day when it's finally time to get all those pictures clicked!
5. Be Confident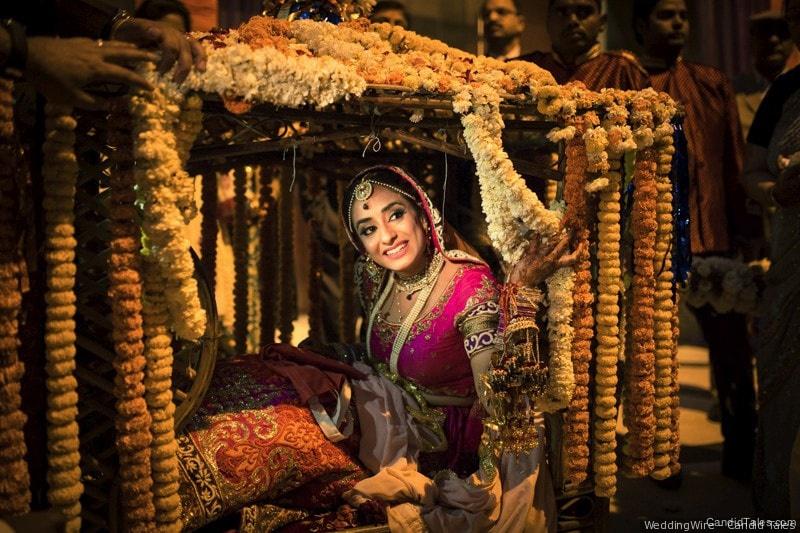 Make sure you feel good. This is a small thing but it'll go a long way in making you look happy in the photographs. The way you feel, and your attitude will make a world of difference, even if you go a little off on your wedding poses. If you're feeling unsure, ask your partner for help and reassurance.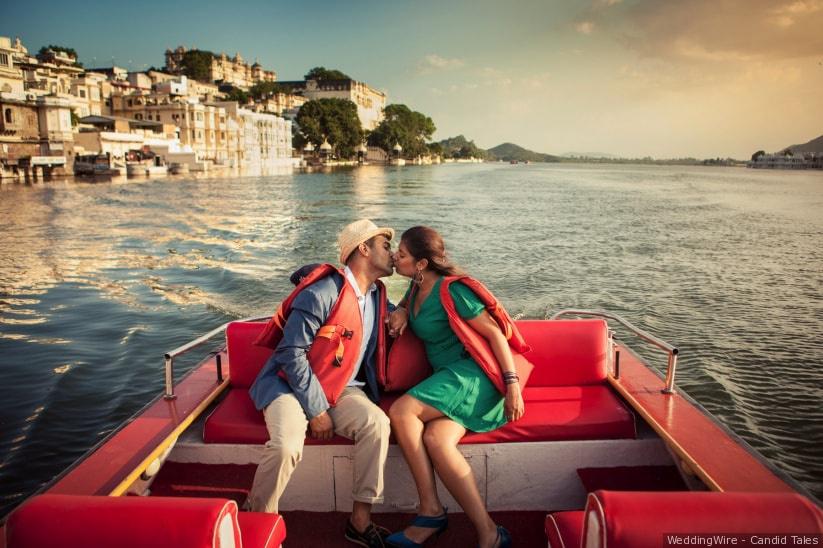 How beautiful you feel about yourself and your look will shine across your face in the photos. So, be confident and it will show up in the best way to light up your wedding pictures like nothing else.
6. Listen to Your Photographer

Image courtesy: Geeta Randery Imagery
Hopefully, you've hired a wedding photographer who you actually like and trust. Remember that they are the experts and you need to follow their instructions. Their goal is to help you look your best in pictures, and they'll make sure that they give useful advice to help you with the wedding poses. Since they have done this many times before, they are well aware of what works and also, have new ideas that can look superb on you. So, pose for them the way they tell you.
7. Set up your scene, in advance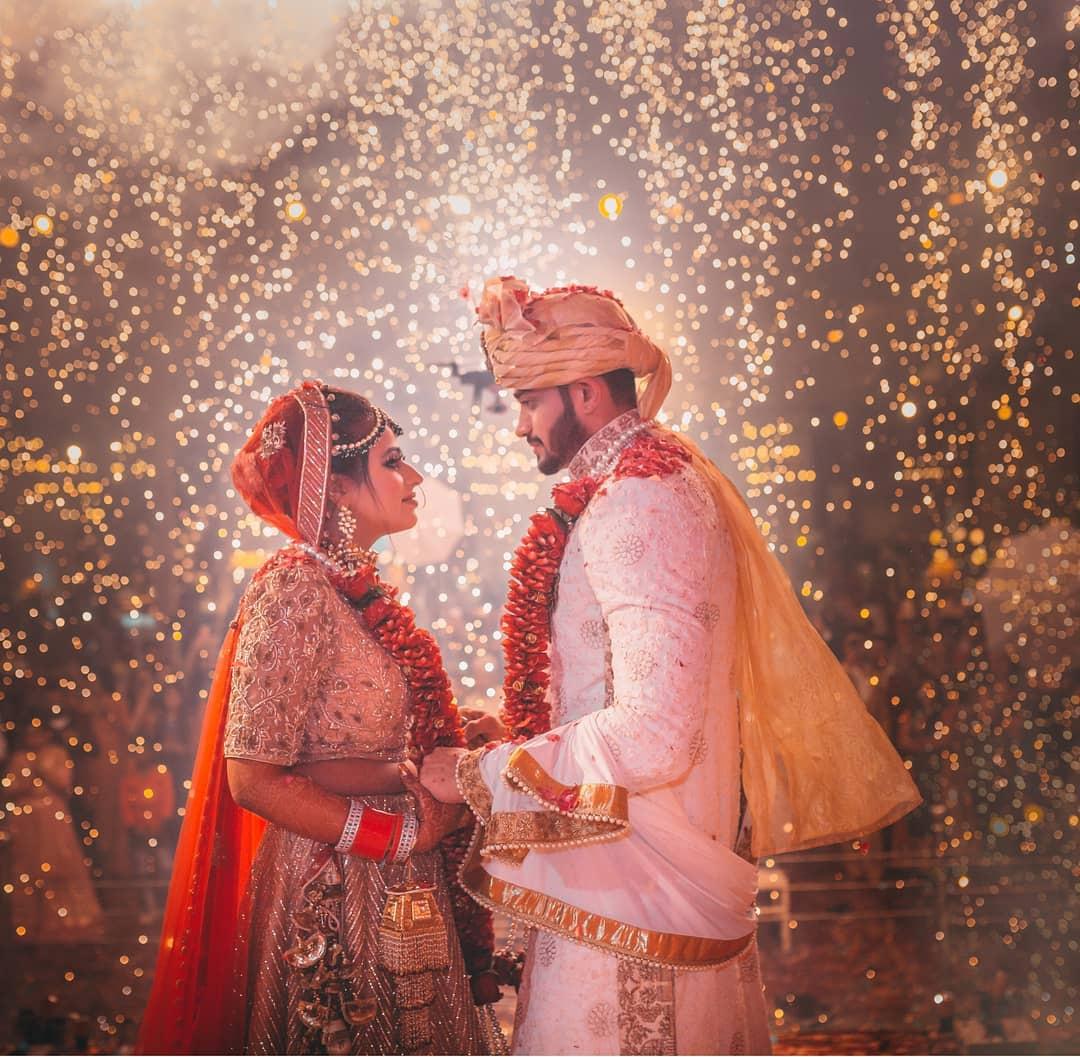 Image Courtesy: Babaji Video
Only professional models can wing it with wedding poses, in a scene straight from the stars. For everyone else, nailing wedding poses begins from mapping out what you wish to capture on the screen. You need to know your location, the kind of light and effects you're trying to achieve in the shot. You don't want an epic saga of love cut short by a stone on the path.
8. Plan and set your scene around the sun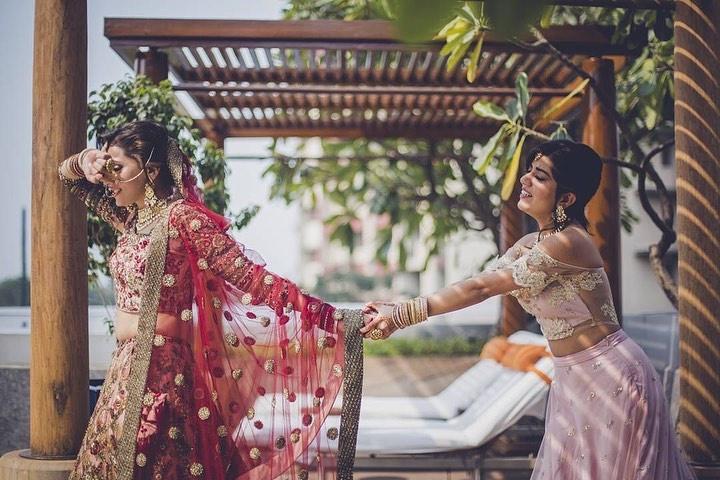 Next, check the lighting and see if it is appropriate for the effect you'd like to capture with your wedding poses. It could a natural light day shot (which you can only grab early morning or a room scene (which would work better during the night). This will also streamline your expenses for the shoot.
Pro Tips:
Brides, when going in for a makeup trial, ensure that you see the effect of an SPF-free foundation and concealer. We know that as a trend, most of these products come with SPF but in pictures with a camera flash, it can make you look like a ghost. That's why have a trial with SPF-free products.
Grooms, you may not be using a lot of beauty products in your daily life, but on one of the biggest day of your lives, you should take special care for grooming. Simply washing your face won't be enough. To appear even-toned in the wedding pictures, a light layer of compact should do the trick.
The colours that you wear will reflect on your skin. For someone with a cool undertone, a blue lehenga will bring out an unmatched grace but the very same lehenga would not suit a person with a warm undertone. Therefore, choose the colours of your outfits, as well as, your wedding theme accordingly.
Any discomfort you might have with your ensemble is sure to show up on your face. Right from a comfortable hairstyle to pinning everything right, soft base fabric to supportive bridal shoes, everything has to be on-point for your smile to be just perfect in all your wedding pictures.
We know you're worried about keeping your makeup intact but that is no reason to dehydrate yourself. Keep taking juices, supplements and water to keep your energy levels.
Save your inspirations so that you don't end up googling wedding poses in the middle of your photoshoot. Get creative with the wedding décor, use them as props and come up with unique ideas that you can even ask your wedding videographer to include your wedding movie. With that being said, spare some time from posing to have fun dancing to the tunes of wedding songs.
Share your story with us through pictures and comments and let us know what you liked most about these suggestions.