15 Chic Reception Hairstyle Trends for Brides Who're Bored of Buns
Your wedding reception is finally the time to let your hair down! If you're not a fan of typical, predictable buns, here are some stellar reception hairstyle ideas to delight your senses!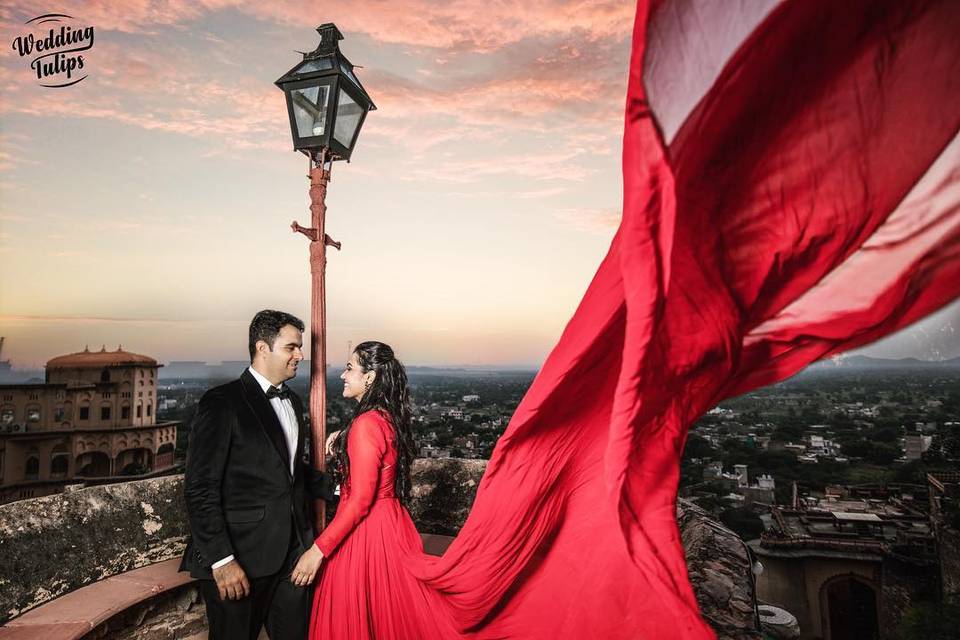 All wedding functions come with their own set of excitement and anxiety; excitement to begin a new life, anxiety to do it in style. When it comes to reception, your hairstyle holds almost as much importance as your dress. Every bride has her own liking and buns are not everyone's pick. If you also belong to this section and bored of spotting jaded buns on almost every bride, do your part and pick an unconventional bridal reception hairstyle. From sleek low ponytails to intricate braids, we're showcasing reception hairstyle trends that are not buns but will make you look like a goddess!
1. Braids and curls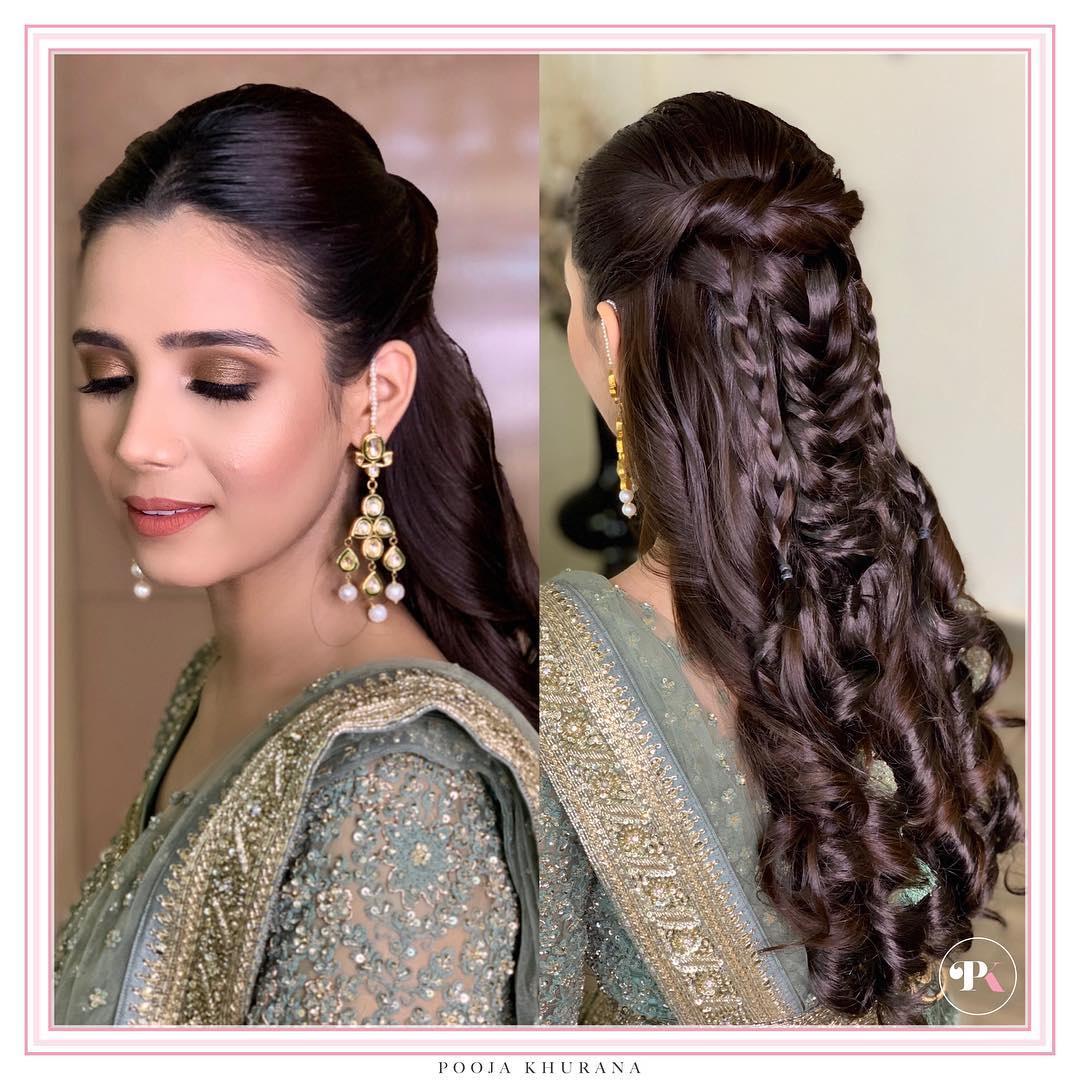 Looking for a low-maintenance but super chic reception hairstyle? Here is a great idea for you. Combine curls and braids to keep your hair away from your face. To draw attention to your *newly-married* face, wear a pair of statement earrings with this hairstyle.
2. Curl-ception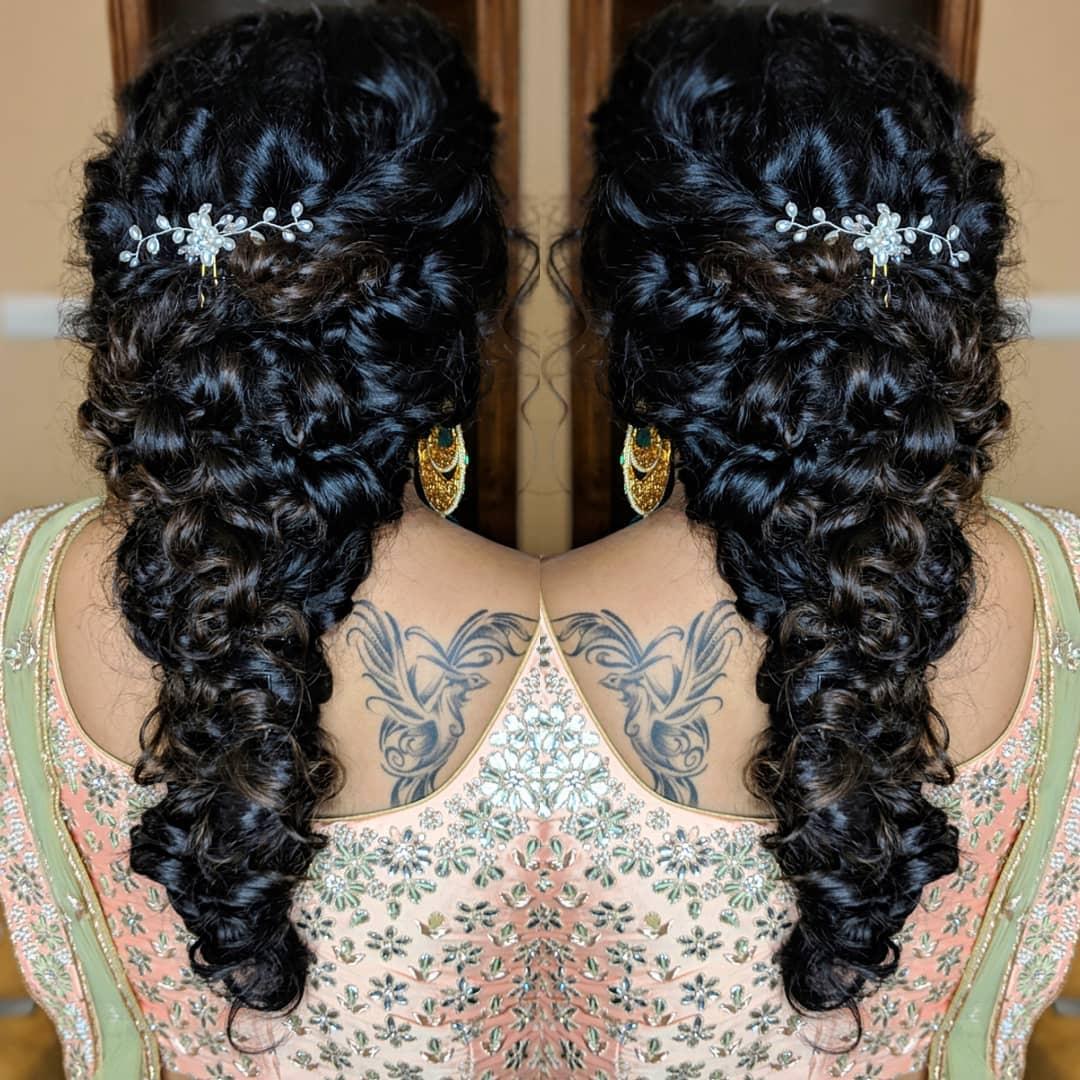 Options, especially trendy ones, might seem limited when you have curly hair but this hairstyle will leave your surprised. Divas that are blessed with curly locks can opt for this braid that enhances the lusciousness of your hair. Playful, sexy and yet very sophisticated, this hairstyle can be enhanced with a chic hair accessory.
3. Bubble ponytail with a twist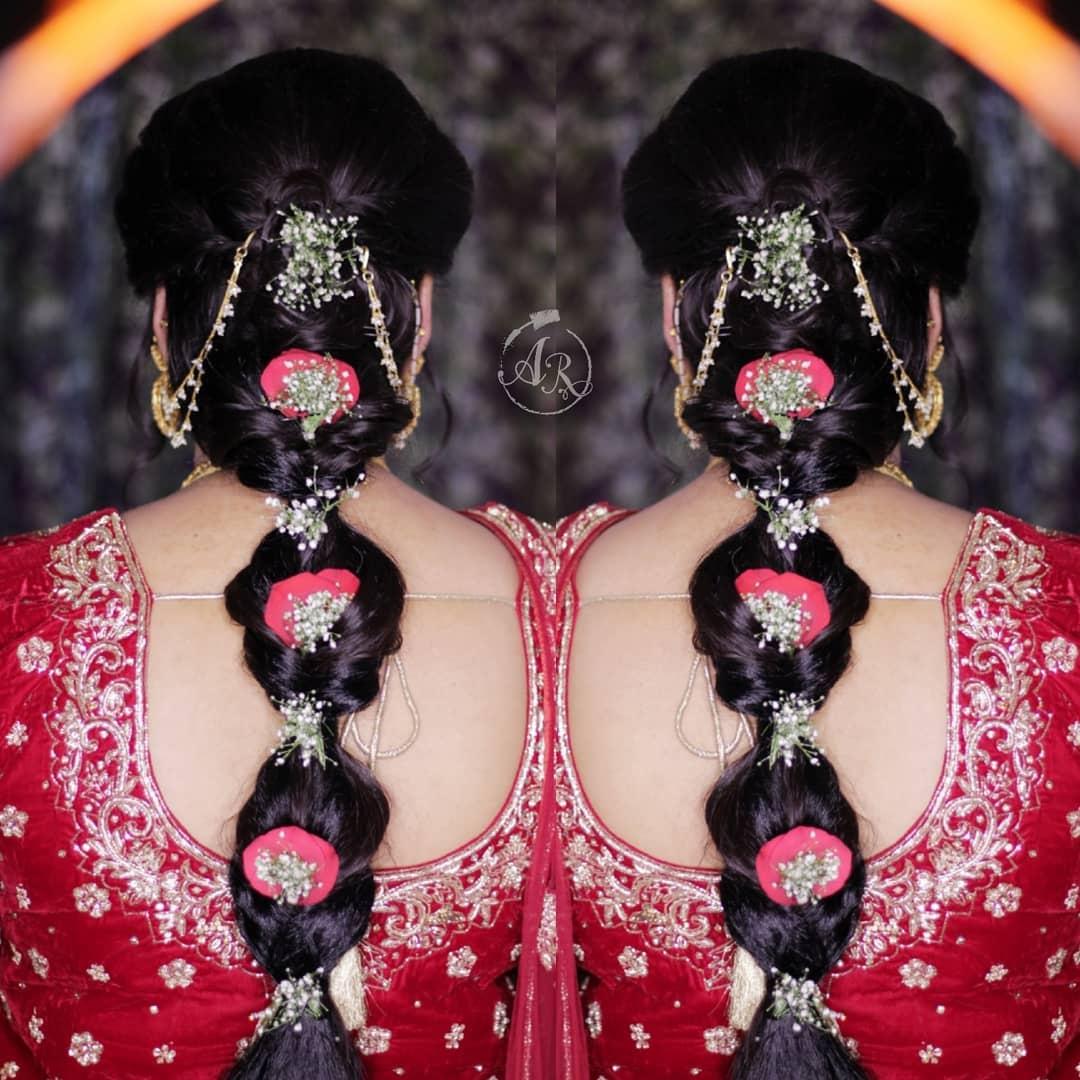 Bubble ponytails look cute and are trending the charts too. This version of bubble ponytail includes use of pretty flowers and elegant jewellery. Suitable for almost every ethnic and Indo-Western outfit, this ponytail style reception hairstyle includes twisting and layering.
4. Open hair with a waterfall braid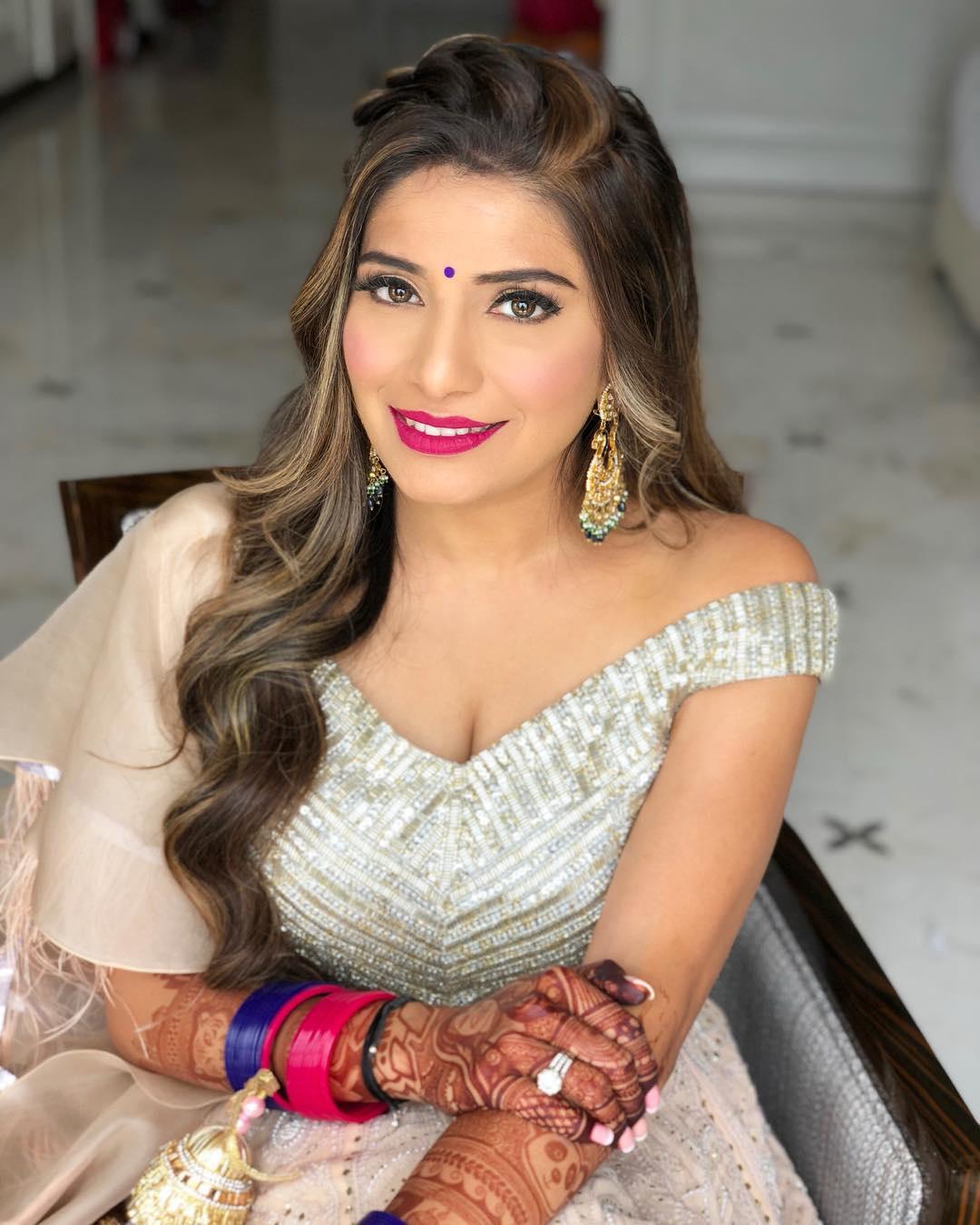 Keeping hair tied up in a bun can be too stressful for some girls. In such cases, open hairstyles can bring a respite. A crown braid at top, a waterfall braid towards the back and loose curls, mixed in the right dose is the key to this wonderful reception hairstyle.
5. Epitome of simplicity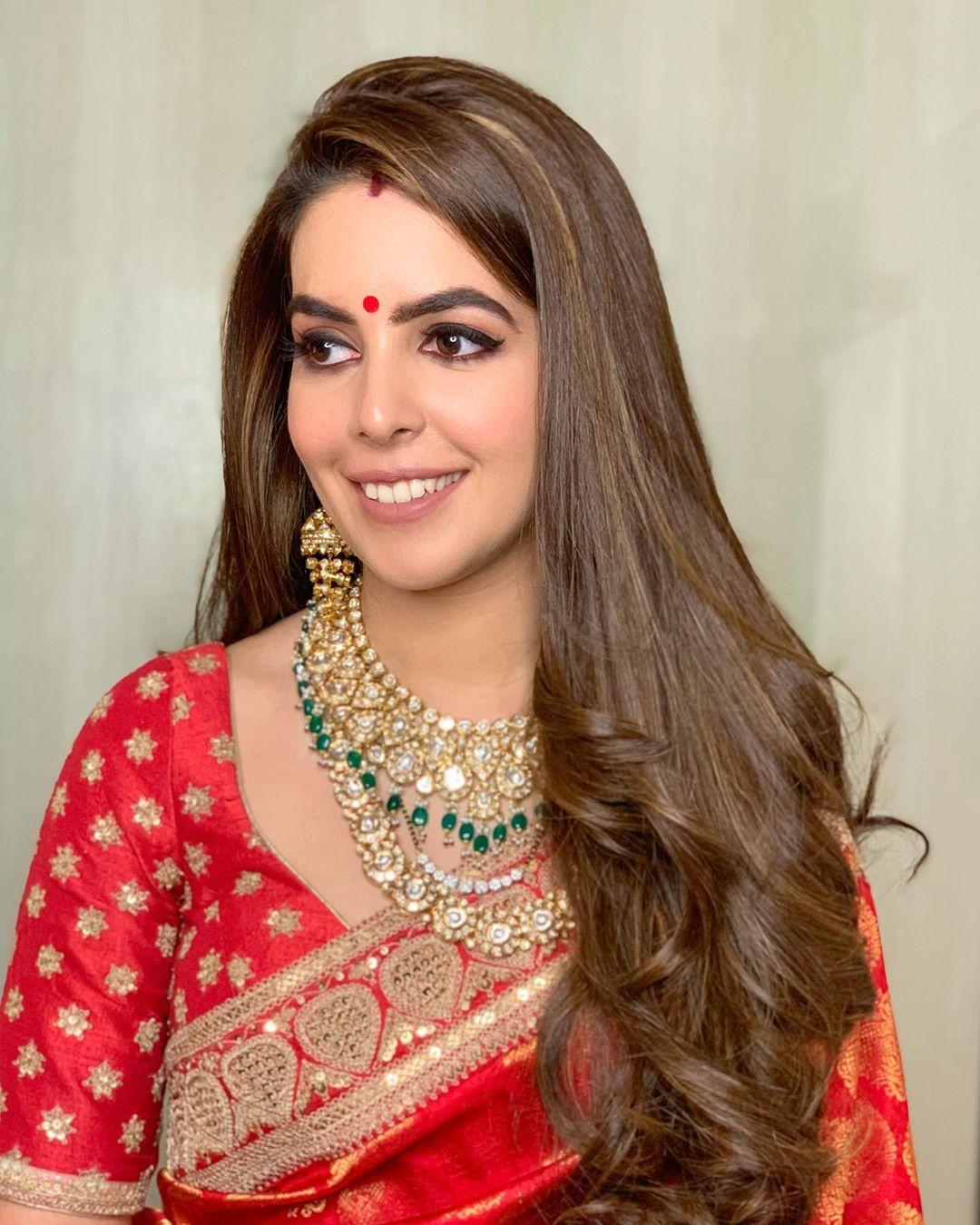 Some brides have the confidence and aura to pull off simple looks with elan. If you too envision yourself as a simple but classy bahu, all you need is a fresh blowout, or maybe some extensions to add extra volume. Don't forget to apply sindoor as your bridal accessory.
6. Voluminous curls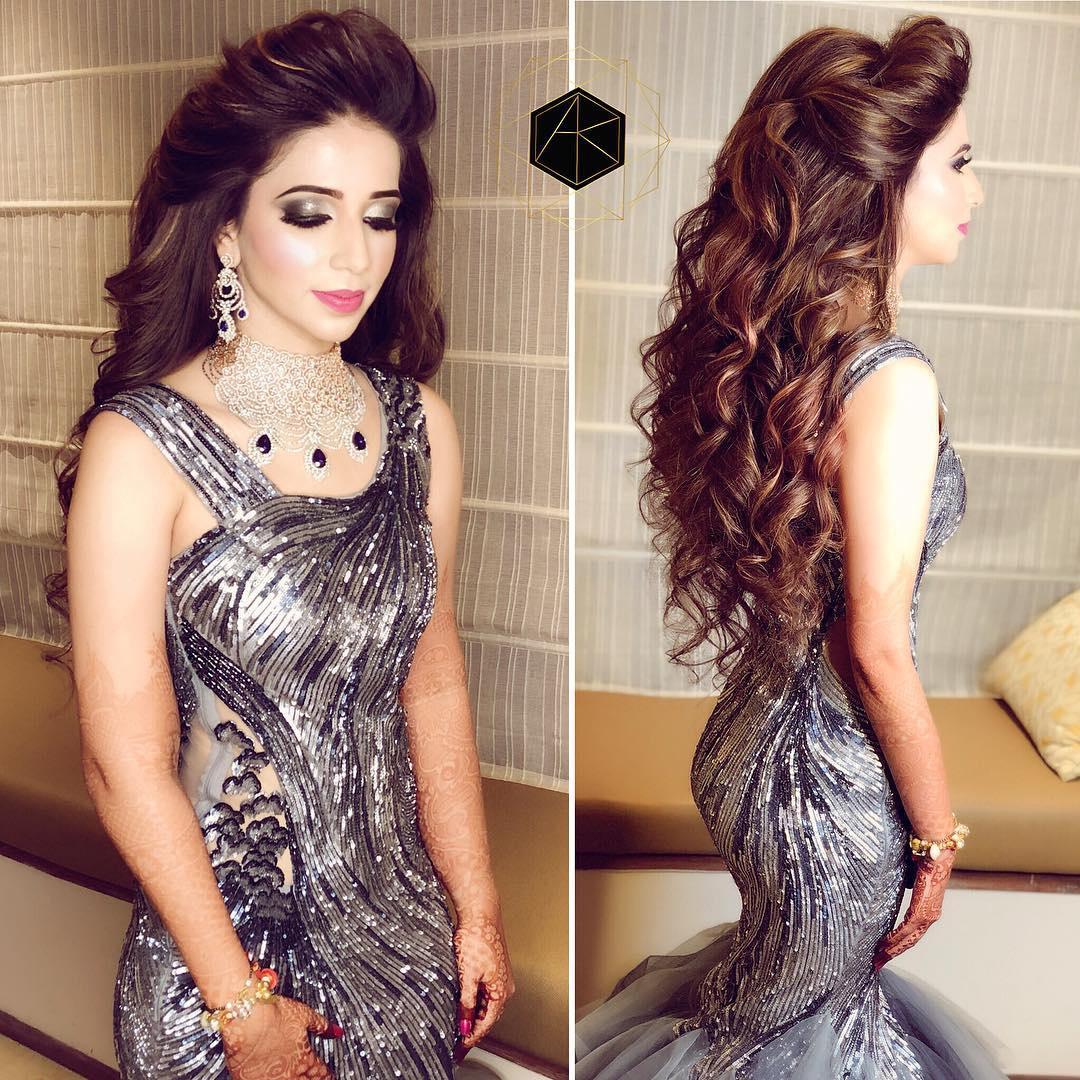 Curls are never going out of fashion and the voluminous, the better! For a trendy reception look, we suggest voluminous curls with lots of extensions. This kind of hairstyle looks best if your hair is coloured with techniques such as balayage.
7. Hollywood waves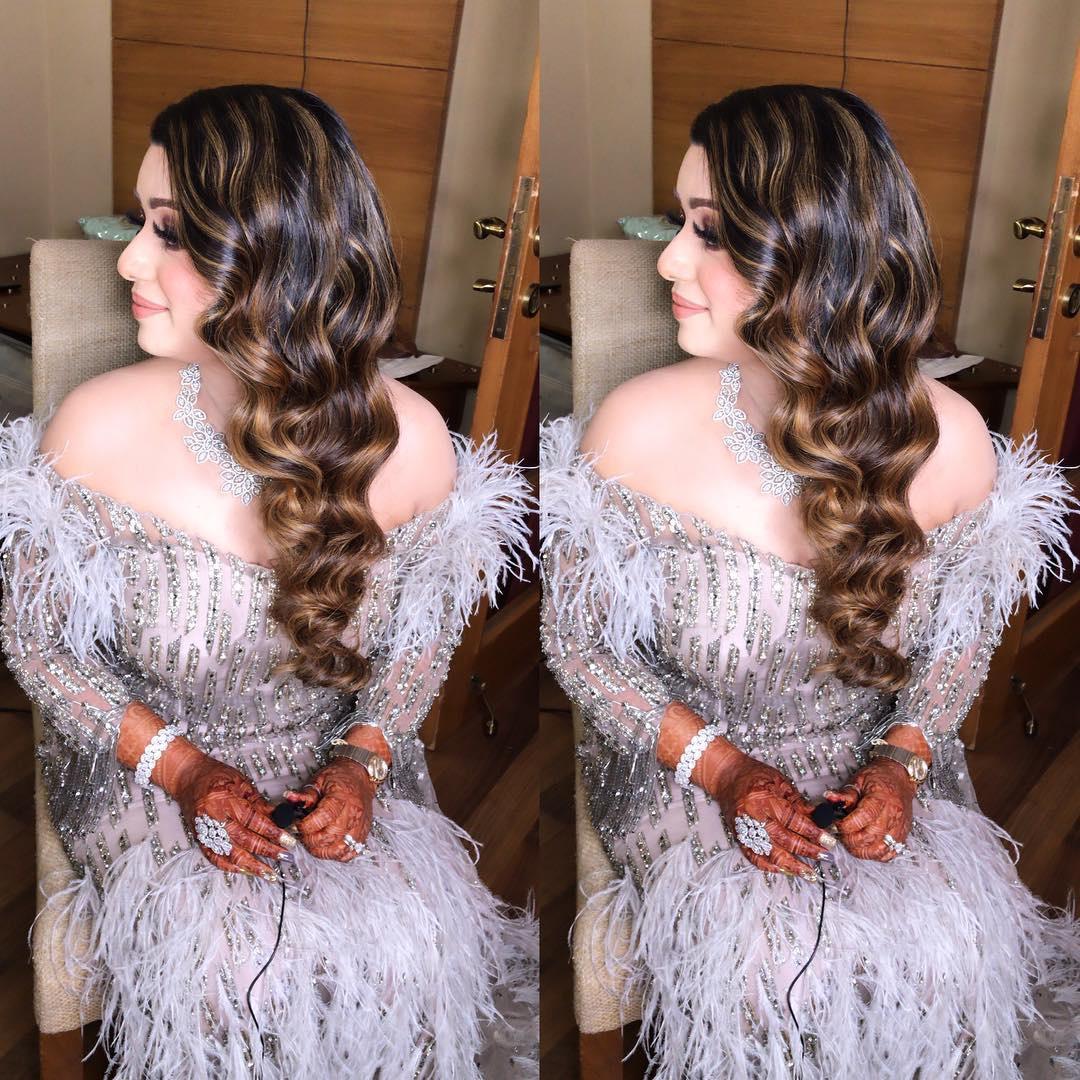 There is a reason why Hollywood waves are considered a 'classic'! Keep one side of your hair in front of your shoulders, and one behind to help frame your face. You cannot go wrong with this hairstyle if you're wearing an off-shoulder blouse or dress.
8. Silky straight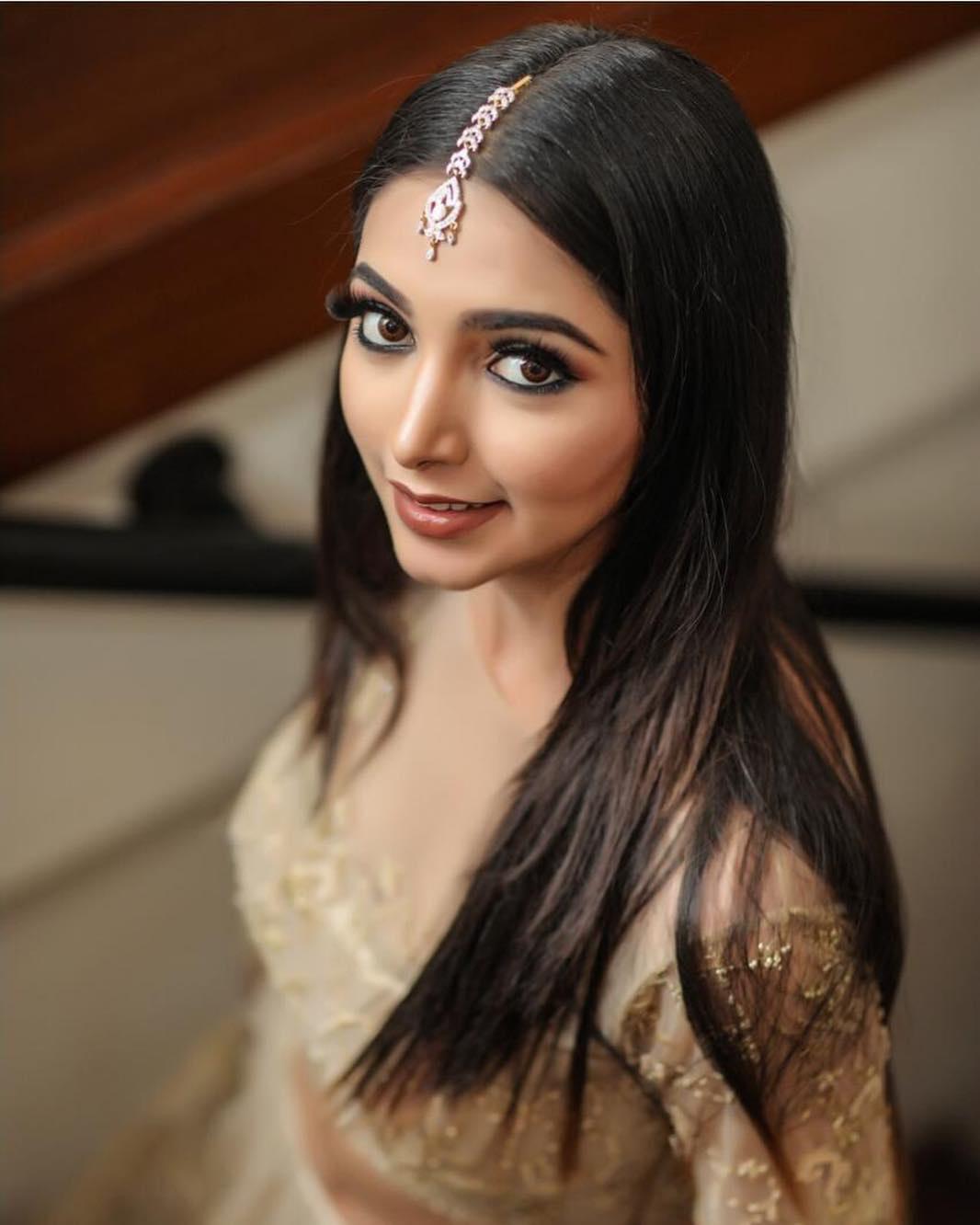 Time and again, this style is seen on red carpet events. No wonder, it's dictating the bridal beauty trends too. Super sleek, silky and straight hair is low maintenance, look gorgeous and are classy. Perfect for minimalist brides!
9. Side swept with accessories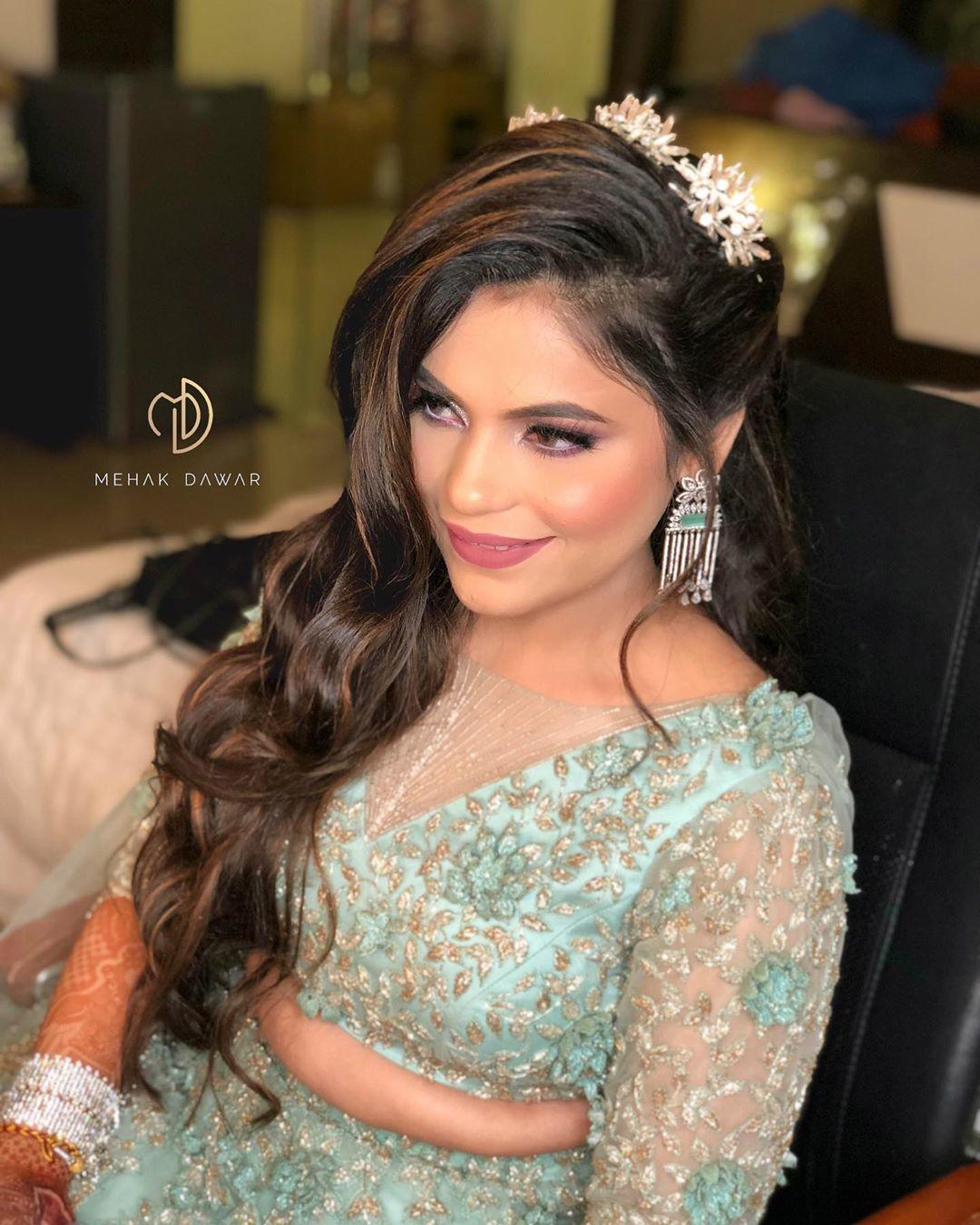 Sweeping your hair to one side is the easiest way to increase your oomph factor. Tight curls, big curls or loose curls, whichever style you pick, just sweep your hair to one side and add a charming accessory at back.
10. Polished big curls with flowers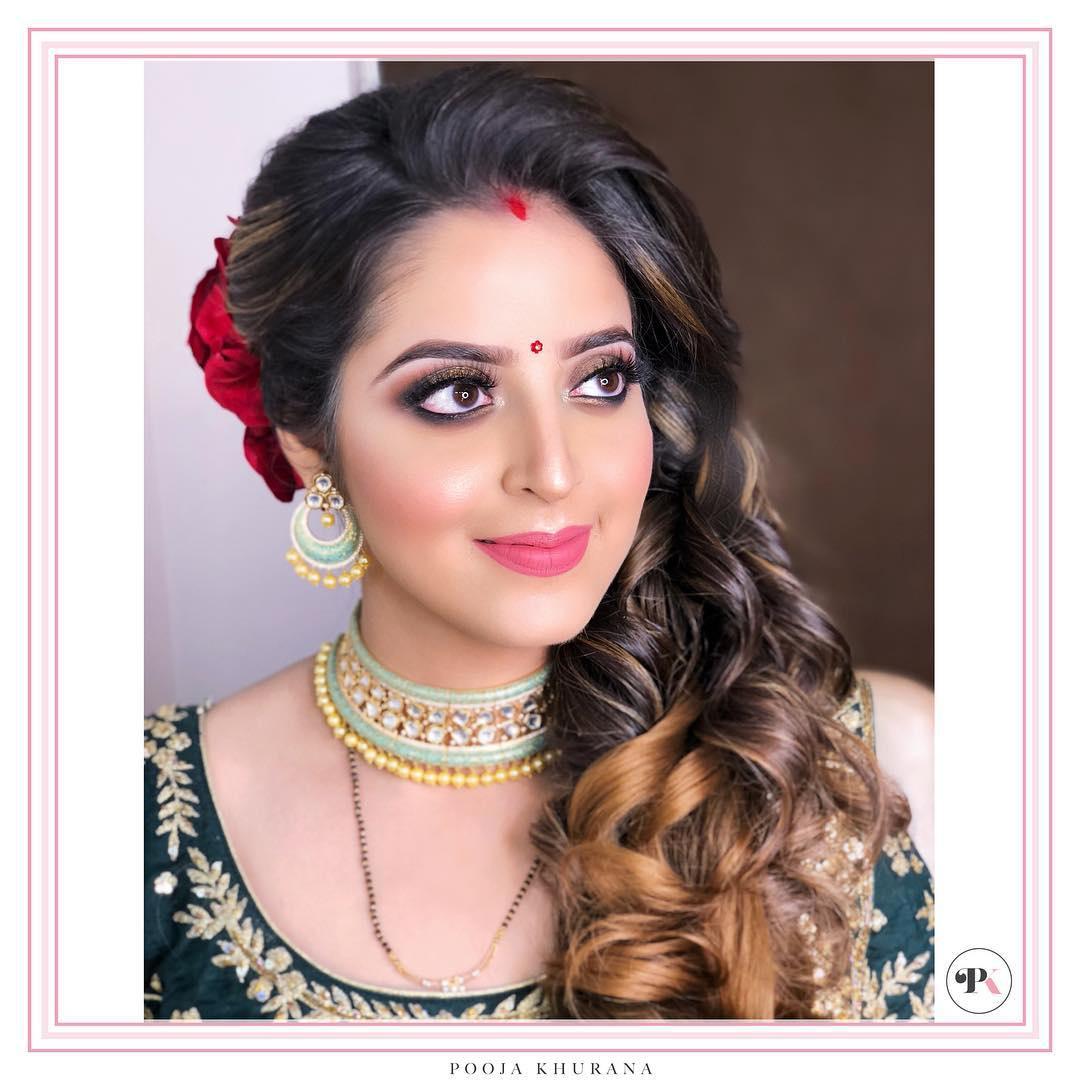 Classic Indian looks deserve to be decorated with flowers, especially with a rose. Instead of a bun, go for polished curls and decorate your hair with a rose. Again, don't miss sindoor for that Indian bridal charm.
11. Voluminous side braid with pearls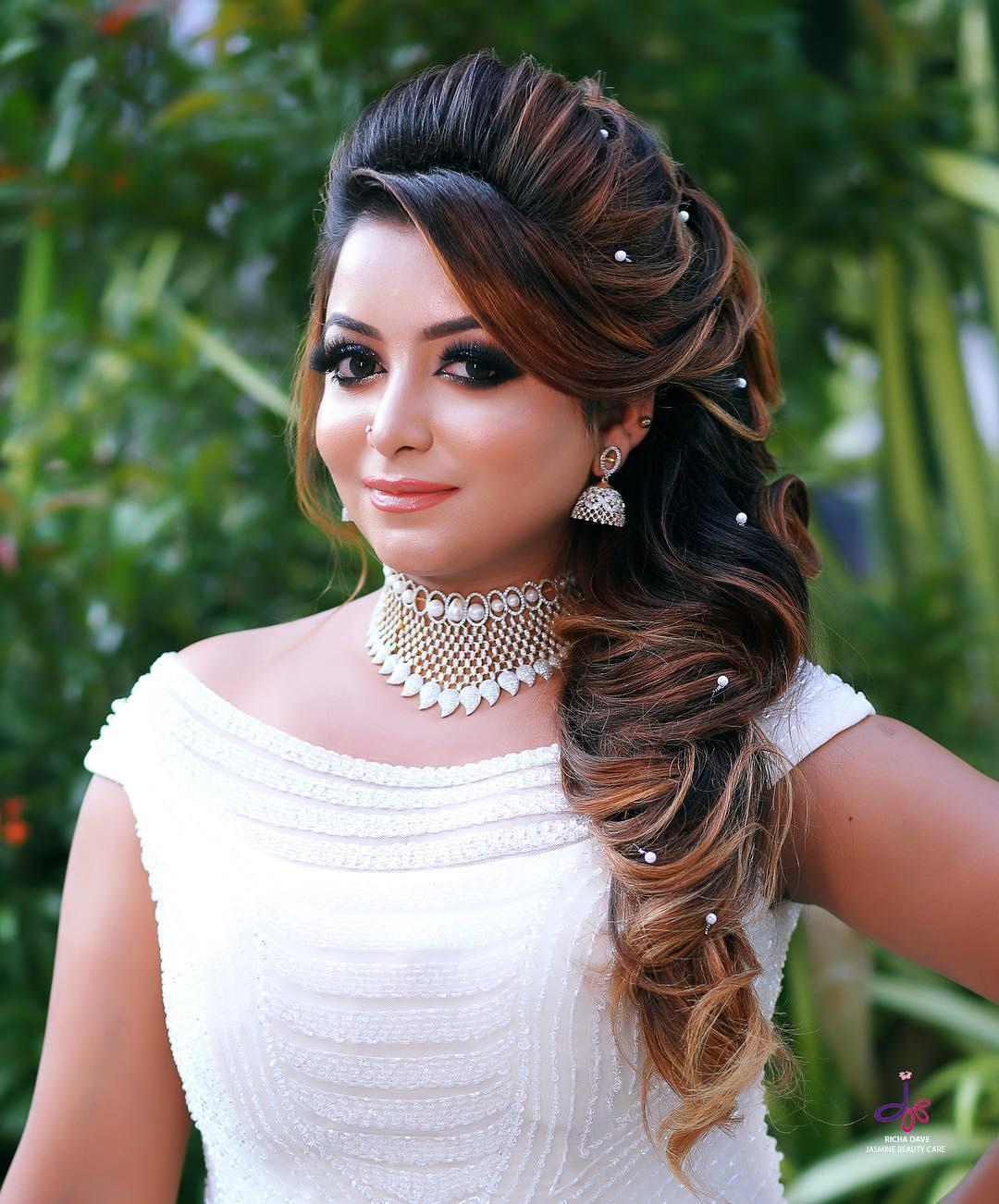 Dramatic, voluminous braid is suitable to show off many styles of stylish necklines. Just use dainty accessories, such as pearls, to balance out the whole look.
12. Waves with tiny flowers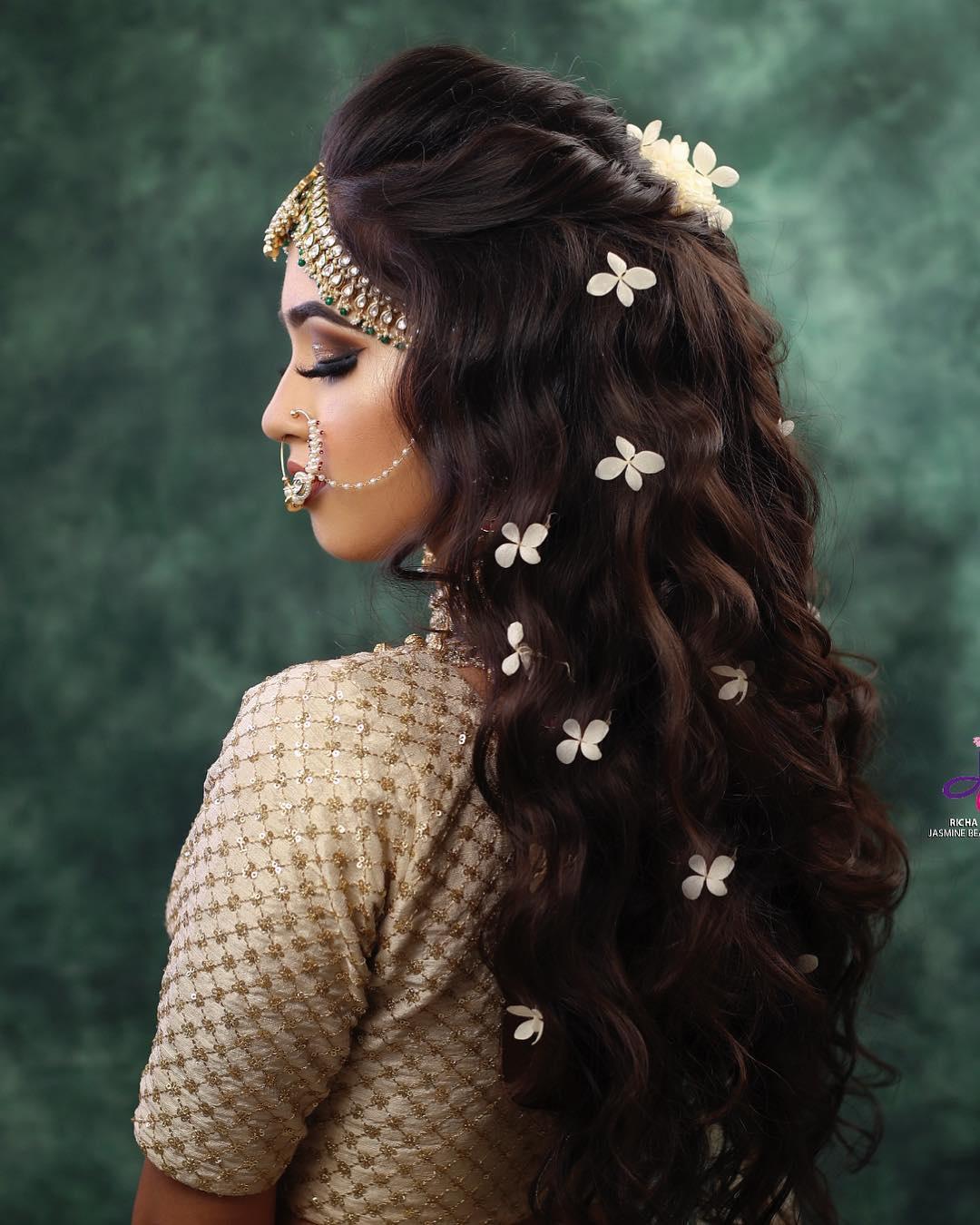 Tie your hair in a half up – half down technique and enhance their beauty by adding fresh tiny flowers as you please. Truly, one of the best picks for an effortless ethnic look.
13. Puff and ponytail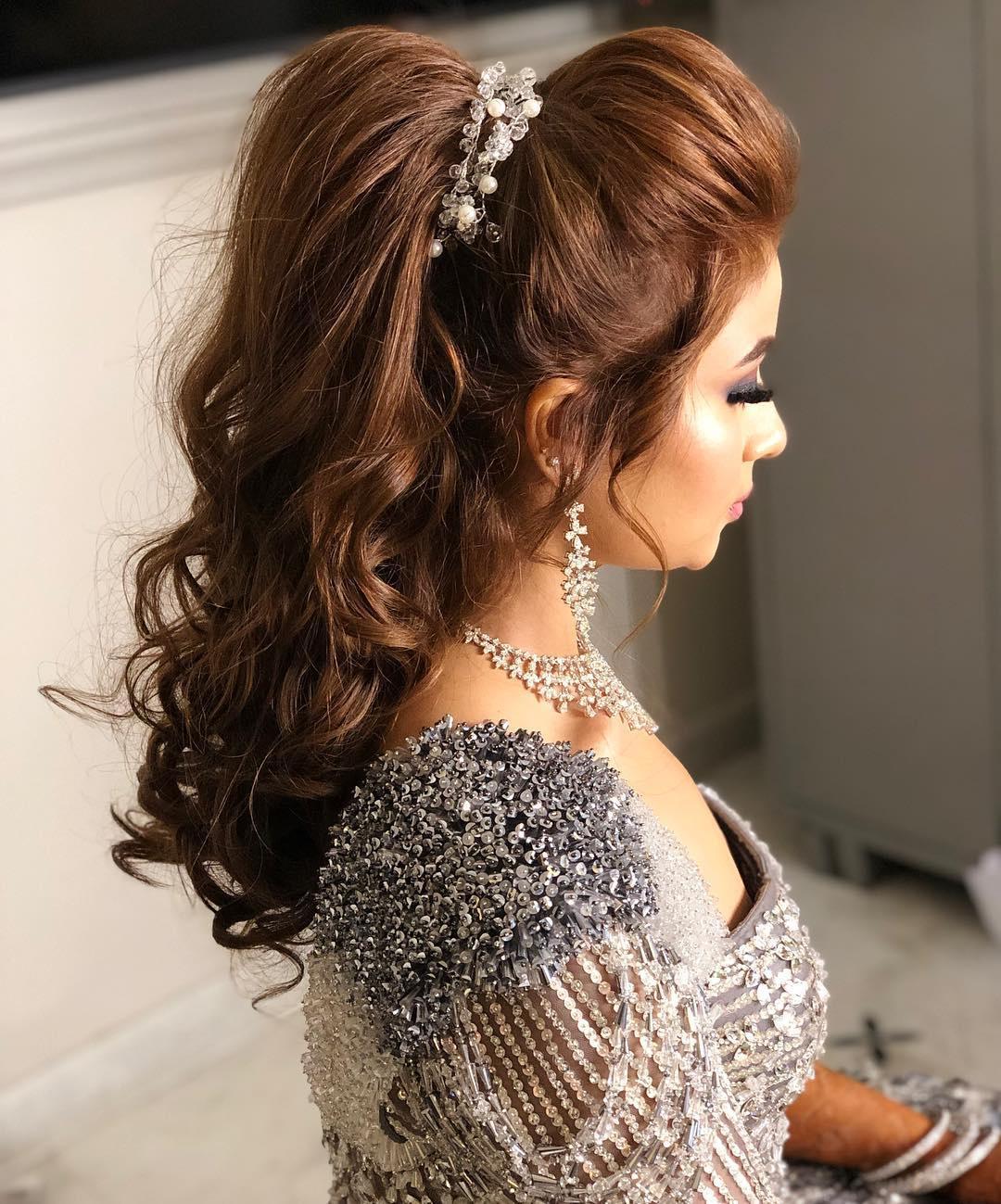 Dance the night away without worrying about your hairstyle! Go for the modern version of a puff and ponytail. Keeping it dramatic and voluminous will fetch you all the compliments.
14. Rose braid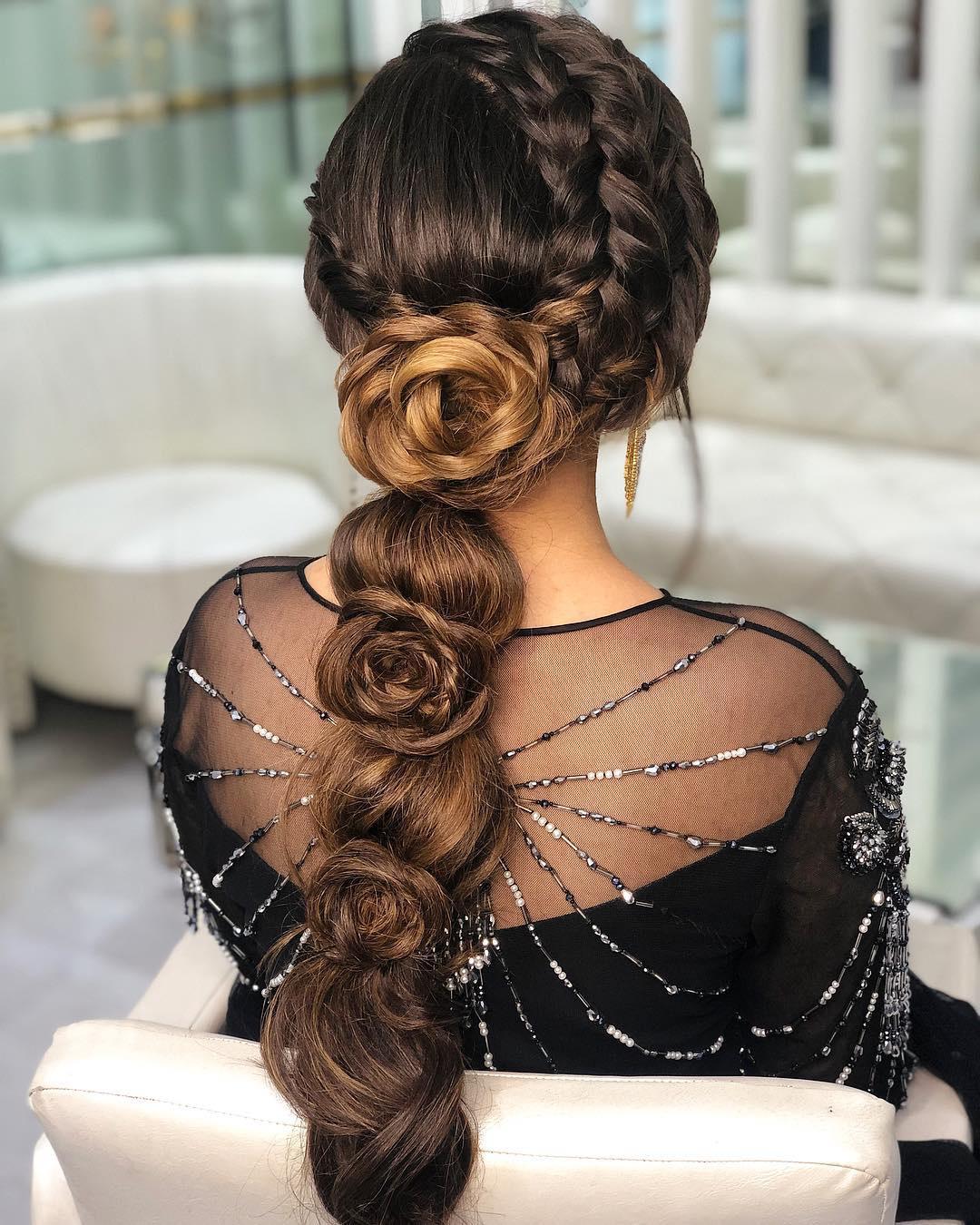 This is how you stay laidback and look elegant! Create floral motifs with your own hair, and without any accessory. Yet another ultra-chic take on the bubble ponytail, this style uses your own hair to create roses.
15. Half up – half down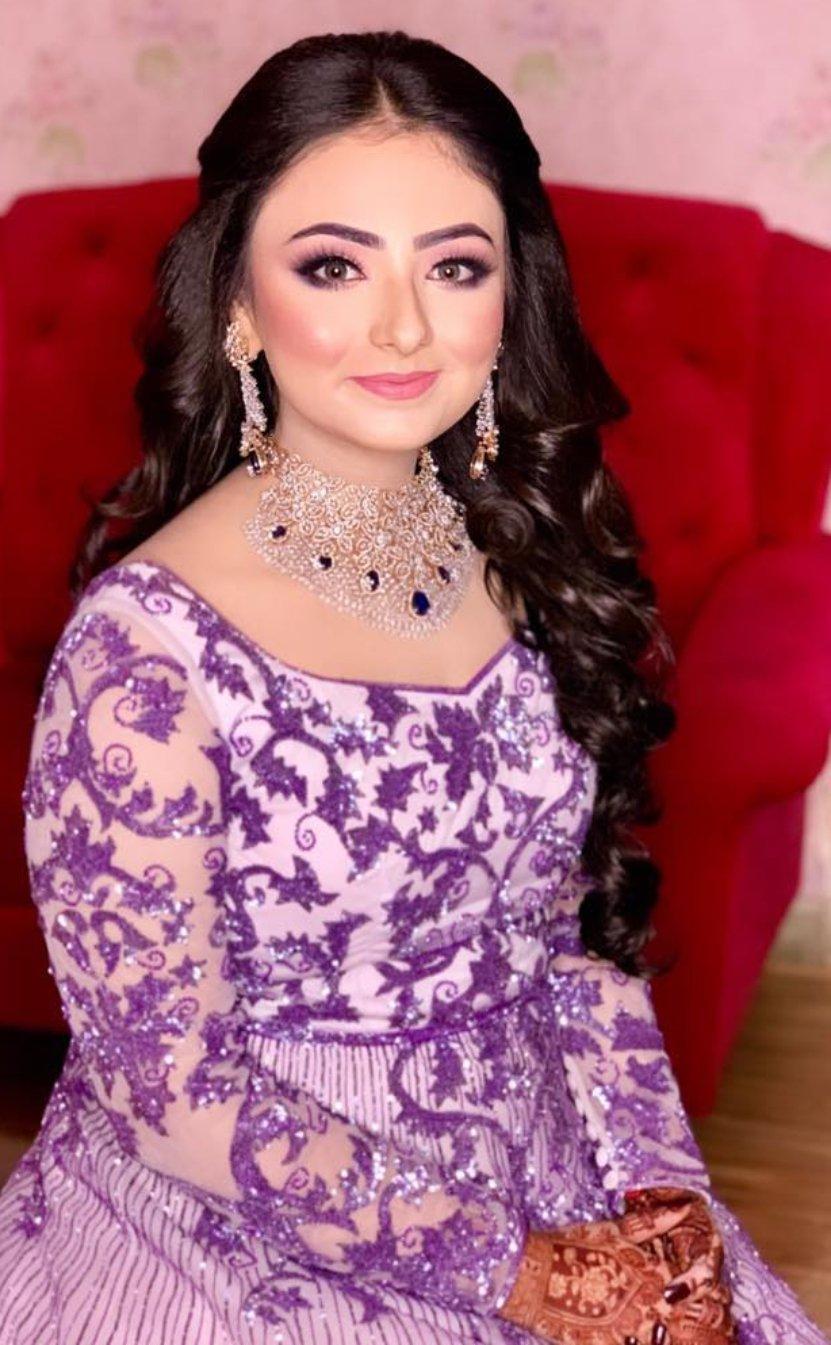 Are you a fan of classic (but not boring) hairdos? Pick this half up – half down hairstyle. You can either go for glam curls or keep your hair sleek and straight. For extra volume, you may go for crimping or extensions.
You've found the man, the venue, and the reception dress and now you have picked the best possible reception hairstyle too. These are the reception hairstyles you need to know to increase your wedding hairstyle status quo. Handpicked for all the millennial and offbeat brides, these reception styles are versatile enough to complement all face shapes, outfits, hair lengths, hair textures etc.
Which of these hairstyles stole your heart? Don't forget to share with us in the comments!