Rewind to the times of Princess Diana and her unfading sparkle during Royal Canada tour. Fast forward to Lady Gaga's Cinderella appearance at the recent Golden Globe Awards. Imagine stepping into a party and making all heads turn just like your favourite celebrities do. Or how about posting 'About Last Night' on your social handle and have hearts pouring in? Sounds right? Right! So, do not fret about your next festive look. All you need is the best party wear makeup products and you are all set to steal the centre stage. Outlined below are the envy-worthy party wear makeup ideas that are sure to become the top verses of your makeup bible.
1. The Hair-o-Mojo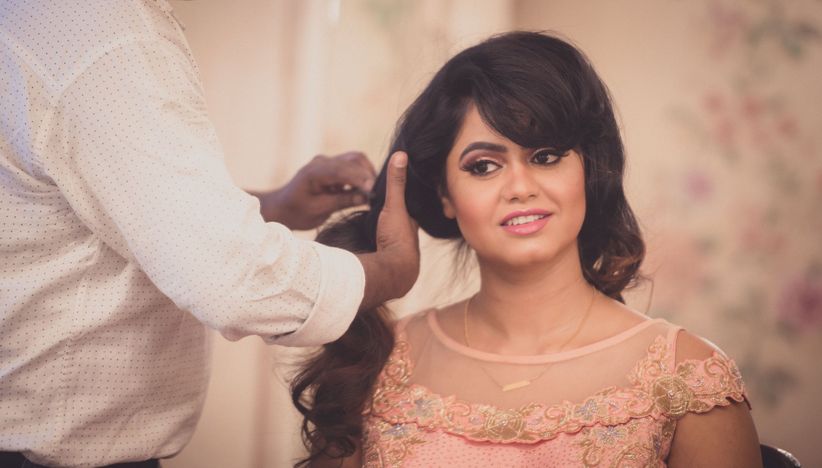 Give a glam touch to the ol' topknot with half-up bun which happens to be a staple hairdo of celebrities from Katrina Kaif to Ariana Grande. The good news is it works well for all hair lengths. Spray some Toni & Guy dry shampoo before tying your bun to add volume and texture to your style. Alternatively, you can go for the evergreen side swept loose curls that will match all your dresses like a dream and add a regal appeal to your look. Help your curls last with Shea Moisture Coconut & Hibiscus Frizz-Free Curl Mousse. You may also take your sass a notch higher with sleek straight hair finished off with L'Oreal Paris Elnett Satin Extra Strong Hold Hairspray and rock the clean, chic look like the next-gen fashionistas. It is easy to carry and goes well for all types of party wear makeup.
2. Eye Makeup Mantra
Guess what's the #1 party wear makeup trend? It's the smouldering, smokey eyes look that has a timeless appeal. Yves Saint Laurent 5 Color Couture Palette in 13 Nude Contouring offers an all-day stay and a lot of depth. If you are bold enough to add a pop of colour, you can also go for blue or brown smokey eyes using Maybelline New York The City Mini Palette in Concrete Runway. You can also opt for subtle yet fancy eyeshadows that suit your outfits. Pair them with broad-winged Maybelline New York Line Express Eyeliner Ebony Black. Do not forget to volumise your lashes with oodles of Marc Jacobs Beauty Velvet Noir Mascara.
3. Brush It Up, Blush It Up
The shade of blush depends on how bold the eye makeup is. If your party wear makeup is intense on the eyes and lips, highlight your cheekbones with a lighter shade of blush or vice versa. Complete your look with the sweep of highlighter on the higher plane of your cheeks. Get the mirror-like finish with Clinique Up-Lighting Liquid Illuminator, the perfect partywear makeup for cheeks. To avoid looking like a disco ball, use matte bronzers for the day and the shimmer bronzers for the evening.
4. Marilyn Monroe Melodrama
Umm... hi, lipstick addict here! And we claim that no party wear makeup is complete without a tinge of colour on lips. Peach, coral, pink, orange…every shade is the right shade. The classic rule is to go for muted hues if you plan to play down the rest of the face. But dare we say anything more classic than red lipstick! Create the timeless Marilyn Monroe magic with SUGAR Matte As Hell Crayon Lipstick 01 Scarlett O Hara (Red) for an oh-so-stunning party look. Another popular partywear makeup trend is the glossy lips and thick lashes combo. Win-Win!
5. Don't Forget Your Fragrance
Perfume is something which is invisible and yet an unforgettable party wear makeup accessory. Make sure you leave an intoxicating trail with a bewitching perfume. If you feel stuck with the choices, go for vanilla, soft florals or musk. Knitowski refers to them as 'comfort notes' as it is important to feel comfortable in one's perfume preference. These scents are gravitating and overpoweringly sweet. However, if you have a dangerously seductive preference, we recommend Calvin Klein Deep Euphoria for a fearless, badass spritz.
6. The Finishing Stroke Of Nailpaint
Nail paints are the period at the end of the sentence. Complete your look with the right nail paint. Achieve the glam nail look with gemstone manicure which is the hottest party wear makeup trend right now. It is achieved by polishing your nails with your favourite colour followed by glitter along your nail bed. Alternatively, you can go for the classic block nail look in any colour you prefer. For instance, choose Maybelline New York Color Show Party Girl Nail Paint, Bling It or the striking Mac Nail Polish IMPASSIONED. These DIY nail art designs are hackable, glamorous and easy.
So, whether you are a newbie or a pro, make sure you slay by achieving the perfect look with these ultimate party wear makeup ideas. Are you ready?