Complete Tutorial to Create the Perfect Pakistani Makeup for a Timeless Bridal Look
If you are in awe of Pakistani makeup trend that keeps a perfect blend of shimmer and elegance, here's your tutorial to create the look for yourself on your D-Day!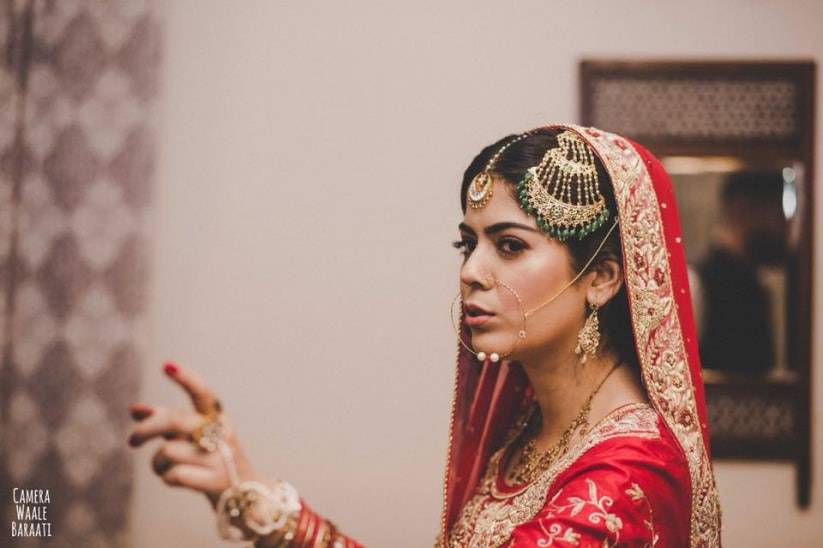 Bold kajal, pretty Jhumkas, and so much elan!
You guessed it right. We are talking about Pakistani brides here. Indeed, nothing spells grace better than a gorgeously decked up Pakistani bride. Every bride dreams of a luxe wedding, and it all begins with looking beautiful on the D-Day. If you are discovering what your wedding day makeup should look like and Pakistani makeup has won your heart with its dark and shimmery shades, subtlety and radiance, you know you have found your classic look.
Just like any other craft, every type of makeup requires certain research, patience, and practice. And when it comes to Pakistani makeup, there are only two adjectives to describe it- soft and royal. Know that you can ace the look with the right tips and guide. Below mentioned is the complete Pakistani look tutorial for brides starting right from the Pakistani makeup to the trousseau. Excited?
1. Enigmatic Glow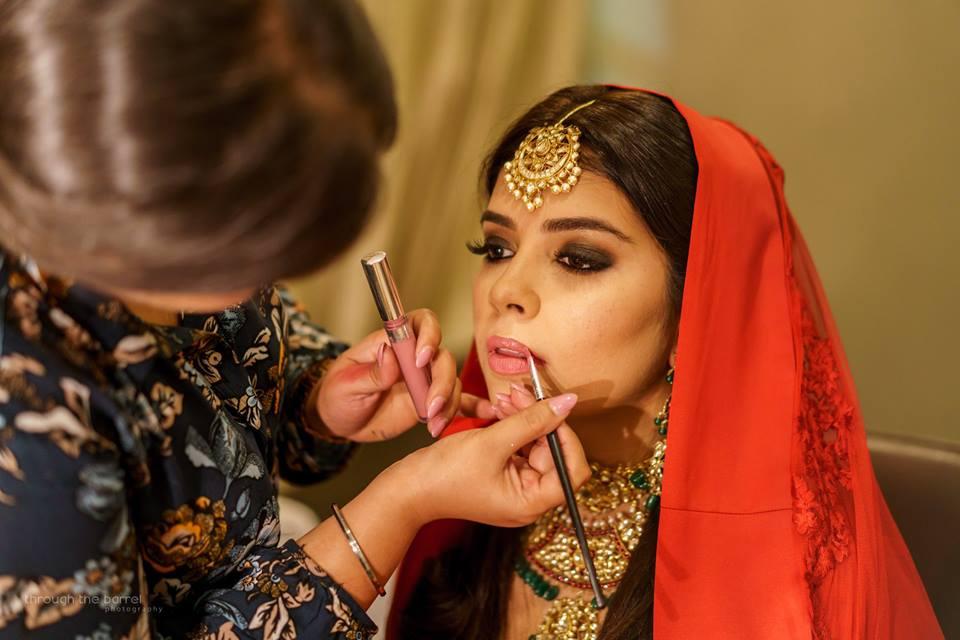 What we love most about the Pakistani bride's look is the sophisticated colour scheme. Begin the Pakistani makeup look by covering the imperfections with the right foundation and concealer. Next up, choose a brown matte eyeshadow and cover the crease in light strokes. Now, blend up to three eyeshadow shades (the more shimmer, the better) matching your wedding ensemble.
Apply it with the flat brush for maximum intensity. Now, choose bold eyeliner to apply a thick line on the upper and lower lash line. Extend it for the winged look and finish it with mascara and a super black kajal. The essential and classic part of Pakistani makeup is complete.
The lipstick palette in Pakistani makeup usually comprises of orange, maroon, and red. However, make sure the shade matches the wedding dress. Line your lips and set the dust. Use the same shade lipstick or lip gloss now. Blush on your cheeks with a creamy blush for the soft glow.
2. Jewel Up
The gorgeous look of Pakistani brides is not attained with the Pakistani makeup alone. Make sure you pick the right jewellery too. The Pakistani bridal accessories comprise of the following:
A. Maang tikka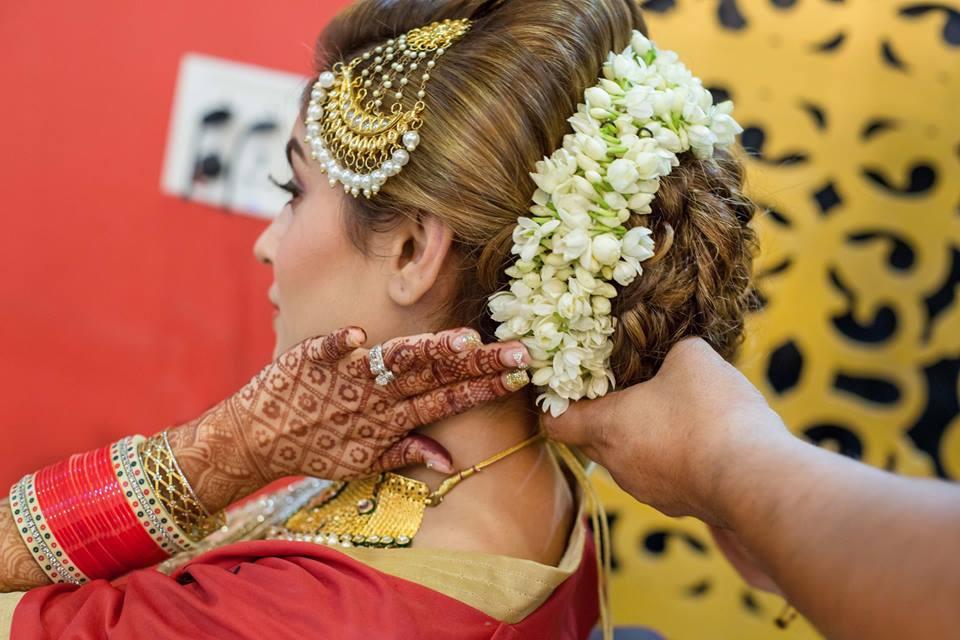 Pakistani bridal Maang Tikka is usually studded with shimmery pearls to add to the bling. There are various styles to choose from like pendant style, flower maang tikka, etc. However, Jhoomer style maang tikka, maang tikka with Jhoomer or side swept maang tikka matched with your outfit will compliment your Pakistani bridal look perfectly.
B. Bangles
Add charm and elegance to the wrist with either red Churas or glitter bangles in vibrant colours. You can also go for Kundan bangles or any type of wedding bangles which are quite in vogue these days.
C. Ring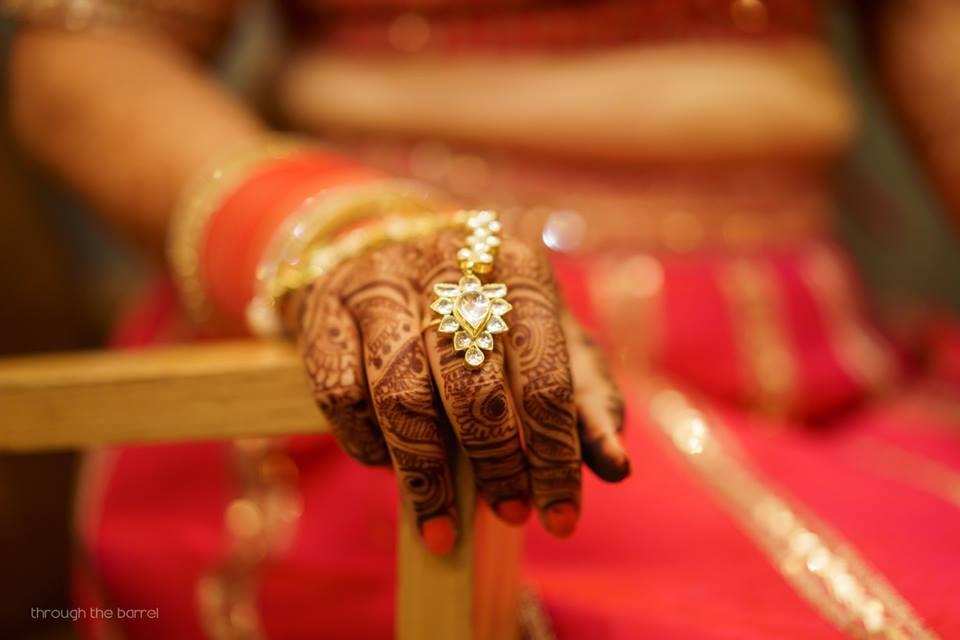 Matching your ring with wedding outfit is not necessary. However, a heavy Kundan ring or a hand-ring bracelet will look amazing on your henna laden hands. In fact, there are quite a few hand accessories you can experiment with.
D. Choker/ Long Necklace
The old fashioned jewellery is coming back in vogue, and we're nothing but excited. Choker necklace or long Haar will gorgeously befit the Pakistani bridal look.
E. Payal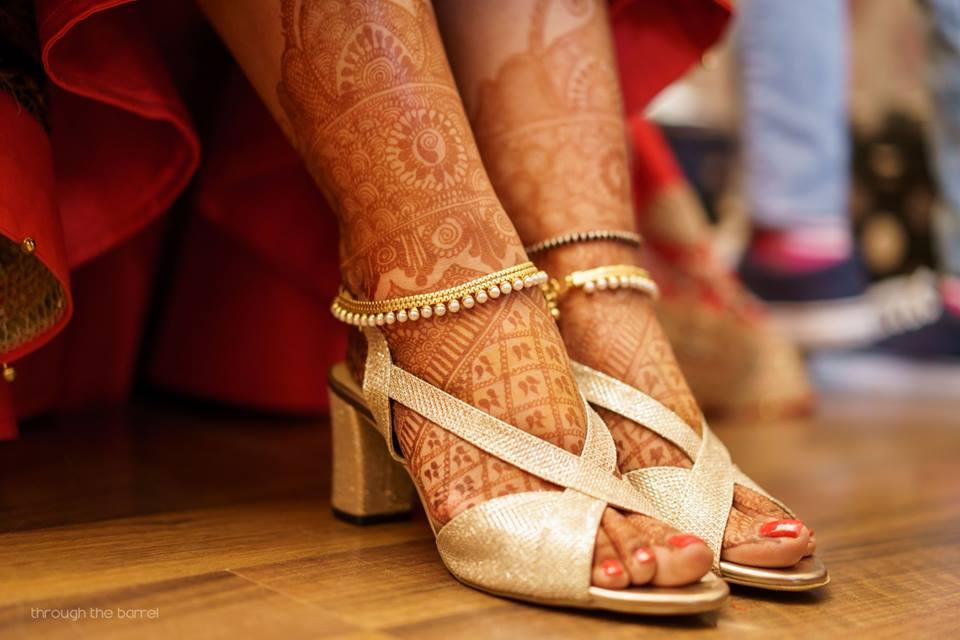 Payal, like all other accessories, come in multiple designs; mainly heavy Kundan and delicate laces. So, you may adorn your feet as per your choice and comfort. There are a lot of Payal designs to choose from.
3. Trousseau Splendor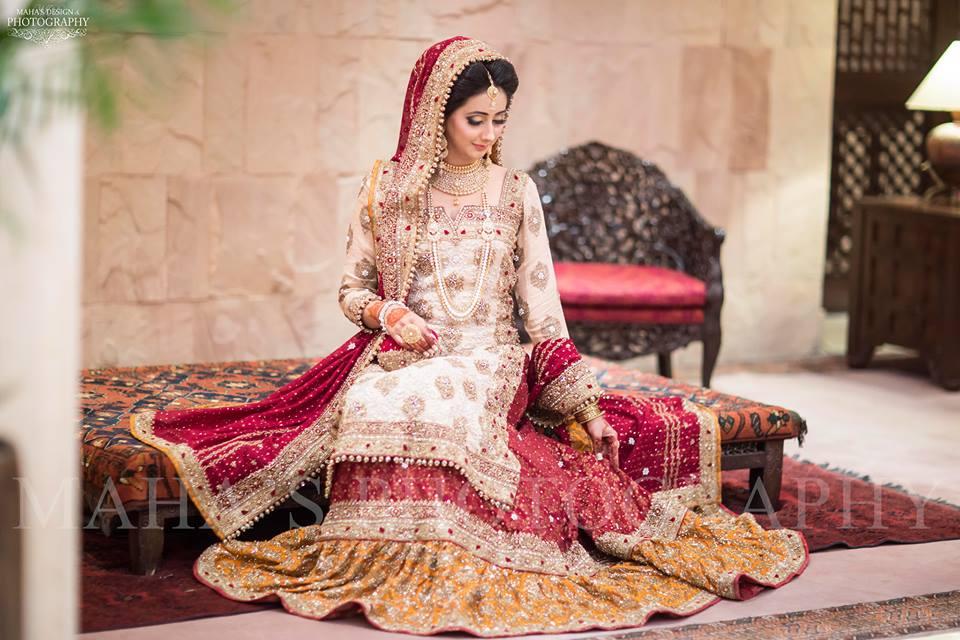 Image Courtesy: Her Love
When it comes to bridal dress, the Pakistani bridal look is attained with some staple colours like golden, ash grey, pink, green, peach, red, blue and off-white. The best part is that, with the right balance, every Pakistani makeup look, whether you are choosing to go subtle or glittery, goes well with this colour palette.
If you are choosing the lehenga for the wedding, they can be styled in classic ways like a long train of the skirt, net detailing at the hem. If the ensemble is sharara, it can be heavily embellished for the royal look. If you want to wear a saree for the occasion, it comes in various styles too, say, full and half saree, lehenga saree, tassel sarees and so forth. Make sure you go lighter on the jewellery if the outfit is heavy. Match them up with a full sleeved blouse in matching or contrast colours adorned with golden zari or Kundan work. However, always keep your bridal dress comfortable and breezy.
One of the essential parts remains the dupatta draping. There are various styles to drape your wedding dupatta, but the double-sided drape will suit the best if you are going for the Pakistani bridal look. In this look, tuck the well-pleated dupatta on any side of the waist and bring a part forward after leaving some flowing part behind. Alternatively, you can also go for double dupatta style to enhance your overall look.
There are certain things you should keep in mind while completing your bridal makeup. Your Pakistani makeup should be in sync with the trousseau. This means that if you have decided for heavy Pakistani makeup, use sober colour schemes for the dress. Make sure you have this chat with your makeup artist well in advance so that they can do their research as well. Start by sending them this article to peruse.
Let us know your favourite part of the Pakistani makeup look and how else you can add uniqueness to it. Shine on!