A Breakdown of the Classic North Indian Bride Avatar to Help You Ace the Look
Hankering after the classic North Indian bride look? It's not as hard as you think! Read on to know how to achieve this!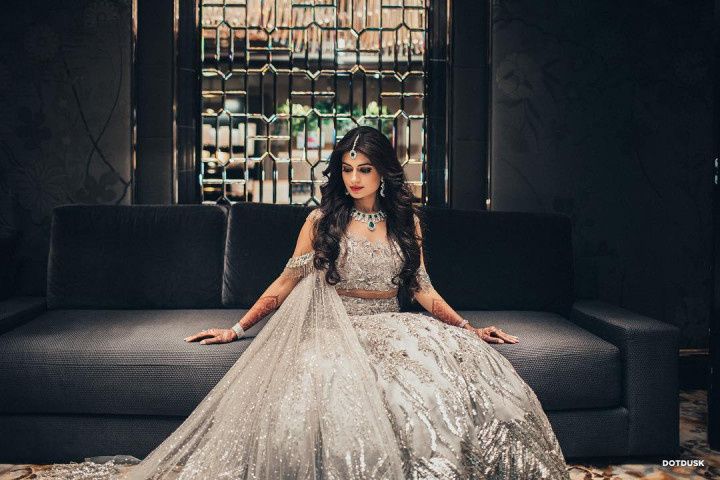 India is a country filled with diverse culture, and each region in the country has its own unique aesthetic. Regional styles and trends tend to influence wedding attire and fashion too, so if you are planning to go with the North Indian bride aesthetic, then you must keep the following in mind:
Makeup that fits the north Indian style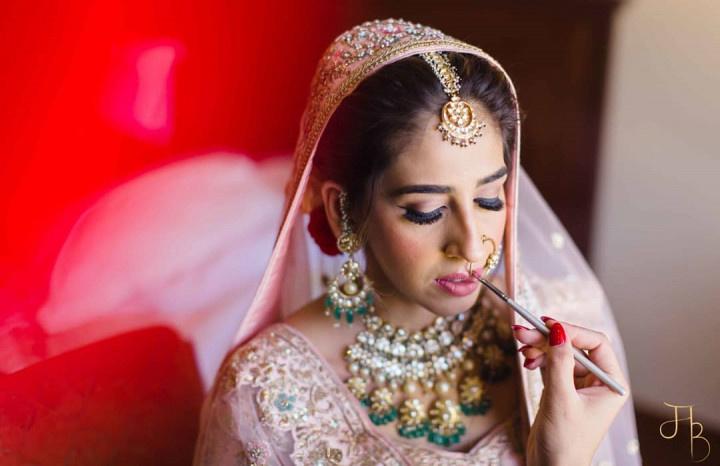 Before we begin, it's crucial to understand that there are multiple regions that fall within the label of North India, and their aesthetics vary greatly. For instance, a Kashmiri makeup look will be quite different from a Punjabi one. But, for the sake of creating an overall look that has that North Indian bride vibe, we'll be giving you broader tips. For your makeup, you must ensure that:
1. Your eye makeup is bold
Colour is the name of the game here, and brides from North India love splashing different hues across their lids. For day looks, you can pick pastel shades that complement your outfit. For night looks, you can pick darker, jewel-toned shades instead. Glitter is a must as brides from this part of the country love their bling. Of course, try not to overdo it because glitter can fall and stick to your face. Use a small dab of fix-spray to keep it in place when applying it.
2. Your lips are comparatively neutral
While the standard for many Indian brides is bold red lips, most North Indian brides stick with slightly neutral shades. This is especially true they are adding a lot of colour on the lid. Deep red lips are often more synonymous with the South Indian bridal aesthetic, rather than the north Indian one. Cherry red, on the other hand, is a more North Indian style. However, there's no rule that says that you can't switch it up with you want to.
Hair that fits the North Indian Style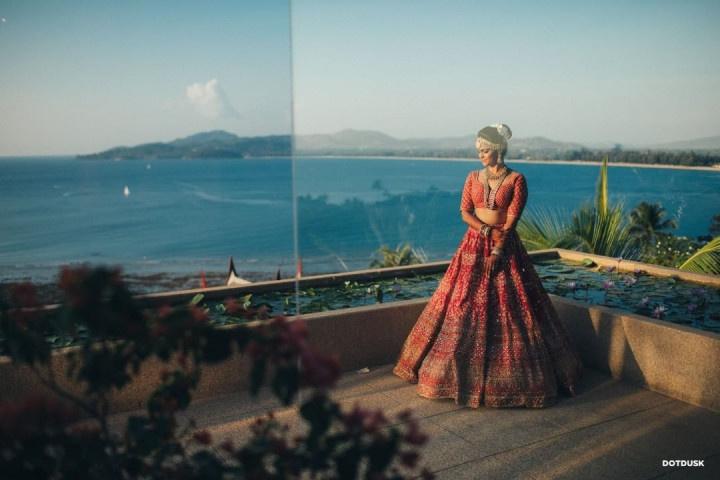 North Indian bridal hairstyles are quite distinct due to many reasons. The first is the type of hairstyle that the bride chooses. The second is the kinds of ornaments the bride wears. For instance, in a South Indian wedding, you may see the bride wearing Billai down her plait. Conversely, you'll see Matha Patti, Maang Tikkas and Parandis in the northern states. The following hairstyles can help you achieve the look of a North Indian Bride:
1. Buns
Both, low ones and higher ones can work.
2. Braids
A thick plait is an iconic look that's reminiscent of a Punjabi bride. If that's the look you're going for, add a Parandi or golden tassels at the end of your braid.
3. Open hair
Open hair is a classic and you can never go wrong by styling your hair this way. Pair an intricate Maang Tikka to complete your look.
Outfits that fit the North Indian Style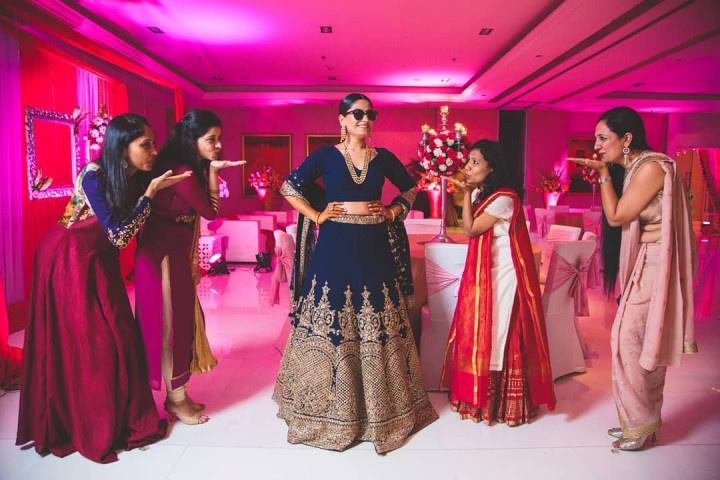 Once you've got your hair and makeup sorted, you must move on to the next big indicator of your aesthetic – your outfit. In order to pick your outfit, you may have to think about exactly which style you want to emulate the most. The following are a few suggestions that you can keep in mind:
1. Lucknowi Vibes
For lighter occasions, such as a family brunch or small pooja, you can wear a Chikan Salwar Kameez because nothing's as Lucknowi as Chikan! You can also wear heavy Anarkali during the evening.
2. Rajasthani Vibes
An Angrakha is an ideal choice if you are going for a regal Rajasthani Women can wear an Angrakha Anarkali while men can wear an Angrakha with pants (think Ranveer Singh's Ivory and Gold outfit).
3. Punjabi Vibes
Colourful lehengas are the way to go for a classic Punjabi. You can also wear a suit with Patiala bottoms instead of a regular Salwar for a lighter function.
4. Kashmiri Vibes
Like all brides, Kashmiri brides are absolutely gorgeous. They favour wedding attire in statement colours, over the same red we tend to see everywhere. Wearing an outfit with Crewel embroidery is one of the best ways to nail this aesthetic. A beautiful Kundan Jhoomar is essential for this look!
Sticking with the North Indian bride look can be a great way to look different on your wedding day. No matter what look you want to emulate, you can do so easily by paying special attention to your hair, makeup and attire. You can even go the extra mile and ask your wedding planners to stick to décor that fits your aesthetic theme. This can be a great way to create cohesion between your outfit and your function, especially if you're planning to emulate a different culture from your own.
Not sure if you can nail this aesthetic on your own? Get in touch with our expert makeup artists who can help you achieve your vision!