Nidhi Dutta Kickstarts Her Dream Wedding With an Intimate Mehndi Ceremony
Nidhi Dutta celebrates an intimate mehndi ceremony in her Juhu home. The star-studded yet close-knit affair is breaking the internet. Take a look at the deets!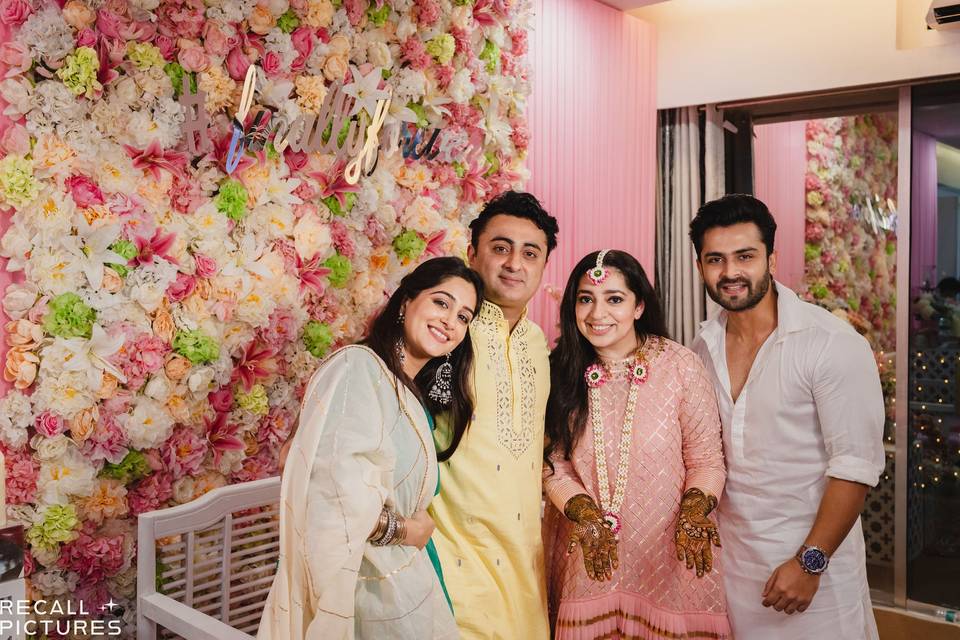 JP Dutta is an ace Bollywood film producer, writer and director best known for creating patriotic war films packed with action. On Thursday, 27th of August, his beautiful daughter Nidhi Dutta took the first step of a forever with her long time beau Binoy Gandhi through an intimate mehndi ceremony celebration. Nidhi Dutta and her filmmaker boyfriend Binoy Gandhi's wedding is in the books for December as of now she said while speaking to a reporter.
Keeping it simple yet alluring, here are the details of the B-town's latest Mehndi hai rachne wali shenanigans for inspo.
Mehndi Artist for the Day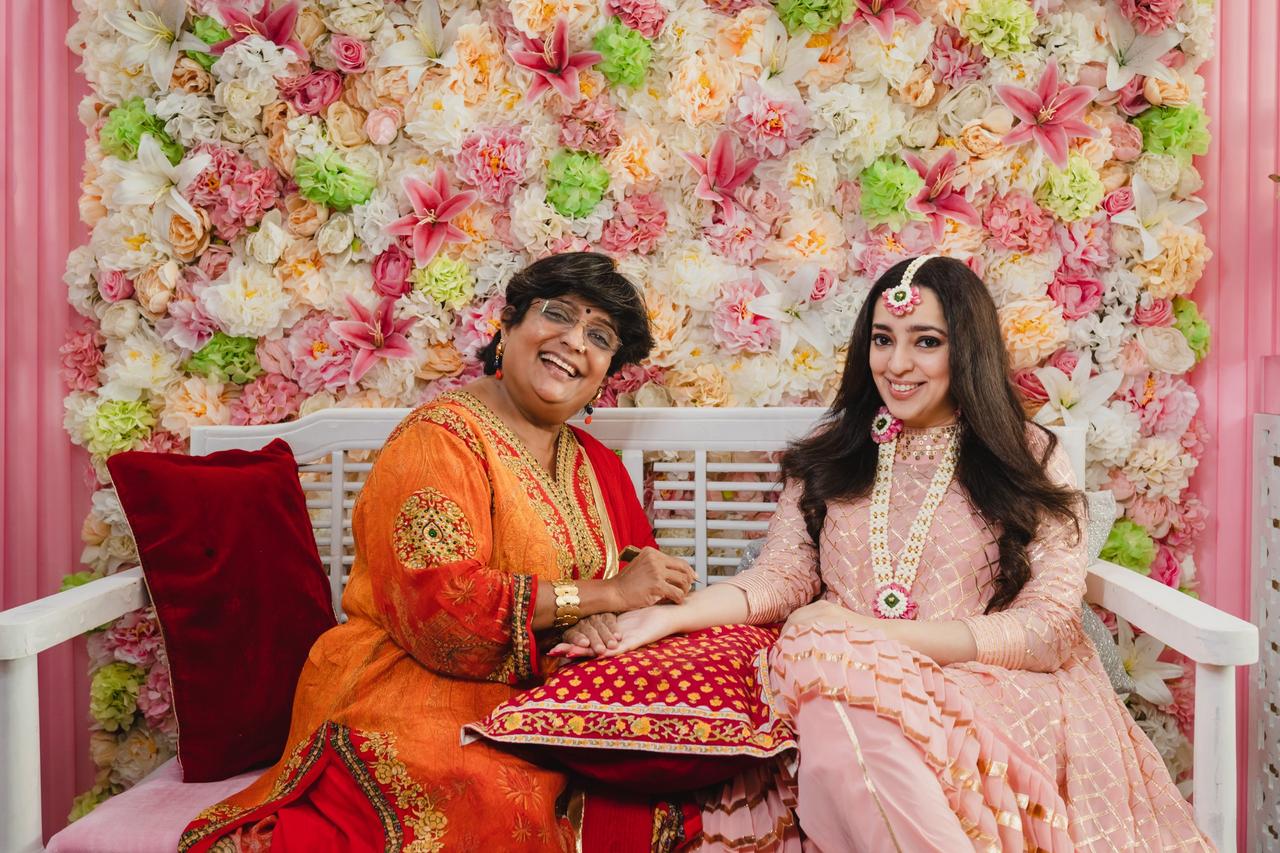 Not only was this star-studded mehndi function a hoot, but it was also a beautiful intimate ceremony upholding all the safety rules and regulations as the need of the hour. The veteran mehndi artist Veena Nagda was seen getting the beautiful palms decked up for the wedding bells. Veena Nagda has been the mehndi artists for many generations of Bollywood brides right from Karishma Kapoor, Farah Khan, Suzanne Khan and so on. She is much loved by the tinsel town brides and it is no secret why!
Who She Wore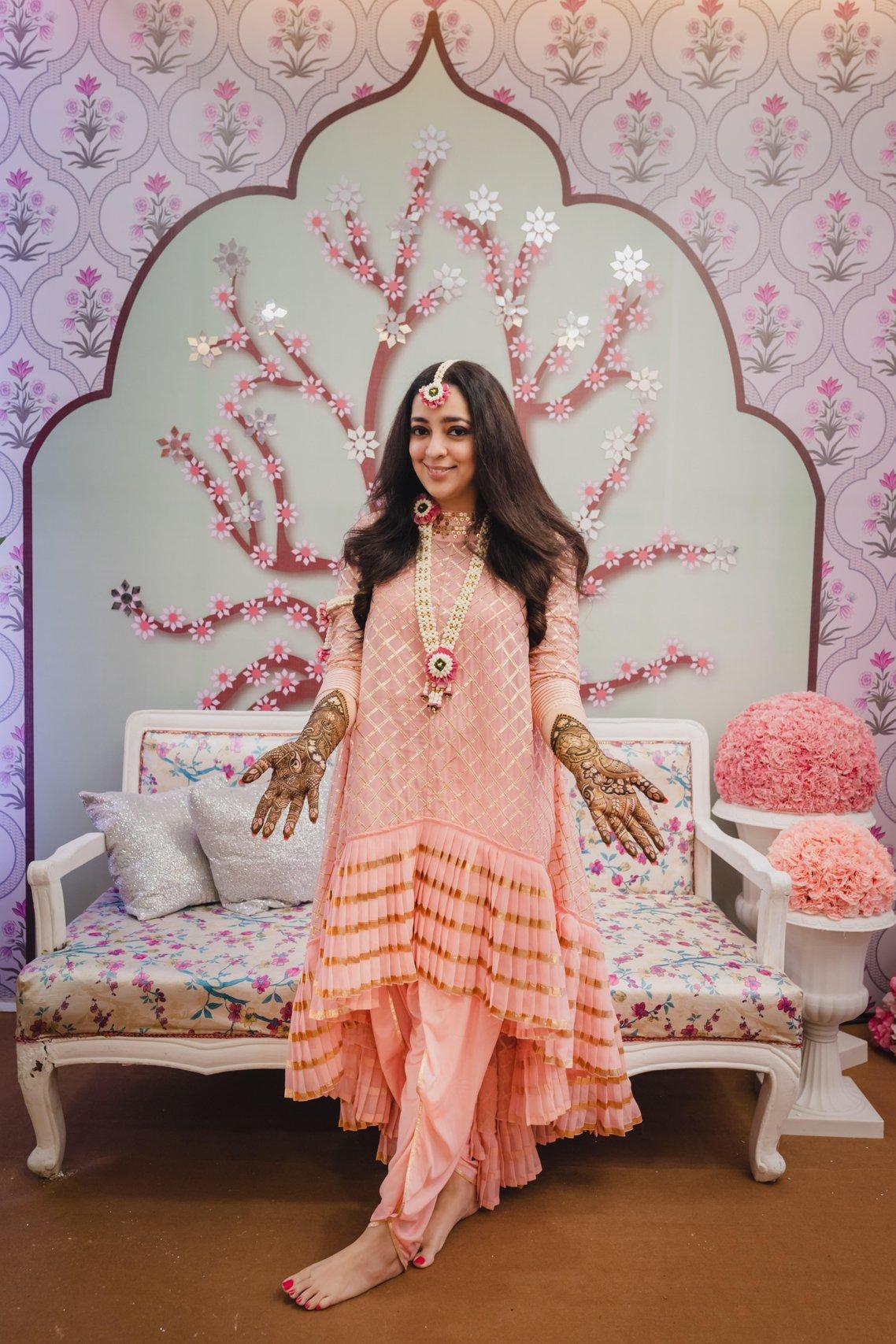 Mehndi ceremonies are almost always long and a tad bit uncomfortable owing to the fact that you will have to be seated in one place for long hours. To keep it stylish yet simple, Nidhi Dutta was seen in a peach asymmetrical kurta with Gota Patti and sequin embroidery. Paired with simple dhoti pants, this set is a bliss from the house of Vvani by Vani Vats.
The georgette kurta makes it perfect for the summers in Bombay and the knife pleat hem just makes it stand out. The groom, on the other hand, was seen in a dapper Abu Jani Sandeep Khosla outfit.
The Decor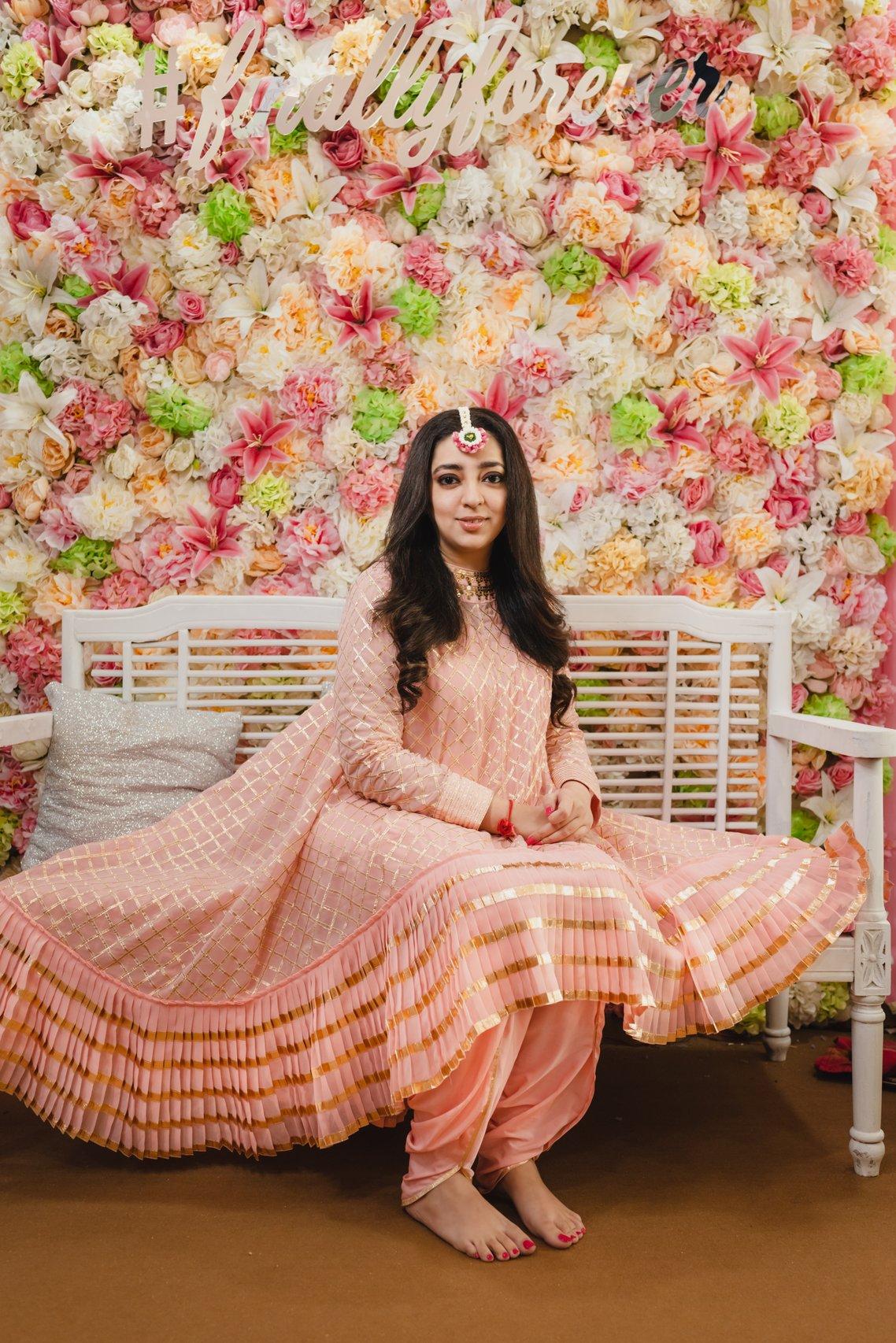 The decor for Nidhi Dutta's mehndi was brought into life straight from her fairytale mehndi ceremony by Blushing Bells. Keeping the decor vivacious yet blushy and adorable and cascading some love and happiness to the mehndi ceremony, the decor was just perfect for some new beginnings. While mehndi is always known for colours that pop out, this pastel themed mehndi is a charmer.
The Mehndi Design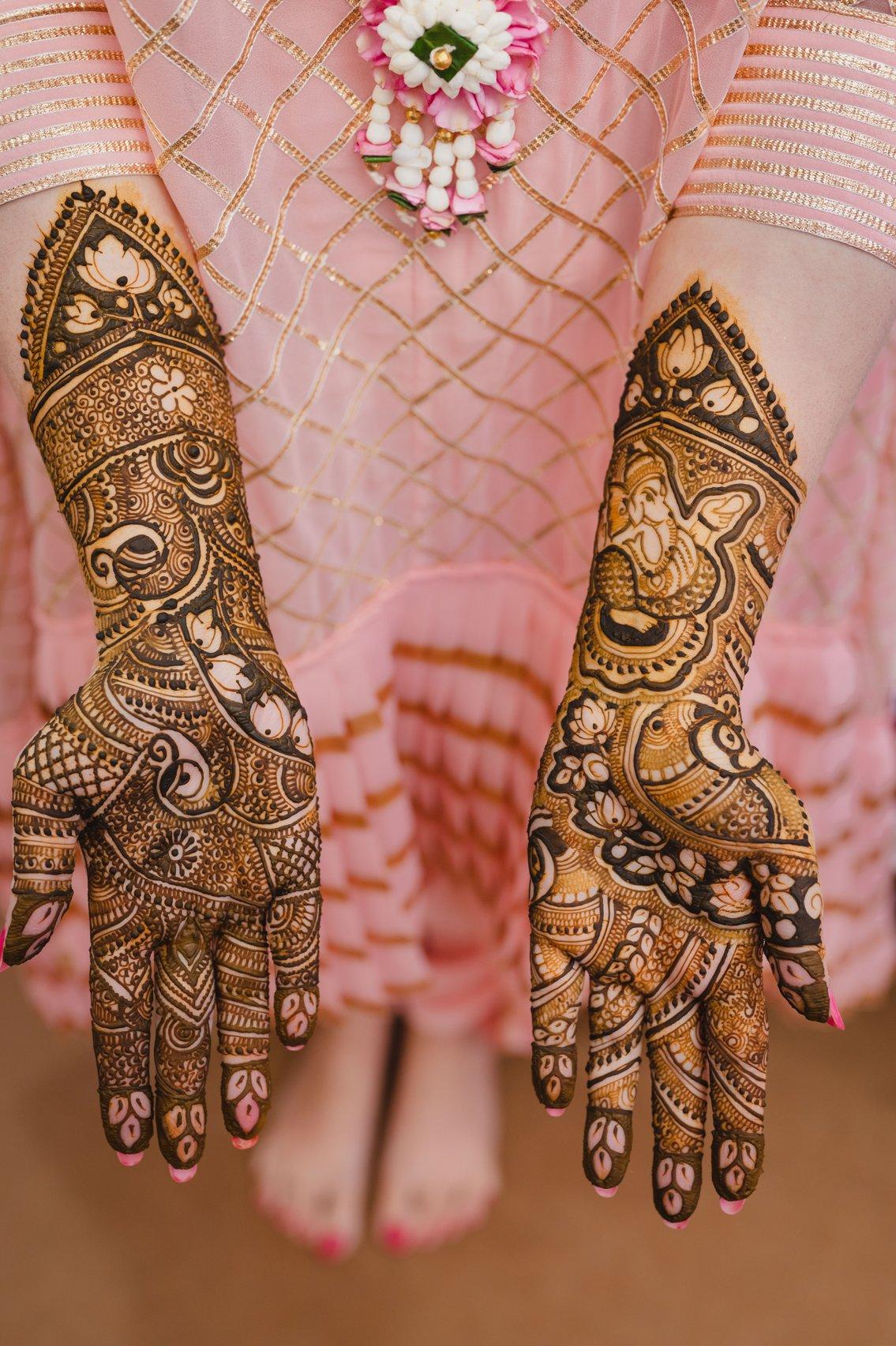 The intricate mehndi design seen on the bride-to-be's hands were a mixture of Arabic mehndi designs and traditional mehndi designs. The dome-shaped designs with the lotus in between are typical of an Arabic Mehndi design and the figure of Lord Ganpati gives it the essential traditional Indian touch.
The Guests & Bridesmaids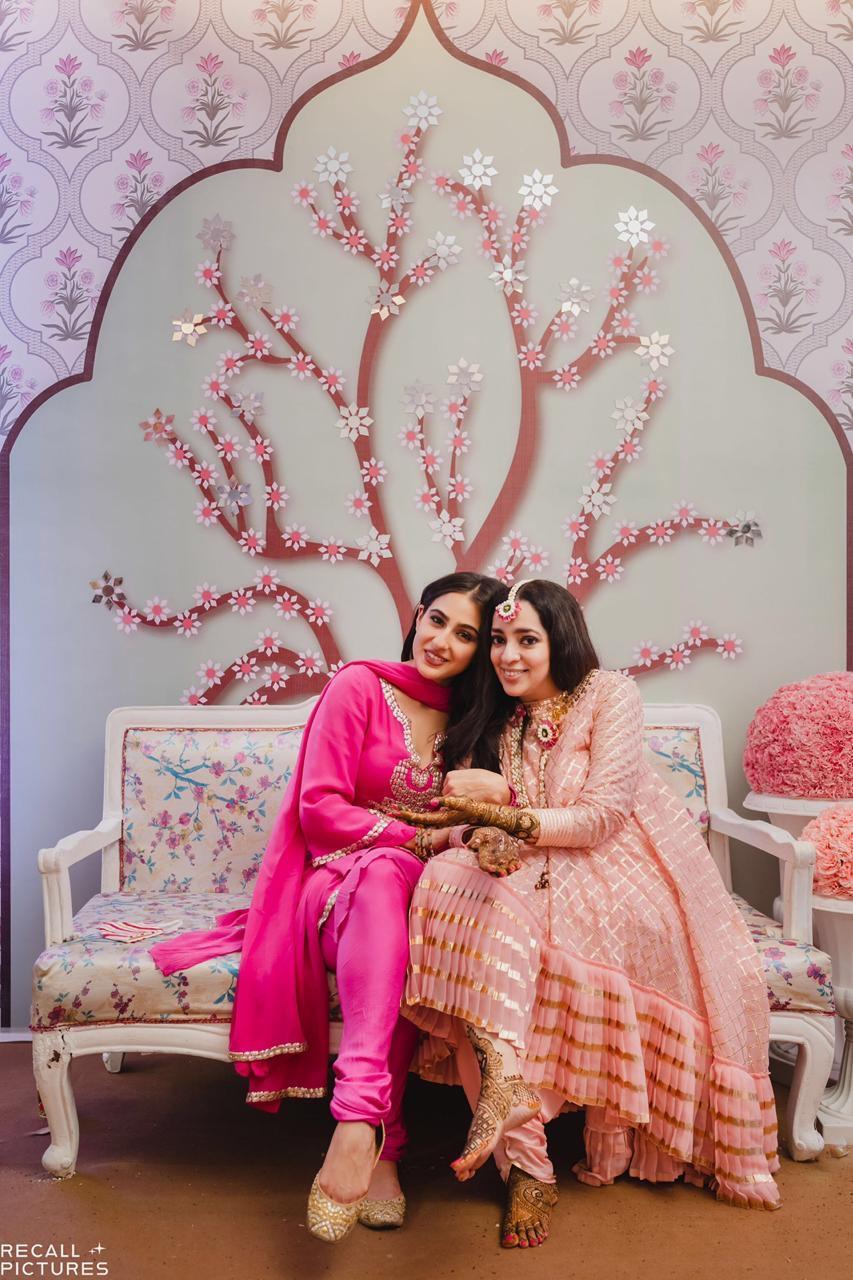 JP Dutta and former actor Bindiya Goswami's daughter Nidhi Dutta's mehndi ceremony had an intimate yet star-studded guestlist with Sara Ali Khan, Amrita Singh and Dipika Kakkar being snapped at their house in Juhu where this was hosted. Looking as gorgeous as ever Sara Ali Khan in her Fuschia pink salwar sure turned out to be a beautiful bridesmaid for the pre-engagement ceremony.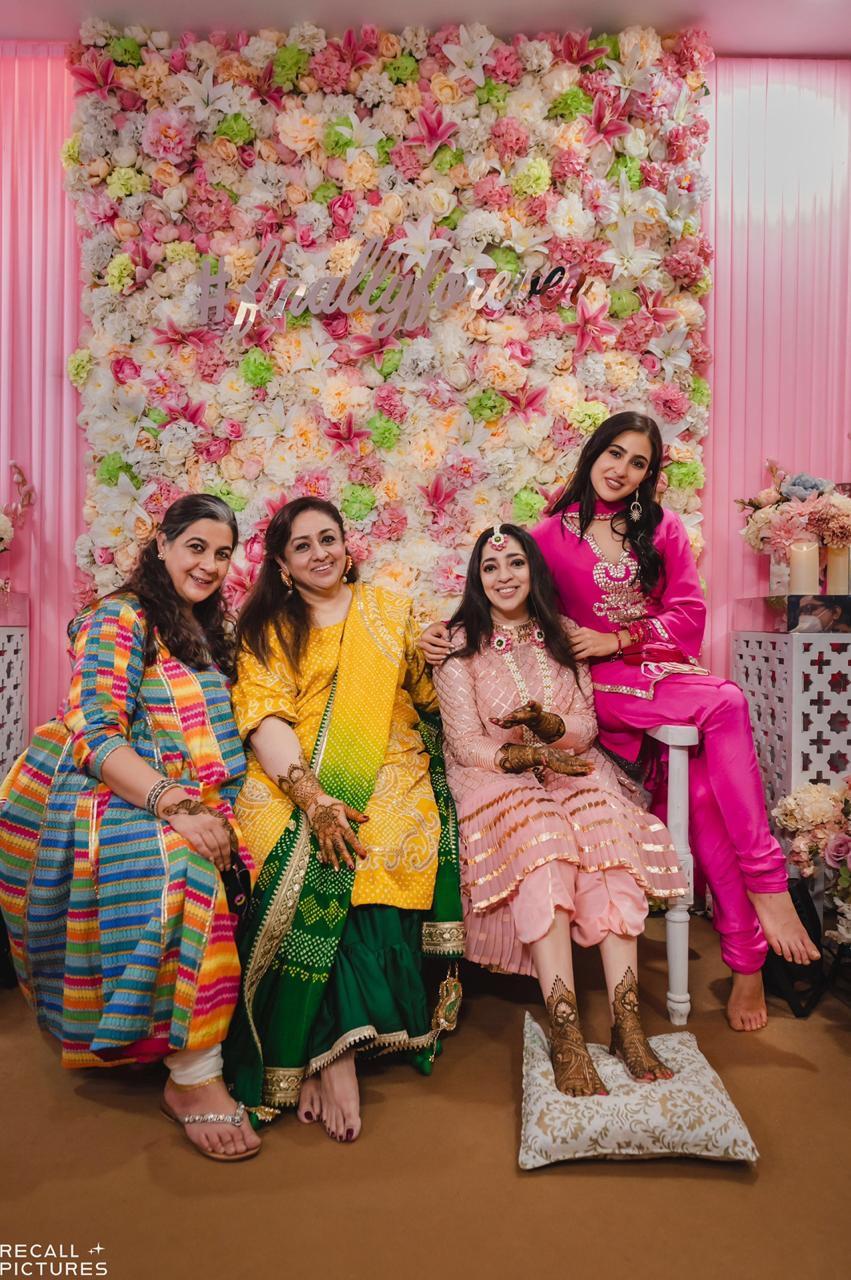 Rumours are that these ceremonial celebrations were planned well in advance right before Holi in March 2020.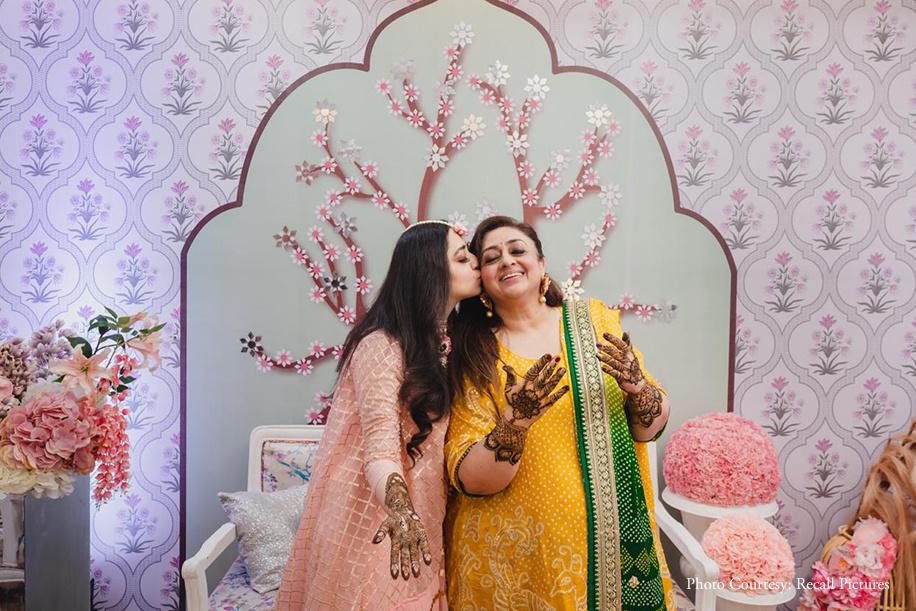 The official photographer for the event was Recall Pictures and they sure did a fab job in capturing the gorgeous smiles at this happy celebration.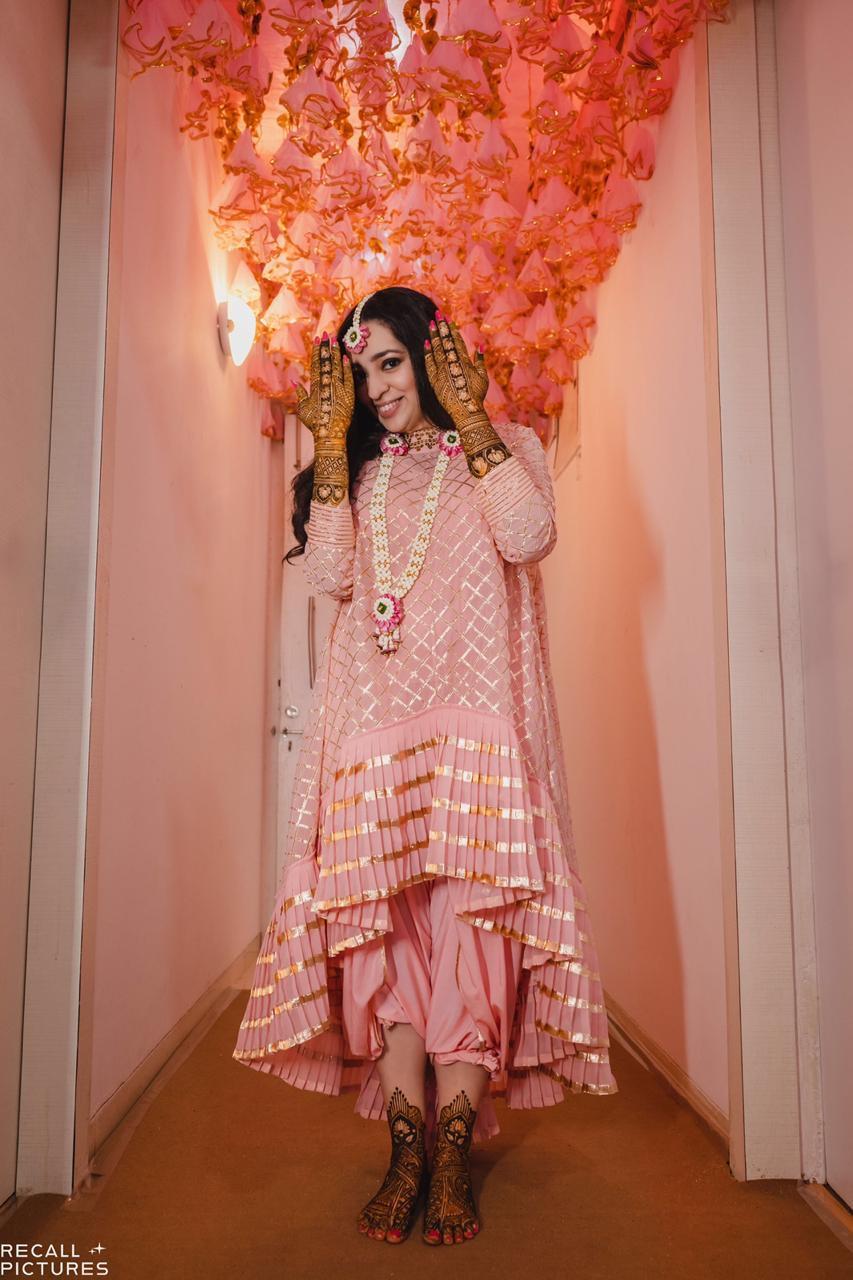 The pre-wedding pictures from Nidhi and Binoy's are doing their rounds of the internet and setting the trends for Tinsel Town's post lockdown weddings.
The Engagement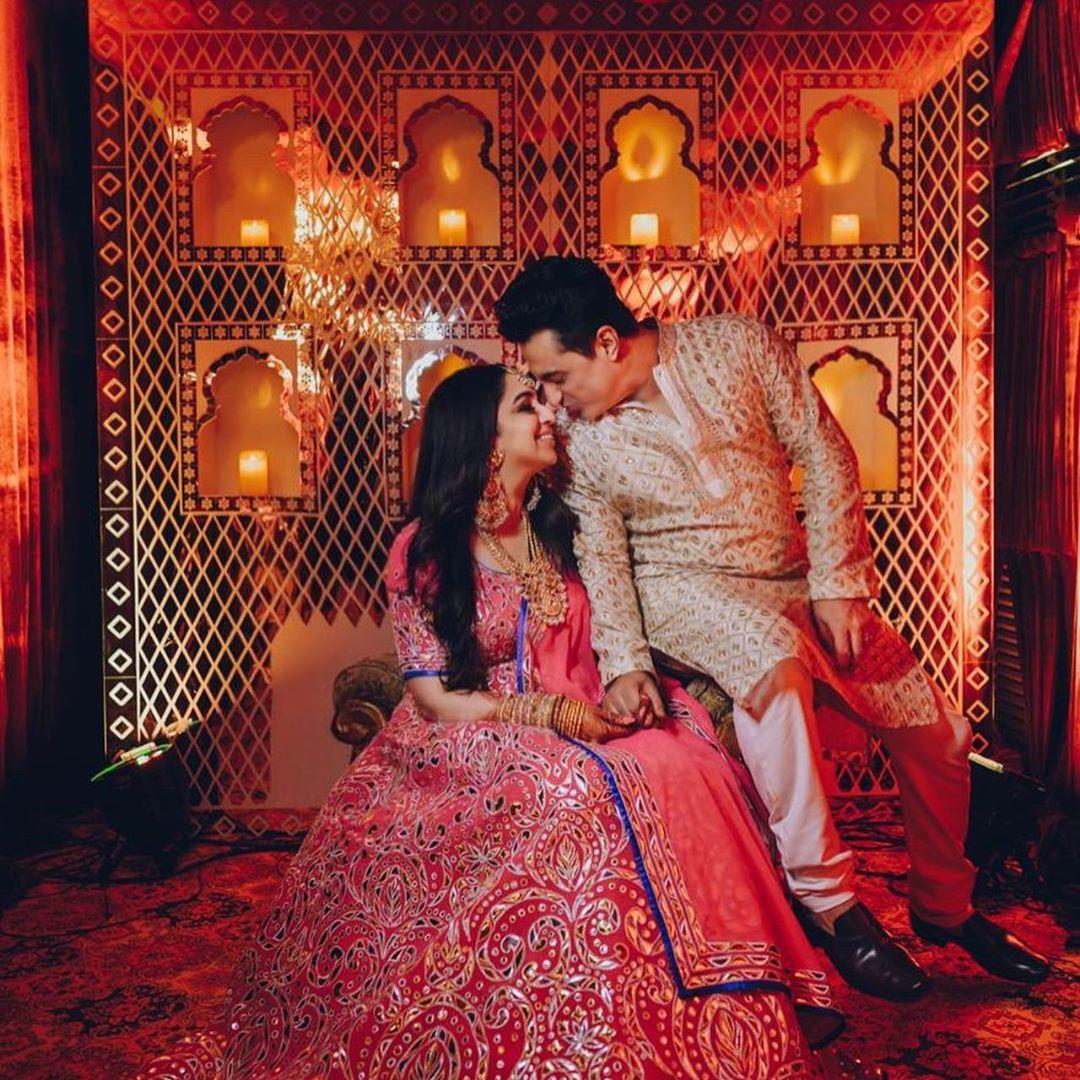 On the 29th of August 2020, Nidhi Dutta celebrated her engagement. The mehndi ceremony was celebrated in full swing and was soon after followed by a regal yet intimate engagement ceremony where the couple exchanged their rings.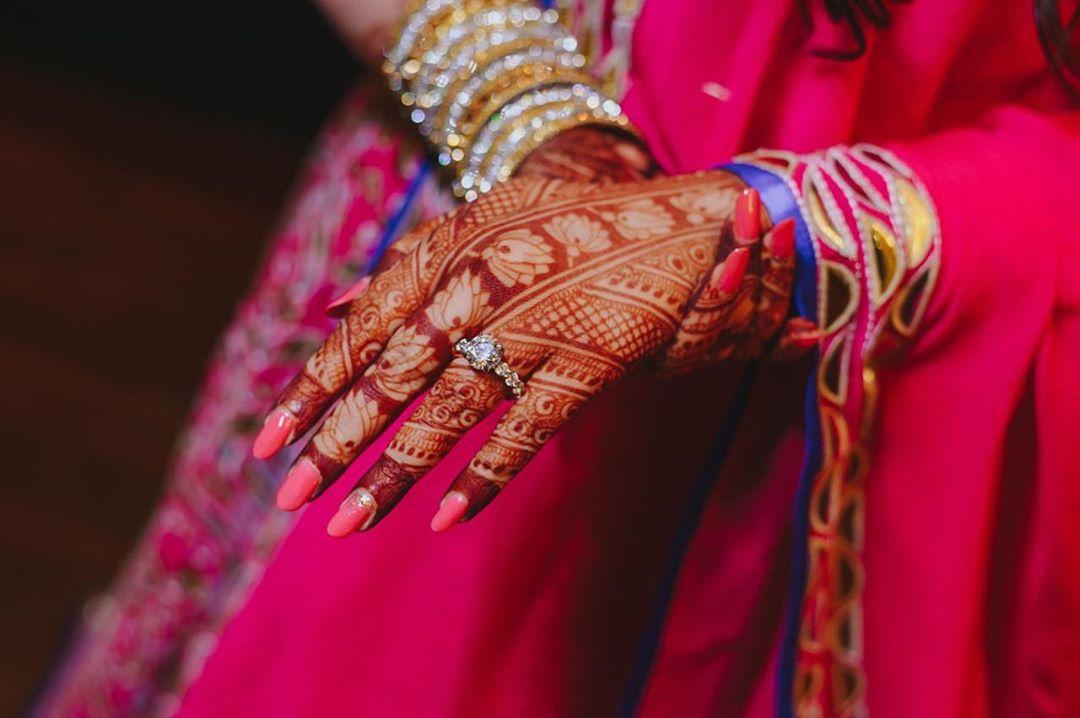 Posting this gorgeous picture of her engagement ring Nidhi Dutta captioned it "Forever has a nice ring to it" and oh we agree!
What She Wore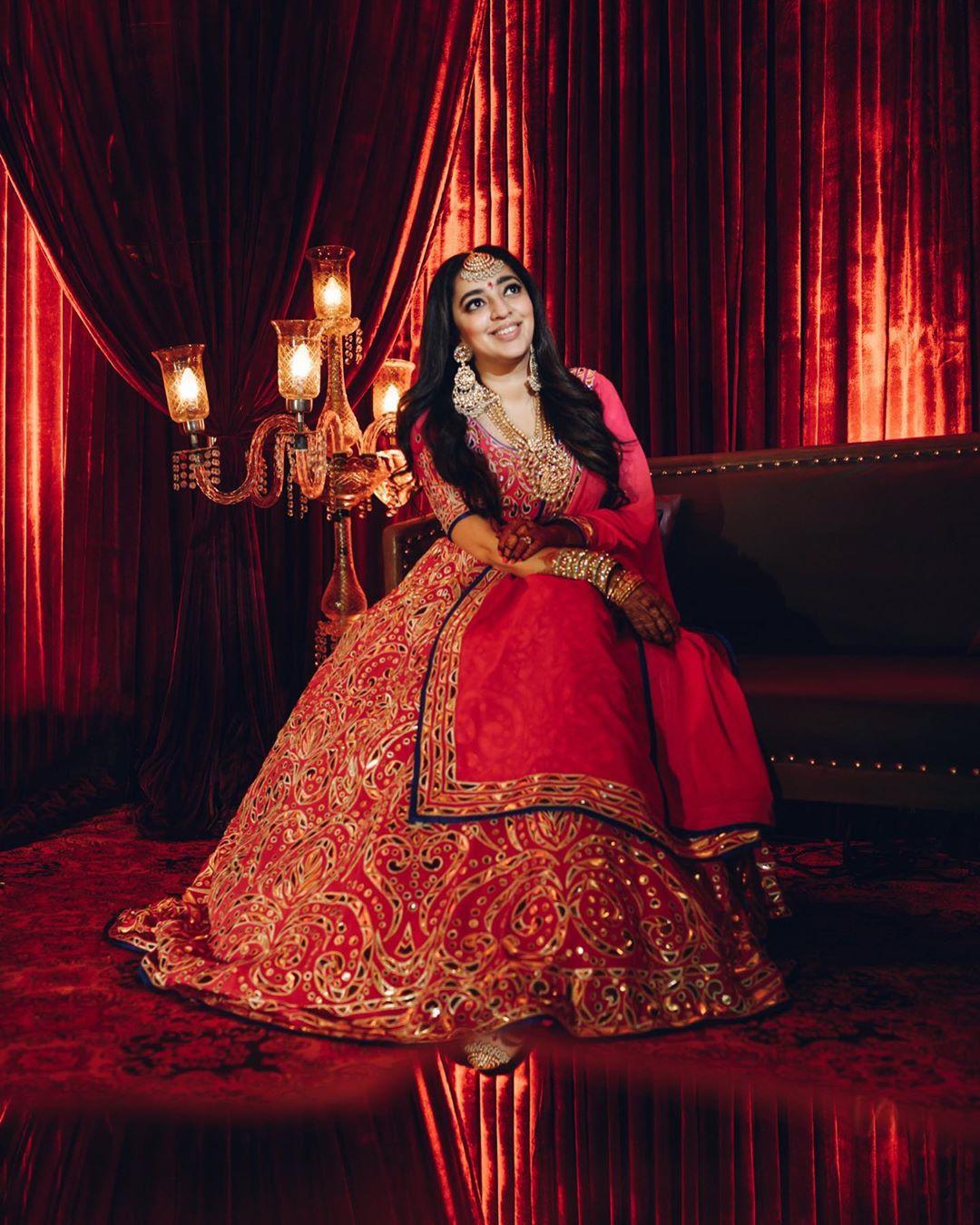 The bride Nidhi Dutta was seen flaunting a bright pink lehenga with mirror work on it designed by none other than the ace couture designers Abu Jani Sandeep Khosla. Loved the Polki jewellery from the House of Rambhajos. The long necklace with the earrings, accentuated with pearls completes the look beautifully. Nidhi got her hair done by Ritika Kada and makeup by Elvis Makeup Artist.
What He Wore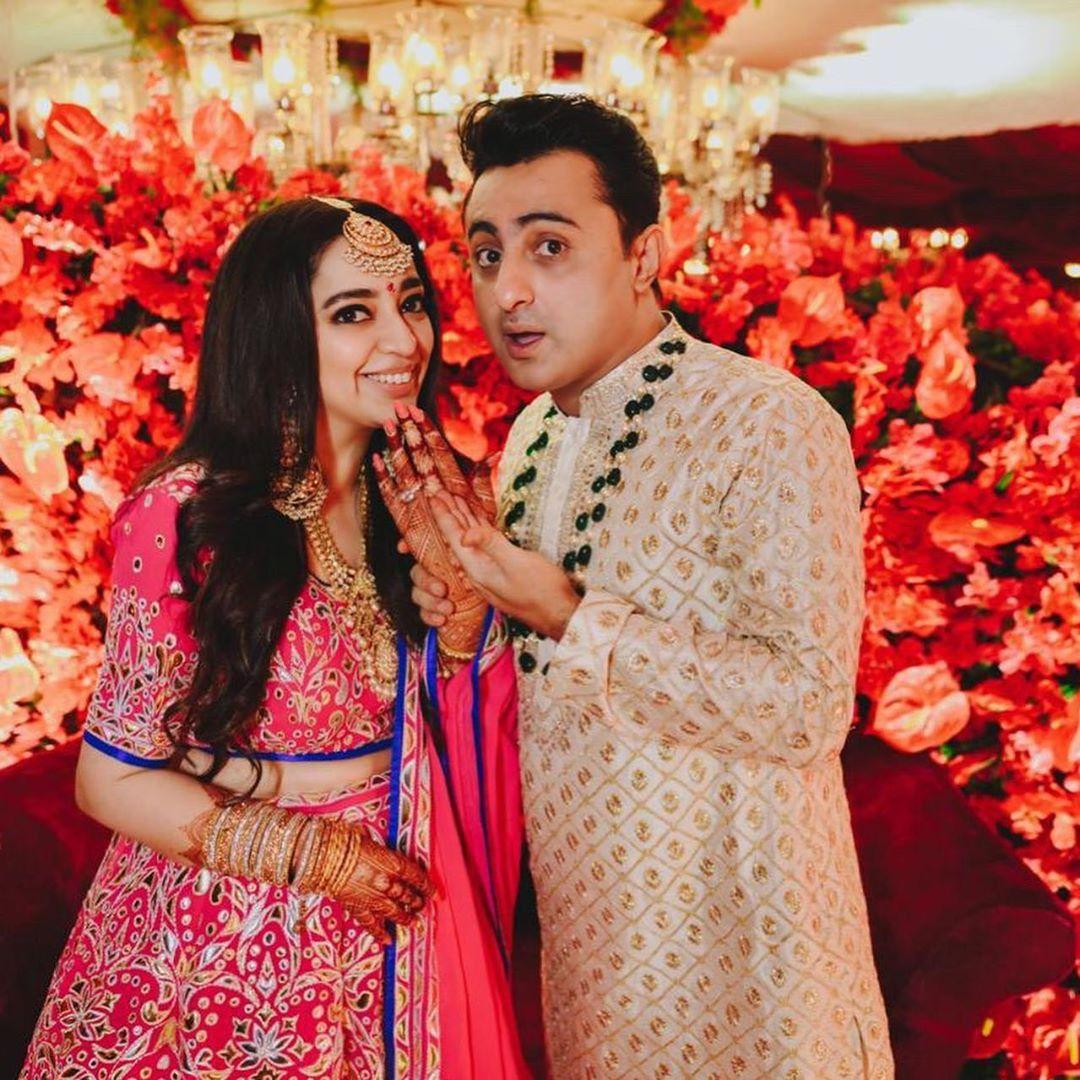 The groom was seen flaunting a splendid off-white kurta with beautiful golden embroidery on it. This piece was picked from Krishna Mehta Studio and is a hoot!
The Guest List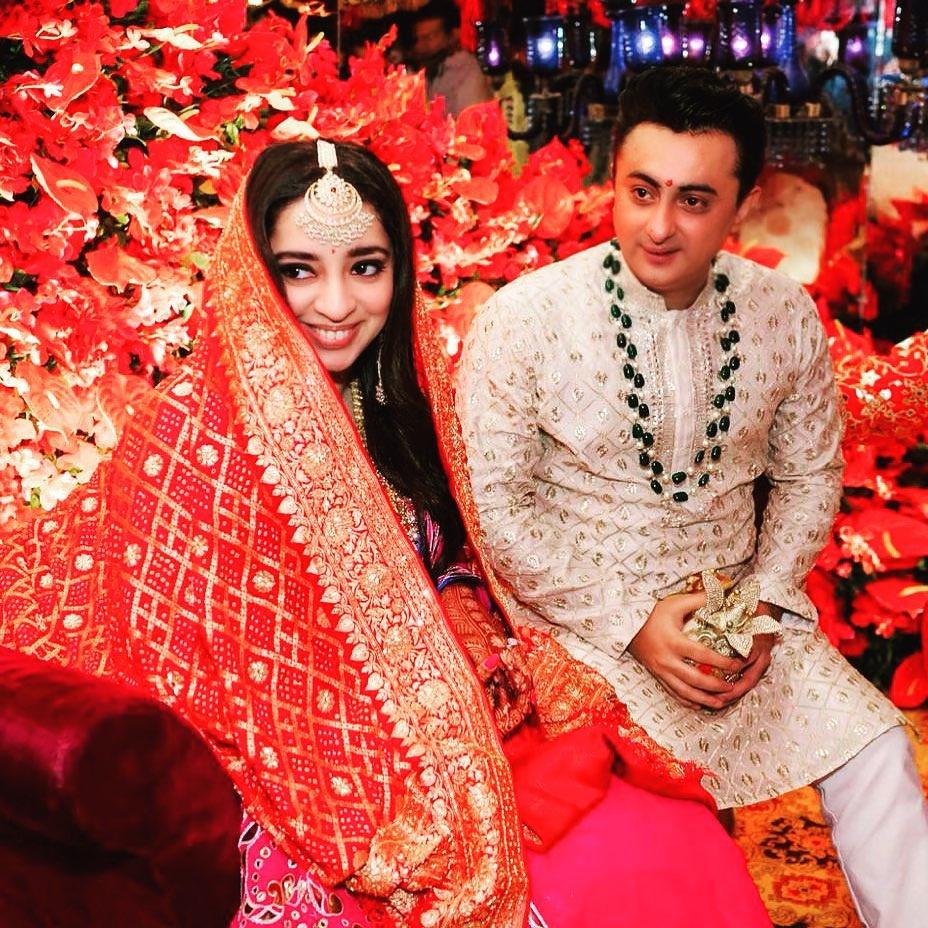 The guest list for the engagement ceremony was star-studded just like their mehndi.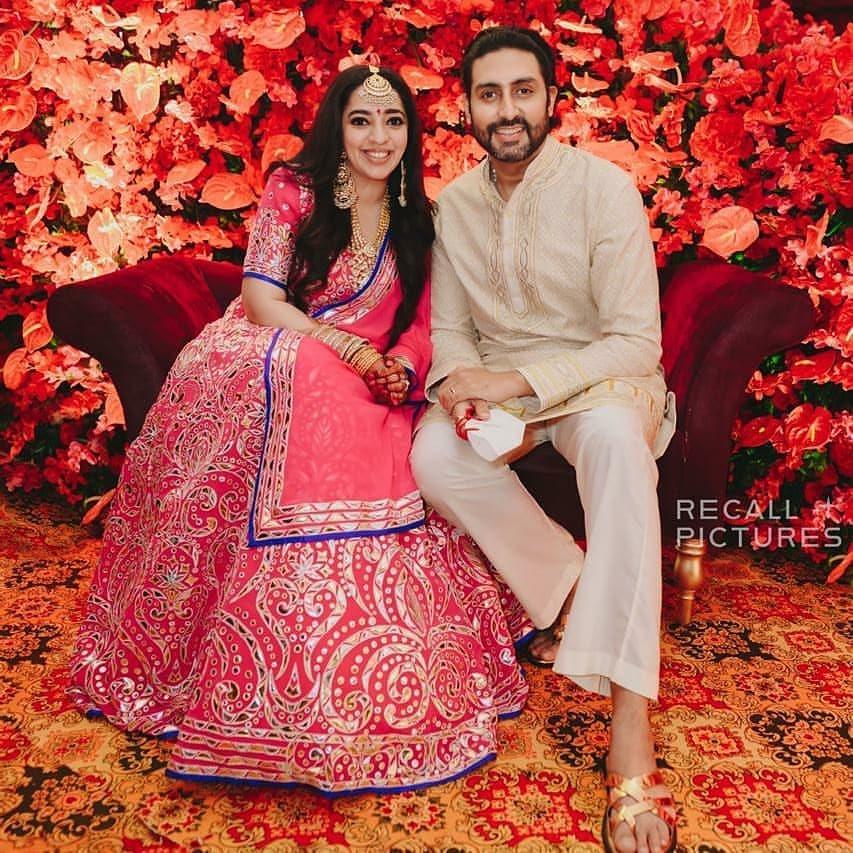 Nidhi Dutta's picture with Abhishek Bachchan is trending on the internet. Abhishek Bachchan started his career with JP Dutta's movie "Refugee" and treats Nidhi Dutta like his own sister.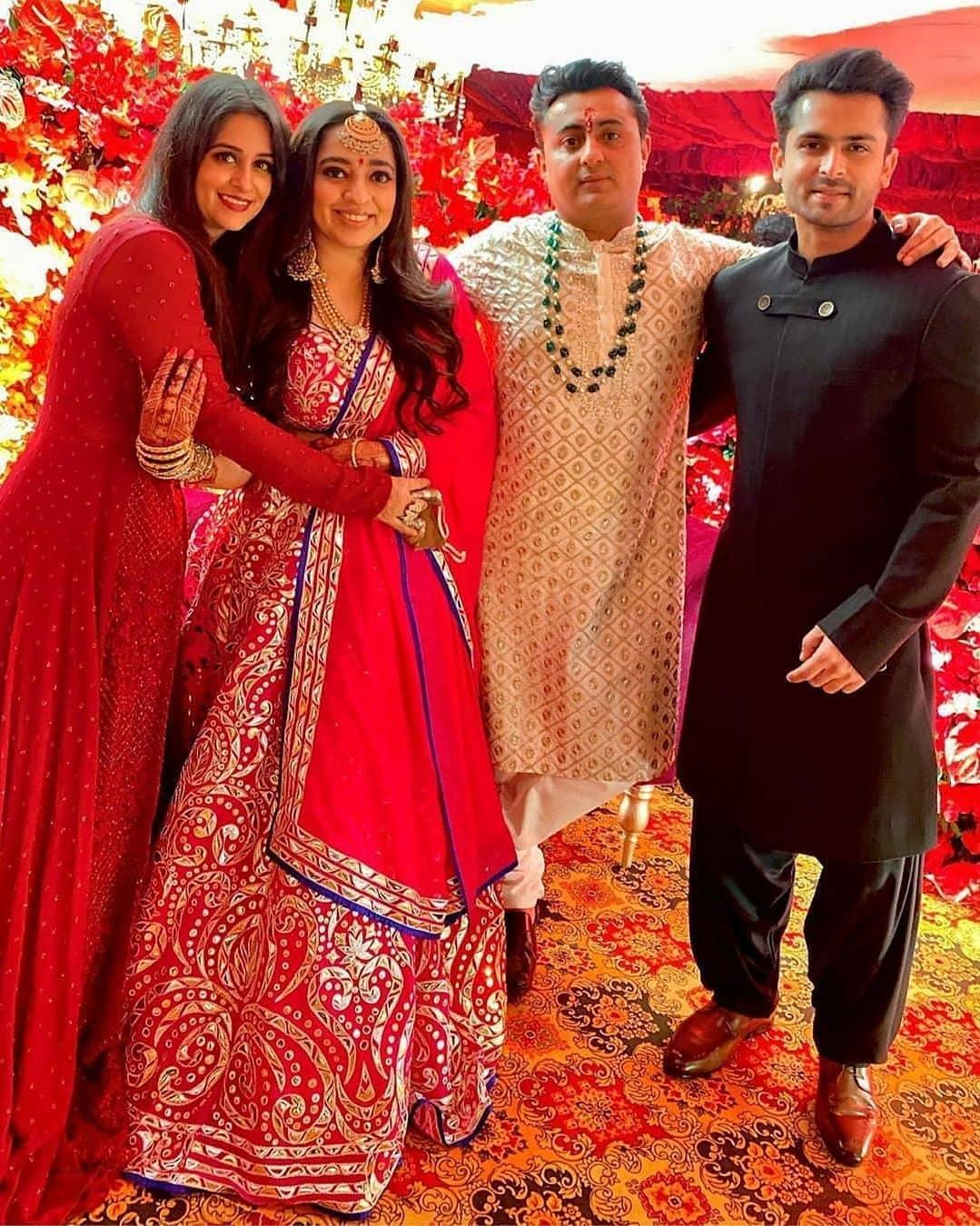 Dipika Kakar and Shoaib Ibrahim were also seen at Nidhi and Binoy's dreamy wedding. While Dipika looked beautiful in a dark red blouse, lehenga and a kaftan, Shoaib donned a deep black kurta, pyjama and brown leather shoes.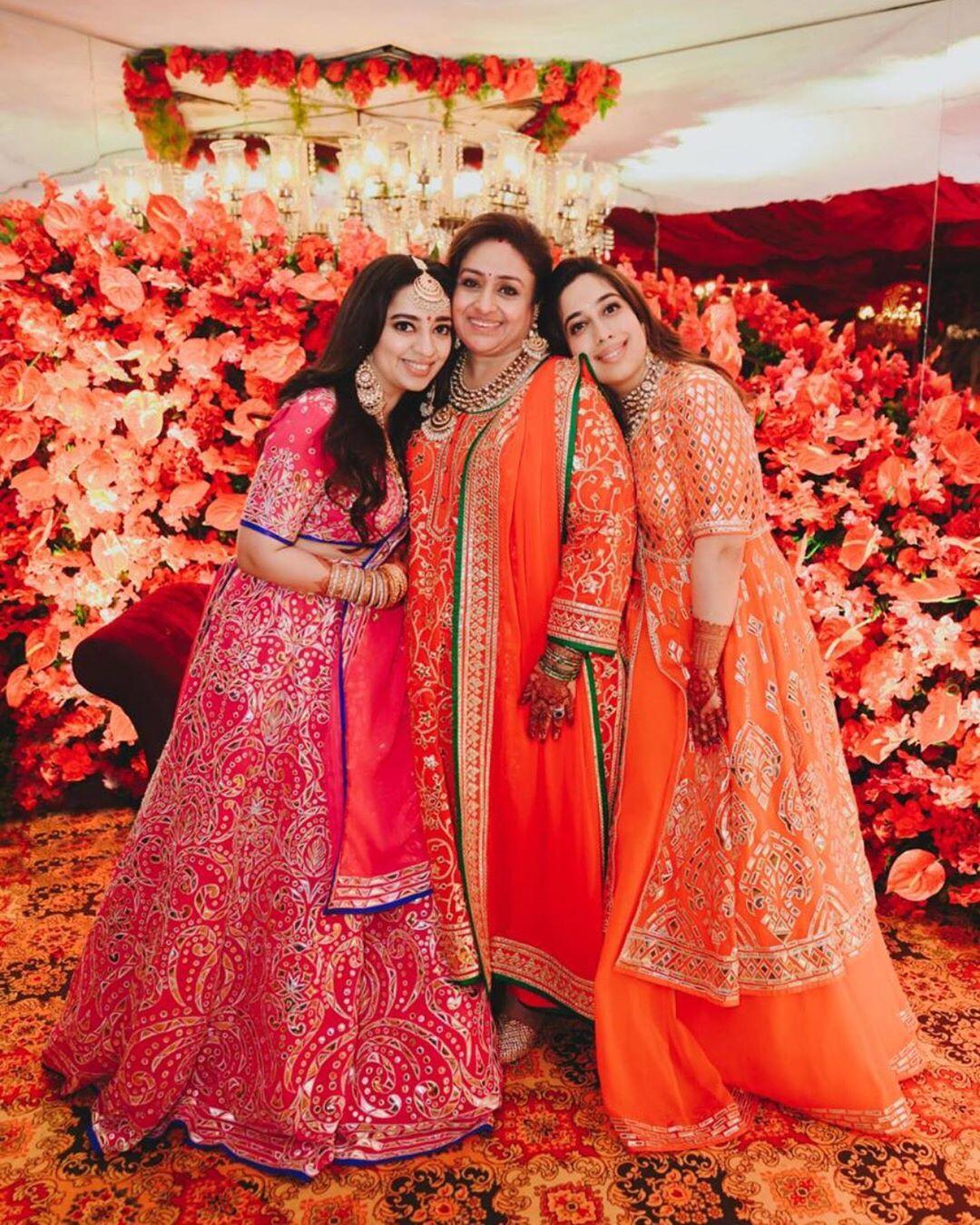 Nidhi's sister Siddhi Dutta was seen leaning on her in a photo. Both the sisters along with Bindiya Goswami looked absolutely stunning for the engagement ceremony in pink and orange outfits respectively.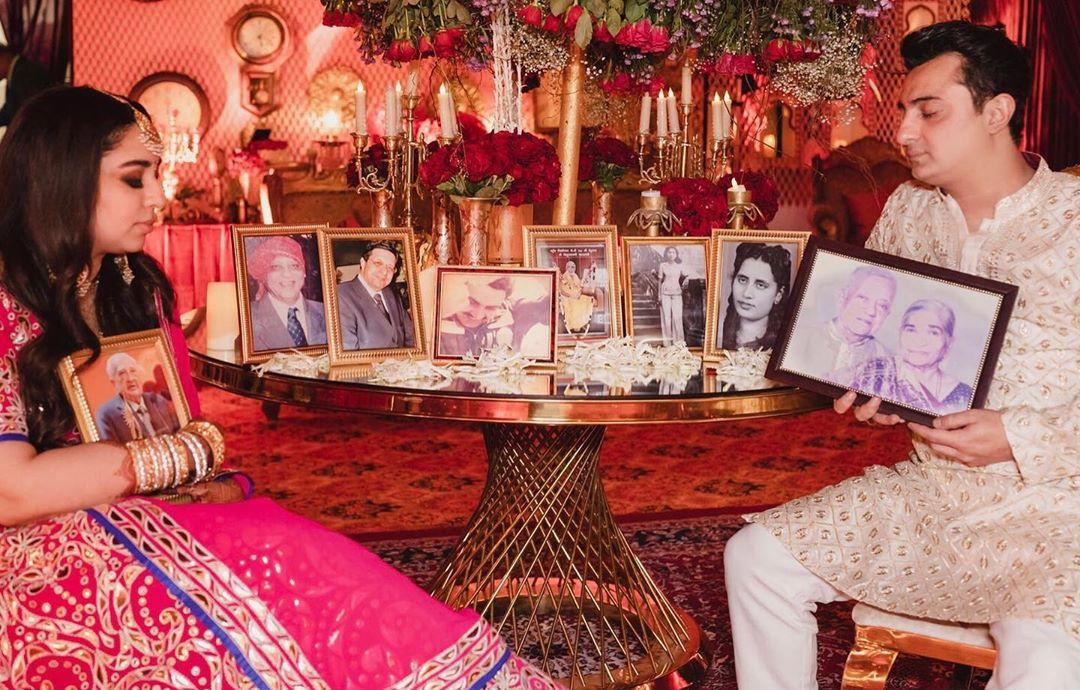 The couple was captured sitting by and holding the pictures of their respective grandparents and their relatives who left for a heavily abode to seek their blessings for their auspicious beginnings.
The engagement dining was taken care by The Club Mumbai and the decor was done by FB Celebrations with decor and light by Blushing Bells again.
Keep a lookout for more updates of their pre-wedding ceremony clicks in this window!