Hosting a Monsoon Wedding? Use These Tips to Say Bye to Rain
Having a wedding in the rainy season? Don't worry, we've got you covered. Here's everything you need to keep in mind while you're planning for a monsoon wedding.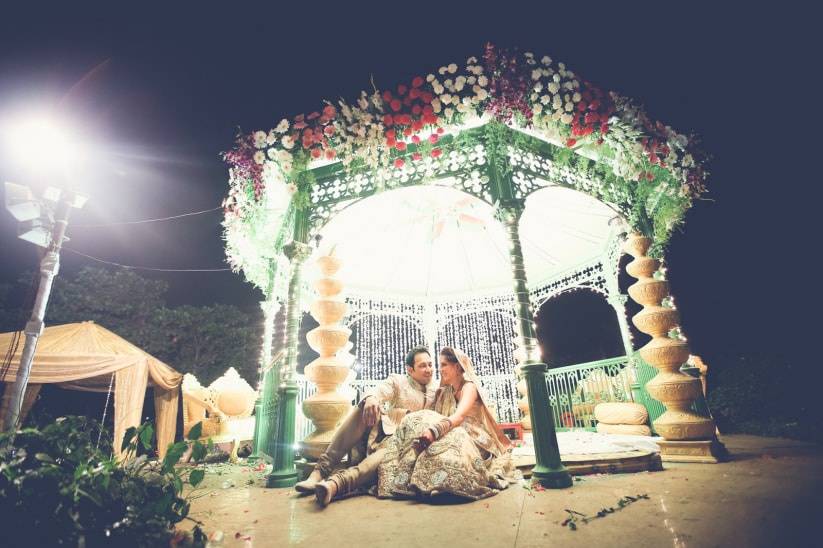 Planning a monsoon wedding is different from planning a regular wedding. If you want to get married around the time when it rains, right under the beautiful blue sky and the most romantic weather, you might have to go a few extra miles for the arrangements. While the idea of having a monsoon wedding sounds exciting, it's equally tedious when it comes to organising functions.
We all love the monsoon season and the cold shower of rain- but you are hosting a monsoon wedding, rain on your parade seems like a bad mojo, right? All the flowers, food wasting away in front of the throes of Mother nature - not a pretty sight for the couple who is tying the knot nor the guests!
Fret not, we're here with a guide on a hassle-free monsoon wedding. So go ahead and read up everything about it and prepare yourself for the worst of odds.
Here's a list of things you should be extremely careful about while planning your monsoon wedding. It is better to be prepared than sorry, so take notes, now!
1. Choose the right venue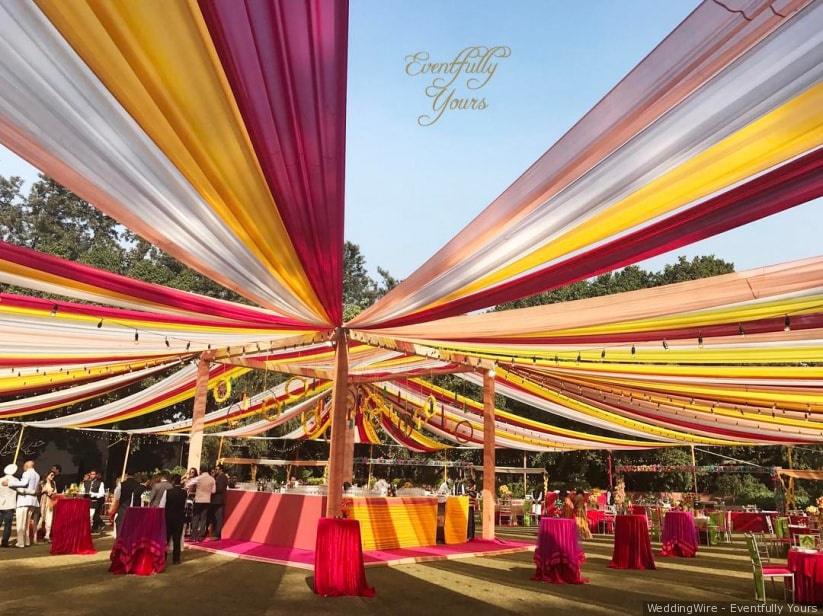 Monsoon weddings are all about picking the right venue. Whether you choose one under the open skies or indoors, you need to ensure that your guests do not get drenched in the downpour. Follow these rules for your venue choices:
i) Waterproof the outdoors - just in case
Especially, if your wedding venue has an outdoor section. Since you can't trust the MET department, you never know when it'll rain and if there's even the slightest possibility that it might pour, best is to avoid an outdoor venue.
ii) Go for a convertible venue
This way you won't have to worry if it rains or not on your big day. There are arrangements at the venue where you can easily switch an outdoor setting into an indoor setting. It might get chaotic for the first few minutes, but eventually, everything settles down.
iii) Choose an indoor venue
Choose one which has glass walls, transparent ceilings or even windows for you to get the best of both worlds - your wedding and the weather. Indoor venues will be your safest bet when it comes to booking a venue for a monsoon wedding.
2. Get the right food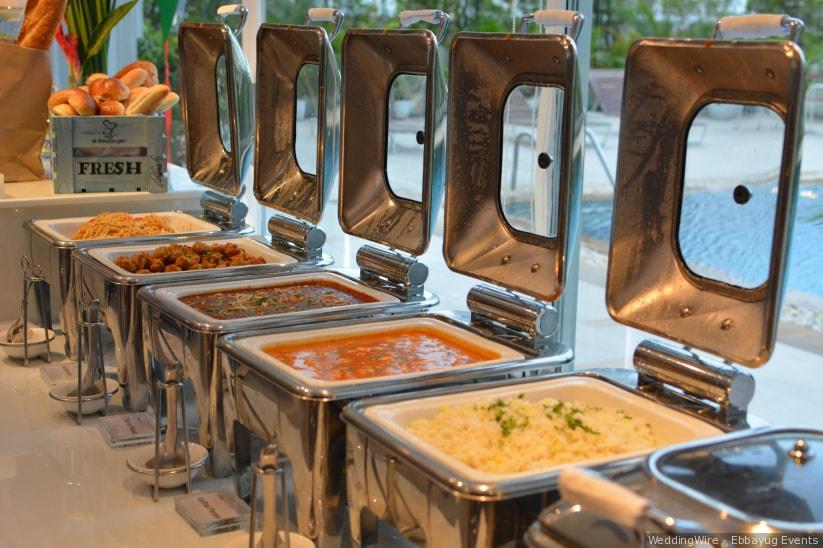 People love eating at weddings and it's one thing you just can't get wrong. Use these hacks to ace your monsoon wedding food menu:
i) Always make sure the food area is covered
Do this irrespective of whether your wedding functions take place out in the open or in the covered area. If the food gets spoiled because of the rain, the chances that you'll be able to replace it within a decent timeline are quite slim. So it's best to take precautions.
ii) Go for a monsoon-friendly menu - because food is love
It'll not only go with the theme of your wedding but will also have fewer chances of people falling sick at your wedding. Pick dishes with ingredients that naturally grow during the rainy season.
iii) Ensure cleanliness during food preparation
Rains bring a lot of bugs along with them, so it's important that you pick a clean and hygienic place for the food to be cooked at. Make sure it's fresh and not prepared days before consumption.
3. Get the right monsoon wedding decor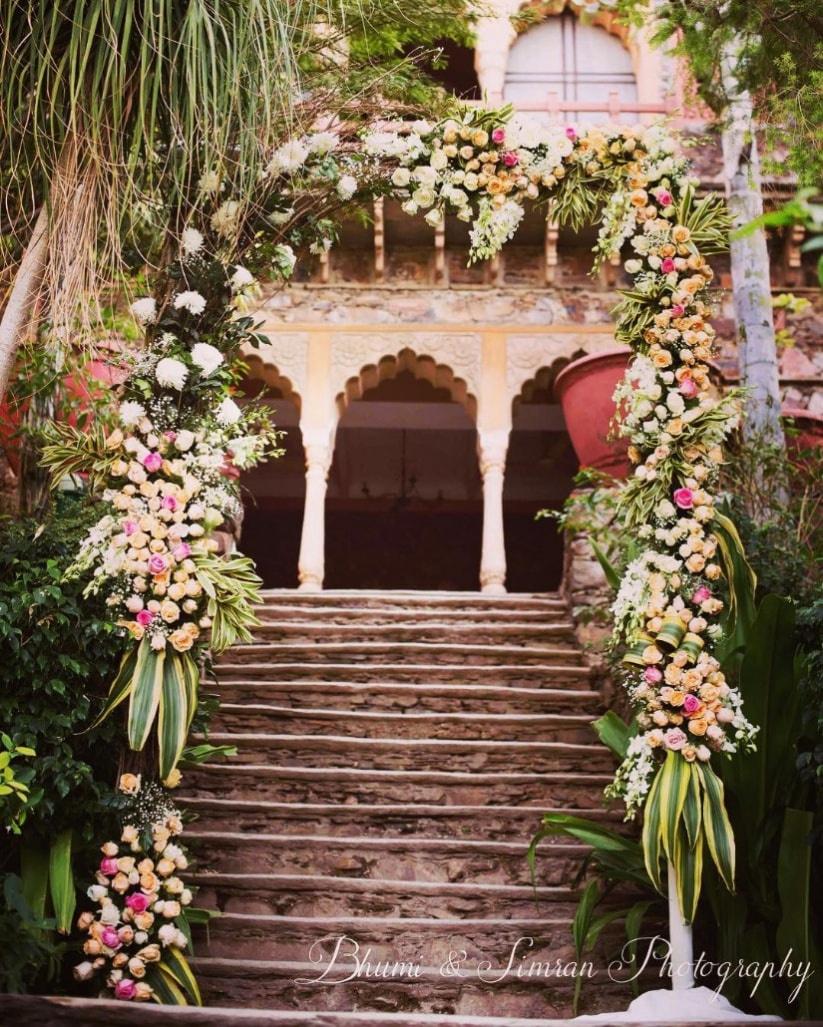 Your wedding decor defines the theme of your wedding and it's important you pay attention to it.
i) Include monsoon elements in your wedding
From multicoloured dupatta decor to rainbow umbrellas, you need to have all elements of monsoon in your wedding decor.
ii) Keep it light
Make sure the decor doesn't include heavy items. 'If you hold an outdoor wedding, which is hit by a rainstorm, then these heavy items may fall and hurt someone.
4. Monsoon wedding outfits & accessories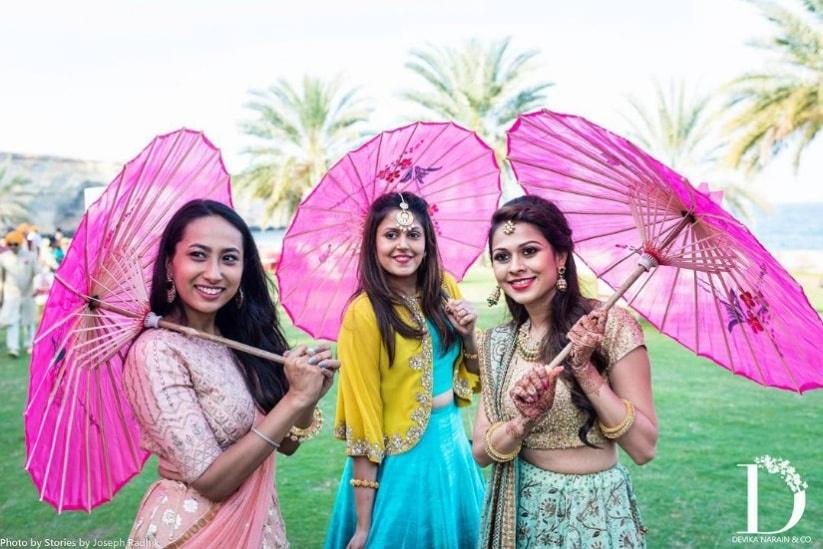 Well, one thing you cannot compromise on is your outfit.
i) Bring out the pastels now
Monsoon weddings call for pastel colours. Pick a light pastel coloured Lehenga for your wedding. Make sure it's comfortable and not too heavy, in case, it rains.
ii) Comfortable ideas for footwear
Wear Juttis that are stylish as well as comfortable. Who knows you might have to run from an outdoor function to indoor and you definitely don't want to do that in high heels.
iii) Keep your accessories minimal
While monsoons are all airy, they do get humid at times. Wearing heavy bridal jewellery and accessories might irritate your skin.
iv) Carry a spare outfit - just in case
Who knows what might go wrong, so it's ideal to keep a spare outfit with yourself.
v) Wear skin-coloured undergarments
If you're wearing a see-through, light-coloured outfit, make sure you wear skin-coloured undergarments. You don't want the rain to expose you. You can wear dark coloured undergarments if your bridal Lehenga is dark coloured too.
5. Monsoon wedding makeup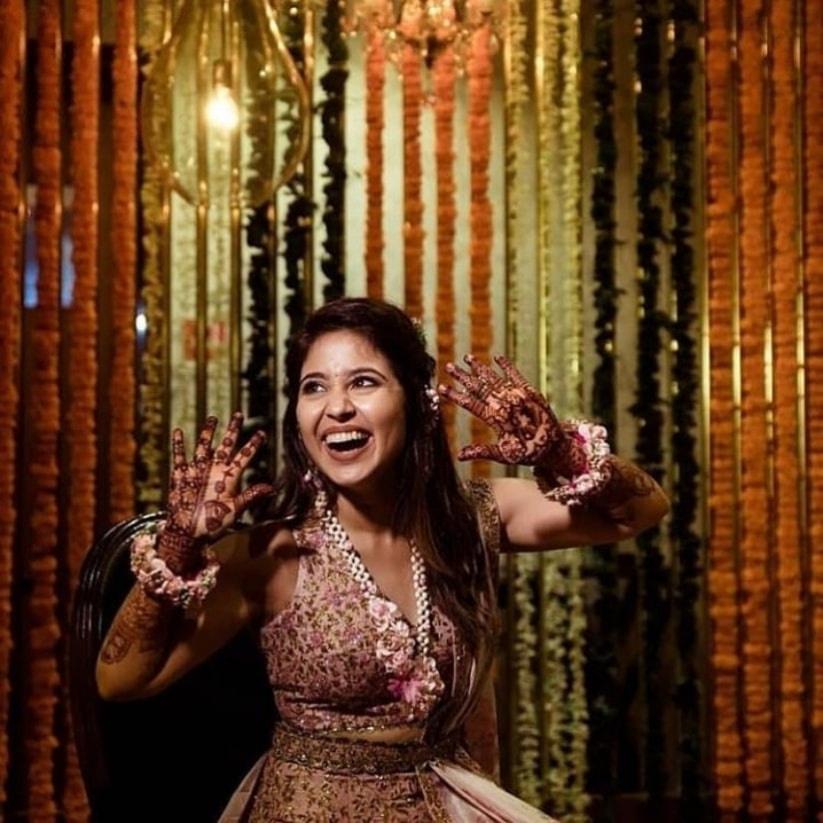 Be ready to get leak-proof when it comes to your monsoon wedding. Here's how to:
i) Keep it light - it always works
Go for light makeup to keep your look dewy and natural. Monsoon weddings are classy and you don't want to look 'extra' on your big day.
ii) Go water-proof - because water is not a friend of makeup
Make sure all the products you're using are water resistant or waterproof. You don't want your bridal makeup to melt off or look cakey.
Be careful of all of these things during your monsoon wedding. We hope these tips will come in handy when you face sudden rains on your wedding day. Now that you have all of these pointers to make your monsoon wedding a beaming succes, don't let the Mother Nature get the better of you or the situation. Hold tight, make prior arrangements and we can guarantee your monsoon wedding will be a hit that all of your guests will forever remember and cherish.
If you have any more questions, shoot them in the comment section below and we'll be happy to answer.